Lifestraw Go - A worthy portable water filter for trekkers
Share this story
I am always on the lookout for a portable water filter that I can recommend to trekkers. We get calls so often at our office about safe drinking water on treks that I know this is a big concern. When Lifestraw got in touch with us about Lifestraw Go I was thrilled. Perhaps here was a water filter that would meet our trekkers' needs. I decided to test it out.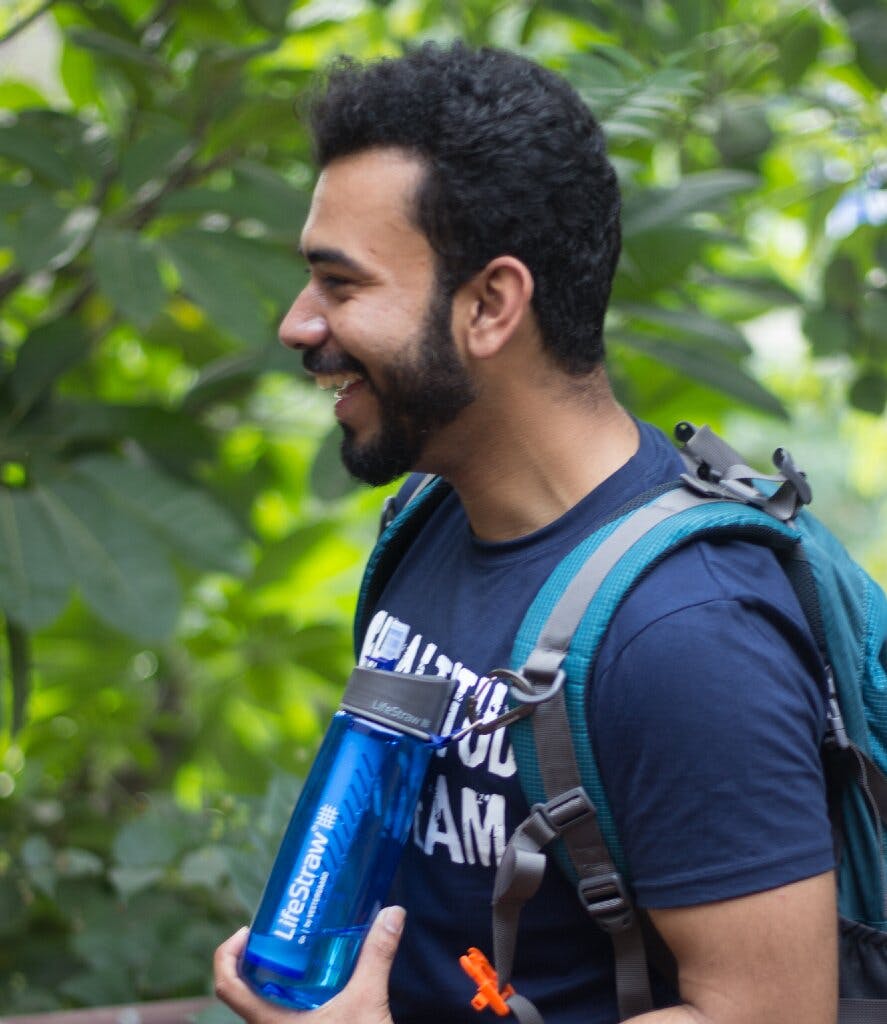 Not many know about Lifestraw so here's some background. Lifestraw is a Swiss brand and a leader in water purification technology. Their basic product — The Lifestraw — has brought about dramatic difference to thousands of lives in Africa, where contaminated water is a big problem. Moving outside Africa, their products have changed how the poorest of poor, especially in Asia, get safe drinking water. (Knowing their history is very interesting. Read about it here.)
Back to my test. I first used Lifestraw 4 years ago. So I was familiar with how it worked. The principle is simple. You suck water through the straw and as you pull it purifies water using its hollow fibre technology. The purification is so good that even contaminated water gets purified. I have used it to drink straight off streams and stagnant water pools. I have found the quality of water purification excellent. Even muddy water came out clean.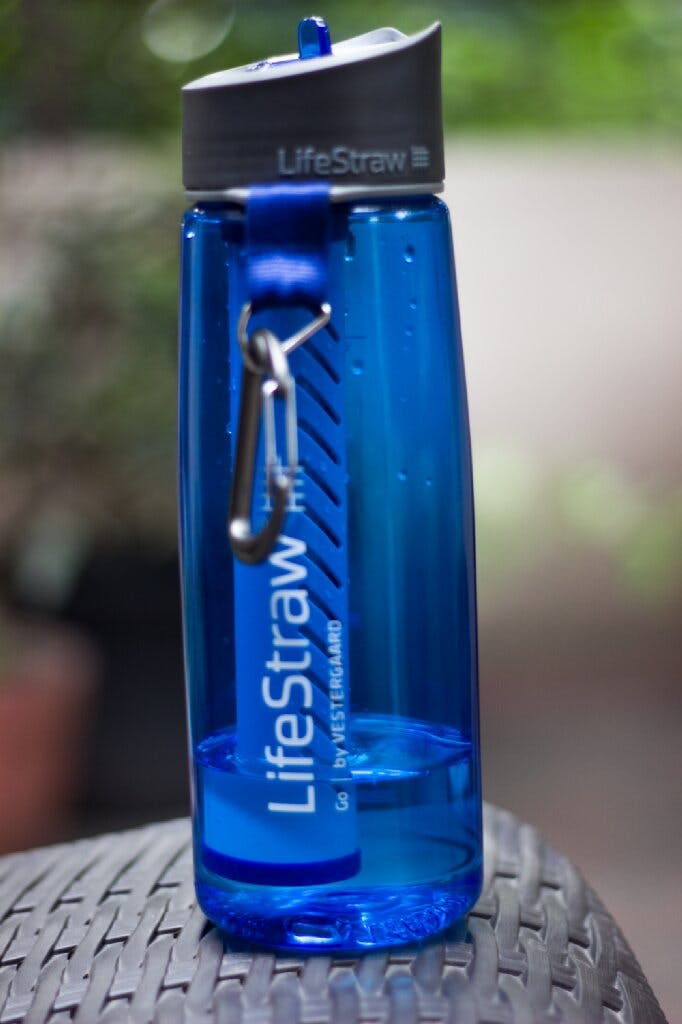 Cutting to the present, Lifestraw Go is extremely good looking. The bottle in itself makes me want to buy it. Very stylish with a thoughtful mini carabiner keychain thrown in, it looks perfect for trekking. It is easy to hook up on a strap of a backpack. You really don't have to go looking for a side pocket to keep it. To me that makes a lot of sense. You need a water bottle handy and not hidden in the deep recess of a side pocket.
I loved the deep blue colour of the bottle. Right away it makes me feel cool and want to drink off it. The sipper is just like that of a hydration pack. I also loved how light it was despite a purification device inside. On a trek anything that adds weight is big a no-no for me.
Performance
First of all, don't expect it to work like a water bottle. Water is not going to gush into your mouth. Plain and simple, you sip water off the device just like from a hydration pack or a straw.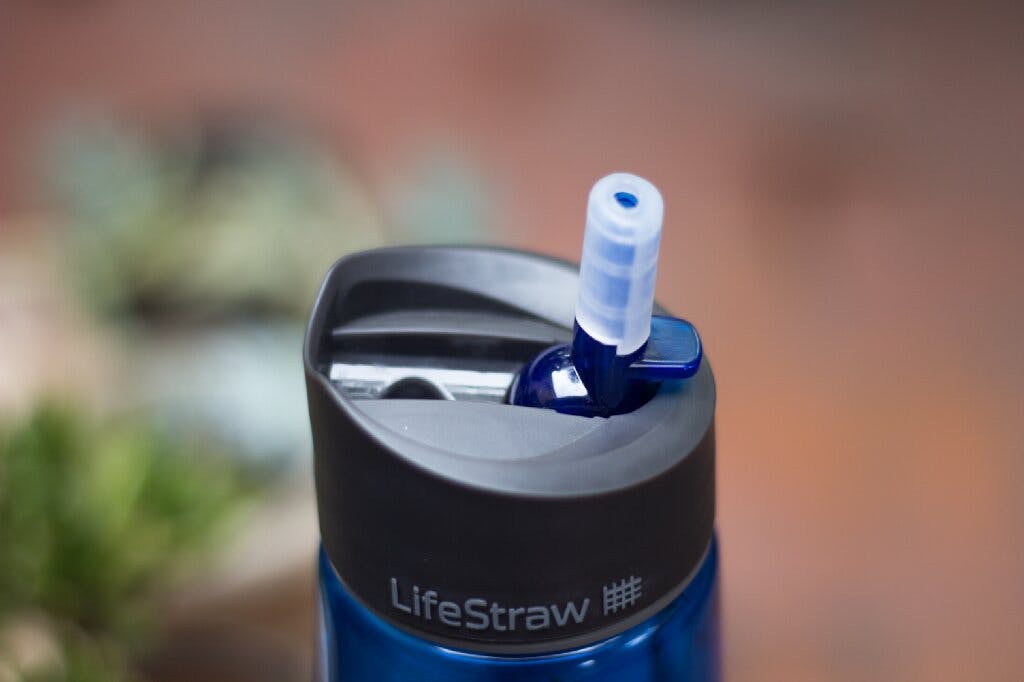 As usual, the water quality was excellent. It even took care of the odd smell in the water.
There's a side benefit of Lifestraw Go that is really big for me. Drinking freezing water in the mountains is not easy. Unfortunately, on any trek in the Himalayas the only water you get is Arctic — it chills you to the bones! Lifestraw takes that pain away. The purification system through the straw gives it enough time to settle on a temperature that is almost normal. The water feels cool and not chilled. On a stop by a stream I drink more from the Lifestraw than I usually would — just for the difference in temperature.
Cons of Lifestraw Go
What I didn't like about Lifestraw Go, and it is a prejudice that I hold ever since I started to use it, is that you have to suck water to purify it. I found it draining. I haven't had a chance to test Lifestraw on a trek above 15,000 feet, but the prospect of sucking water and feeling drained at that altitude is not something I would like.
On the other hand, Lifestraw Go is not Lifestraw. It is far less draining than the original Lifestraw pipe that I had used.
The verdict
I loved it! There really isn't anything to complain about. It works splendidly. At around Rs 2,000 per bottle I didn't find it too expensive either — considering the kind of water purification and safety it gives you.
On a high altitude trek, I would use Lifestraw Go as a backup water container. It would not be the only bottle I would take with me. Though it can hold 650ml of water, I don't visualise myself buying 2 of these for a trek. For me, it is meant for water purification and that's what I would use it for — sometimes pouring water from a water bottle into the Lifestraw Go. With water being a big concern on treks, Lifestraw Go is worth the investment.
Sign up for our much loved Weekly Mailer
We have terrific trekking tips, trek updates and trek talks to look forward to