"My first failed trek was a game changer" - The making of a ...
Share this story
Every time I successfully lead a batch of trekkers to a summit and back, I think of my first Himalayan trek. The trekkers I lead seldom know that my first ever trek in the Himalayas was a failure. That I had to return half way through the trek. There were so many things that went wrong that day.
I did not grow up dreaming of becoming a Trek Leader. Born in Darjeeling, I lived among the mountains for 12 years. But trekking never crossed my mind until my family shifted to Calcutta.
Calcutta was an entirely different world. The people and culture came as an exciting change. I graduated in English Literature and stepped into adulthood. I changed jobs frequently in search of something that I would enjoy.
But restlessness prevailed. I realised that I wasn't cut out for a desk job. This was when my association with DNA Technologies began. I went on surveys and developed thematic maps for them. My new job allowed me to travel extensively in West Bengal and explore new places. Travelling became a tonic for my unsettled self. But I was still unaware of the world of trekking.
The year 2009 was a decisive year in my life. I began working for the Government of West Bengal in Information and Cultural Affairs Department. Here, I got formally introduced to trekking and mountaineering.  A couple of my colleagues, Kaushik and Doel were a major influence. Initially, I did few day-hikes outside Kolkata but they introduced me to Himalayan treks. I began to understand how much I loved it.
In no time trekking became an inseparable part of my life. I was hooked.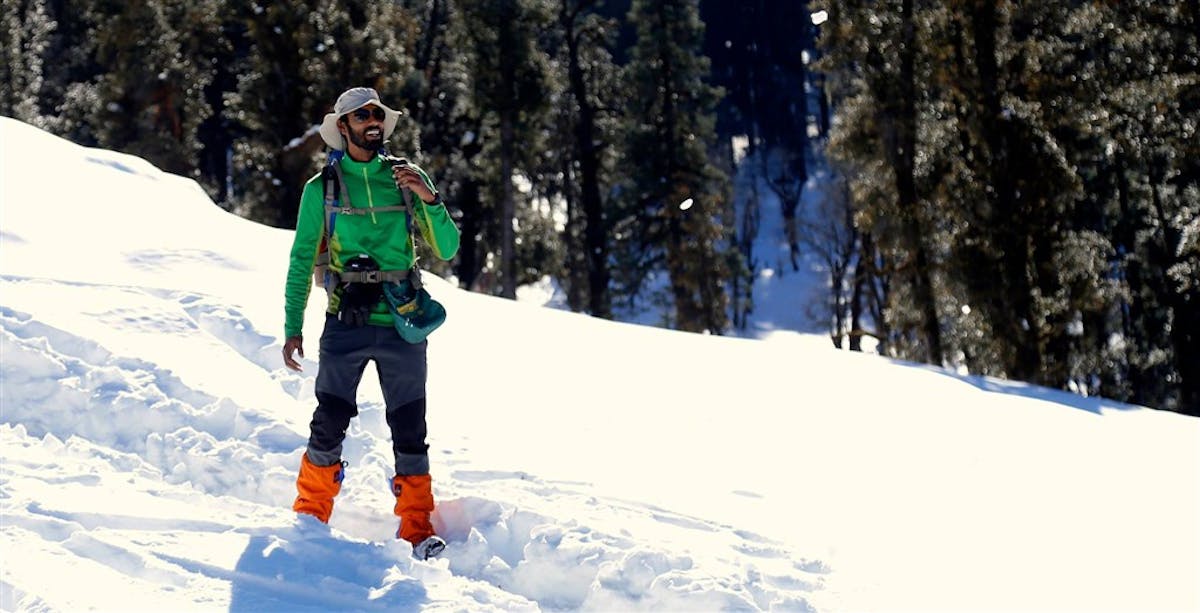 Kedarkantha was the slope where SJ started his career in Trek Leading
Several treks later, we believed that we were ready for a Himalayan trek. Goechala was on our minds. Trekking to Dzongri, where Mt Kanchenjunga would be an arm's length away. The very thought gave us goosebumps. Besides, the trek was in Sikkim, not too far from where we worked. It was going to be perfect!
We did not know much about trekking in the Himalayas. But we were thrilled at the prospect. How different could it be from the treks we've done?
We learnt that the hard way.
Our first blunder was timing. We decided to do this trek in the month of December. Goechala in winter is an extremely difficult trek that mountaineers do with specialized equipment. With winter at its peak, the wind blew down on us mercilessly. That brings us to our next mistake.
We were ill equipped. We had just carried our basic survival kit. Sticking to the minimalist mode, we did not even have the proper gear for trekking in snow. We struggled through and gave it our best. But we were unprepared and had to give up half way through. That was one of the most disappointing days of my life.
I was angry for being careless and ill-informed. As we descended grumbling to ourselves, I took a decision. I would come back to Goechala to complete the trek. To complete what we had dreamed about.
Once back home, we discussed about what went wrong. After extensive discussions we came to a conclusion – to enroll ourselves for a mountaineering course and learn the ropes from seasoned professionals. Since we still had our day jobs, we had to plan out our leaves. We signed up for the Basic Mountaineering Course at HMI – Himalayan Mountaineering Institute in Darjeeling.
While we waiting for our course to begin, we signed up for a rock climbing course in West Bengal. We were groomed by Mr. Bivujit Mukhoty, Program Head, IYAP (The International Award for Young People). Bivujit Sir had attempted Mt.Everest through the Great Couloir route in 1993, which is one of the toughest approaches to the Everest. Learning the ropes from such an experienced trainer gave us a solid sense of direction.
After the course, I went for my mountaineering course in Darjeeling. For 28 days, we lived a different life. It was a life changing experience. We were exposed to rock climbing, map reading, glacial walking, crevasse rescue and ice climbing. The things I learnt from that course are still fresh in my memory. The mountaineering course helped me understand the world of mountaineering.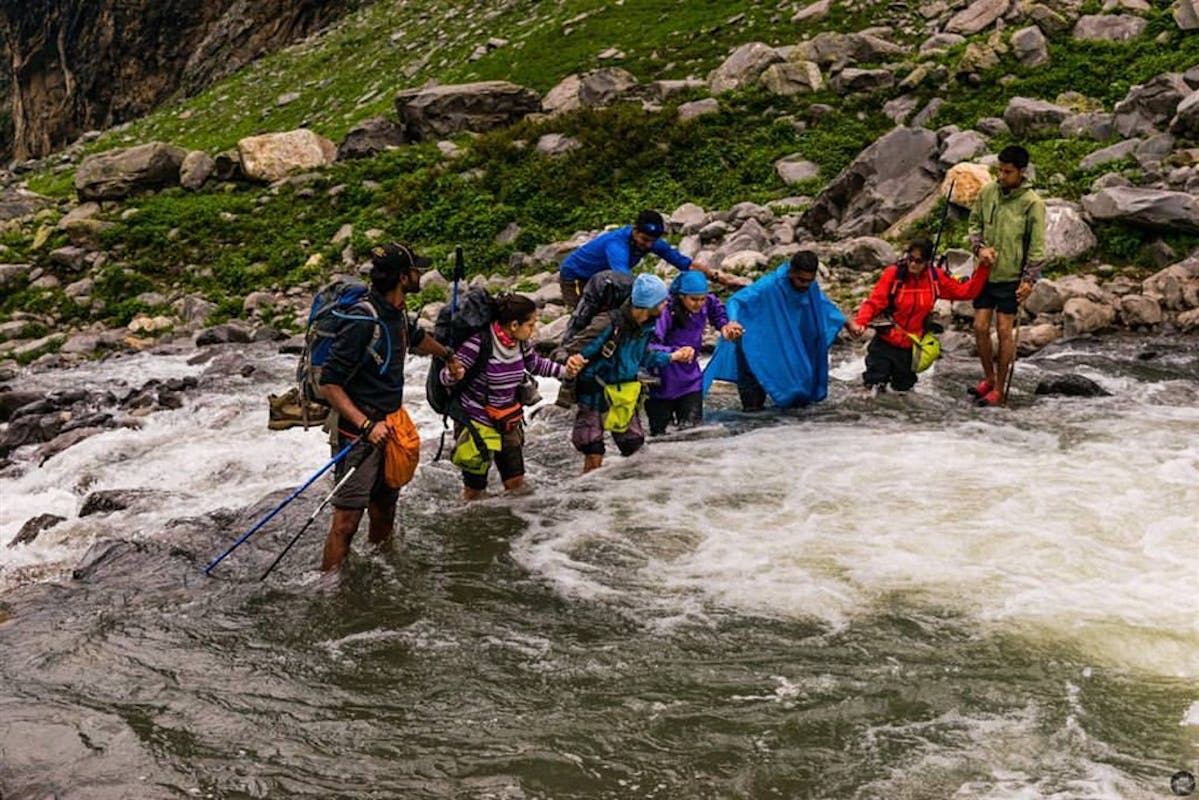 Applying the human-chain method of crossing rivers on the Hampta Pass trek
But for me, the real learning happened in the mountains. Instinct and experience had more value than technical skills.
In 2010, we attempted to undertake an expedition to Mt Jogin. Again, the weather turned on us. This was when the flash floods wreaked havoc in Uttarakhand. We had to sleep on the road for days, with limited food and water. Nothing could have prepared me better with survival skills.
The following year we attempted an expedition to Mt. Thelu. This single-handedly provided me the real-world experience. A mountaineering expedition is different from trekking. The stakes are higher. We applied what we had learnt in the classrooms.
Once I had got a taste of adventure, I didn't want it to fade away. I was very keen on learning more. I joined the Nehru Institute of Mountaineering (NIM) for an Advanced Mountaineering Course. The biggest thing I learnt on is that when you're undertaking expeditions, you can never be over-prepared.
Soon after the course, I quit my job in 2013. I was looking for a full-time assignment in the trekking world. This is when I discovered Indiahikes. I applied for an internship right away. I still remember my first Skype call with Arjun and my telephonic interview with Sandhya. I was thrilled when I learnt that I got the job. It was February 2014.
My first trek assignment was Kedarkantha. Manish Pasad, who is now the Chief of Operations at Indiahikes was my first Trek Leader. Saranbir Singh was my second Trek Leader. He was a big influence on my career. I still remember his detailed briefing before the Kedarkantha trek. It was exciting to work with him alongside as an Assistant Trek Leader.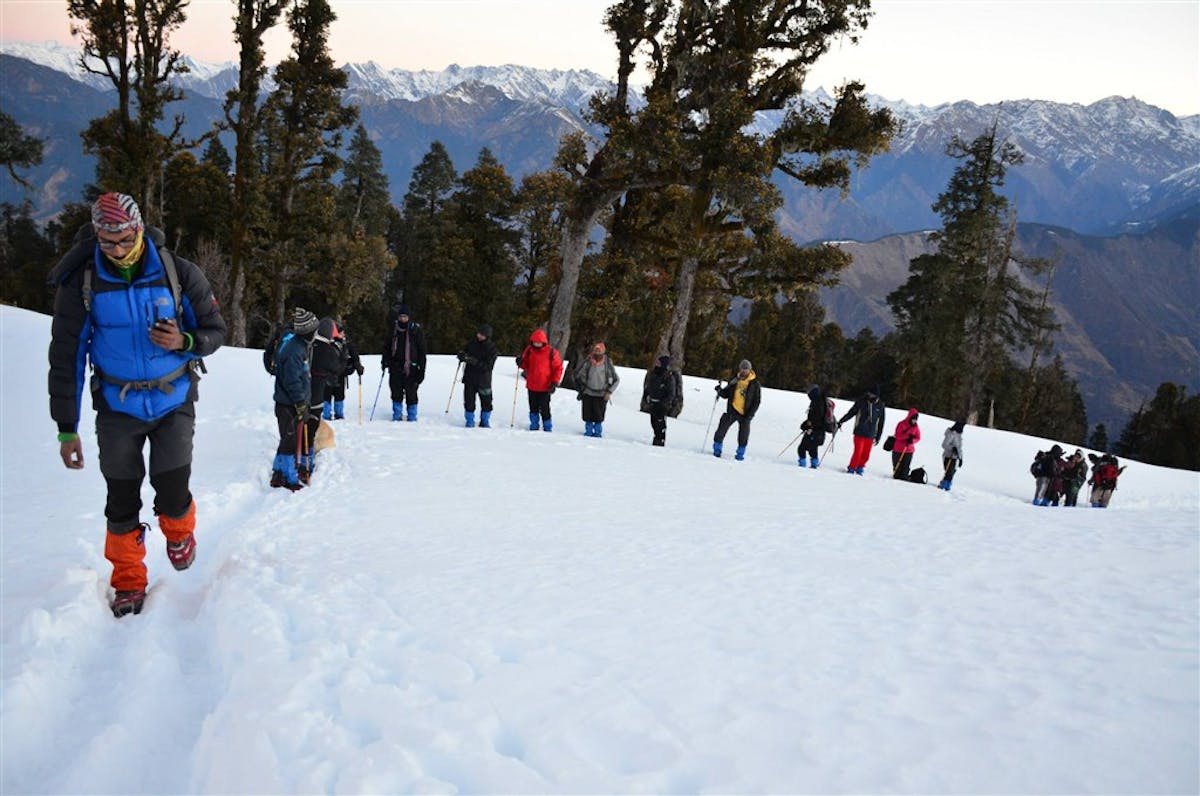 SJ leading a group of trekkers
Working with Indiahikes was an intense experience. It was a steep learning curve. Fortunately, I found great mentors in Arjun, Sandhya and Manish. They encouraged and supported me all along. From being an intern, I became a Trek Leader sooner than I had expected.
In April 2014, I learnt something that made my heart skip a beat.
Goechala was going to be my first trek as a Trek Leader. It was a moment of deja vu. From failing to complete the trek back in 2009, I was going to lead a batch of trekkers to Goechala. Life had come a full circle.
Reflecting on the past decade, there have been a lot of elements that worked together to bring me where I am today. My first job, my first failed trek to Goechala, the mountaineering courses, learning from intelligent people I met along the way, leading trekkers on numerous slopes and more than anything, hard work.
Trekking has taught me time and again that success is not an overnight phenomenon. We are not born with skills, they are acquired over a period of time. So if there is a batch that I am able to successfully lead today, it is because of the hard work that has gone into it. It has not come easy. It never will.
As told to Ajay
SJ is now a Program Assistant at the National Outdoor Leadership School. He is fulfilling his life-long dream of imparting knowledge and introducing people to the joys of outdoor learning. He is hard at work, trying to make a telling a difference to the trekking and mountaineering community.
Sign up for our much loved Weekly Mailer
We have terrific trekking tips, trek updates and trek talks to look forward to