Tarsar Marsar - The Trek That Helped Me Find My Soulmate
Share this story
At Indiahikes, treks are not just treks. For some, trekking to the mountains is a way of finding themselves, and for others like Vivek Agarwal — whose story we're presenting today — it is a way of finding each other! We've had many such happy stories on our treks that are worth sharing.
If you'd like to know why you need to go on a trek before getting married, read this article written by our founder, Arjun Majumdar!
In this story, Vivek talks about his happiest trek moment which eventually turned out to be the happiest day of his life.
It was my second trek with Indiahikes. I went to Tarsar Marsar trek with my two flatmates hoping I will bring back with me some perspective shifts (as it always does) and cherished memories. Little did I know, life had planned something entirely for me.
On the second day of our trek, the clouds decided to pour rain over my sentiments. It kept raining for nearly two days and since it was impossible for the mules to cross the river, we decided to change the course of the trek. Disappointment flooded the entire group marking the end of Tarsar Marsar trek for us.
What was to come next had a domino effect to this day and will have for the rest of my life. The next campsite was pretty close and hence the Trek Leader suggested that we do a day trek to Basmai Lake to make the most out of the trek. All the trekkers happily agreed, and we left for the day trek post lunch.
As always, by the second day of trek you make some new friends, we flatmates became friends with Shubhani and Shruti, both being on their solo trek. The five of us decided to be on the tail end of the group. It wasn't a very wise decision (or maybe it was the best) as the moment we reached the break spot, the rest of the group began to move forward and we hardly got a moment to catch our breath.
While the five of us slowly began to separate, Shubhani and I gradually started walking at a synchronous pace. We were talking about our lives and getting to know each other. I was enjoying her company. Soon we built a pretty good rapport and we were constantly pushing each other to pick up the lost ground and refuel each other with motivation and enthusiasm. Shortly after, we had left half of the group behind.
Halfway through, the Trek Leader announced that whoever had reached that point would continue to the lake and the rest of the group had to turn back. Shubhani and I barely made it to the point and again we became last of the bunch.
It was now an unspoken deal that we were in this together and that we will have to lift each other up no matter what.  The rest of the journey although small was filled with self-doubts and mind trying to convince itself that it is okay to give up but somewhere there was this feeble voice that kept saying 'I need to do this. WE need to do this'.
For the last hundred meters or so, the climb was steep and every muscle in the body kept crying, but we did not listen to it, our minds had already accepted that there was no backing down. In a few minutes, we saw the glimpse of the lake and we could smell victory. It was an overwhelming and indescribably beautiful feeling of overcoming self-doubts, perseverance and companionship. The scenic view of the lake made it all worthwhile.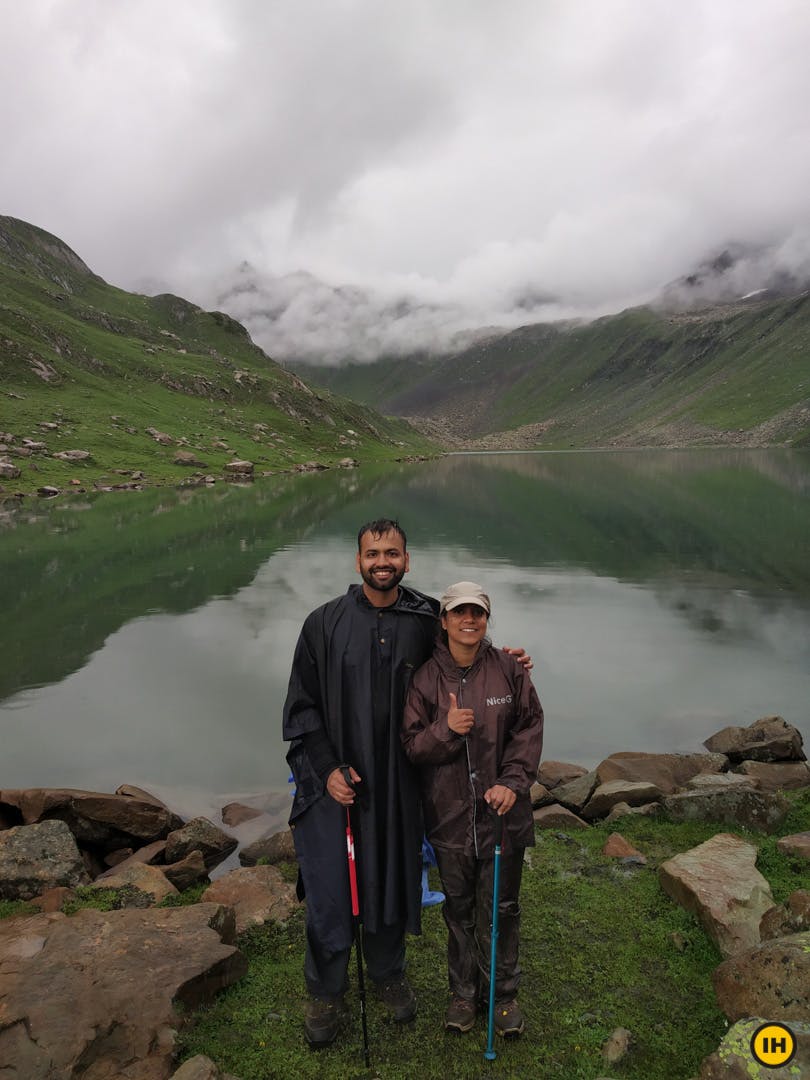 This small journey cemented our friendship. We grew even closer post trek. Little did I know that I was falling for this girl. However, I could never express my feelings because of the fear of long-distance relationship.
A year later, I switched job and moved to Pune. When I finally confessed my feelings to her, I was waiting impatiently, and I could hear my own heartbeat. It felt like time had stood still and that moment felt like eternity till she finally said 'yes'! So yes, that day, two years ago was my happiest day of the trek and my life!
P.S: We're soon getting married!!
Related Videos
"Why Should Tarsar Marsar be on Your Bucket List?"
"Best Time to do the Tarsar Marsar Trek"
Sign up for our much loved Weekly Mailer
We have terrific trekking tips, trek updates and trek talks to look forward to