Thinking of Offloading? Think Again
Share this story
UPDATE: Many trekkers wrote to us after reading the mail/blog. I have updated this blog with some of their responses.
--
I am writing this blog as a concerned trekker. 
You see, too many trekkers are offloading their backpacks on treks. 
This season, one out of three trekkers offloaded their backpacks on an easy-moderate trek like Beas Kund. The case was similar on the Bhrigu Lake trek. Thankfully on the difficult treks, like Kedartal, less than 25% of trekkers offloaded.
If you're wondering what is 'offloading', it is the act of letting a mule or porter carry your backpack, instead of you carrying your own load on a trek.
This trend is worrying because the social and environmental impact of offloading doesn't seem to bother anyone. 
And today, I want to share why offloading your backpack is not okay. 
To understand the core of the concern, it is important to look at various aspects of offloading. The reason behind offloading, its consequences, what happens when you don't offload. I'll touch upon all these aspects.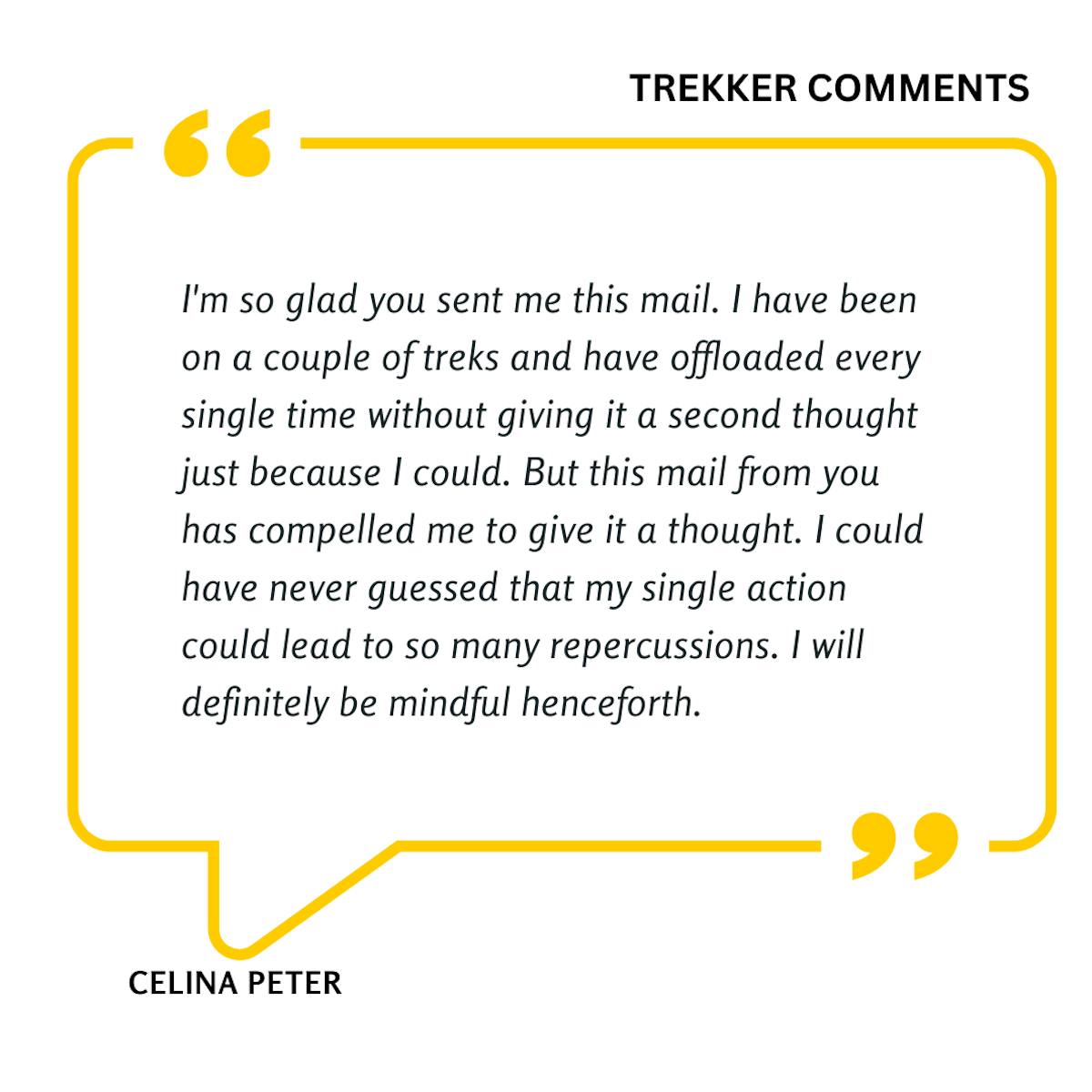 Some insights and observations shared in the blog about offloading will surprise you. I'll get to them in a bit.
But first, let's begin with the 'why'.
Why Trekkers Offload?
15 years ago, it was a norm to carry your own equipment, ration, tent and personal gear while trekking. Porters or mules came along only to carry bare essentials that couldn't be carried by the team. 
But things changed when organised trekking grew in our country. 
"Modern trekking changed the concept of service. People expect more comfort while trekking. They don't want to carry their backpack if they can pay someone else to do it for them," says Arjun Majumdar, Founder-CEO of Indiahikes.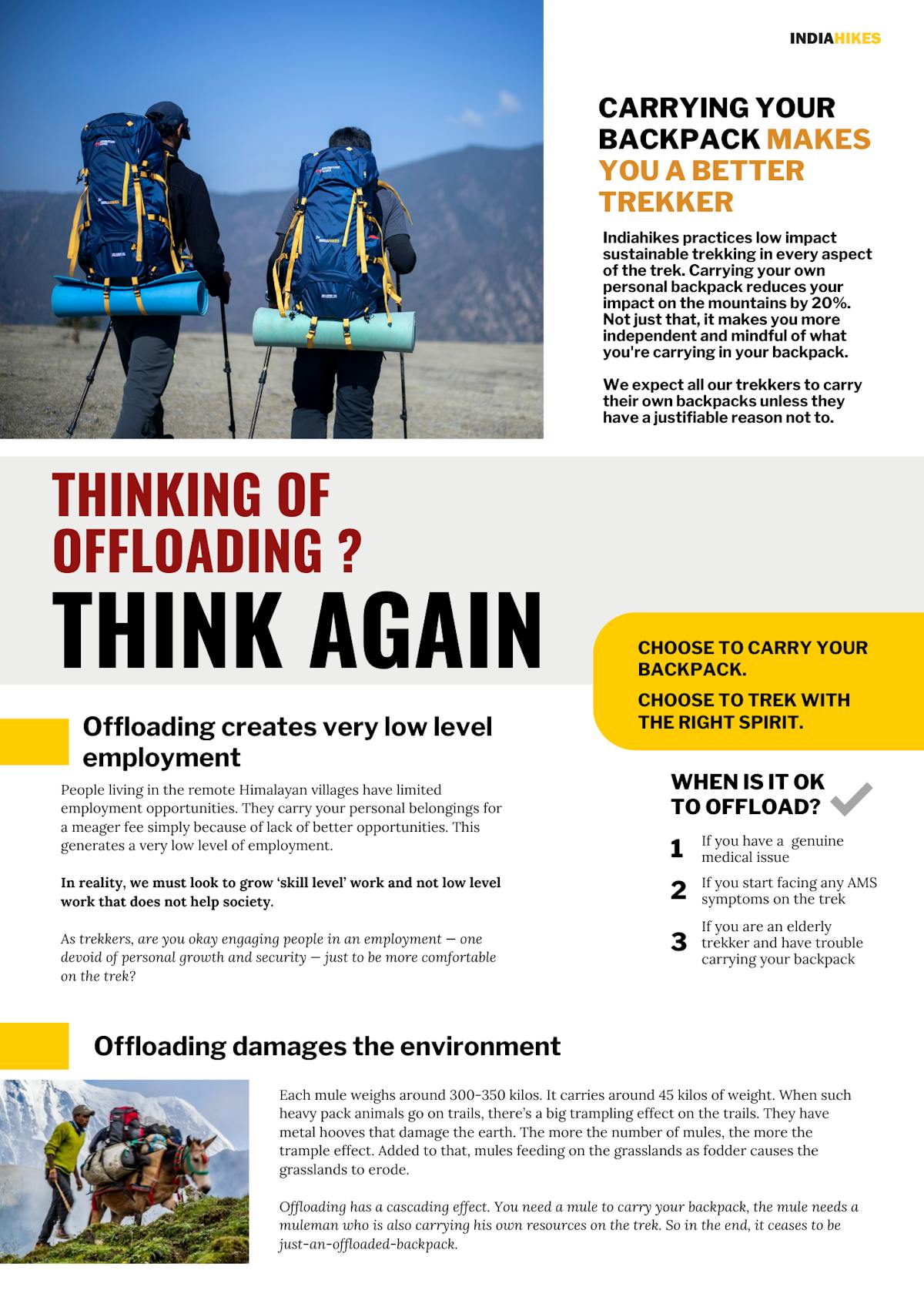 This is the case even when their backpacks are light, devoid of any camping equipment. 
"In modern trekking, you don't carry the full load of 15-20 kg that you carried while trekking on your own. You are only carrying your clothes. They don't weigh more than 8-9 kilos," points Arjun.
Despite the light weight of the backpack, offloading is becoming a trend because of a false belief.
"Trekkers, especially those who are new to trekking, assume that they'd be more comfortable if they're not lugging their backpacks on the trek. They look at the backpack as luggage, not something that's integral to their trek," points Shefali Joshi, Experience Coordinator. 
This situation can be credited to a big myth circulating among trekkers, especially among those who are new to trekking. 
Big Myth - Carrying Your Backpack on a Trek is Difficult
Many people who are considerably new to trekking assume that carrying a backpack is cumbersome. This is a false notion. 
Carrying your backpack on a trek is not difficult. In fact, even on our most difficult trek — Kedartal (highest altitude: 15,500 ft) — trekkers carry their backpacks.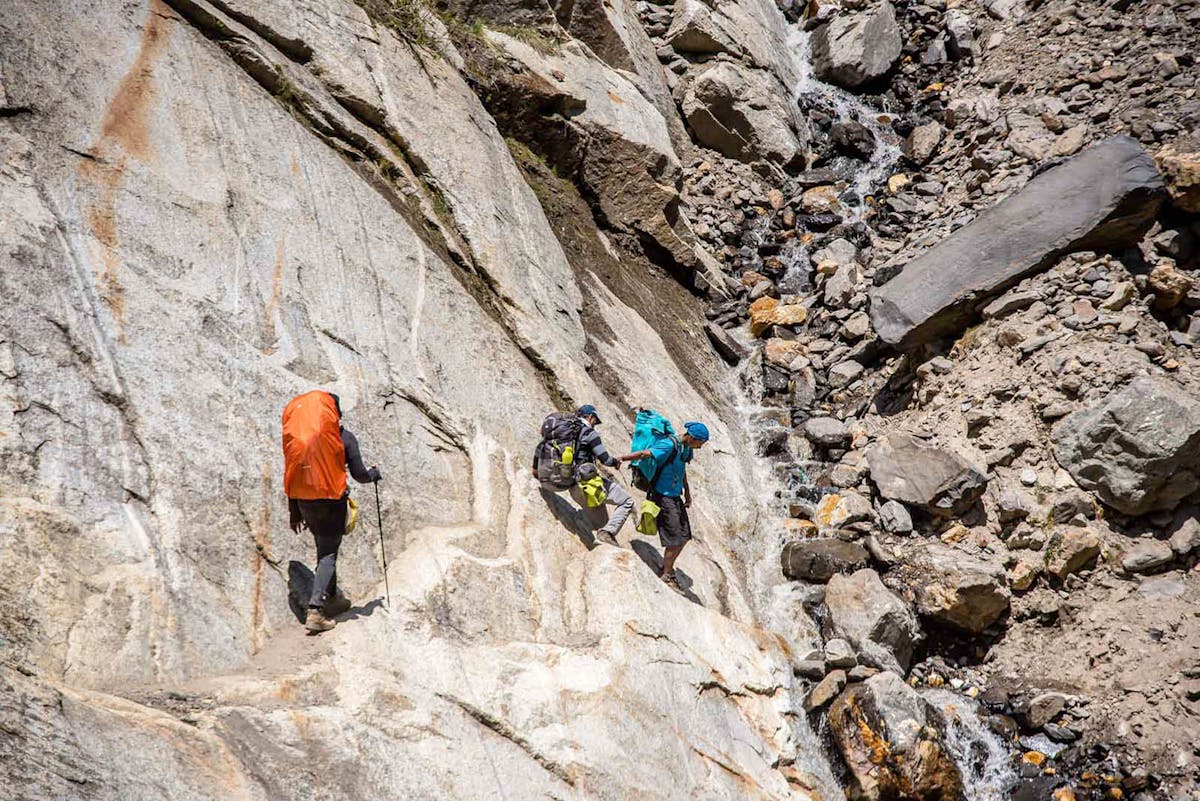 Trekkers crossing the treacherous Spider Wall section on the Kedartal trek while wearing their backpacks. Photo by Sudheer Hegde
Carrying your backpack on a trek is doable. In fact, it is an integral part of trekking.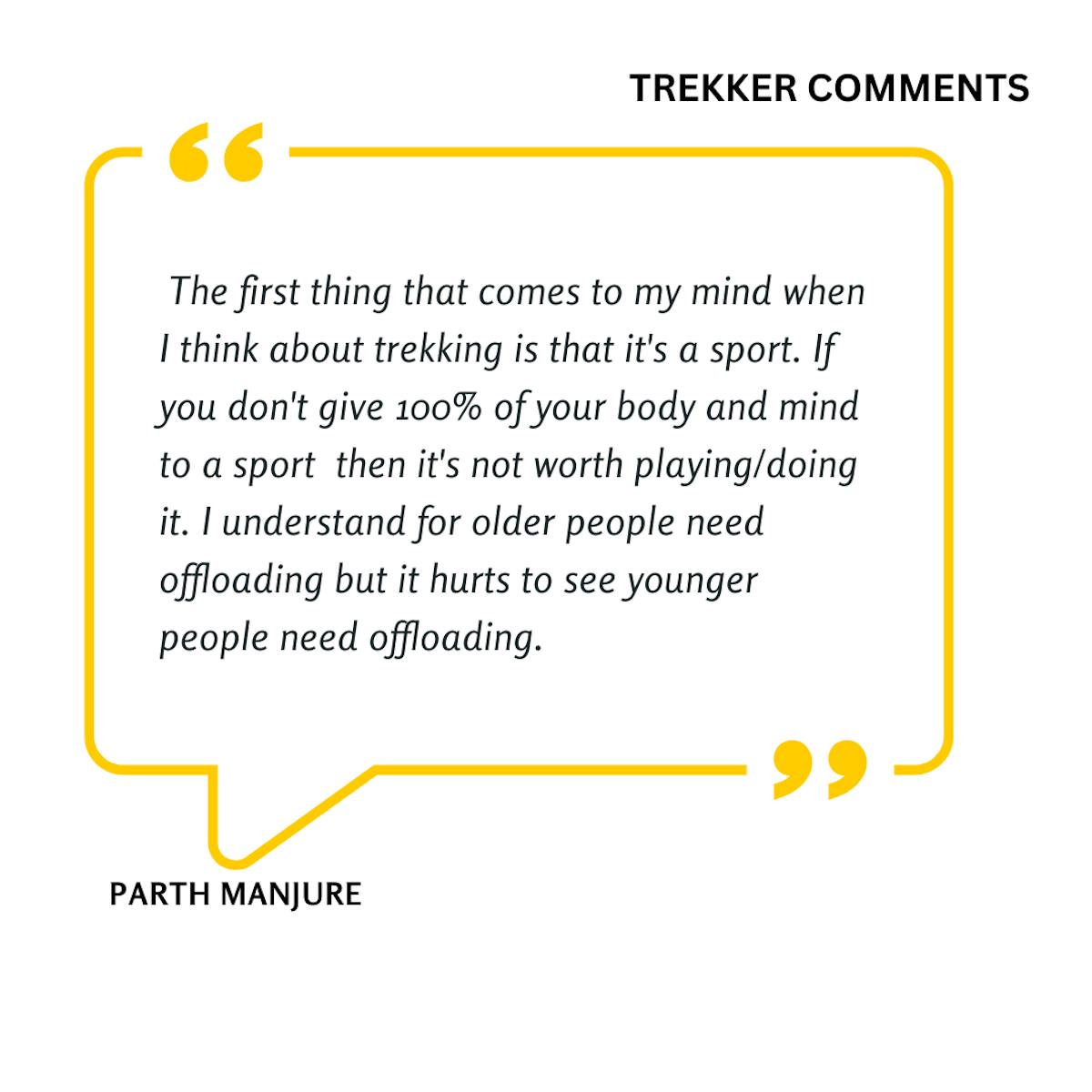 Many trekkers who opt for offloading overlook the fact that backpacks are designed to be carried on a trek.
If you wear your backpack well, you'll notice it is engineered to distribute the weight across your hips and shoulders (especially if you are carrying an internal frame backpack, as most of you will). It is the hip that is actually doing most of the lifting. Hips are the strongest bones of your body and can carry a lot more than the 8 – 9 kg of your backpack.
Due to the design of the backpack, carrying it on a trek is not difficult.
A trekker, Rashmi Suresh, who recently trekked to Nafran Valley trek shares her experience here. Nafran Valley is not an easy trek. But Rashmi carried her backpack throughout the trek.

But many trekkers, who are just starting to trek, look at offloading differently. Quite a few times, they do not even consider carrying their backpack as they view offloading as an add-on service. Something that can be availed because the option exists. 
That's a grave mistake. 
Offloading has grim consequences — socially and environmentally

1. Offloading creates very low level employment
When you offload your backpack, a muleman or porter takes up the job of carrying it on the trek. But it's not a happy situation. 
No one wants to be a porter or a muleman. People living in the remote Himalayan villages have limited employment opportunities. They carry your personal belongings for a meager fee simply because of lack of better opportunities. This generates a very low level of employment.
This morally disturbs us at Indiahikes. 
"Just because it is affordable, especially in countries like India and Nepal, trekkers feel it is okay to handover their belongings to someone else — a person or a mule. That's morally wrong. By making someone else — a person or mule — carry your personal belongings you are degrading more and more humans to do the lowest form of work," points Arjun.
Unfortunately trekkers feel that by offloading their backpack they are helping to generate work for the locals. 
In reality while work is being generated, we must look to grow 'skill level' work and not low level work that does not help society. Skill based work has a future.
Skill based work opens up opportunities for the local people in the organised sector. Upskilling can help an assistant camp manager become a camp manager, then trek coordinator and so on and so forth. It happens all the time at Indiahikes. This is the true form of upskilling. 
We have stellar examples of how some of our local staff, who started as porters, got out of the role to grow professionally and become Trek Coordinators. 
We have also designed training programs to upskill our guides and cooks. These certified programs are aimed at honing the guiding and cooking skills of our staff in the mountains. Upskilling in these areas not only helps them to grow within Indiahikes, but also opens opportunities for them in the booming trekking industry. 
Unfortunately, mulemen and porters come under the category of daily-wage workers. Their association with us is limited to just one trek. This leaves them with almost zero opportunities to upskill or engage with any organisation.  
With this background in place I want to pose this question to you: As trekkers, are you okay engaging people in an employment — one devoid of personal growth and security — just to be more comfortable on the trek?
2. Offloading damages the environment
Offloading also negatively impacts the environment, especially when you have mules to carry your backpack. 
"Each mule weighs around 300-350 kilos. It carries around 45 kilos of weight. When such heavy pack animals go on trails, there's a big trampling effect on the trails. They have metal hooves that damage the earth. The more the number of mules, the more the trample effect," says Lakshmi Selvakumaran, says Head of Green Trails, Indiahikes.
It isn't just the number of mules. The mules feed on the grasslands as fodder. This harms the grasslands the most. It also increases the number of muleteers on trails as well — who need to be fed and taken care of. They in turn add to the human pressure on the trail, including adding to the human waste. It is a vicious circle. The entire offloading ecosystem becomes heavier rather than minimal on the environment.
And then it's not just about 'one backpack'.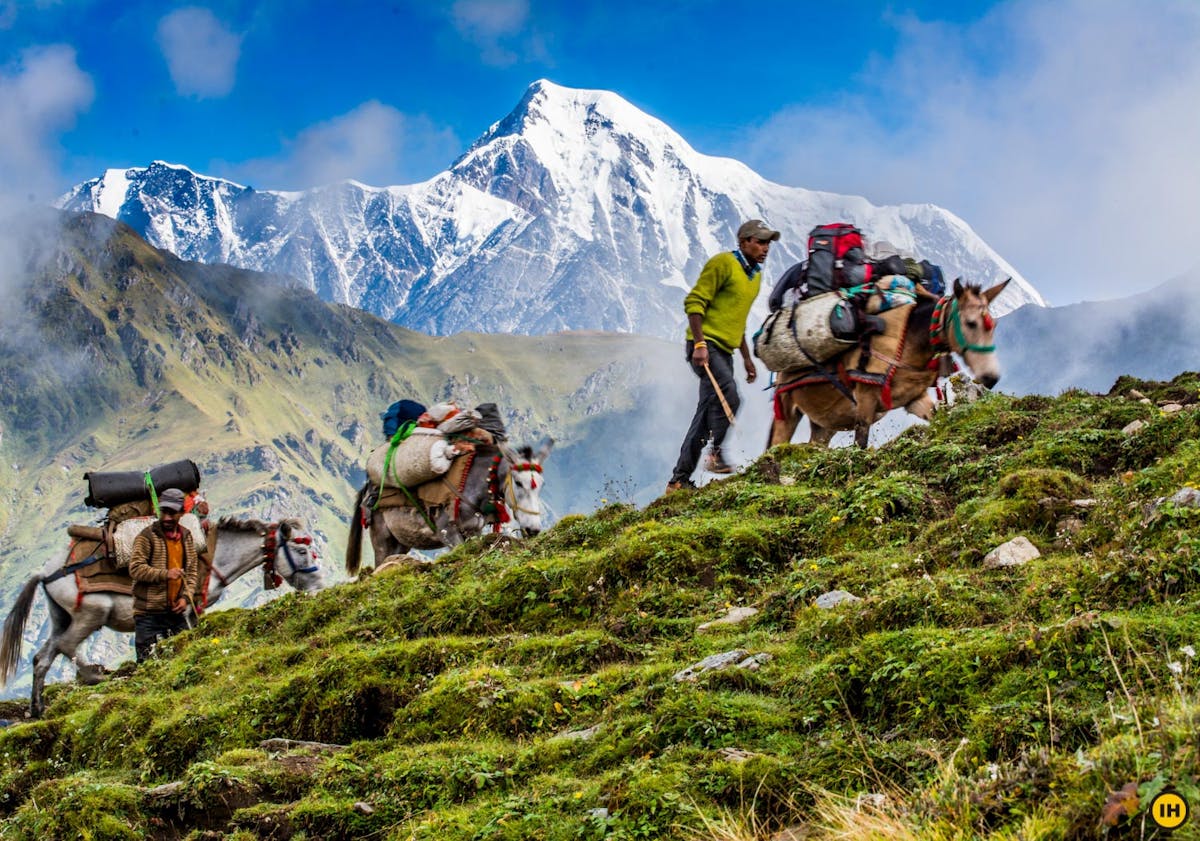 Mules carrying backpacks on the Kuari Pass trek. Photo by Sudipto
"Offloading has a cascading effect. You need a mule to carry your backpack, the mule needs a muleman who is also carrying his own resources on the trek. So in the end, it ceases to be just-a-backpack.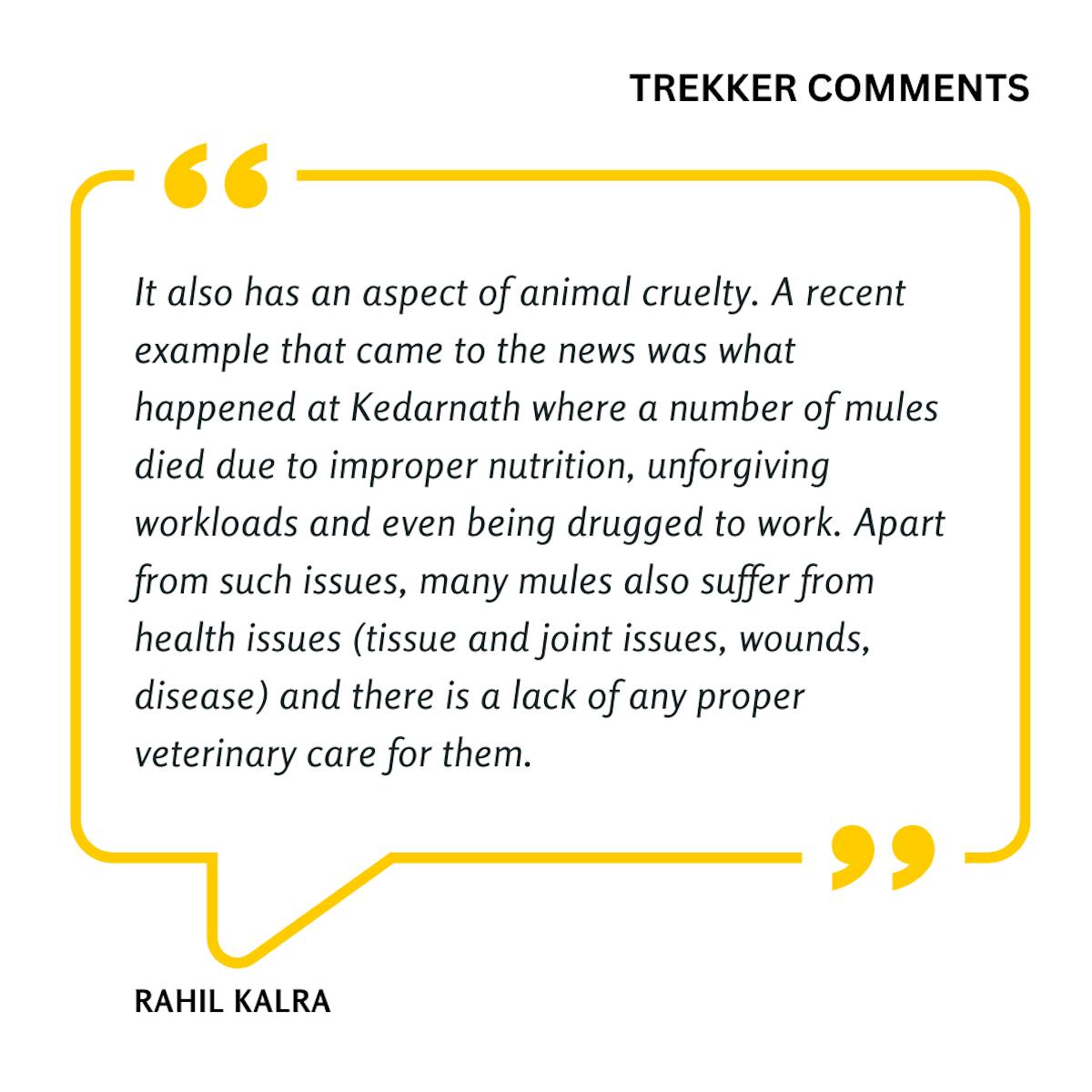 From a larger perspective, if every trekker carried his/her own backpack, there would be at least 3 less mules for every team of trekkers. If this becomes a practice in Indian trekking, it would go a long way in protecting these fragile ecosystems, reducing the overall carbon footprint," says Sandhya UC, Co-Founder and COO, Indiahikes
On the other hand, carrying your backpack makes you a better trekker
1. It gives you a feeling of freedom
Carrying your own backpack helps you connect better with the trek. We saw a beautiful example of this on the Tamenglong Trek in Manipur. On this trek, apart from their personal belongings, trekkers had to carry their own gears and camping equipment. This did not weigh them down. Instead, carrying all their load liberated them. They tasted their freedom as a trekker. 
"As we were carrying our own equipment, we could stop anywhere! So one afternoon we simply decided to cook food by the Alangta waterfall. It was an incredible experience to have the freedom to do it as we were carrying our own kitchen equipment, ration, gears," shares Dhaval Jajal, Senior Trek Leader and Filmmaker who led the trek.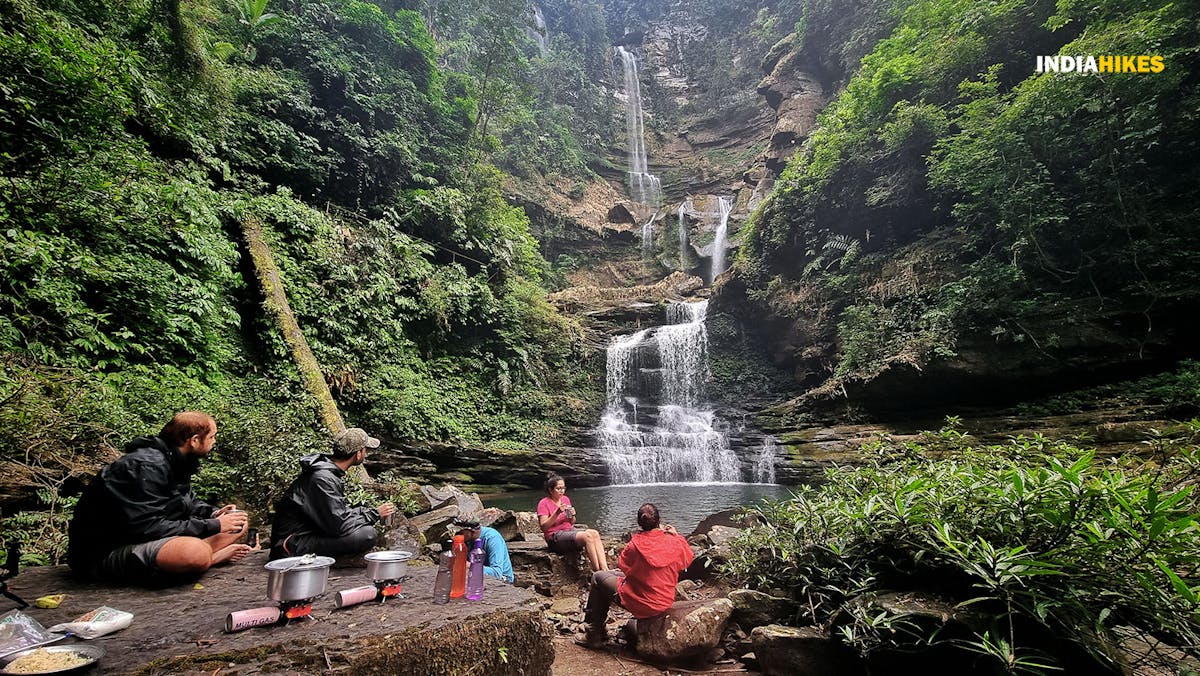 Trekkers enjoying the kadhi-khichdi they cooked by the Alangta waterfall on the Tamenglong trek. Photo by Dhaval Jajal.
Even on the usual trek, carrying your backpack gives you the freedom to access all your gear at any point on the trek. 
For example, a backpack gives you access to your warm clothes. Often there is a burst of rain or a long cloud cover that sweeps over the trail. The temperature plummets. Access to your warm clothes and rain gear is of utmost importance in such circumstances. 
2. It makes you more mindful
The thought of carrying your backpack instantly makes you more mindful about what you put into your backpack. "I've noticed that trekkers who carry their own backpack ask better questions. They are more thoughtful about what they put in the backpack, how they pack," shares Shefali. "Invariably they carry lighter backpacks." 
These are essential skills for a trekker. If you are not carrying your backpack, you miss out on honing these skills. 
3. It makes your pace better
Carrying your backpack has a direct effect on your pace. 
"Many don't know about this, but a backpack helps you to maintain pace on a trek. You cannot rush ahead if you are carrying your backpack. This compels you trek at a steady speed," shares Arjun.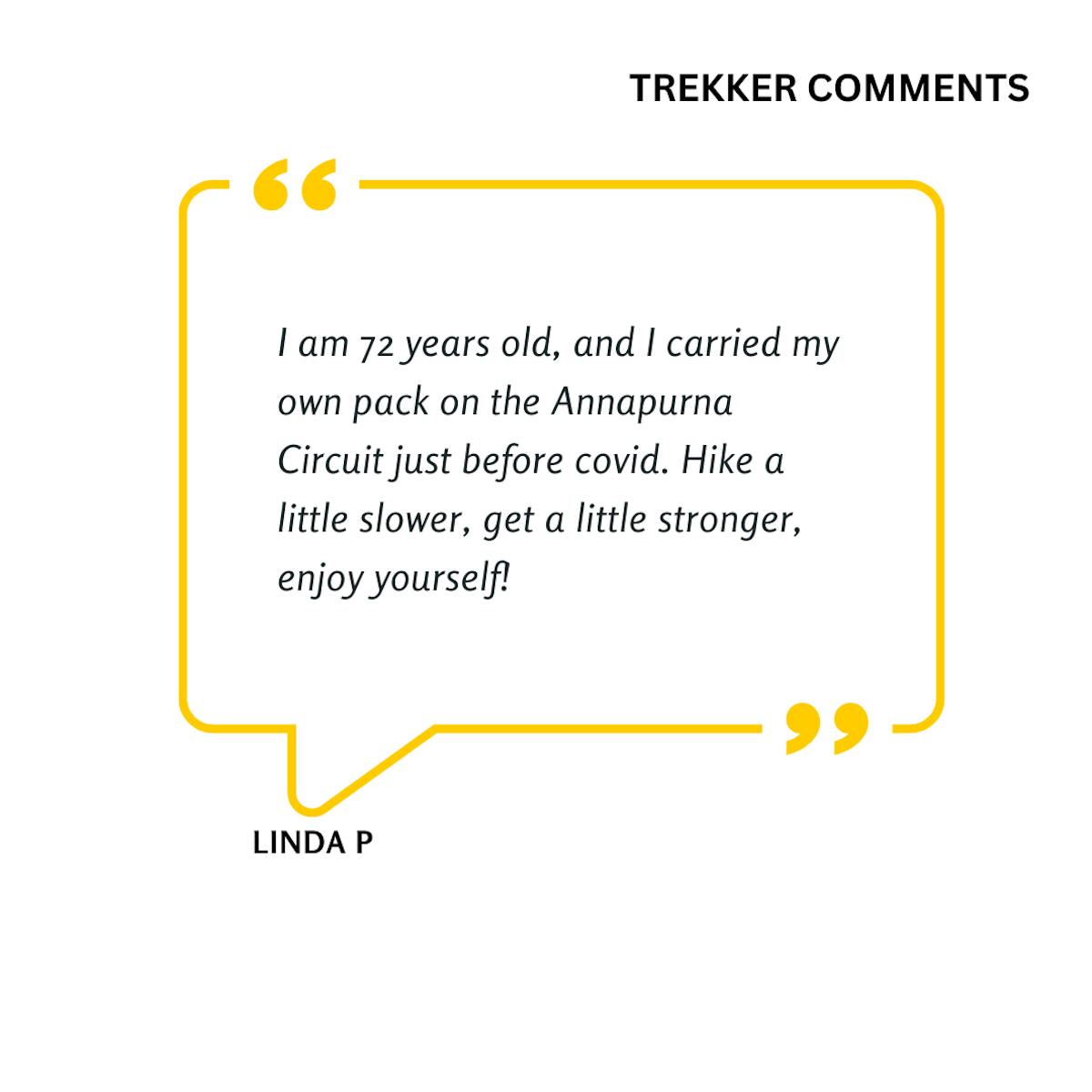 Trekking at a steady pace has its benefits. It makes you more observant. You take in the trail, notice the turns, the mountain views. 
Carrying your backpack also builds your core strength. This in turn has a direct impact on your balance. Good core strength helps you balance on steep descends.  
When you miss out on carrying your backpack for one trek, you miss out on these essential stepping stones that make you a better trekker.
Conclusion:
At Indiahikes we discourage offloading even when it is a source of revenue for the company. We do this because offloading does not align with the true spirit of trekking. 
Offloading is not a service. It's not an add-on.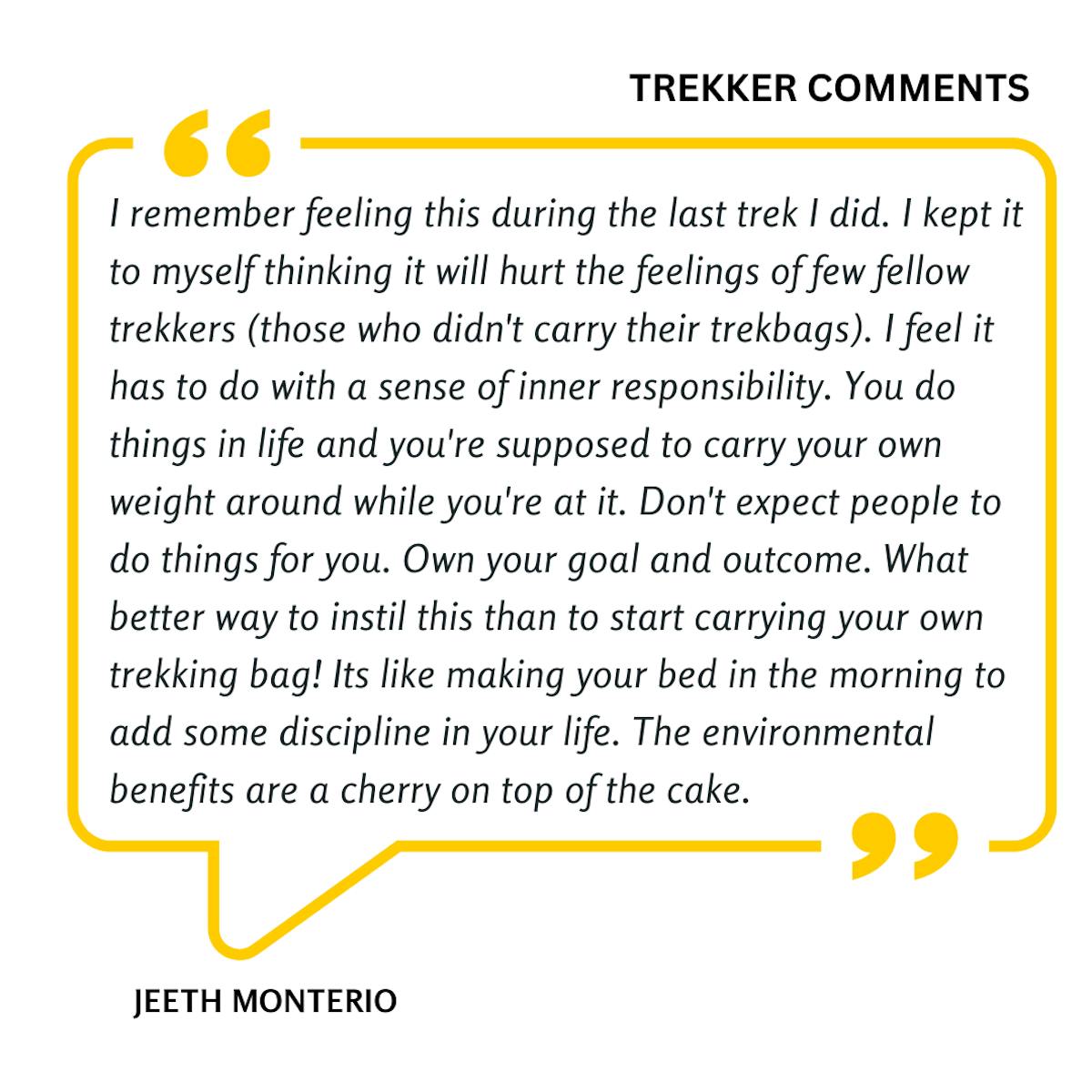 Many trekkers wrote back to us sharing how they felt about carrying their own backpack.
"I carried my own backpack on Rupin Pass trek for two reasons. First, for a sense of achievement. It gives a different feeling that if I am completing the trek, I will do it with my backpack. I don't want to achieve it in an easy way. It's a matter of pride. Second, I can't imagine human being or a mule carrying my load. Especially I can't look at mules, I really feel guilty as a human being when we make harmless souls work for us. Anyway, humans and mules end up carrying equipment and rations which is unavoidable. Let's not make them carry more," shared Shantanu Javdekar.
Quite a few even suggested, 'If offloading has such dire consequences, why not do away with the option altogether?'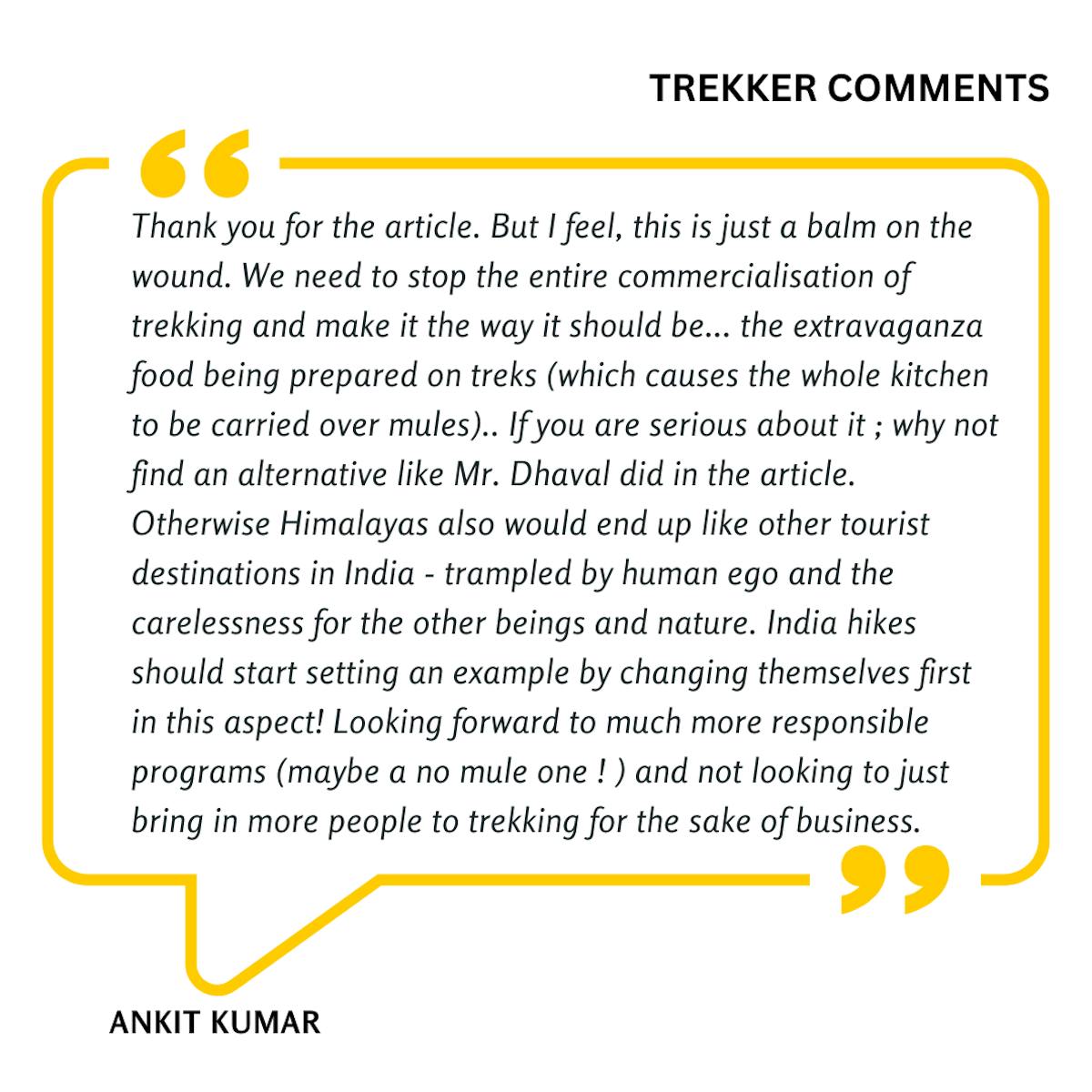 In a country where the culture of trekking is just setting in. Many people across all ages are getting introduced to trekking. And some have genuine concerns.
58-year-old trekker Mr JS wrote back sharing his concern.
"Over the past couple of treks with IndiaHikes, some friends in my age group have joined me and I have actually been thrilled at their enthusiasm and willingness to trek - for several of them it's been a novel and exhilarating experience, and the sheer joy on their faces at accomplishing a stretch goal is something that perhaps those with the benefit of youth will never be able to comprehend or appreciate (at the moment).
Some of them battled through physical pain - back and knee issues - without any complaints, and with a singular focus on the end goal. I feel their enthusiasm and resolve should be lauded and encouraged. The question is whether we encourage such participants with the offloading option, or demotivate them by insisting everyone carries their own packs," he wrote.
Trekking is growing in our country. People from various age groups are getting introduced to trekking for the first time. And in light of such concerns, the option of offloading works as a safety net. Not to be accepted as a norm, but as an exception in genuine cases.
Having said that, the trend for us to set must be to carry one's own backpack. Not as a choice, but as a norm.
Sign up for our much loved Weekly Mailer
We have terrific trekking tips, trek updates and trek talks to look forward to