Why Trekking in Jan and Feb is Better than December
Share this story
Today I'm going to give you some advice that not many people will give you. 
And I'll get straight to it: If you want to do a winter trek in snow, avoid the month of December. Choose January and February instead. 
Many trekkers raise their eyebrows when I give this advice. 
For most of them, December is the prime time to travel. And I understand that. They have holidays around then. Their children have vacations during Christmas and New Year. Or they want to finish up their leaves before the end of year.  
On a different note, trekkers also look at December as synonymous with winter. Not many people even think of January and February as winter.
Yet, when you think about it, December has its difficulties. (1) Flight charges are exorbitant at this time of the year (even if you book well in advance). (2) Hotels charge almost double their regular tariff (if at all they have availability) (3) Every place you turn to is crowded, including trekking trails. 
I'd like to elaborate a bit on the third point. 
A study that we did revealed that more trekkers go to the mountains in December than in the classic summer months of May and June! 
The crowd is so concentrated in December that the graph is staggering!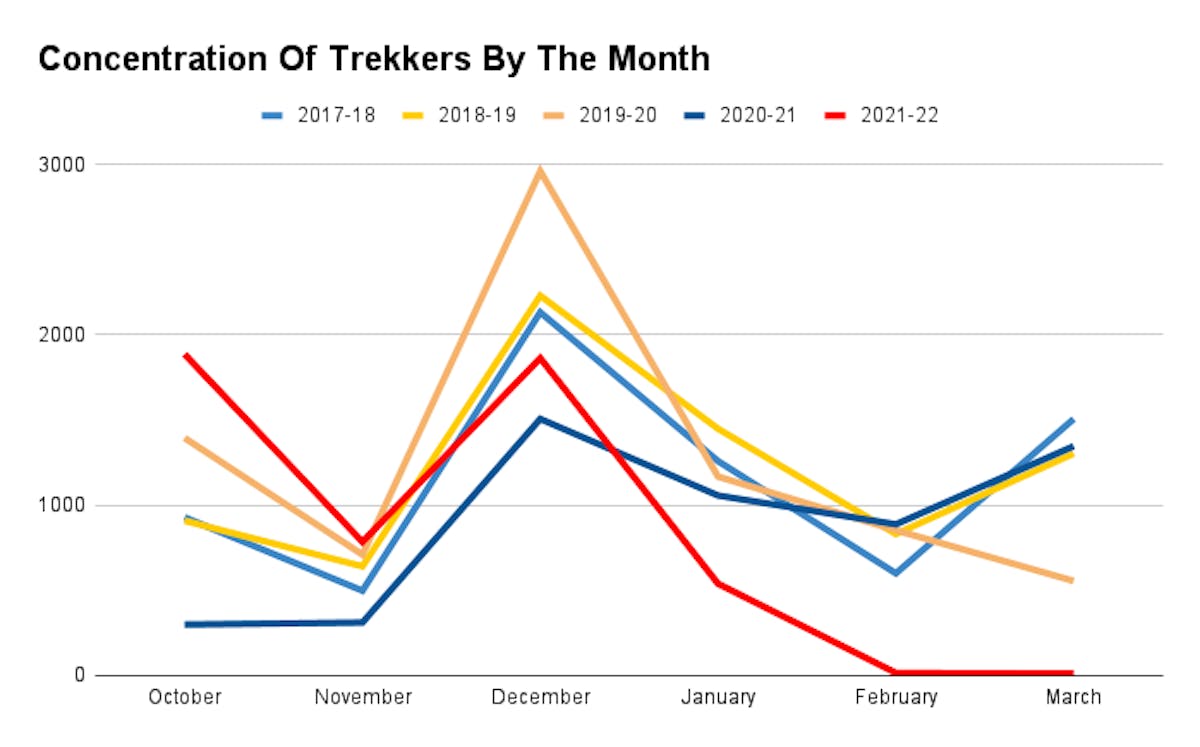 The above graph shows you a huge spike in crowds in December, dwindling down dramatically in January and February. This is four years' worth of data. 
To me, this concentration of trekking in December is the biggest tragedy! 
It completely removes the fun and serenity of trekking. Where there must be peace and quiet, you have music blaring on loudspeakers. Where there must be calm nights, you have campfires, alcohol and unruly behaviour. Campsites are strained for resources — space, water, toilets (campsites often become minefields of human waste). If it's a summit climb, the crowd gets heavy on top, with queues and long build-ups, and hundreds of people standing at the summit. I don't know what summit experience that is.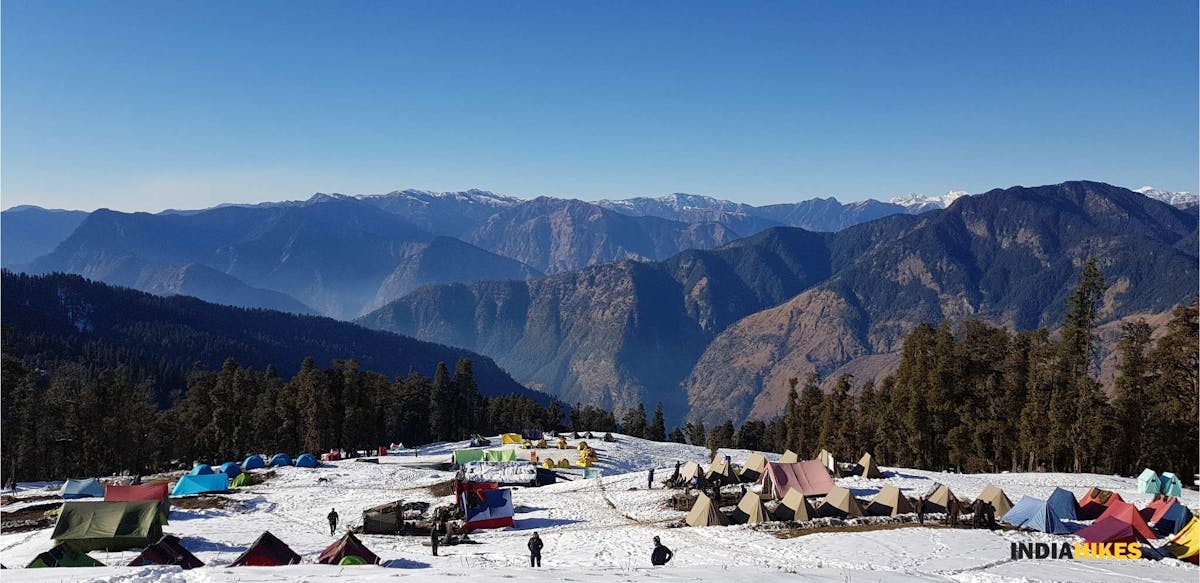 A camping experience loses any sense of serenity when you're surrounded by a large crowd, which is always the case in December. Picture by Hardik Patel
Outside the crowd, why trekkers must shift focus to January and February (The Big Snow Season): 
I admit, the crowd in December can put off any discerning trekker, but frankly, the real reason to go trekking in January or February is something else. 
January and February (until mid March) are the real big snow season. It is not December. December is the mere beginning of winter. It's when the first winter snow comes in. However, this is still just the beginning. 
Real winter sets in only in January and February in our country, forming a luxuriant blanket of snow on all Himalayan treks. January and February are what we term as the "Big Snow Season" at Indiahikes.
I recollect speaking to a meteorologist, Akshay Deoras, who has been a forecaster for the past 12 years. "What we consider early winter (Oct-Dec) is officially post-monsoon. Only January and February are officially considered winter," he had said. You can read my entire interview with him on snowfall in India here. 
Here's where I want to reiterate my advice to you. 
Most of us go to the mountains in winter to isolate ourselves from the clutter and noise of the city or to trek in a beautiful snowy setting. 
And there's no better time than the Big Snow Season to experience these. Here's why: 
1. There's more snow deposit on the trails compared to December. As you may know, winter snow is brought to our country by western disturbances. While there is usually one wave of western disturbance in December, there are at least 2-3 waves in the Big Snow Season. These are usually stronger waves and leave behind larger deposits of snow — so much so that it is this snow that lasts all the way to the end of April.

This snow deposit is what gives you a true snowy experience. Right from Day 1, when you're in the forests, you see fairy-tale-like snowy settings. The boughs of trees are beautifully laden with snow. The tree tops are drizzled with frost. As you climb higher, you see meadows and clearings covered in a vast white blanket. The ground below you is a soft powdery carpet. Our camps are usually in the heart of this snow deposit.

Frankly, most winter photos of Himalayan treks that you see are taken in this Big Snow season, and not in December.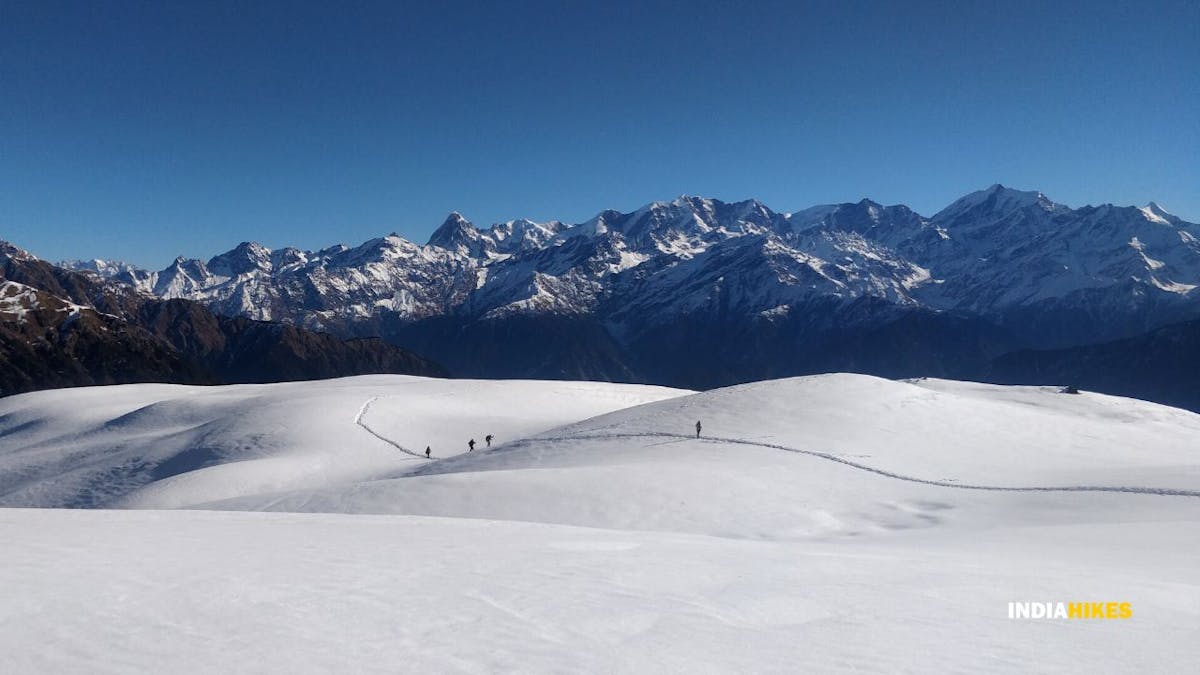 The snow deposit on all treks is the highest in the months of Jan and Feb, the Big Snow Season. Picture by Dhaval Jajal shot on the Dayara Bugyal trek
2. There are greater chances of snowfall in the Big Snow Season: More WDs = more probability of snowfall. I know this is something trekkers dream of experiencing! So if you want to have an adventurous experience with high chances of snowfall, the Big Snow Season is your best chance at it. 
Here, I know some of you may think that the presence of high snow might stop you from completing your trek. What I have noticed is that successful completion of the trek depends a lot on the technical team who goes along with you. At Indiahikes 92% of our trekkers completed their treks successfully (in the past two seasons). Only those who ran into the middle of a snowfall could not complete the trek. On such occasions we call off the trek (and sometimes the forest department does so too). 
Note: At Indiahikes, if you do not complete your trek, you are welcome to come back and finish the trek. We do not charge you for it. Did you know this?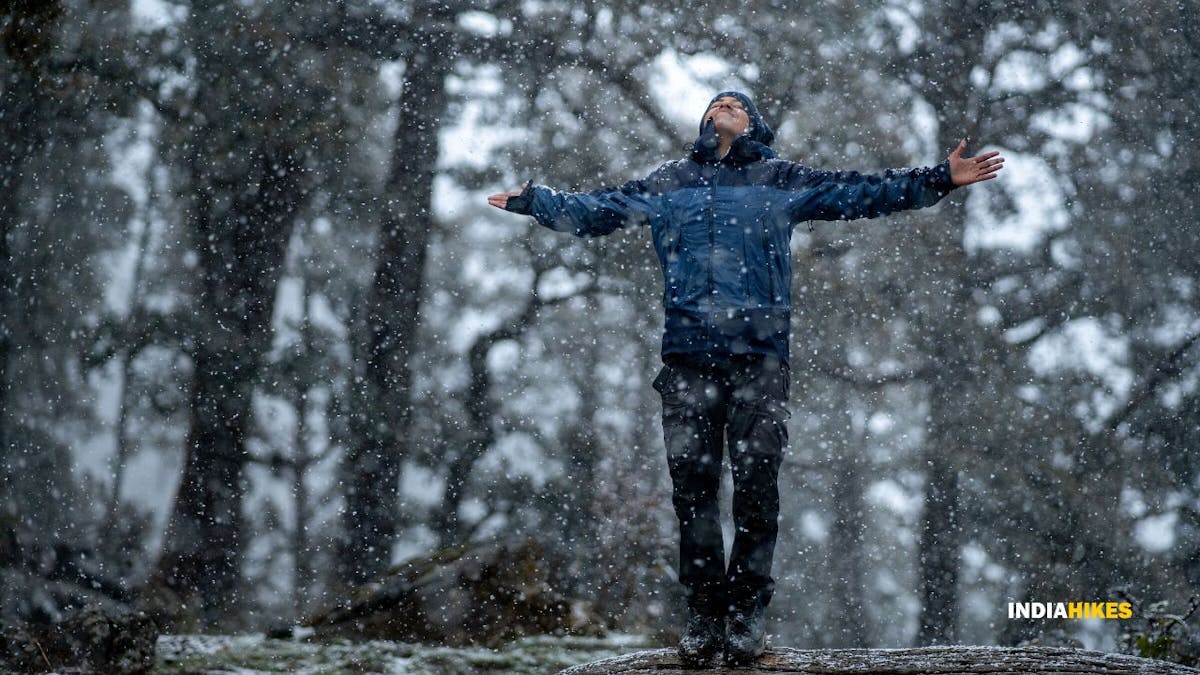 With more western disturbances, there are much higher chances of snowfall in Jan and Feb. Picture by Vishnu Sivanandan
Consider this a reminder because now is the right time to start planning. Our December dates for all winter treks have thoroughly run out. And we now have January and February dates available. 
If you plan now, you'll have the luxury of choosing dates that suit you. Very soon, you'll have to adjust your schedule to the leftover dates. I hope you make use of this reminder.
Top 8 Himalayan Treks to do in the Big Snow Season (January and February):
1. Dayara Bugyal trek - Our Only Winter Trek with the Biggest Snow Expanse
Dayara Bugyal is superbly rewarding at any time of the year. But the snowscape in winter is a world on its own. 
The biggest reward, though, are the meadows of Dayara — the biggest snow expanse you'll see. Miles and miles of undulating snow, like a field of vanilla ice cream, with not a single tree or a plant or a rock that obstructs the snow. It's just velvety snow for as far as your eyes can see.
Ever since we first opened it in winter 2017, trekkers have fallen in love with the other wintry charm of this trek — the lovely snow-draped oaks and maples, the soft glow of early morning sun on the white meadows, the icy lakes and ponds, the towering Gangotri ranges… 
You're not likely to see this much snow on any other winter trek. Add to it the number of snow slides while descending, it's the most fun you'll have on a winter trek! 
My tip for you: Catching the sight of Mt Bandarpoonch from the white expanse of the Dayara meadows is a highlight of the trek. Camping at the delightful Nayata campsite is another big reason. 
Duration: 6 days
Suitable for: Beginners with no prior experience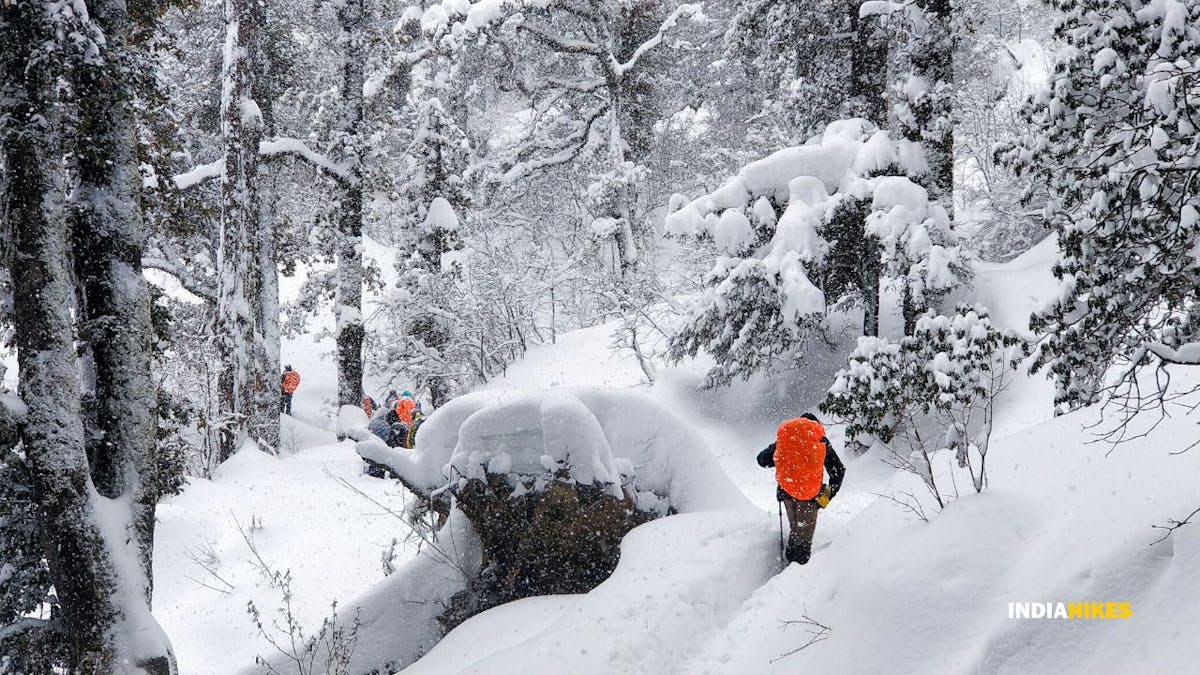 The forests of Dayara Bugyal in winter. Picture by Dhaval Jajal
2. Brahmatal trek - The Only Trek In Winter That Goes To An Alpine Lake
Brahmatal as a winter trek has become almost as popular as Kedarkantha. And I'm not surprised. The best experience on this trek is getting to see the frozen Brahmatal lake in winter. Almost no other trek takes you to an alpine lake in winter. On this trek, you see two of them: the Bekaltal and the Brahmatal. In addition, it's a stunner in winter with the snowscapes and the snowy forests. 
My tip for you: The views of Mt Trishul and Mt Nanda Ghunti once you touch the ridges is the reason to do the trek. Did you know Mt Trishul is the first 7,000 metre summit to be climbed by man? And on this trek it is so close that nothing separates you from where you stand and the summit. 
Duration: 6 days
Suitable for: Fit beginners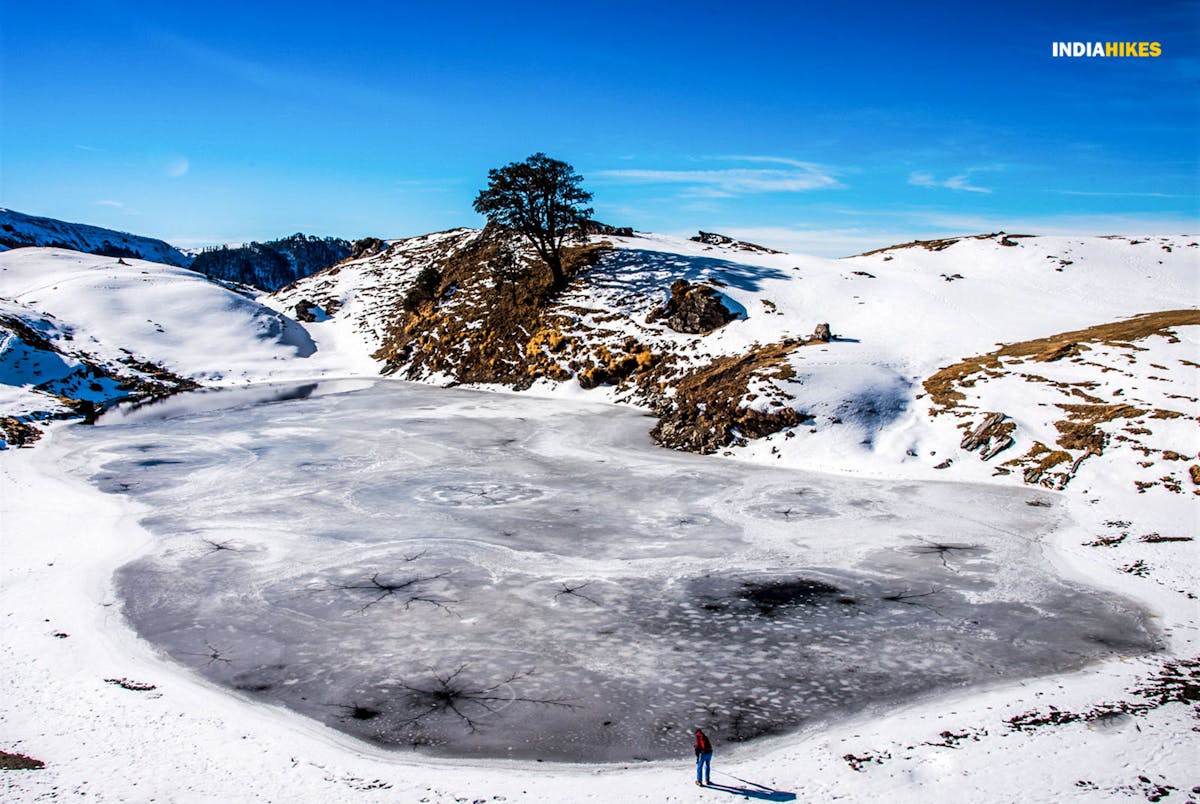 The frozen Brahmatal Lake in peak winter. Picture by Ashish Bhatt
3. Sandakphu-Phalut trek - See Four Of The Tallest Mountains In The World
Sandakphu is one of the few treks that has been done in January and February for a very long time. It's a trail that dates back to the 40's with a lot of historical and cultural significance. It's different from ALL our other treks, because it's on the border of India and Nepal. Sometimes on the trek you don't know if you are in Nepal or in India! At some camps your dining tent is in Nepal and your camping tents in India! But it is the Indo-Nepal-Tibetian culture that you will find mesmerising on the trek. You find the same trekking culture on the Everest Base Camp and Annapurna Base Camp treks. 
My tip for you: Do this trek to experience the famous tea house culture of Nepal. It is warmer too!
Duration: 7 days
Suitable for: Fit beginners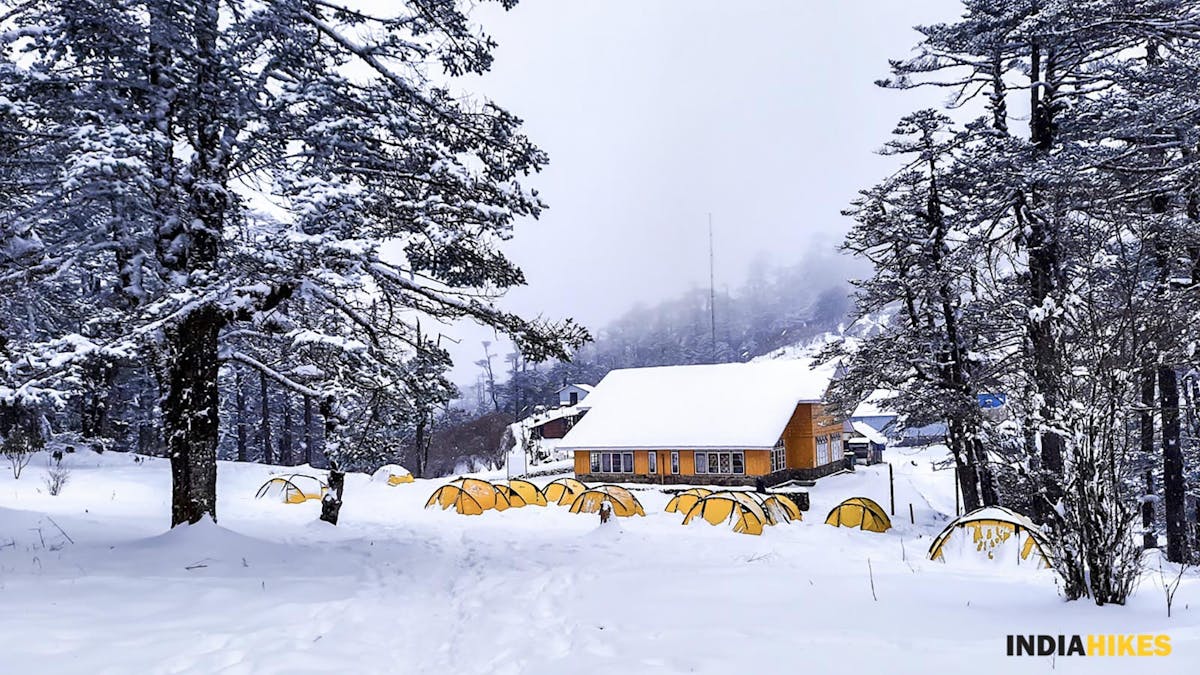 Sandakphu is one of those few trails where you have the luxury of staying in a warm tea house despite the chilly weather outside. Picture of the Molley camp by Dwaipayan Purkait
4. Kedarkantha trek - The Finest Summit Climb In Winter
This is India's most popular winter trek. The good news is the crowd completely dies down by January. And in February, there are almost no signs that this is a popular trek at all. 
Do this trek for the summit climb. The alpine views (and settings) from the Kedarkantha summit are unmatched anywhere. 
My tip for you: For us at Indiahikes, we love the forests and the clearings of the Kedarkantha trek more than the summit climb. We have not found an equivalent of these anywhere else!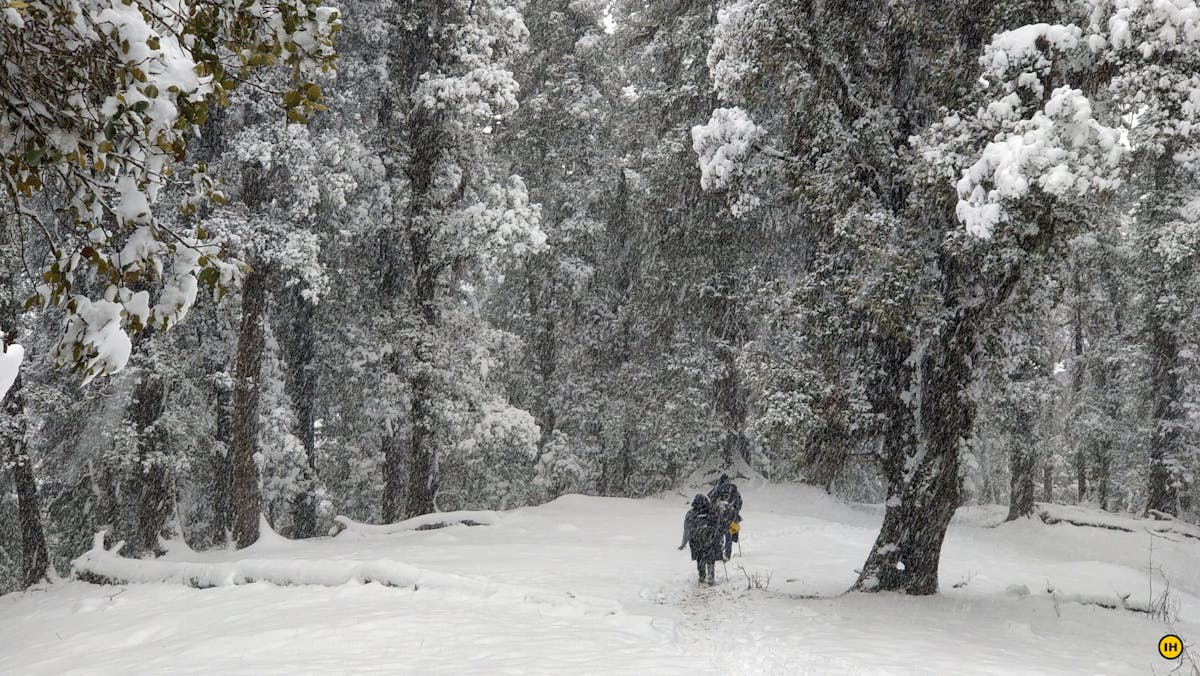 Peak winter in Kedarkantha is a challenging experience. But every bit of effort rewards you manifold. This picture was taken in late December. Picture by Dhaval Jajal
5. Deoriatal-Chandrashila - The Only Winter Trek With The Best Mountain Views
Seeing great mountain views on a trek is not easy. In winter, most such vantage points are rare and even if accessible, they are usually buried under deep snow. 
The Chandrashila summit is unparalleled among our treks. From the top of the summit, you see perhaps the greatest mountain views of our Indian Himalayas. It is like a grand feast of mountain views — From your left are the Gangotri range of peaks, Mt Thalaysagar, the Kedarnath and the Kedar dome. Mandani Parbat and Janhukut. The imposing Chaukhamba is right in front. Most of them are over 7,000 metres tall. 
On your right are the Gauri Parbat, Hathi Parbat and Dunagiri. And then right ahead standing against the skyline is India's tallest mountain, Mt Nanda Devi. Trekkers find it hard to believe that they are seeing Mt Nanda Devi. If that's not enough, to Mt Nanda Devi's right, etched against the skyline are Mt Nanda Ghunti and Mt Trishul. Two of the most beautiful mountain summits in our country. 
My tip for you: Do this trek for three reasons: for the terrific Mt Chaukhamba view from the shores of Deoriatal. For the mountain views from the Chandrashila summit and the chance to see Tungnath, the highest Shiva temple in our country. And yes, the trek has great trails through the forests as well. One of my favourites. 
Duration: 6 days
Suitable for: Beginners with no prior experience in trekking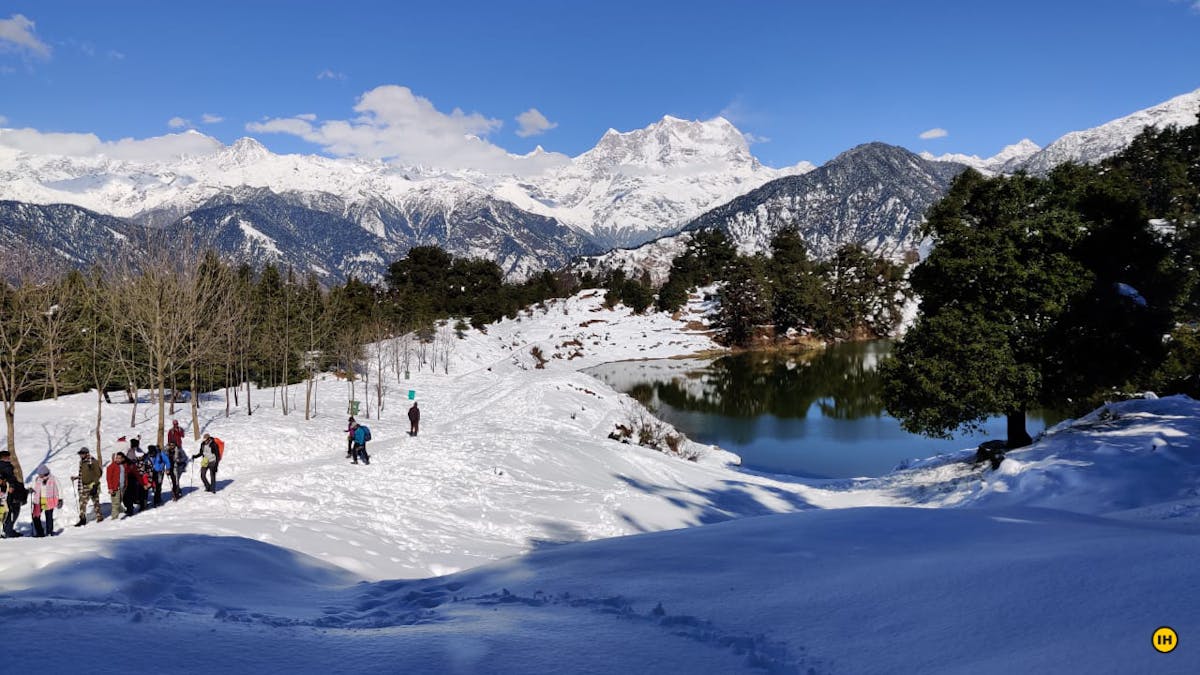 The Deoriatal Lake in winter, surrounded by snow, with the Chaukhamba massif in the background. Picture by Avijit Jamloki
6. Kuari Pass - The Only Trekkable Mountain Pass In Winter
Getting to a mountain pass is always adventurous and thrilling. Doing it in winter is almost impossible. Yet, there is only one trek in our country where this is possible — the Kuari Pass.
Apart from its splendid views and forests, Kuari pass is a mountain lovers' delight. You have an unending vista of the biggest mountains in India opening up right from day one. You even get to see the clearest view of the full south face of Mt Nanda Devi, India's highest mountain.  
More than this, Kuari Pass is a near-perfect trek. You go through ancient layered forests, hopping from one layer to another. The section above the tree line is fascinating with its many twists and turns over ridges and flanks to get to the pass. 
My tip for you: If you want to see the tallest mountains of the Indian Himalayas, Mt Nanda Devi, and one of the most aesthetic peaks, Mt Dronagiri, choose this trek. It is one of those treks that spoils you with incredible views right from the first day of the trek.
Duration: 6 days
Suitable for: Fit beginners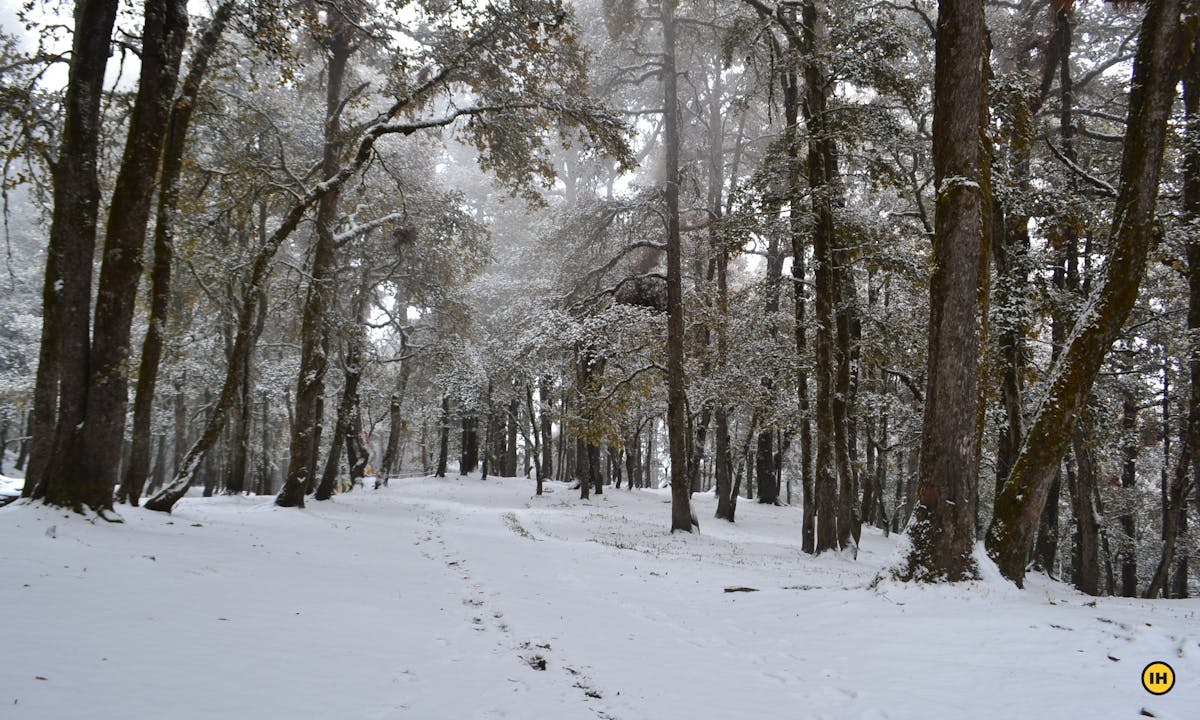 The oak forests of Kuari Pass covered in snow. Picture by Sandhya UC
7. Ali Bedni Bugyal Trek - The Winter Trek With The Most Variety
Out of all the winter meadow treks in our country, Ali Bedni has the most variety during the winter season. Starting off with the mountain views. The sight of Mt. Trishul and Mt. Nanda Ghunti jutting right out of the snow-covered mounds of meadows is a sight to behold. Jutting out doesn't mean you see the tops of these mountains, you see the entire face — almost 6,000-7,000 feet of it — rising right in front of you! 
Another unique experience is witnessing the remote, untouched table top village of Didna on this trek. From your basecamp at Lohajung it looks set on a platter jutting out of the mountain. You actually camp here. 
In winter, the setting of this trek, through the forests above Didina and then through the clearings at Tolpani will stun any trekker. Further, when you descend through the forest at Gheroli Patal and Wan have a lot more variety than any of our winter treks. 
My tip for you: This trek has few of the most stunning views of Mt Trishul and Mt Nanda Ghunti. Sitting in Ali Bugyal as the sun sets, trekkers are often moved to tears at this sight. Just for that view, this trek is worth doing. 
Duration: 6 days
Suitable for: Fit beginners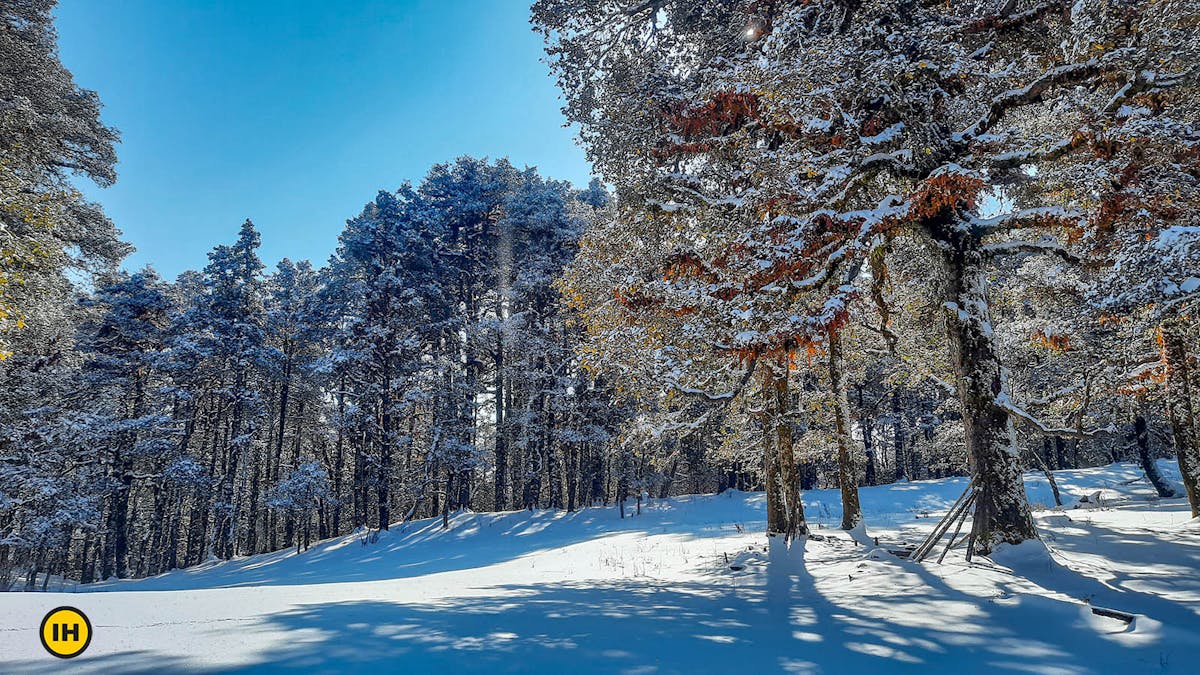 The magical clearings in the forests of Tolpani in winter. Picture shot in Jan 2021 by Indiahikes Team Member Ravi Ranjan
8. Weekend Trek to Nag Tibba
Here's a trek that climbs right out of Mussoorie, but not many people do it in peak winter. Despite being a small weekend trek, it gets lots of snow in Jan and Feb, giving you an experience much like a full-fledged Himalayan trek. The sunset views and the forest trails on this trek are something trekkers fall in love with. 
My tip for you: This trek makes a lot of sense if you live in or around Delhi and want to have a quick adventure over the weekend. 
Duration: 2 days 
Suitable for: Beginners with no experience, families with slightly older children too (above 13)
That's the list of our peak winter treks. 
Given that it's a small list, the dates are likely to run out soon. So plan as soon as possible. 
If you have any questions, head over to our FAQ page to find detailed answered. If you still don't find answers, drop in your question in our Trekker Forum, where you will get valuable help from experienced trekkers.
Banner image by Anish Pillai.
Related Videos
5 Offbeat Winter Treks That You Must Do in 2022
7 Things You Must Not Forget On Your Winter Trek
10 Winter Trek Myths Busted
Sign up for our much loved Weekly Mailer
We have terrific trekking tips, trek updates and trek talks to look forward to