Petzl Tikka 2 LED Headlamp review
Share this story
Petzl's popular Tikka 2 is considered to be one of the best value-for-money products in the small headlamp market. I tested this product to see how it fared on treks in the dark. Here is the verdict.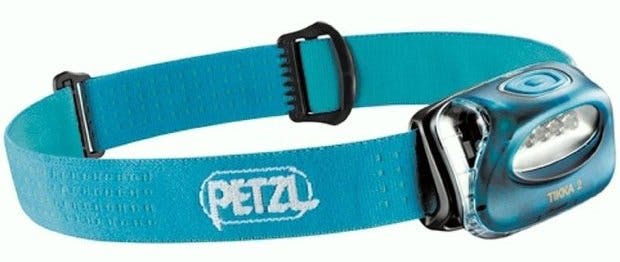 Petzl has been making quality products for outdoor sports for decades. It has been a pioneer in inventing lighting equipment for many outdoor sports.  Undoubtedly, Petzl makes few of the best hands-free headlamps in the world. Petzl Tikka 2 is one such headlamp. The first impression I got when I opened the package was that it was attractive. Cool blue and light-weight. It looked stylish and compact at the same time. 
Specifics
Weighing only 85 grams, Petzl Tikka 2 is very light, yet sturdy. The elastic on the headband is easily adjustable and does not slip off the head. The headband material is washable. However, people looking for headlamps for activities like trail running, should look for performance-tagged Petzl models that come with better mounted headbands. The headlamp base is splash resistant. However, don't expect it to work optimally if you drop your headlamp in a river.
Adaptable Lighting
Petzl Tikka 2 comes with three lighting modes. The ambient mode has a wide beam with reduced brightness. This helps avoid blinding others and helps elongate battery life. The proximity lighting mode adapts to each situation. It gives you a comfortable beam for close-range vision. However, I am not impressed by its closed beam which tends to focus only in the middle. Ideally, I would like to have a broad even light for closed proximity as well. But it does well to replace a hand-held torch.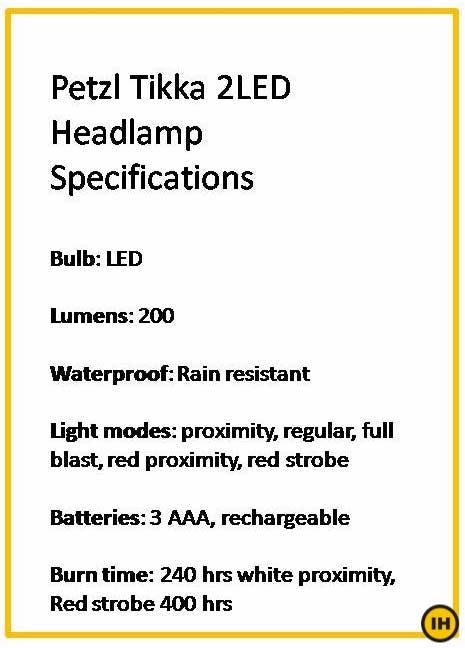 Low beam throw 
The three modes (maximum, economic and flashing) can be accessed by a simple push-switch at the top. In maximum mode, the four LEDs deliver 40 lumens of light, which provide enough light to see over a distance of 29 meters. The field test gave average results. On maximum mode, I was able to use the headlamp to see and locate directions around the camp site. However, people looking for long range lighting should look for 60 or 80 lumens, which is available in Petzl's new Tikkina series. The beam concentrates light in the middle for mid level distances (7 to 15 meter range), which is less than ideal for viewing and path navigation. 
The economic mode is a very good option and helps you in getting very good burn time from your battery. Petzl claims 120 hours of burn time (Eco Mode) and 90 hours (Maximum Mode). I admit the battery life on this model is exceptional and is undoubtedly the USP of this product. It comes compatible with AAA/LR03 and CORE rechargeable battery. The battery case opens easily for changing batteries, though first timers may take some time to get used to it. The headlamp is easy to use and you can easily adjust the angle of the light beam.
Pros.
Light weight, compact, easy to use.
Good build quality, washable headband.
Good battery life.
Best value for money for small headlamps.
Cons.
Not as bright as the new models in the same segment.
Close proximity lighting is poor.
Cannot be used for specialized performance based sports like Mountaineering, trail running etc.
Final Verdict
Petzl Tikka 2 is solid, but not an exceptional performer. It is compact, durable with good battery life. It also is one of the best priced headlamps from Petzl. For people looking for an alternative to a field torch or night lamp for general and outdoor use on treks, Petzl Tikka is a good option. In India, it comes at under Rs.2,000, which is still expensive compared to what it costs in West ($30 approx). If you are looking for a compact, good value for money headlamp with best battery life, go for it. But those looking for better lighting performance from a headlamp may look for other options.
Sign up for our much loved Weekly Mailer
We have terrific trekking tips, trek updates and trek talks to look forward to