How We Exited Trekkers From A Snow-blocked Lohajung - A Photostory
Share this story
It has been snowing intermittently for the past 3 days at most of our base camps. It is great to see that trekkers are enjoying this snow experience despite the difficulty. Our staff on the slopes too, have been working round the clock to ensure that our trekkers are safe, and have a good trekking experience.
Lohajung, our basecamp for the Brahmatal Trek was unreachable via road due to heavy snowfall. So our trekkers had to walk 8 km to Bagdigad, the nearest roadhead. Our Slope Manager Gourab Nandy shared this heartwarming photo story of trekkers exiting a snow-blocked Lohajung.
Trekking in winter is a gamble, but with a great opportunity for learning. Just travelling to villages in the interior of the Himalayas, observing local culture, learning to live with snow – an experience most of us don't have, trekking on roads for hours together, and other surprises the mountains often spark upon us, is in itself worth travelling for.
This photostory is about how our Team moved out 23 people from our basecamp, and led them to the nearest accessible roadhead 8 km away.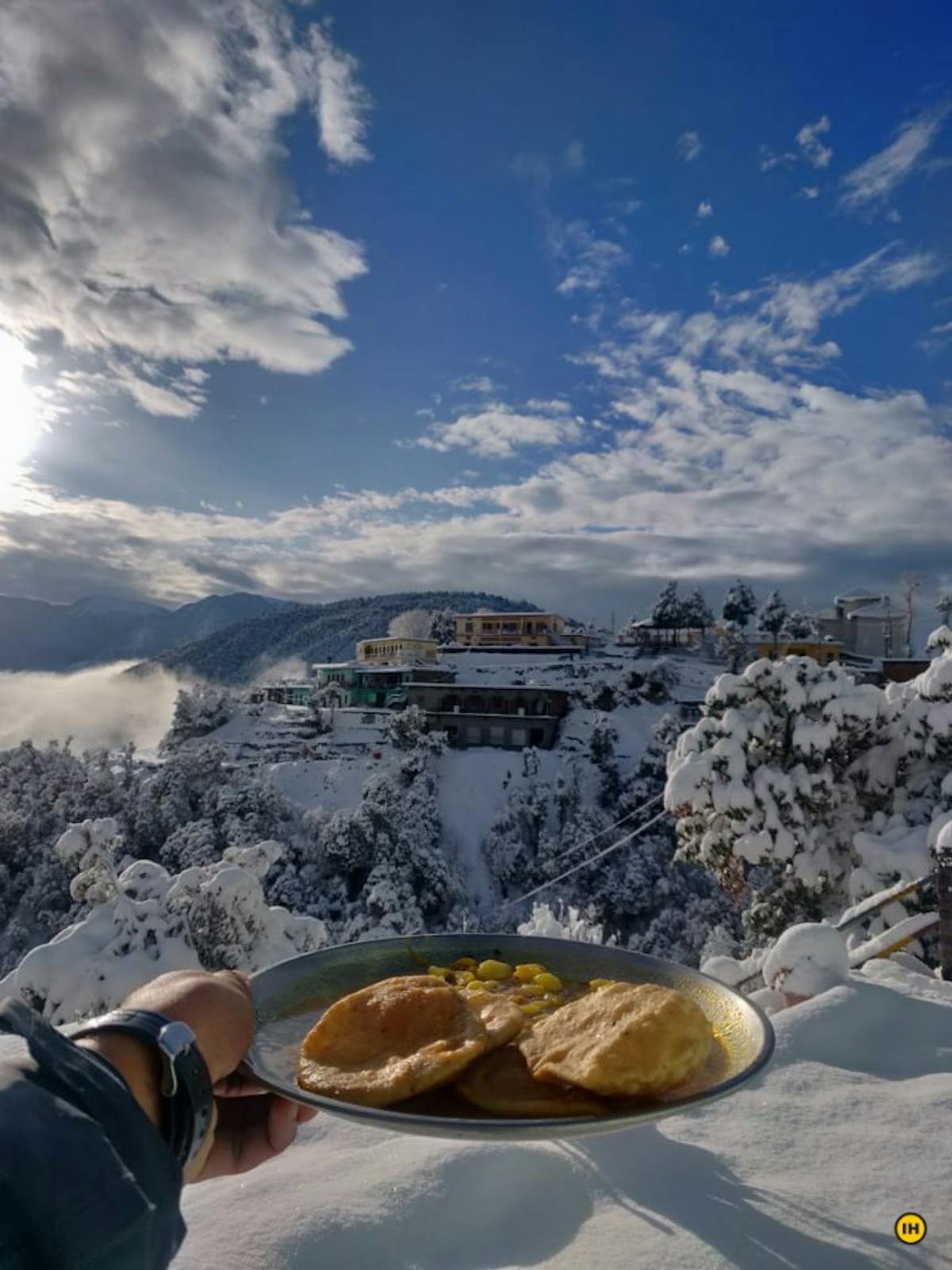 The morning began with a scrumptious breakfast, and a splendid view.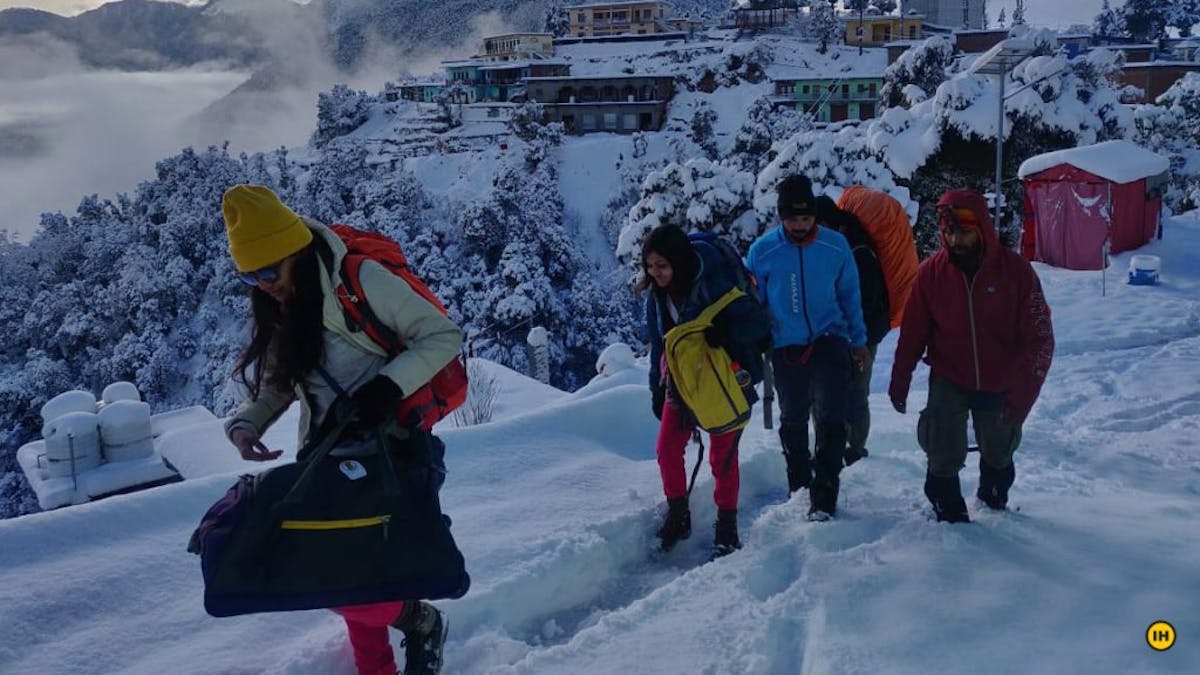 Soon afterwards, trekkers set off on their 8 km walk to Bagdigad. They were led by the Indiahikes team.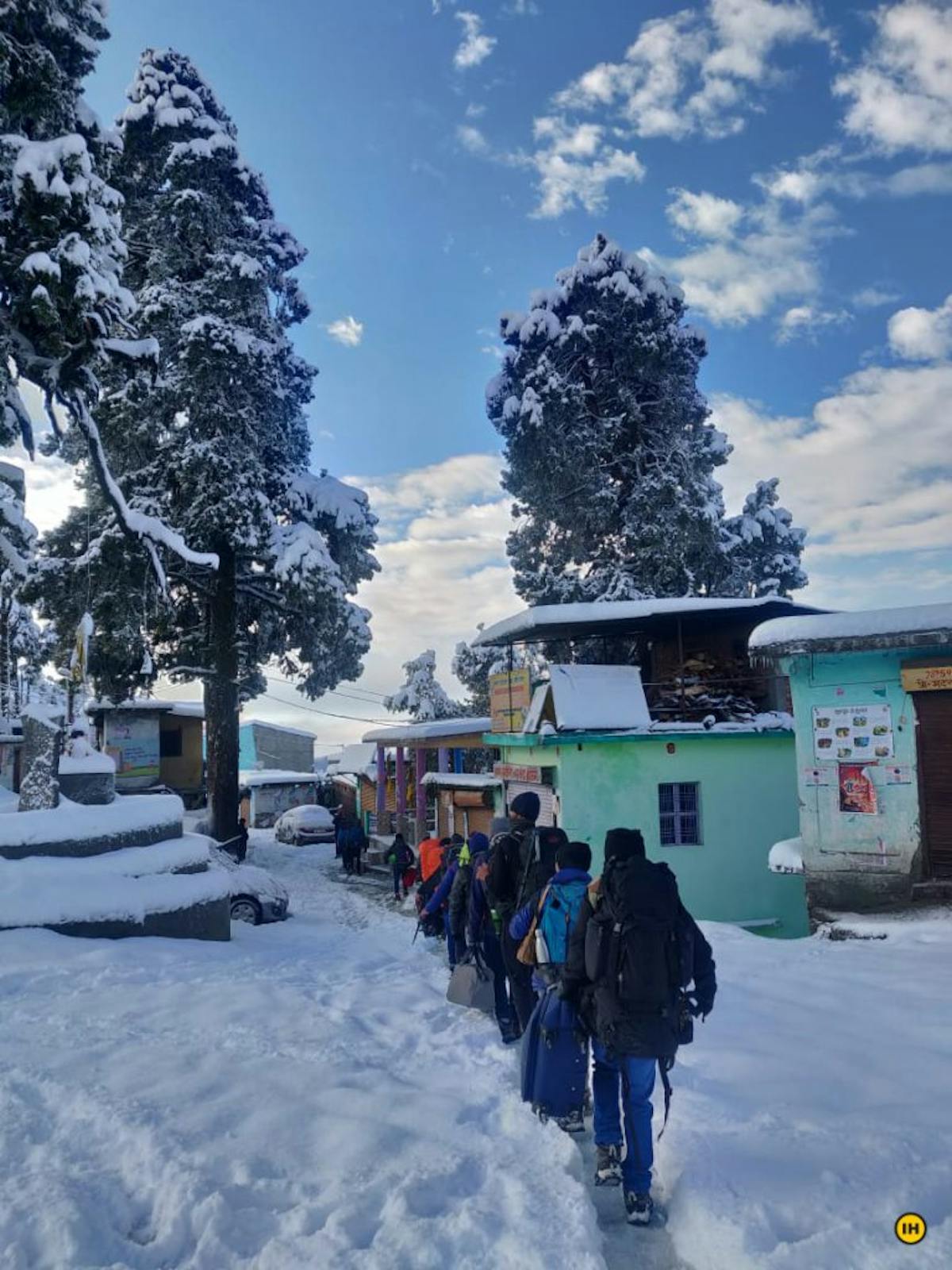 If you have been on the Brahmatal Trek or the Roopkund Trek, this was your basecamp. Can you identify this village? Our trekkers heading out of the village in a foot of snow.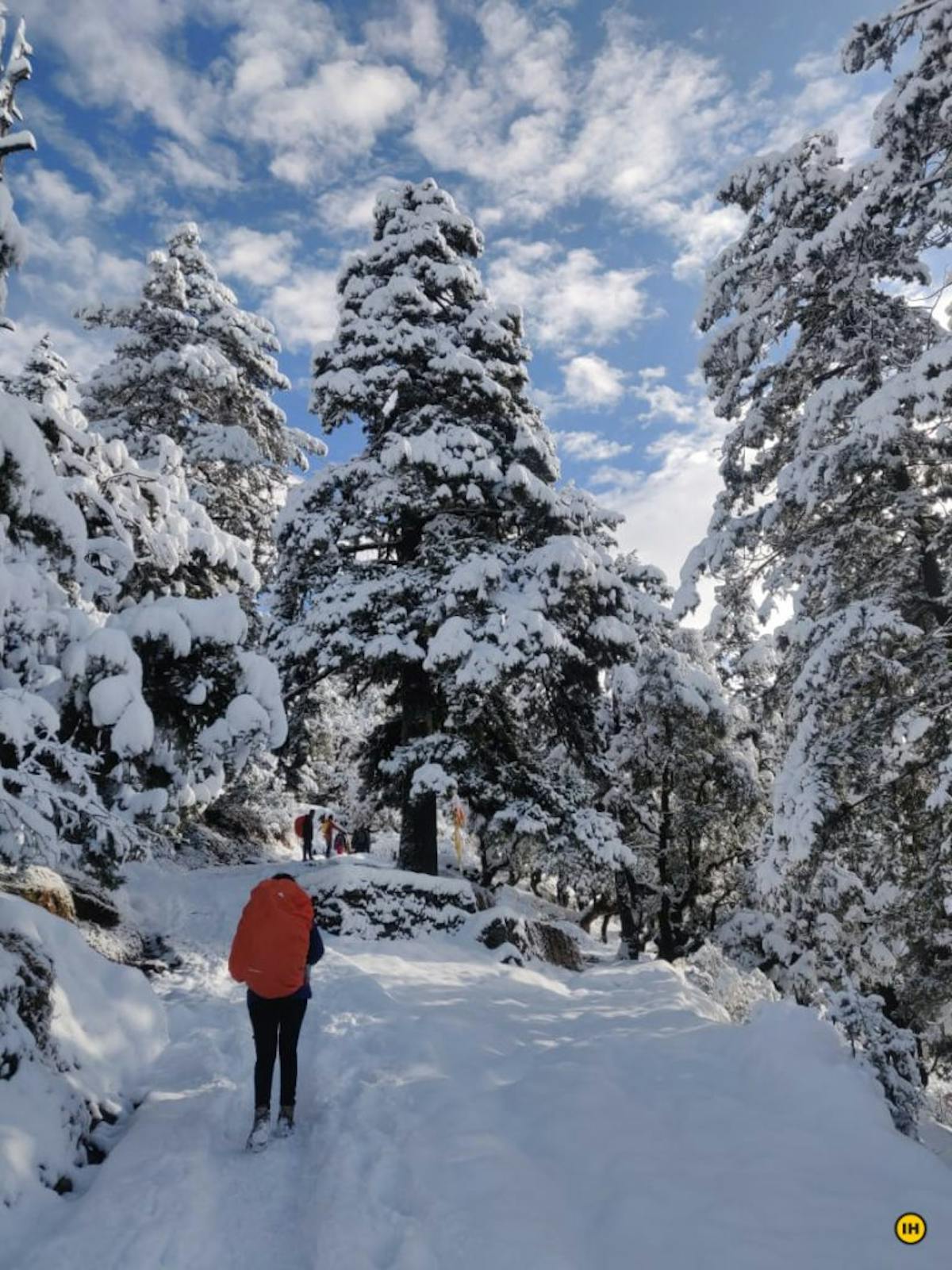 On the Brahmatal trek…err no, on the walk of out Lohajung! (The Basecamp for the Brahmatal and Roopkund Trek)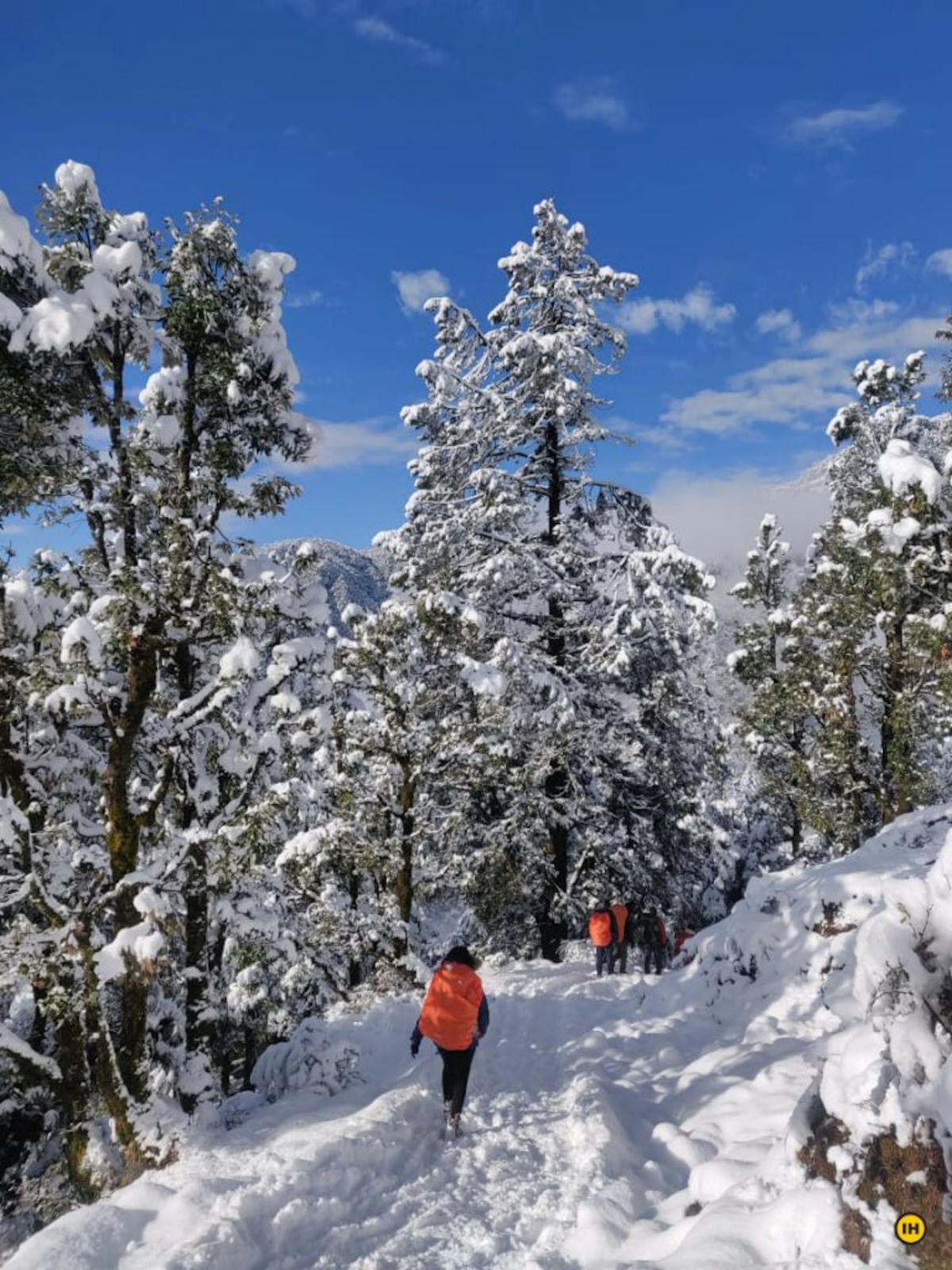 After days of trekking in heavy snowfall, and white outs – the sight of the sun and blue sky was welcomed by all.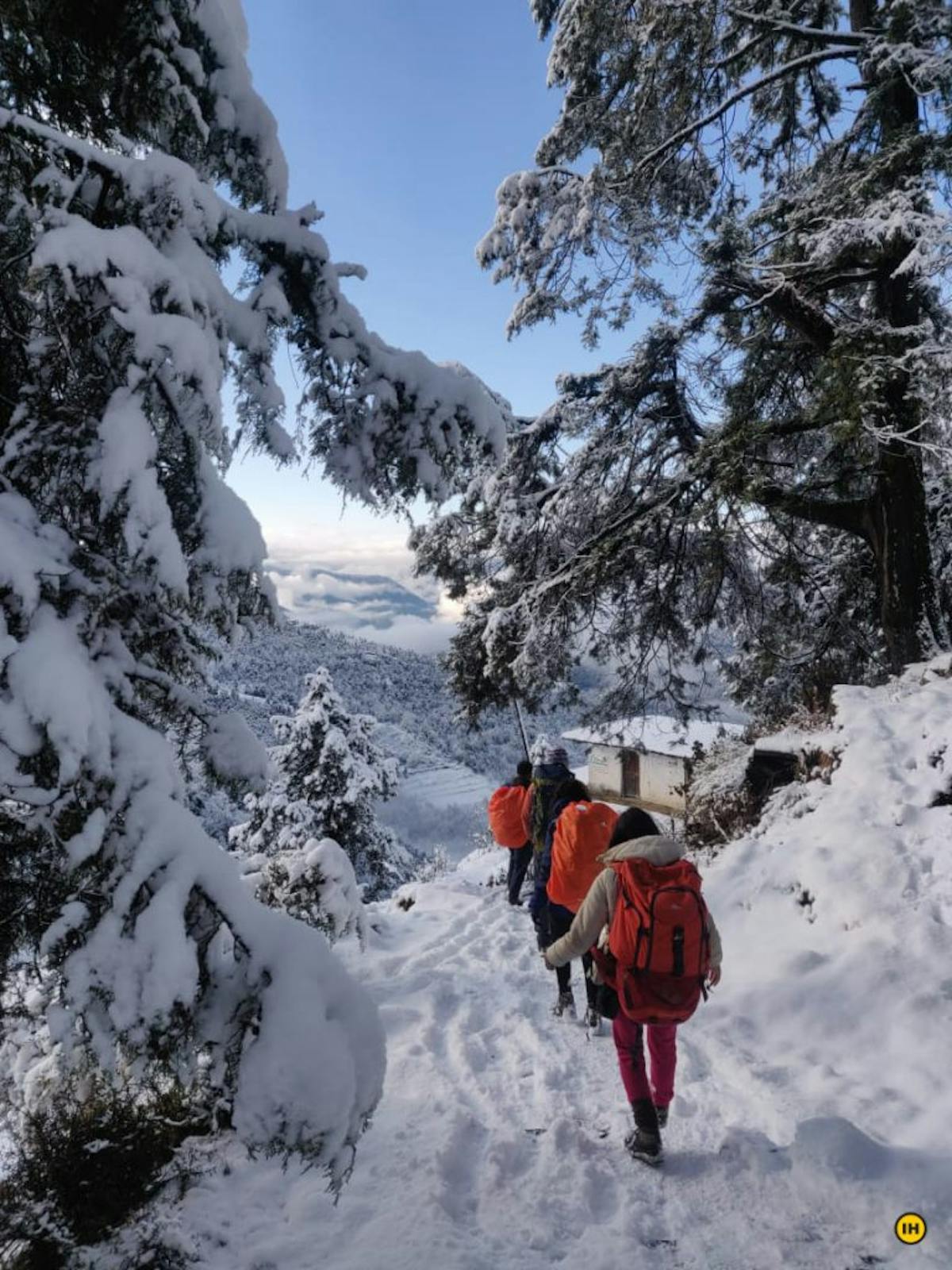 Our trekkers arriving at Mundoli. The cabs are waiting for them here.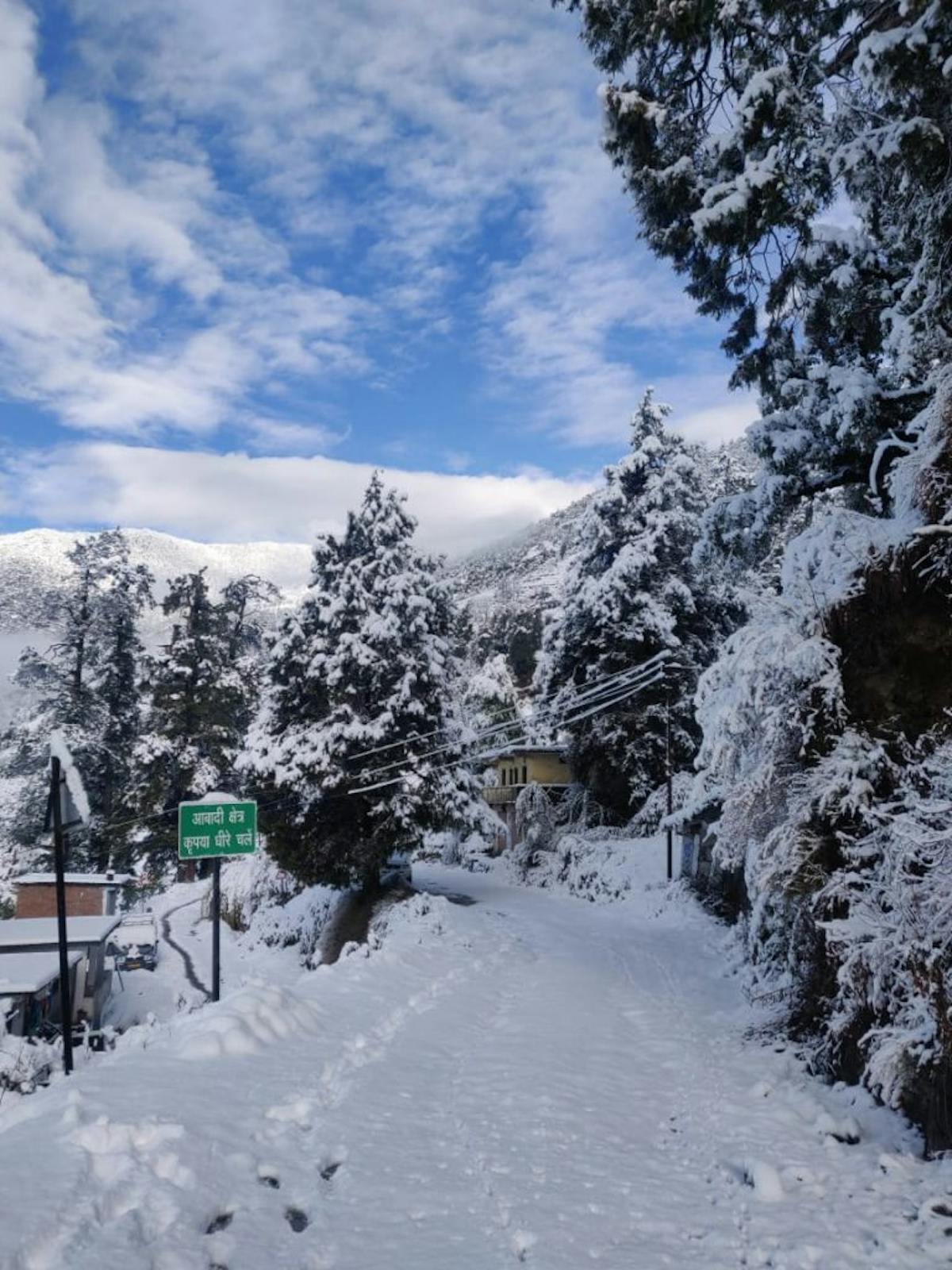 No sign of cabs here at all! No tyre marks either. Only footprints.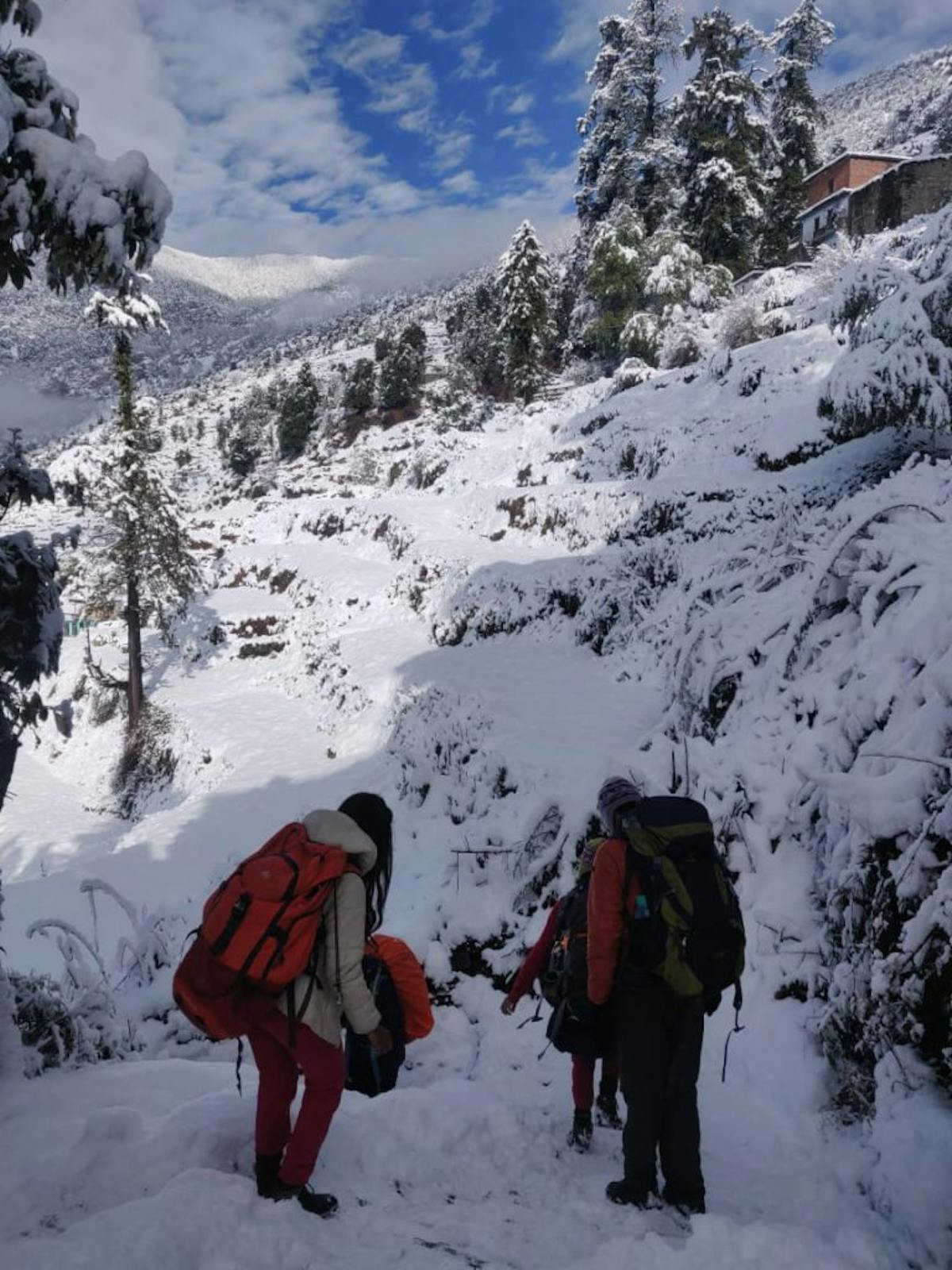 Powering on. Trekker are not only carrying their backpacks, but their city gear as well.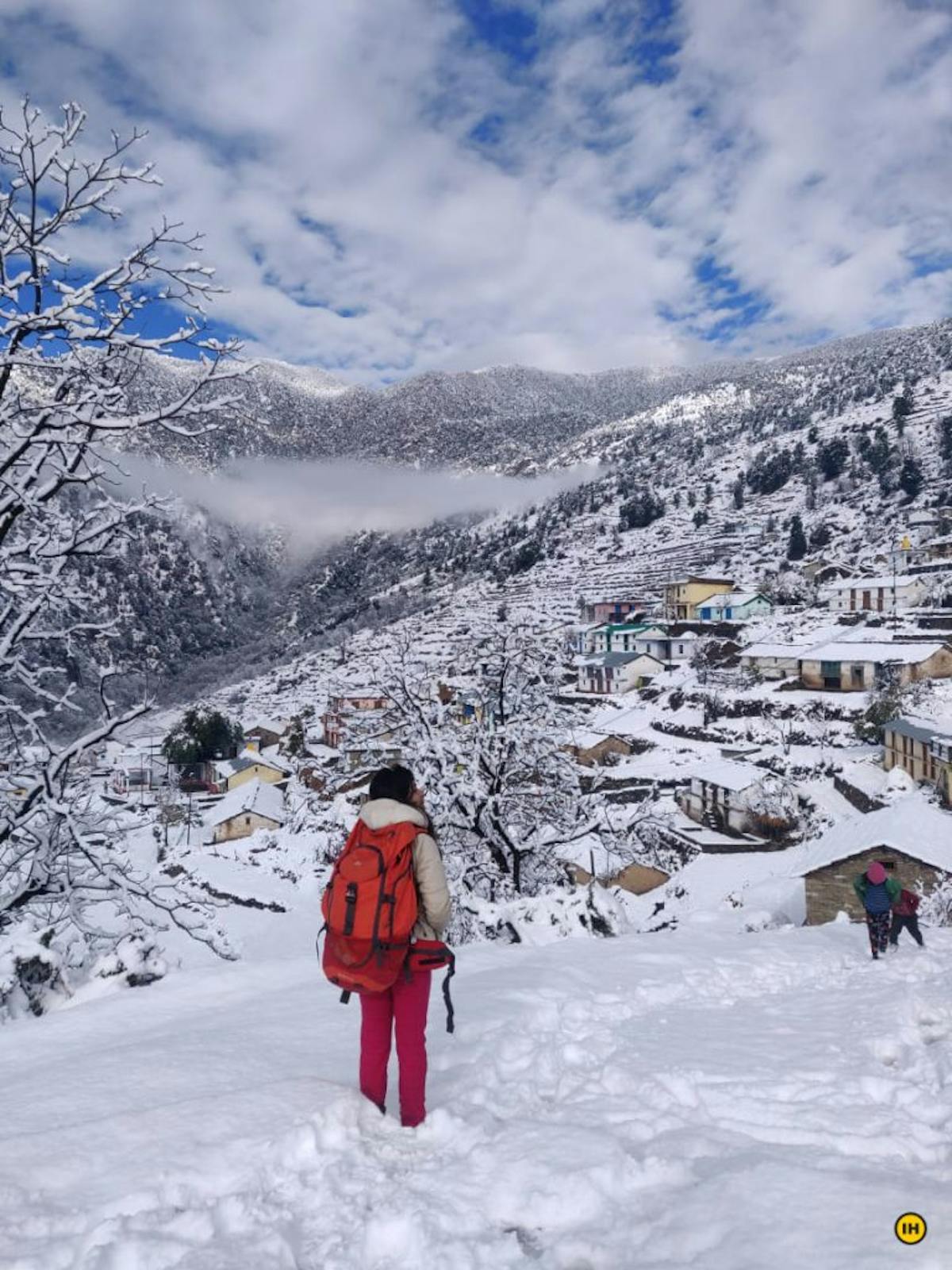 In a cab, this view would've been missed. A view worth the effort.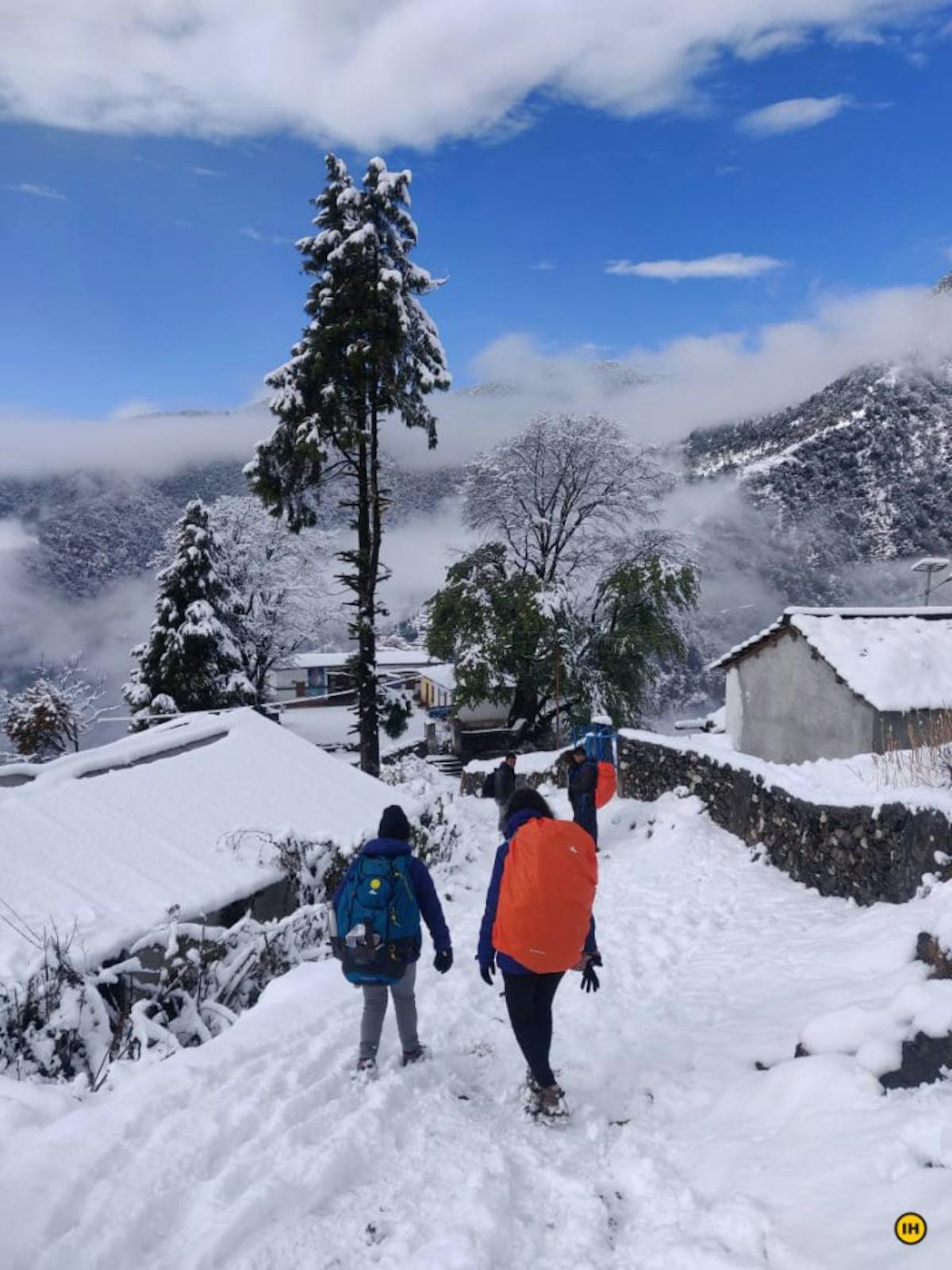 How much farther to Bagdigad? Bas 10 minute aur?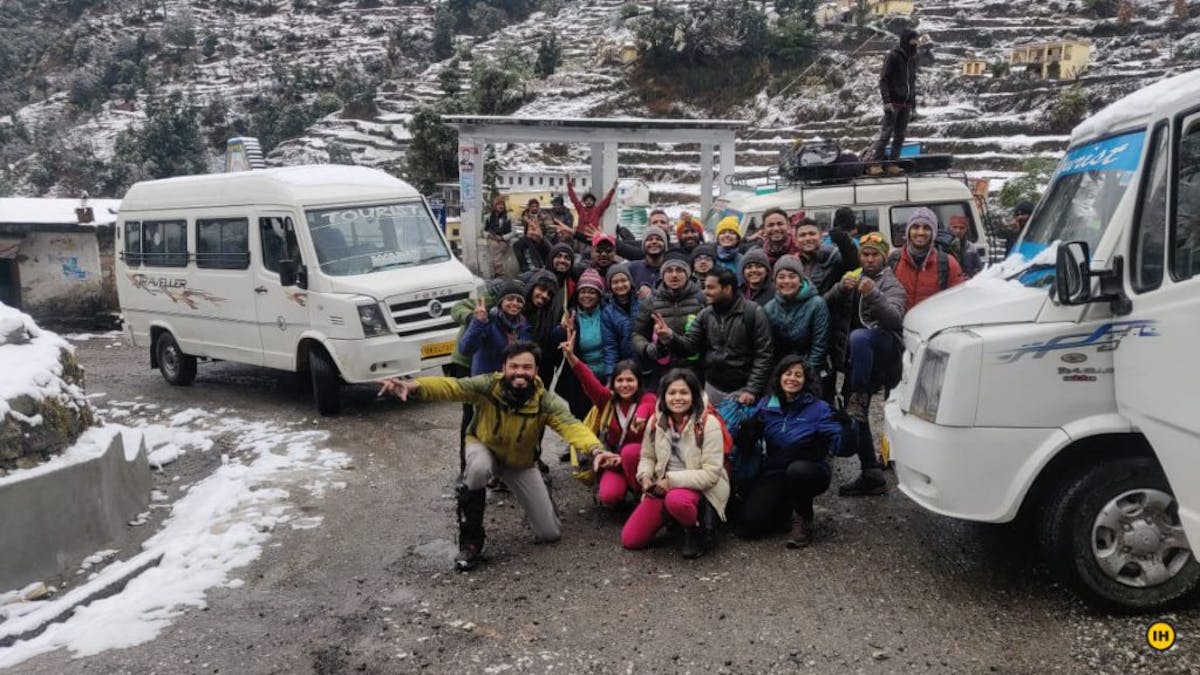 The entire team reached Bagdigad safely, and were happy to see tempos waiting for them. Look at those smiles!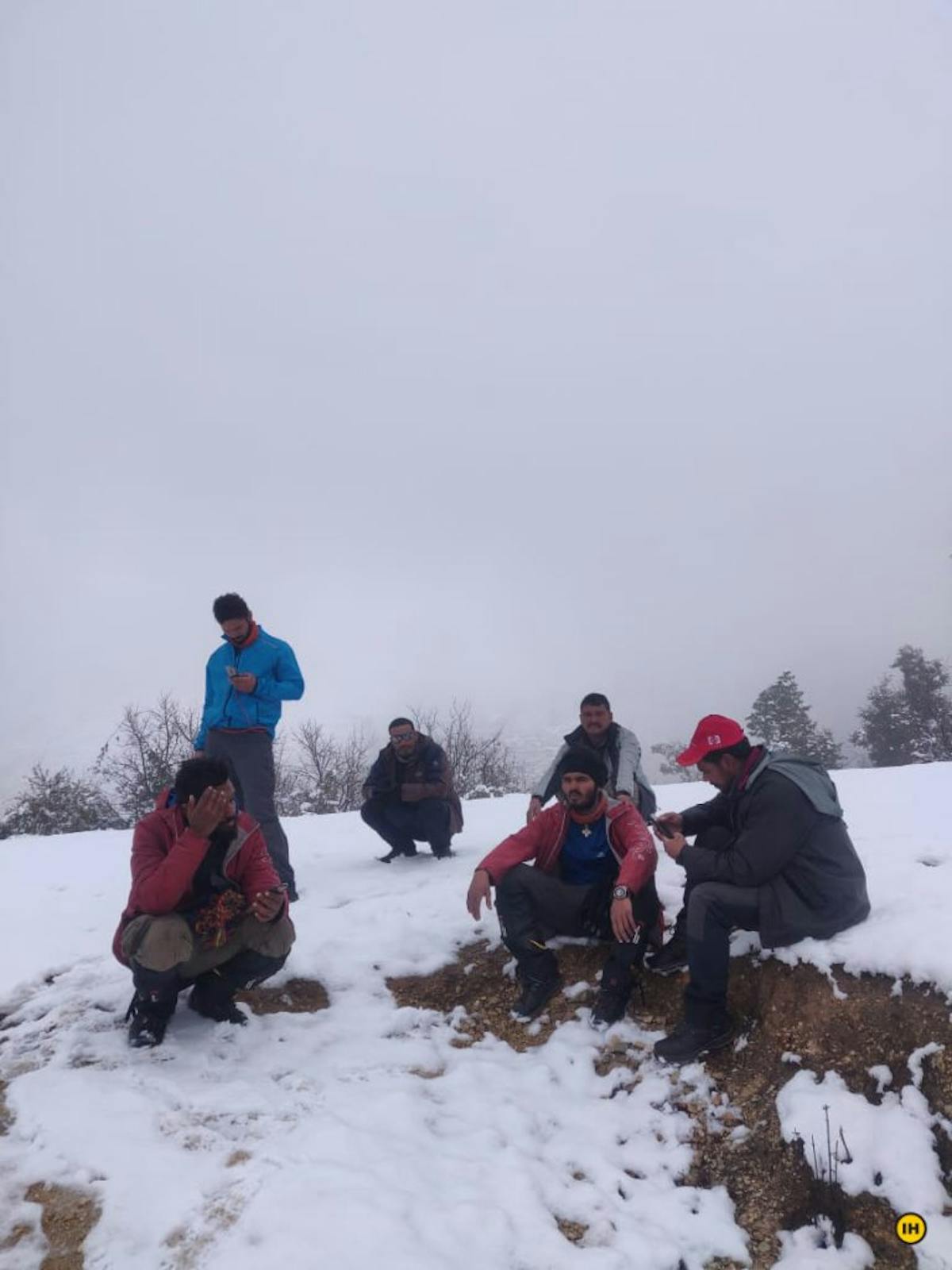 …but for our staff, it was an  8km uphill trek back to the base. After trekking for 4 km straight, the team stopped for a small break.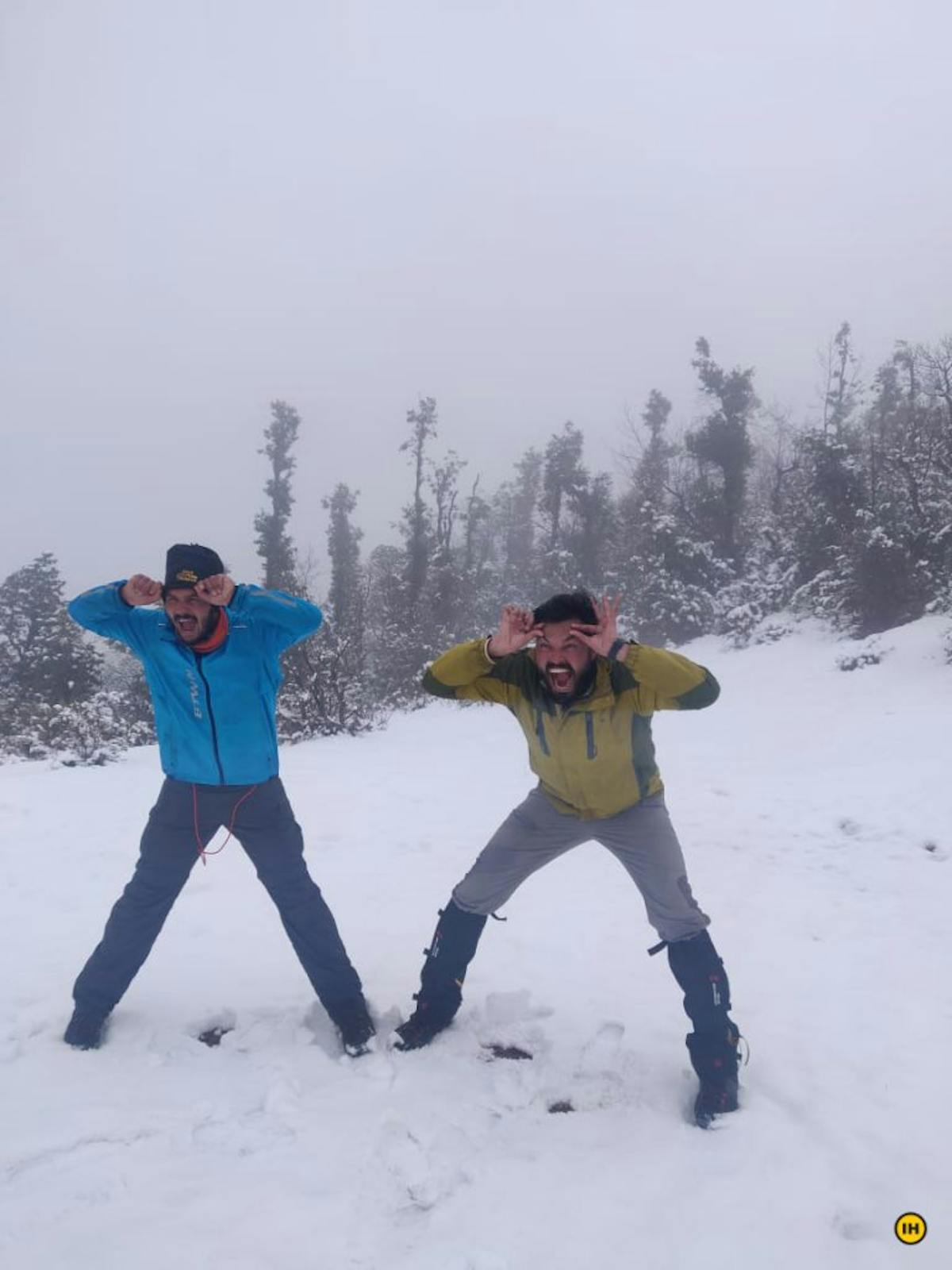 Trek Leader Avijit Jamloki (L) and Slope Manager Gourab Nandy (R) sharing a fun'Him Tendua' moment on the trek back.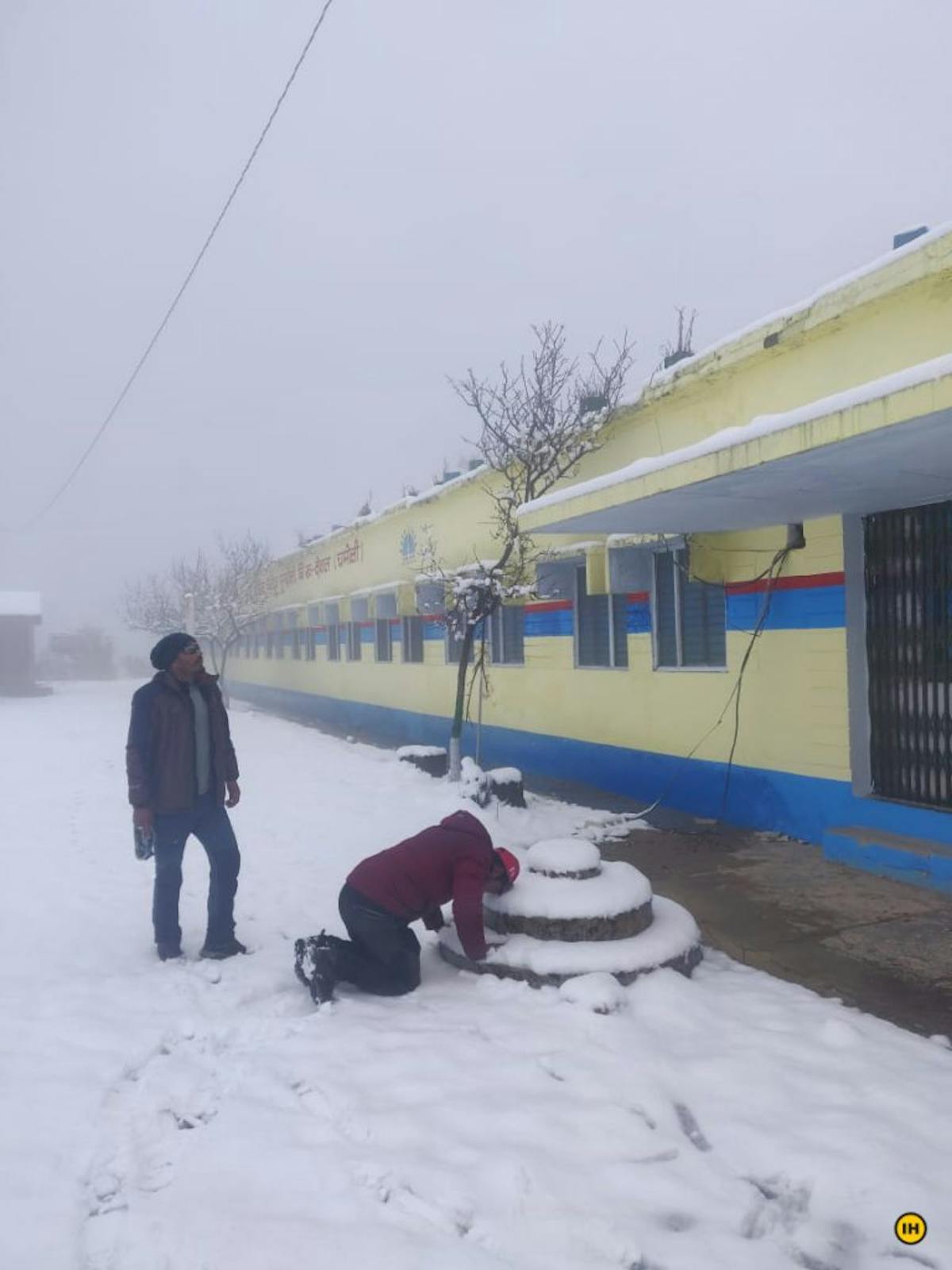 Raju Da our expert Mountain Guide, and Dhansingh Ji our Trek Manager at Lohajung share an emotional moment upon reaching inter-college, where they studied.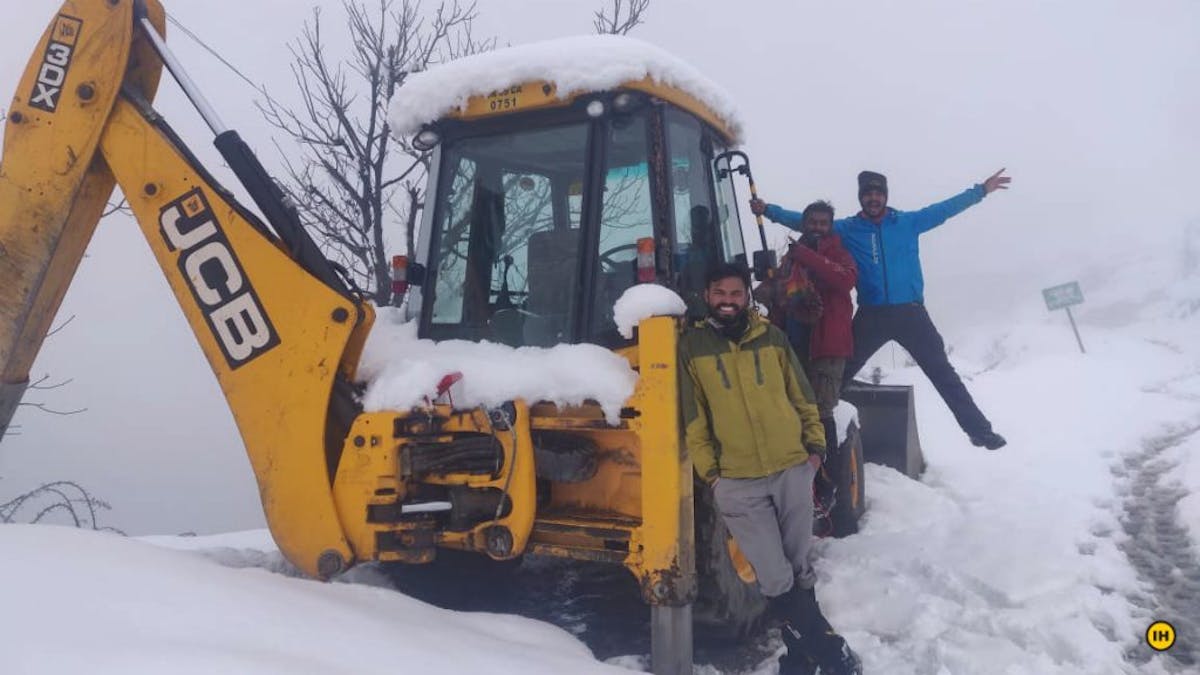 Gourab says 'Yeh JCB bhi yellow hai, matlab hamara hai! Chalo photo khincho!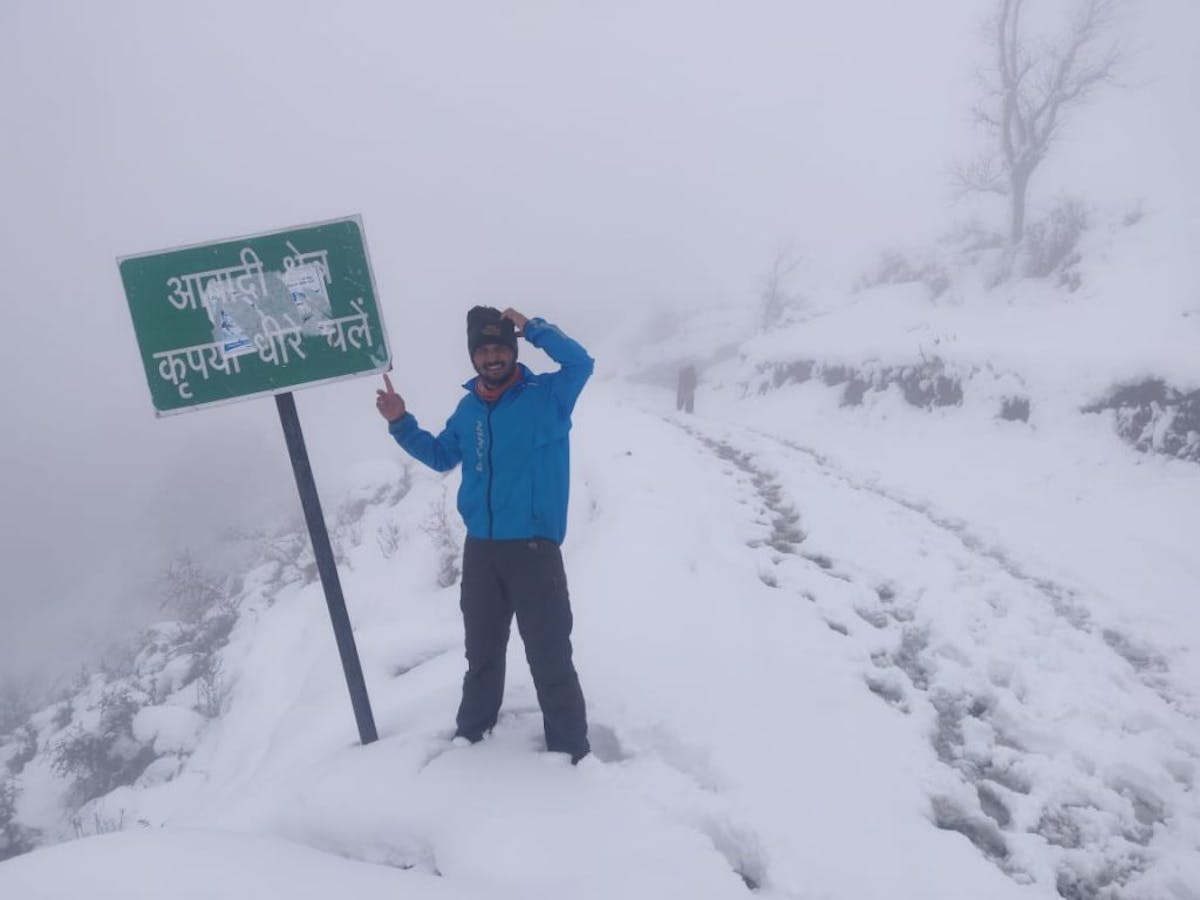 "Abadi kshetra, par abadi hai kahan? " ask our Gourab.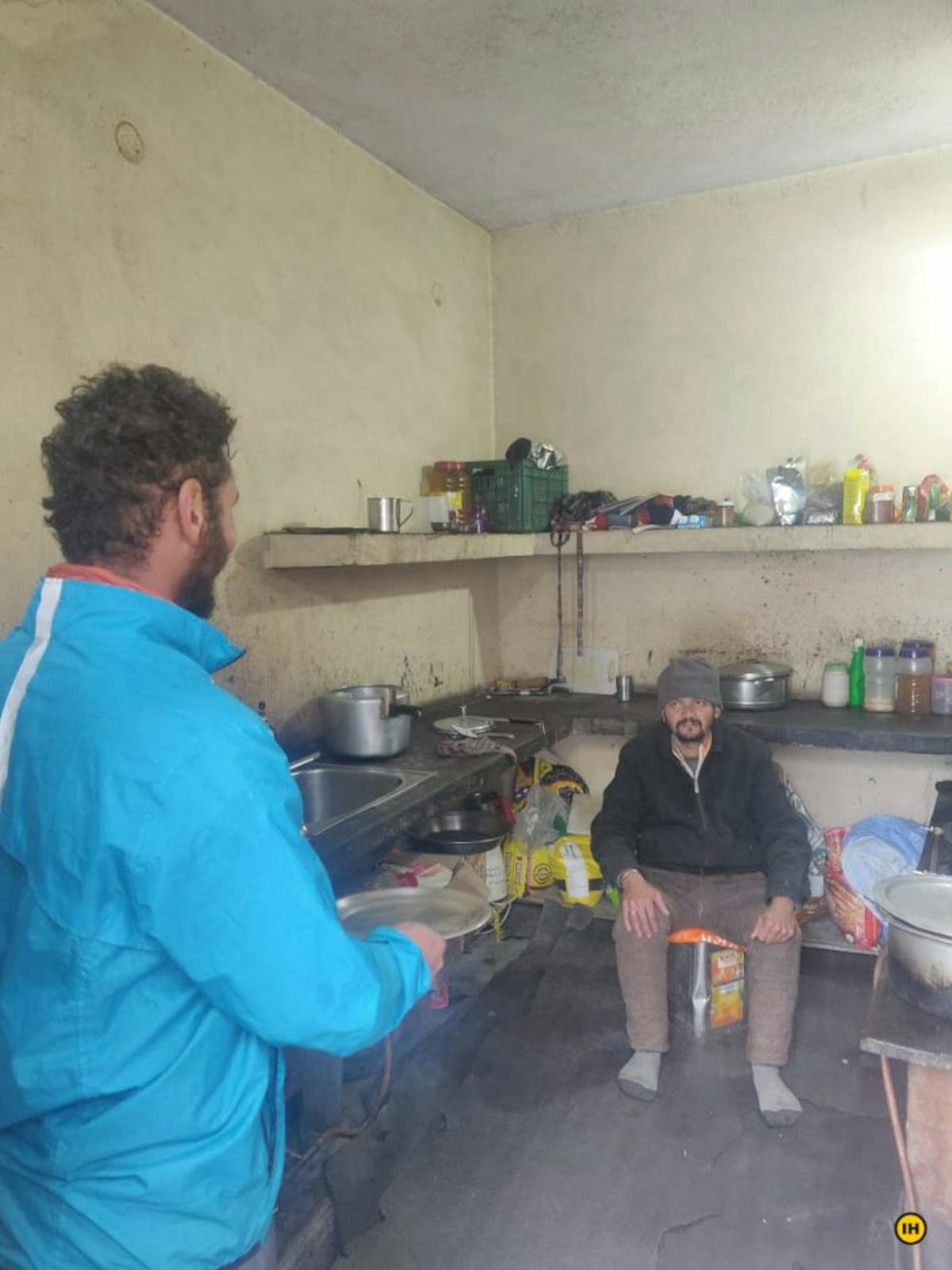 "And finally all Tigers back to 20. Their Den. "Tanni Ji …Bhuk Laga hai bohot zor seh " Here ends the story.
While this journey was exhausting for our trekkers, we are sure they will remember this experience for years to come. It is not only the trek that makes for a great trekking experience. It is also these unexpected events that make the trek memorable.
To put things in perspective, these unexpected events on the slopes are something our teams deal with almost on a daily basis. This is what makes the more resilient and adaptable.
The vision of every Team member, is to ensure that they give each trekker a safe and memorable experience with Indiahikes.
Share your experience trekking with us in the comments below. And if you would like to see more such behind the scenes stories, let us know.
Sign up for our much loved Weekly Mailer
We have terrific trekking tips, trek updates and trek talks to look forward to