10 Tips to Trek Like a Pro During Monsoon
Share this story
Come monsoon, we notice that trekkers start asking us some very relevant questions about trekking in the rains, whether in the Himalayas or the Western Ghats.
So in this post, I'm sharing some valuable tips with you. I'm going to cover gear-related tips and also some camping tips. I had a long conversation with some of our most experienced Trek Leaders to put this together. 
Before I get into that, you must know that choosing your monsoon trek wisely is the crux of having a successful trek. This post will help you with that. 
As for the Western Ghats, this is the time of the year to trek there. Don't let the rains stop you. 
Let's get started.
10 Tips to Have a Good Monsoon Trek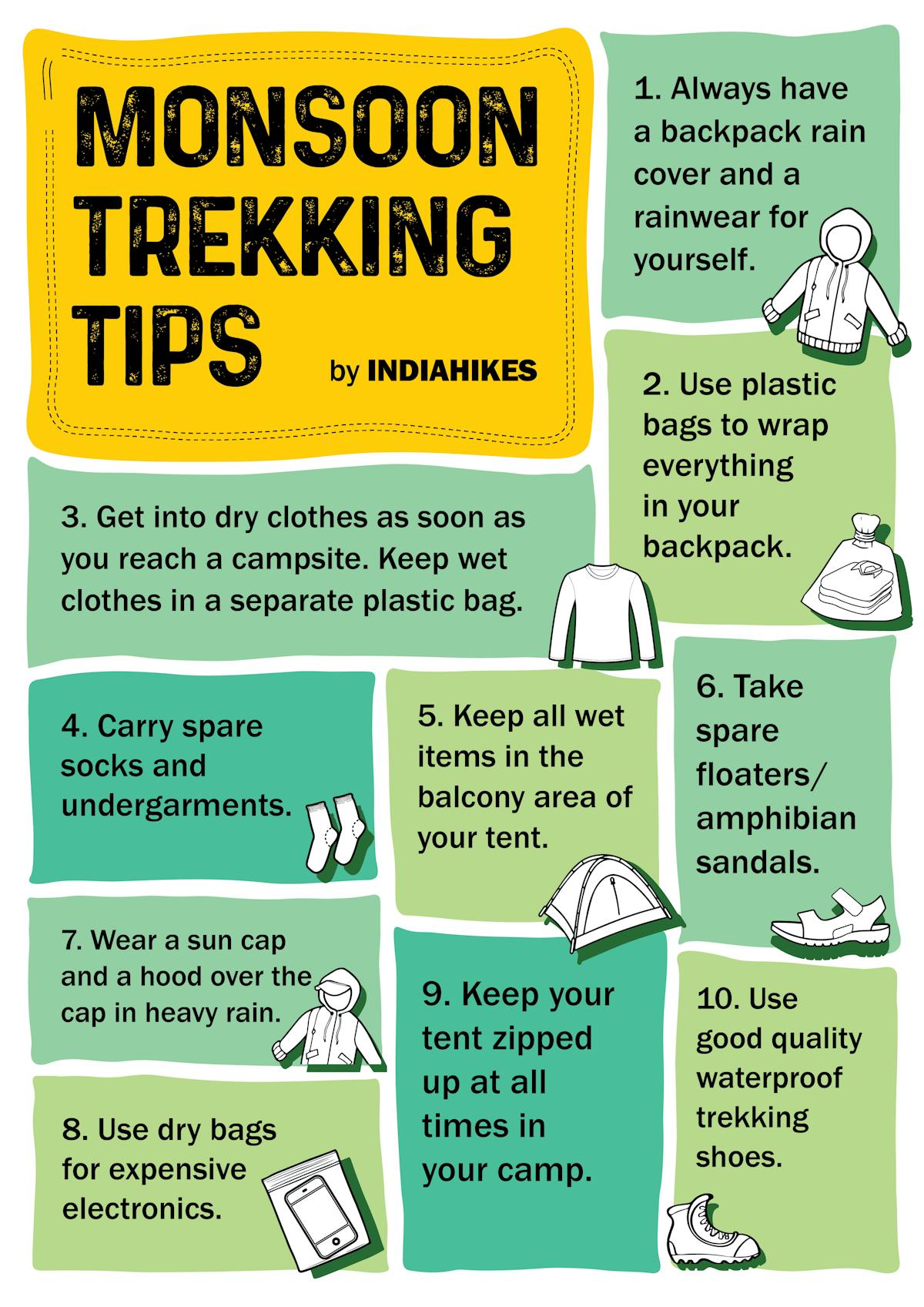 Monsoon trekking hacks!
1. Use plastic bags to wrap everything in your backpack
"Even if you have a rain cover on your backpack, it is not very useful in torrential rain. Things inside your backpack do get wet," says Madhu, our Trek Leader.
So when you wrap all your things in plastic, even if water seeps into your backpack, your clothes remain dry. 
You could also use the plastics to compartmentalise your clothes and accessories in your backpack. That way, you won't be scampering about your things. 
Pro-tip: Reuse old plastic bags. After your trek, store them in your backpack for the next time.
I made this video specifically to pack your backpack efficiently for the monsoon. Take a look. 
2. Always have a rain cover and rainwear
No matter what the weather forecast says, if you're going on a monsoon trek, these basics must be with you — a rain cover for your backpack (comes with most good backpacks) and rainwear for yourself.
Many trekkers ask me whether they should use ponchos or a rain jacket and rain pants. I would recommend rain jacket and pants, simply because it's easier to trek wearing them. 
Ponchos are good enough for spring or summer treks, when showers are few and far apart. But if you're expecting heavy downpour, and for many hours in the day, then ponchos won't help much. You should have a good rain jacket and pants (with at least 5,000 mm waterproofing). 
Pro-tip: You don't tend to feel too cold when it's raining. So wear a pair of shorts as your first layer and rain pants over that (Convertible pants help here). Shorts don't get too wet, and take less time to dry up.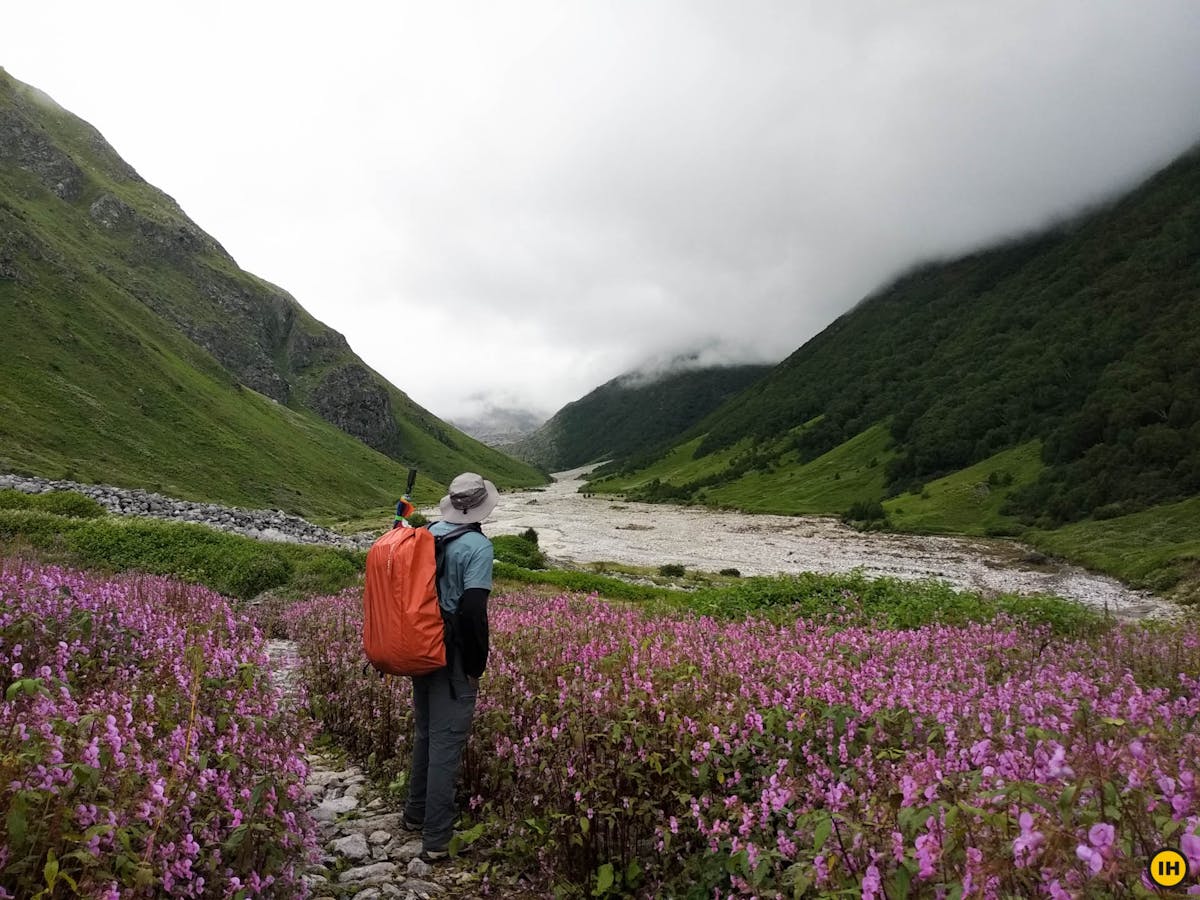 A rain cover for your backpack is as essential as a raincoat for yourself. Picture by Gourab Nandy
3. Carry spare socks and undergarments
Your socks are the first to bear the brunt of a rainy trek, especially if you have puddles or streams along the trail. So always carry a few spares. 
"I usually carry at least 6 pairs of socks in monsoon as opposed to the usual 4," says Tanmay Bain, our trek Leader.
Your undergarments also tend to get wet in heavy rains. So carry a few spares (again, in plastic bags). 
Pro-tip: Avoid using thick trekking pants or cotton t-shirts on a monsoon trek. These never usually dry up when you're on the trek. Wear breathable, quick-dry clothes instead. These will dry quickly while you are trekking and also at campsites.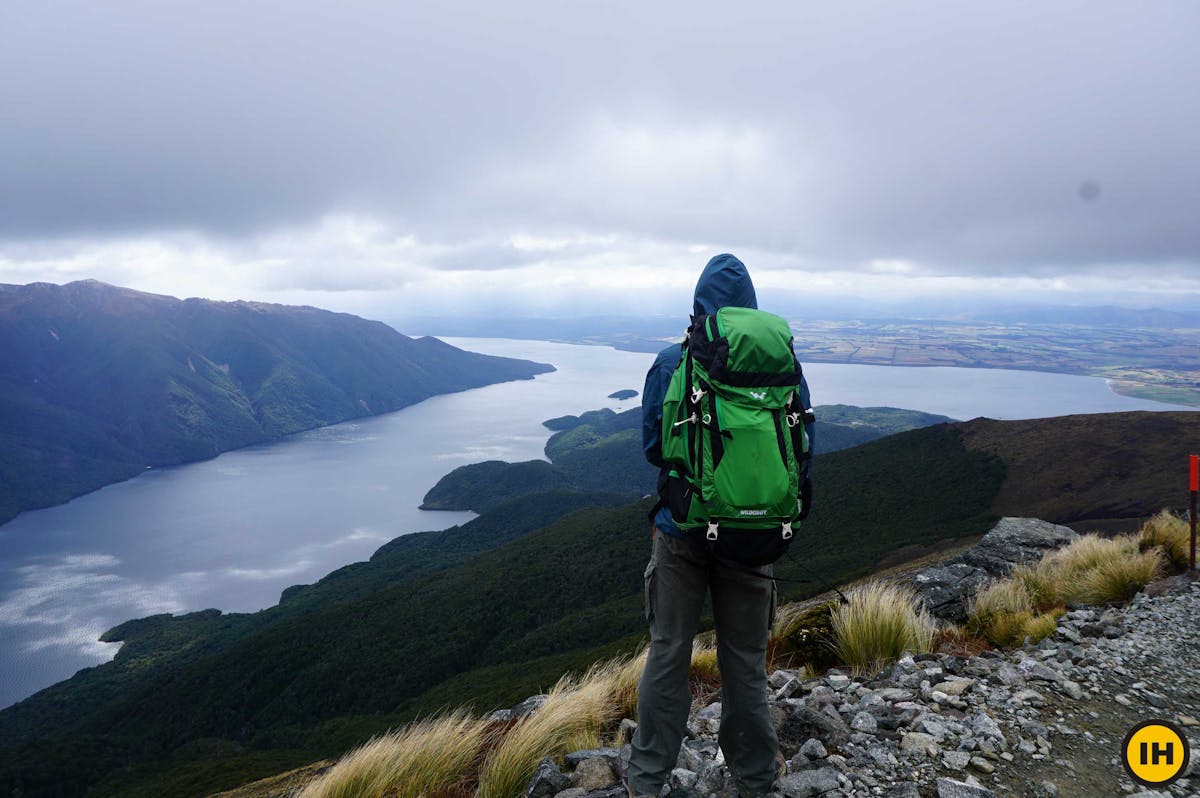 Always keep 2-3 spare sets of socks and undergarments in your backpack on a monsoon trek. Picture by Sandhya UC
4. Get into dry clothes as soon as you reach a campsite
Always keep a complete set of dry clothes to wear at the campsite. As soon as you reach a campsite, change out of your wet clothes. Change into dry socks as well.
Your body cools down rapidly once you stop trekking. So, continuing to stay in wet clothes could lead to hypothermia. And you don't want to get anywhere close to that.
If your trekking clothes do not dry completely before you start trekking the next day, change into them nevertheless. They will dry as you trek if it's sunny. If not, your body can still manage as it warms up during the trek. Never compromise on your set of dry clothes.
Pro-tip: Always save a pair of dry ones for the campsite. You'd rather trek wearing wet socks than be stuck with them on cold nights at the campsite.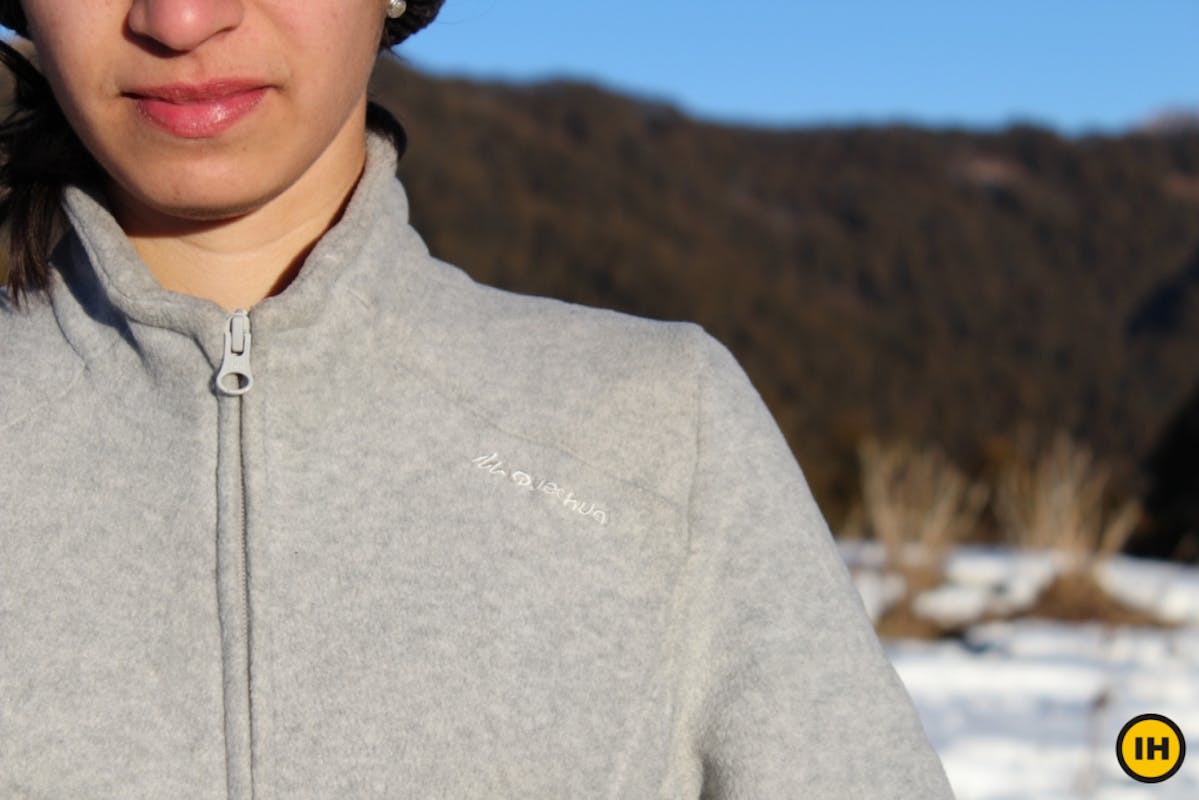 Once you reach the campsite, if your clothes are wet, the first thing to do is to change into dry clothes to avoid hypothermia.
5. Keep all wet items in the balcony area of your tent
If your shoes, socks or backpacks get wet while trekking in monsoon season, do not carry them inside the tent. Take out only what you need from your backpack. Packing things in separate plastic bags makes this easier to do. Keeping your backpack out also ensures you do not mix dry and wet clothes.
Pro-tip: If you keep the outer cover of your tent zipped, you'll even have the privacy to change out of wet trekking pants without having to soil your tent with them.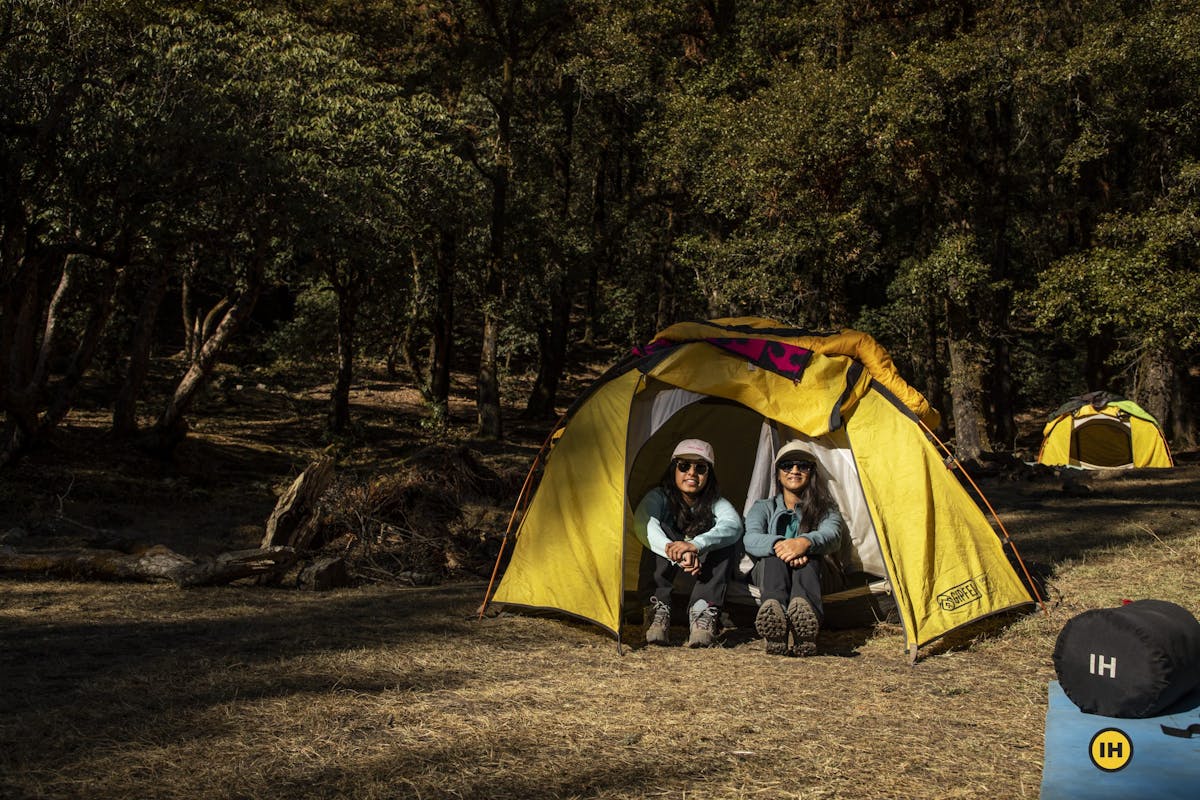 Every Hillman tent has a balcony area. Keep all your wet items in the balcony. Photo by Indiahikes photographer Jothiranjan
6. Wear a sun cap and a hood over it in heavy rain
"When I see trekkers walking in heavy rain, I notice that they have trouble looking where they are walking because of their enormous hoods. The hood covers their eyes, and they tend to keep their heads down," says Madhu, our Trek Leader. 
So instead of just the hood, wear a cap first and then the hood on it. The cap keeps the hood from slipping over your eyes and gives you better visibility. 
Pro-tip: If you wear glasses, then baseball caps are better than regular sun caps. The visors are usually longer and keep your glasses from getting wet. "Also, carry a microfiber cloth in a ziplock bag to clean your glasses without scratching them!" says Saurabh Sawant, the head of our documentation team.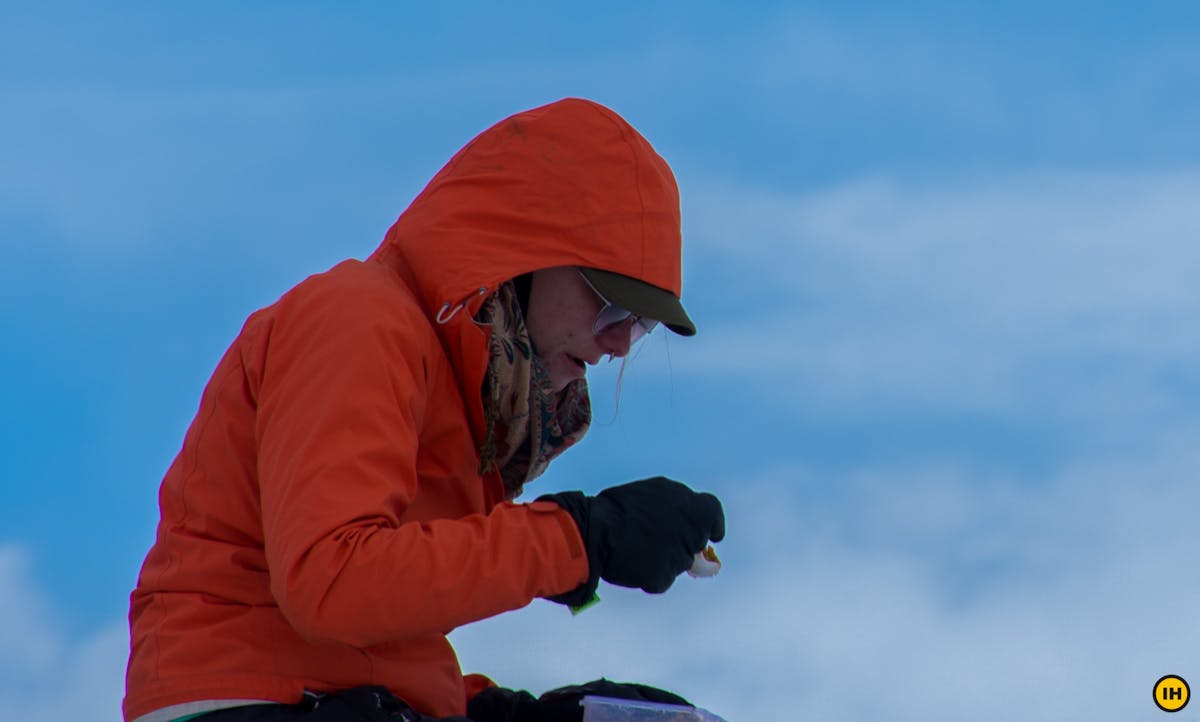 Always wear a suncap and a hood in heavy rain. Photo taken from Indiahikes archive
7. Take spare floaters / amphibian sandals
"No matter how good your trekking shoes are, be mentally prepared for them to get wet in a heavy downpour," says Dushyant Sharma, our Trek Leader. 
On most treks, you can do without spare footwear. But on monsoon treks, they come in handy almost everyday. 
– When you're at the campsite, and don't want to wear wet shoes with your dry socks
– If and when you have to ford rivers 
– If your shoes are soaked, you can use the floaters for trekking instead (only in the Western Ghats)
| Note: that I'm not talking about flimsy flip-flops. I'm talking specifically about floaters/sandals with good grip and buckles that won't let it come off your feet easily. 
Pro-tip: Always wrap your footwear in plastic when you're keeping them in the balcony area of your tent. That way they won't get wet even in overnight rain. Also, the central area of the balcony is the driest, not the corners.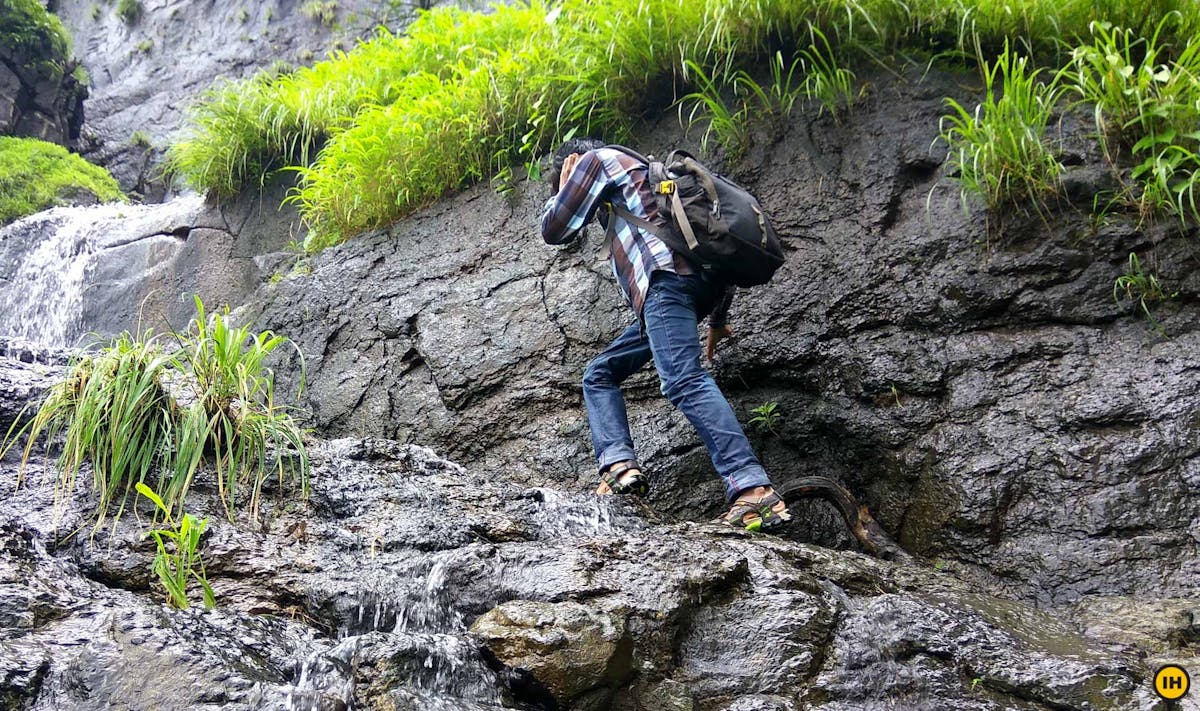 Always carry floaters with you. If your shoes are wet, you can use floaters on your western ghats treks. Photo by Saurabh Sawant
8. Use dry bags for expensive electronics
These come in handy especially if you have cameras, lenses and other expensive equipment. I've seen them being used during rafting to keep phones in them. They are completely water-proof. 
So if you have any expensive cameras / phones, this is a good investment to make. I've also seen waterproof phone bags, that allow you to use your phone in rain. So this is another good buy for monsoon treks.
Pro-tip: You could easily make do with a Ziplock bag for your phone. The touch screen works through the plastic too. It's a simple, but effective solution.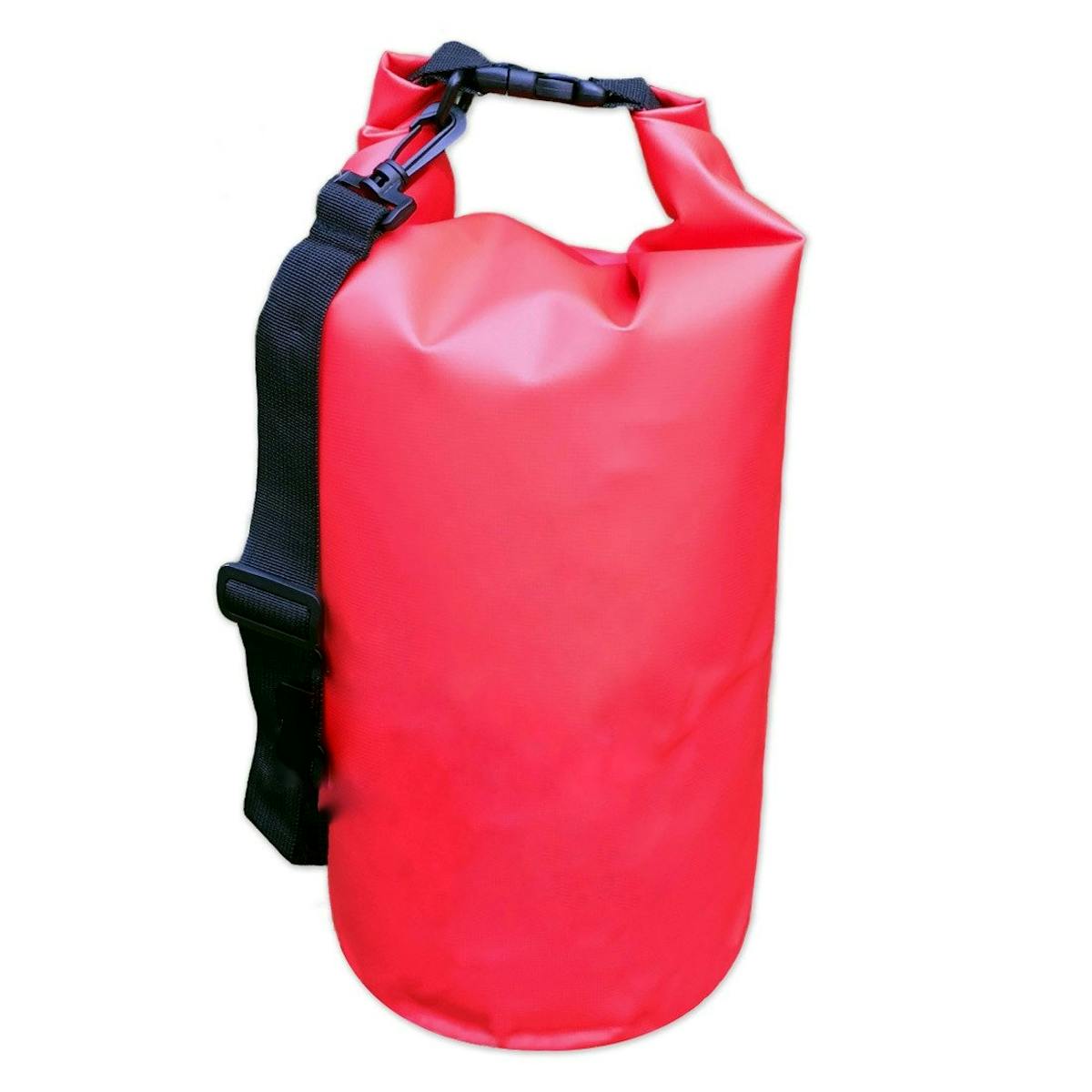 Always use a dry bag for expensive electronics.
9. Keep your tent zipped up at all times in your camp 
There are more reasons than just water entering your tent for this.
Like most humans, even insects and animals look for shelter and warmth when it rains. Especially if you're trekking in tropical regions, you must keep your tent clear of snakes and leeches. 
In fact, we would recommend doing a check of all the nooks and corners of your tent before getting in for the night, to make sure there are no unknown guests in there.
Pro-tip: Speaking of camping, you'll be surprised at how helpful a good old umbrella can be in a camp! Instead of gearing up from head to toe in rain wear, you can walk out of the tent holding an umbrella. This comes especially handy for loo visits and also emergencies where you might have to tend to a friend.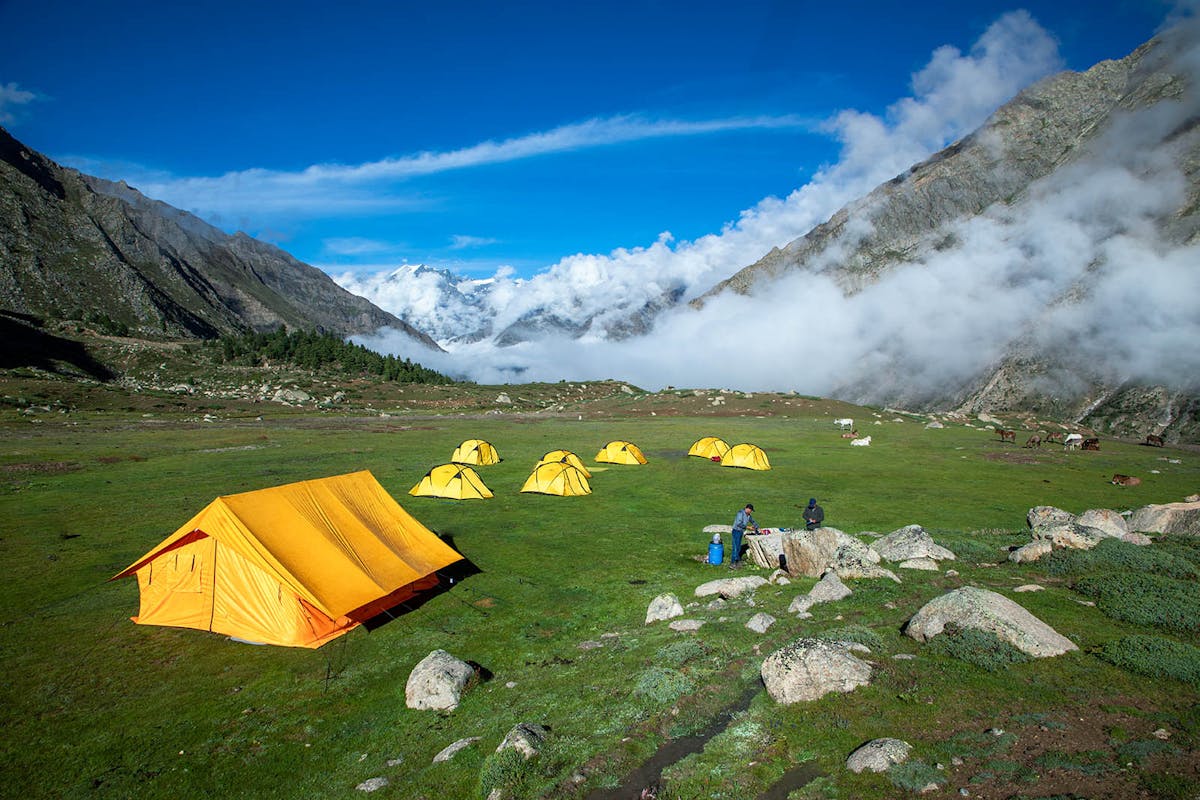 Make it habit to zip up your tent every time you get in or out. Picture by Jothiranjan
10. Learn to brave the leeches
Leeches can be a pain, but you cannot let them stop you from trekking.
There are multiple things you can do before, during and after your trek to ward them off and heal from the leech bites. This video below will help you learn to deal with them.
Pro-tip: Avoid extremely rainy treks in monsoon. The North East of our country faces heavy rainfall. Kashmir and Himachal are fantastic regions to trek in monsoon, and of course, the Western Ghats too.
A few bonus tips if you're trekking on your own
> Check the weather forecast on multiple sites and not just one. Accuweather, IMD and Skymet are fairly reliable sources. Decide based on the weather, if you are equipped enough to do a rainy trek.
> Don't camp near areas prone to flooding. Avoid camping right on the banks of rivers, or close to gullys. Choose a wide, flat space where you can pitch your tent safely, without fear of flooding. 
> Cross rivers before 10 am. Rivers tend to swell as the day passes. They are at their calmest early in the morning. So plan your trek in such a way that you cross rivers early in the morning.
> Stay put in whiteouts. I've seen that human instinct makes trekkers believe they can find their way in whiteouts. But it's best to stay put until you get some visibility.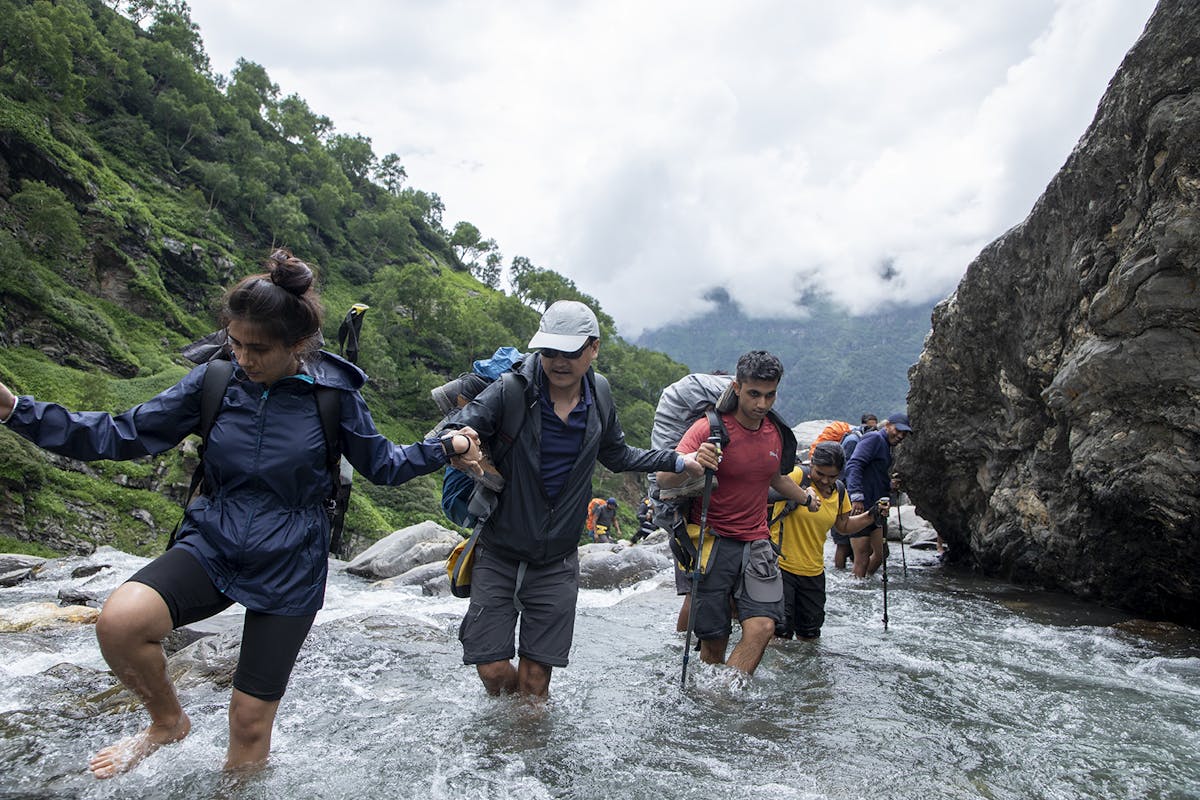 Ensure that any river crossing is done as early in the morning as possible, before the flow of the river becomes stronger. Picture by Jothiranjan
Conclusion
So those are some tips to have a good monsoon trek. If you have any more tips, share them in the comments below.
They'll be helpful for all trekkers headed out this season. 
I'm going to sign off with a silly poem I learnt as a child — because I think all trekkers should think like this. 
Whether the weather be fine
Whether the weather be not
Whether the weather be cold
Whether the weather be hot
We'll weather the weather, whatever the weather
Whether we like it or not
Until next week!
Related Videos
How To Deal With Leeches On A Trek
Tips To Trek Like A Pro During Monsoon
13 Things To Have Easily Accessible While Trekking
6 Best Monsoon Treks In The Himalayas
Sign up for our much loved Weekly Mailer
We have terrific trekking tips, trek updates and trek talks to look forward to