11 Best Himalayan Treks to do in Monsoon (July, August and September w...
Share this story
I'm often bombarded with questions about which are good treks in July, August and September, peak monsoon months in our country. I notice that trekkers are unsure about where to trek and what to expect.
So today, I'm solving all those problems through this post.
You'll find two things here. 
First is a terrific guide to understand monsoon treks. You'll get a clear understanding of which geographical regions are accessible and which treks are not. I'll also point out some good treks that you can do on your own and with Indiahikes.
Second, I'll give you a list of the BEST Himalayan treks in July, August, until mid-September, the peak monsoon months. These are favourites at Indiahikes!
Before we get started, here is a list of all the sections to browse through this extensive guide with ease.
How to Choose Himalayan Treks in July, August and September
When I talk to trekkers, what I notice is that they are not sure about which geographical regions to focus on in monsoon. 
Some trekkers think monsoon blocks out almost all Himalayan treks. On the other end, some don't even consider the impact of monsoon. They assume all treks are accessible. 
So, to get a clear understanding, it's important to rewind back to our geography lessons. 
There are two sides to our Himalayas. The green side, (which is where most of our treks are) and the brown side, which is the rain shadow area (where some treks lie). Then there are treks that start from the green side and cross over to the brown side.  
To understand how monsoon works on these treks take a look at this infographic made by Noorain Ahmed. You'll notice mainly three sections in this map.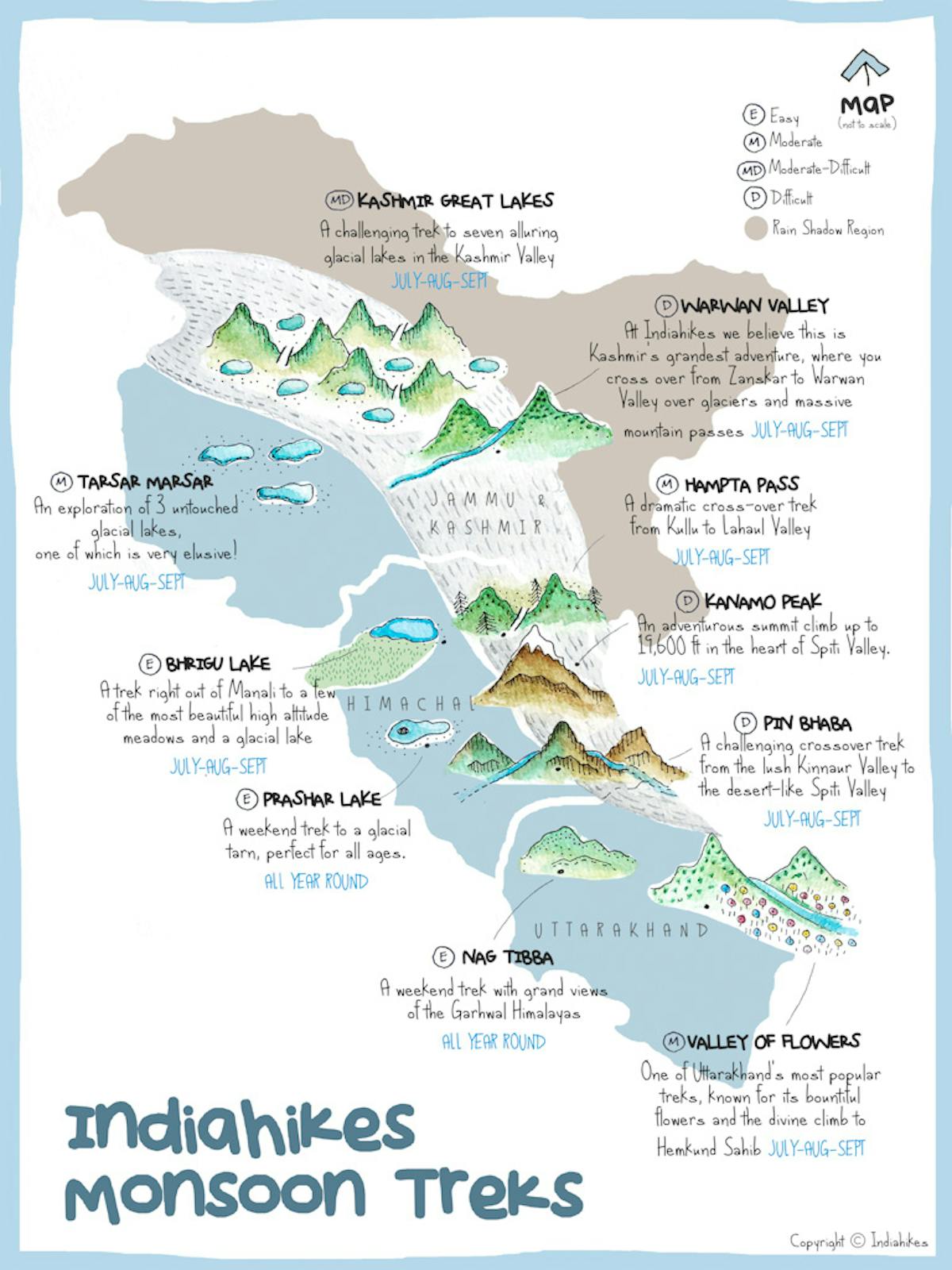 Study this infographic to get an understanding of the different treks that you can do during monsoons
1. The top most brown section is the rain-shadow region of our country. 
This is a region that receives extremely low rainfall. The surrounding Himalayan mountains here stop moisture-laden winds from entering the region, thereby not allowing much rainfall.
This includes arid regions like Lahaul, Spiti and Ladakh. They receive very low rainfall in a year (usually below 50 cm). So monsoon doesn't affect them much. 
On the contrary, by the time its monsoon (around July), the winter snow completely melts away and the landscape dramatically transforms from white to browns, pinks and purples. It is the monsoon months when some spectacular treks open up for trekking in these regions. 
| Good treks to do in the rain shadow region: 
Do It Yourself treks
That brings us to our next region.
2. The region with dotted lines is the middle ground between the rain shadow region and rainy region of our country.
This is another mountainous region of our country, but interestingly, only one side of these mountains receives rainfall. The other side is usually barren.
How does this happen? 
During Southwest monsoons in our country, moisture-laden winds blow from the South to the North. But the Himalayas act as a big barrier to these winds. They do not let the winds pass. 
As these clouds hit this barrier, they burst and come down as rain on the southern side of the mountain. The other side of the barrier doesn't receive any rain, so it remains barren and desert-like.
Here's a picture to give you an idea. The winds hit this barrier of mountains (the Himalayas) that stretches throughout J&K, Himachal and further. This leaves a stark distinction between the valleys to the north and south of these mountains.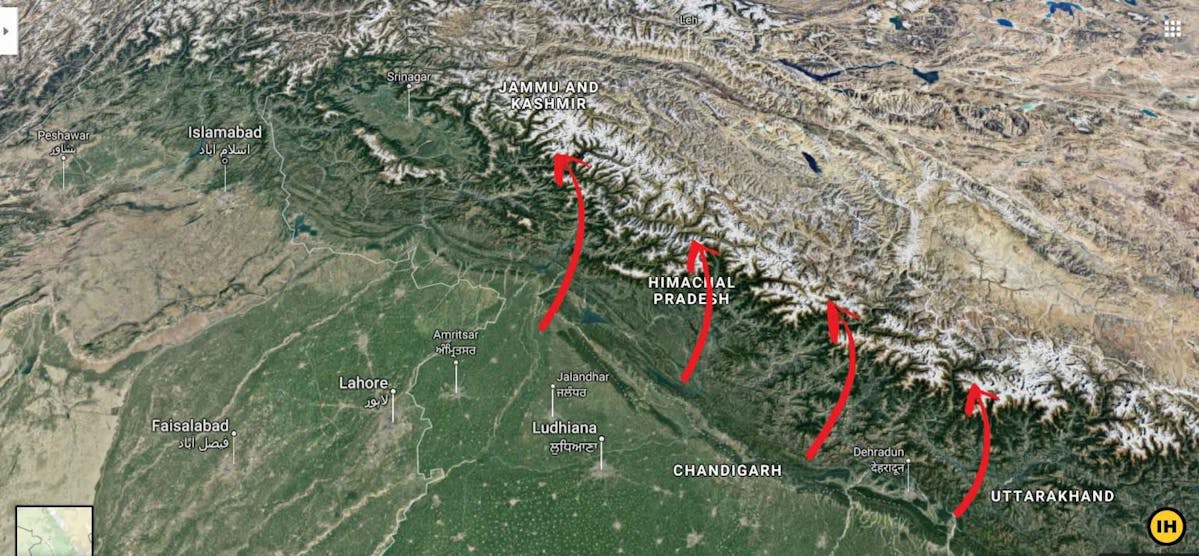 The picture shows the Himalayan range that acts as barrier to monsoon winds.
When this happens, another set of treks opens up for trekkers — usually cross over treks from the rainy side to the barren side. 
This turns out to be a visual treat for trekkers because of the dramatic change in landscape. Usually these are our personal favourites. Other treks rarely come close to the drama these treks have to offer.
| Good treks to do in this border region
Indiahikes treks 
Do It Yourself treks
3. The green part of a map is the region that receives normal rainfall.
In the monsoon, most treks in this region are usually closed. Trails become slippery, sceneries get washed out (usually under total cloud cover), and a good pouring of rain can dampen spirits. 
But there are a few treks that burst to life because of the rains. They come alive with wild flowers, lush grasslands, thriving forests, gushing rivers and waterfalls. 
We open up these treks because they're safe enough to do despite the rain. You might get a little wet, but it's worth it!
| Good treks to do in the rainy region
Indiahikes treks
Valley of Flowers (Perhaps India's most popular trek. The flowers come alive only in the monsoons)
Bhrigu Lake (A trek with the best grasslands of Himachal. The grasslands bloom in the rain) 
Beas Kund (A trek to the source of River Beas. The landscape turns lush with streams and waterfalls everywhere)
Do It Yourself treks
Prashar Lake (A 2 day trek perfect for a weekend)
Pundrik Lake (A weekend trek near Mandi. Doesn't get as much rain to wash it off, yet retains its charm)
Nag Tibba (Trekkers love this weekend trek near Mussoorie for the high rewards. The rains make the trek vibrant)
Treks you should NOT do in monsoon
Most treks in Uttarakhand above 10,000 ft (except Valley of Flowers) are out of the picture because it rains heavily. The trails are unsafe and slippery with boulders exposed. Plus no views. This means treks like Rupin Pass, Buran Ghati, Phulara Ridge are ruled out.
Avoid the North-East region of our country. This is a region that receives some of the highest rainfall in our country. The jungles are thick and usually infested with leeches. Also, the rain itself is heavy and almost continuous. Goechala and Sandakphu are out of the question.
11 Best Himalayan Treks in July, August and till Mid-September
1. Valley of Flowers
Difficulty: Moderate
Duration: 6 days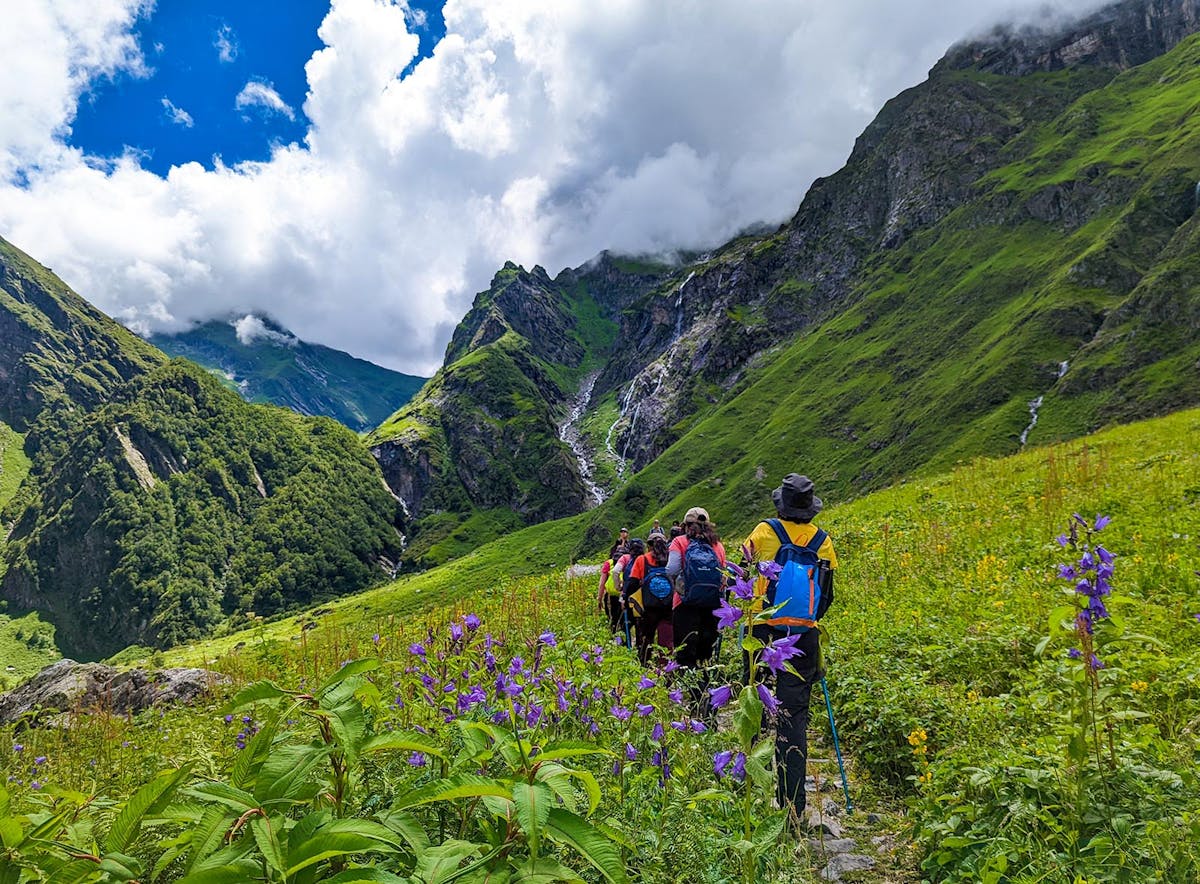 Glimpse of flowers on the trail. Picture by Akshay Kevin
It's no surprise that Valley of Flowers is one of the most sought-after monsoon treks in India. Week after week, gorgeous flowers of intoxicating scents sprout from the wet earth, covering the valley in a carpet of colours. One week, the flowers are pink, and the next, they're yellow and later, red and so on.
To add to that, the setting is an absolute joy; snow-capped mountains rise on either side and puffy clouds cling onto the valley.
2. Tarsar Marsar
Difficulty: Moderate
Duration: 7 days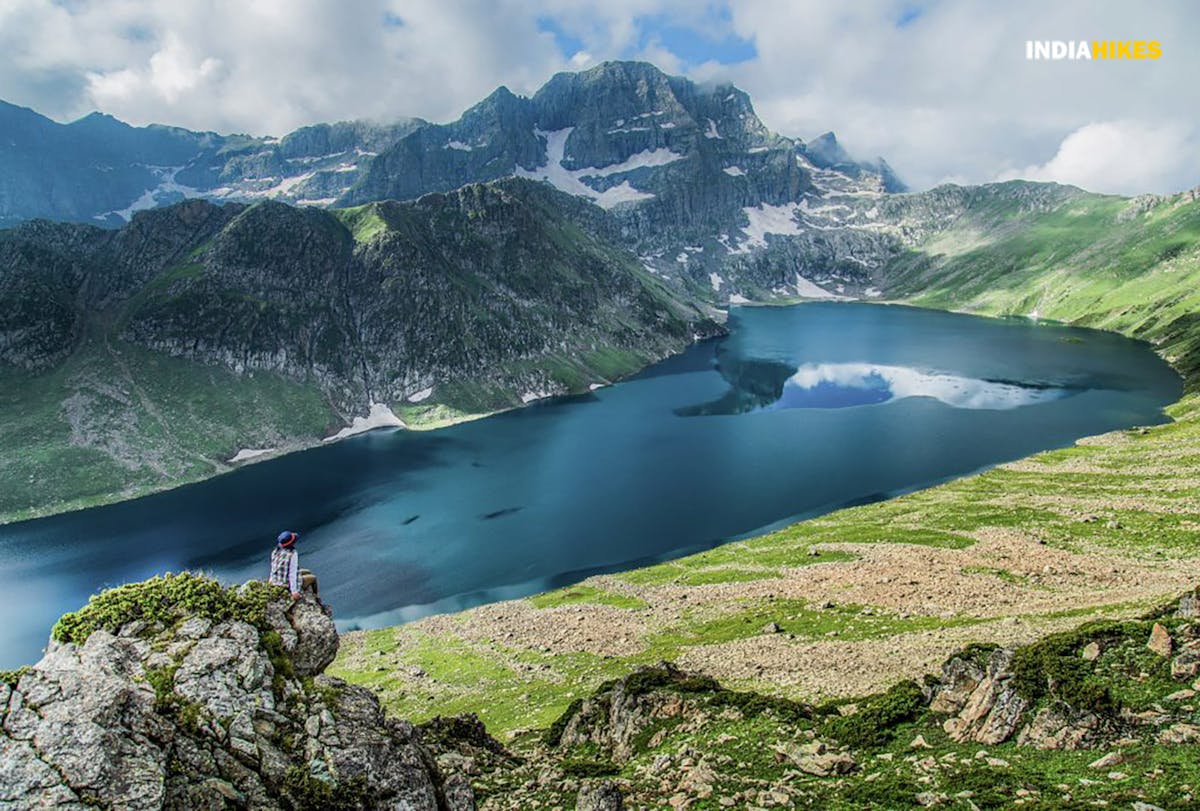 The Tarsar Lake looks different from the other side of the campsite. Picture by T M Kishan Harwalkar
Tarsar Marsar is arguably the prettiest trek in India. This is a title we do not give treks lightly. Especially when its formidable sister trek, Kashmir Great Lakes, is in the picture.
However, Tarsar Marsar is a trek where alpine lakes take a life of their own. It is not just the fact that you get to camp beside these royal blue, snow-fed lakes (you don't get this camping chance even at KGL). Or the secluded nature of these campsites (a Godsend in today's trekking scenario!).
The best aspect of this trek, however, is the variety. Every day is an independent trek, and you never know what to expect. One day you'll see fresh water musically flowing down over ledges, and the next day, you'll see enormous lakes amidst mountains decorated with patches of snow. Sheep graze peacefully and horses sprint about freely.
The land is every bit as picturesque as a paradise ought to be.
3. Kashmir Great Lakes
Difficulty: Moderate – Difficult
Duration: 7 days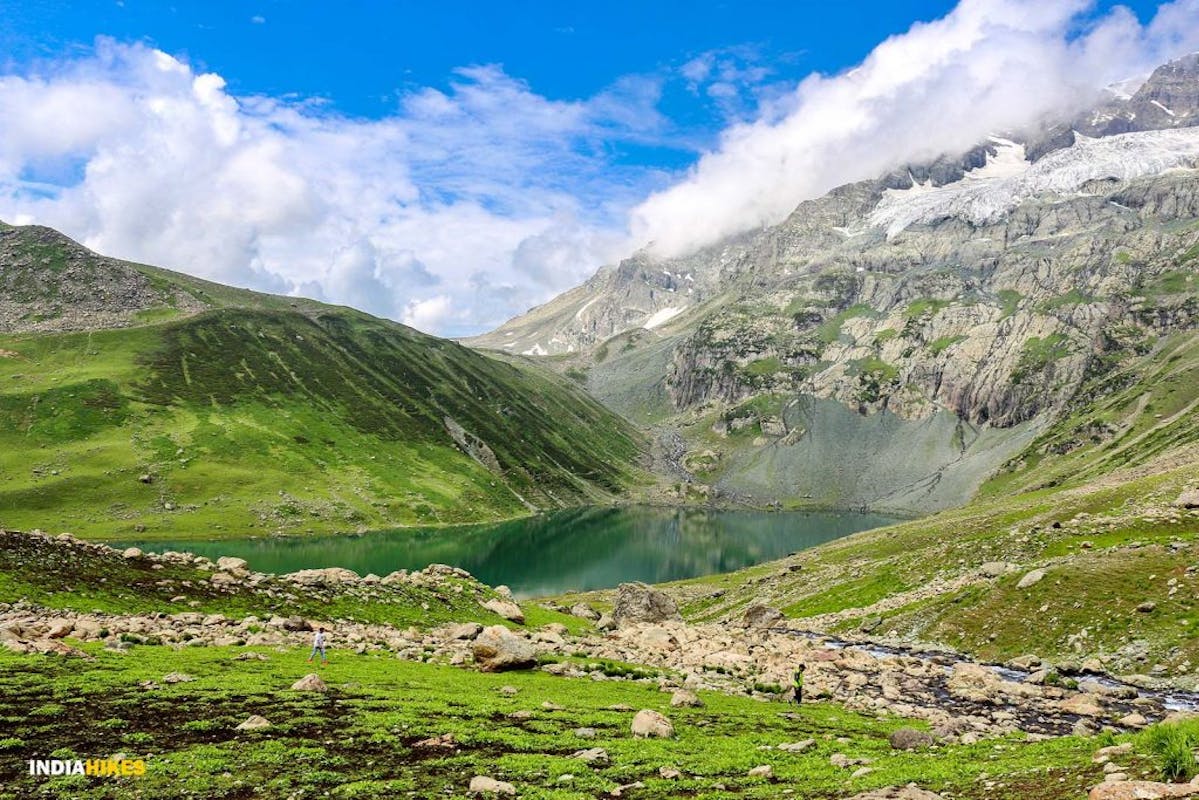 View of Nandakol and Harmukh Glacier. Picture by Manasi Bhalerao
Usually, on a high altitude trek, it's normal to see one alpine lake or perhaps two. But on the Kashmir Great Lakes trek, seven alpine lakes appear day after day, surprising you with their enormity and their unprecedented beauty every time! It is, hands down, the most beautiful trek of our country!
The best part is that every lake is unique and boasts of its own beauty. On the other hand, the landscape just after monsoon is spectacular, with lush meadows, and tiny flowers littered on the floor, so much so, that you'll wonder where to step without trampling upon the flowers. The freshness of it can be overwhelming.
The eye-catching maple trees and plains of Satsar are special highlights of this trek, apart from the lakes themselves.
4. Bodpathri Lakes Trek
Difficulty: Moderate-Difficult
Duration: 7 days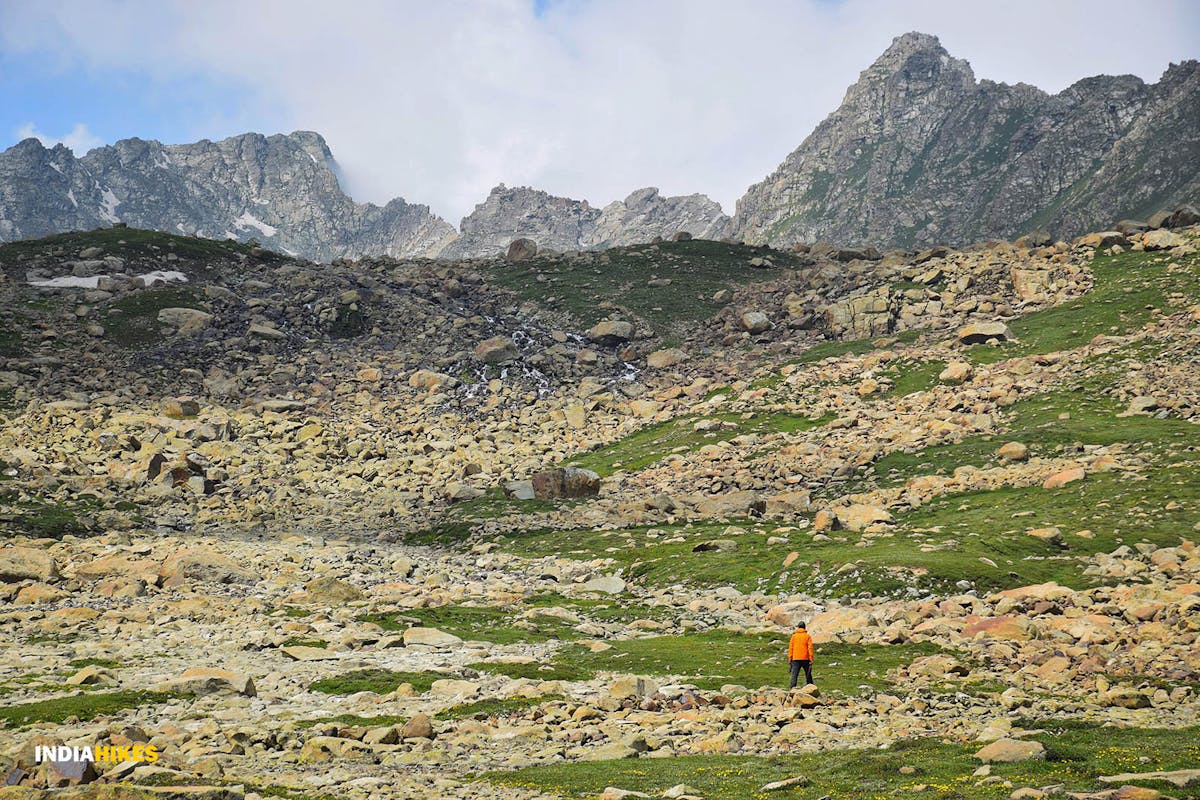 Trekkers have come to love hopping through boulders on the Bodpatri lakes trek. Picture by Nitesh Kumar
There are treks like Kashmir Great Lakes, Tarsar Marsar and Nafran Valley. People post about these treks and go gaga. But the Bodpathri Lakes Trek, like an older brother, was waiting for its time. After being under the army's jurisdiction for decades, the trek can now stand up on its own and claim its place among the greatest treks of Kashmir. 
5. Gurez Valley
Difficulty: Moderate
Duration: 7 days
Gurez Valley trek takes you to a part of Kashmir that you've never seen before. Picture by Nitesh Kumar
India ends at Gurez. The significance of this is enormous. If you look at our country as a whole, we travel upwards from Kanyakumari. There comes the point where we cannot travel any further north. That part of our country is Gurez.
The significance is that the Gurez is the last latitude of India, which is why it is very unlike any other part of Kashmir. The topography changes totally even though it is only 6 hours north of Srinagar. You will notice it in the trees especially. The trees are different, and so are the way they are laid out in the valley. The Razdan pass you cross to get to Gurez pushes you to a very different landscape.
The Gurez valley trek has astoundingly different forests, grasslands and two lovely lakes (and one we camp beside). The scenery is spectacularly unusual.
6. Nafran Valley
Difficulty: Moderate-Difficult
Duration: 7 days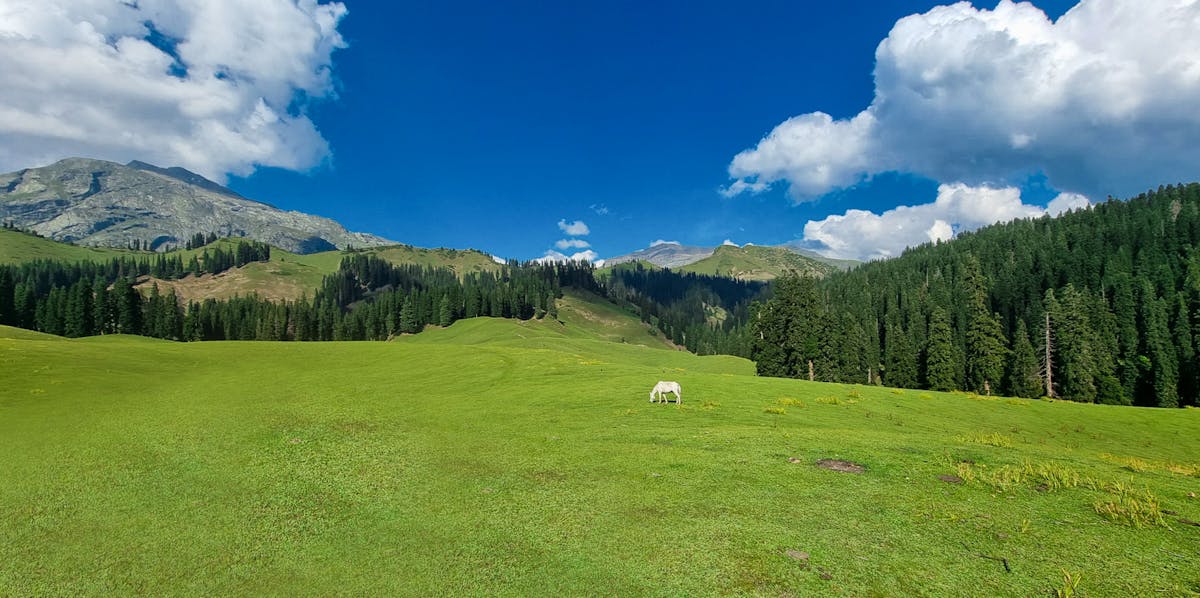 The first sight of perfectly manicured meadows on the Nafran Valley trek takes your breath away. Picture by Team Indiahikes
For a long time, we've been looking for another trek in Kashmir that matches up to our blockbuster treks, Kashmir Great Lakes and Tarsar Marsar.
For us finding anything that compares to the great two is like looking for an elephant with wings. "It's near impossible for any trek to compare with the Kashmir Great Lakes or the Tarsar Marsar. It is hard to match up to the grand meadows, the turquoise blue lakes and picture-perfect landscapes of these two treks," says Sandhya UC, who led the exploration and documentation of the Kashmir Great Lakes (2011) and Tarsar Marsar (2015) treks.
7. Hampta Pass
Difficulty: Moderate
Duration: 6 days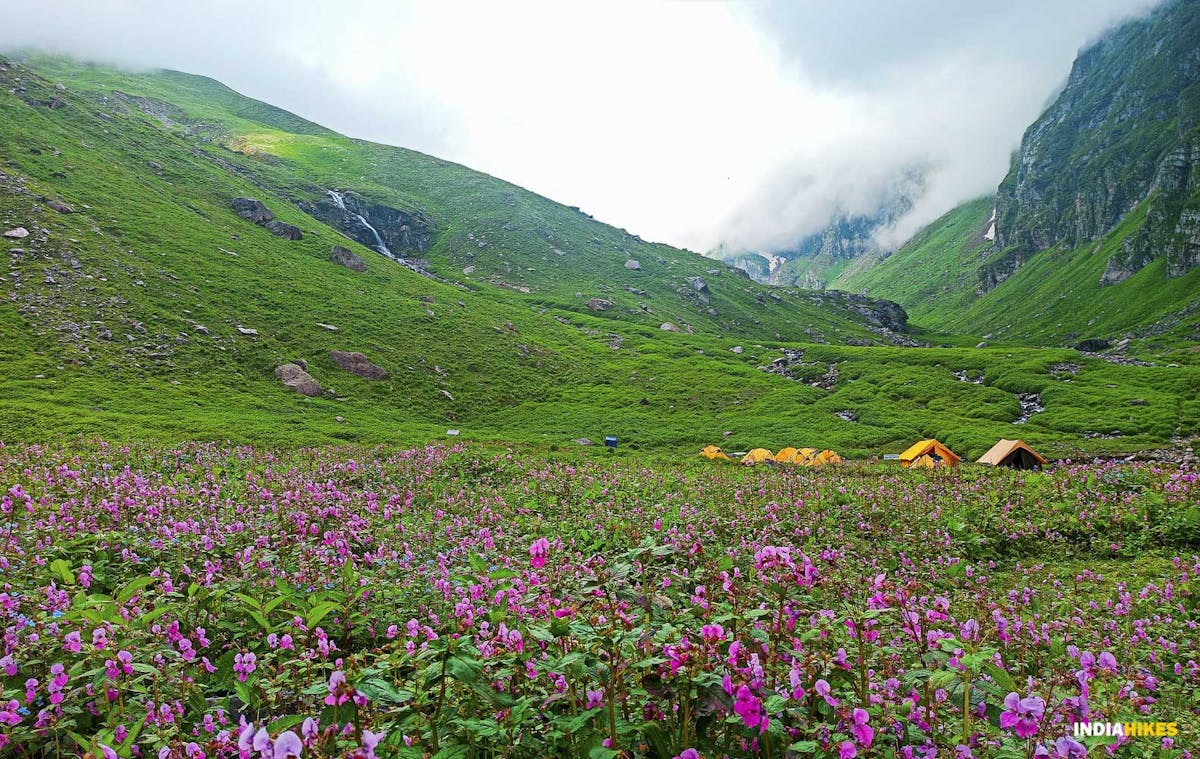 Jwara campsite on Hampta Pass trek is a dreamy setting to camp in. Picture by Vineeth V Rao
Simply put, the Hampta Pass is Himachal's Valley of Flowers. The landscape is strikingly similar to that of Valley of Flowers – a green narrow valley protected by snow-covered mountains – but there's an added bonus here.
When you get onto the other side of the Hampta Pass, you'll be in awe looking at the stark contrast from what you just left behind. The landscape that stretches in front of you is Spiti Valley, known for its barren stretches, rugged terrain and forget-me-not blue skies.
The trek ends with a bang on the last day, with a drive to Chandrataal, a striking blue alpine lake in a stark desert. It is indeed a trek of contrasting surprises!
8. Pin Bhaba Pass
Difficulty: Difficult
Duration: 9 days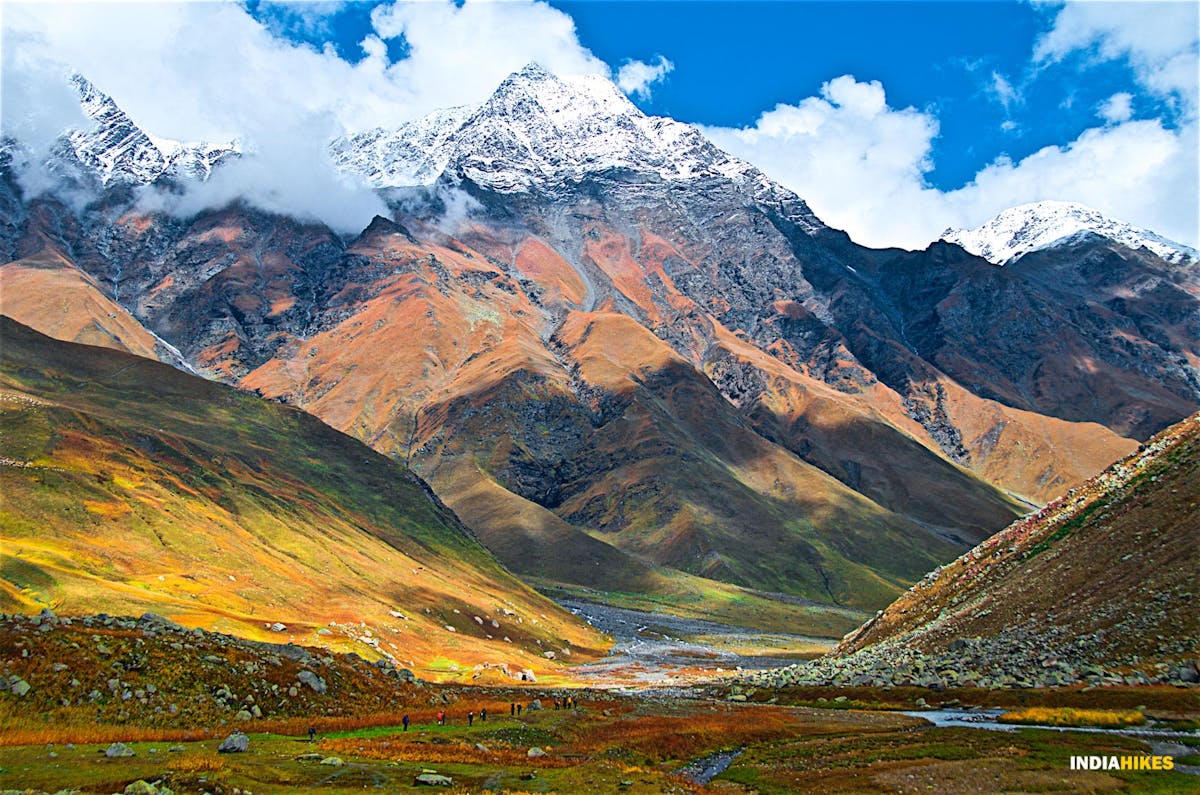 The landscapes on the Pin Bhaba Pass trek are something you do not witness anywhere else. Picture by Prashanth UC
Pin Bhaba Pass is hands down the most dramatic pass crossing trek in our country. That is a bold statement to make. Especially when we have so many pass crossing treks in our country.
But what you see when you stand at the pass is a testament to this bold statement we make.
Once at the pass you see Pin valley below you, in various shades of pink, set amidst the stark and deserted mountains of Spiti.  While behind you is the lush green Bhaba valley. That is when you realize how remarkable the changes in the landscape are.
Explore the Pin Bhaba Pass Trek
9. Bhrigu Lake
Difficulty: Moderate
Duration: 4 days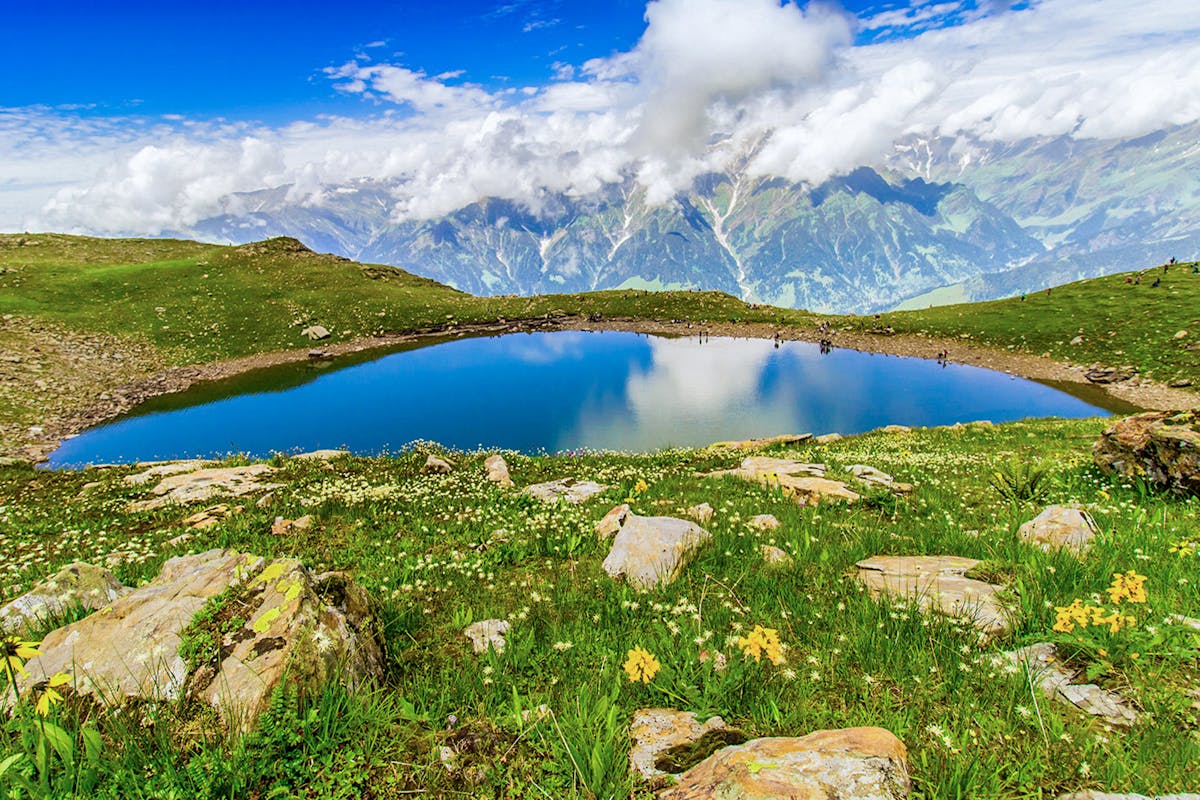 Not just the Bhrigu lake, the backdrop is equally beautiful. Picture by BL Subhashis Pal
If you're looking for a quick escape into the mountains, then Bhrigu Lake is a great option. It climbs right out of Manali into the mountains, and you see Manali getting tinier and tinier below you.
Ahead of you, the grandest of meadows open up.
Our founders were stumped looking at these meadows when they went late in August. They were fresh, green and expansive, stretching to as far as the eyes could see! Higher up, you climb to the lake, frozen in June, a forget-me-not blue in monsoon.
If you have just around four days, this is your trek!
10. Beas Kund
Difficulty: Easy – Moderate
Duration: 4 days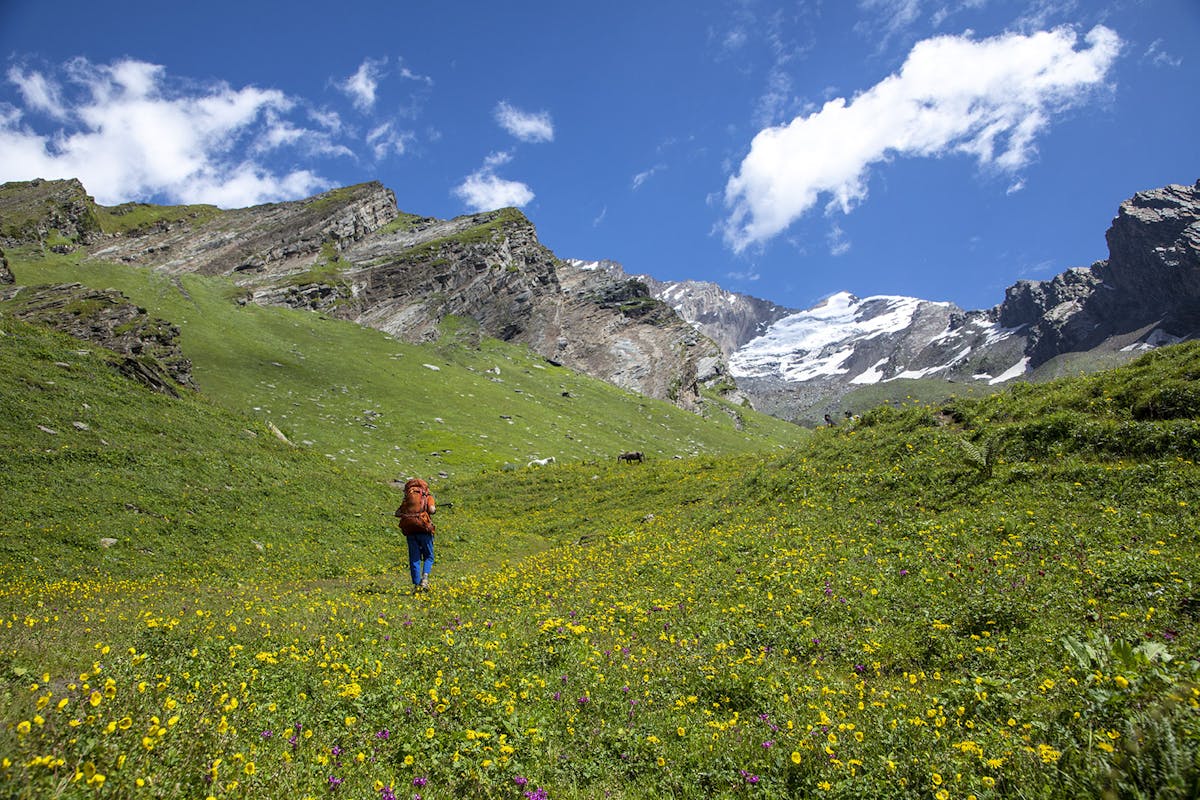 The tiny wildflowers popping out of the lush green meadows is a sight to behold. Picture by Jothiranjan
Just like the Bhrigu Lake trek, Beas Kund also offers a quick getaway from Manali and takes you on one of the most beautiful landscapes, leading you to the source of river Beas that flows through the town.
This trek is an amphitheatre of big mountains!
The Beas Kund trail offers you close, base-to-summit views of big mountains  of Manali like Friendship Peak, Shitidhar, Ladakhi and Hanuman Tibba. This is just within four days of trekking! These kind of views of a mountain are usually gifts given to mountaineers and hardcore trekkers –  after days of rigorous trekking.
On a clear day, you'll also be able to spot Mt Indrasen, Deo Tibba and more peaks from the Pir Panjal range.
11. Miyar Valley
Difficulty: Easy – Moderate
Duration: 4 days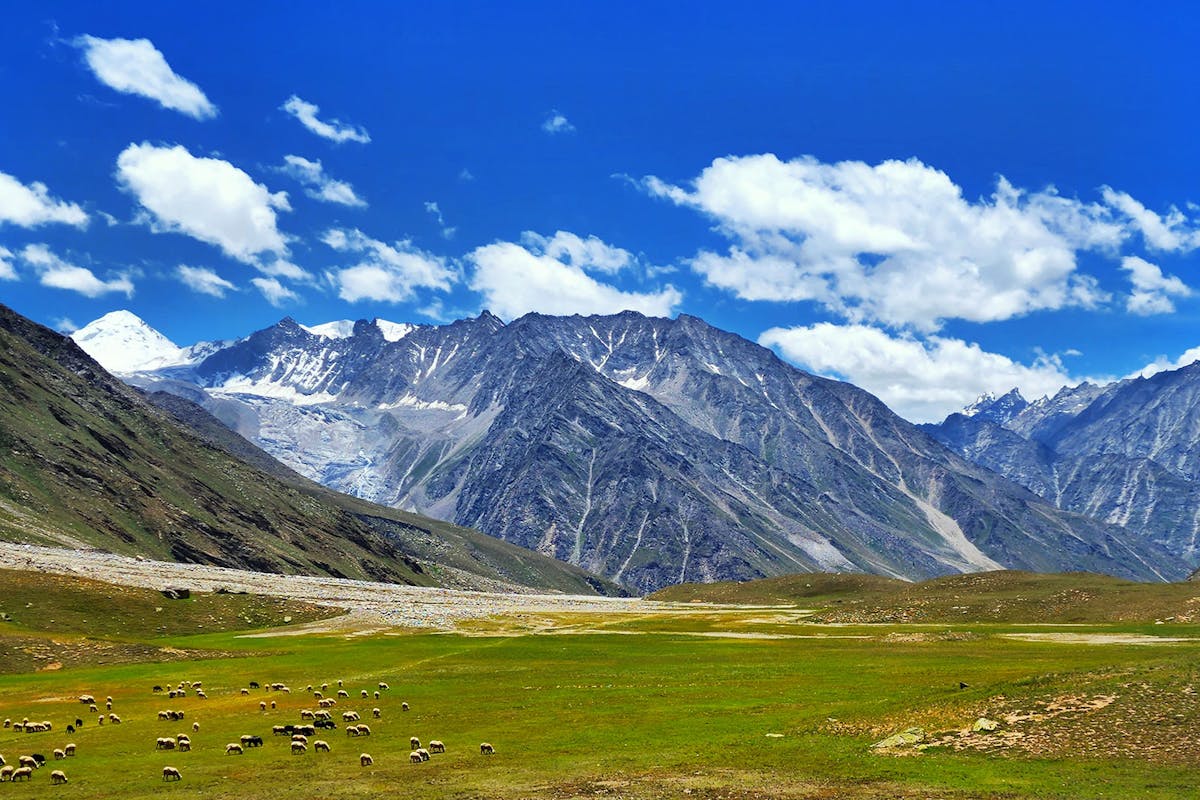 The Lahaul landscape is so different compared to others in Himachal Pradesh. Picture by Vijay Singh
In the remote region of Lahaul, a valley filled with flowers hangs quietly, escaping the attention of trekkers. The route to this valley alternates between remote mountain valleys, quaint villages, and flower beds dominated by the overwhelming presence of Himalayan orchids. This valley is Miyar Valley.
The S-shaped Miyar Valley sits in between Zanskar and Chamba. It is nearly 75 km long. The Miyar glacier is nearly 36 km long to Kang La (17,600 ft pass to Zanskar). 
At the snout of the glacier are seven crystal clear blue ponds, considered to be sacred by Buddhists. Trekking here is a rare opportunity for most trekkers. And doing so in isolation, with very few others on the trail is a godsend.
Most commonly Asked Questions by Trekkers About Monsoon Treks
1. Does it rain so heavily in monsoon that even the treks that you recommend might get cancelled? Treks like Valley of Flowers or Bhrigu Lake.
Not likely. We have been running treks in monsoon for over 12 years. If a trek is a week long we may get a two or three days of shower, though rain does not fall all the time. 
We have had to cancel treks only a few times because of rain (once during the Kashmir floods in 2014 and once during the flash floods in Uttarakhand in 2013). 
2. Does it rain all the time? 
Again, no. Out of 6 days, you may experience rain on 1-2 days, could be slightly more or less. But not all the time. Also, it tends to rain in the second half of the day, usually when you're already done with your trek for the day.
How to Stay Dry on a Monsoon Trek
Here's a video to help you stay dry on a monsoon trek.
Conclusion
That's all you need to know about Himalayan treks in July, August and September. It's the only time of the year when the clouds come down, leaving the earth lush, the skies clear and open up few of the best trekking trails of our country.
I hope you make the best of this post and plan your trek soon.
If you have any questions about monsoon treks, type it in the comments. One of us from Indiahikes will write back to you!
Sign up for our much loved Weekly Mailer
We have terrific trekking tips, trek updates and trek talks to look forward to