Quechua 1 Litre Hiking Water Bottle
Share this story
Carrying water while trekking is something as imperative as breathing. Considering this is something that will add a major amount of weight to your backpack, choosing the right type of water bottle is a wise consideration. Luckily, there are lots of water bottles that are light, yet tough. Nalagene, known for their tough water bottles, built for wilderness, have inspired many other manufacturers. Quechua, one such manufacturer, has been seen excelling in product innovation in recent years. So, it didn't comes as a surprise when we tested their popular 1 litre hiking bottle. The result was very encouraging.
Light Weight but Sturdy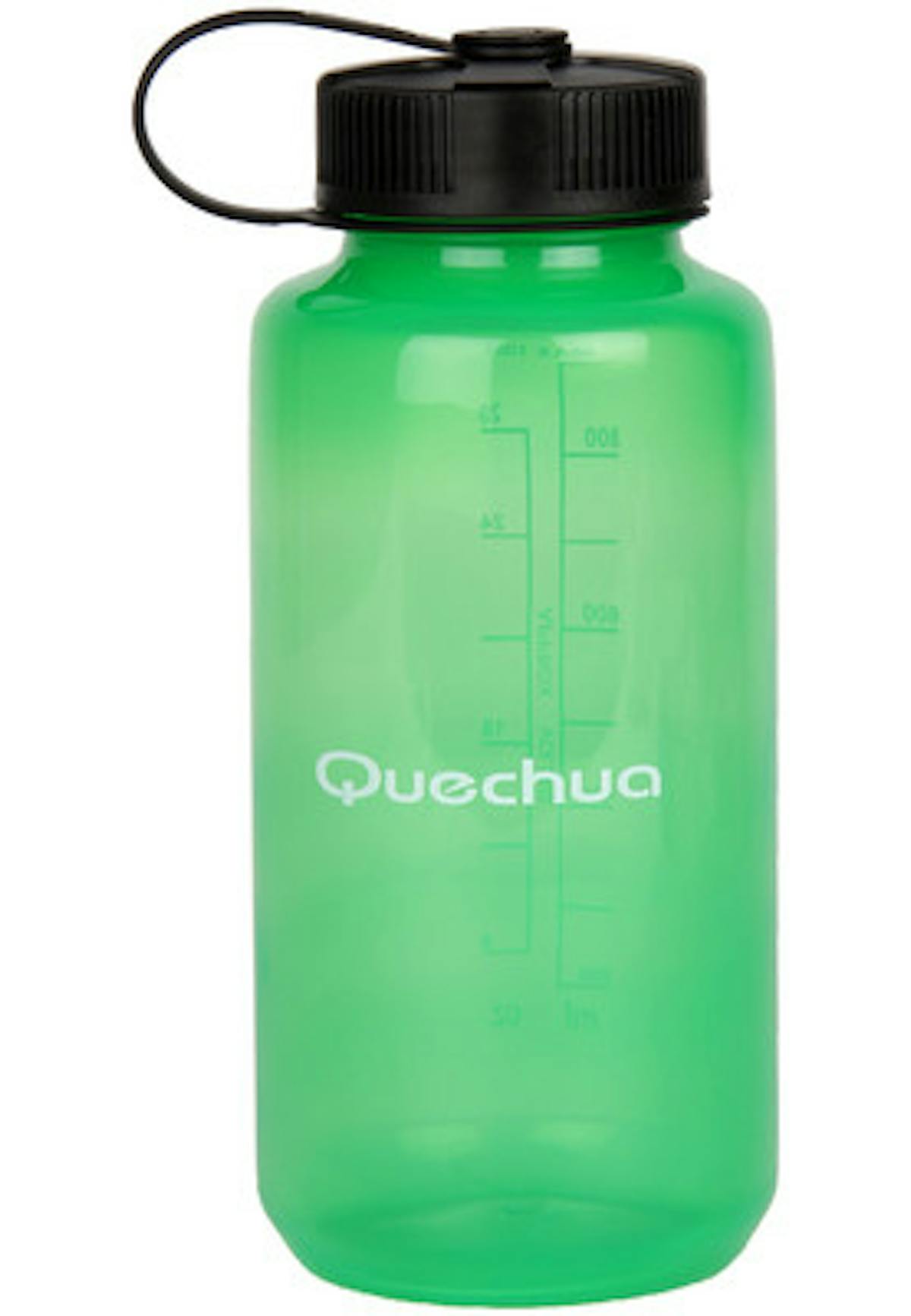 Quechua 1L Hiking Water Bottle
The first thing we observed when we got our hands on this bottle is its light weight and build specification. For a 1 litre bottle, it felt light and sturdy. The bottle design made it fit perfectly in the side compartment in our backpacks.
Quechua claims the bottle to be 100% Phthalate/BPA free. This implies the bottle is free from the hazardous plastic chemicals. With a rating of – 5 Polypropylene, the bottle material is recyclable.
The bottle comes in five attractive colours – orange, red, yellow, green and blue. Also, it has a very unique measurement labelling in ounce (oz) and millilitre (ml). This helps you to keep a track of how much water you have consumed on the trek.
Designed for a trekker
Onto the design specifics, the cap of the bottle is aligned with a hook, making it impossible to loose the cap. The bottle can be hooked to a mini carabiner as well. The build plastic does not leave unpleasant odours. Though you will find that odours of energy drinks/ORS don't go away that easy.
However, there are a few build issues. Since the bottle has a food grade plastic build, it is not shatter proof. Drop it over a few feet over a cliff and chances of it breaking are high. It is advisable to secure the bottle with a clip or a carabiner to your backpack to avoid accidental slips. The bottle, however, could handle small drops and on field tests did not shatter. The bottle is also not suitable for hot beverages or liquids.
Pros:
All terrain water bottle, easy to use.
Excellent build quality, leak proof.
Hygienic and easy to clean.
Light weight and affordable.
100% Phthalate/BPA free
Cons:
Cannot be used for storing hot beverages.
Cannot be used in sub zero temperatures.
Is not shatter proof. May crack on accidental drops.
Final Verdict: Quechua hiking bottle is a tough, light-weight bottle you should have in your kit. It is made of robust quality material and will last you many treks. The pricing of the bottle is very affordable (Rs.250) and makes it an easy choice.
Sign up for our much loved Weekly Mailer
We have terrific trekking tips, trek updates and trek talks to look forward to