Don't Buy Trek Gear Anymore
Share this story
We recently did a small survey with our trekkers. We asked them how much they spend on trekking gear for a Himalayan trek.
And what we learnt was astonishing!
Almost all of them who took the survey said they spend around Rs 15,000 only on trekking gear! And to my surprise, many of them even went up to Rs 25,000 and Rs 30,000!
I was shocked to see these responses. Extra shocked because some of these trekkers were going on 2 day weekend treks to Nag Tibba or Deoban, where the trek fee is only around Rs. 3,650.
This really got us wondering. Trekking is a minimal sport. You just need two strong legs to make it to the top and back.
And here we were, looking at trekkers fishing deep in their pockets for trekking gear!
The story of how we began renting trekking gear
Renting trekking gear solves this problem.
Unfortunately, in our country renting doesn't seem to be an option for most trekkers. For one, they are averse to renting. They feel that rented gear is not of good quality or in good hygiene. Two, people like owning trekking gear. Even if they do one or two treks a year, they like the feeling of taking their "own" gear on a trek.
I remember we had several meetings where we discussed what we could do. We put down some resources on how much to spend on trekking gear, how to reduce the cost of your trek, but these were just resources at the end of the day. They were not solving the larger problem.
We thought, what if you go to your base camp, find a big store, with aisles of backpacks, trekking shoes, jackets, even have a chance to try them out and then rent them instead of buying them? Where you have them packed and sealed in hygienic pouches. And all this at a cost that's close to free?
We made this our vision.
But renting gear in the Himalayas is not easy.
We would first have to get high quality gear custom-made for our trekkers, send them to remote slopes, create a seamless rental process for trekkers, make sure they are squeaky clean after every use, account for all the gear and ensure all of this at a very low cost.
Doing all this in a region without network, without internet, where people are not tech savvy… Frankly, it was a logistical nightmare in our heads. A whole new entrepreneurial journey in itself!
But we started off nevertheless.
We custom-made padded jackets (they're better than any I've seen), got good trekking shoes from Decathlon and put up our Crosstrek trekking poles for rent.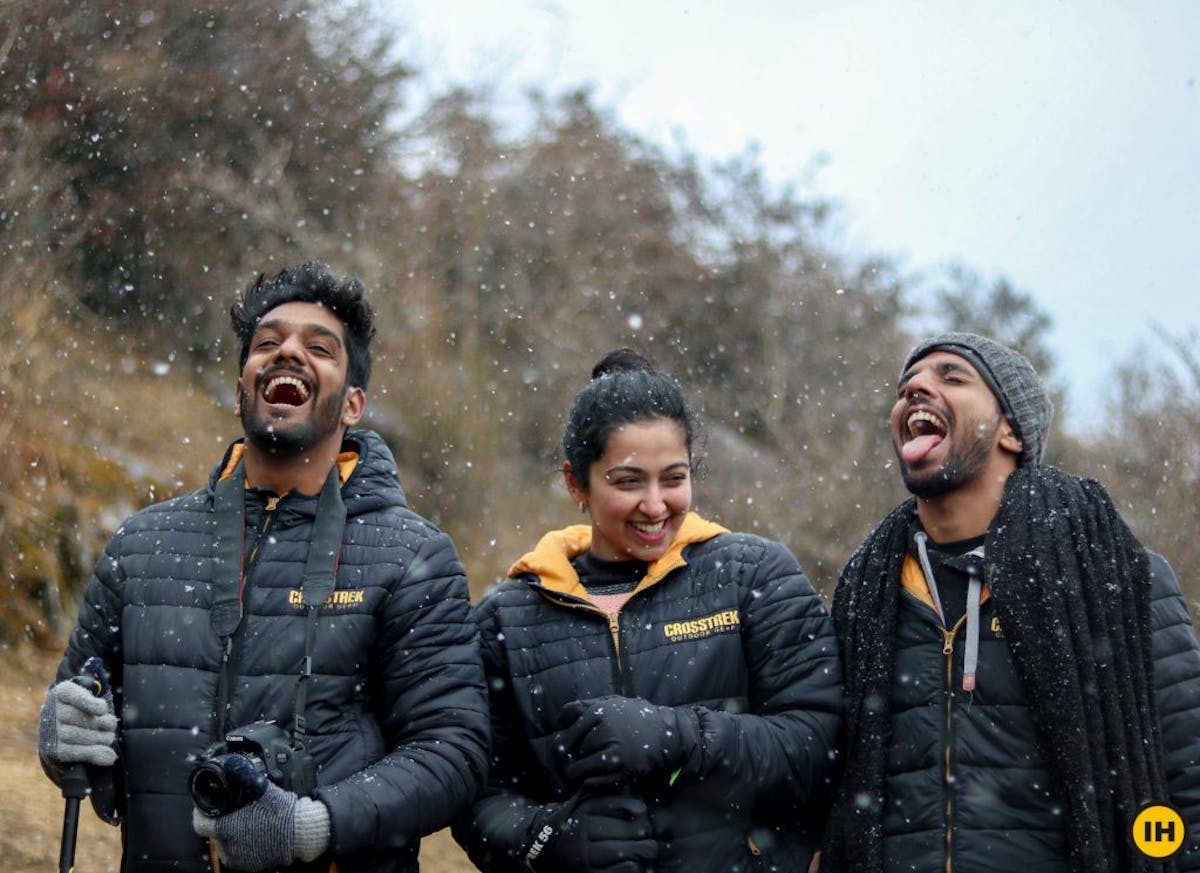 A lovely picture of trekkers in our rental jackets
Then we found another problem — backpacks. 
Backpacks were burning a hole in our trekkers' pockets. You don't get good backpacks in our country for less than Rs 5,000. And not all trekkers used the backpacks regularly to do justice to how much they spent.
So we got AdventureWorx on board and had them make this terrific 55L backpack! (God knows how many prototypes we have rejected before finalising on what we have now!)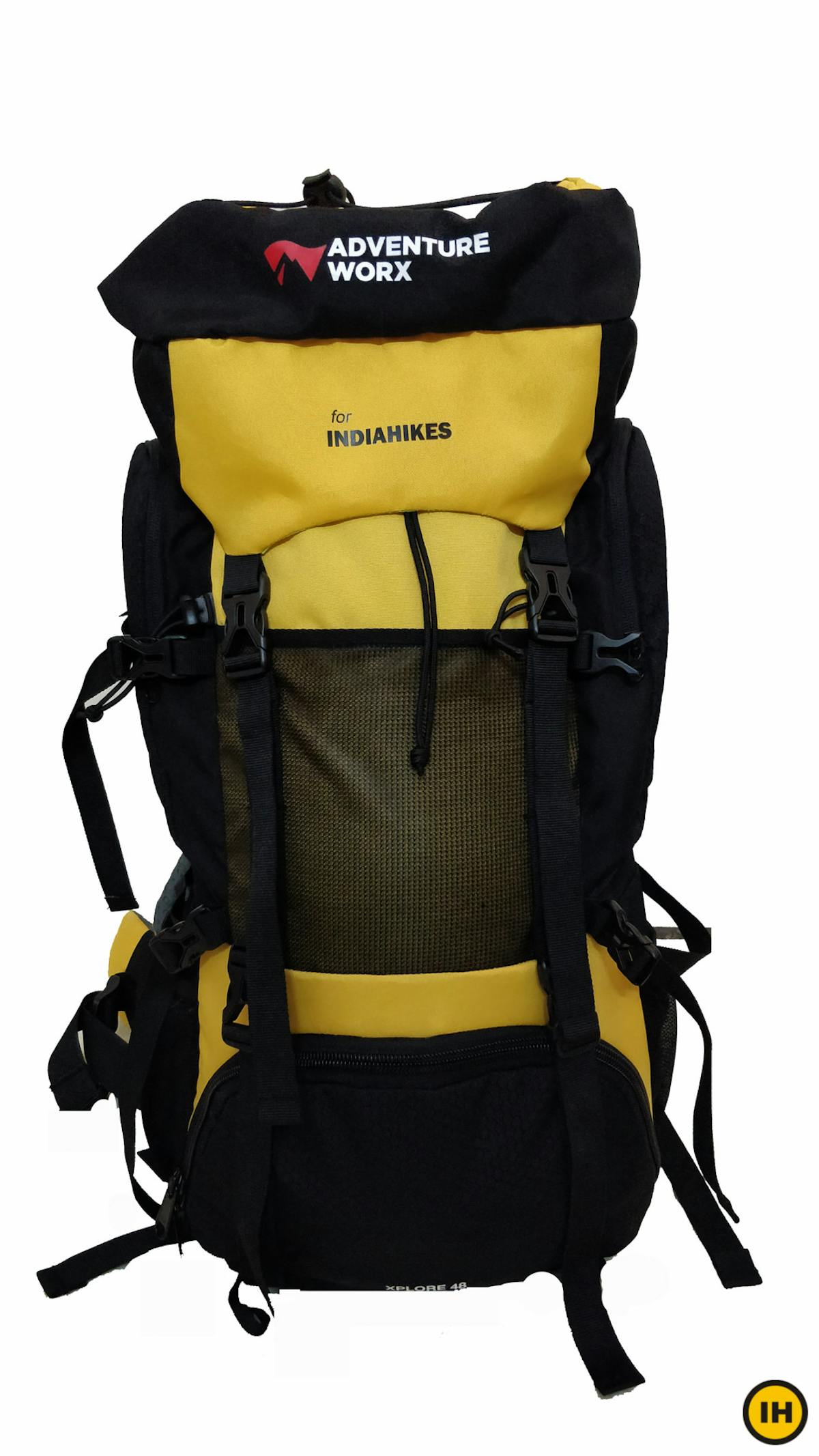 Our AdventureWorx rental backpack
Our founders were very particular about pricing them in a trekker-friendly way. In fact, we have had several debates in office that we were running rentals almost at loss!
Imagine being able to use a trekking pole, a good pair of shoes, a good backpack, a good padded jacket, all of them for just Rs. 1050 for an entire week! 
And the list of gear is constantly growing. We're planning to include head lamps, gloves, cutlery, and more.
Today, I'm glad that so many of our trekkers use this gear. And they all have good things to say, "I chose IndiaHikes as my companion to this trek due to one of these reasons of being a one stop for all our necessities. I rented 3 items of my gear and all of them were in good condition," says Vasudev Bongale. 
We now have rentals on almost all our treks
We rent gear almost on all our treks except Goechala and our Nepal treks
We are even renting gear on our pass-crossing treks like Hampta Pass, Rupin Pass, Buran Ghati and Pin Bhaba Pass. They will be available on the website by the end of this month. These treks start and end in totally different and remote regions! Logistically, it's super complex to organise this! Our ops team is working round the clock to make this possible.
Have we got to our vision yet? To have a shopping mall experience of rental gears at almost no cost?
I think that will still take us time. Our teams are working very hard to get there. But what we have right now is already terrific for trekkers.
So the reason I'm writing this post is straightforward. I want to urge you to start renting gears the next time you trek.
Renting gears doesn't compromise on comfort or quality. But it does two things: (1) It saves you a lot of money. Actually, a really lot of money. (2) It gives you access to gear that you would have otherwise not thought of taking (for example, high end trekking shoes)
How to rent gear?
I must say, our rental team has done a fantastic job to make this easy for trekkers.
All you have to do is order in advance on our rental website. Collect your gear at the basecamp. Return it to us after your trek.
You just have to login to your Trek Dashboard to see your upcoming treks and rent gear accordingly.
Do we rent out to non-Indiahikes trekkers?
No. This is exclusive only to Indiahikes trekkers. Ideally, we would want everyone to rent trekking gear, especially independent trekkers — we need more time to scale up to that stage.
But frankly, this is how we envision the future of trekking to be in our country — minimal and pocket-friendly. And that's the journey we are on.
Our vision is that people must feel good about using rental gear. Being trekkers ourselves, we know what comfort a clean pair of trekking shoes can bring!
And that's what we aim at doing this year!
If you have any thoughts on how we can take renting of gears forward, drop in a comment below.
Latest Videos
How To Rent Trekking Gear From Indiahikes Store
How To Register For An Indiahikes' Trek
What Is Included In A Trek Fee?
Sign up for our much loved Weekly Mailer
We have terrific trekking tips, trek updates and trek talks to look forward to