Review of Multi Gas Canister Including Burner - Butane Gas for Trekker...
Share this story
I've been trekking for many years. While trekking DIY style, that is cooking, navigating and camping on my own, I've noticed cooking to be the biggest issue on a trek. We usually carry butane burners with us. However, these butane burners are very difficult to acquire in our country and generally have to be imported. 
This is one of the reasons why trekking has not grown in India — cooking on treks is not easy. But recently, I came across this Multi Gas Canister by Sree LPG. One of the largest LPG companies in India, they have come up with these canisters of butane gas for trekkers.
I took this on my recent Gidara Bugyal trek to test it out and oh my, am I impressed! Our trek was a five day expedition at the onset of winter. We trekked to a very high altitude of 14,000 feet. There were vast atmospheric pressure changes here. The temperature was at sub-zero almost everyday.
Despite these settings, I found the Sree LPG canister and burner better than imported butane gas cylinders. I found its performance quite astonishing. And this is what I am going to talk about here. 
Let's take a quick look at the pros and cons before we dive deeper.
Pros                                                                          
Excellent cooking speed (<20 mins) at high altitudes
Works quicker in lower altitudes
Efficient (30 seconds to set up)
Easy to carry (small volume) 
Easy to use 
Comes with an innovative burner
Cons
Takes x2-2.5 longer to cook at very high altitudes (above 11,000 ft)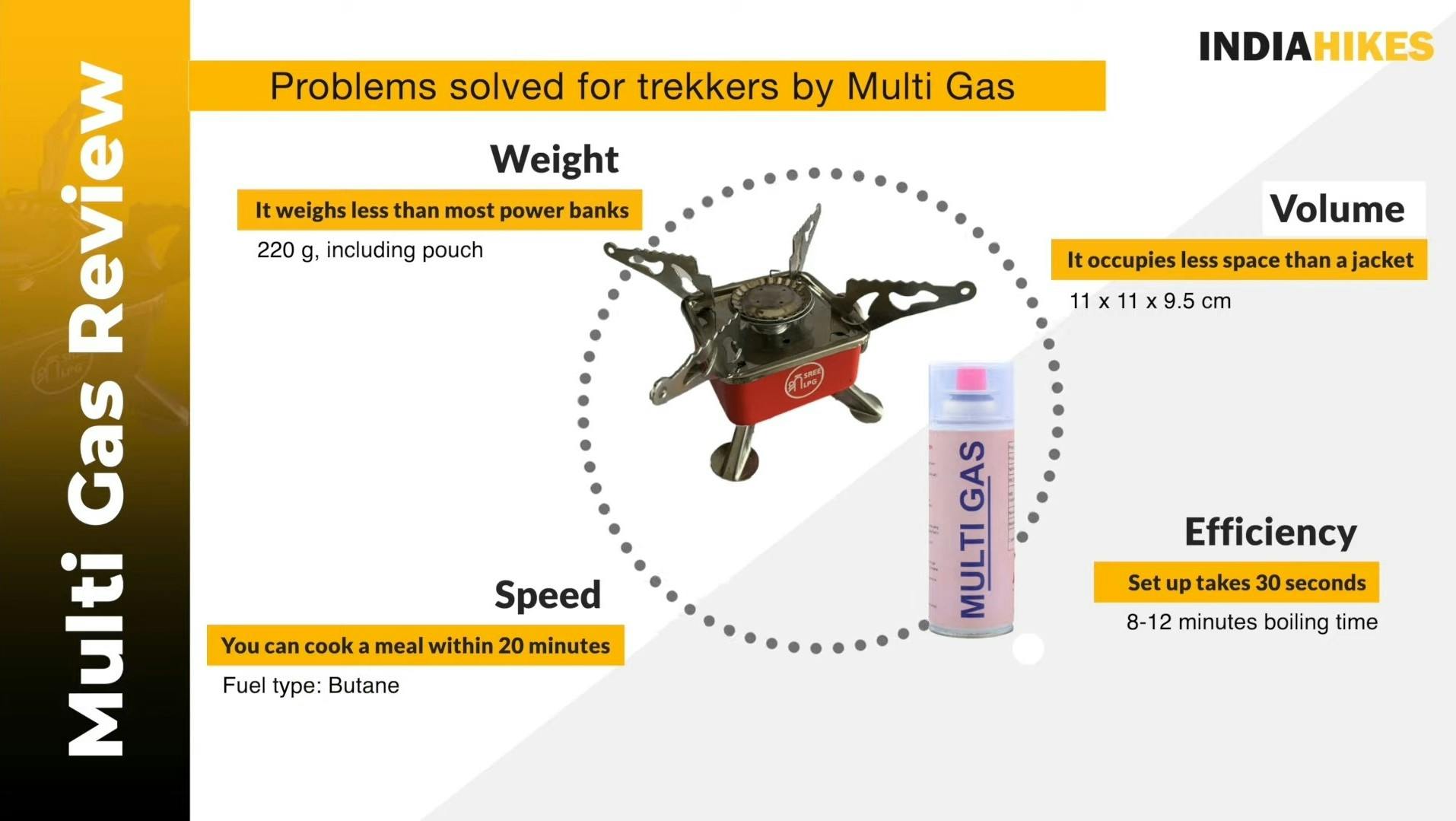 ➤ Boiling Water Within 8-10 Minutes:
It was extremely cold on my trek. So, I wanted to see how the canister and burner function in such severe weather. 
Up till about 11,000 feet the burner works beautifully. To give you an idea, to boil two litres of water, it takes only 6 minutes. But at high-altitude, when we were at 13,500 feet (and the temperature was below -2°C), it took us about 12 to 15 minutes to boil that same amount of water.
Essentially, it takes maybe 2-2.5 times longer when you're cooking at high altitudes, especially in the middle of the winter. In several camps, the water was completely frozen and we had to melt snow to get water. 
Yet, the Sree LPG canister and burner work much better than other imported ones.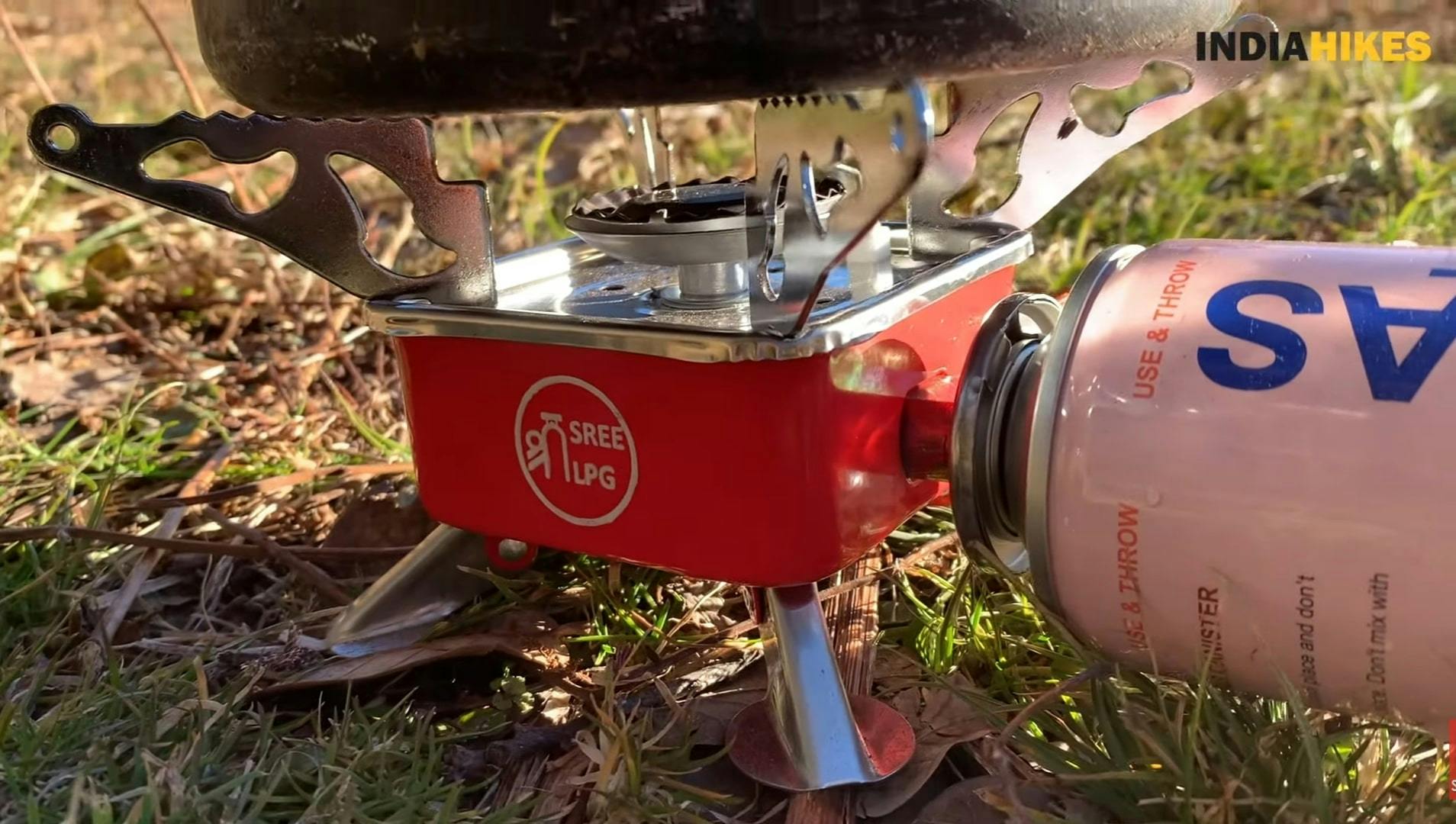 ➤ Excellent Efficiency
I loved how efficient the gas canisters were. For this entire trek of five days, for five people, we required four of these canisters. We were cooking three meals a day, with copious amounts of hot water and chai in between. So you can imagine how efficient it is. 
Given that we were in very high altitudes with low atmospheric pressure, extremely cold temperatures, five of us used up only four canisters!
➤ Light to Carry, Easy to Pack
The Multi Gas canister is about 220 grams (including the pouch), which is extremely lightweight. The stove weighs similarly, at  around 250 grams. 
This apparatus is extremely lightweight. You won't feel its weight while trekking. This was a pleasant change after the butane cylinders I have carried in the past. Those would start to feel heavy after some time.
Here's how to pack the burner –
The stove has wings to put the vessel on top of it and legs at its bottom which work as a stand.
Fold the wings inwards. It works beautifully on its own, so you don't have to do much.
Fold the legs back in.
Put the burner in the pouch. 
And that's it! In less than a minute I can put it in any corner of my sleeping bag and I'm done with it. 
➤ Easy to Use Canister
The canisters come with a very easy-to-open cap and nozzle. You just have to open the cap and nozzle before you attach it to the burner. It comes with an instruction manual as well.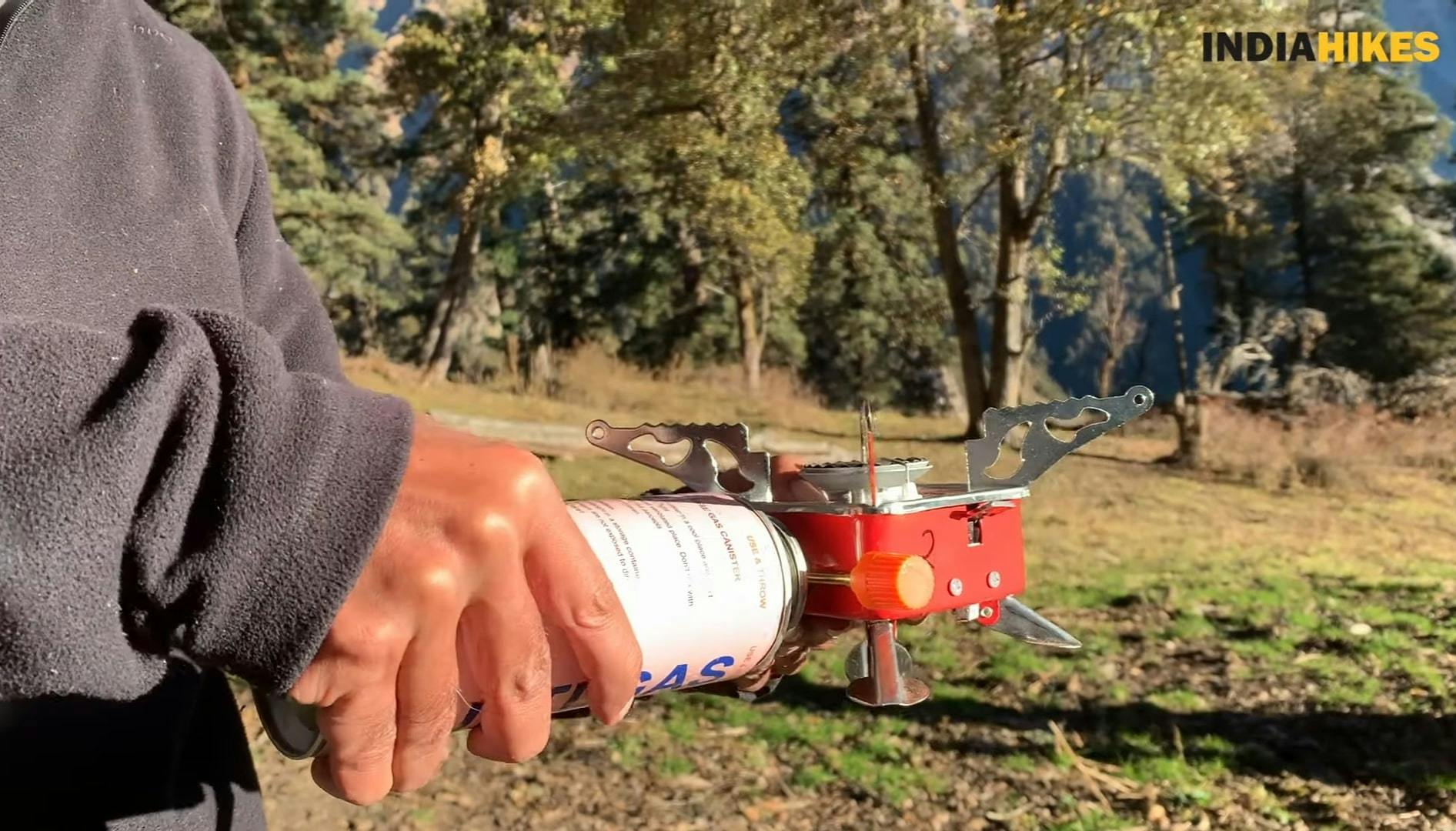 ➤ Innovative Burner – Efficient and Easy to Ignite
The biggest innovation here is not in the gas, but in this burner. It is the burner that creates efficiency in actually using the gas, spreading it out, keeping it at the right temperature as well as putting on the required flow. Efficiency is the secret of any good camping stove. 
One of the biggest problems I have always faced while using butane cylinders and stoves, is lighting them. I have had to carry a flint or matchboxes with me. But at times, when they get wet or cold, it becomes impossible to light them – and it's always been a miserable process. 
But this innovation, which Sree LPG has brought in, is something I really like. The burner has an attachment to fit the canister onto. The canister fits smoothly – it hardly took me 20 seconds. This way, you can easily light the burner.
➤ How to Use it?
Once the canister is fit into the burner, all you have to do is turn the burner knob on, pull the metal plate down and voila! It ignites. To switch it off, turn the knob off and it's done. I carried out this whole process in less than 30 seconds – and that's the beauty of the innovation.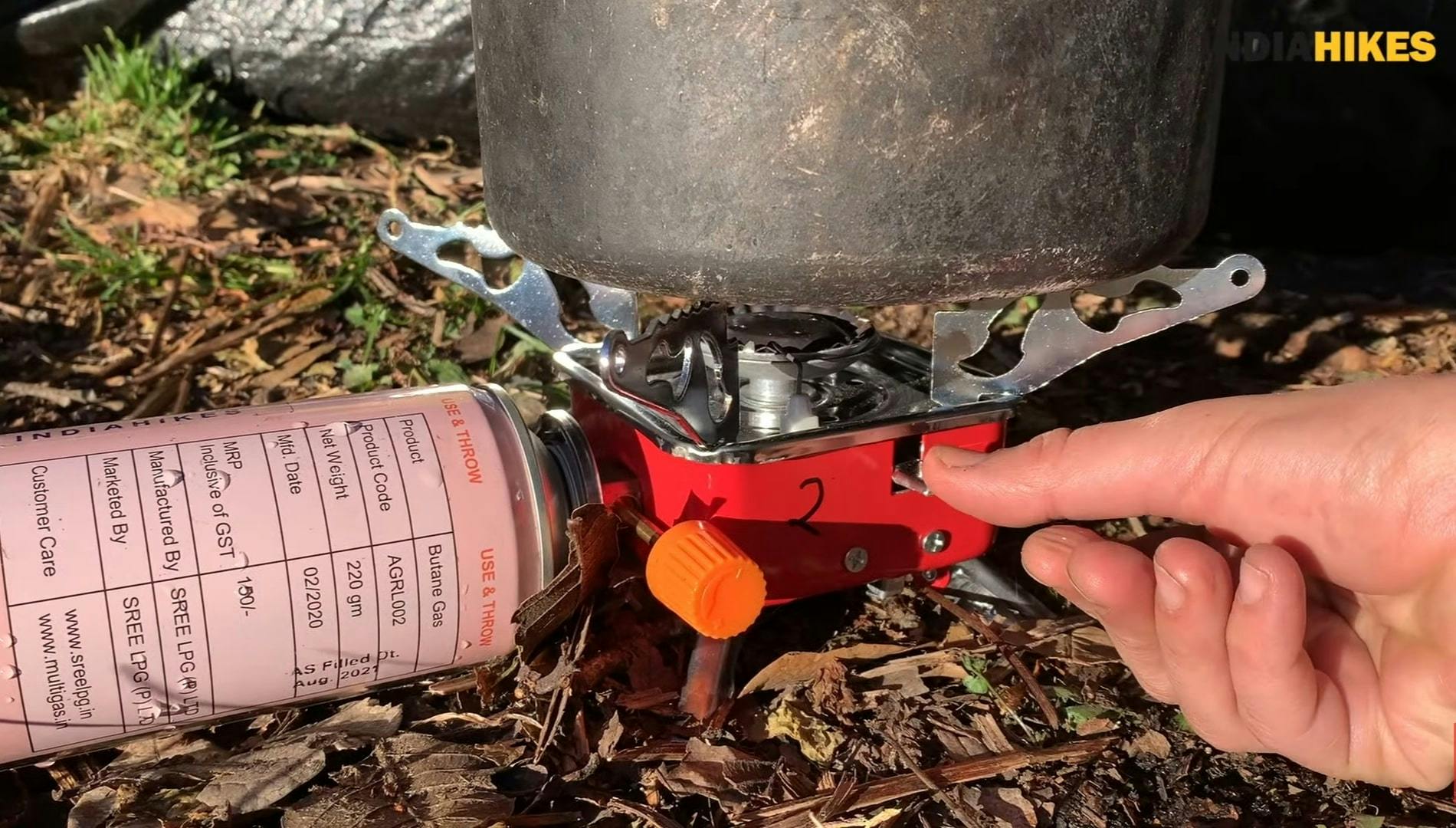 ➤ Whom Does it Help the Most?
It is meant for DIY (Do It Yourself) trekkers, who go in a group of friends or on their own. No matter where you're trekking in the country – the Sahyadris or the Himalayas, or some place else – this is a godsent gift. And that is because it can make you independent.
With this set up, you can be absolutely versatile with your cooking. You don't have to worry about it anymore. Nowadays, a lot of food premixes are available in the market. You just have to take them and start cooking. All you need is this pair of burner and canister, one vessel and that's it. 
Want to be a DIY trekker? Find out here!
And with that, you are a completely independent DIY trekker!
If you have any questions or thoughts on this, drop in a comment below!
Related Videos
"Review of Multi Gas Canister Including Burner | Butane Gas for Trekkers and Campers | Sree LPG"
"AdventureWorx XPlore 55 Backpack Review | Thoughtfully Designed for Himalayan Treks | Indiahikes"
"Quechua NH150 Hiking Trekking Shoe Review | Budget Trekking Shoes | Decathlon | Indiahikes"
Sign up for our much loved Weekly Mailer
We have terrific trekking tips, trek updates and trek talks to look forward to