Salomon Quest 4D 2 GTX: All-Terrain Hiking Shoes for Seasoned Trekkers
Share this story
As a Trek Leader, it pains me to see when people end up with the wrong shoes on a trek. They squirm their way through the trek because of it. I have personally never had as much as an itch in my Salomon Quest 4D II GTX.
Overview of Salomon Quest 4D 2 GTX
Salomon has been consistently rewarding its users with the best trail running shoes for years. The French brand has used their expertise in manufacturing trail running shoes and applied it superbly to bring out one of the best hiking boots.
While maintaining its stance as a tough hiking boot, this pair is versatile enough to break out in a run without sacrificing your comfort. I put the Salomon Quest 4D II GTX through the wringer for a year and these are my thoughts on how it fared.
Breaking into the shoe
Pro tip: Ideally get yourself sized late in the afternoon or evenings for an optimum fit. Your feet tend to swell up due to walking all day, which is an inevitability on a trek. Also, keep in mind the thickness of socks that you prefer to wear on the trek.
First off, unlike most hiking boots, the Salomon Quest 4D II GTX requires negligible break-in period. It can be worn on hikes right out of the box. With its generously sized toe box, the shoe does not make your toes feel like they are in a straight jacket. Trust me when I say that this, wiggle room is a blessing on long trek days.
Protective High Ankle support
Both, the front and the heel are hardened to protect the sensitive parts of your foot when you hit boulders. The ankle collar with its soft cushioning makes it one of the most comfortable shoes to wear. To some, the ankle collar can seem a tad uncomfortable initially but over time, it begins to feel natural. High ankle support is largely helpful when making quick descents.
Independent laces for feet and ankle sections
Lacing up this shoe is a treat. You have options to lace the feet and ankle sections independently with varying intensity. Once the laces are properly tightened, they aid in superb ankle support and keep the toes from bumping against the front of the shoes. That will help you avoid a blister menace and bruised nails.
The laces are made of high quality material and I have not encountered a single loose strand on them. The lacing hooks boast of similar toughness and looks as good as new even after prolonged use.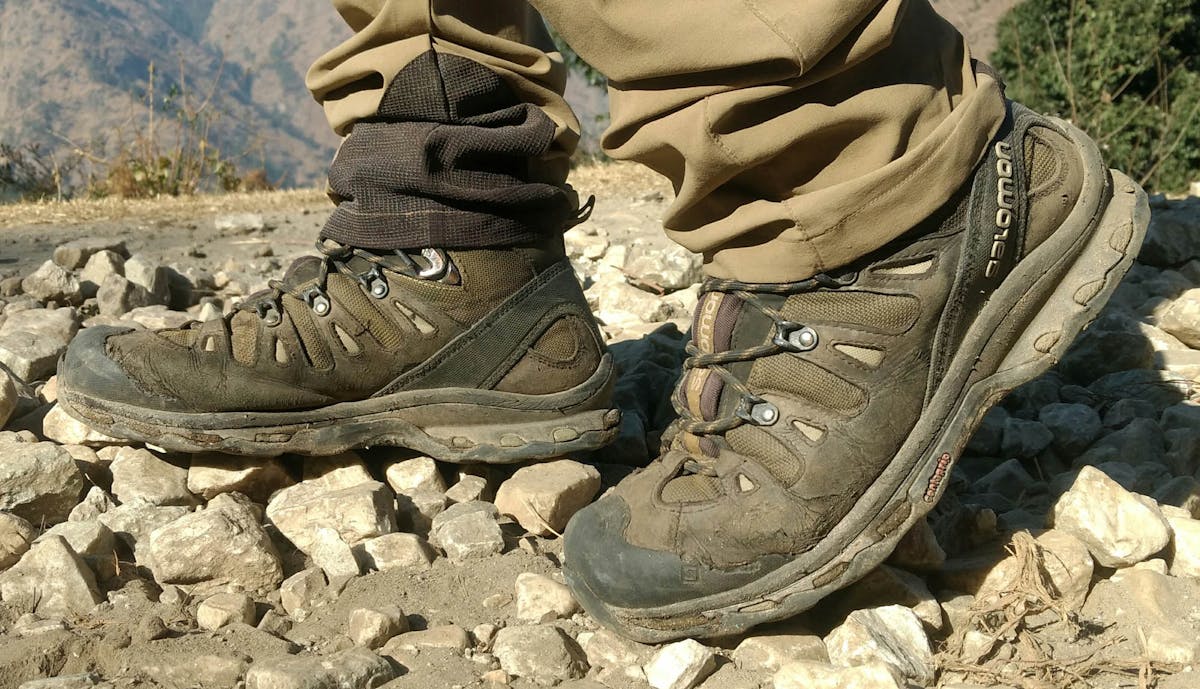 Notice the hardened front and back to protect the feet when they hit boulders PC: Karthik M
Durability
Leather is notorious for its upkeep. It is usually the layer that reduces durability. Thankfully, this shoe has minimal leather. However, there are multiple seams, which are prone to fail with wear and tear.
Despite the shortcomings of a seam too many, this thing is built like a tank. These shoes have lasted me a good 1000+ kilometres and continue to propel me higher up treacherous terrain. While they are not the lightest out there, the weight can be justified by their durability.
Pro tip: Always clean your shoes post hike. You can also increase the life of your shoes by substituting detergent for mild soap water when cleansing with water.
Grip like bike tyres
Salomon is probably the only name in hiking boot heavyweights that does not fancy Vibram soles. While brands like Asolo, Lowa, La Sportiva, North Face continue to bask in the glory of Vibram, Salomon seems pretty content with something called Contagrip.
The sole has been modelled after a mountain bike tyre and gives superior traction due to its big lugs. One can saunter and run in these bad boys without a worry about slipping. However, I found that the soles tend to perform poorly on granite and more than a little care is required while negotiating granite boulders.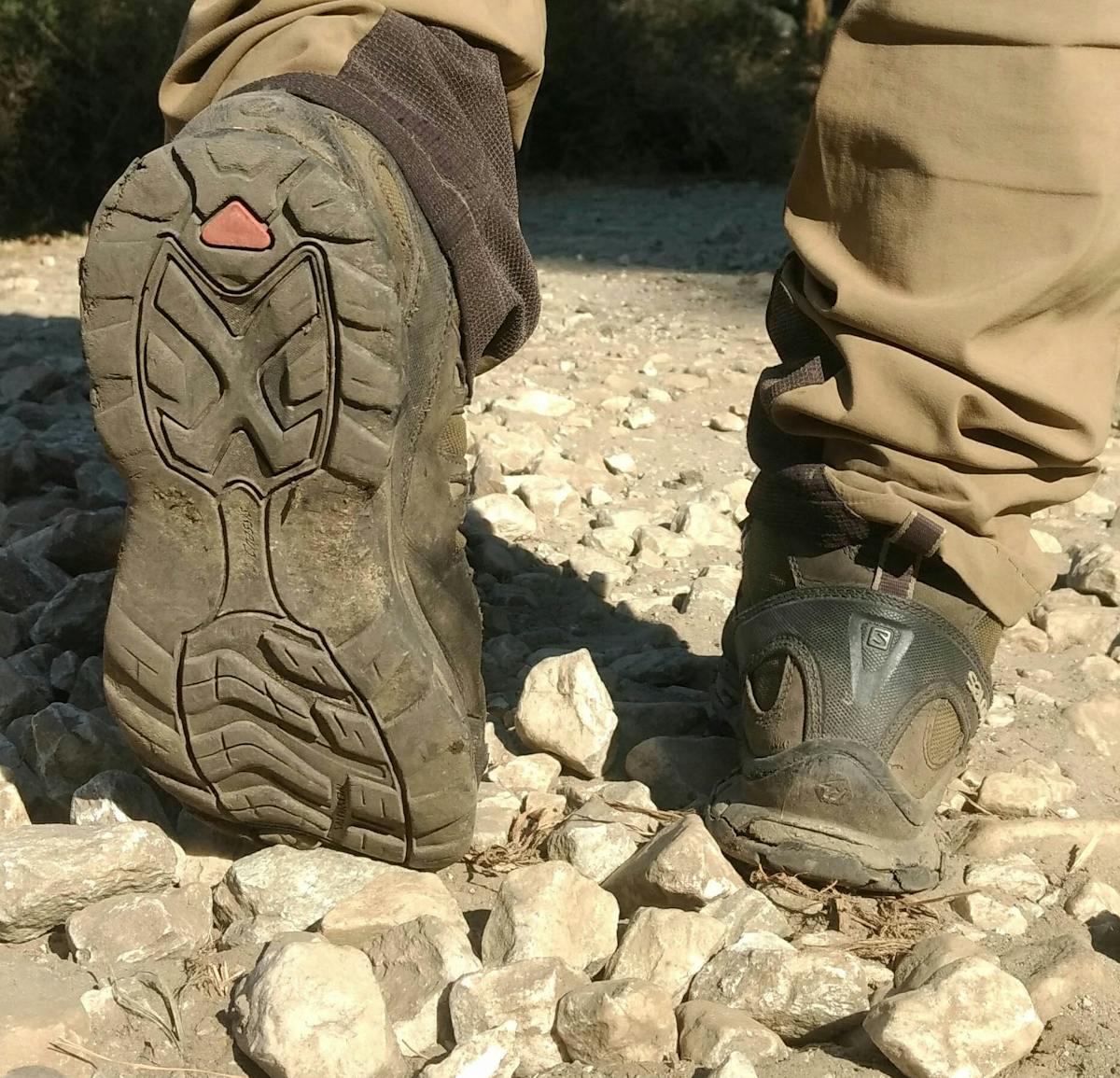 The rugged sole of the Salomon Quest 4D 2 GTX after constant use for a year PC: Karthik M
Pro tip: The true test of a good outsole is its ability to bend upwards providing flexibility on uneven grounds but refusing to bend downwards to ensure the requisite toughness.
Water Resistance
I was rather surprised with the efficacy of Goretex as a waterproofing material. Whether you are jumping into puddles or crossing streams, Goretex is the perfect barrier against water ingress. As long as water doesn't seep in through the top, your feet will thank you at the end of the day for buying a Goretex lined shoe.
The gusseted tongue increases the waterproofing of the shoe by closing the gap between the shoe and tongue. The waterproofing feature is also immensely helpful on snow treks, where snow can make your shoe damp and result in quivering toes. It's a good practice to treat your GTX shoes with water proofing solution to reinforce its water resistance quality.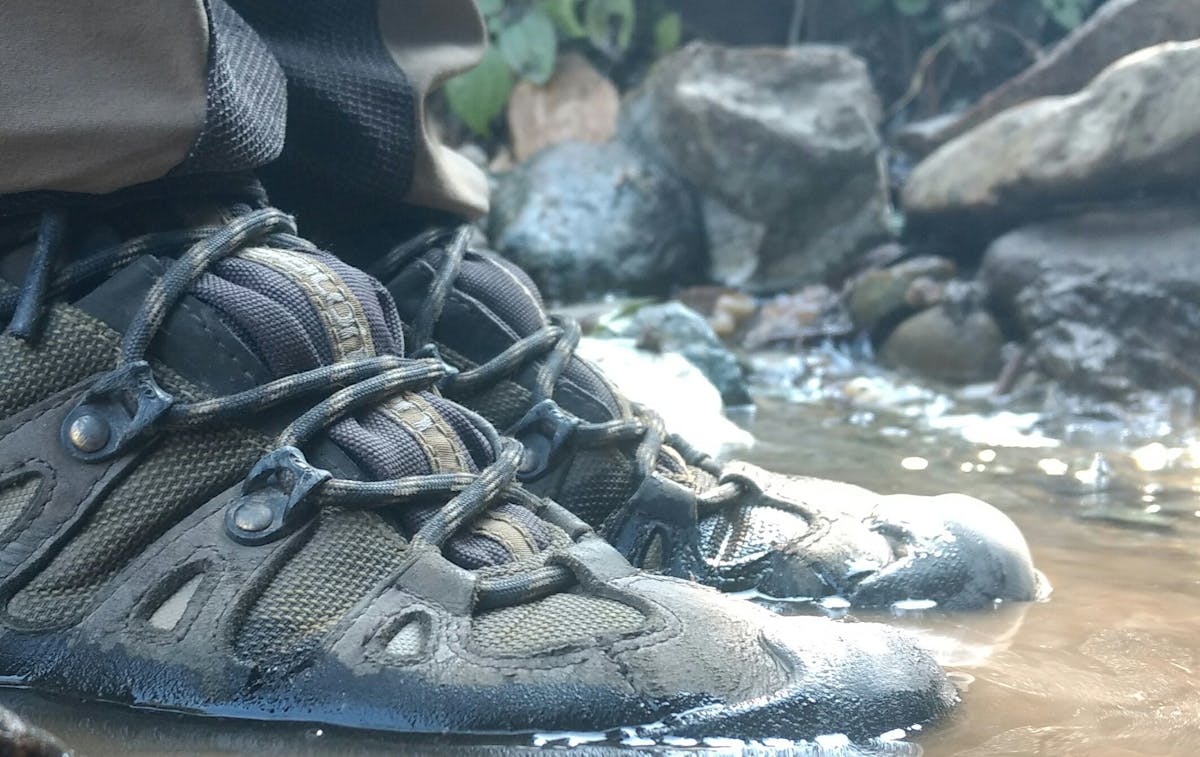 Testing water resistance in a stream PC: Karthik M
Pro tip: Due to its waterproofing ability, Goretex does not wick moisture. Something to bear in mind when hiking in humid conditions or for people who sweat profusely. The boots will also take considerably more time to dry in case water goes into the shoes.
The verdict
Though the Salomon Quest 4D II GTX sits steeply at around Rs.11,000 for a pair, I can't argue why it shouldn't be. Apart from notching up a minor flaw or two, I have been thoroughly impressed with these hiking boots. It offers excellent comfort, superior grip and dam-like water resistance, without sacrificing on durability. It already stands as the top contender as my next pair of boots.
If you don't trust me, find comfort in the fact that this particular model is the choice of boots for many a Navy Seals. With a plethora of options available to the modern trekker, it can be difficult to make up your mind regarding what hiking boots to get. Hopefully, this review gives you enough insight to make an informed decision.
Sign up for our much loved Weekly Mailer
We have terrific trekking tips, trek updates and trek talks to look forward to