Sandakphu: Seeing the Everest at the horizon
Share this story
She is smitten by Mt. Everest and hopes to conquer the peak someday. And it was the Sandakphu trek that gave her the first grand view of her favourite peak in the Himalayas! Right from walking in and out of Nepal to seeing the golden sun kiss the mountains goodnight, she loved every bit of the trek!
As told to freelance writer Bhavi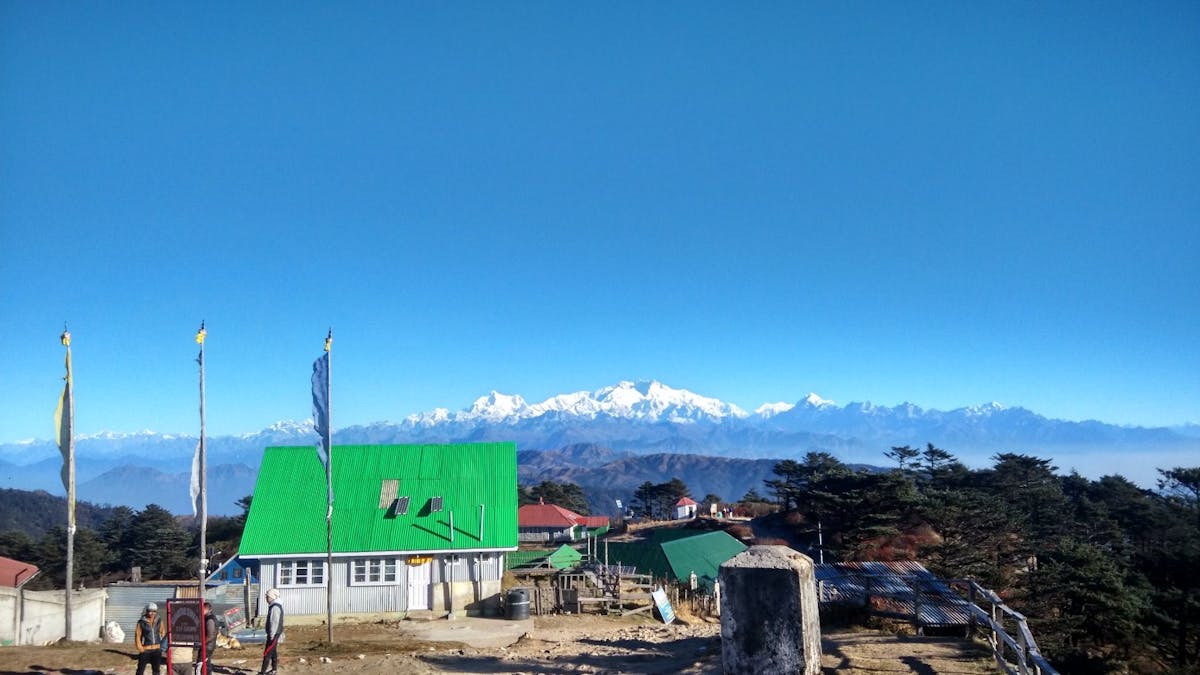 The Sleeping Buddha-range
Let me introduce Sandakphu to you!  It is a mountain from where one can see both Mt. Everest and Mt. Kangchenjunga- which is what draws most trekkers to this mountain! Instead of reaching my destination on the day of trek itself, I decided to go a day earlier to Sikkim- just to explore the new state and get a bit habituated to its weather!  I visited some of the famous spots there- Baba Mandir, Tsongmo lake, an Elephant-shaped lake, MG road, zoo and much more. The best part of that day was the trying out the various culinary delights-momos, chowmein, what not!
Coming back to our trek, I was introduced to strangers who were going to live with me for 5-6 days. They all came from different parts of the country or sometimes, a different country altogether- Mumbai, Delhi, Bangalore, Nepal and even Germany! More than getting to know these people, I was keen to know their language, culture, customs while playing some card games. ( I guess I did pretty well!)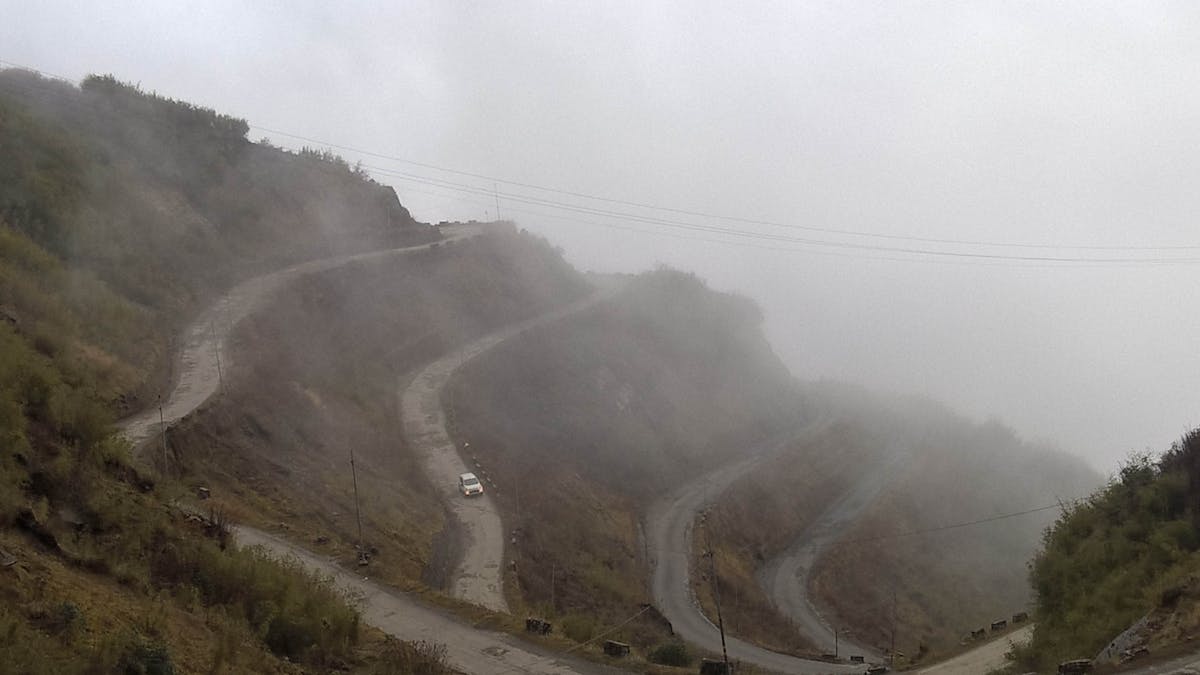 Fog obscuring Silk Route.
Finally, we reached Ramphu by passing Silk Route (the most hairpins in a route ever!). Our trek started in Jaubari. Interestingly, there is a place in Nepal that shares the name. Wondering how Nepal came in?  Once you reach the Sandakphu peak, you officially land in Nepal! Well,  it figures- that's how both Mt. Everest and Mt. Kangchenjunga are visible from here! (Duh!)
So, our trek began with the great enthusiasm! As we marched ahead on a road that straddles the border, we could see India on our right and Nepal on our left at the same time! Amazing right? Well, our enthusiasm started dipping with the continuous ascent and it got worse with fog hogging the beautiful vista. The funniest thought came to me while we were buying chowmein and chips for Rs. 450 from a local stall: "Well, who says money can't buy happiness?"
Tumling gave us our first peek of Mt. Kangchenjunga. The tiring day, chilly environment made us sleep in no time. In cities, it takes hours to just settle on bed! Nature truly does its wonders. Next day was  pure bliss! We saw the sun rise on Sleeping Buddha-range. With such splendour in front of us and an amazing breakfast, we continued our journey to Kalipokhri, Nepal. Sceneries changed, strangers became friends and those whose wavelength matched became best friends!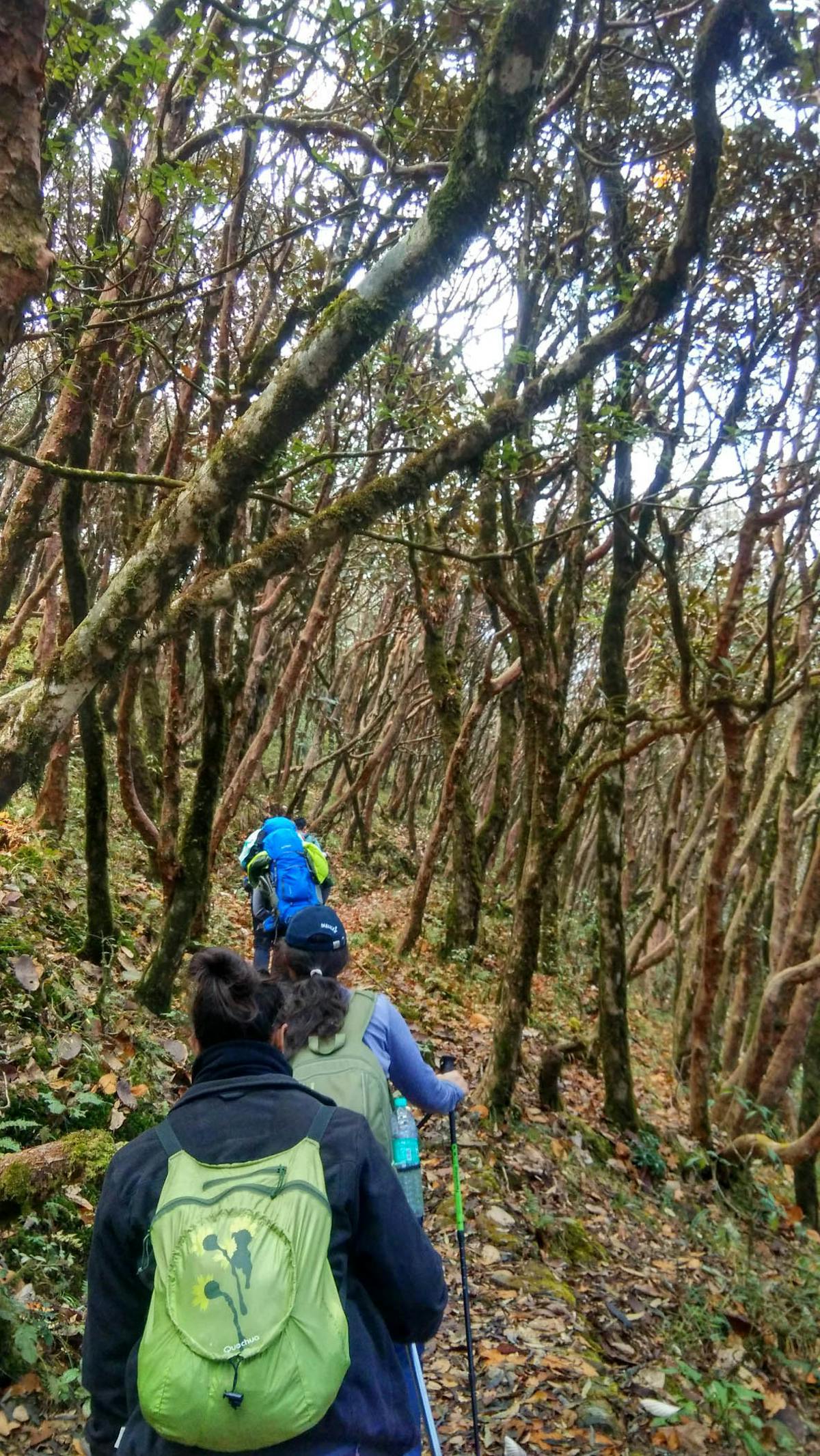 Walking through forests
A good lunch always motivated us. Although by that time, we had started enjoying our trek. We entered the Singalila National Park- the park to spot Red Pandas. Although we weren't lucky, one of the Germans in our group got a fleeting sighting! There was a cleaner route to march ahead, but nothing pleases us better than off-roading and walking through forest, it did reward us with paths covered by maple leaves! (Yes, the ones in movie Mohabbatein.)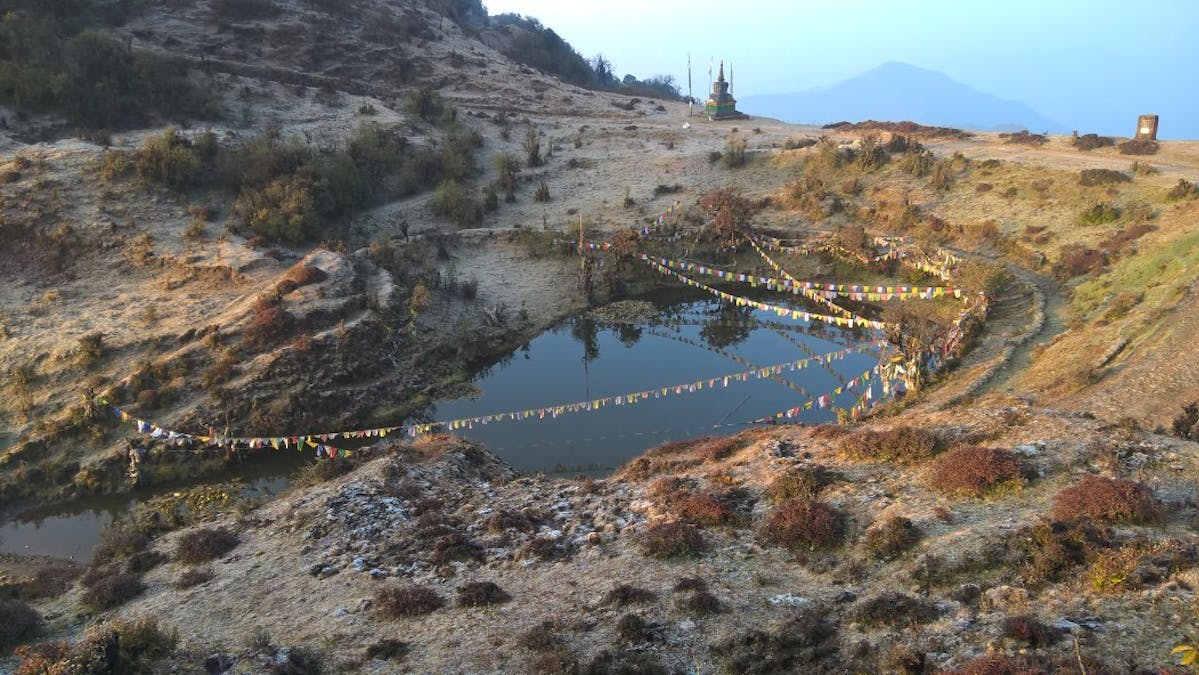 Kalipokhri lake
We knew next day was going to be the biggest day of our life! We would finally trek to Sandakphu peak and we were so excited that it reflected in our dreams! Finally, the morning sun went up and with that, we headed to Kalipokhri Lake. As we later continued our trek, our entire focus was on reaching the peak! And we achieved it- we conquered the peak within our set time and explored the super chilly and stunning panorama! And the cutest thing here was the lodges! Funnily, all lodges were in the same area, but the locals said that majority of them belonged to India and two to Nepal. (Funny, right?) But overall, we were as happy as clam. We had dinner and slept in peace.
Our happiness never had an end! Early mornings gave us an impeccable energy and made our day just by being perfect scenery! We reached the highest point of Sandakphu on our own and saw something that resists description. As sun was about to rise, as its rays began to lighten the sky- we realised we were standing above the horizon line. The feeling of being above clouds and viewing the horizon made our exhaustion disappear. What stole the show was the view of Mt. Everest, Mt. Lhotse and Mt. Makalu – all the three in one wide panorama with the very first sun rays on them- HEAVEN!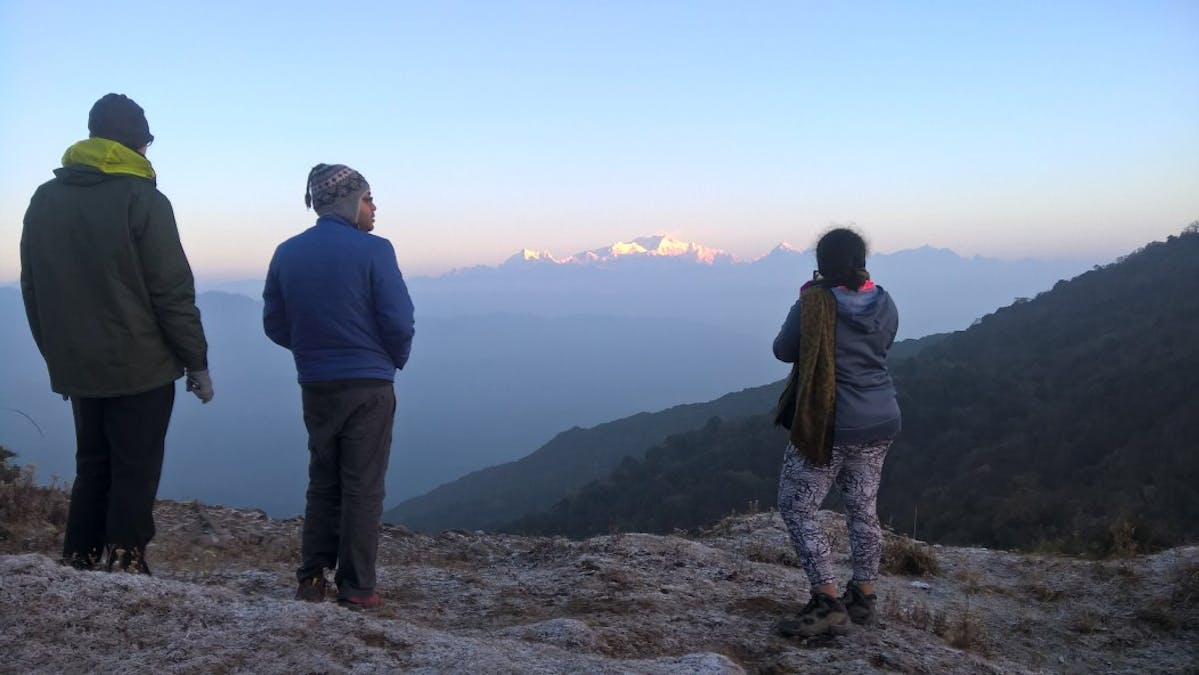 Sunrise on Sleeping Buddha
After a picturesque view, we grabbed the moment for our group picture and went ahead with the longest climb to Phalut! The ever beautiful nature and our hunger made the ascent faster. The sun stunned us again on our stay point with its beautiful setting at the horizon! As we were heading towards Phalut, Everest and Kangchenjunga were coming all the more closer to us! I would forever be thankful to this mountain for  giving me the chance to view the landscape in tranquillity.  The breakfast we had there gave us the best sight ever! It was time for a descent, a continuous descent, to Gorkhey village. This village had our last night talks, cake-cutting, and celebrations.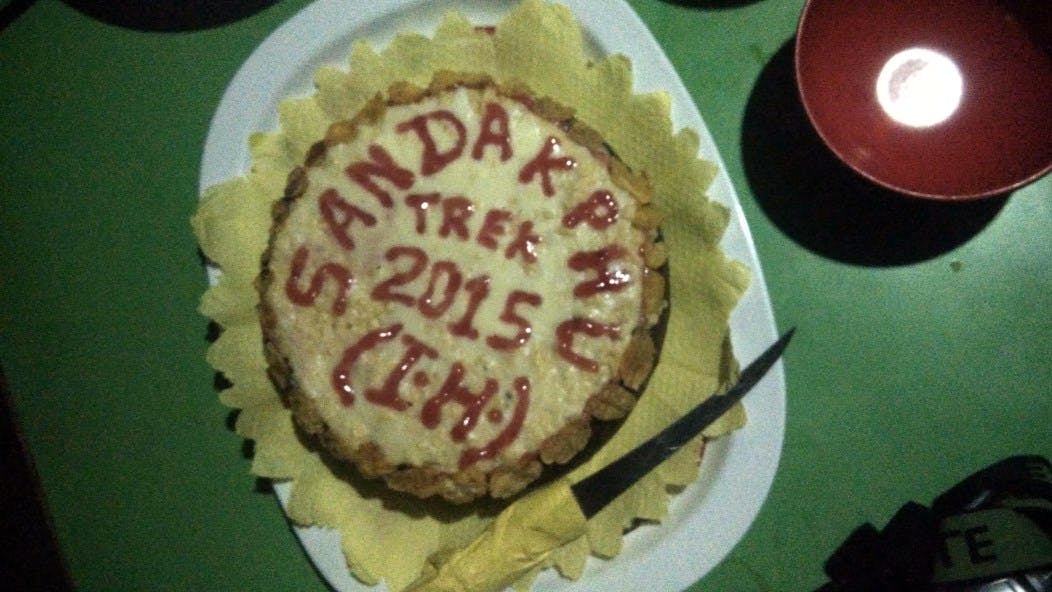 Our last breakfast together was bittersweet. Slowly, we went ahead with the schedule, with few ascents and descents, crossing a suspension bridge, we reached Sepi! A hearty time together, bonding and friendships and a wonderful time with Nature…such incredible moments soon became memories!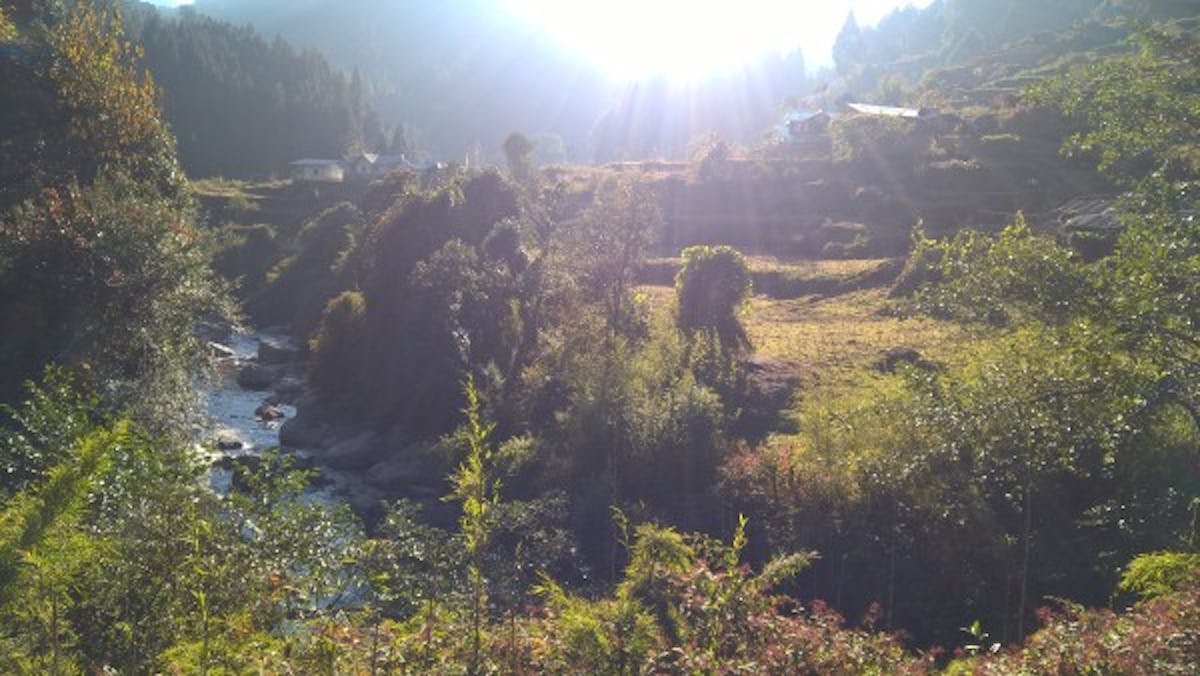 Gorkhey village
So, this was my Sandakphu experience! A trek that gave me a peek of beautiful Nepal and India, a picture with my favourite peaks, made me be in two places at once, have a good time with wonderful people, taught me new languages and traditions, made me see nature like never bef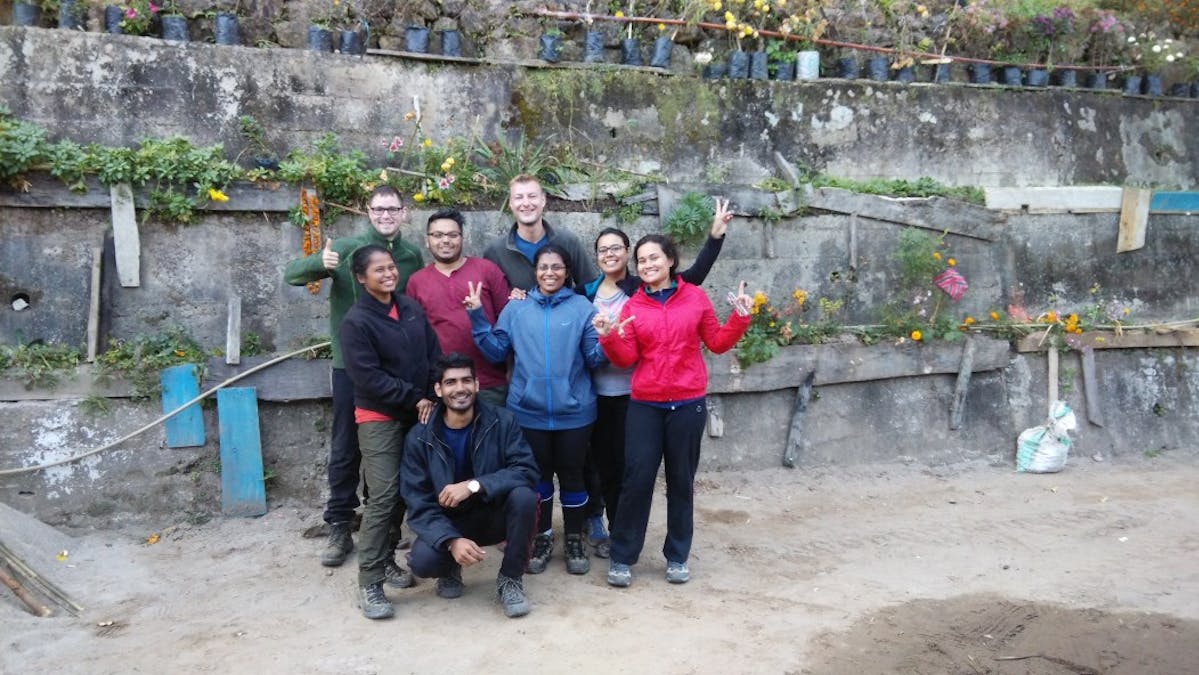 The wonderful group
Sign up for our much loved Weekly Mailer
We have terrific trekking tips, trek updates and trek talks to look forward to