Why Sandakphu Is One Of The Most Underrated Treks In India
Share this story
When I first went on the Sandakphu trek back in December 2012, it was with a certain fear – a certain apprehension of what was in store. Until then, I had worked extremely hard to simply be able to walk comfortably. So when I actually completed the high altitude trek and realised that my future had just opened up before me, the prospect of it was huge!
So, last year, in December 2016, I was on my 25th high altitude trek. By a fortunate twist of events, I found myself on the Sandakphu trek celebrating this small silver jubilee. It made me think about what I had on my mind when I first came on this trek. What had I expected out of it? What did it give me?
Now, after doing several other treks in the Indian Himalayas, I think what is it about Sandakphu that made me hold it so close to my heart?
Then it hit me that the Sandakphu trek is such an underrated trek! It does not get the attention it deserves. As I did the trek after so many years, I saw several highlights of this trek that no one talks about.
Let me illustrate this with anecdotes from my own experiences. I hope you will be convinced by the end of my arguments.
1. The constant flirting with Nepal's borders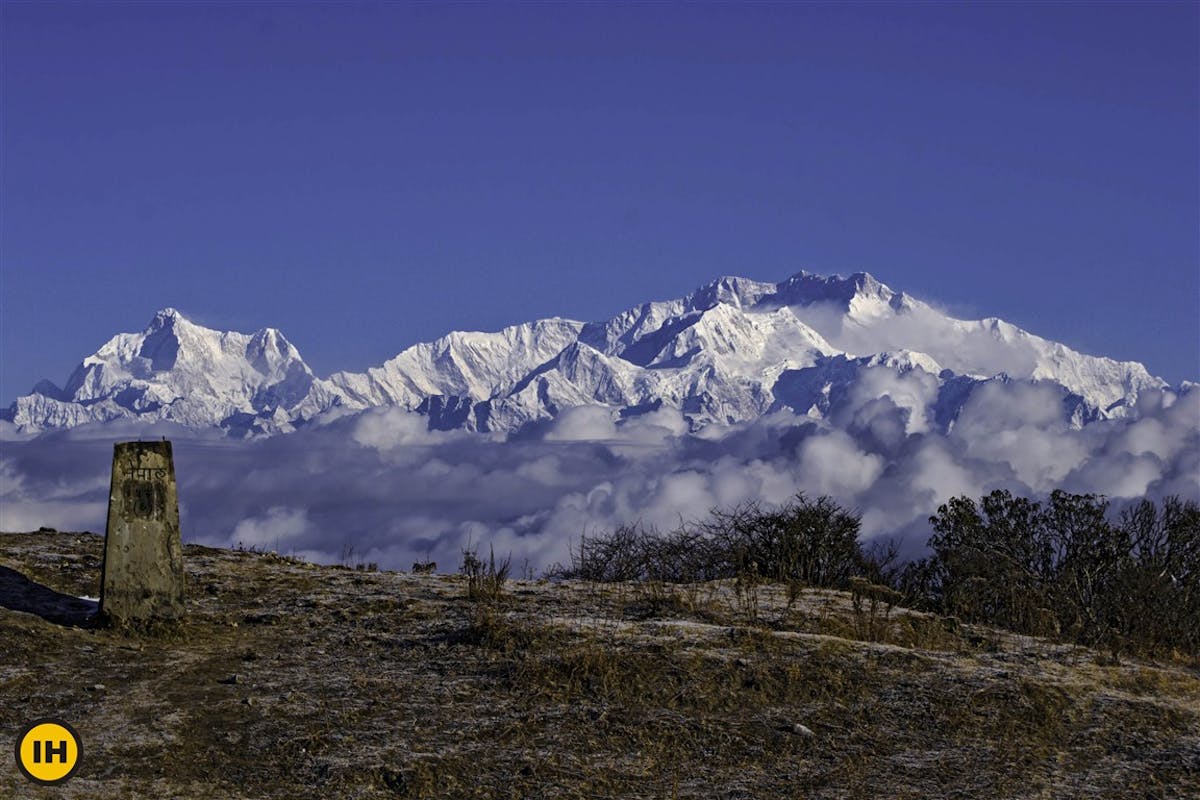 A milestone on the Sandakphu trail that reads Nepal. Picture by our Trek leader Geet Tyrambake
Sandakphu, the highest point, lies on the borders of two different countries – India and Nepal. An interesting point is that Sandakphu is the highest point in the two states in which it lies – West Bengal in India and Mechi in Nepal.
Chittrey, on the first day of trekking, is the first spot where you'll see pillars marking the India-Nepal border. The Sandakphu trek offers the unique experience of walking in India and having your dinner in Nepal. In fact, on the Sandakphu trek, you have to be careful about any call you would make! It may be charged for international roaming.
2. Our base camp at Jaubhari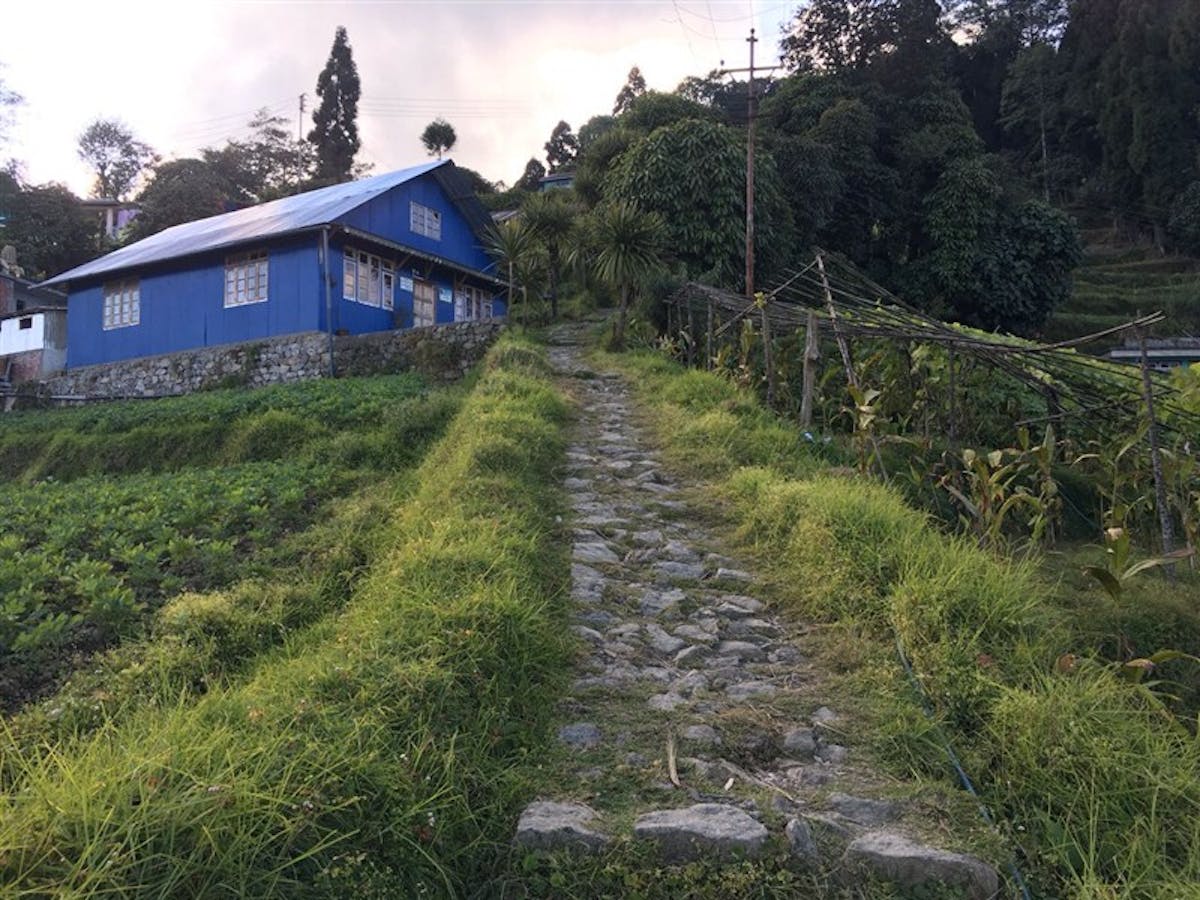 The Jaubhari basecamp is one of our prettiest basecamps.
Most trekkers start the Sandakphu trek from Maneybhanjan. That has been the trek's traditional starting point. But two kilometres away is Jaubhari – a tiny village with just 10 houses. I am not exaggerating that it is one of the prettiest base camps we have. Sandhya ma'am puts it just after Aru, our base for Tarsar Marsar. I think Indiahikes trekkers are lucky to stay at Jaubhari whereas most other people stay at Maneybhanjan. You can spot major parts of Darjeeling, Sikkim and Maneybhanjan from there.
3. The dense forests and glimpses of the Sleeping Buddha on day one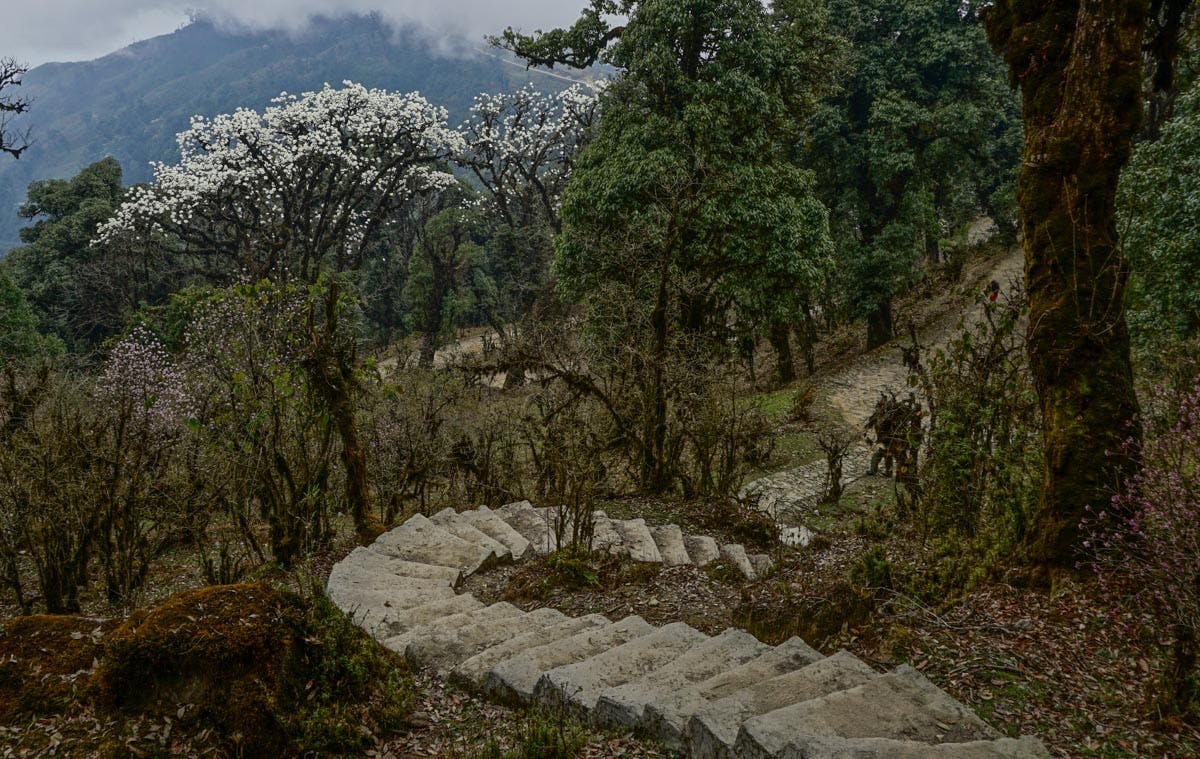 Magnolias bloom all along the trail from Chittrey to Meghma
I find it surprising that people don't talk about Day 1 more often. The forest sections are so dense that light barely hits the floors. This forest can fool you into thinking that it is evening time. As the forest hits an open meadow, you get your first glimpse of the Sleeping Buddha. For the next 3 hours, the Sleeping Buddha plays hide and seek with you. As soon as you arrive at Tumling, you will be greeted with an unobstructed view of Sleeping Buddha.
4. The tea-house experience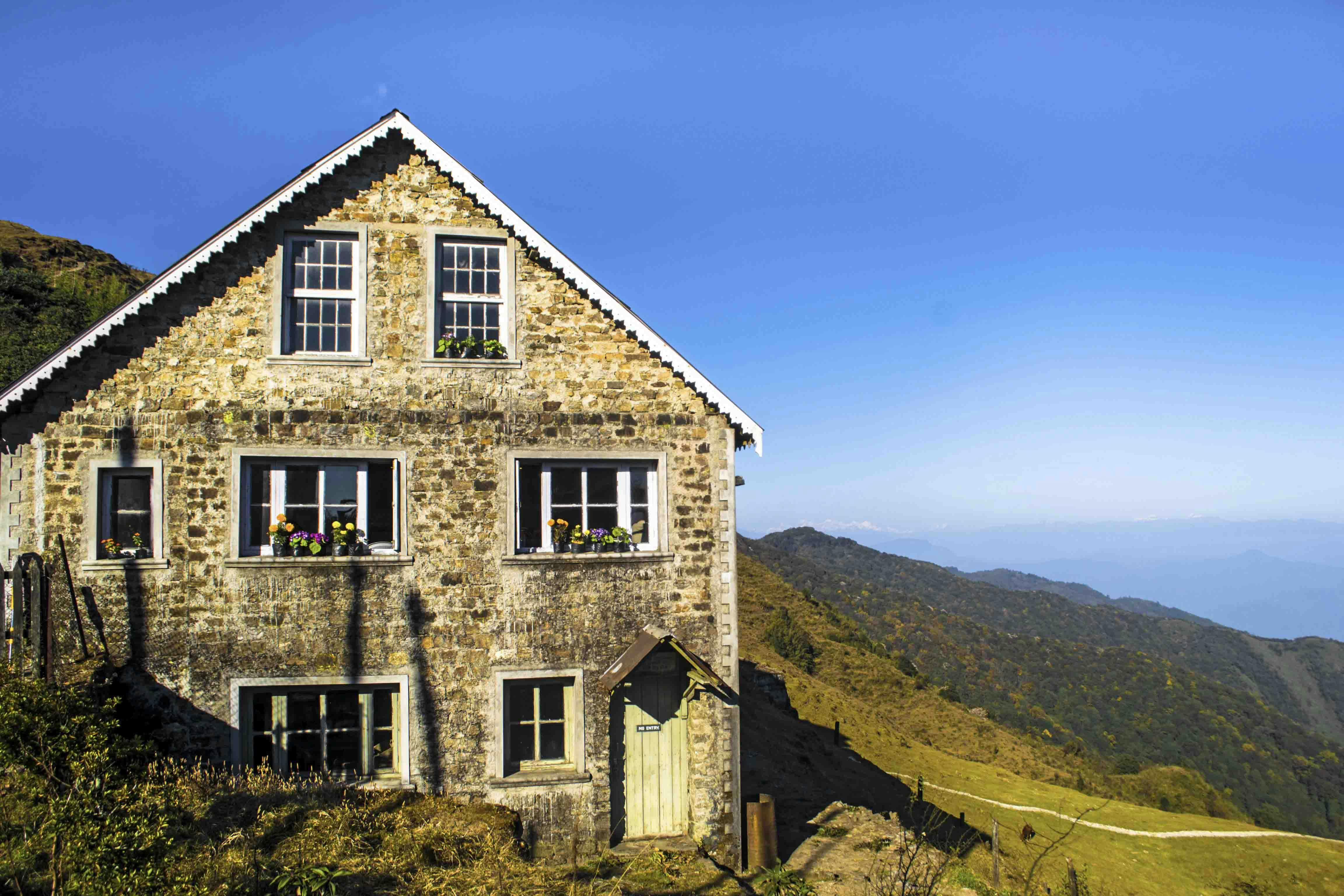 The Sandakphu trek gives you a feel of what trekking in Nepal is like. You don't need to pitch tents or to find campsites here. There is proper accommodation. A wooden hut or basic lodge with a dining area, cozy bed with warm blankets. On a trek, this feels like a luxury! In Tumling, the windows of the lodge we stay in points directly towards the mighty Sleeping Buddha!
Having said that, Indiahikes camps at two places on this trail: Sandakphu and Sabargram. So you get an experience of camping as well.
5. The Sleeping Buddha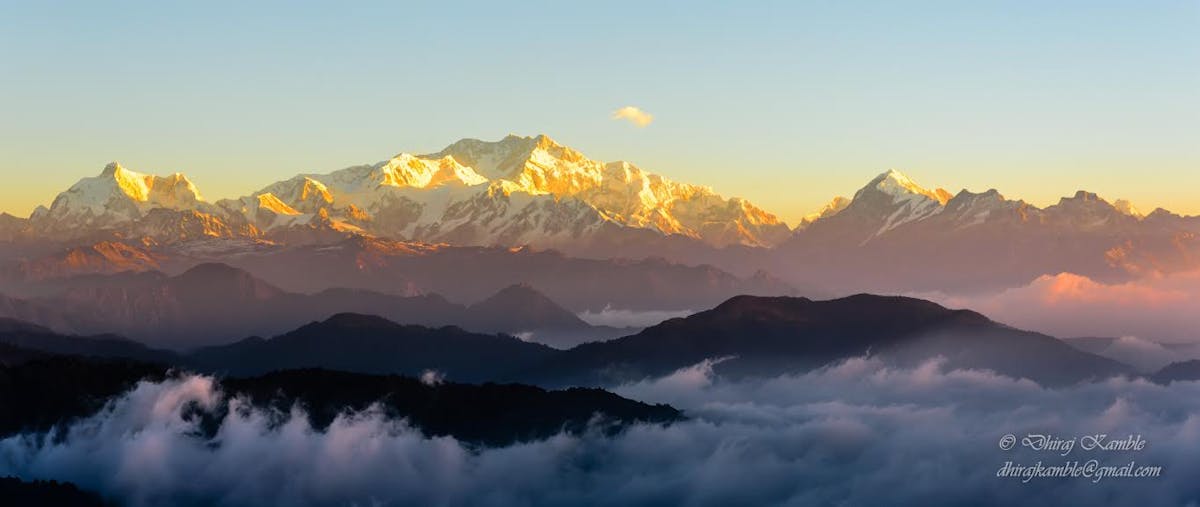 The Sleeping Buddha. PC: Dhiraj Kamble
The cluster of Mt. Kangchenjunga, Kumbhakarna, Pandim, Kabru (North, South, Dome) forms a shape of Lord Buddha sleeping. This view stays with you not just for one day. It stays for good 4 days in the trek! From Phalut, the cluster is so close, you feel like those mountains are just a jump away.
6. The beautiful rhododendron forests of Singalila National Park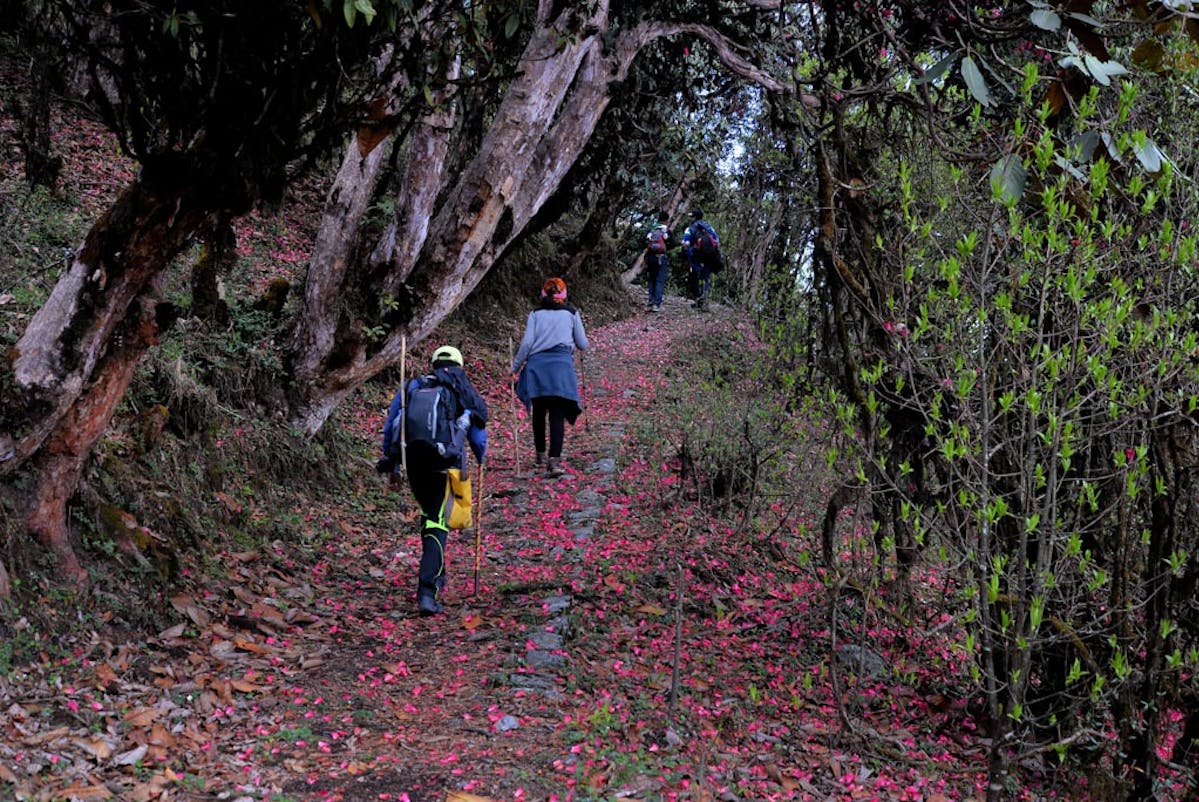 The rhododendron trail on Sandakphu.
On day 3, you will walk through Singalila National Park. If you're trekking in March or April, this trail will astonish you with fiery red Rhododendron trees. The Red Panda calls these trees their home. They have been classified as endangered, with estimated wild population less than 10,000. If you are lucky and quiet, then you can spot them on this stretch of the trek.
7. The Everest and its sisters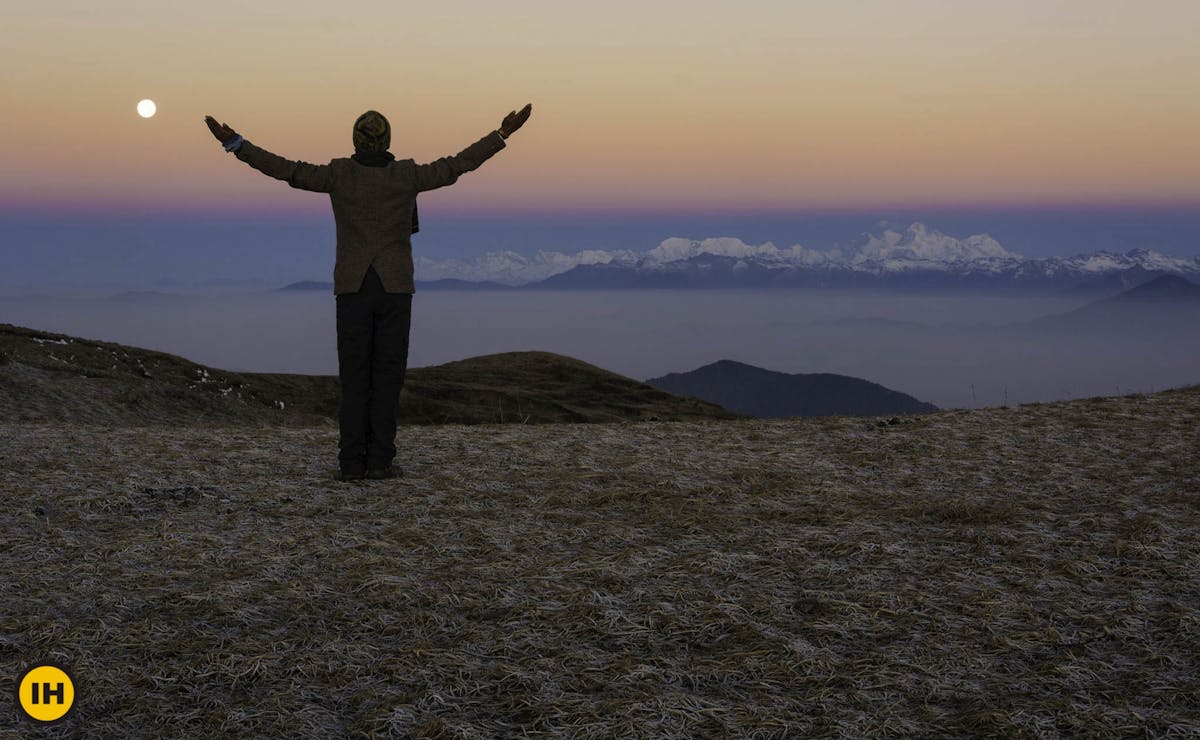 In view: Everest, Lhotse and Makalu. Picture by Our trek leader Sushant Ale
There are few trekkable places on earth where you can spot 8,000 metre peaks. Sandakphu is one of them — along with Everest Base Camp! Not only do you see Everest, Lhotse and Makalu on the horizon, you also see the next four days of your trek stretched out before you. Such are Sandakphu's long distance views.
8. Sunset view from Sandakphu
9. The mountain views from Sabargram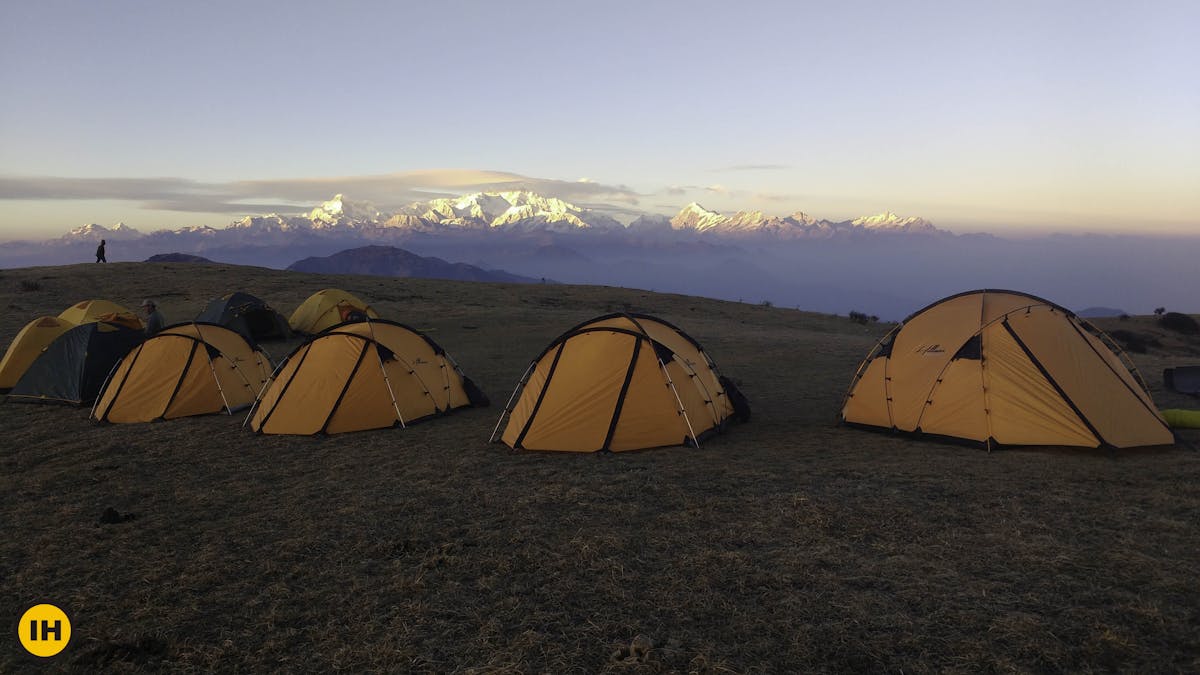 The tabletop of Sabargram camp. Picture by Our Trek leader Sushant Ale
Sabargram is the perfect vantage point for all mountain lovers. It is one of the only campsite where you will be staying in tents. Imagine unzipping your tent to find the world's tallest peaks staring back at you!
10. The enchanting forests on descent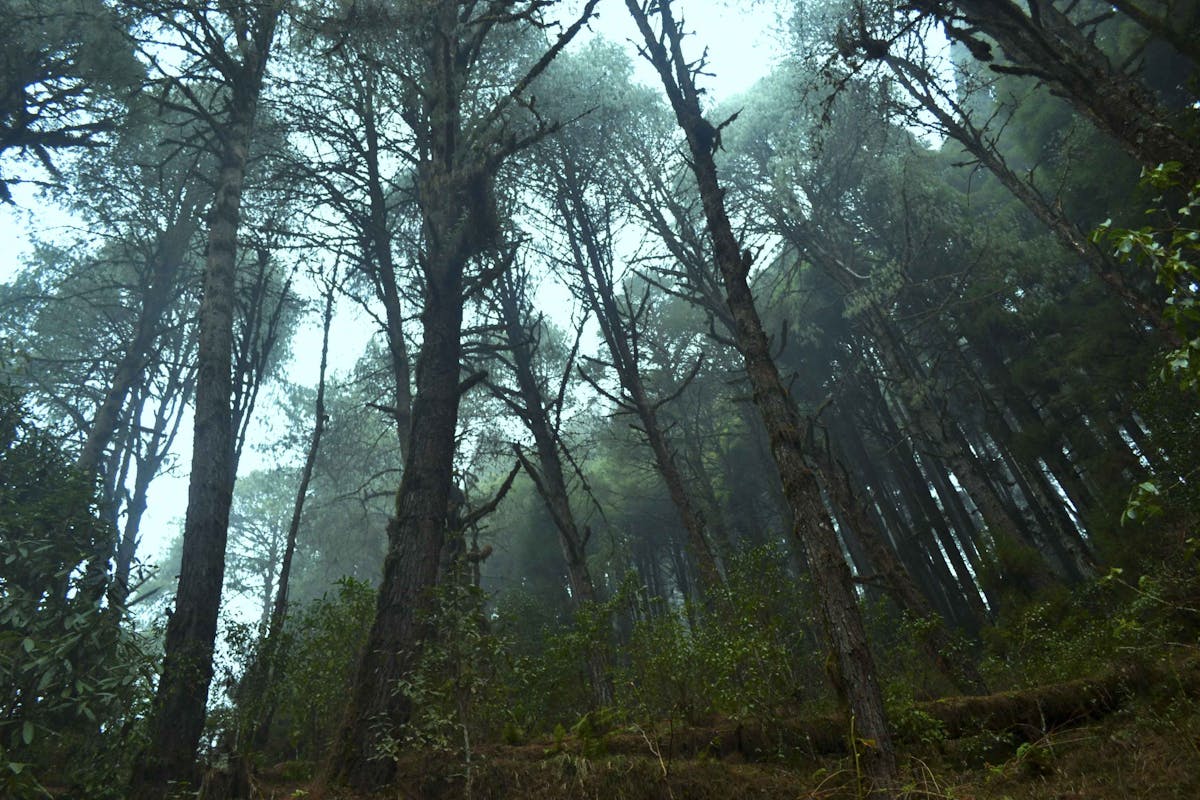 The mixed forest on descent. PC: Saptarshi Datta
The descent to Gorkhey is through one of the most enchanting forests I have ever walked. The trail passes through dense rhododendron, bamboo, and brown oak forest. The forest floor has oak nuts, which is a rich source of food for red pandas. Even though the days are long, the forest walk takes away all your exhaustion.
11. Gorkhey and Samanden: The villages you want to settle down in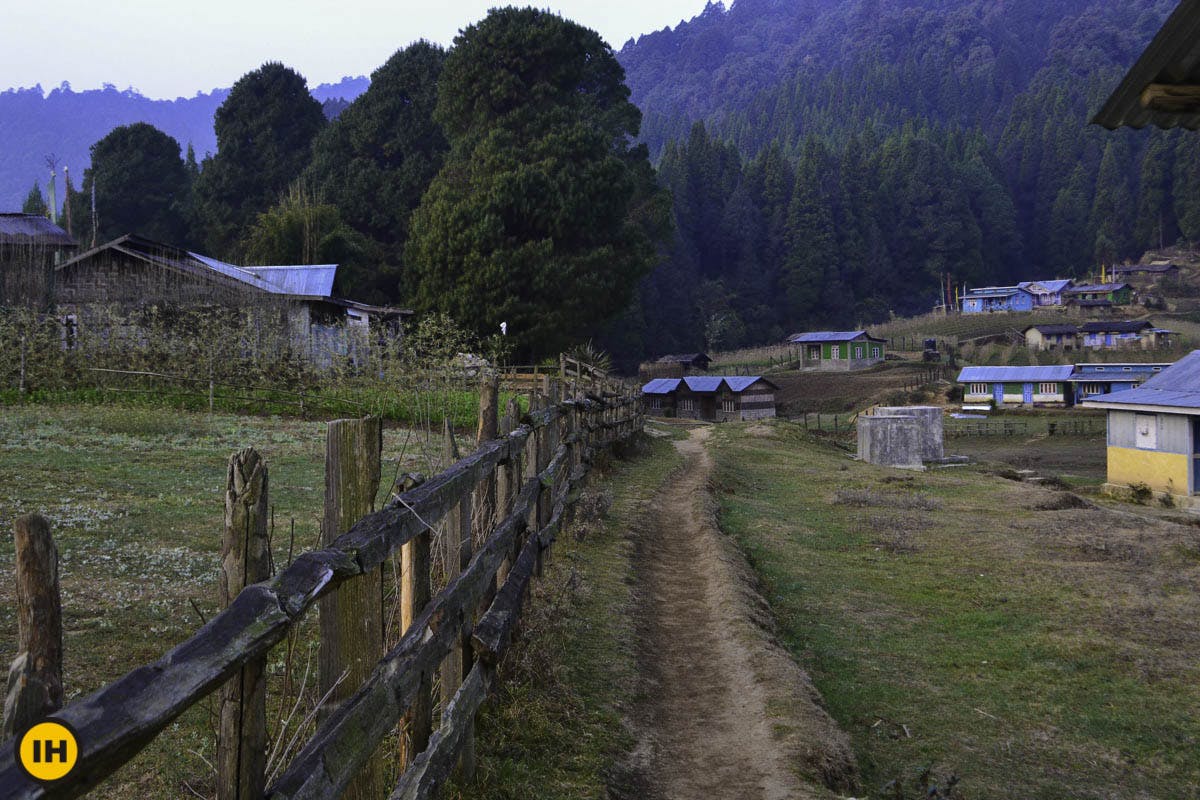 The village of Samanden. PC: Sandhya Uc
Gorkhey village is in a small clearing surrounded by thick pine forest all over. There is a beautiful river passing through it. This makes for a mesmerizing view from the last stretch of descent before reaching the village.
One hour out of Gorkhey is Samanden — an absolutely stunning village! There are wooden huts, vegetable farms, beautiful gardens, small patches of pine trees — all of it embellishments to its beauty. If I could, I would build a home here. After Samanden is Ramam.
With a heavy heart, you end the trek at Sepi.
Every time I do Sandakphu, I wonder — why is this trek so underrated? There are so many things that make it an experience of a lifetime! I hope in the coming days, Sandakphu will get the appreciation it deserves.
I can proudly say that my hometown Kolkata is in a state where there is also a place called Sandakphu – undoubtedly one of most beautiful places on earth.
If you think there are some other underrated treks as well, let me know what your thoughts are in the comments below.
Sign up for our much loved Weekly Mailer
We have terrific trekking tips, trek updates and trek talks to look forward to