Chai With An Explorer - Talle Valley Was Arunachal's Perfect Trek
Share this story
Our foray into Arunachal Pradesh was decisive. The charm of this faraway land has been kept under wraps for far too long. We wanted to break this mould. We added Talle Valley to our repertoire recently- however, not many know the backstory that led to the exploration of this unique trek.
In fact, it was our Trek Leader, Soumya Jyoti Mitra, who explored and opened a new route to this trail in November 2014. Here he reminisces about the events that led to the Talle Valley exploration.
As told to Ajay
It was October 2014. I was beginning to miss being out in the mountains by myself. A solo exploration was on the cards. I took an impulsive decision to set off on an exploration of the Madhyamaheshwar trail. It was an automatic choice, mainly because of the gigantic views of Mt. Chaukhamba.
While descending, I received a phone call out of the blue. It was Arjun. It was the best surprise of my life. He asked me "Do you want to go and explore the North East?" I couldn't control my excitement. I immediately said "yes!". 
While on the train from Delhi to Guwahati, a lot of things came flooding to my mind. I had my task cut out, to find a good trek in Arunachal Pradesh. I had never set foot in the North East. I was beginning to worry. But my instincts took over.
Deep inside, I knew the opportunities were endless. My imagination took flight since I'd heard a great number of stories about the region. I began to visualize how the trails would look. I was gripped by a sense of nervous excitement.
As soon as I landed in Guwahati, I met Mr. Nima Lama, a guide from Bomdila, who had ascended Mt. Everest. I was thrilled by the prospect of exploring alongside him. He tagged along with me and we planned an expedition to Mt. Gorichen base camp. When we reached camp-2, the Indian Army asked us to retreat. They had detected some movement near the Line of Control. They couldn't let us go further. It was our first setback.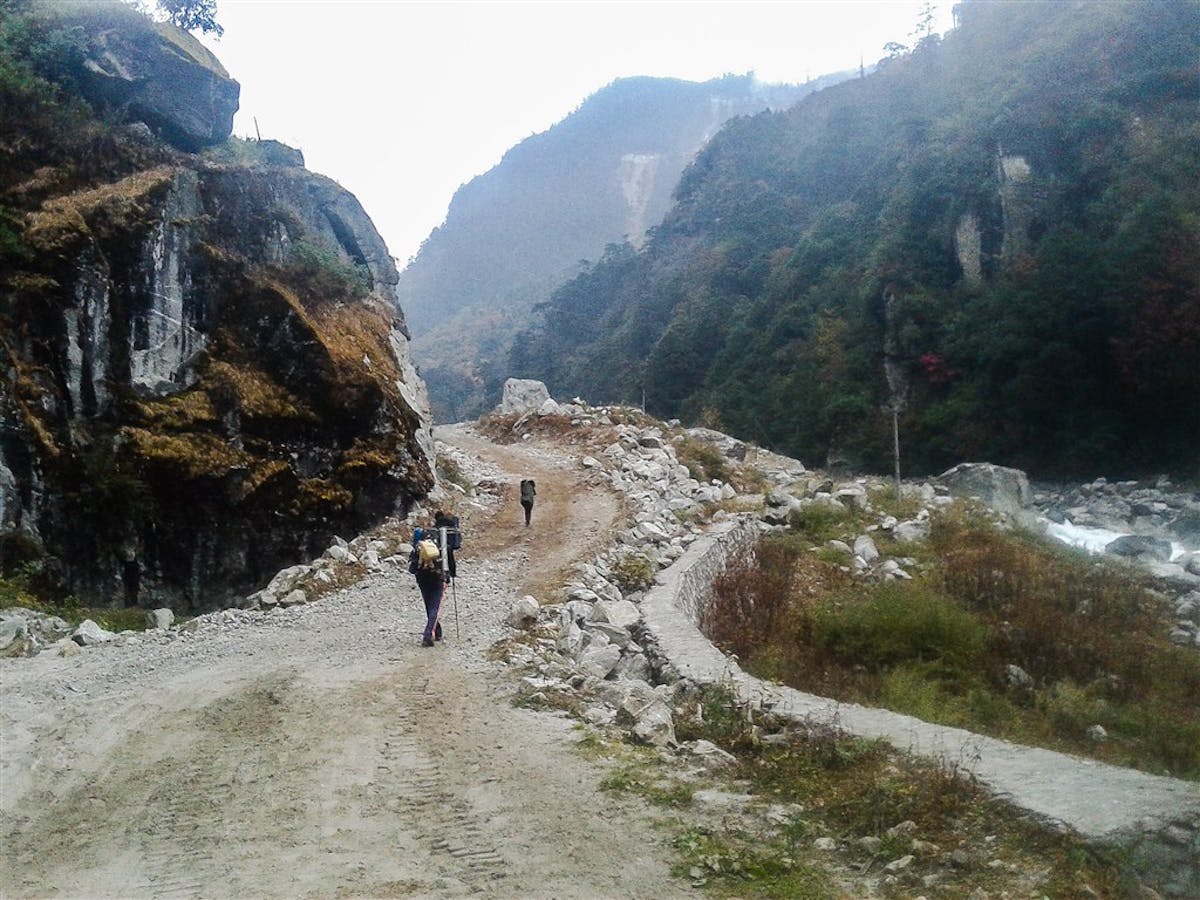 Trekking to Gorichen Base Camp
Undeterred, we went on to explore New Melling, Jang and the high-altitude mountain pass in Tawang, Sela Pass. The pass connecting Tawang to Tezpur and Guwahati stood at an altitude of 13,700 feet.
Winter was at its majestic best at Sela Pass. Walking through snow felt like wading through a gigantic white canvas. Low-hanging clouds and fog hovered at an arm's length. The visibility was poor. This was the moment I came head on with a Yak. His coat was wet with snow that stuck to the ends of his hair. He stood rooted to its spot and stared at me. May be I was trespassing his yard. The image stuck with me. My days in Arunachal Pradesh feel like it was yesterday.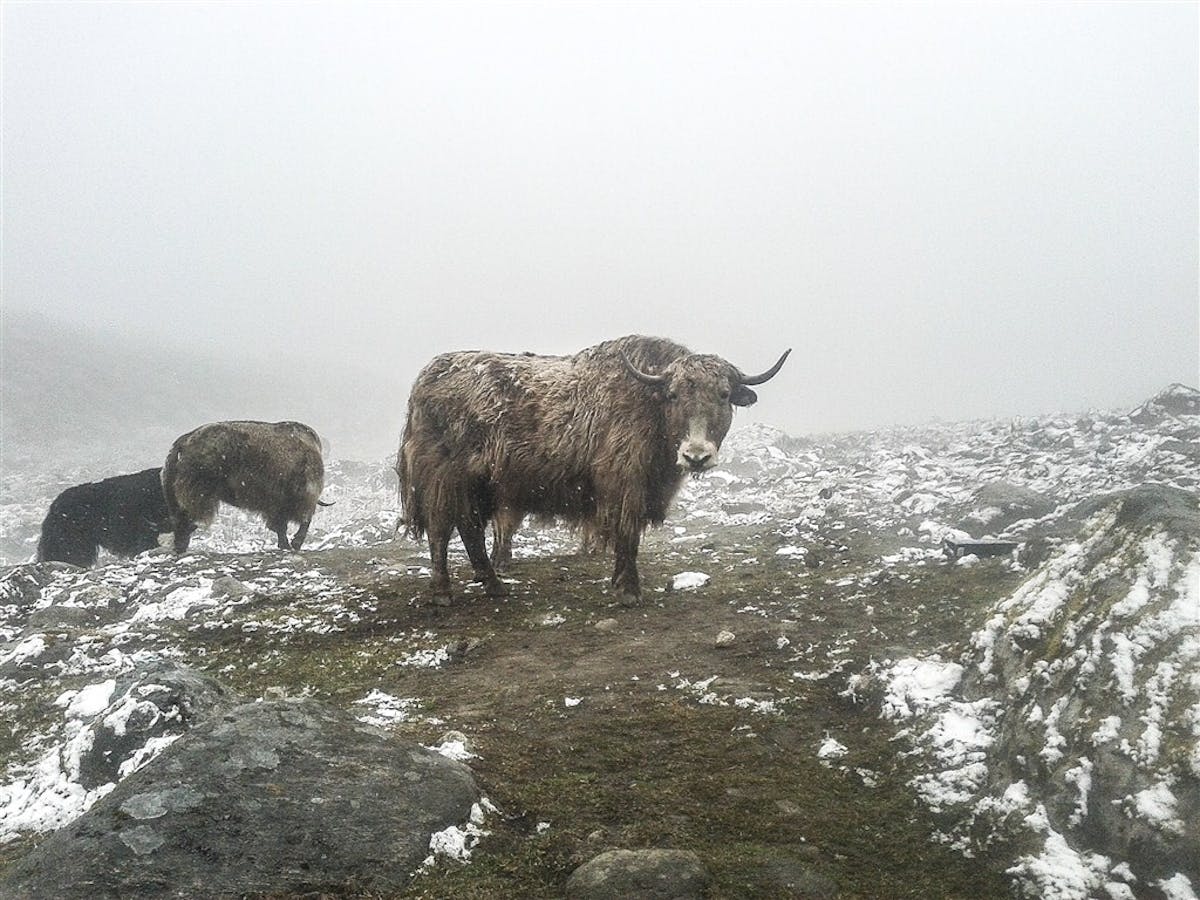 Yak at Sela Pass
The trails we had explored were unique to the region but there was a catch. They were physically demanding. And that would mean that they are not ideal for a majority of the trekking fraternity. I wanted it to be a trail that would appeal to a wider demographic.
I pushed forward to Ziro Valley in a bid to find the perfect trek. The first thing I noticed was how this place looked similar to Kashmir. My anticipation was building up at the thought of exploring Ziro Valley.
Within a few days of reaching Ziro, I explored Talle Valley. The straightforward trail through the wildlife sanctuary went directly to the top of Talle Valley. On the way to the top, I saw Nimapema mountain range of Bhutan stretching across my line of vision. At the top of the valley, a forest of rhododendrons thrived. It was a magical place.  This is probably why from the time I finished the trek, there was a question in my mind, "How to make this trek a circular one and more interesting for the trekkers? How do I enhance the rewards of Talle Valley?"
I spent the next few days reading maps and talking with forest officials and local villagers. Mr. Koi Mama, my host helped me a lot with this. From my study, I found out that there could be an alternative route to reach Talle Valley via Hakhey Valley, which will make this route a circular one. I explored the route with the help of maps, a local villager and two forest guards.
The first approach route via Hakhey Valley was not a good fit.  We had to free climb a waterfall and wade through dense forests to reach Talle Valley. The approach was exhilarating! It would have been a great fit for a technically experienced mountaineer like me. Not so much for trekkers. I started looking for something new again. I did not want to give up on my pursuit of a trail.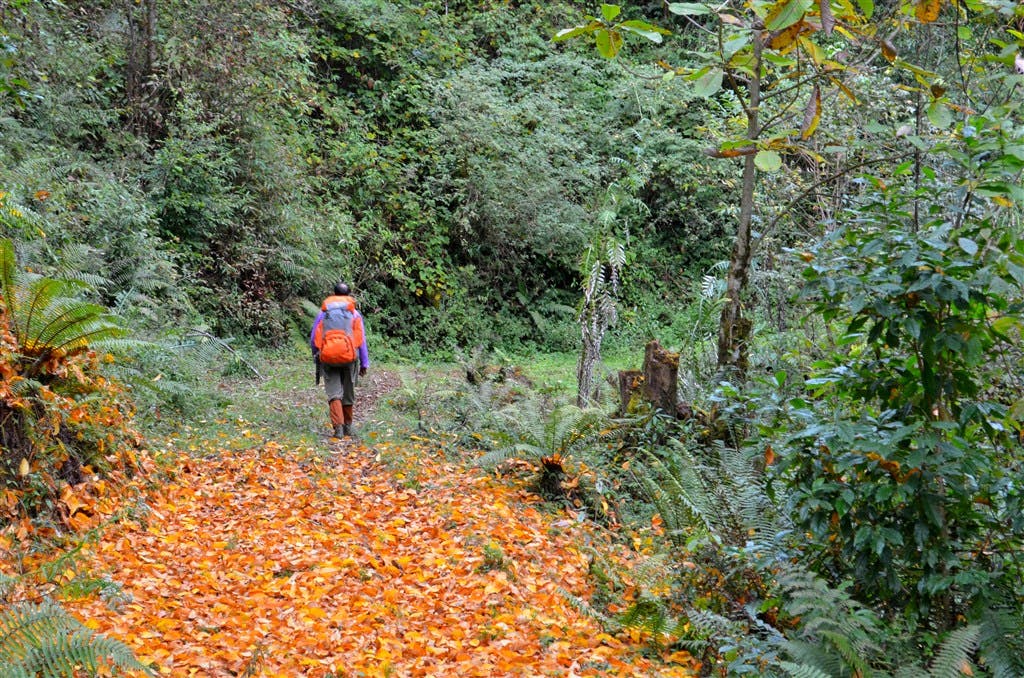 The District Forest Officer was extremely helpful and allowed me to explore further. After some discussions with the villagers and the guide, I explored the Pange Valley route. The Pange river meandering through the route was a beauty. We were trekking at the heart of a jungle. So I was constantly reminded by the guide and the forest guard to keep moving and follow the river.
After exploring the length and breadth of these valleys, I was able to find a feasible trekking route that connects Talle Valley from Pange Valley. I opened a completely new route to reach the top. I cannot tell you what it feels like to open a completely new trail. In the age of information overload, I suddenly felt like an explorer, with a magical discovery to show the world.
The trail from Pange Valley to Talle Valley will rank high in my list of all-time favorites. This place is vibrant. I still remember the flowers and birds in the wildlife sanctuary. The wild flowers had such deep colours! The sound of birds chirping filled the air.
We decided to pitch our tents and camp in the perimeter. Later that night, I was happy that we had found the 'perfect trek'. It ticked all the boxes. It was short, circular and had all the elements that makes a trek beautiful.
The trail starts with a rain forest where you will see all the ferns bowing alongside the trail to welcome you; the trail goes up to a mixture of alpine and rhododendron forests where you will be amazed to see various kinds of birds. It goes further up and meets bamboo forests, here you will meet the mysterious and unexplored Talle river. And finally when you come down and stay at Hong village, you will experience the authentic Apatani culture.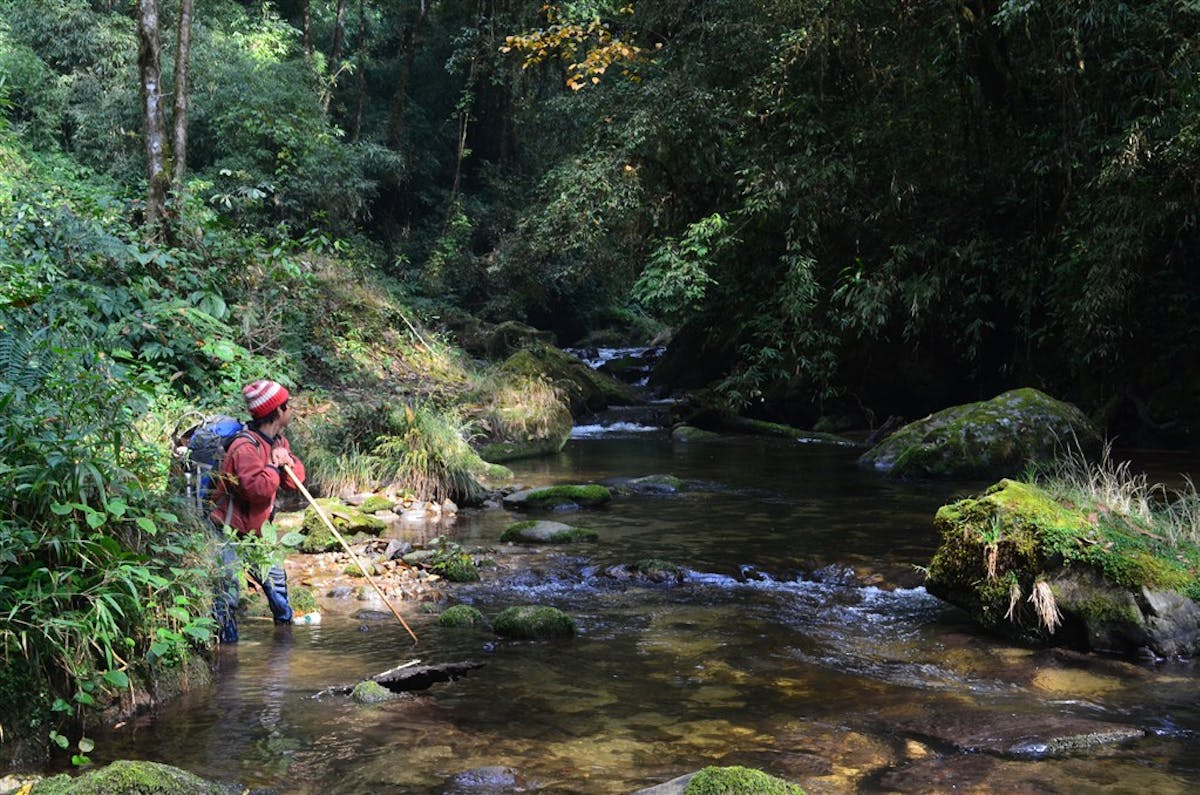 Dense forests -En route to Hong Village
I also knew the importance of opening this route. Trekkers from all over the world should travel to Arunachal Pradesh and experience what I had experienced.I fell in love with the locals immediately. My host Mr. Koi Mama literally dragged me out of the hotel and hosted me at his home.
The Apatani Tribes who live in Ziro Valley are the most hospitable people I have met in my life. I was served the most delicious food by the Apatani family. They were extremely friendly.
Not just that, they practice a brilliantly effective farming system. I was impressed by how they cultivate wet rice and breed fishes in the same area. What a way to double their production! The canals are designed to return the water back to the river so that no water is wasted and the tribes downstream can reuse the water.
It was evident that they are an advanced society; in terms of sustainable living methods. We have a lot to learn from them. I cannot wait to go back and meet them again!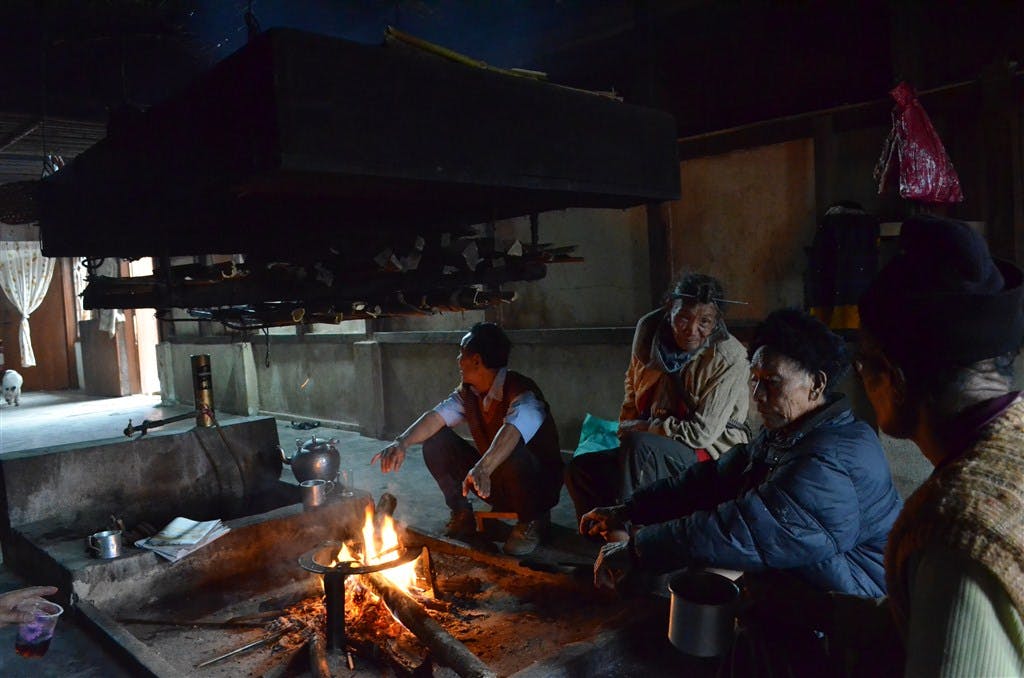 The internet has a million photographs of travel destinations all around the world. There are numerous documentaries aired on television. But if you ask me, I would say that none of them come close to the real deal. I empathized more clearly the stories of mountaineers and trekkers I had read, stumbling into an unknown valley or a new route up a mountain.  Their heady exhilaration of a discovery, setting foot on a new trail and then sharing it with the world. That is, I can say, the best job in the world!
There is no substitute to actually visiting and exploring the culture and the terrain. Personally, I feel good that I was able to do my part in exploring and spreading the word about Arunachal Pradesh. It is another world- waiting for its trails to be trodden, for the songs of its birds to be heard and for the lovely people to learn from.  Helping people explore and expand their vision of the world is a worthy cause.
Sign up for our much loved Weekly Mailer
We have terrific trekking tips, trek updates and trek talks to look forward to