"Tears of exhaustion started streaming down my face and I kept wa...
Share this story
Having recently procured a thumbs-up to go on a trek from my doc, I hurriedly booked the only one available in the 'easy – moderate' category in those particular dates. This was going to be my first Himalayan trek. A badge of honour I had always wanted. I wanted to prove to everyone who doubted, including me, that I could be tough. That I was not a delicate pile of bones that fell ill or got injured after every few days.
Disarmed by the word 'bugyal' in the Chainsheel Bugyal trek, and the pictures of gently sloping, sprawling hills, I became overconfident of my stamina. How tough could a walk through a fresh meadow be, after all?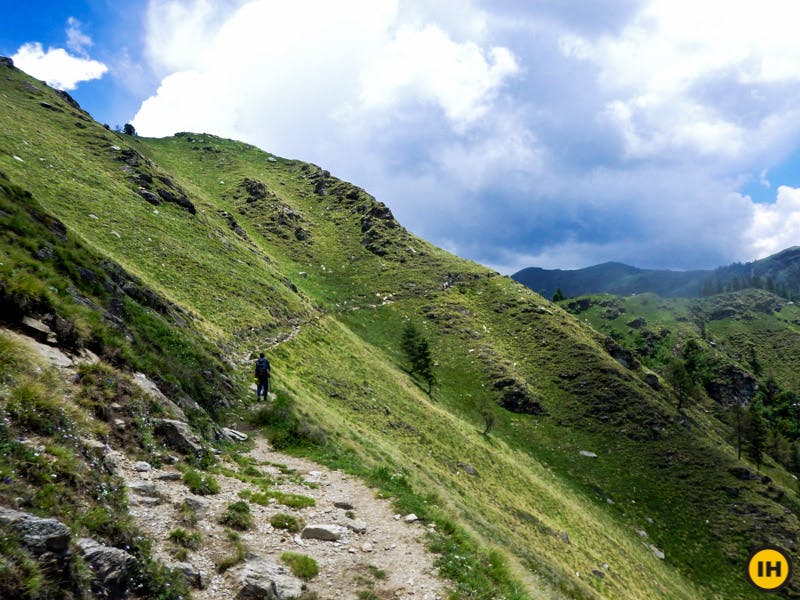 The Challenging Climb
The morning of the trek with bags packed, bellies full, and after receiving lots of ominous "all the bests" from the villagers of Balawat, we followed our guide on a paved road for a while after which we took a small path off of it and tackled the steep forested slope, head on.
Within one hour of steady ascent, my lungs were screaming for respite. My rib cage seemed to have shrunk. Lungs wouldn't expand enough. And all that effort I had put in- swimming and running to increase lung capacity to prepare for the trek seemed to have gone down the toilet in a flash (flush).
Not wanting to be a failure within hours of the commencement of the trek, I went on, powered by adrenaline and shame. Even that didn't last too long. My legs seemed to be working fine but my back and shoulders were miserably unprepared to carry my heavier than most rucksack. Probably a result of having more protein bars in the bag than in the body.
Our ever vigilant trek leader, Dushyant, noticed that I was in pain. And before I could protest, Kamal, one of the local staff members, hoisted up my bag on his shoulders on top of the one he was already carrying. He went on ahead with twice our speed. All with the ease and charm of a man frolicking through a garden without a care in the world. How could he be twice as fast, with double the amount of weight on him?
His resilience made me feel tiny and dejected.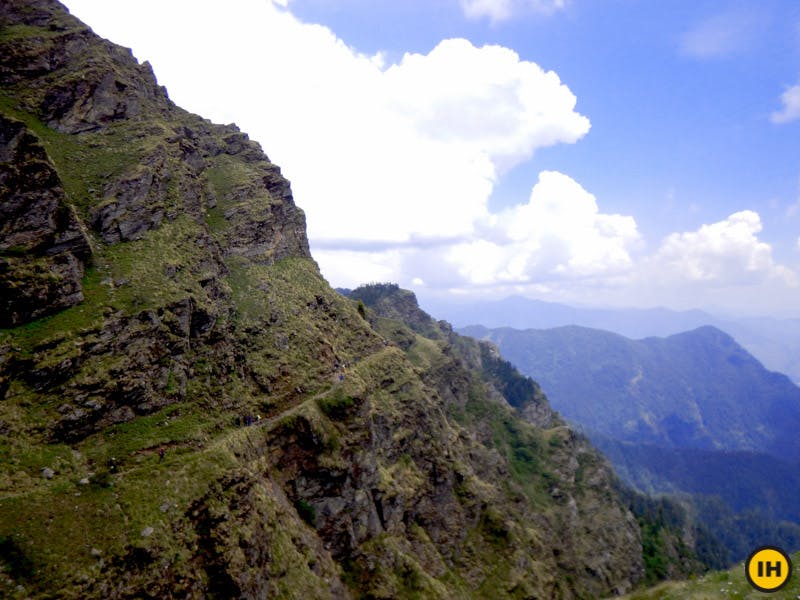 The shame of offloading
Post lunch, my humiliation reached an unbearable amount and I insisted on taking my rucksack back. This gave Kamal a chance to help other first timers like me, who had not offloaded their rucksacks and now seemed to be struggling equally, if not more.
I looked around and started noticing the people who had been on treks before. They were all tired but seemed confident of their ability to complete the day's climb. Shame, once again, pushed me forward and I kept telling myself that I couldn't take Kamal's help anymore. There were others who needed him more than a reasonably fit 22 year old.
Up we went for hours and through very many sections of the trail, I found myself alone. Tackling slippery boulders and huge logs, when suddenly I would hear swift footsteps of Dushyant who'd regularly go back and forth between the entire team to check on us and motivate us to keep moving.
More rocks, steeper ascent, and a widening of trees told us we were close to the top of the mountain when abruptly the trees gave way to a wide, open grassland. We had walked a total of 10 hours, climbed 4000 feet, and were exhausted to the core.
But the sudden change of scenery and the welcome sight of tents- already pitched by the superhuman staff- made us all break into wide grins as we covered the last 200 meters of the meadow on a run.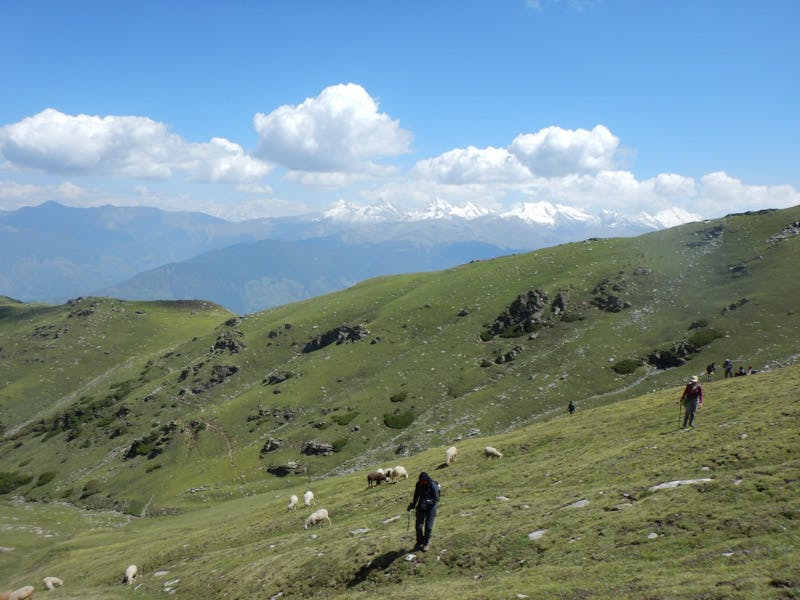 Tea, dinner, and several pulse oxygen readings later we went into our sleeping bags. We had the assurance of the staff and our team leader that the toughest bit was over, and that we'd have a nice, relaxed, albeit slightly long day tomorrow. My back hurt and I was tired but with the faith that the coming days would be easier; I decided not to offload my rucksack.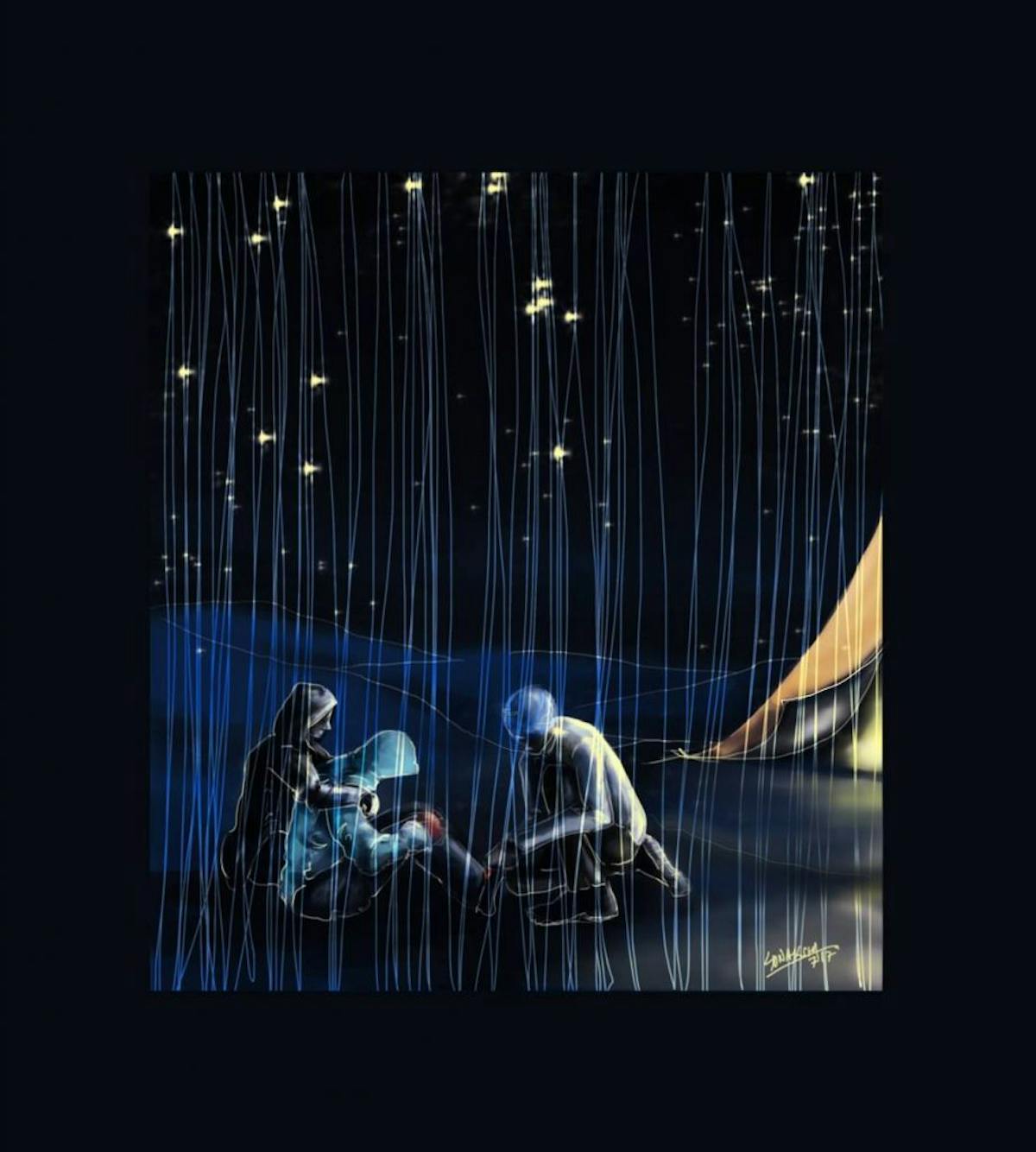 Dushyant and my fellow trekker Ishani Mehta stayed up with me that night, massaging my aching back and feet. This sketch is a small gift for them.
An Unanticipated Ascent
The next morning we set off and within half an hour we understood that the day was not going to be any easier. There were no trees. We were out of the forest and in the vast bugyals, but it was nothing close to what I had imagined trekking in the meadows would be like. The land was steep, unforgiving, and extended all the way up to the horizon. Some sections of the trek were so narrow and rocky, with a straight drop of at least a 100 feet, that the most boisterous gang of the group couldn't find it in them to utter a word. We'd climb one hill- the one that seemed the highest in the area- and expect a descent or at least some level ground, but were greeted with another hill looming higher than the one we had just scaled.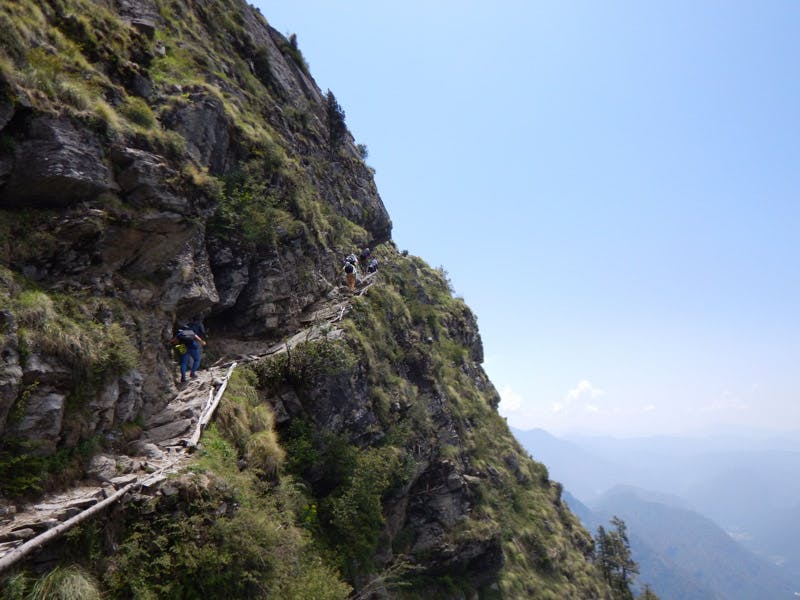 Hill after hill, ridge after ridge we walked hoping to reach the campsite earlier than the expected time of arrival – 3 PM; around which time I lost all my strength- mental and physical.
The previous day's adrenaline-fuelled ascent, combined with the false promises of this day being easier seemed to be too much for me to handle.
Nausea and dizziness kicked in and I felt unsteady on my feet. Walking in a daze, conscious only of the steady crunch-crunch of shoes on the ground and my rapid breathing, I barely had the energy or the confidence in my steps to look up from the stone sprinkled excuse for a path and really enjoy the vast expanse of the mountains, lest I should fall and break my neck.
After each section of the ascent, I'd stop to catch a glimpse of the scenery in a hope to distract myself from what felt like my uterus falling off. I just wanted to spot the campsite. Instead, I saw another section of the wretched unending bugyals and the hint of the dark figure of our guide popping in and out of sight far ahead in the distance. But no sign of our beloved bright yellow tents.
Breaking down after a hard day's trek
A deep gloom set over me because of my apparent failure at dealing with the strain of the journey. My purpose for registering for the trek, which was to prove that I was not weak, seemed like a lost cause. And the mountains seemed to be cruelly pointing that fact right at me, laughing at my misery. Tears of exhaustion and desperation started streaming down my face and I kept walking, only to hide those tears from the people behind me.
Stopping altogether was not an option. I could probably find it in myself to accept that I was never built to endure such strain. But God forbid I should ever let strangers who look at my petite built and label me fragile, see me at my weakest. Tears I could hide, I had had years of practice in doing that. But an unfortunate by-product of crying is nasal mucous, and sniffing which I could not hide.
Dushyant caught up and asked me "Are you cold or are you crying?".
He used such a matter-of-fact tone, as though having an emotional breakdown while walking was the most normal thing to happen to trekkers. Taken aback by the tone and glad of not being treated with pity, I couldn't help but admit my shame.
"In between," I replied and smiled with all the bravado I could muster.
"Are you homesick? Do you miss someone?"
"No, I like being alone."
"Are you regretting coming on the trek?"
"I'm just tired." I couldn't find it in me to explain my sense of failure.
He replied, "I wanted to go back home within the first hour of my first trek. But believe me, the joy of accomplishing it surpassed all the pain that I had felt while trekking. No pain, no gain, right?"
Trust movies to deliver dialogues that inspire!
Earning a small victory of completing the trek
We reached the campsite at 7 pm that evening. People were livid at the gross miscalculation of the level of difficulty of the trek. It took its toll on me, I fell ill during the night. But I was also extremely proud of completing that day's climb. It made me aware of how much further I could push myself after reaching my breaking point. The point where I felt I must quit. All the symptoms of what I believed was my innate weakness – the breathlessness, the tears, the incessant shivering, the drop in blood pressure, the pain. All the things I was ashamed of were no longer signs of weakness. But challenges that I was able to overcome.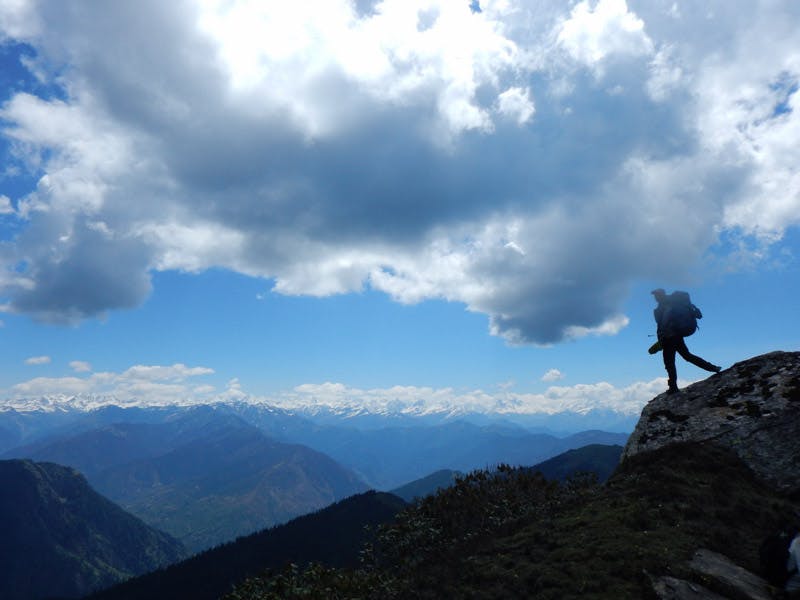 I realized that mountains taking a toll on my body was not something I needed to feel guilty about. It was a rite of passage. An initiation that lead to an undying love and respect for the terrain I was previously afraid of venturing into.
I learnt that if I wished to be stronger, I wouldn't just become so. I'd have to put myself through situations that demanded the kind of strength and resilience that I didn't think I was capable of. Only then will I be able to claim that I am not a delicate little doll.
The absolute joy of accomplishing such a feat did surpass all the suffering and I can't wait to go back. I want to experience new challenges, test my limits, and come back tougher than before. The trek leader was right –  "No pain, no gain."
Sign up for our much loved Weekly Mailer
We have terrific trekking tips, trek updates and trek talks to look forward to