How these parents prepared their children for a Himalayan Trek
Share this story
In April this year, we conducted our first exclusive Family Treks as part of our Experiential Learning Program. An excited team of parents and kids trekked to the beautiful Dayara Bugyal in Uttarakhand, and another team trekked to Chandranahan Lake in June.
We were pleasantly surprised to see an increasing number of parents reaching out to us, wanting to take their kids to the mountains. They realized how trekking transformed their children. Children learned patience, grew more social and became self-reliant. Parents were astonished.
But one thing concerned them deeply – the safety of their children. They didn't know how to prepare them for a trek.
To make it easy for other parents, we spoke to our family trekkers to understand how they went about preparing their children for a trek. They were more than happy to share their own experiences and some tips too!
Here's what they said.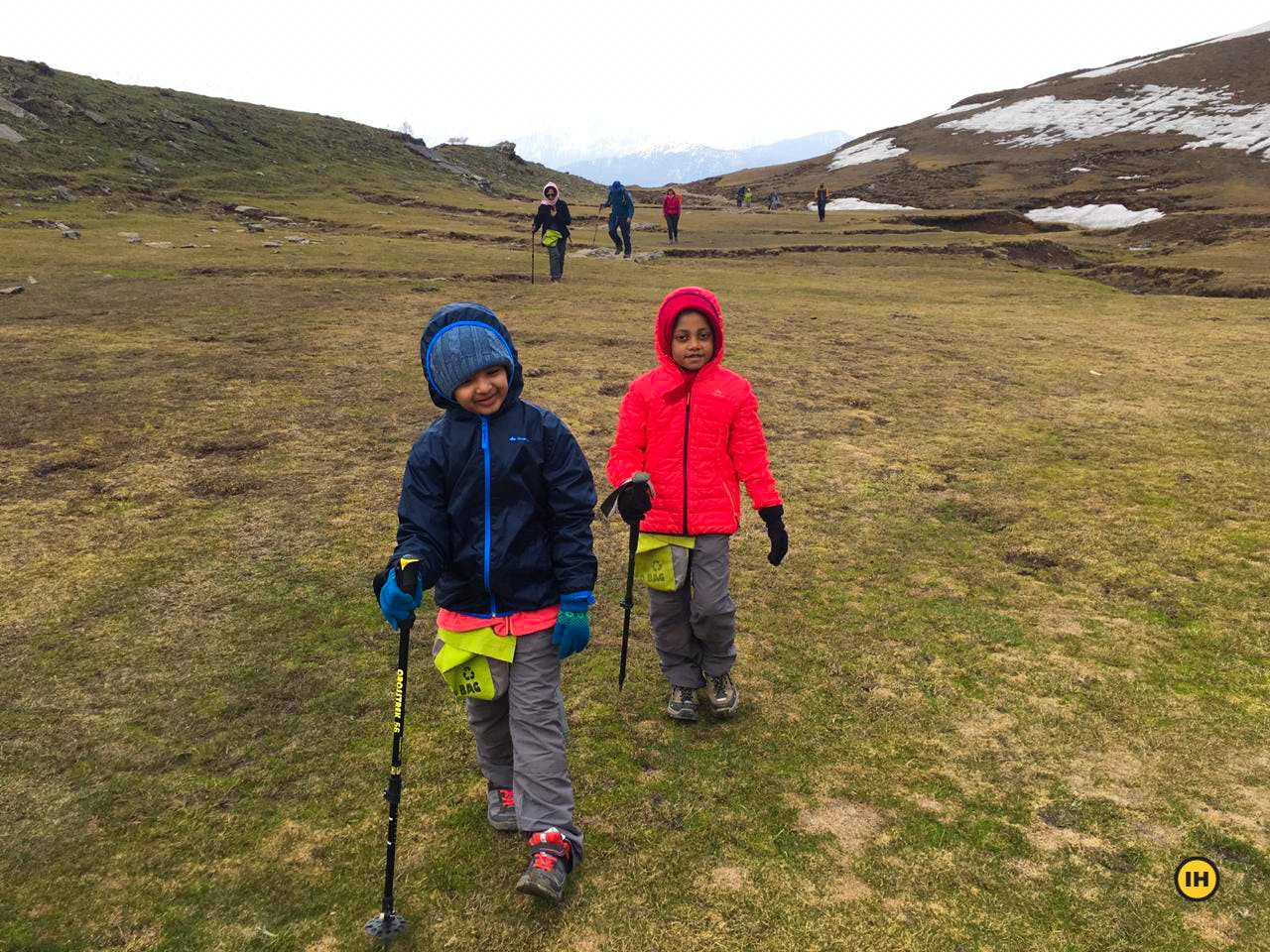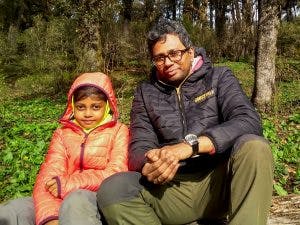 Sidheswaran and his 7-year-old daughter Saanvi trekked to Dayara Bugyal in May 2019. It was their second attempt.
In December last year, Saanvi and her father returned midway due to extreme cold. Although Sanvi had pressed for going ahead, her father decided to descend.  He wanted her to learn that safety comes first.
"We started preparing 3 months before the trek.
We began with a 500-meter run. After a few days of regular practice, Saanvi could complete 3 km in 30 minutes.
We also practiced climbing stairs. Initially, we would tire easily and not finish the climb. A week later, our stamina increased. We could climb till the 17th floor! This was possible only due to regular practice. On some days when we were really charged up, we would climb all the way up to the 17th floor, twice.
To strengthen our knees, we started doing squats, after we finished running.
During our preparation, we increased our water intake.
Few weeks before departure, we watched our eating habits. We avoided a non-vegetarian diet as a precaution."
Tips:
– If you are trekking with your kids, you have to be more prepared. If your kid is running 3 km in 30 minutes, you should be able to run 5 km in the same duration. Their knees are stronger. Their energy level is always high. They adapt to the mountains more easily.
– You should be mentally prepared about the trek to keep your children occupied. Learn about the trek's geography, demographics, and other interesting details beforehand.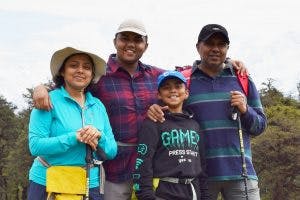 Biju is a regular trekker and has done many treks independently.  His sons too are frequently exposed to camping, as Biju is in the military. This was their first Himalayan Trek together.
"Both my sons are very active and play different sports. But, since this was the first Himalayan trek, my wife and sons started preparing with jogging.
Initially, we would jog for 5 km. Gradually, we switched to running the same distance. A month before the trek, we worked on strengthening our stamina."
Tips: 
– You should prepare kids for the trek experience. For example, staying in tents is a new thing for kids. Before heading for the trek, they should be briefed about what they will be experiencing, and why it's important.
– Take necessary precautions, in case of rain. When we started to climb from the base camp, the rain was incessant. We all were soaked completely. Though our rucksacks were water resistant, the rain was so heavy that all our clothes were drenched. We had no dry clothes to wear. This was very uncomfortable, especially the kids.
– Children seemed more fit than us. They were always leading. We had to try hard to catch up with them. We parents certainly require a good level of fitness for any Himalayan Trek.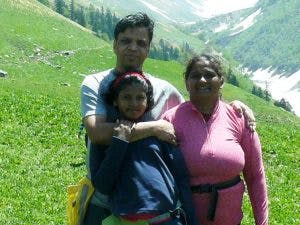 Janhavi's husband had been on a trek to Brahmatal in December last year. His experience in the mountains compelled him to encourage his family for a Himalayan Trek.
"Prachi has always been a fit kid. She is an extremely good runner. If she runs with someone cycling, she can match the speed of the cycle.
Since this was a Himalayan trek, we decided to prepare more. We started in April, three months before departure.
My husband advised us to begin preparation with walking. Few weeks before the trek, we walked close to 12 km. Prachi would do squats with her father every day to strengthen her knees. It definitely worked because she did well, and reached the summit successfully.
Before leaving, I explained to her about the trek and mountains. I showed her pictures from the website. It gave her an idea about what to expect. I could see her interest grow every day."
Tips: 
– Parent should prepare enough to match the child's pace. On the first day, I could see Prachi's confidence wavering when she saw me crawling at the end. My husband also reduced his pace for me. When Prachi couldn't see both her parents around, she was a little apprehensive.  After we reached the campsite, she asked me if she will have to return if I fall sick. I could read a trace of sadness on her face.
– Let your kids spend time with the other kids on the trek. This allows them to learn social skills and make new bonds. It also improves their confidence. Once my husband and I told her to go ahead with her friends at her own pace. I noticed a more sure spring to her step after that.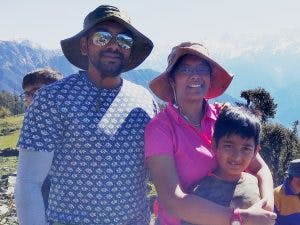 The couple was worried how a 7-year old boy would fare after a long and tiring journey. To their surprise, Arav was excited right from the base camp, with no sign of apprehension.
"Before the trek, we would go for a long walk to build our stamina. But restricting the practice only to walking doesn't help in developing the required strength.
We started climbing the stairs of our building. Trekking in the mountains in difficult terrain is completely different from climbing. So, we decided to climb the stairs with backpacks filled with books.  We would climb till the 17th floor. It helped a lot while climbing the mountains and reaching the summit."
Tips: 
– Reach the base camp a day or two earlier to take rest. We had travelled from Bangalore to the basecamp without any halt in between. Though, we did manage to reach the summit successfully, a day of rest before the trek would have helped us more.
– Watch over your kid while eating. Sometimes they tend to eat more than they need to. This might cause discomfort and vomiting later.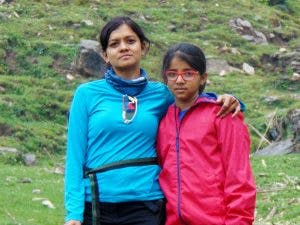 In 2019, Araahini trekked on her own to Dayara Bugyal.
"Araahini was 9 years old when she set out on her second trek. Alone.
I knew there would be no communication between us for a week. My family was sceptical. My friends raised their eyebrows because I sent her with a group of strangers.
I knew it was the right thing, and she needs to experience the world beyond television and laptop. Besides, my experience with Indiahikes before had convinced me about their safety measures.
During her preparation, I did not push her or ask her to do any specific training. She is regular with sports. She plays tennis and badminton regularly. Besides, we are quite frequent to mountains and cold weather.
She loved her trek experience so much, that when she came back, she jotted down her thoughts into a book!"
Tips: 
– Children should be exposed to places where they have to live with bare minimum resources. It builds their confidence and lets them become more mature. They become aware of climate change and sensitive to ecological balance.
– Avoid junk food a few weeks prior to departure. Light meals are better. I fed Araahini only homemade food a few weeks before the trek. Avoid non-veg too.
Why you must prepare your children before a trek
At Indiahikes, we constantly strive to make trekking experiences safe and meaningful.
We believe in responsible trekking.  By that, we mean being responsible at an individual level. We've seen that it helps bring the trek experience to life.
Unprepared trekkers end up suffering throughout the trek. We have seen them struggling, and having no time to enjoy the mountain views. They make the trek unsafe for the team as well.
Taking some time out to prepare physically and mentally before the trek can make the experience memorable. For children especially, this preparation makes the difference between a tiring, traumatic experience and a memorable life-changing one.
Watch this video for more tips on how to get your children trek fit.
If you have trekked with your children before, do drop in more suggestions in the comments below.
Oh, and check out our upcoming treks for family batches in September to November. Slots are filling up soon!
Sign up for our much loved Weekly Mailer
We have terrific trekking tips, trek updates and trek talks to look forward to