Essential Trekking Tips For Doing The Valley Of Flowers Trek
Share this story
Pallavi and Prakash Chitnis, who did the Valley of Flowers trek with Indiahikes tell us their experience. Being experienced trekkers they hand out useful trekking tips, especially for monsoon treks.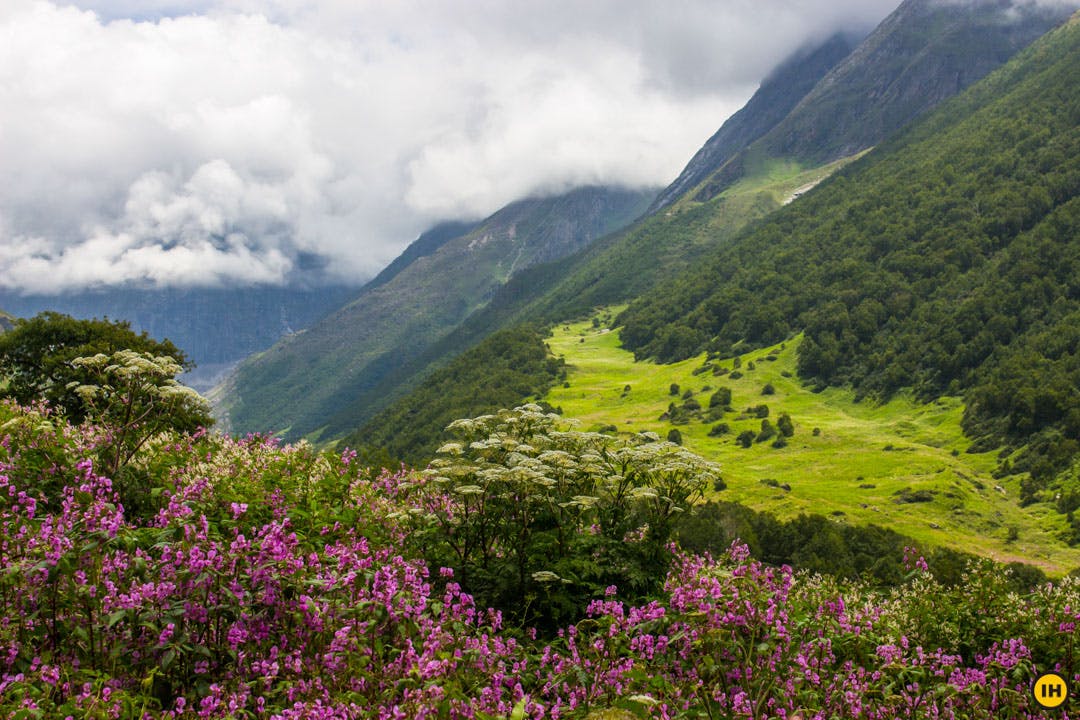 Q. Why did you choose this trek?
Prakash: We had been hearing about the Valley of Flowers for a long time. Last year, I had gone on the Kailash Mansarovar Yatra through MEA and KMVN. So this year, we decided to take the plunge.
Pallavi: The beautiful alpine meadow and the high altitude lake surrounded by brahmakamals, was on my list of places to see for a long time. Had a glimpse of the route from Govindghat on the way to Badrinath in 1998 and knew that I too would trek up that path someday.
Q. How did you prepare for the trek?
Prakash: I was walking practically every day about 6 km in a little under an hour and climbing five floors up to our flat at least once a day. I should have prepared more, especially climbing and descending stairs, since we wanted to trek and not use a pony.
Pallavi: My exercise schedule included brisk walk for an hour, combined with stretching and climbing up and down 7-8 flights of stairs. Besides, yoga and pranayam exercises to regulate breathing helped in preparation for the high altitude trek. Also, my mental preparation came from the fact that I'm an avid birder. I wished to see high altitude Himalayan birds. If one strongly desires to experience such places then the mental preparation is automatic.
To know more about How to Prepare for the Valley of Flowers Trek, click here.
Q. What kind of equipment do you think is necessary or would help while doing this trek?
1. It always rains in the hills, usually in the afternoon. A light coverall worn loosely would be better than a Duckback-type raincoat. You get as wet due to heat and sweating in the latter. There were light-weight plastic ponchos available at shops in Govind Ghat, which could be worn quickly in case of rain and stashed away when the weather was clear.
2. The locals do go about in hawai chappals and barefoot, but a good pair of waterproof trekking boots are essential for trekkers. And learn how to lace these properly. In spite of all the precautions, I took while coming down to Govind Ghat on the last day my small toes were squeezed! My foot was sliding forward, making my toes crash into the shoe. I did retie the lace twice but to no avail.
3. Clothes will get wet one way or another. A clothes string will always come in handy. Also, separate polythene bags for wet/damp clothes are essential.
4. Proper walking sticks with a curved handle are most useful.
5. Fleece jacket (instead of woollen) is an excellent option for the monsoon season in the Himalayas. It provides good insulation, is lightweight and dries easily. Keep an extra pair of socks and medicines for tummy aches, headaches and diarrhoea handy while walking.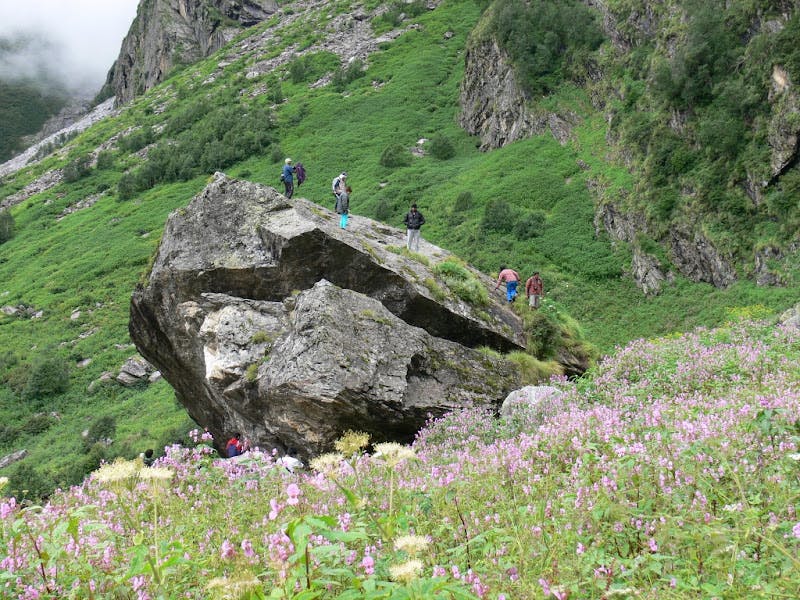 To get more trekking tips for monsoon treks and high altitude treks click here to know more.
Q. Do you have any trekking tips on how to prepare for the Valley of Flowers trek?
Walk 10 km a day, plus ascending descending stairs of, say, an eight-storey building, about twice a day. Both physical and mental fitness are essential for any high altitude trek. The best trekking advice or trekking tips we received was to be mentally and physically prepared for the trek to enjoy the Valley of Flowers.
Q. What were the major highlights of the trek for you?
A lot of things come to my mind, but I'll try and choose a few –
The lush greenery, birds and the ever-changing panorama
The mountains and especially the streams rushing down
Beautiful flowers such as the blue poppies and brahmakamals growing alongside the Hemkund Sahib route
Interacting and bonding with people from all walks of life during the trek
The spirit of the passerby's who offered us dry fruits, water and tons of encouragement as we trekked onwards
Eating Aloo sabzi and parathas under the large rock at the Valley of Flowers
Watching finches and butterflies amongst the beautiful alpine flowers in the valley
Q. What was the most difficult part of the trek?
The last two kilometres to Hemkund took our measure. Every now and then, we would stop to catch our breath and rest our legs on the pretext of enjoying the scenery, looking closely at the flowers or taking a photograph!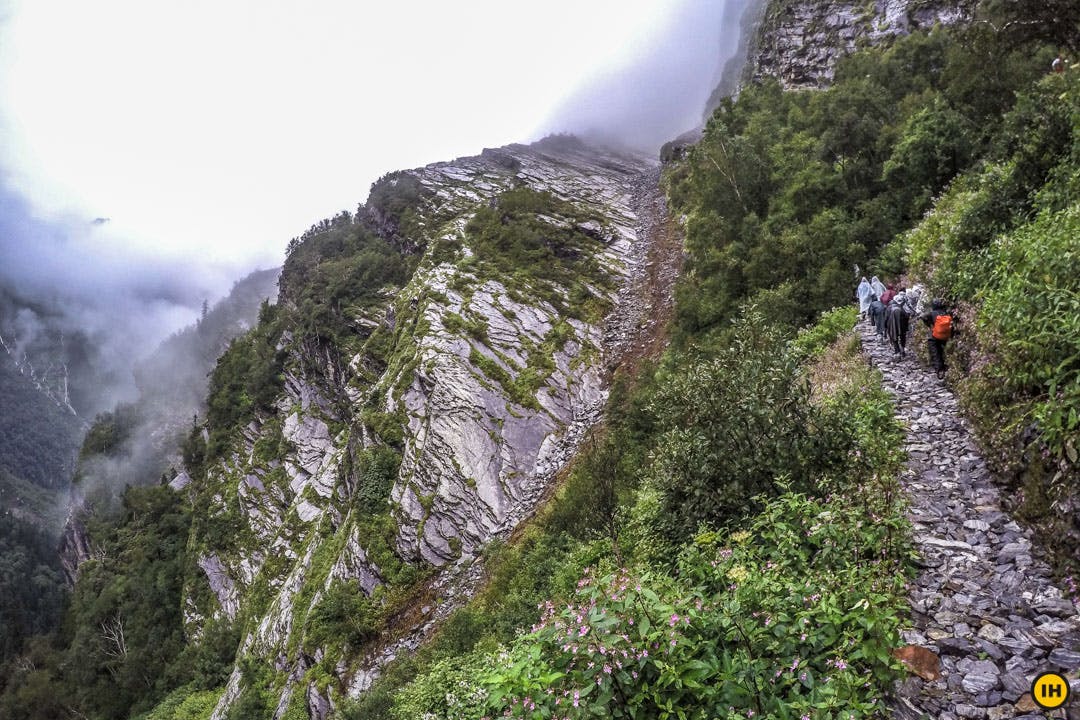 Q. Please share some moments while on the trek that stuck the most in your memory.
The feeling of "I've done it" on reaching Hemkund was, of course, the peak. On the way, a halo appeared on the top of the mountain, as though highlighting a divine presence. The lovely lake set in the middle of the peaks when the weather cleared up for a while. Also, a bullfinch took a closer look at people lunching under the big rock at Valley of flowers.
Q. Do you have any trekking tips or suggestions for the future trekkers?
1. Be well-prepared mentally and physically; when you're not struggling, you will be able to enjoy the glamour of the mountains no words can describe.
2. My best trekking tip to future trekkers is that above 10,000 ft, take things slowly and steadily. Eat/snack lightly but frequently and drink water regularly.
3. High altitude sickness can appear as headache, nausea or diarrhoea. Keep medicines near you in case of an emergency. Ginger lime juice is a good remedy for travel & altitude-related sickness. One of the most important trekking tips given to us before we started the trek was to always be on the lookout for potential symptoms for altitude sickness. Be vocal about your symptoms and always inform your trek leader in case you feel anything remotely related to a symptom.
4. Enjoy the beautiful surroundings; they energise you to achieve your goal. Avoid binging on glucose and sugar granules while walking. Eat dry fruits, biscuits or granola bars instead. While trekking up, do not sit down for long. The muscles that have been warmed up by exercise cool off quickly and get jammed. Walk at your own pace, set small targets, keep walking with a group and don't give up.
5. Also, in case you are worried about trekking in the monsoons or want to know more about the difficulty level of the Vally of Flowers Trek, I'd definitely recommend reading – Why you must trek to the Valley of Flowers in July and August and Why Valley of Flowers is not an easy trek.
For a detailed description of the trek take a look at the Valley of Flowers detailed information section.
What you should do now
1. If you want to register your seat for this trek: Go to the Valley Of Flowers trek page, now.
2. If you want to work with us: Head over to our careers page. We have lots of positions open. So the sooner you apply, the better.
3. If you ended up here by chance and were actually looking for treks to do: Then head over to our upcoming treks page. You'll find all our Himalayan treks there.
4. If you want to see the 29 best treks for 2020: Then click here to learn more.
Sign up for our much loved Weekly Mailer
We have terrific trekking tips, trek updates and trek talks to look forward to