Indiahikes Conducts its First Open Collaborative Leadership Program at...
Share this story
Indiahikes just took a significant step towards making the benefits of experiential learning more accessible. Between April 2 to 7, 2022, we conducted our first-ever open Collaborative Leadership Program.
Since its inception in 2011, the program had remained exclusive to the students of the Indian Institutes of Management (IIMs). We finally opened it up for all university students and working professionals after careful deliberation.
The results it fetched exceeded the expectations of both the parties - the Indiahikes team members and the trekkers who participated.
"The Collaborative Leadership Program is highly-acclaimed. It is offered as a credit course by several IIMs. As the program gained more recognition, people from different fields started reaching out to us. They also wanted to enrol," narrates Izzat Yaganagi, Head of Experiential Learning at Indiahikes.
"Once we decided to have an open program, we made some tweaks in the curriculum to make it more immersive. It left a much deeper impact on the participants than we had imagined. That is extremely encouraging since some of us were having butterflies!" she adds.
Izzat, for the past 11 years, has been continuously working towards refining the syllabus of the Collaborative Leadership Program. The primary aim of the program is to transform individuals into Collaborative Leaders.
The shift happens through a specifically designed exercise wherein the participants plan and execute a trek on their own.
Note: Our next program is happening on the Dayara Bugyal trek from April 14-19, 2023. If you would like to participate in the program, register through this link - https://indiahikes.com/registration?batchId=9152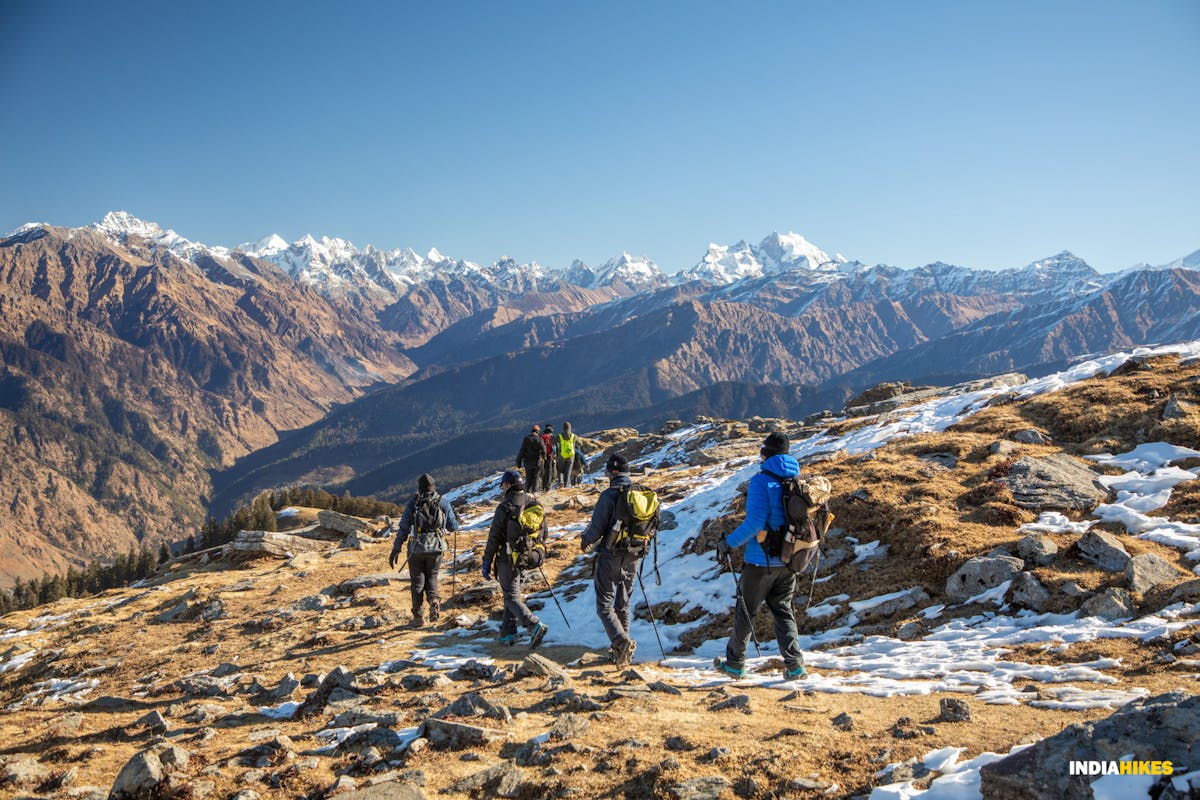 It's a challenge to plan and execute a trek in the Himalayas. And facing this challenge together makes the team come together during the Collaborative Leadership Program. Photo by Jothiranjan.
What Happened During the Course of the Open Program
The 2022 edition of the program was held on the Dayara Bugyal trek. A mix of 14 students and working professionals from all over the country attended it.
It was for the first time that such a diverse group was participating in the program.
The 4-day long innovative training was conducted by Indiahikes Senior Trek Leader Vijeet Shaw.
In all honesty, even someone like Vijeet who has been leading trek groups for years was a bit fidgety going in to lead this particular group.
But upon returning from the expedition, he termed it one of the most fulfilling experiences of his trek leading career!
"The kind of impact this program had on the trekkers is something I haven't witnessed before. In the end, they were running out of words to describe their experience. Despite being strangers, they learned to work as a team," shares Vijeet.
The program comprised three elements – The Trek, The Activities and The Reflective Sessions.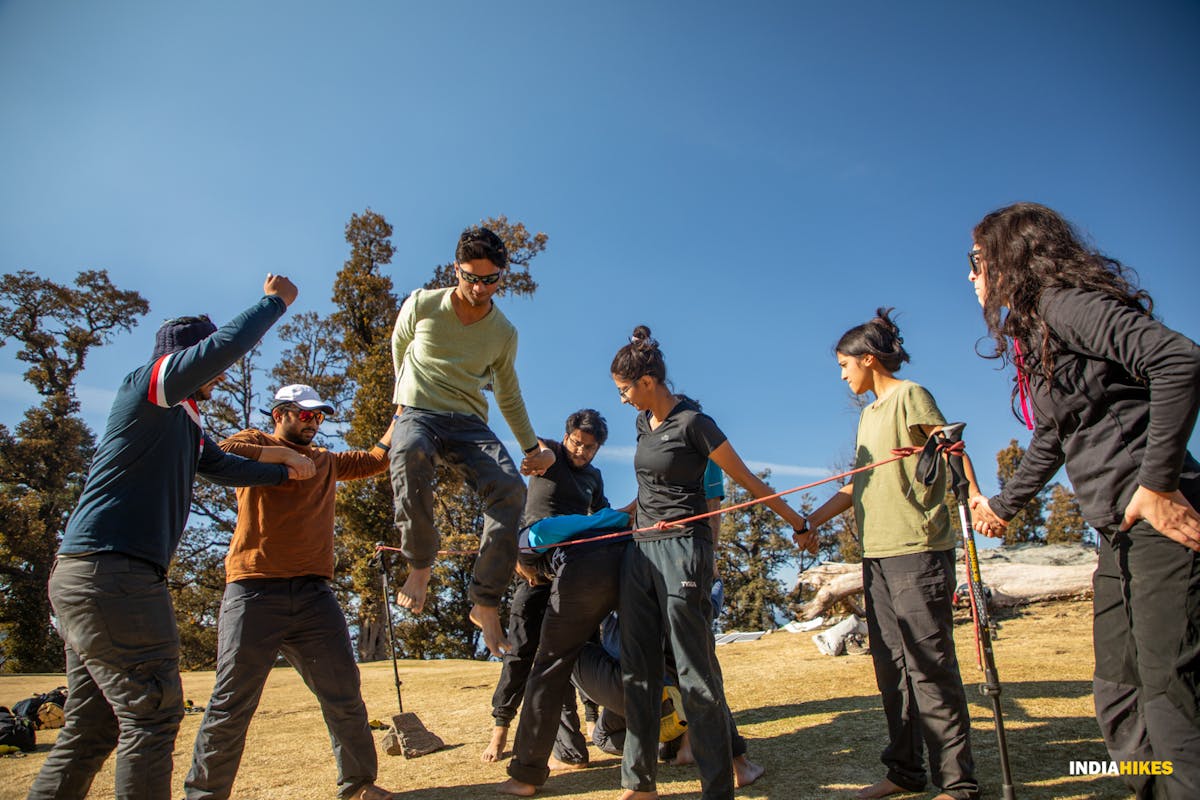 Participants are involved in an activity that tests the communication and coordination skills of all team members. Photo by Jothiranjan.
"At the very start, we collected their mobile phones so that they interact a lot more. We then taught them to use an analogue map and asked them to navigate the trek on their own. It was challenging but it also brought them together," tells Vijeet.
"Along with that, we conducted numerous activities such as blindfolded tent pitching, night hiking and outdoor cooking. At the end of each day, they reflected on their learnings. That's where the true magic happened," he adds.
The program brought about a visible transformation in all the participants. It taught them the skills required to be a Collaborative Leader.
According to Vijeet, the participants gained a much better understanding of who they are. They were also clearer about how they wanted to proceed professionally.
What the Participants Have to Say
Tejashri Chavan, who is a Content Analyst at Accenture, terms the program a once-in-a-lifetime experience.
"It's a cliche to say that mountains change you but after having lived this experience I can say that it's true. When I look back, I can't help but smile thinking how strangers looked out for each other," says Tejashri.
"The tasks helped us understand our strengths and weaknesses. At every challenge, the team united to face the problem together. What also made this program special is that it had sustainability at its core," adds the 29-year-old.
For another participant named Kedar Bhusanikar, a 29-year-old Software Engineer, the program was a huge learning experience.
He shares, "It was a perfect blend of trekking and collaborative leadership development activities. It helped us understand the core principles of leadership."
"We also had a great facilitator in Vijeet who helped us grasp things quickly. At end of the program, every individual was part of one family. We understood our own qualities as well as team strength," adds Kedar.
Nishchay Jain, a Business Analyst at Swiggy, says the program has transformed him. "I learned that making life easier for the other person makes you a better Collaborative Leader. I now collaborate with people in a much better way," shares the 25-year-old.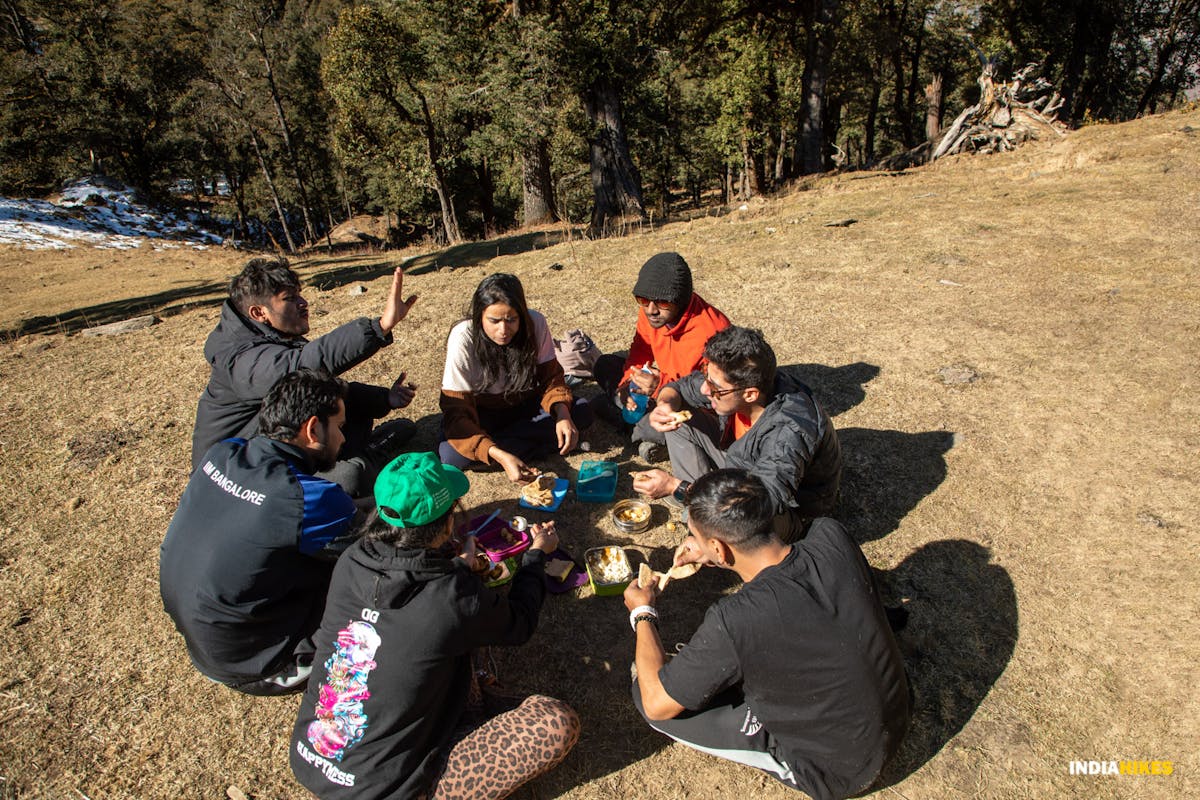 Deep, reflective sessions are a crucial part of collaborative leadership. Photo by Jothiranjan.
Significance of the Open Collaborative Leadership Program
In today's rapidly changing world, Collaborative Leadership has become a valuable skill. It is now not only required by those in management roles but by the majority of students and working professionals as well.
For any organisation to grow, it is essential for its members to know how to collaborate.
This is where the Open Collaborative Leadership Program comes in. Now, individuals from different domains can take part and learn about the principles of Collaborative Leadership. That too in a matter of just 4 days.
Over the years, we have seen that these learnings go a long way in helping the participants communicate better with their colleagues or batch mates.
Our next program is happening on the Dayara Bugyal trek from April 14-19, 2023. If you would like to participate in the program, register through this link - https://indiahikes.com/registration?batchId=9152
For more information about Collaborative Leadership Program, click here.
Sign up for our much loved Weekly Mailer
We have terrific trekking tips, trek updates and trek talks to look forward to