Indiahikes Reopens Treks from June 25th: Covid Travel Guidelines You M...
Share this story
Indiahikes Reopens Treks from June 25th: Covid Travel Guidelines You Must Know
Category News
By Latika Payak
2021-06-18
We reopened our treks from June 25th onwards. After two months of a complete halt on our treks (missing the entire summer season), we were glad to start running all our monsoon treks.
Trekkers were eagerly waiting for this.    
We know because in the month of June alone, more than 3500 trekkers have registered for monsoon treks. Our website traffic went back to pre-covid times. We had also been receiving many requests for GPX files for local treks. 
It feels safe to step out with the vaccination drive going strong in our country. COVID-19 cases are also tapering. But as you gear up to start trekking, here are some updates and travel details that you must know.
LATEST UPDATE
Himachal Pradesh Trekkers held up due to Heavy Rains | July 13
All trekkers in Himachal Pradesh are safe but faced delays due to heavy rains. Our team is closely assessing the situation before moving ahead on the trek.
Trek-Wise Updates:
Our Hampta Pass trek group could not cross the pass. They have returned from Balu ka Ghera campsite. The next group for Hampta Pass has started from Manali for Jobra.
"Trekkers from Jonkar Thatch have started trekking towards Bhrigu Lake. By afternoon they will be back to Jonkar Thatch. Beas Kund trek is on schedule. Trekkers will be back to Manali today," updates Syama Krishna, from Learning and Development Team.
The first group reports brilliant weather on the Hampta Pass | July 1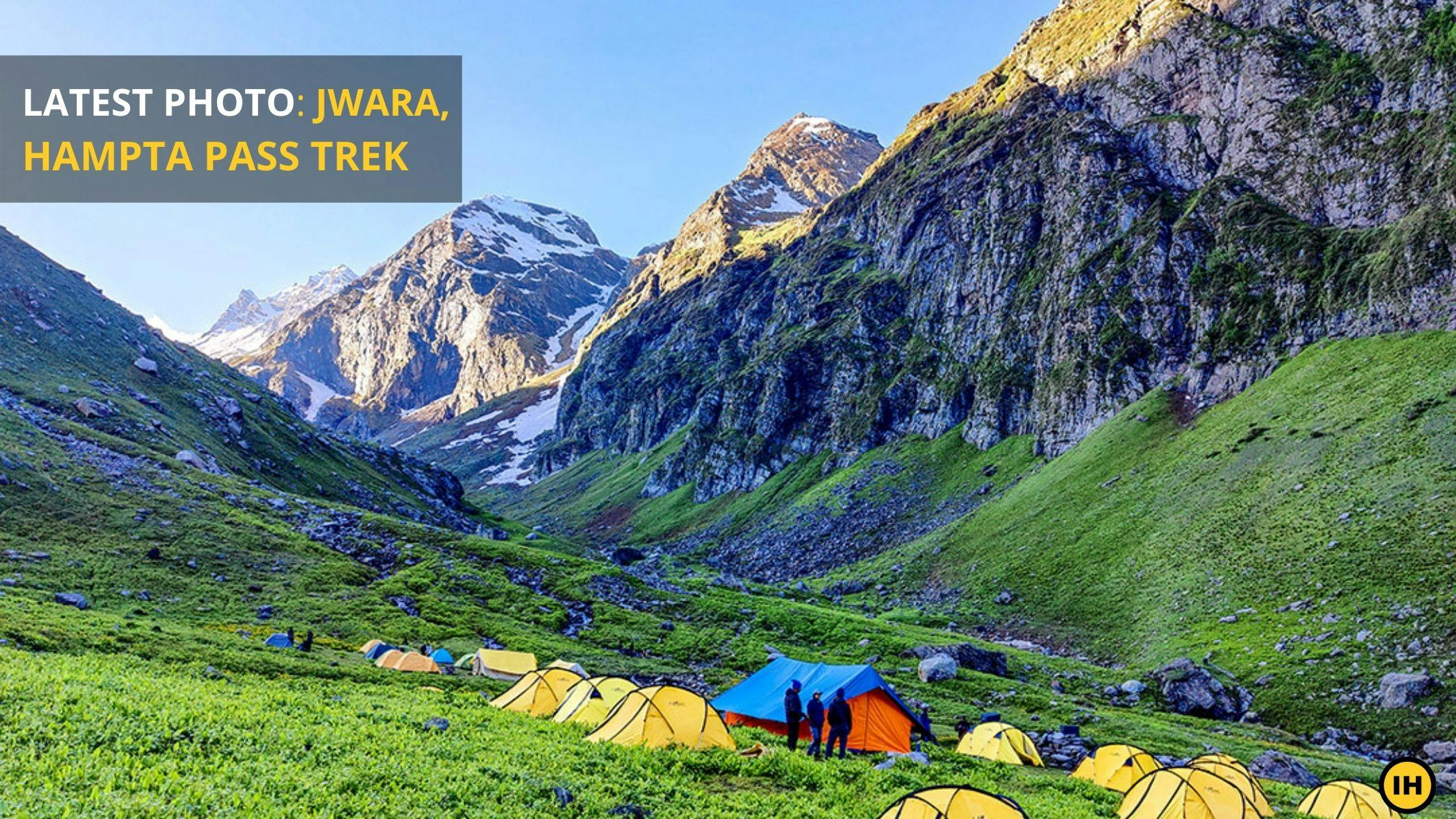 Our first group of Hampta Pass is back from the trek. And they've come back with great photos and stories from the trek.
Sneha Yadav, our Social Media Manager reports, "We got brilliant weather during the trek. There were just light showers at Jwara after we reached the campsite. But the weather at Balu ka Ghara, Shea Goru, and even during the pass crossing was clear. We got to see brilliant mountain views."
If you wish to explore this trek, now is the time to plan. Happy trekking!
In pic: Latest photo from Hampta Pass trek. Shared by Trek Leader Aditya Bodke.
No E-Pass needed for Himachal Pradesh from July 1 | June 24
The Himachal Pradesh E-Pass Registration page is not accessible anymore. It is because from July 1 you will no longer need the E-Pass to cross the HP border.
This makes it easier to travel to the state for treks like Hampta Pass, Beas Kund, and Bhrigu Lake.
But please keep in mind that as an Indiahikes trekker, you need an RT-PCR Negative Certificate if you haven't received two shots of vaccine. You may skip getting the certificate if you've been infected with COVID-19 within the last three months.
Which Treks Are Open?
We are at the beginning of the monsoon season in the Himalayas. During this time, most treks in Uttarakhand (except Valley of Flowers) shut down. And those in Himachal Pradesh and Jammu and Kashmir open up. In fact, monsoon is the only time when you can comfortably trek in HP and J&K. 
Here's the list of Indiahikes treks open in the monsoon:
In Himachal Pradesh
In Jammu & Kashmir
In Uttarakhand
There are certain guidelines to keep in mind if you are travelling to these states. 
What are the Indiahikes Covid guidelines for trekkers?
Even though the second wave of Covid is receding, the pandemic is not over yet. This is why safety is a concern — of our trekkers and even our local staff in the mountains. To keep everyone safe, we have enforced strict Covid protocols if you are trekking with Indiahikes. 
They are as follows:
RT-PCR test before travel mandatory by Indiahikes (Those with two doses of vaccination and those who have recently been affected by Covid are exempt from this requirement.)
Two doses of vaccine highly recommended: Although not mandatory, we expect trekkers to come with at least the first dose of vaccination. You may skip the RT-PCR test if: you have received both doses of vaccination. Please carry your vaccination certificate for this. 
You may skip the RT-PCR test if you were recently Covid positive and hence have not been able to vaccinate. We expect you to bring proof that you were Covid positive (the test report will do, even if from 3 months ago).
After covering the basics, let's move to the specific guidelines of the state. 
State-Wise COVID-19 Protocols to Keep in Mind 
Each state has its own travel guidelines. These are the guidelines as of June 14, 2021. Keep a tab on this page to stay up to date with state guidelines. We have also included the COVID-19 travel protocols you need to keep in mind while traveling to these treks. We want you to read those really carefully and prepare accordingly. 
Indiahikes Slope Manager Ravi Ranjan travelled to Manali on June 16. And he shared information for those who are traveling to Manali in near future:
From Ravi's Travel Notes
The Himachal Pradesh State government has not mandated an RT-PCR negative certificate. (But as an Indiahiker, please carry one if you haven't received two shots of vaccine or were not Covid-positive in the past three months)
No E-Pass needed to enter Himachal Pradesh
Points to keep in mind
Keep sufficient buffer time for reaching Delhi Airport. This is because Delhi Airport Metro is running at 50 percent capacity. Standing is not allowed in the airport metro. 
There are no government buses plying to Himachal Pradesh. They may begin in a few days. 
Till then, buses from Delhi deboard passengers at the Himachal Pradesh border. From there you are transferred into a Tempo Traveller that takes you to a private bus stand in Manali. 
From the private bus stand, you can take a taxi/auto to Mall Road/Prini for Rs 150-300.
From Delhi, there are buses plying to Manali from Kashmiri Gate and Majnu ka Tila. 
SM Ravi suggests you opt for buses from Kashmiri Gate. He says, "I boarded a bus of Lakshmi Holidays from HP Petrol Pump near ISBT Kashmiri Gate No. 4. I found this option to be more comfortable with a proper resting area, restrooms and drinking water facility." 
While Traveling to Shimla (For Pin Bhaba Pass)
1. Similar to Manali, an RT-PCR negative certificate is not mandated by the state. But as Indiahikers, you need to carry this certificate if you haven't received two shots of vaccine or haven't been Covid infected in the past three months. 
2. No E-Pass required to enter Himachal Pradesh from July 1. 
3. In case you are planning to reach Shimla a day in advance, you may even take the Kalka-Shimla Shivalik Deluxe Express which starts from Kalka at 5.45 am and reaches Shimla at 10.30 am.
While HRTC hasn't started inter-state travel, private buses are running from Delhi Kashmiri Gate No. 4 to Shimla. They usually depart around 10 pm at night for Shimla. You can book these buses from online portals like www.redbus.com
As per the Uttarakhand State guidelines, you need to carry your RT-PCR Negative certificate.
You also compulsorily need an E-pass to enter Uttarakhand. You can get it by registering on http://smartcitydehradun.uk.gov.in. (Pro tip: Register for your E-pass at least 10 hours before starting your journey as the District Magistrate needs to approve it. That could take time.)
Interstate buses are plying in Uttarakhand at 2/3rd capacity. So book your journey to Rishikesh in advance. 
Government buses are plying from Dehradun to Rishikesh every hour after 6 am (Reach one day prior to your pick-up in Rishikesh).
Within Rishikesh, you will be able to get an auto/cab to travel from the bus stop to your Indiahikes pick-up point (Live-Free Hostel, Rishikesh).
Note: The State Government is expected to share revised guidelines on June 22. We will update it here.
While Traveling to Srinagar, J&K (for Tarsar Marsar and Kashmir Great Lakes)
The Jammu and Kashmir State government has not mandated an RT-PCR negative certificate. But you will have to take a rapid antigen test once you reach Srinagar airport.  (But as an Indiahiker, please carry one if you haven't received two shots of vaccine or were not Covid-positive in the past three months)
As of now, we haven't received any updates on a mandatory E-Pass for traveling to Srinagar. In case your airlines insist on it, you can register for it here. 
As a final note, please read through all travel instructions carefully before starting your journey. In case you have travelled to any of these states and have the latest update, please drop it in the comment section below so we can include it in the blog. 
Stay safe, happy trekking!
Sign up for our much loved Weekly Mailer
We have terrific trekking tips, trek updates and trek talks to look forward to