Now avail a Trek Insurance while trekking with Indiahikes
Share this story
Now avail a Trek Insurance while trekking with Indiahikes
Category News
By Aswati Anand
2017-02-24
At Indiahikes, we have been committed to increasing the safety of our treks, one step at a time. Now we finally have a measure that we have worked almost three years to get!
We have now introduced a Trek Insurance for trekkers. With Religare, we have worked out an accident insurance plan that is applicable to all our treks, right from weekend treks to the Everest Base Camp trek.  Arjun Majumdar, our founder says, "Insurance in trekking is something that we have been pushing since three years now. Insurance companies were just not ready to make a product that provided insurance to trekkers. Most insurances that we have back home, especially medical insurances, become null and void if anything happens to you on an adventure sport such as a trek. This year IRDA and a few insurance companies have come together to put forward accident insurance for trekkers. "
He continues, "The Trek Insurance is pretty comprehensive. It covers most situations. Injury out of slip and fall. Covered. Accidents on a road journey on the way. Covered. Emergency evacuation, covered. Death on a trek, covered. The insurance premium rates are very reasonable too (most of them less than Rs 100). What's more even our elderly trekkers are covered, up to the age of 65. So are our very high altitude treks, up to 20,000 feet.
This is much welcome news for trekkers. We don't want to sound proud, but Indiahikes has once again taken the leadership in bringing in something that was much required in Indian trekking fraternity. All Indiahikes trekkers can now opt for insurance with immediate effect."
Updates about current Himalayan Treks
Thakoor Top is a hit
Last weekend, we ran the first batch of the recently explored Thakoor Top. This is Indiahikes's first venture in the Kumaon region. In the very first batch, our trekkers were bowled over.
The trekkers from the first batch, led by our Trek Leader who explored the trail Indrajit Hazra, had  a lot to say about the trek!
"I was in first batch for this trek. Thakoor Top is probably the best weekend trek to enjoy so many varieties of forest. The pines, rhododendrons, streams and rocks — experiencing all these things together in just two days is the best part.  There are so many spots throughout the trek where you would like to sit and enjoy the nature. The second best part of the trek is that you find very less crowd throughout the trek. You can feel the wind and hear water splashing! It was music to my ears! Sitting at the top, watching snow capped peaks is just awesome. In few words, Thakoor top is a must-do trek." – Shashank Shekhar, February 2017 batch
Here is a picture from the first batch!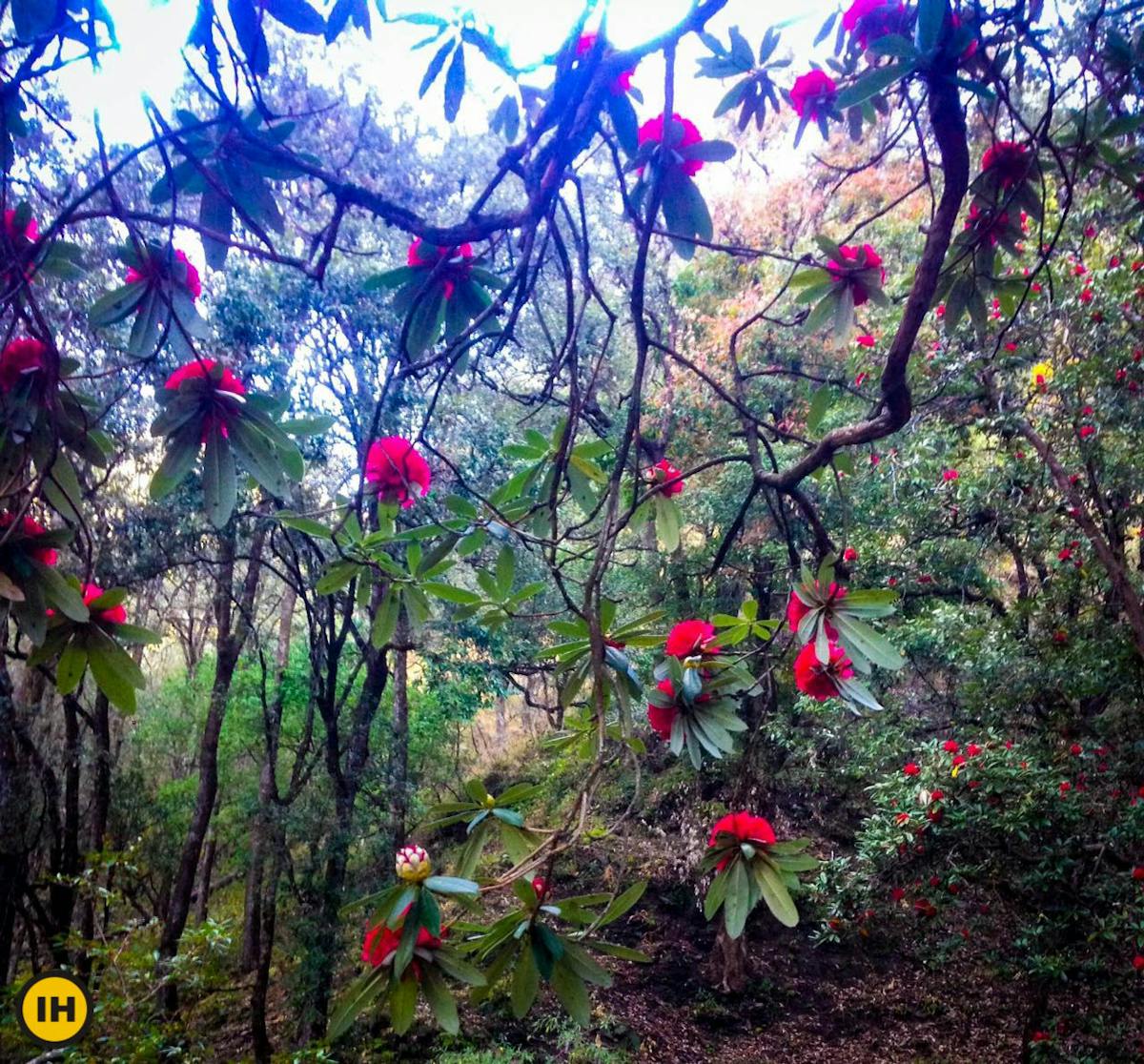 The rhododendrons are in bloom on the forest trails of Thakoor Top! PC: Rahil Ahmed
Fresh from the success of Thakoor Top, our Trek Leader Indrajit has left for another exploration in Pithorgarh region. We hope this one turns out to be a success as well.
Snow is fast disappearing at Prashar Lake
Even with harsh winters up on the Himalayas, the snow on Prashar Lake disappeared within a week's time. Here is what the trek looks like now: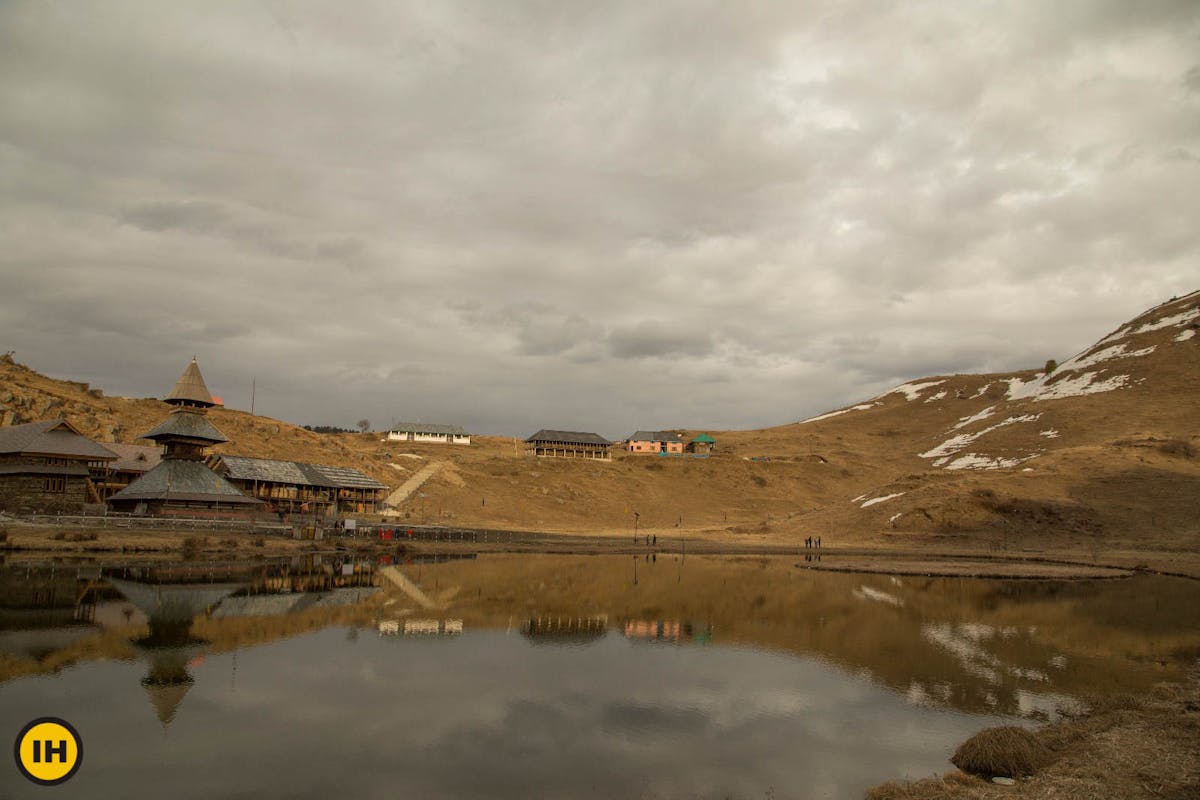 Prashar Lake. PC: Dashod Rangar, our Technical staff
Temperature has dipped at Sandakphu, but the weather has cleared up
Moving onto to our eastern slope, Sandakphu has been extremely cold and windy. Do make sure you get your padded jackets! The last batch enjoyed clear views of the Sleeping Buddha and the Everest sisters. They are descending from Phalut today, after having seen clear views of the Sleeping Buddha. Here is what our trekkers have to say about their Sandakphu experience.
To define the feeling I experienced witnessing Kangchenjunga, Everest, Makalu all in one frame in one word would be "Divine". The effort of fighting the cold and walking long distances seemed completely worth it in those moments of standing at Phalut Top. It was a fantastic experience! – Pooja Buch, February 2017 batch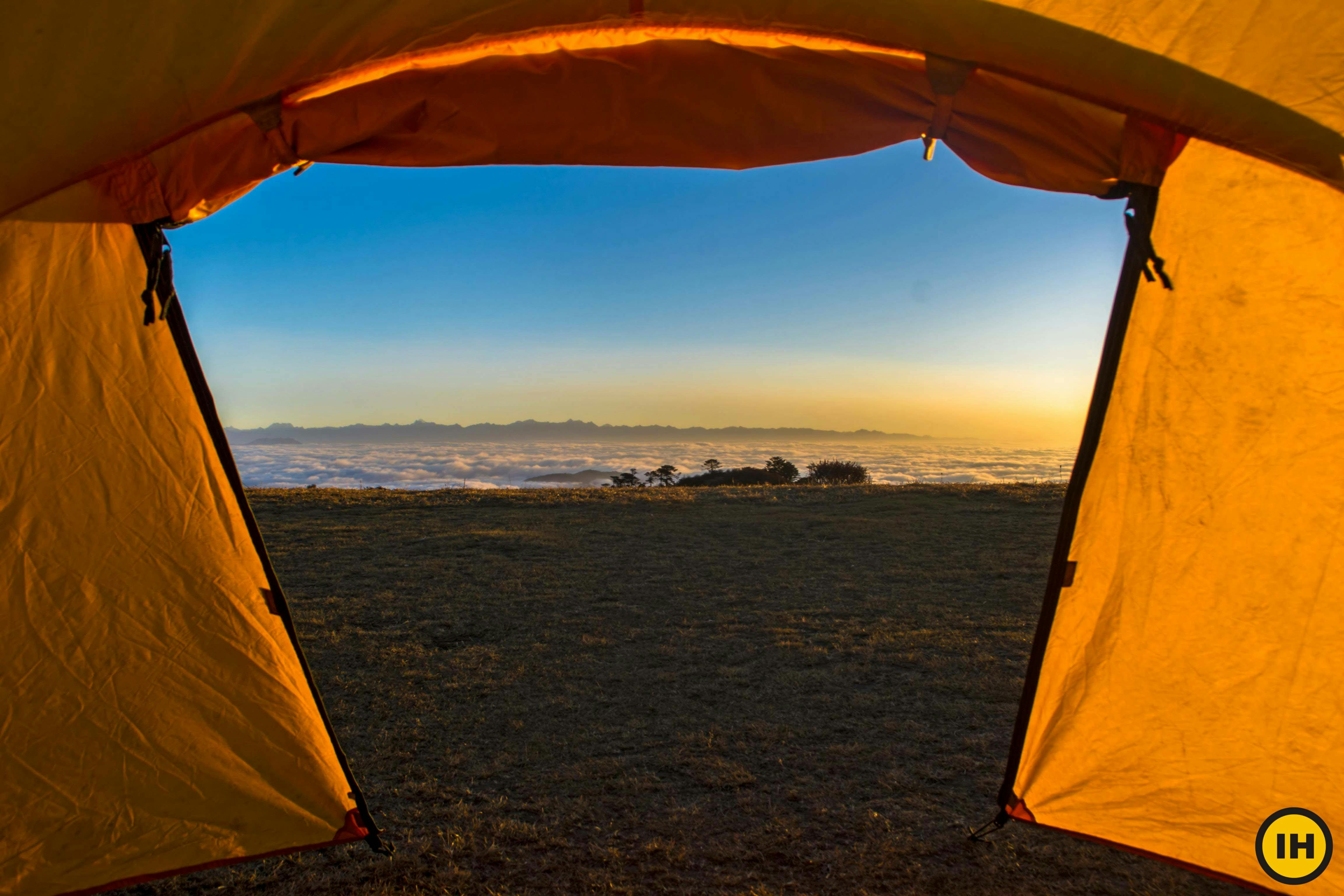 If you want to know what our trekkers talk about when they talk of Sandakphu, I have THE video for you. It encapsulates the very essence of being on Sandakphu trail. This was wonderfully put together by our trekker Vijesh Mohan. Watch the video here.
We have opened fresh batches to Kedarkantha and Rupin Pass
We noticed that our Kedarkantha and Rupin Pass treks for April and May were all full. So we have good news for you! We've opened fresh batches for both the treks. Take a look at the dates here – Kedarkantha dates, Rupin Pass dates. 
Hiking Club students are preparing to go to Kuari Pass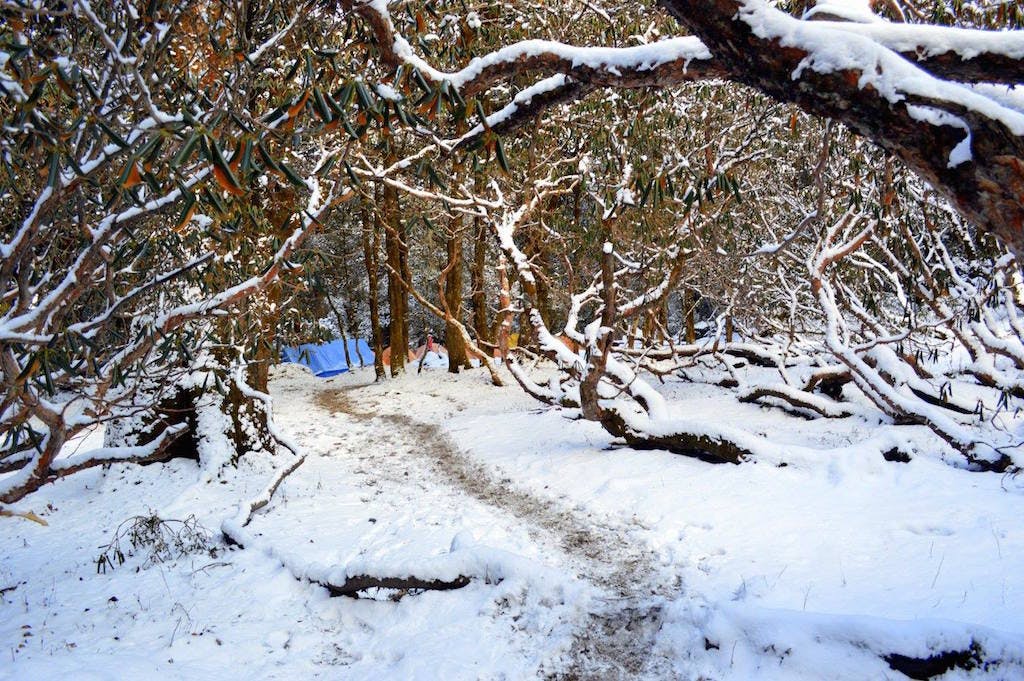 Students from Canadian International School are headed to Kuari Pass in April. We can't wait to see them on that trail. If you see this photostory, you'll understand where our excitement is coming from!
Staff Training Programs at Lohajung
In other news, our mountain staff at Lohajung are getting holistic training in medical know-how so that they can be as proficient as Trek Leaders in times of emergency.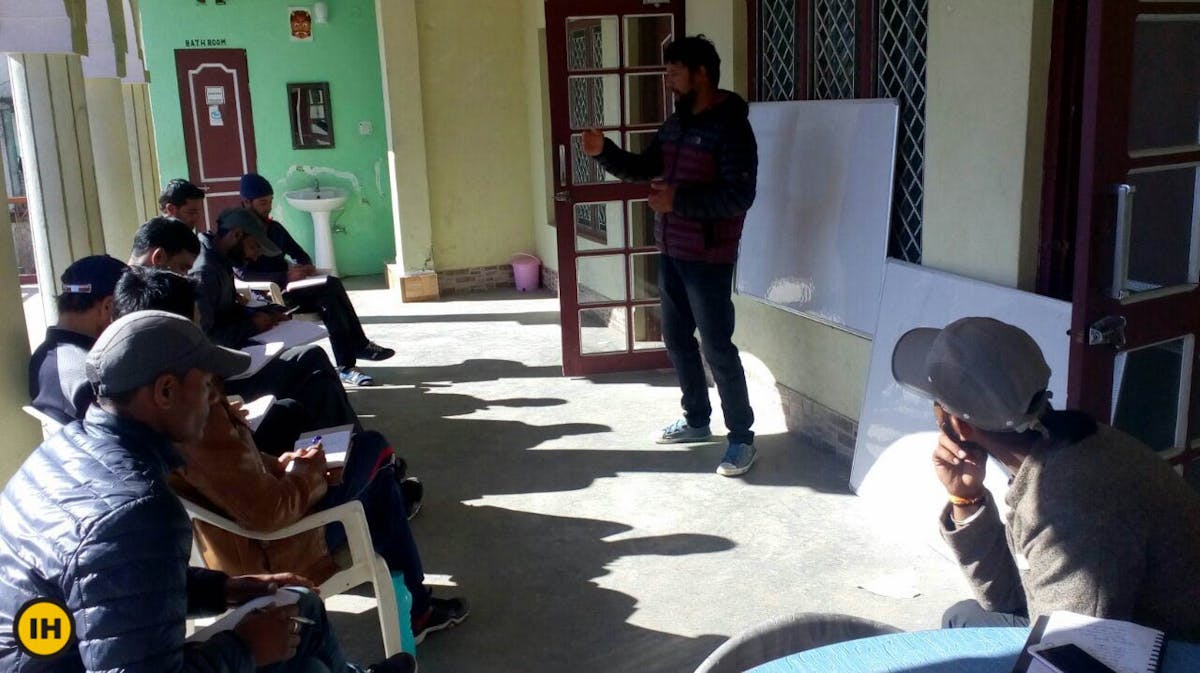 Staff training session at Lohajung.
Our cooks also underwent a four day program spearheaded by Trek Leader Sandeep and Chief of Operations, Manish Pasad. The program was about nutritional value of food on our treks and how to up its quality at campsites. We often conduct these training sessions during dip in the season to fine tune our operations. From nutrition that powers trekkers to the treatment and evacuation protocols when something goes wrong, every piece has a part to play.
Indiahikes is hiring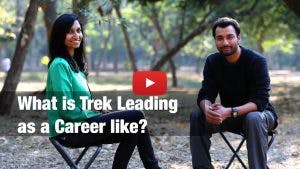 We are looking to expand our Content Team and also our Slope Team. For the content team, we are looking for people who can write well. We have some part time options as well. A little love for the outdoors will help. And for the slope, we are looking for experienced trekkers who will make good Trek Leaders. If you're interested in either of these roles, write to swathi@indiahikes.com.
We recently interviewed Vishal, about what it is like to take up trek leading as a career. Click here to watch the video.
Back in Bangalore
Last week, we took a team from Robert Bosch out on a trek to Handi Gundi. There were about six families on the trek. "This was the first time I did Handi Gundi. We spotted so many birds! I sighted a hornbill! That was just wow! The sun was quite relentless. But if anyone wants to go on a one day trek before full blown summer hits us, this is the trek to do," said our Ground Coordinator Suhas. You'll find the documentation of the trek here.
Also, Sandhya, our co-founder has just returned from New Zealand. As is tradition at Indiahikes office, we had our story session the moment Sandhya walked into office. She regaled us with stories from New Zealand. She spent two weeks exploring the unique geography of the country: its mountains, seas, fjords, black beaches. She has come back with a very interesting takeaway from her trip.
"People over there treat the outdoors like their own house. Even the most conscientious of us here make a leeway with throwing biodegradable out in the open. Not there.  They will even take a fruit seed back with them. This is inbuilt in their attitude while trekking."
There is much to learn indeed. I'll leave you with that thought. Until next time! 
Sign up for our much loved Weekly Mailer
We have terrific trekking tips, trek updates and trek talks to look forward to