True Stories Of Indiahikes Trek Leaders Saving Lives
Share this story
In this post, we're sharing with you four true stories about how our Trek Leaders have saved lives. They do this all the time, but somehow these stories never get told.
Many times, you may have heard us speak proudly of our Trek Leaders. Today's stories illustrate why.
After you've read them, we'll tell you more about what we do at Indiahikes that makes our Trek Leaders a class apart.
Btw, all lives saved here are of non-Indiahikes trekkers.
Here are the stories. We've pasted them as we've got them. There aren't any edits:
"Subject line: Kudos to Venkat (God)
I am writing this email to say thanks to one of your trek leader Mr.Venkat.
I met him in the roopkund trek at bhagwabasa. I was trekking with my wife.
We went with local guide not with IH.
Unfortunately my wife's situation worsened on reaching bagwabasa. She was unconscious. I dint know what to do. She was not responding. Our guide was of no help.
One of the dhabha person told me to take help from IH Doctor Sahaab (people call him by that name).
I approached IH camp and met Venkat who was the senior trek leader. Without any hesitation he was ready to help.
He took the oxygen reading and it was around 52.
Immediately he gave oxygen.
After 20-25 min my wife was fine. He gave few medicine. Venkat suggested us to descend immediately. He arranged mule for my wife.
I was about to thank him before that one guide from some other organisation approached Venkat for medical help.
Let me tell you he is a great human being. I dint knew that i would meet God at Bagwabasa. For me he is not less than a god who saves lives. Who saved my wife's life.
Next time we will trek with Indiahikes and we want Venkat as our trek leader. If possible pass on the message to him. We will never forget him for the entire lifetime.
Regards
Abhishek Gupta"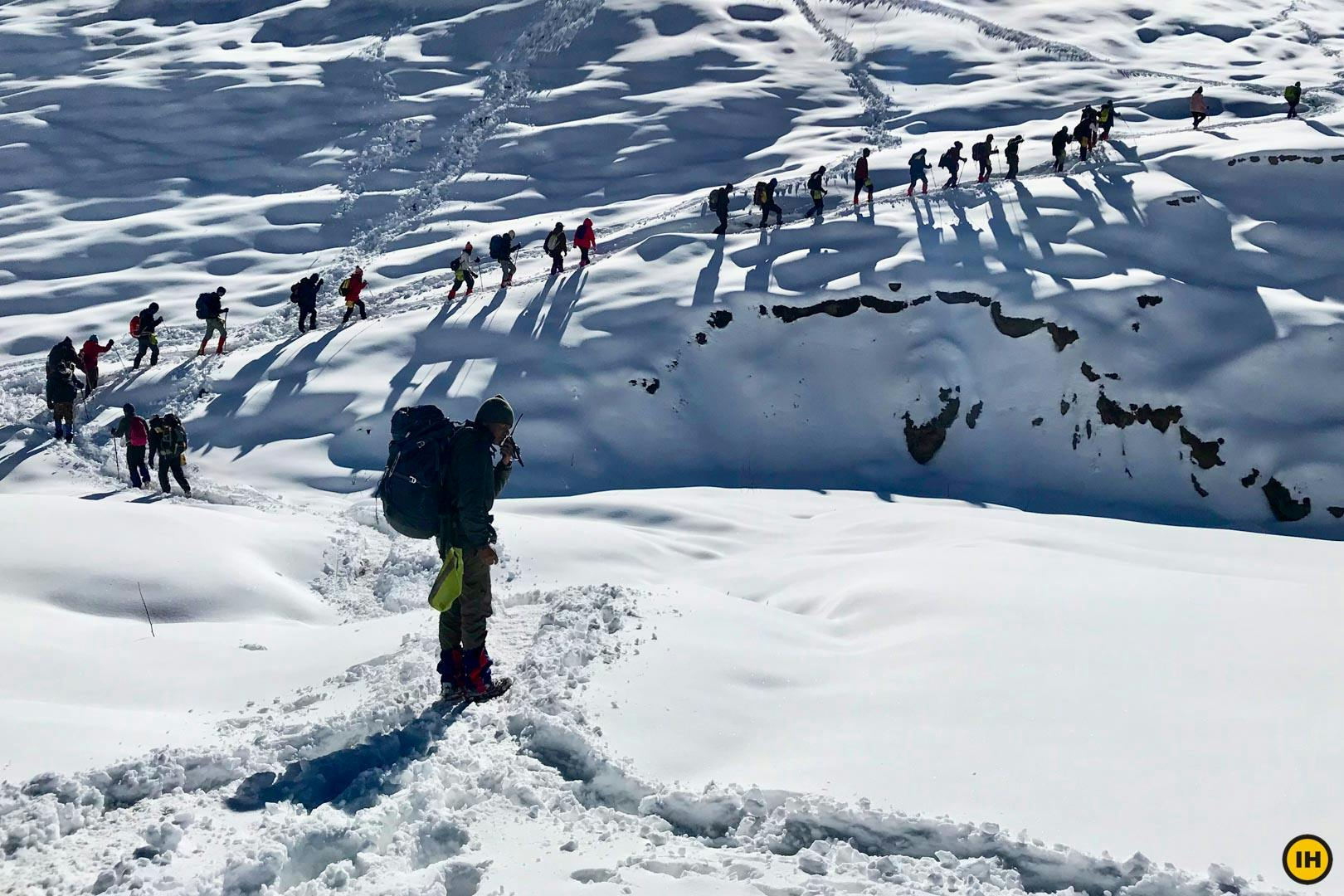 And then in the same week, we received another mail, this time about three of our Trek Leaders.
Here's what it said –
"Hi Arjun and IH team
Would like to place on record the outstanding support received from Naman, Devang and Kartik during our recent trek to Roopkund (13- May to 19-May).
While you must be wondering how we met all the leaders on the trek, it was possible because we were part of another private operator not Indiahikes!
As you might observe from appended mails, Shoba (My spouse) has always been a nature lover and avid trekker and it was her dream to do the Roopkund trek.
We signed on with the private operator thinking that we may not get personalised service or that services will be sub-optimal considering it is for masses and we might have to do all drudgery.
Unfortunately, Shoba fell ill on the Day 1 at WAN (later we got know the same was AMS). She continued to trek on a mule in complete dizziness. Our operator (quack) told her to have 125 mg diamox and pooh-poohed all our questions about Altitude sickness.
Naman – May 13
On reaching Bedni Bugiyal her situation worsened in our camp. On hearing the same Naman appeared from nowhere (still wondering how did he get to know ?) and took the oxygen reading, completely reassured us, calmed our nerves and advised us to continue with current medication. Told us to knock his camp anytime during the night in case of emergency.
Devang – May 15 and 16
While her situation improved on Day-2 , we decided to stay at Bedni while rest of our group decided to trek further. Unfortunately her situation worsened on Day-3 and I took courage to seek IH help this time .
Devang, who was the trek leader immediately came to our rescue and recommended the correct solution, which put Shoba on her feet within 24 hrs.
We would meet Devang couple of times more and every time he showed genuine care and warmth although we are not part of IH family .
Although we could not complete the trek, we were thoroughly impressed with the following:
1) Process oriented gradual ascent instead of steep ascent on day-1, health card, morning stretches, walkie talkie connections.
2) Knowledgeable trek leaders who instil confidence-special Kudos to Devang He was very calm and composed and was in complete control of the illness.
3) Trek leaders who are genuinely passionate about trekking – Naman, Devang and Kartik.
As a group we are in complete awe of Indiahikes and entire credit goes to Naman, Devang and Kartik.
Needless to mention we are completely enrolled about and looking forward to our next hike (most likely Great Kashmir Lakes).
Thanks once again and please share the message with Naman,Devang and Kartik.
Warm regards
Balaji and Shoba"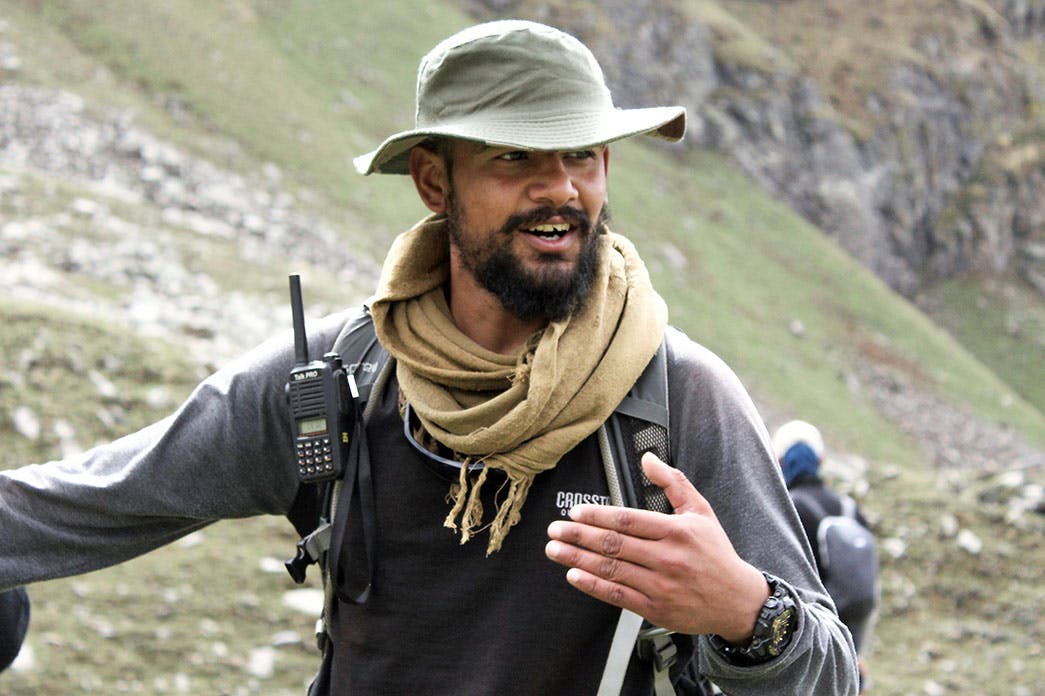 Here's another story from Nepal. Here, we were dealing with international trekkers, trekking along with us on the Everest Base Camp – Gokyo Ri route.
"Hello,
One week ago, i was hiking in the Himalayas when i met one of your group from India Hike. At that point, I wasn't feeling good because of the altitude. Kharthik Maddinenni, the medical guide, came to see me and helped me with good advices and his medical skills.
He was very helpful and it is because of him that I was able to finish my trek. The rest of the India Hike staff was also very kind, professional and supportive not only for their group but in general. We had the chance to chat with them later at a hostel and we had a good time.
So I just wanted to thank you and all the staff for their help and their kindness. If you could pass on the word to them, it would be much appreciated! And, for sure, if one day, I go to India and I plan a hike, I will reach to you.
Thank you again and have a nice day!
Christina Jahshan, Canada"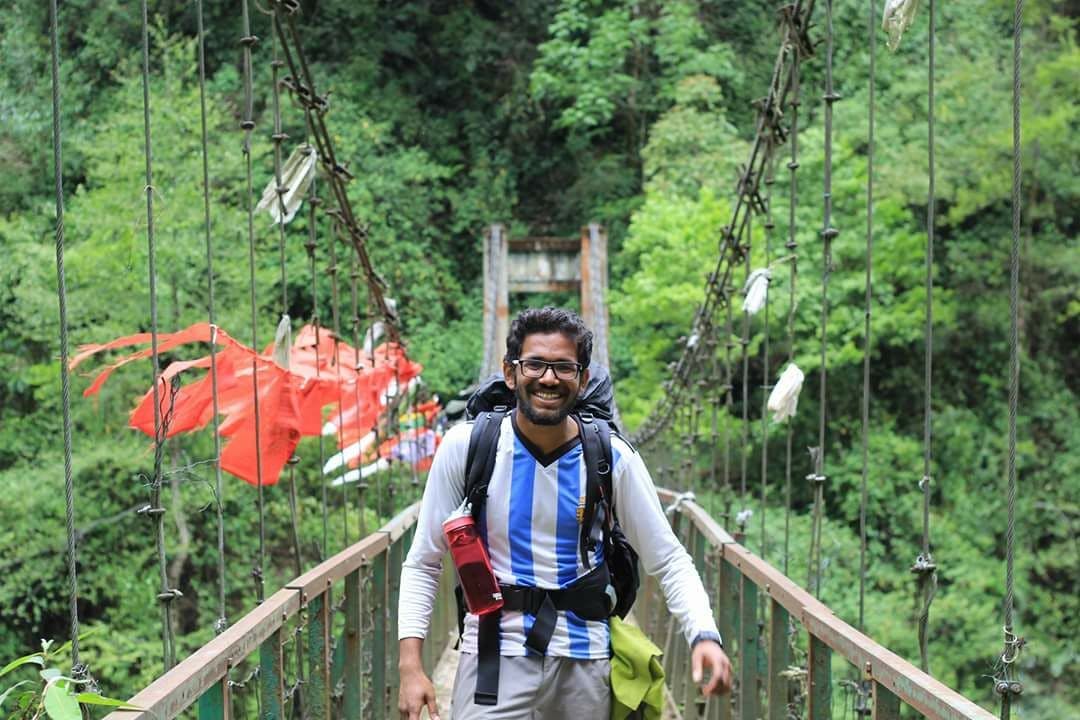 And one final story here.
It was written by one of our trekkers. It's still about a non-Indiahikes trekker:
"I was part of 14 member team, trekking to ABC, 27-Oct-17 to 3-Nov-17 batch! As always, fantastic arrangement & very well organized trek! A BIG THANK YOU!
The reason for this post of mine: Sharing this incident which will remain with us as a permanent pleasant memory! Also a huge accolades to the attitude of humanity expressed by all trek leads with whom I have trekked so far! And I am sure, all trekkers (done with IH) will second my words!
During our trek, one of the days while ascending towards MBC/ABC, a French woman who was a lung cancer survivor (in her age of mid 50s) who was trekking with the another big group was severely ill (I guess it was HAPE)! When our team/trek lead Jude Rayen reached that spot, she was surrounded by an American doctor and 2 nurses (One of them being an ICU nurse) who were from a different group, trying to help the patient, but in vain, as none of them had any kind of medical aids! That was when Jude who was equipped with all medical aids needed including oxygen cylinder, much needed urgently to that woman! Without wasting even a moment, Jude, with assistance of the doctor, treated her and used the oxygen cylinder that he had got for IH trekkers and saved a precious life! He was there with her until she was airlifted by an emergency helicopter. Post which, without showing any panic to all of us, he made us proceed further with our trek!
From begin to end of the trek, he watched each of us for any AMS symptoms and was always there for us when needed!
I thank & congratulate Jude (on behalf of our trek group), for the gesture shown in this incident, which was a live proof for us that, he can take care of us, no matter what & HE DID!"
The Training Our Trek Leaders Go Through
While these stories make for excellent "feel-good" reads, what makes our Trek Leaders stand out is the systematic training they go through at Indiahikes.
This training is not a week long, or even a month long. The training period for any of our Trek Leaders lasts between 6 and 9 months!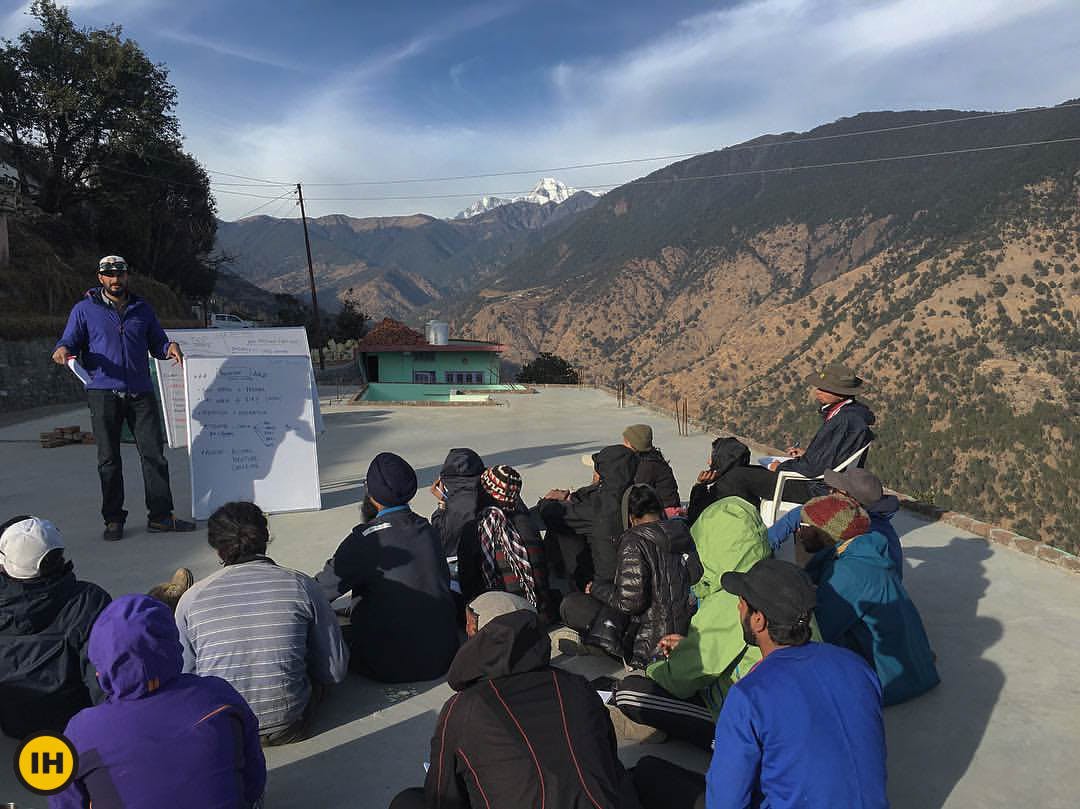 Each of them goes through an intensive training period where they are taught how to tackle medical situations, how to follow safety / evacuation protocols, how to tackle bad weather, and how to assess tough situations.
Outside the training programme, even our selection process is extremely stringent. And we are very picky. Every candidate goes through various knowledge tests and 3 rounds of interviews before they get the job.
Not to mention, most of them are already seasoned trekkers, certified mountaineers and NOLS wilderness first responders with solid work ex before joining us.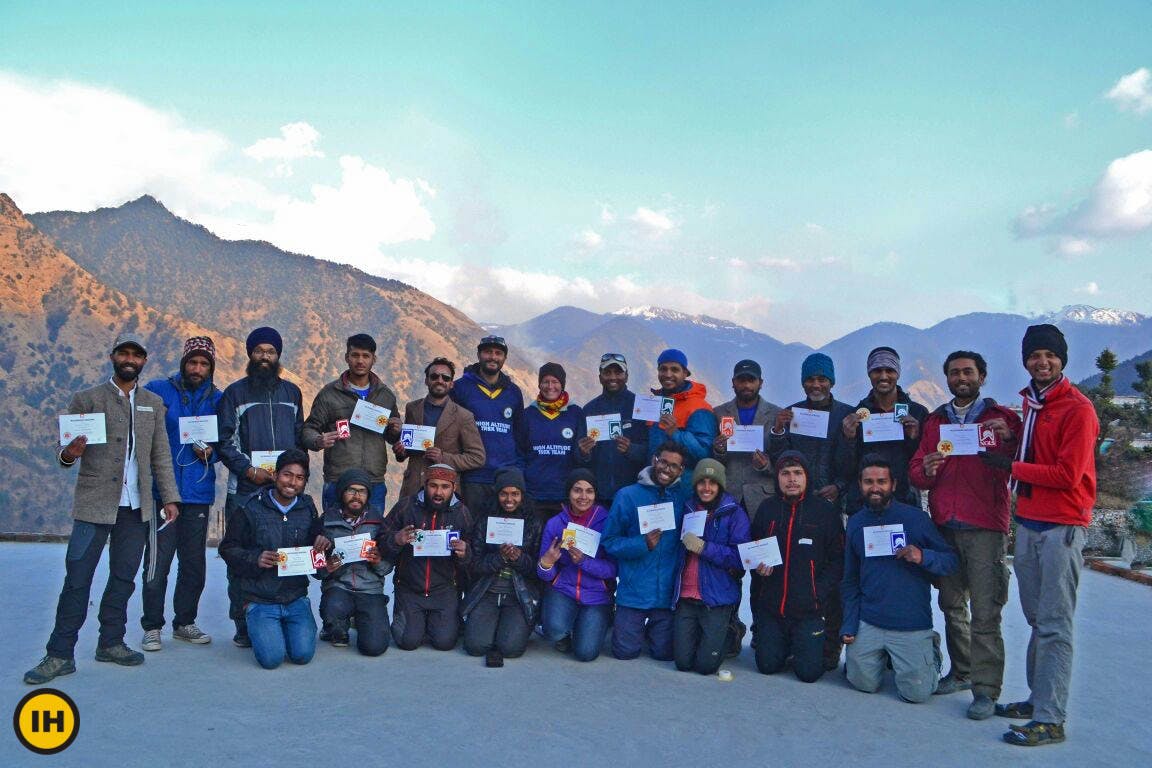 Even after they have joined us, we are constantly evaluating them. If we feel they don't make the cut, we gently ask them to leave (even though our trekkers may love them).
No wonder, most of them who finish working with Indiahikes go on to work in other countries. None of them are interested to work with other Indian trekking organisations. Other organisations just don't match up to Indiahikes standards.
Simply put, one of the biggest reasons to trek with Indiahikes is our Trek Leaders.
They save lives, they make your trek experience come alive, and each of them is a mountain of knowledge about everything to do with trekking.
To read more about our Trek Leaders, see our Instagram campaign about Indiahikes Trek Leaders. Make sure you read the comments too!
PS: If you know anyone who would make a good trek leader, send them this post. They're welcome to apply to us. The requirements and procedure to apply are on this page.
Sign up for our much loved Weekly Mailer
We have terrific trekking tips, trek updates and trek talks to look forward to