All Himalayan Trek Teams Safe from Nanda Devi Glacier Flash Floods in ...
Share this story
All Himalayan Trek Teams Safe from Nanda Devi Glacier Flash Floods in Uttarakhand: Latest Updates
Category News
By Swathi Chatrapathy
2021-02-07
February 7th, 2021 | This morning, a large glacier near Tapovan, in the Joshimath area of Uttarakhand, burst and resulted in a flash flood in the Alakananda River.
This has affected several villages along the banks of the river, down towards Dhauliganga and looks to be continuing further down the course of the river.
This news update is to let you know that all our trekkers are safe and unaffected by the flash flood.
We are in touch with all trekking teams who are on their treks over radio communication. They have seen no effect of this flash flood on the treks. Treks are going on normally.
We are also in touch with the groups that are traveling to the base camp. All of them are safe from danger zones. They are much beyond the flash flood areas and are reaching their base camps shortly.
The Indiahikes headquarters has instructed no team to move away from the safety of the base camps until further instructions.
Latest update from near Rudraprayag by our Senior Trek Leader Dushyant Sharma
If you're unable to contact your family member, it's because there is no network on treks. We are in touch with base camps over walkie talkies and radio communication. So don't worry about your family and friends. They are safe with us.
To give a clear idea of where the flash floods have occurred, and where our trek locations are, we have made this quick infographic, please take a look.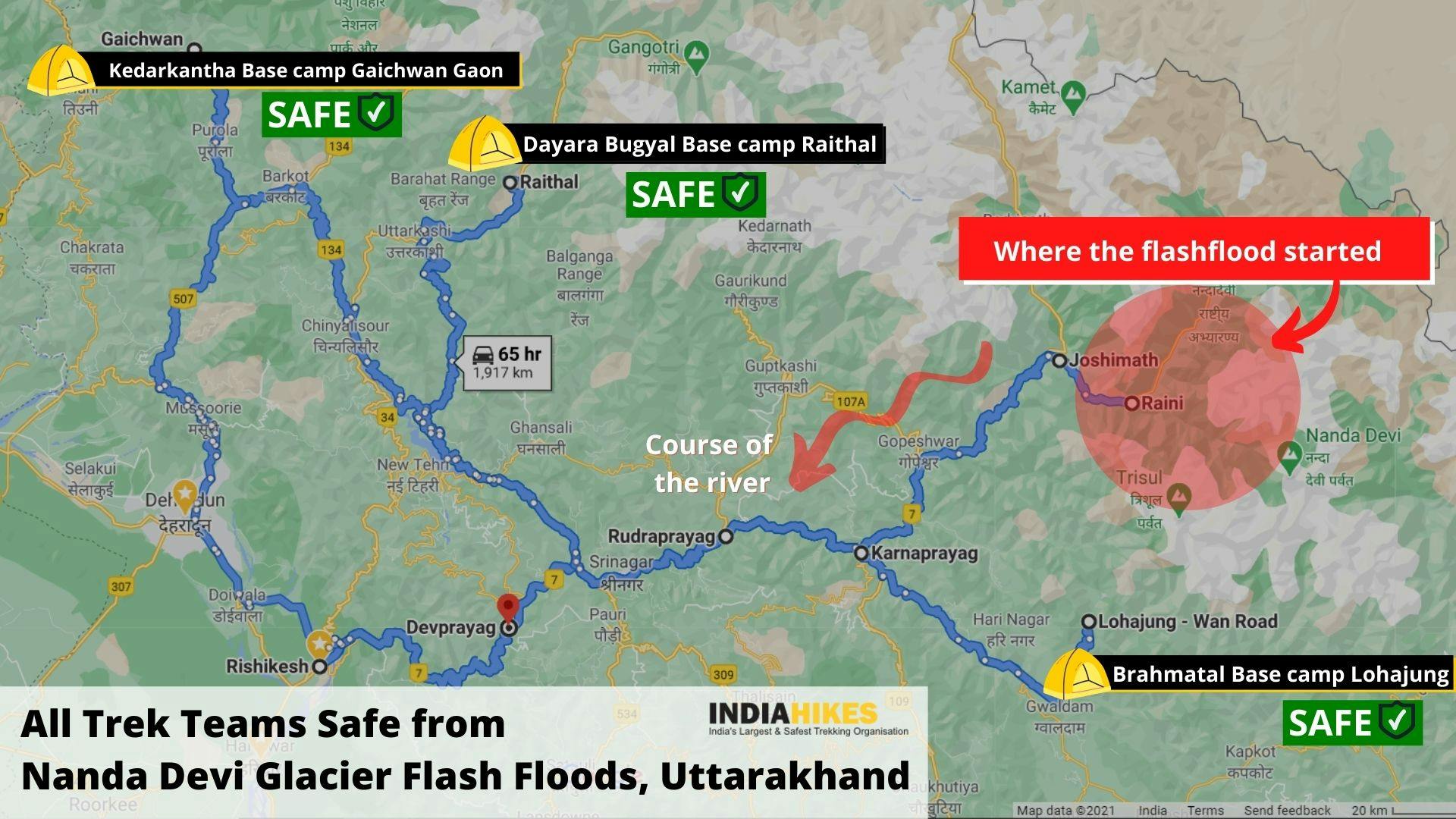 Many videos have been doing the circles since the morning of Feb 7th, when the glacier broke out. The videos show the glacier thunderously lashing out into the river, cutting through valleys and villages.
#WATCH | Water level in Dhauliganga river rises suddenly following avalanche near a power project at Raini village in Tapovan area of Chamoli district. #Uttarakhand pic.twitter.com/syiokujhns
— ANI (@ANI) February 7, 2021
"It looks to be the result of the heavy snowfall over the past week," says Arjun Majumdar, the founder and CEO of Indiahikes, commenting on the snowfall that occurred over Feb 3rd, 4th and 5th across Uttarakhand.
"It is best not to panic in situations like these. We are in touch with all our Trek Leaders and Slope Managers in Uttarakhand and will monitor the situation closely," adds Sandhya UC, the COO and Co-founder of Indiahikes.
Teams that are scheduled to leave from Rishikesh / Dehradun tomorrow, Feb 8th, to their base camps, will most likely continue as planned.
"Our head transport co-ordinator informed us that the impact has not been much at Karanprayag. They have reduced dam water at Rudraprayag. So route looks OK," says Suhas Saya, head of the Experience Coordinators team at Indiahikes.
Your Experience Cordinator will get in touch with you in case there is a change in the schedule.
We will have more updates as and when we hear more. Stay tuned to our website and social media accounts for more.
Sign up for our much loved Weekly Mailer
We have terrific trekking tips, trek updates and trek talks to look forward to