All Treks Running Smooth Despite Heavy Rain
Share this story
All Treks Running Smooth Despite Heavy Rain
Category News
By Karishma Jayapaul
2017-07-21
This week almost all our treks have experienced heavy rain. Some have thrived while a few others have come down before their scheduled dates. Let me get down to updates from our currently running treks.
Hampta Pass trekkers tackling rain and low visibility
Both batches to Hampta Pass that had left last week came back to Manali yesterday.
The weather tried to bust up the trek with continuous rains. In the batch lead by our former GT intern and one time Trek Leader Ori Gutin, the team had the worst weather on pass day. It was raining cats and dogs and was heavily foggy.
Things changed at the Shea Goru campsite where the cliffs of Lahaul Valley revealed themselves. Ori says the weather only got better from there on. "We finally saw the Hampta Pass from where we had just descended from," said Ori
They had a night clear enough for an hour of star gazing at Shea Goru. Trekkers could spot the entire Milky Way that night. The next day, they were pleasantly surprised by the sun. "We hadn't seen the sun for the past four days but on our last day we got some relief. At Chatru we got a beautiful view of the entire Lahaul Valley against clear blue skies," adds Ori.
From the batch that followed, Trek Leader Himanshu says the rain couldn't stop them either.
However, it is safe to say that the Hampta Pass trail will experience immeasurable rainfall in the coming weeks. So if you're trekking in the near future, be prepared!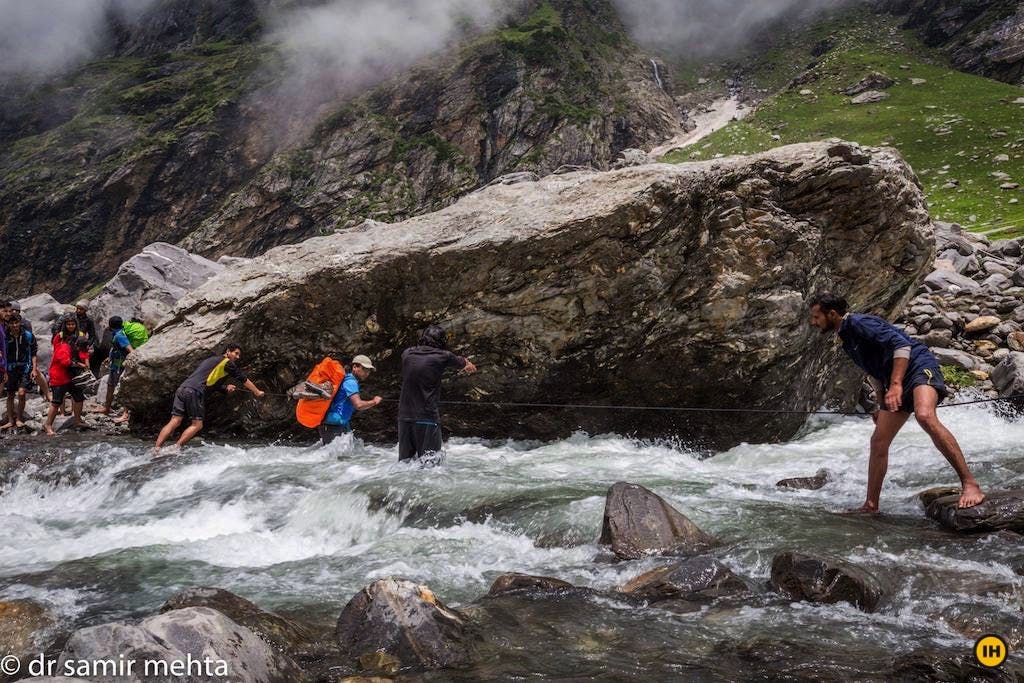 Small roadblock hiccup en route Chandratal
From Shea Goru to Chatru there was landslide, which delayed the drive to Chandratal. But trekkers enjoyed bonding over
chai
and biscuits at a
dhaba
. The friendship did not end after the trek. Ori says the entire team met for lunch and dinner even after reaching Manali. Reminds me of why our founder, Arjun Majumdar always says that trekking is not just about getting from one place to the other. It is also about making mates for life!
The weather at Bhrigu Lake has played up badly this week. Both batches that went last week experienced either a continuous light drizzle or 5-6 hours of non-stop rainfall during the trek. The mist blocked all views. Trek Leader Yash says, "I couldn't see beyond 50 metres. That made the trek quite challenging." The trekkers could barely see the Bhrigu Lake. Due to bad weather, both batches came down earlier than scheduled.
Our staff member Prahlad stresses on the need to be prepared for a monsoon trek. Trekkers must pack appropriately to avoid going back with drenched clothes and shoes. Watch this video by Swathi to know more.
Nag Tibba remains dry but foggy
Apart from a few drizzles here and there, the Nag Tibba trek was dry. The weather was still cloudy. Trek Leader Shravan says they couldn't get a clear view from the summit. But this did not discourage first time trekkers who had chosen Nag Tibba as a weekend trek.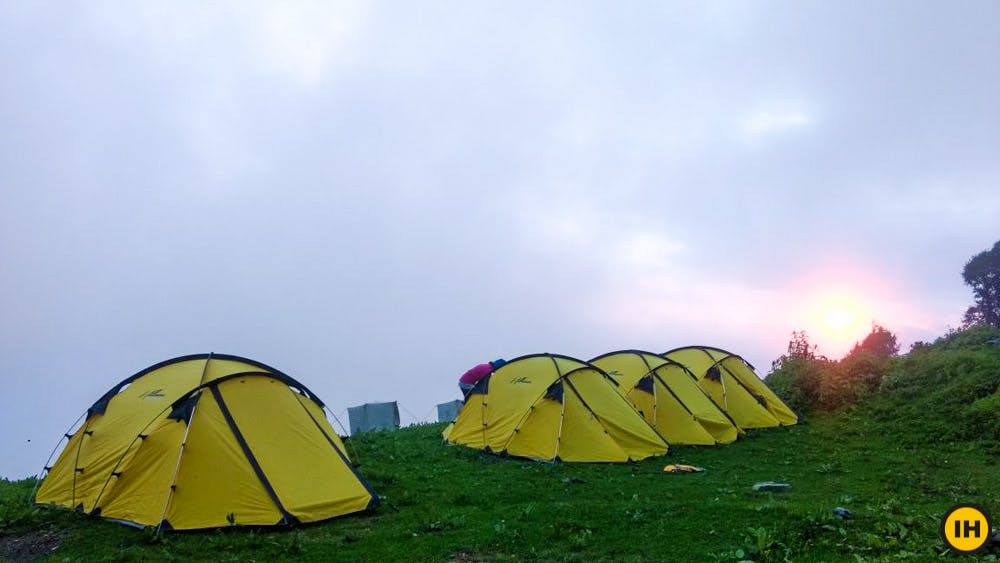 The weather at the Valley of Flowers trek this week was in no way hampered by the rains. Trek Leader Imroz says, "The weather gods were generous. It was clear and pleasant throughout the trek and rained only in the nights."
Hemkund remains hazy and cloudy. While the rest of the valley is lush green. It is expected to be in full bloom in about a week's time. The trekkers could spot about 10 to 11 new varieties of flowers this time.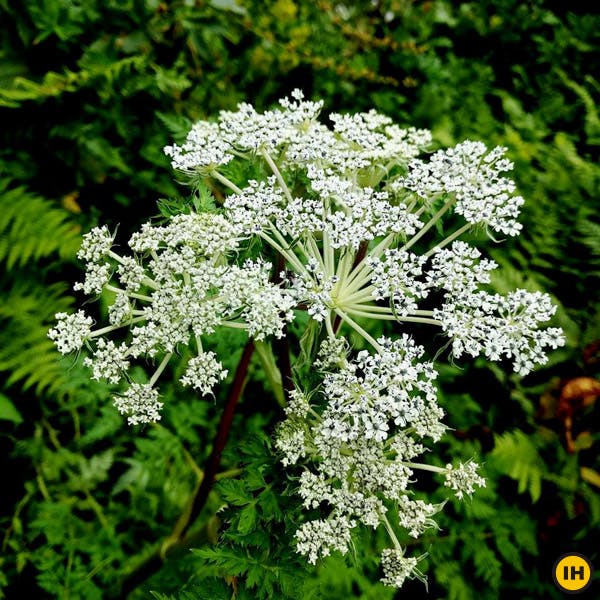 Kashmir Trekkers heading back to Srinagar
Our Kashmir Great Lakes trekkers finished their trek and stayed at Gangbal last night. They reached Srinagar this morning.  
A bandh has been called in Srinagar today.
Our Trek Leader Chaitan who currently managing the Kashmir treks, was on his way to Naranag this morning when I spoke to him. He says he could see quite a bit of vehicular movement on the roads. All postpaid phone networks are accessible. Internet can be accessed too.
The trek itself went well. It rained most afternoons. But it never hindered spotting the spectacular views, which in the words of our co-founder Sandhya is, "…like watching a movie in IMAX 3D. All our other treks are like watching a movie on a small screen. It is in a different scale of grandeur. Such is the expanse of Kashmir."
Our July 9th batch to Kashmir Great Lakes had a great dose of inspiration. They had an 86-year-old mountain guide who trekked along with them. Our trek leader Sushant Ale said he was incredibly fit. "He had just done the Amarnath Yatra. He comes from Israel and is ridiculously fit. He proves that age is no barrier to fitness."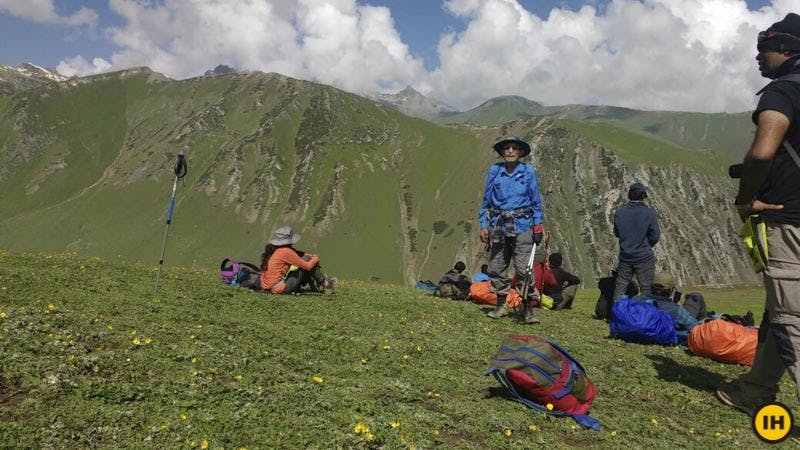 Hiking Club Treks Running In Full Swing
Every day for the past week our team at the Bangalore office has been taking students on day treks to Makalidurga, a hill located 60 km from Bangalore city.
The students from Delhi Public School and Daffodils English School have learnt life lessons trying to be the first to reach the top of the Makalidurga fort. They learn to help each other on the trail. Most importantly, they face their fears. Most students begin the trek thinking it is too hard to finish. But the confidence that comes after reaching the fort at the top is almost tangible when you speak to the children.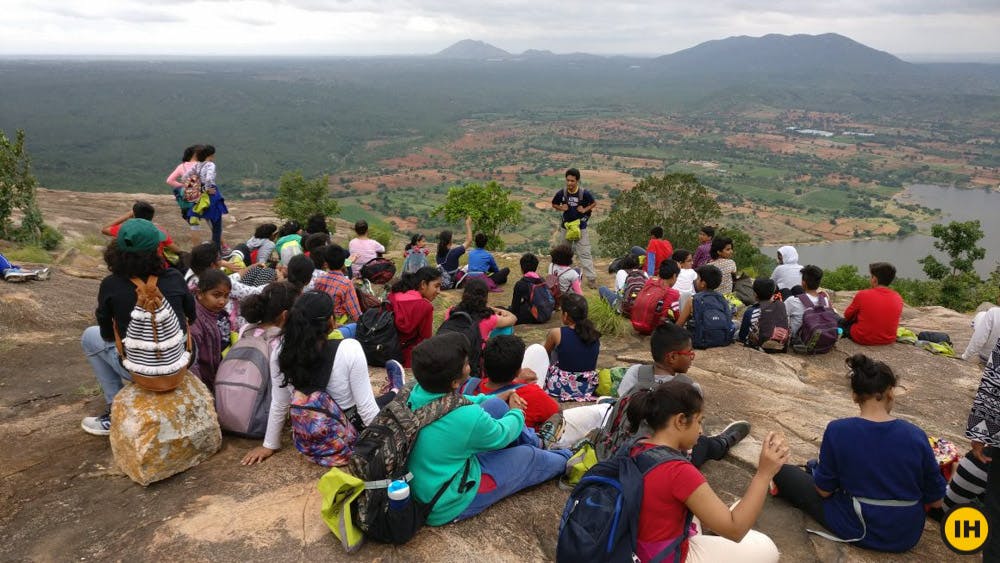 Whats more? They were joined by a local dog whom they named each time they went on the trek. We have settled for the names Juliet and Hikey. 
She has been accompanying us all the way up and back down keeping the spirit of trekking alive in the students. We never say no to great company!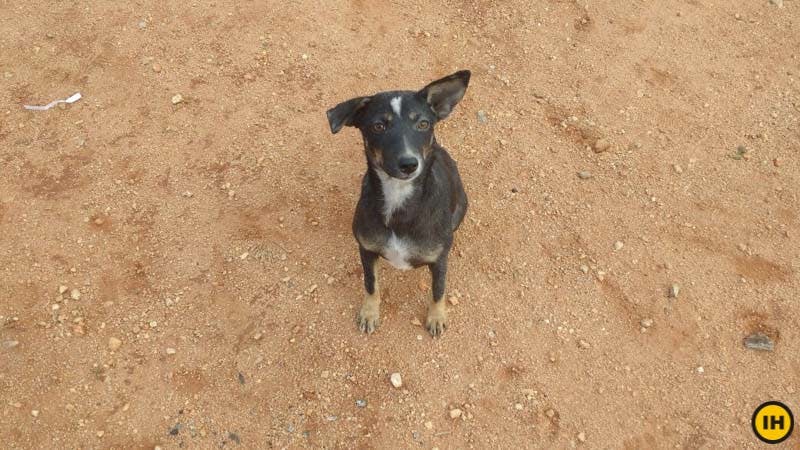 To know more about the Hiking Club, click here.
Local staff visit Bangalore office
Our local staff members, Heera ji and Satbir ji have also been a part of the Hiking Club team this week. This is their first trip down south and they say they've enjoyed every bit of it. Especially the food being served in banana leaves. We try and get some of our team members from the slope to visit our Bangalore office to understand each other's work better. This helps all of us stay on the same page even though detachment is the second name of the mountains.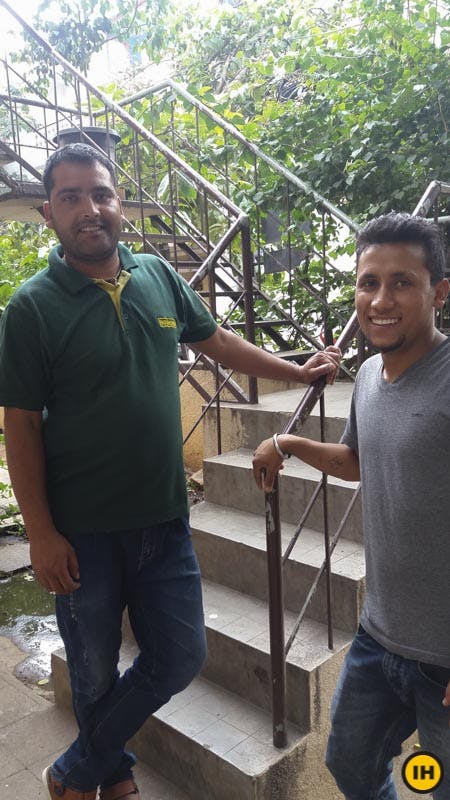 Volunteers Required for IIM Mountain Challenge
In other news, we are looking for volunteers for the 7th edition of the Himalayan Mountain Challenge with IIM Indore. Every year, final year students of IIM Indore gather in the Himalayas to challenge each other in a strategy game. The game involves not only trekking but also planning, endurance and guts.
Take a look at this page to see how to apply for the same.
That is all for this week. Please do write back to us with any comments or suggestions about what more you would like to see in our Friday Updates!
Sign up for our much loved Weekly Mailer
We have terrific trekking tips, trek updates and trek talks to look forward to