6 Tips To Preserve Your Trekking Pole
Share this story
Trekking poles are very important when it comes to trekking. They make your trek experience safe and comfortable. They act as a third leg, keeping you balanced in tricky terrain and descents. Poles also help you maintain a steady rhythm while walking.
I have noticed that many trekkers think you should use trekking poles only when you have an injury. That is a major myth. The truth is you are likely to get injured, especially in the knees, if you don't use a trekking pole.
In fact, I strongly recommend that you always use two trekking poles rather than one.
And just like all other trekking gear, poles have to be maintained well too. Here are a few easy things you can do to make them last you several treks.
1. Use your trekking pole the right way
Your trekking pole has two knobs for adjusting its height. When you open it before the trek, keep each section of the pole in equal height.
I have seen many trekkers open only one portion of their trekking poles, either the middle or bottom. If you do this, the entire load is only on the open section of the pole, making it more susceptible to bending or breaking.
To avoid this, always make sure that the bottom and middle parts of the trekking pole are of equal height.
I'd also suggest you watch this video to know how to use a trekking pole while on your trek.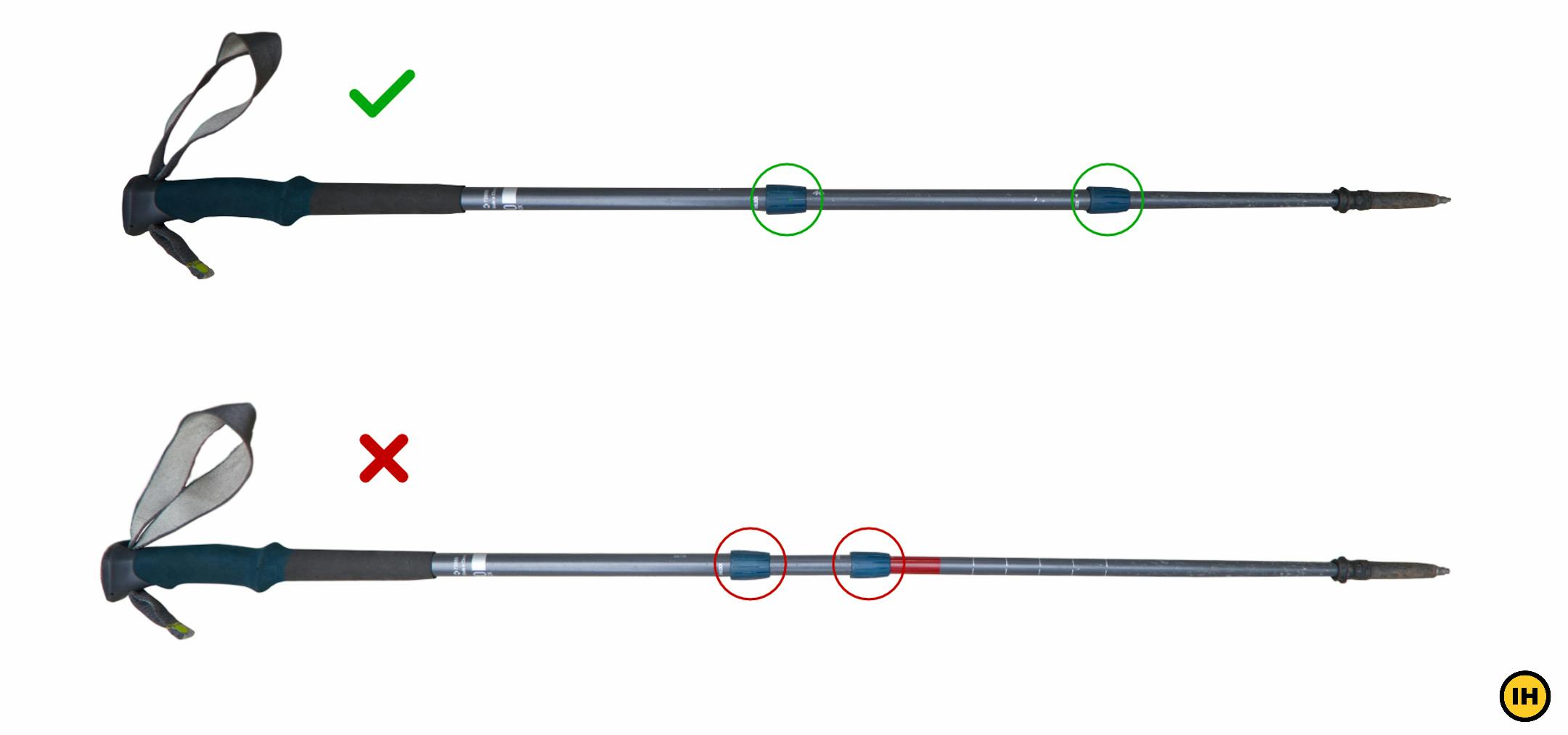 2. Do not misuse your trekking pole
This is the simplest thing you can do to keep your trek pole safe. Use your trekking pole only for what it is made for – trekking.
Don't play around with it. Don't dig holes in the ground, or hit snow. Don't play-fight with it. It is not a lightsaber!
I have seen many trekkers do everything I have mentioned above often. I have also seen how quickly it causes scratches and bends on their trekking poles.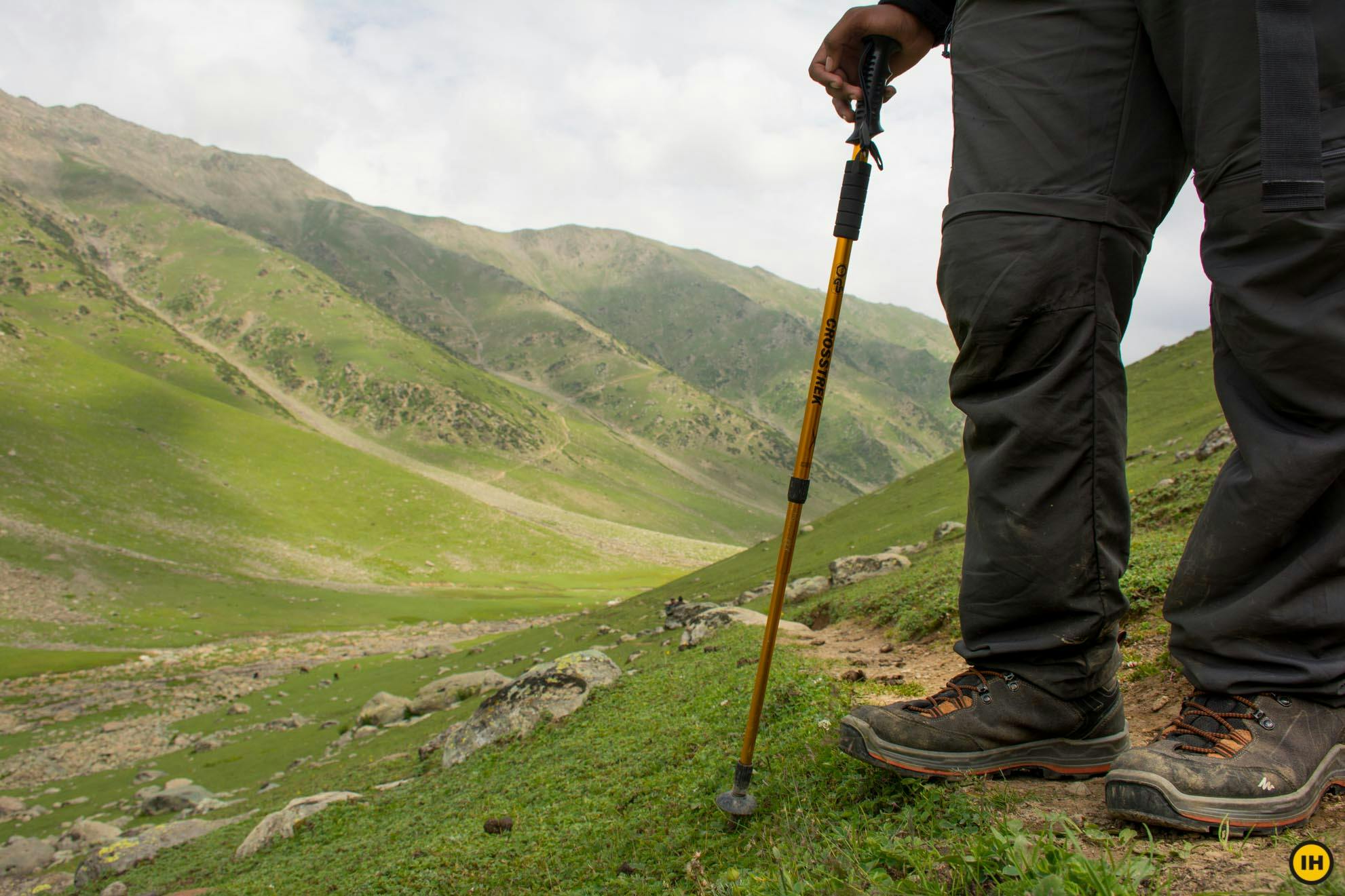 3. Fold your trekking poles every day after the trek
After every day's trek, take the time to fold your trekking poles when you get to your campsite. It hardly takes a minute.
I've seen that trekkers usually leave their poles open outside their tents, exposing them to rain, snow, and cold moist winds at night. This makes trekking poles rust quickly, and also makes them stiff. This reduces the life of the pole immensely.
I suggest you keep them folded (with the rubber cap on) inside your tent. If left outside or on the ground, they may get stepped on by accident and break.
4. Use the trekking pole cap when on a muddy or rocky trail
Your trekking pole has a removable pole cap that covers the tungsten tip. If walking through rocky trails, make sure that the cap is in place. And remove the snow basket and keep it safely.
The tungsten tip is meant for soft surfaces and snow basket is meant only for snowy terrain. If you don't use your pole cap, it will get damaged and not work well in snow and muddy trails.
If you lose your pole caps (they are small), you can always buy new ones before your trek. They don't cost a lot.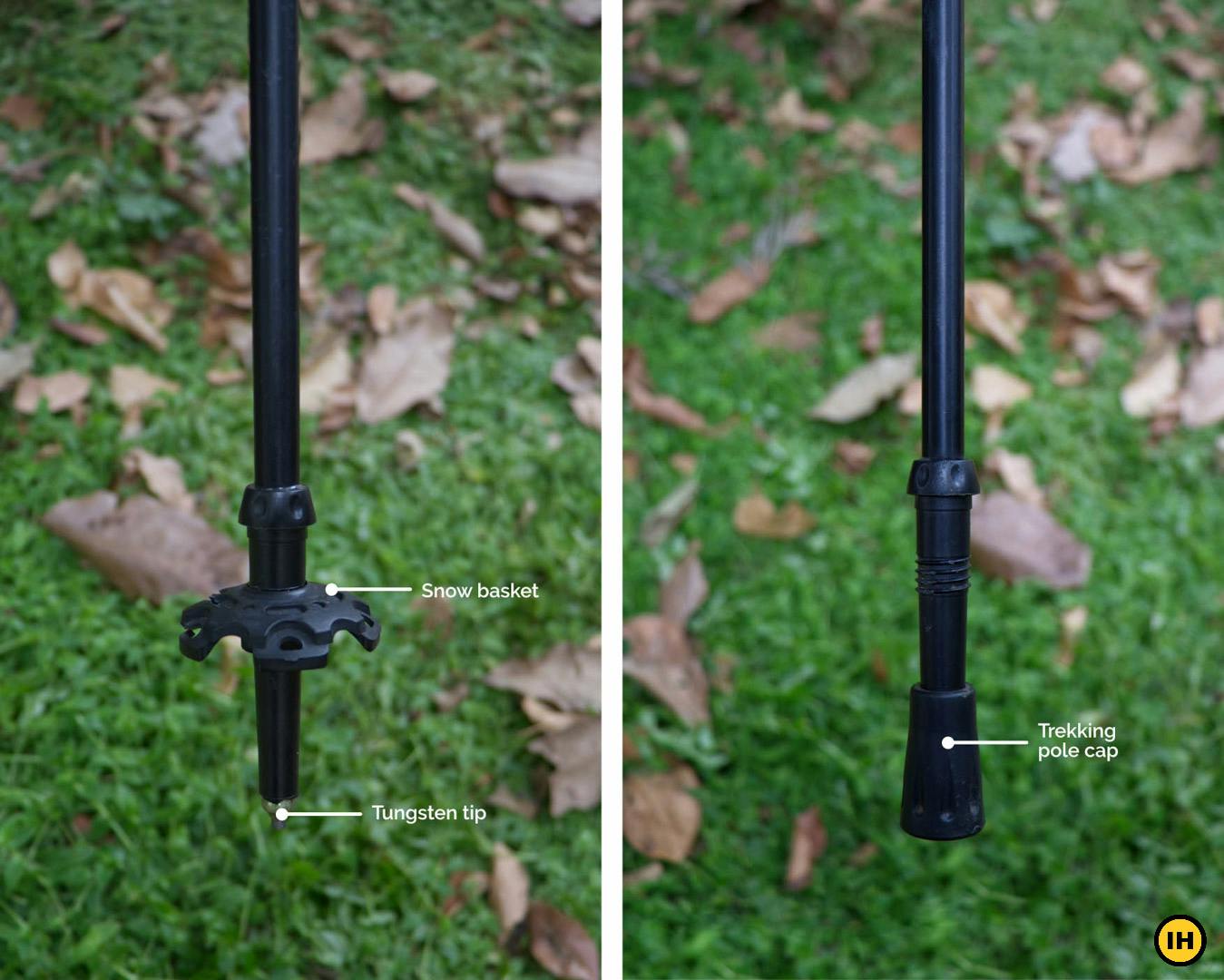 5. Pack your trekking poles properly while traveling
Trekking poles are very easily damageable when travelling. So make sure to pack them well.
Fold your poles properly. Remove the snow basket and keep it separately. Put on the pole caps. I would suggest you wrap your trekking poles with newspaper and/ or bubble wrap.
If you are travelling by plane and checking it in, ensure to inform the airline staff to add a 'Fragile' tag to your trekking pole.
This video will help you understand how to pack your trekking pole:
6. Follow this post-trek care routine
When you get home, take some time to clean your trekking poles before storage. First, open out your trekking pole to full length. Clean out all the dirt and mud with moist towel. Let it dry out.
Once dry, apply any lubricant, like grease or oil, on every screw of the trekking pole. Fold it again and store it in a dry place.
I recommend you apply lubricant on all the screws once a month. This will prevent the formation of rust and keep your poles safe.
Conclusion:
These simple steps will ensure that your trekking poles remain in good condition for a long time.
If you have any other maintenance tips, do share them in the comments below to help other trekkers too!
(This article is part of a series by Trek Leader Tanmay Bain on how to maintain your trekking gear. You can read his previous article on maintaining your backpack here.)
Sign up for our much loved Weekly Mailer
We have terrific trekking tips, trek updates and trek talks to look forward to