Understand These 18 Parts of a Backpack Before Buying One
Share this story
Understanding the anatomy of the backpack is important. It helps you choose one based on your needs. Often, I see trekkers buying without judging them on key parameters. It's only during/after the trek that they realise what could have been better about it.
In this article, I'm putting down the key parts of a backpack that most good trekking backpacks have. I've also indicated what each of their uses is. So look out for these parts if you're buying one.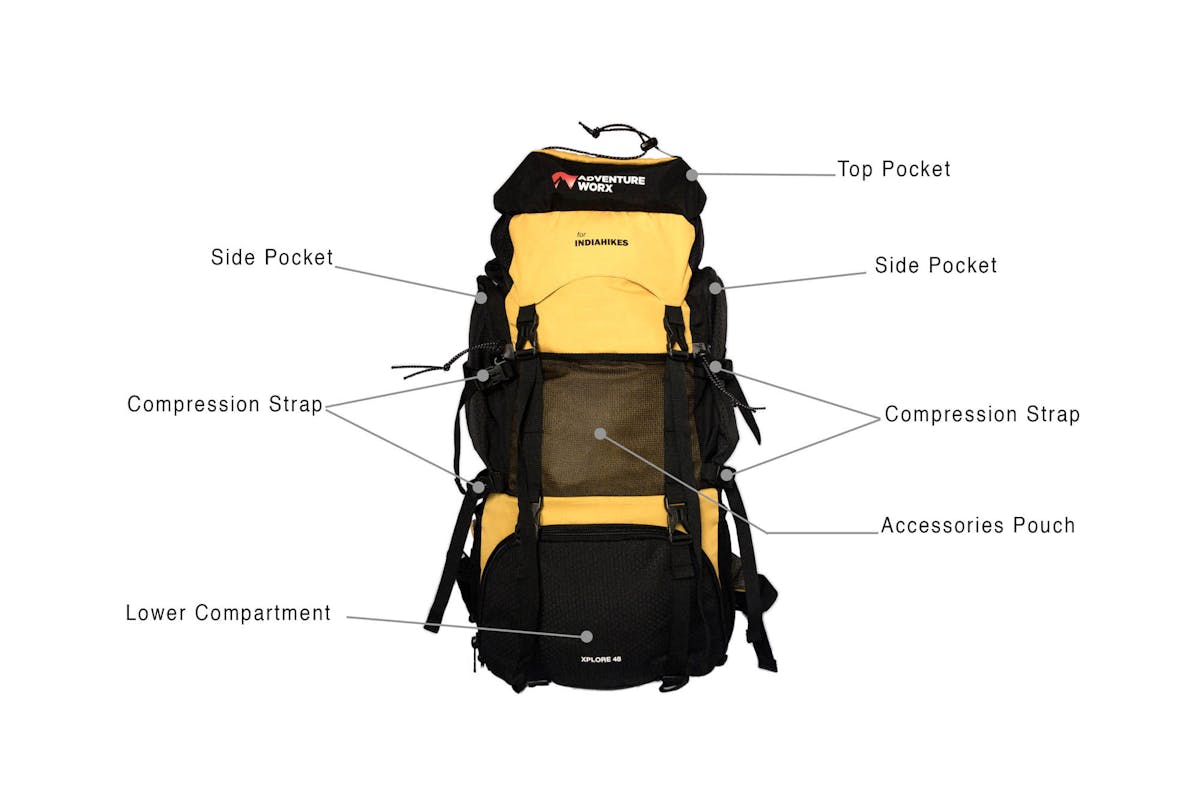 Key parts of a trekking backpack
Upper Compartment
| Top Pocket
This is where you keep things that you need to access quickly. Sunscreens, sunglasses, pocket guides, books, maps. This usually comes with a zip facing the back. Packing the top pocket is crucial. It gives shape to the backpack and helps it to balance.
| Inner Top Pocket 
This is on the inside of the top compartment. Keep your batteries, headlamps, camera parts, power banks, and documents here.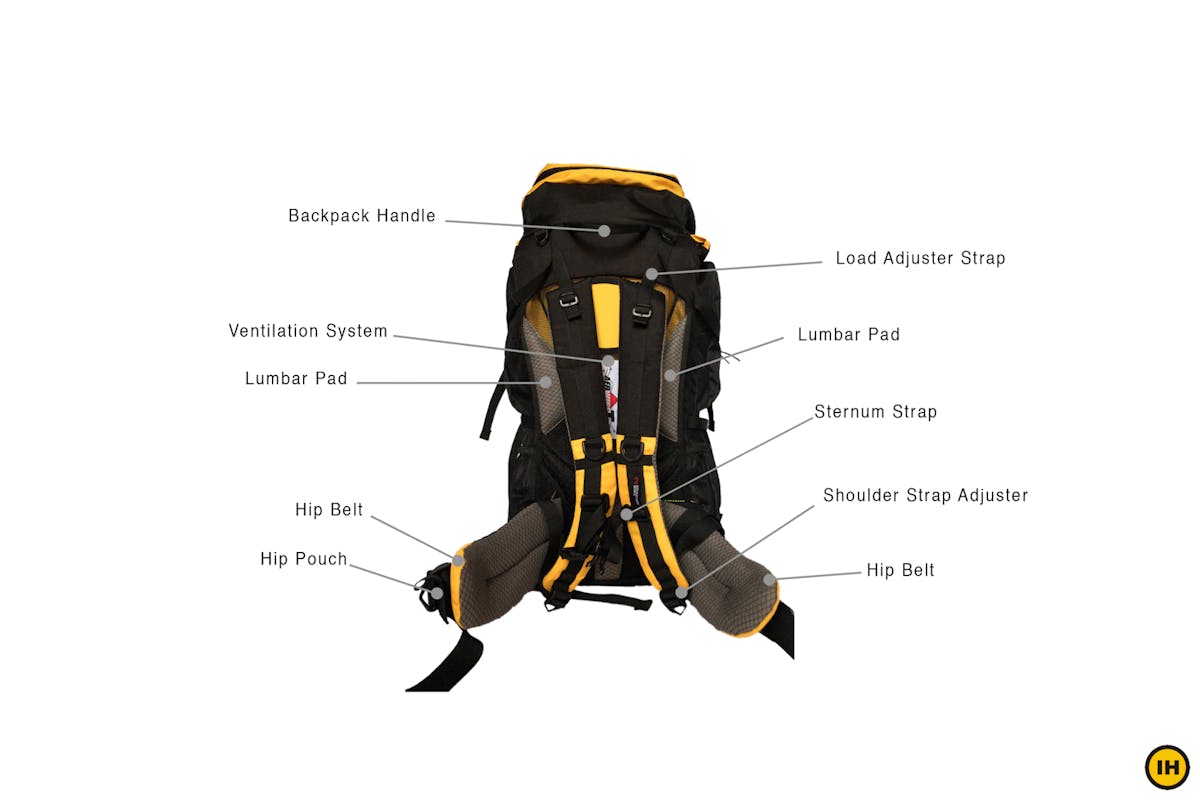 Back parts of a trekking backpack
Middle Compartment
| Backpack Handle
This needs to be sturdy and strong. Most airline handlers grab backpacks by this handle and throw your backpack around. If it does not have this, then they will grab what comes next, which is usually the strings near the upper compartment. Your backpack could do with insurance if that's the case.
| Load Adjuster Straps 
These straps are often ignored at their peril. These little busters help shift the load of the backpack to the right parts of your body. Tighten or loosen them to make the bag sit snugly on your body. Without these, don't buy one. They are that important.
| Contoured Shoulder Straps 
These are contoured in a boomerang shape. They hold firm and have padding. They never bend over your fingers. Pay close attention to this. Without the shape and the padding, don't go near the backpack. These take the entire load of the backpack.
| Shoulder Strap Adjuster
These keep the shoulder straps in place. They decide how the backpack sits. Too loose, it slides towards your bottom. Too tight and the shoulder straps bite through your shoulders.
Tip: always readjust the shoulder strap adjusters after the first day's trek. It takes a day for them to settle to the height and volume of the bag.
| Compression Strap
One of the least used straps by trekkers, yet very useful. They keep things together inside the backpack. These are the straps that keep them in shape, which, when you trek, is very critical. An out of shape backpack is a hazard to trekking. This keeps its balance in place.
| Sternum Strap
Again, a load sharing strap that is rarely used by trekkers. Sternum straps ease the pressure on your shoulders. Without the sternum straps, a backpack can feel like a ton. With one, it magically spreads out. Use them.
| Side Pockets
Terrific utility space to keep quickly needed stuff. Great for gloves, sunglasses, umbrellas, balaclavas, scarfs, medicine kits. Don't overload or bulge the side pockets. It can affect the balance of the backpack.
| Hip Belt
These help in reducing the load from your shoulders by almost 80%. It is the greatest suspension device in your backpack. Hip belts not only transfer the weight of the bag to your hip, the burden of carrying the load moves to your legs as well. Hip belts are strictly not meant to hang down on your legs.
| Hip Pouches
Modern backpacks have now added hip pouches to keep quickly accessible stuff. Useful to keep pen knives, matchboxes, pens, candies, chargers.
| Stabiliser Strap
This connects the hip belts to the main body of the backpack. It helps to adjust the load of the backpack to the hips.  
| Ventilation System
Any backpack worth its salt will need to come with a mesh-like ventilation system. It prevents your back from sweating, with air circulating around.
| Lumbar Pad
This is the greatest asset for your spine. It keeps your spine straight, gives it cushion and prevents injury. The lumbar design makes a big difference. Avoid anything that is too spongy — those tend to push against your spine. Lumbar pads are another vital part of backpack design.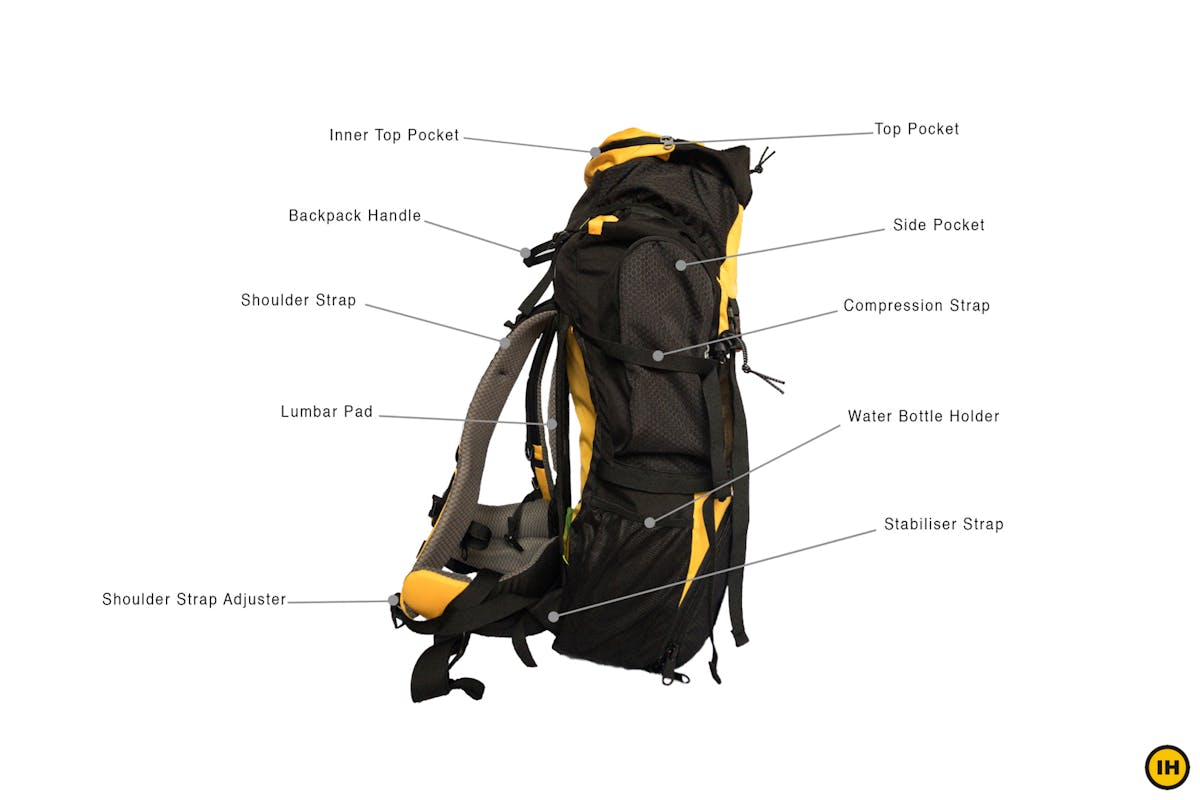 Side pockets and strap details of a trekking backpack
Lower Compartment
Traditionally this is where sleeping bags were kept. With organised trekking, use this space to keep your rain jackets, floaters, soiled clothes, liners.
| Ice Axe Loops
Generally not used much by trekkers. Seasoned trekkers use them to hang ice axes or tools like carabiners. Definitely not meant to hang floaters or water bottles. Nothing must dangle from your bag.
| Accessories Pouch
For keeping water bottles or sundry accessories. Especially useful if you don't like using hydration packs and need to dig into your water bottle. A backpack without an accessories pouch is almost useless. Also useful to keep litter, wrappers.
| Rain Cover
Any decent backpack must come with its own rain cover. They are attached to the inside of the pouch so that they don't get lost and it slides easily over the entire backpack.
| Hydration Pouch
This is usually inside the middle of the backpack at the back. This is where you keep your hydration pack. There is usually a slit on the top for the nozzle to pass through. There's usually also another pouch in front of the hydration pouch to keep maps or any important documents like a passport.
Getting a good bag is important to take off the load from your back and shoulders. An improper backpack can quickly ruin your experience of a trek. Get it right and you will enjoy your trek to the maximum.
Conclusion
These 18 parts constitute any good trekking backpack and you should ensure all these are in place if you are investing in one.
Have you used any backpack after verifying the anatomy of it? Or have you had adventures (or misadventures) and learnings with your current backpack? Do let us know in the comments section below!
Latest Videos
How To Wear A Backpack Correctly
AdventureWorx XPlore 55 Backpack Review
How To Make Carrying Your Backpack Easy
Sign up for our much loved Weekly Mailer
We have terrific trekking tips, trek updates and trek talks to look forward to