8 Things You Should Not Do With Your Down Jacket
Share this story
A down jacket is a worthy investment if you plan to go on a high-altitude winter trek. It can manage to keep you warm even at -30°, with other adequate layering of course.
They are filled with under-feathers, or down, from birds like ducks or geese. Down is known to be a really good insulator. It creates several small air pockets which trap warm air and retain heat, thus keeping you really warm.
Down jackets are very comfortable in extreme cold temperatures. But they are also very expensive. They start at Rs.9,000 for the basic ones, and go until Rs.25,000 for the ones with high fill-power.
Maintaining a down jacket is a little cumbersome and requires thorough care. I have listed down some tips for you to help you keep it for a long time.
1. Don't buy a down jacket with less than 550 fill-power rating
When you're buying a down jacket, there are two things you need to look out for — the fill-power, and the weight of the jacket.
If you're going for a Himalayan trek, you should not buy one that has a fill-power rating less than 550. You also need to check the weight of the product. If the weight is more, it will retain more heat.
Just to give you an example: Let's say there are two down jackets — one weighs 150 gm with 850 fill-power and another one weighs 300 gm with 600 fill-power. In this case, the second one that weighs more, will be warmer.
2.  Don't wear it during a trek
You should not wear your down jacket while walking on a trek. It is very warming and will make you sweat while trekking. This could cause you to dehydrate you quickly. Instead, you can layer up with sweaters and fleece jackets.
Plus, if you wear it while trekking, yow will need to be extremely cautious of sharp objects on the trail, like branches or thorns. These may quickly damage your expensive down jacket's fragile outer layer.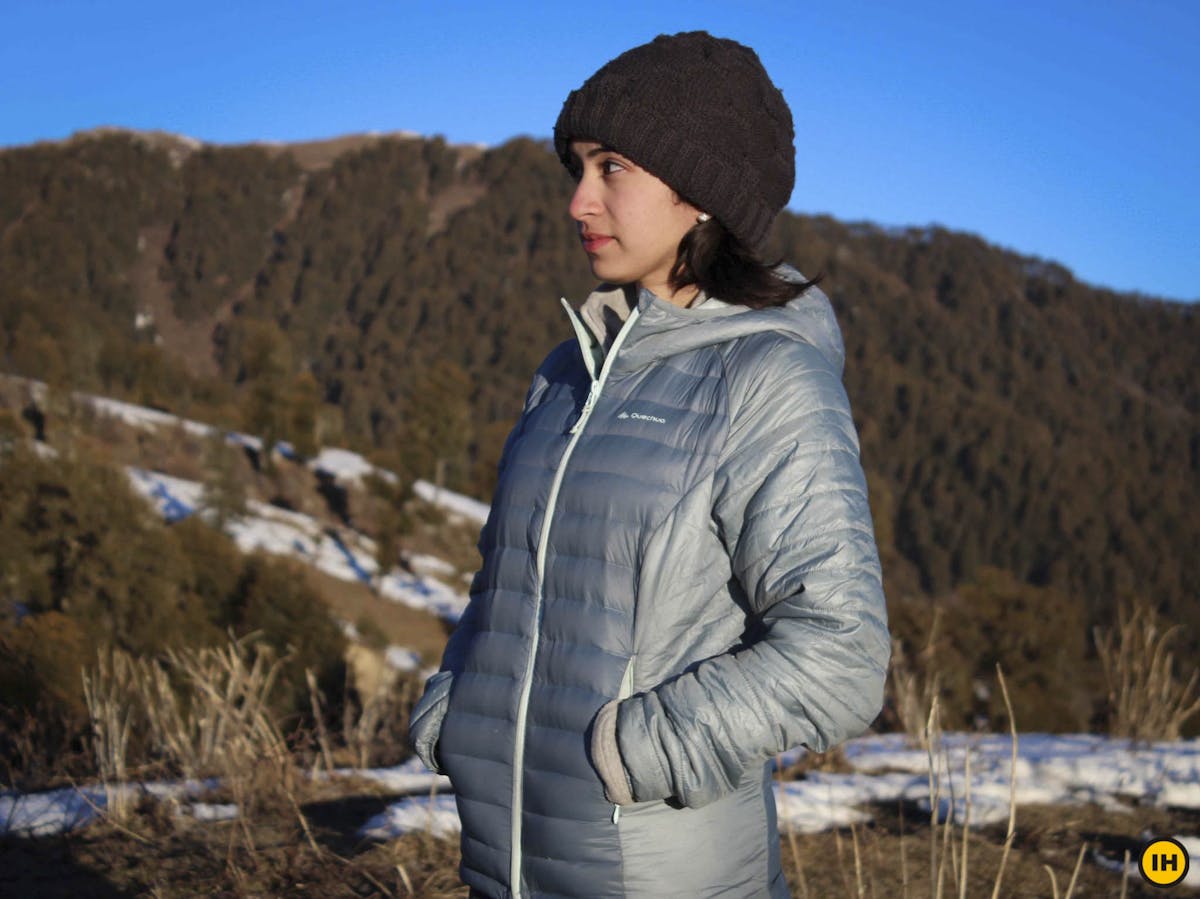 Down jacket. Picture by Team Indiahikes
3. Don't wear a down jacket during rains
Remember, down jackets are not waterproof. They are only splashproof.
If they are exposed to water for a long time, they will lose their fluffiness. They are made of feathers, after all.
If you need to wear your it while it's raining, make sure to wear a raincoat over it.
4.  Don't wash it on a regular basis
You should not wash your down jacket after every trek. They don't get dirty or smelly during the trek. The more often you wash, the faster it will lose its fluffiness and splash proof layer.
I have an 850-fill power down jacket which I bought 3 years ago. I have washed it only once so far, though I trek regularly as a Trek leader.
It is more than sufficient if you wash it once every 10-15 treks.
5. Don't forget to air it out often
It is good practice to take out your down jacket when not in use, and keep it in direct sunlight once or twice a month. This ensures that it does not get moistened. This also makes the feathers drier and more fluffy.
If you do wash your down jacket, always make sure the day is sunny.  Wash your jacket in the first half of the day so that you can keep it in direct sunlight for the whole day. This also ensures that the feathers don't get bunched up in one place.
6. Don't give your down jacket for dry cleaning
Never give your down jacket for dry cleaning. Most dry cleaners don't know how to wash mountaineering gear. I would suggest you don't take the risk, especially when it comes to your expensive down jacket.
| What you should do instead
I advise you to machine wash only if you have a front-loading washing machine. Top-loading washing machines have a central agitator which can damage the down-filling and make it accumulate in small corners of the jacket.
First, close all the zippers and buttons, and turn your jacket inside out. Add in two or three tennis balls in the machine along with the jacket. These balls prevent the filling from bunching up. This will maintain the loft of the filling.
Use a gentle cycle with water set to a temperature not higher than 30 degree Celsius. I recommend you set it for two rinse cycles to remove all detergent residue. Skip the spin cycle.
Drying your down jacket thoroughly is very important to prevent lumps and odours. Wash it in the first half of the day and dry it in direct sunlight for the whole day, sometimes even two. Use a hanger to hang the jacket from the clothes line. Do not use clips.
After drying, pat your jacket well to re-loft the filling.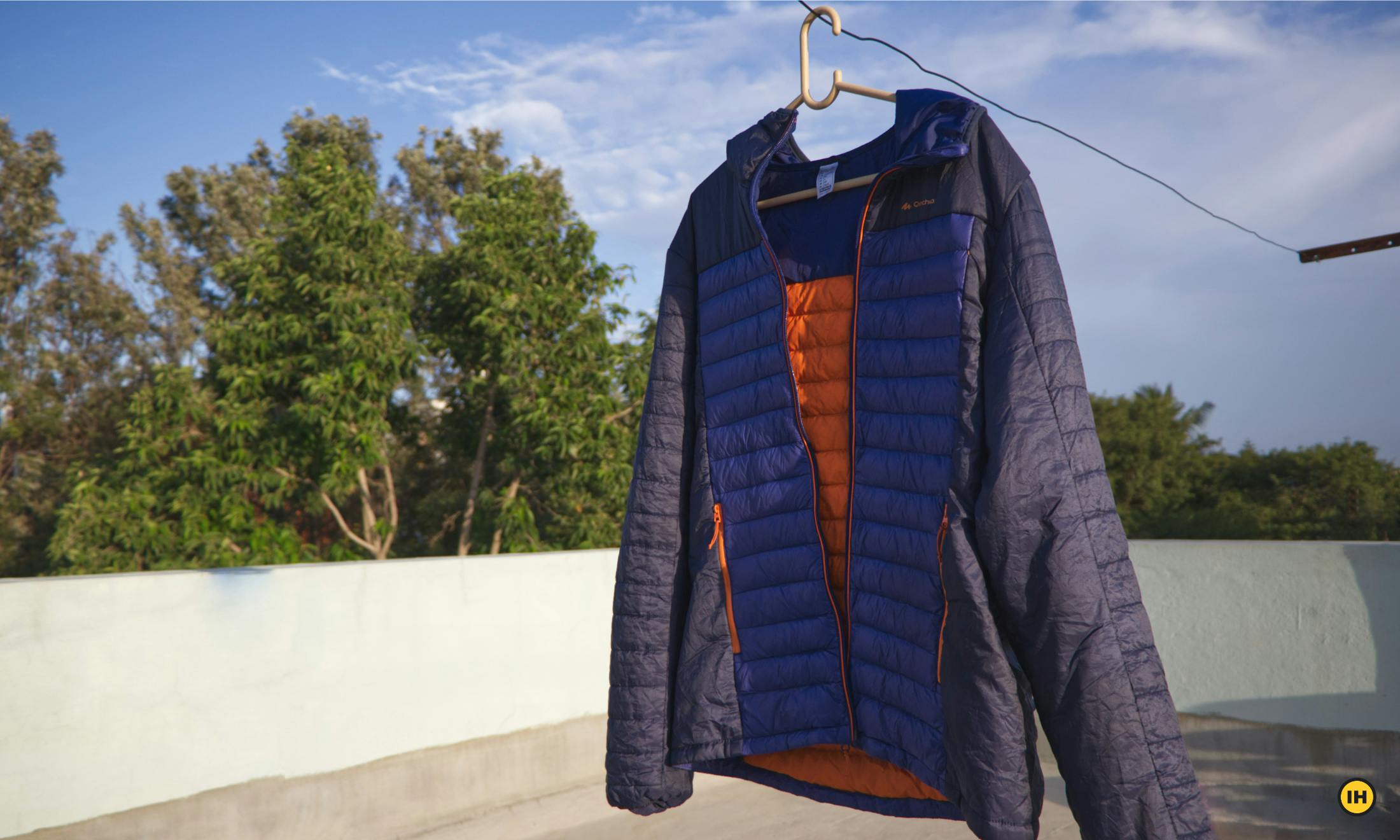 7.  Don't use hard detergent for washing
You should not use regular hard detergent to wash your down jacket. It will damage the jacket's splashproof layer.
I recommend you use 'Nikwax'. It's a detergent specifically designed for cleaning mountaineering gear. You can get it online for Rs.1,800 – Rs.2,500. It's a worthy investment to wash all your mountaineering gear.
8.  Don't fold your down jacket
Don't fold your jacket when you keep it in your wardrobe. Use a good quality hanger with smooth edges. And hang it in the corner where no sharp zippers from other clothes can damage it.
Hanging the jacket also retains its feather distribution and loft quality.

Conclusion
If you follow these easy tips, your down jacket will last you for several treks. If you have any more suggestions or questions, drop in a comment to let me know!
(This article is part of a series by Trek Leader Tanmay Bain on how to maintain your trekking gear. You can read his previous article on maintaining your backpack, , padded jacket and trekking poles.)
Related Videos
How To Make Carrying Your Backpack Easy
5 Surprising Benefits of Using Two Trek Poles Instead of One
7 Mistakes Beginner Trekkers Make
Sign up for our much loved Weekly Mailer
We have terrific trekking tips, trek updates and trek talks to look forward to