Why A Timely Trek Can Bring About A Sense Of Balance
Share this story
The other day, in a casual conversation with a trekker, he showed me his watch. The watch had everything in it — GPS, Altimeter, Temperature and a Chronograph. It cost thirty nine thousand Rupees. The amount stunned me. But I held myself back from commenting.
Being gadgetry is everywhere around us now. People on treks wear Gore Tex jackets, Salomon shoes, carry hydration packs, have multi utility Swiss knives. DSLR cameras always dangle from their necks. It is high time a sense of balance prevailed with trekkers.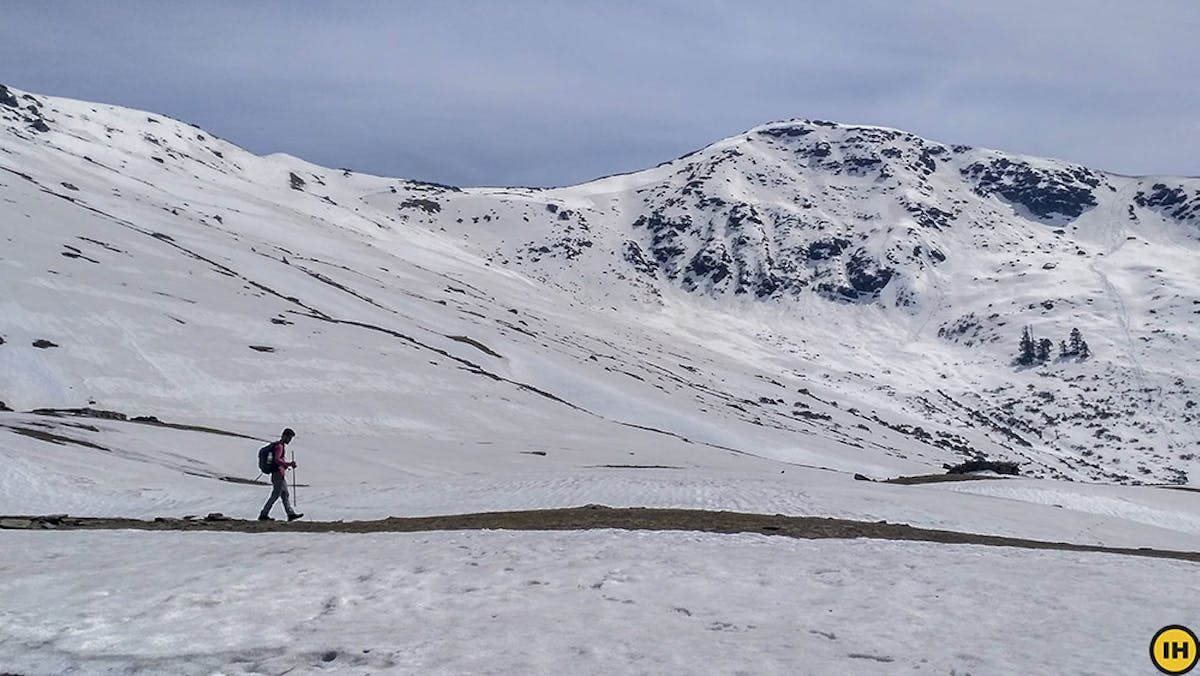 Staying away from your phone even for a few days has a terrific detoxifying effect. Picture by Indrajit Hazra shot on the Kedarkantha winter trek
Being in the mountains without mobile signals can be very disconcerting initially. Yet, a few days away from a phone has a terrific detoxifying effect. Suddenly, the updates are not so important. Friends, relatives and family melt away. The time of day, day of the week is soon forgotten. The calm mind starts healing itself. A sense of positivity envelops the trekker. If the trek reaches a high point then the euphoria of the climb is a superb bonus. The trekker returns with a feeling of accomplishment. There is a spring in his step.
I have often found myself in this situation. A timely trek has helped me overcome the most difficult crises in my life. It has helped me see things in a perspective that I had never considered before.
In 2010 when untimely rains wiped out an entire trekking season, Indiahikes was faced with the prospect of bankruptcy. We had to refund all trekkers and had nothing left in the coffers to pay salaries. People had to be laid off. A day came when there was no one but my partner and I left. We didn't know which way to look and how to earn our next money. Registrations for treks had dried up overnight.
In those anxious days we announced a trek in winter, a first for India.
On the trek, with no other thoughts to disturb us, my partner and I discussed our future. We went back to our basic philosophies and ideologies. We focused on bringing out more trek information and documenting new trails. Returning from the trek we implemented our thoughts. Slowly visitors increased to our website and by next June we were back on our feet.
Looking back I distinctly remember the winter trek. I remember how the trek helped soothe our frayed nerves, how it helped us find a sense of balance.
There's something else that the mountains do. Days spent in the mountains help us understand how precious a warm shower is, how wonderful it feels to eat regular home food, how valuable it is to find a comfortable seat in a bus. A trek helps us understand that we can live with very little. We don't need much to meet our basic needs. In fact, stripped down to the bare minimum, we can spend days with just two sets of clothes. That's very sobering. In this age of gadgets – it helps restore moderation and a sense of contentment.
Often, youngsters tell me that gadgets really don't come in the way of trekking or in finding deeper meaning of a trek. Yet, I can't help but agonise when I see trekkers glued to their gadgets rather than the scenery in front. That's why when I see youngsters with fancy gadgets and loud excessive ways, I am concerned. I would like them to see treks as a way to change their lives — to restore the sense of balance that is very much needed.
*This article was published earlier this year by Discover India magazine
Sign up for our much loved Weekly Mailer
We have terrific trekking tips, trek updates and trek talks to look forward to