Why Running Is A Good Pre-Trek Workout: A High Altitude Marathon Runne...
Share this story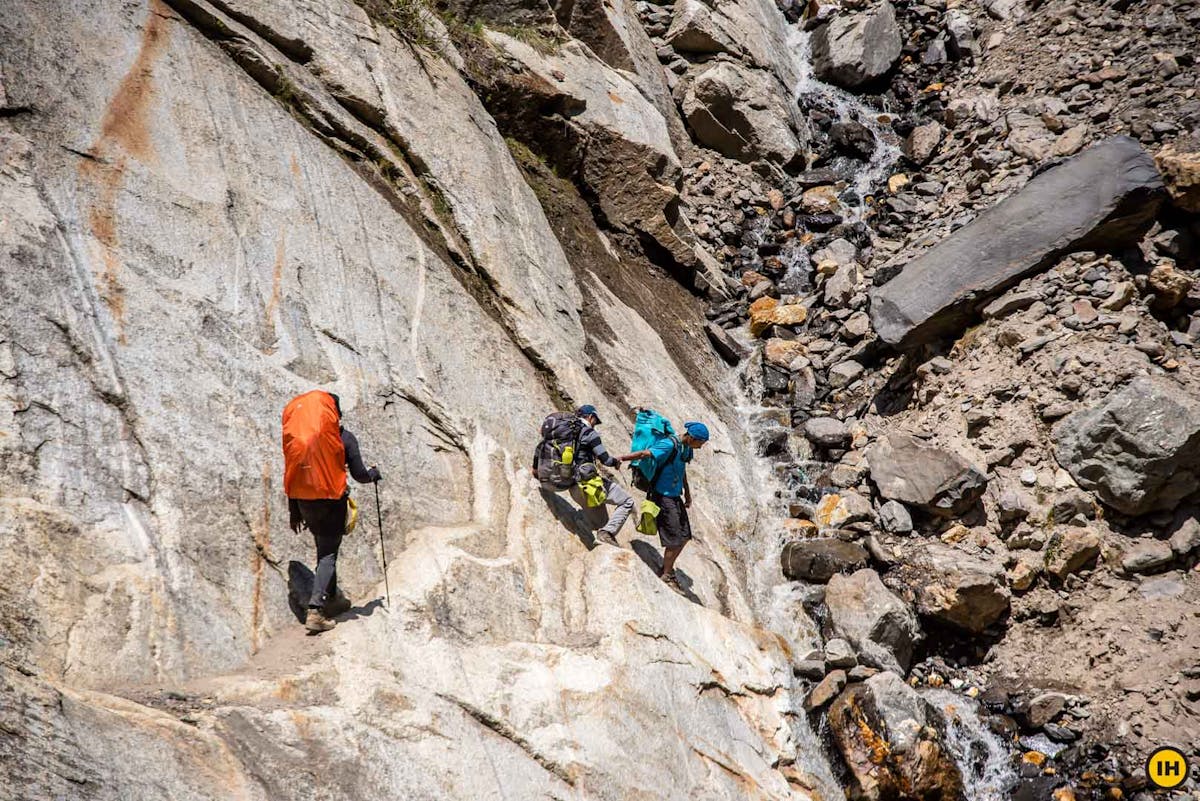 Treks like Kedartal, Everest and Annapurna Basecamp test a trekker's fitness to extreme levels. Picture By: Sudheer Hegde
Why train for a trek
Running definitely makes your trek much easier. But first we need to understand how training for any form of sport, especially trekking, is crucial.
It will be crazy to attempt something at 15,000 ft. when you can't do it at sea level. Imagine walking for 5 kms straight besides the snow covered Mount Shivling at the Tapovan Campsite. But struggling to do so. If completing 5 km in half an hour is not a comfortable run for you then this surely won't be any better. The oxygen in the air becomes less dense at 14,000 ft.
Think about struggling to walk past beautiful meadows and lush green forests just because your body is not used to it. If you are going up to a high altitude you need to be fit at sea level.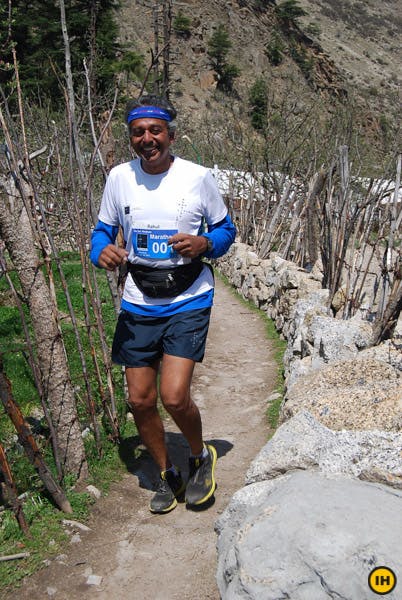 Rahul Verghese is a high altitude marathon runner and started running when he was 40-years-old. He has never stopped since. He gives us an insight into why running is a great way to train for a trek. Especially those at high altitudes.  
Rahul believes from a medical standpoint it is extremely important to be fit for whatever challenge you are going to undertake. I'm sure you aren't planning to throw the towel in when you've invested much of your time, money and effort in it. Let us not forget the flight tickets!
He says, "If you are going on a high altitude trek which is rocky then you have to be a little more nimble footed. Your micro muscles and your ankles must be strengthened. Apart from this your eye and body coordination must be sharper and better if you are going on a trek across moraines and boulders where it is likely to be slippery."
If you are trekking in sand dunes you will be working more of your hamstrings. "Or you may be at a river or stream crossing where you might have to be a little more agile while jumping pretty sure footedly," adds Rahul.
Running helps build stability in your leg muscles. The high impact of your feet against the ground strengthens them. Your heart and lungs are also getting significantly stronger and pumping both blood and oxygen better.
Why is running better than other cardio exercises
If you've ever driven a car in India you will know how hard cyclists have it in our country. Cycling is a great sport because it works your leg muscles. But road safety becomes a concern. Cycling trails are the toughest to come by. You will also have to invest in a good cycle. So that gives you plenty of excuses to not go out there and cycle your way through traffic.
Swimming is a great full body workout. And you don't even break a sweat. But again, getting a clean pool and additional costs of memberships can wear you down. This is also a seasonal sport.
Running on the other hand requires the least amount of prerequisites. You just have to get out of your door and start running. You can either do it in the gym or on the streets.  
It may be hot, cold, windy or raining outside.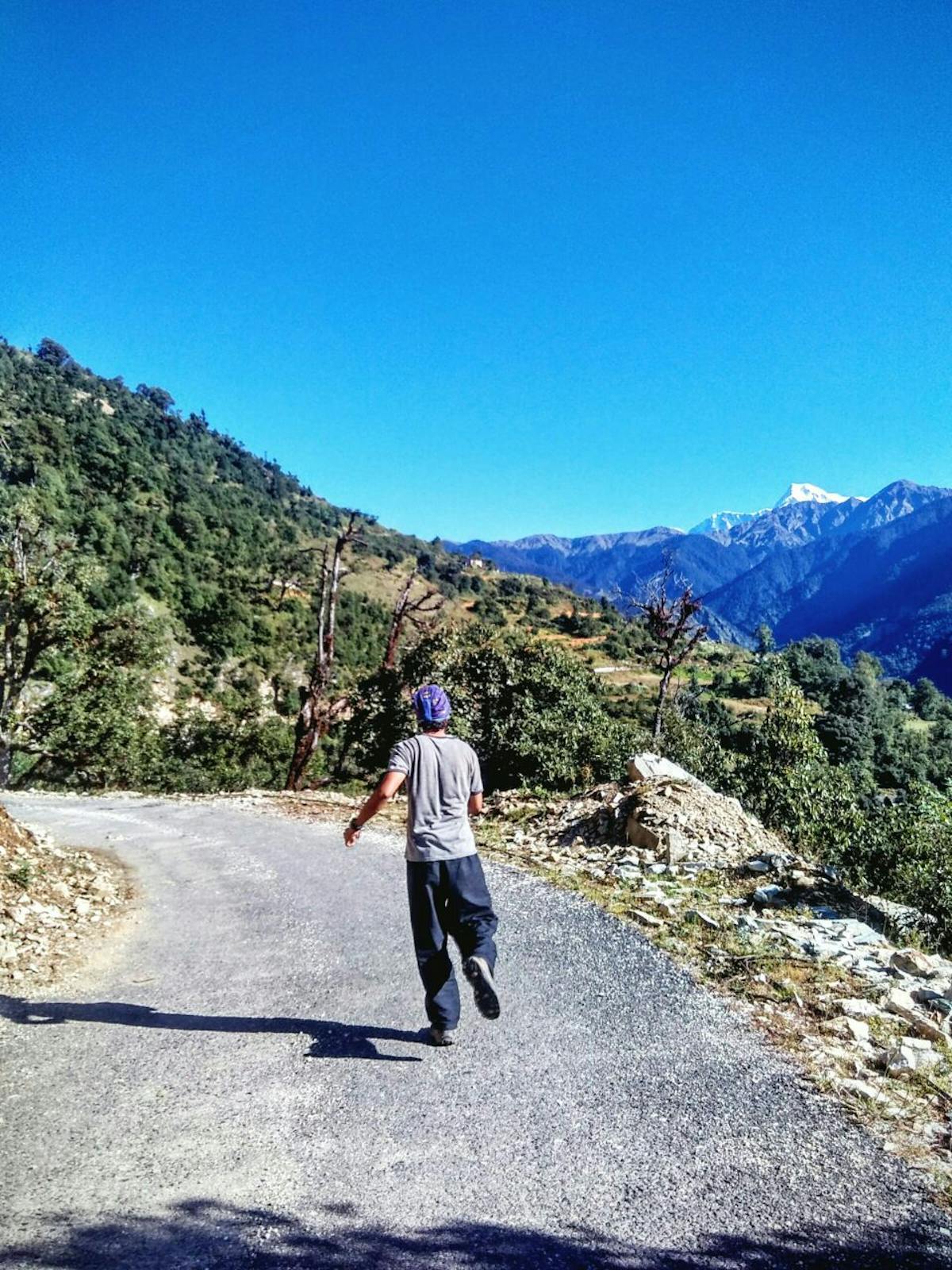 Our trek leaders usually run at high-altitude basecamps to maintain their fitness.
Rahul says, "You can go out and run regardless of the elements. You just have to gear up appropriately." This also helps you to better equip yourself mentally. It will prepare you for the different weather conditions you might experience on your trek. On a high altitude trek it can be sunny, windy, snowing and raining all in the same day.
Running is a good pre trek workout especially for a high altitude trek when the weather is so much more variable. So let neither the rain nor the sun stop you from your morning run.
Running is a high impact workout
You need an all body workout to prepare for your trek. Running, swimming and cycling are the most popular forms of cardiovascular exercises. But running is the only impact sport of the lot. A high impact form of exercise strengthens bones.
Rahul says, "It puts impact on your bones and joints which is good for your skeletal system." This is crucial to build a strong muscular skeletal system when you are trekking at any altitude. Those of you who have never been into any form of fitness must begin with a low impact exercise like walking. You can gradually transition into running later. It's medically proven that people who regularly run even in their old age are healthier and happier.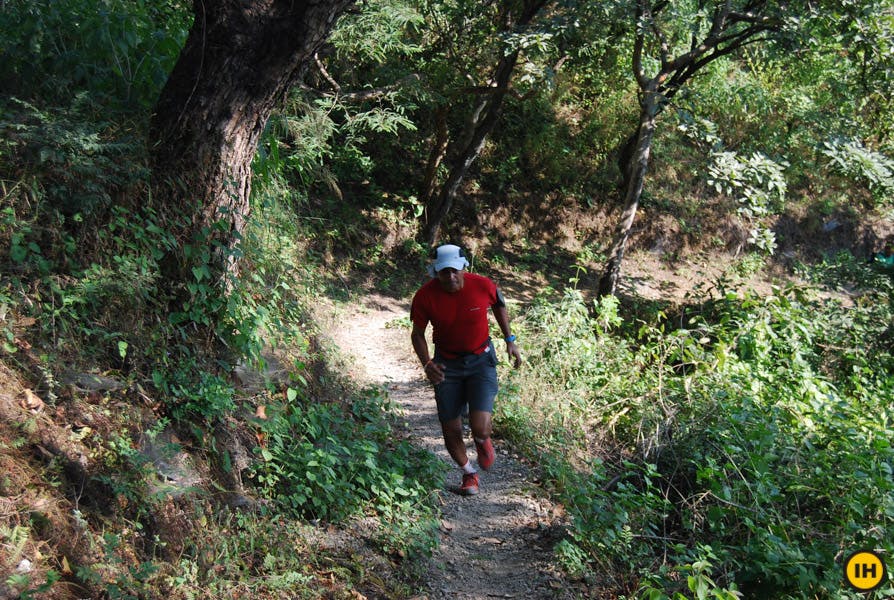 How to get started
The only thing you need to keep in mind is to enjoy your run. You wouldn't keep at it for long if you're doing it only because someone else has asked you to do it. Think about the different routes you can take. Enjoy the experience of being with yourself.
Running is the most fuss free exercise. There is nothing more or less to it than just running. Rahul says people shouldn't bother too much about getting everything right. So don't worry too much about getting the right shoes. Just start with any comfortable pair of sport shoes. "Don't get into the technicality of what is the best running style. Just get out there and start running."
Our office team on a 10k run.
Most of us lead a busy lifestyle. As we grow older our 24 hours only seem to be shrinking. We don't disagree on that. I myself have to leave my house at least a half hour early to squeeze in a brisk 2.5 km walk down to work.
It is never easy. This obviously means I decide what to cook for lunch the night before. I make sure I get everything straightened for the next day well in time. But what good has ever come easy? You've got to make time for your run.
Why you can't stop running
Rahul wasn't much of a runner himself. But once he started he found it hard to stop.
"The reason behind why I started running is the most boring and unimpressive one". The 2000 Chicago winter was bitter cold. The sun went down much earlier. Most people were home by 7 in the evening. So I decided to buy a treadmill just to kill time. I started walking for about half an hour while watching TV and listening to the radio. The walking turned into running. Soon I realized I was running about 4 miles in half an hour," he says. It made him feel really good about himself.
Why is it addictive? I would say don't believe it unless you try it.
Rahul says, "Participating in an event and earning a medal or certificate gets you charged up. You begin wanting to run a little faster and more regularly." He himself went on to run the Chicago marathon in the year 2000. Since then has run 49 marathons across several cities and six Continents. Running is bound to grow on you.
Komal, the Finance Manager at Indiahikes started running about 2 years ago. She wasn't very keen on running at first. She had to start running to prepare for her trek. But soon she started participating in marathons. She recently finished a 14 km run and was left absolutely elated. And then there was no stopping her.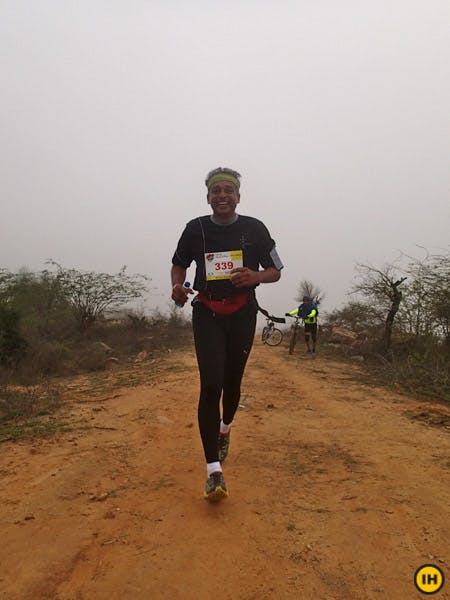 How fit are you really?
You might have gone on a trek to Kedarkantha last year and feel that you are fit to do the Buran Ghati next month. But who are we kidding? We are only as fit as we were last month or last fortnight.
Rahul has been on several high altitude marathons including the Antarctic. His organization, Running and Living conducts a yearly marathon at Kinnaur in Sangla district of Himachal Pradesh. "I wouldn't go out on a high altitude run without preparing myself for it. I would say it is stupid to do something a little more extreme without forthright preparation."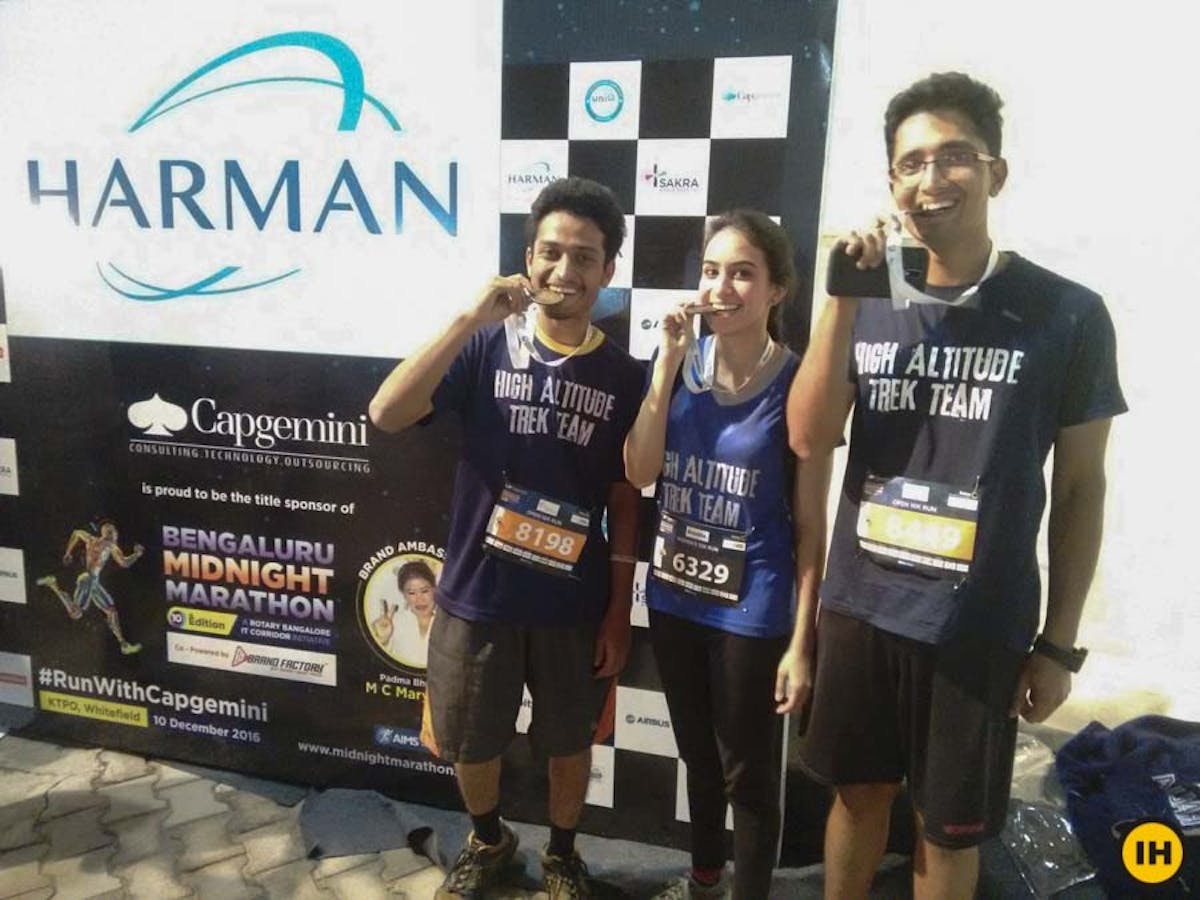 "Running 10k at the Bangalore Midnight Marathon sealed my relationship with running for good" says Komal, our finance head.
So what you did last year is a good memory to have. But in order to enjoy your trek next month you should be training right now.
We at Indiahikes are constantly making sure that you enjoy your trek. The good food, the incessant focus on acute mountain sickness awareness and the frequent oximeter readings are all part of it. We would hate for you to descend without reaching the summit.
Running is a good all body workout. It ensures that you are mimicking the conditions of what you are going to be experiencing to the best extent possible. It prepares you for the trek both physically and mentally.
Still need a reason to run?
What you should do now
1. If you want to read more such articles: Head over to this page with all our Expert opinion articles. We have many useful tips that can make your trek experience better.
2. If you want to work with us: Head over to our careers page. We have lots of positions open. We also have lots of applications coming in. The sooner you apply, the better.
3. If you ended up here by chance and were actually looking for treks to do: Then head over to our upcoming treks page. You'll find all our Himalayan treks there.
4. If you want to see the 13 best treks of India: Then get our free guide here.
Sign up for our much loved Weekly Mailer
We have terrific trekking tips, trek updates and trek talks to look forward to