Why Stok Kangri in Ladakh is Meant for the Experienced Trekker
Share this story
The number of new trekkers who want to do the Stok Kangri trek surprises me. Some of them have not done any high altitude trek, not even a relatively simpler one like the Roopkund. They want to have a go at the Stok Kangri summit — no doubt attracted by the glamour of scaling a known summit in the Indian Himalayas. At 20,500 feet Stok Kangri is the highest trekkable summit in India (6,153 m).
I want to throw in some words of caution for trekkers.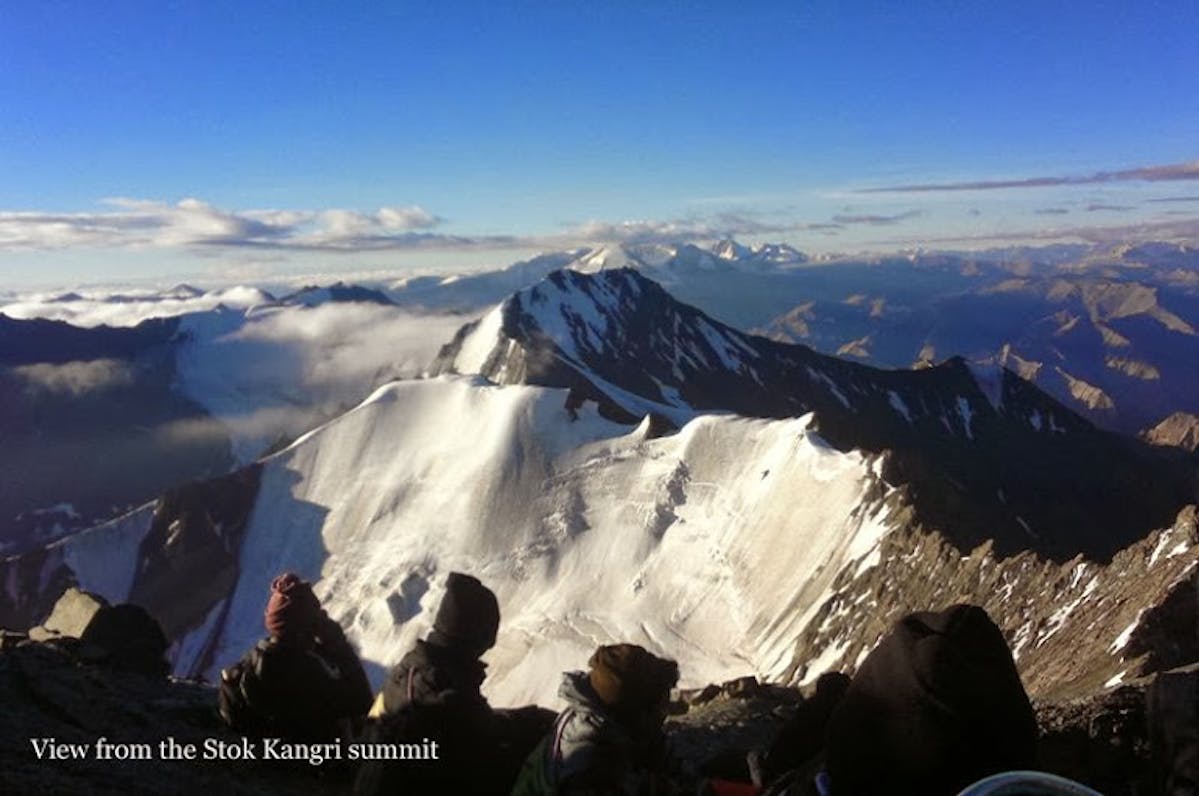 View from the Stok Kangri summit. Picture from Indaihikes archive
Requirement of proper acclimatisation
The Stok Kangri trek requires proper acclimatization. I am dismayed at the number of trek operators who casually say, "Stok Karna koi baat nahi. Paanch che din ka trek hai, ho jayega ji." (Stok is no big deal, it is just a 5-6 day trek, and it will be done.) One of them came to our office with an air of invincibility. It alarmed me greatly.
Here are some real stories: In 2008, a close friend of mine had to return half way from the trek, hit by AMS, despite spending two days at Leh acclimatizing. Only one member from her team of 15 made it to the Stok summit. In 2009, a team of 6 trekkers made it 70% of the way to the summit in July and had to return, hit by a snow storm. The same team attempted Stok once again last year and all of them had to turn back, some with bleeding noses, hit by acclimatization issues – few of them were only meters away from the summit.
Most itineraries of trek operators are rather questionable. They have two days of acclimatization at Leh, as if acclimatization at 11,500 feet would help overcome a summit at 20,500 feet. The two days of acclimatization at Leh is required not for the Stok summit, but to get adjusted to the mountains after a sudden flight from Delhi, which is almost at sea level.
What a trekker needs is another trek that climbs to at least 15,500 feet (4,700 – 5,000 mts) before attempting Stok Kangri. No operator I know wants to include this in the itinerary – it makes the Stok Kangri expedition longer and more expensive. What is disheartening is most trekkers don't insist on it either – it means taking more time off from office. Leaves seem to be expensive too!
Do not attempt Stok Kangri if you cannot spend at least 10 days in the mountains of Ladakh. And do not attempt Stok Kangri if you do not have the physical fitness to endure a trek that climbs nearly 5,000 meters prior to the Stok Kangri trek. What it means is you are going to do two very high altitude treks back to back. This requires a high order of physical fitness, for which preparation needs to start couple of months in advance.
Ability to make good judgement
Next, I'll put down something as "judgement." Because Stok Kangri is a trekkable summit, most first time trekkers throw caution to the wind about some things that happen frequently at extreme high altitudes.
The first of these is the weather. It changes colour like a chameleon. A bright sunny day turns into a blizzard in a couple of minutes. Caught unawares, a trekker without enough experience can panic. On a trek like the Stok Kangri you can hardly afford to do that. You need to keep your wits about you to get out of these situations. To do this, you need to prepare well – and one way to prepare is to read a lot about high altitudes. In the world of internet, it is easy to do that.
Judgement also comes into play when you take a call to return from a steep snowy shoulder just 50 metres short of the summit. Sometimes, it is not worth taking a chance on the summit if the snow on the shoulder is slippery. First time trekkers believe it is the guides job to take them to the summit. So, they trust the guide despite common sense waving a red flag. Trekkers with better judgement don't do this.
Knowledge of Altitude Sickness and Medical Aid
AMS is another issue. The Stok Kangri trail gains altitude rapidly. Here, a person normal at 16,000 feet can suddenly start developing symptoms of AMS gaining only another 500 feet in altitude. This can be a potentially fatal situation if timely action isn't taken. Judgment and experience here helps. Someone with experience is well prepared and knows what to do when hit by AMS. They know the emergency procedures and take corrective steps.
I recommend trekkers to be on a course of Diamox from Delhi before they start the Stok Kangri expedition.
I do not recommend the Stok Kangri trek for someone who has never done a high altitude trek before. Attempt Stok Kangri only if you have done treks above 14,000 feet. If you are new to trekking, do not attempt the Stok Kangri trek.
Trek operators in Ladakh will always give you an idea that Stok Kangri is an easy trek. They will rarely include an acclimatization trek in their itinerary and they will never talk about the vast majority of trekkers who never make it to the Stok Kangri summit.
The Stok Kangri summit is a wonderful gift for Indian trekkers. It is truly a summit worth climbing and a trek that does not require mountaineering skills.  With proper preparation and judgment everyone can make it to the summit. Just don't let the glamour of a 20,500 feet summit, cloud your vision.
Having said that, there is another trek that as glamorous as Stok and not quite as popular.  I am talking about the Kanamo Peak trek.
Kanamo stands tall and above all else in its region at 19,600 ft. It overlooks over almost 35 other summits. It is a thriller of a climb.
Here is a video that tells you why Kanamo Peak makes a great alternative to the more popular Stok.
At Indiahikes, we are always looking for fresher, newer trails to give older treks some breathing space. Kanamo is one of the fresher treks, where you're likely to be the only group trekking.
Do take note of the issues I have raised for Stok Kangri. They apply to Kanamo as well. Do keep those in mind before registering.
Related Videos
How to get fit for a trek
A Fun Warm Up Dance For Your Trek
Sign up for our much loved Weekly Mailer
We have terrific trekking tips, trek updates and trek talks to look forward to