Why We Love Buran Ghati - A Photo Story
Share this story
The Buran Ghati trek is very close to our hearts. It has a lot of history attached to it. Arjun Majumdar, Founder-CEO of Indiahikes had first tried exploring it almost 15 years ago. That exploration was unsuccessful, but it led to the discovery of Rupin Pass trek.
Finally the Buran Ghati trek was explored in June 2014. Until then, we'd never seen such a perfectly stitched trek.
You cannot take your eyes off this trek even for a single moment. Every turn, every nook is perfectly carved on the trail.
Even before the trek begins, you get a feeling that you are in for something special.
In this photo story, we want to take you through some of our favourite sections of the trek.
1. Janglik - An ancient village tucked away in the remote corners of Himachal Pradesh
Walking through this village is your first introduction to the trek. As you trudge through the alleyways and the stone-laden steps, notice that the ancient culture, customs are well-preserved here.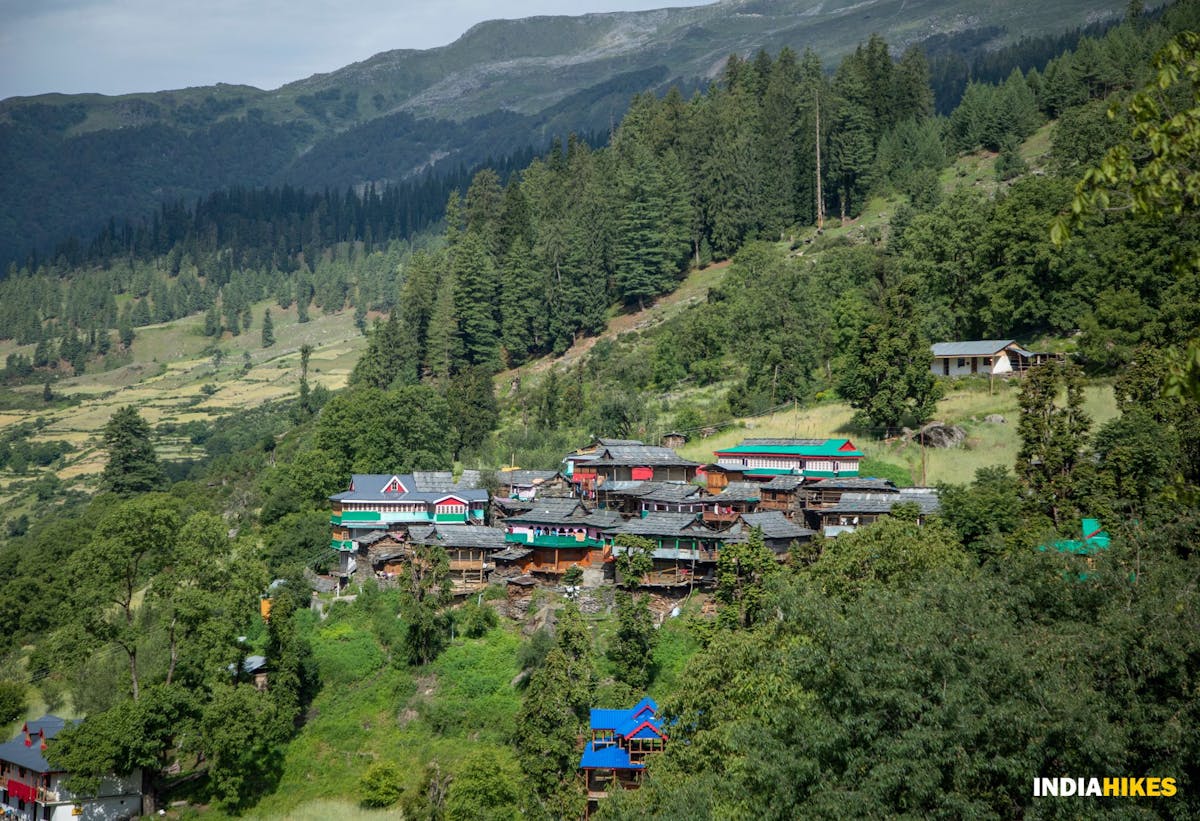 The architecture of Janglik is unique. The woodcraft of the houses and temples of this village are extraordinarily modern despite being from ancient times. Photo by Jothiranjan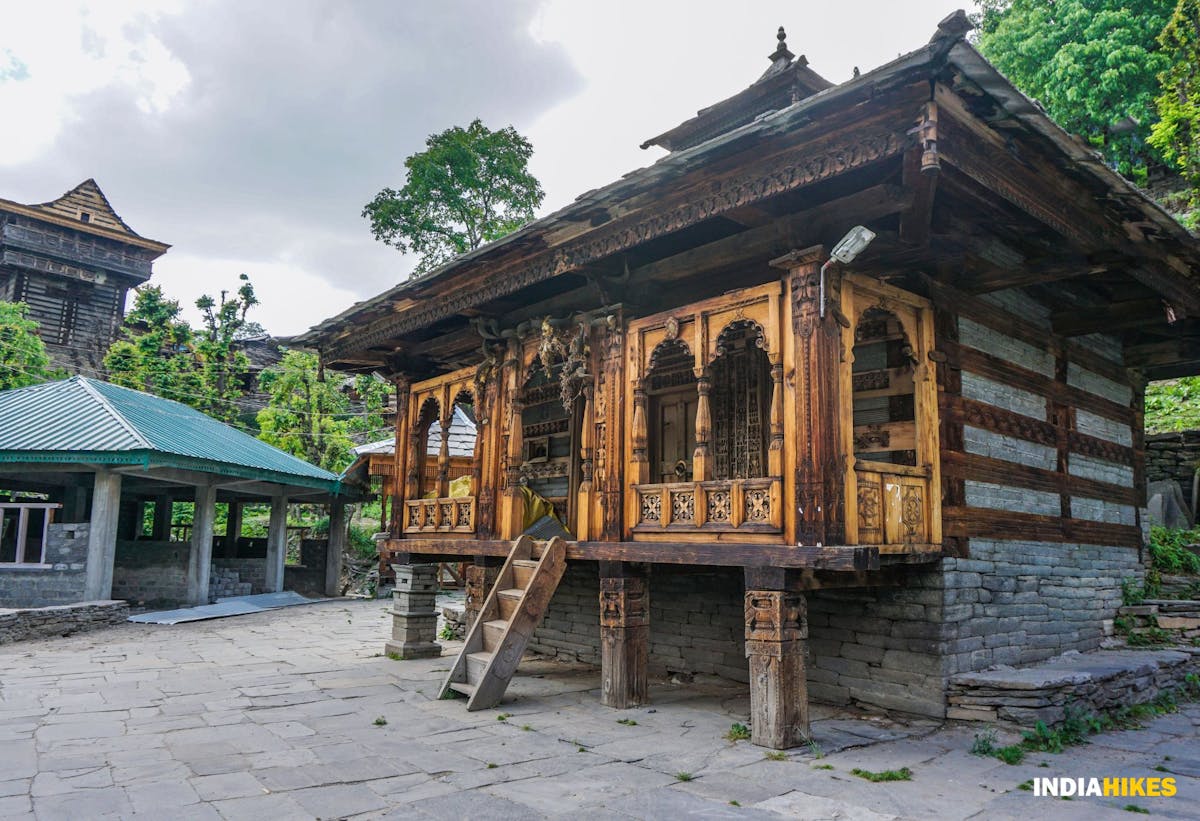 Notice the unique architecture of this temple. Photo by Sandhya UC
2. The deep, dark forests above Janglik
Watch out for the forest section from Janglik to Dayara. It's absolutely smashing. These are deep, dark forests punctuated with lovely clearings. "It's one of the most delightful forest sections you'll ever trek in," shares Arjun.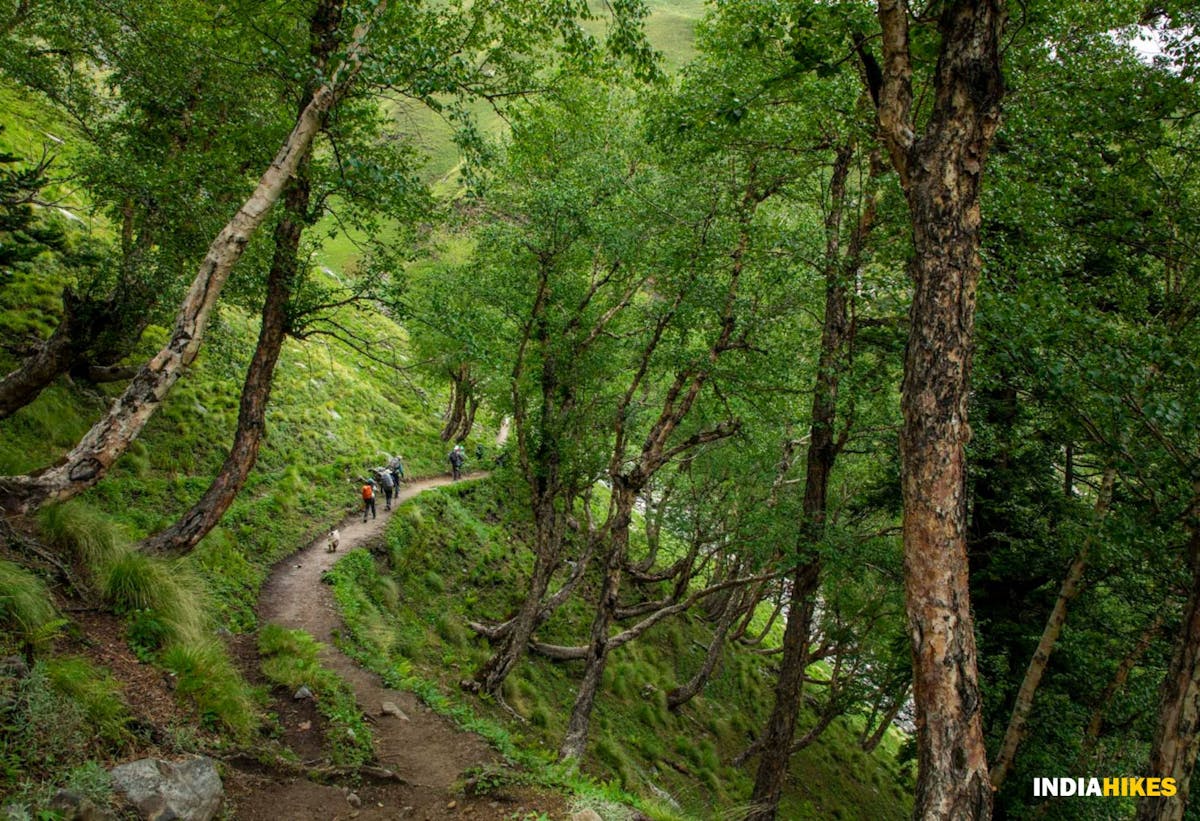 The forests of birch, oaks and maples transport you to another world, when all you hear are birds chirping and leaves rustling. Photo by Jothiranjan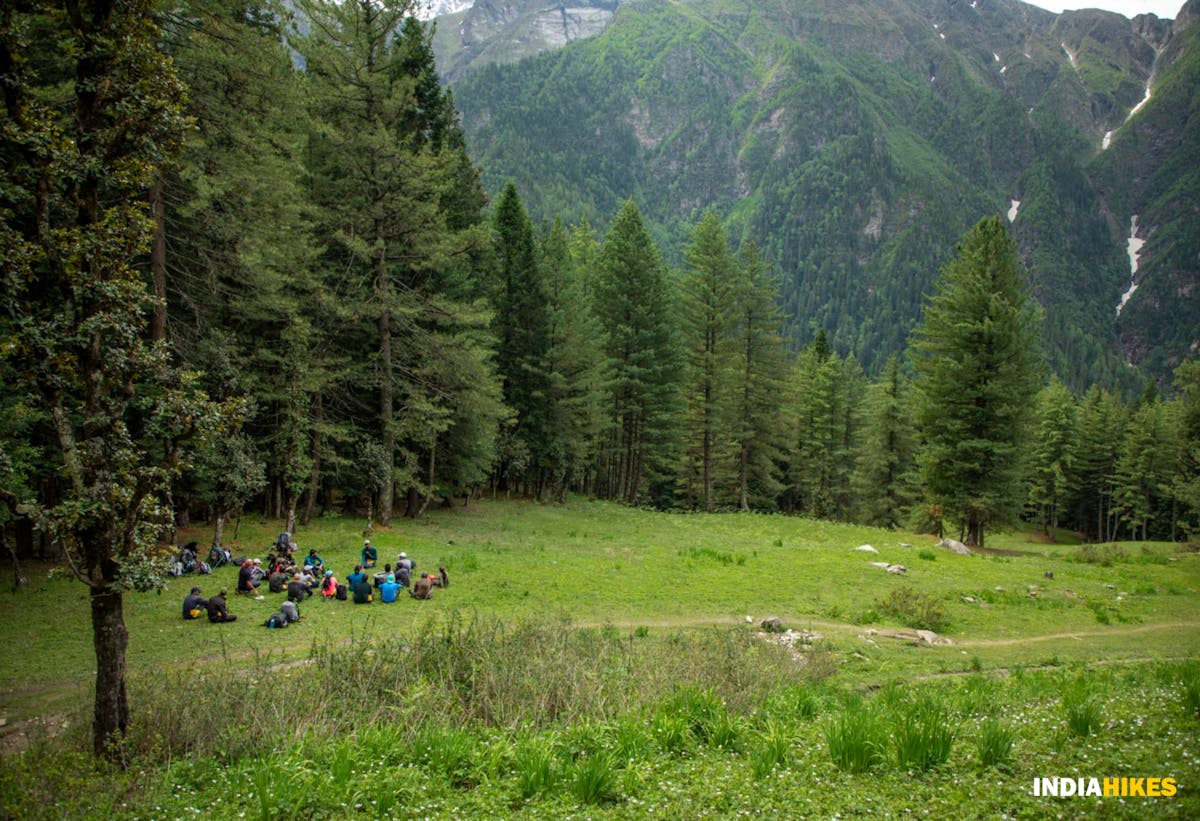 The deep, dark forest punctuated with pretty clearings. These serve as rest points on the trek. Photo by Jothiranjan
3. Is this our Most Picturesque Campsite? - Dayara
For many trekkers, the first sight of Dayara remains one of the best moments on the trek. "You are trekking deep in a forest, where light hardly streams in. All of a sudden, you take a turn and you're suddenly awestruck. In front of you are the sprawling meadows of Dayara, with your campsite in the heart of it. You'll never see it coming!" says Sandhya, co-founder and COO of Indiahikes. We call this the "wow moment" of the Buran Ghati trek.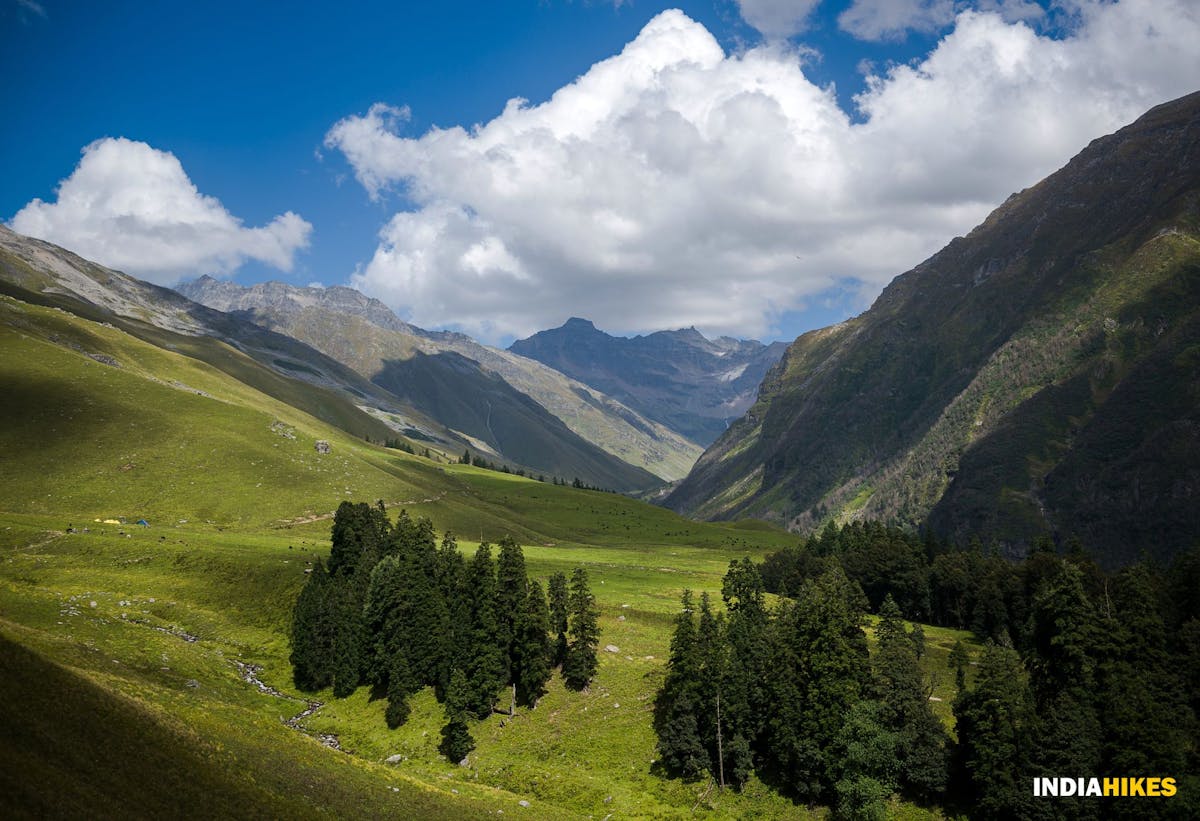 You first see the Dayara meadows from a high ledge as you climb out of a deep dark coniferous forest. Right in front of you, as far as your eyes can see, is a sprawling table land carved out from the sides of a mountain. Photo by Raghavendra Galagali
4. A bonus excursion to Chandranahan Lake
Among all our acclimatization days on treks, it is the Buran Ghati trekkers who are in for a treat. Acclimatisation on this trek involves ascending to the snout of a waterfall, and seeing a lake in a terrific alpine setting. Often, this is a trek on its own.
On the trail to Chandranahan, the terrain changes completely. You are hopping stone ledges, making your way to the snout of the waterfall.
"The moment you get to the snout of the Chandranahan falls, you are transported to an alpine zone. You are in a high altitude narrow snow-lined valley," share Arjun.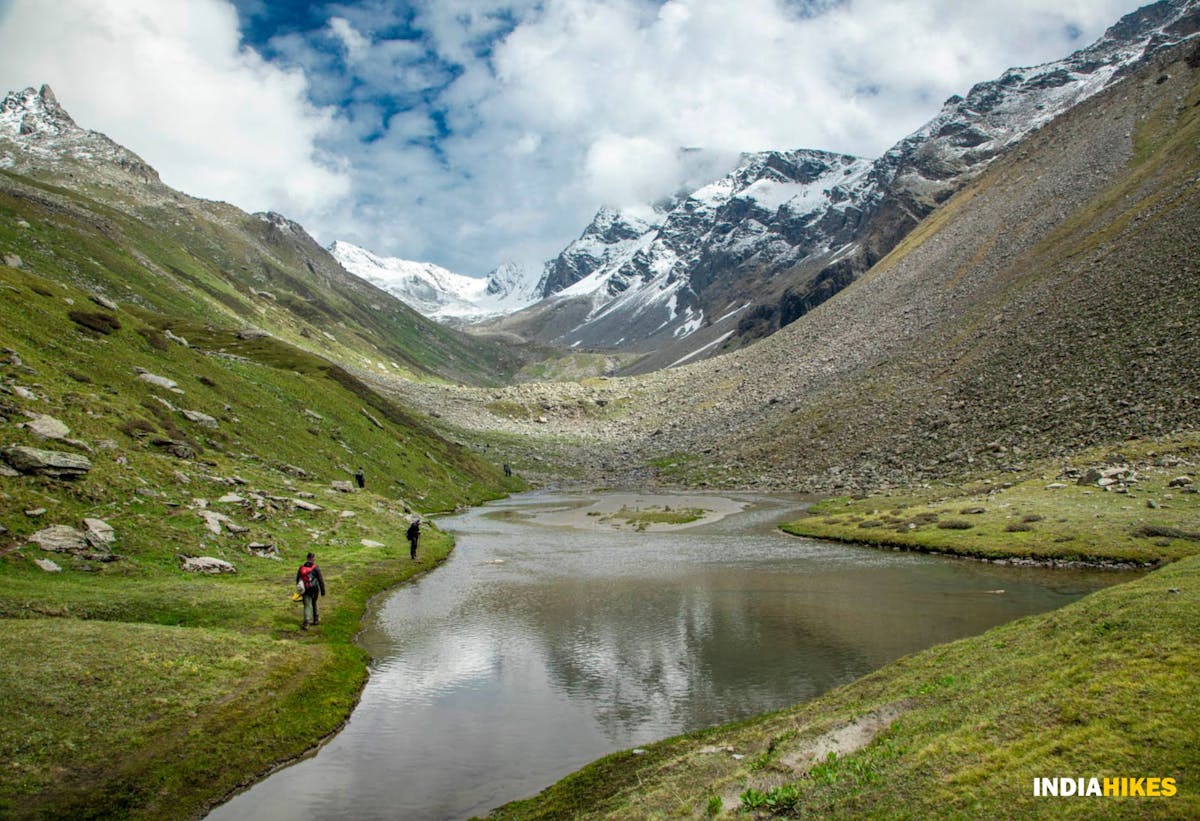 The lake looks charming surrounded by moraines and the high mountains. Photo by Jothiranjan
5. Crossing the formidable Buran Ghati Pass
It is an adventurous climb to the Buran Ghati Pass at 15,000 ft. It's one of those days that gives you an expedition-like feel, going deep into an alpine section in the heart of the Himalayas. You start as early as 3 am, making your way across hard ice patches and boulders. It's a long climb to the pass, but a rewarding one.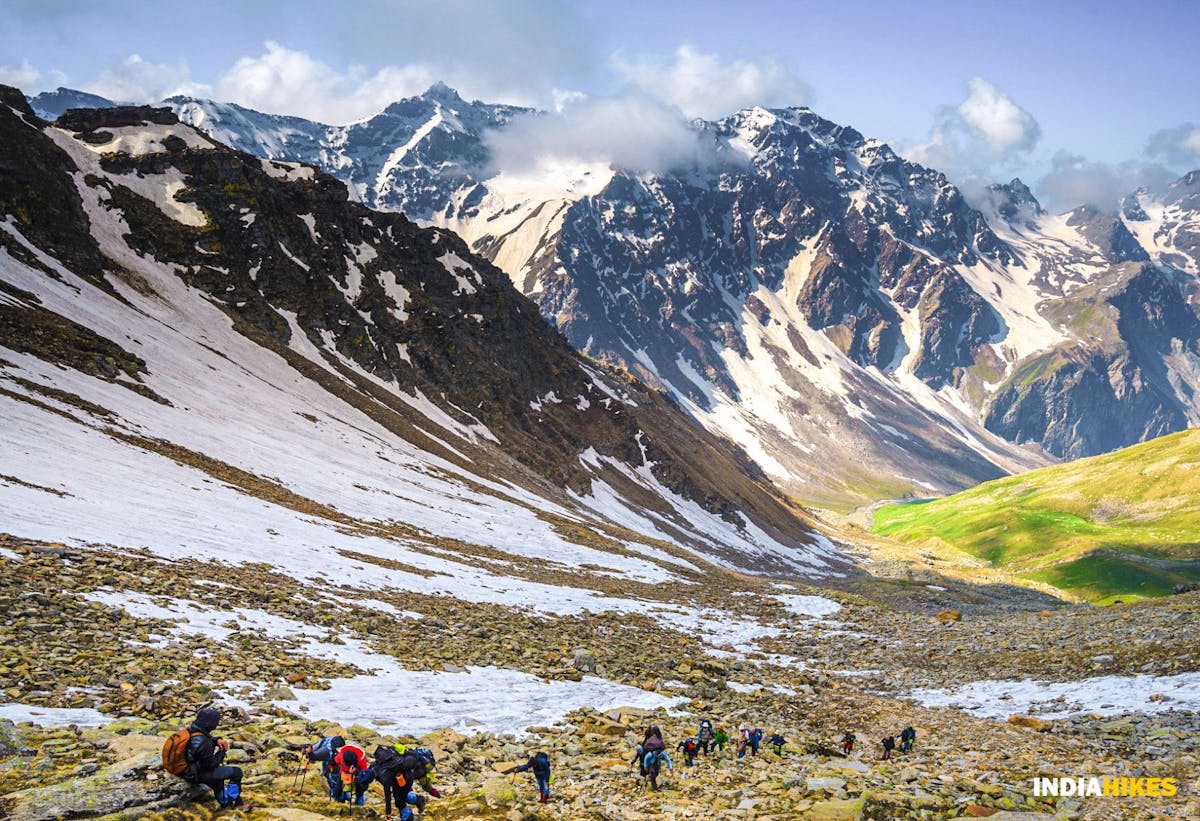 The trail to the top of the pass is steep and filled with boulders. Photo by Anirban Banerjee
6. A Nerve-Wracking Descent from the Pass
On the other side is a steep drop — a near vertical wall. In summer, it's a wall of ice. In autumn, it's a wall of hard ice and boulders. It's the only way to descend! Most trekkers have their hearts in their mouths while descending from the pass. It's another highlight that stays with them for life.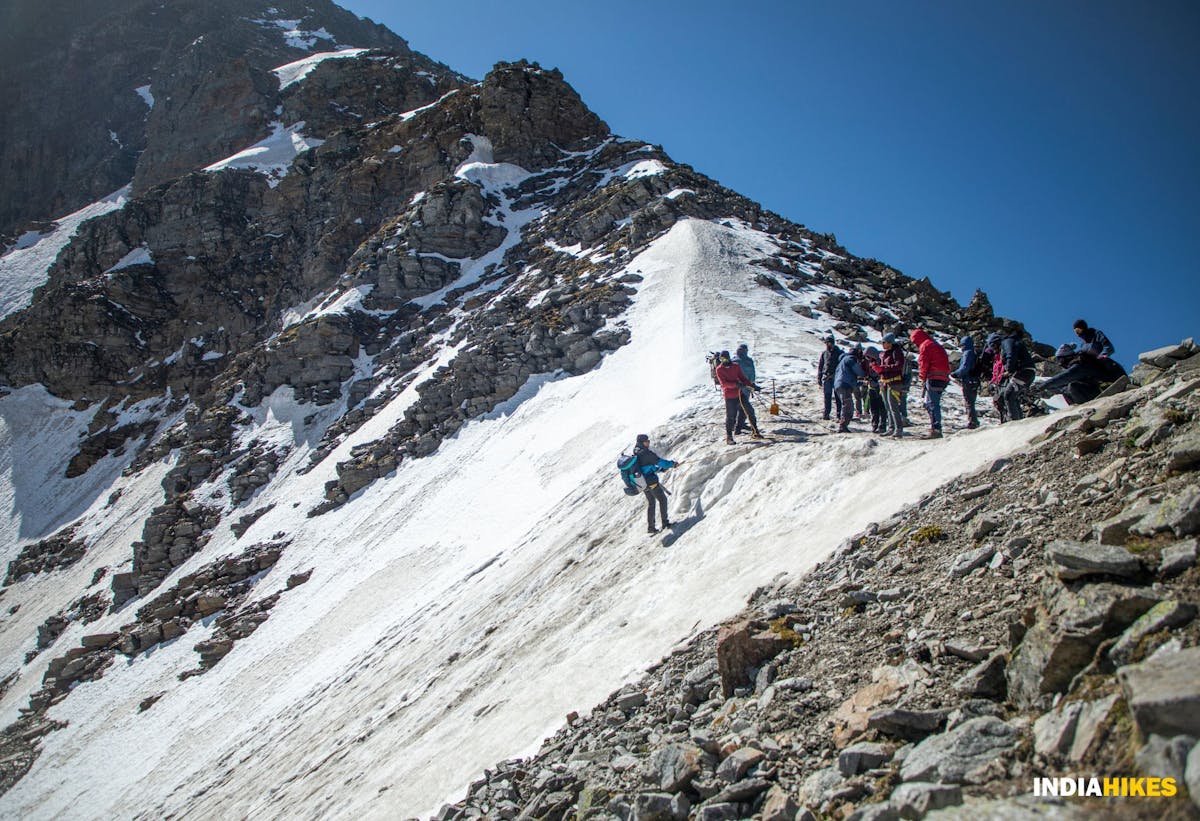 In summer, when the trail is frozen, you rappel down the Buran Ghati Pass. In autumn, you'll find a steep trail descending through the boulders. Photo by Jothiranjan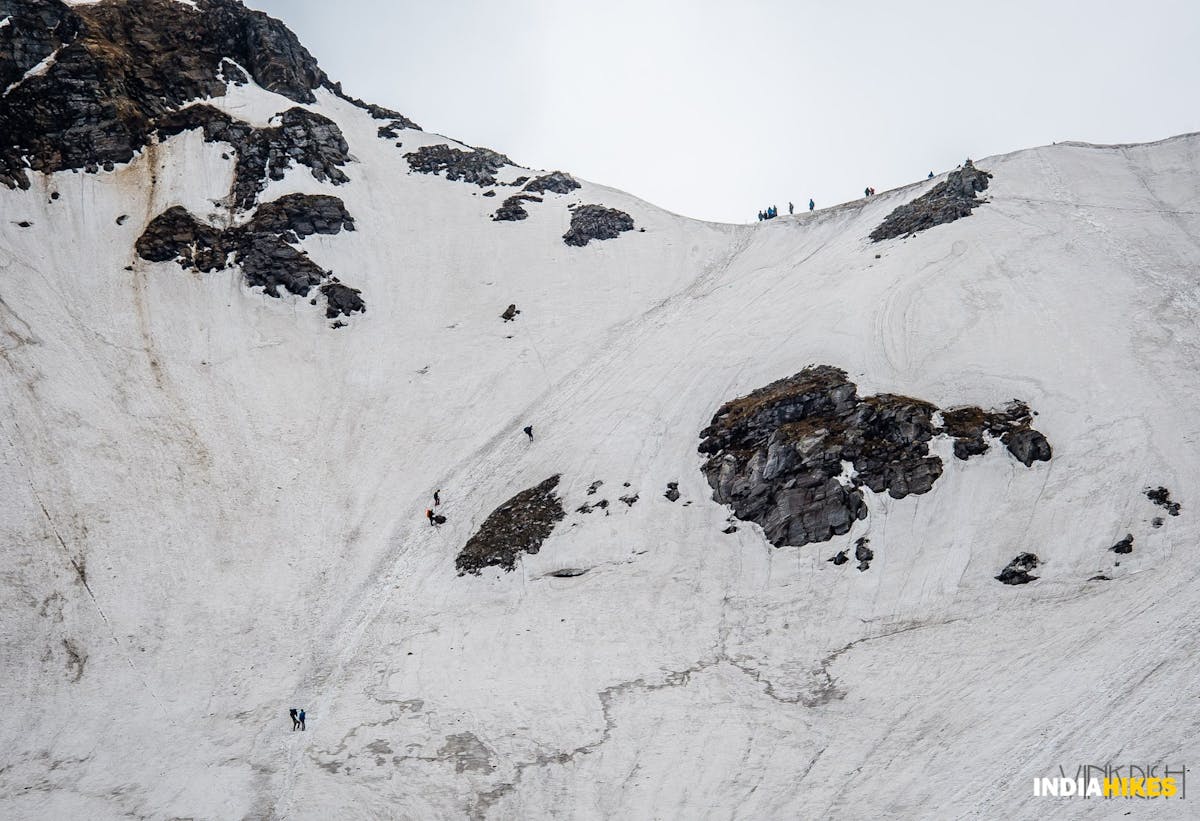 The scale of the ice wall is immense. See how tiny the trekkers look while rappeling down the wall. Photo by Vinod Krishna
7. On the Other Side of Buran Ghati Pass
The Buran Ghati trek is as special after the pass as it is before the pass. On most treks you do not get this experience. Most treks end within a day of crossing the pass. But not Buran Ghati. On the other side, the trail takes you through tall juniper trees. You continue to walk in grasslands and forests, until you reach another fairytale village — Barua.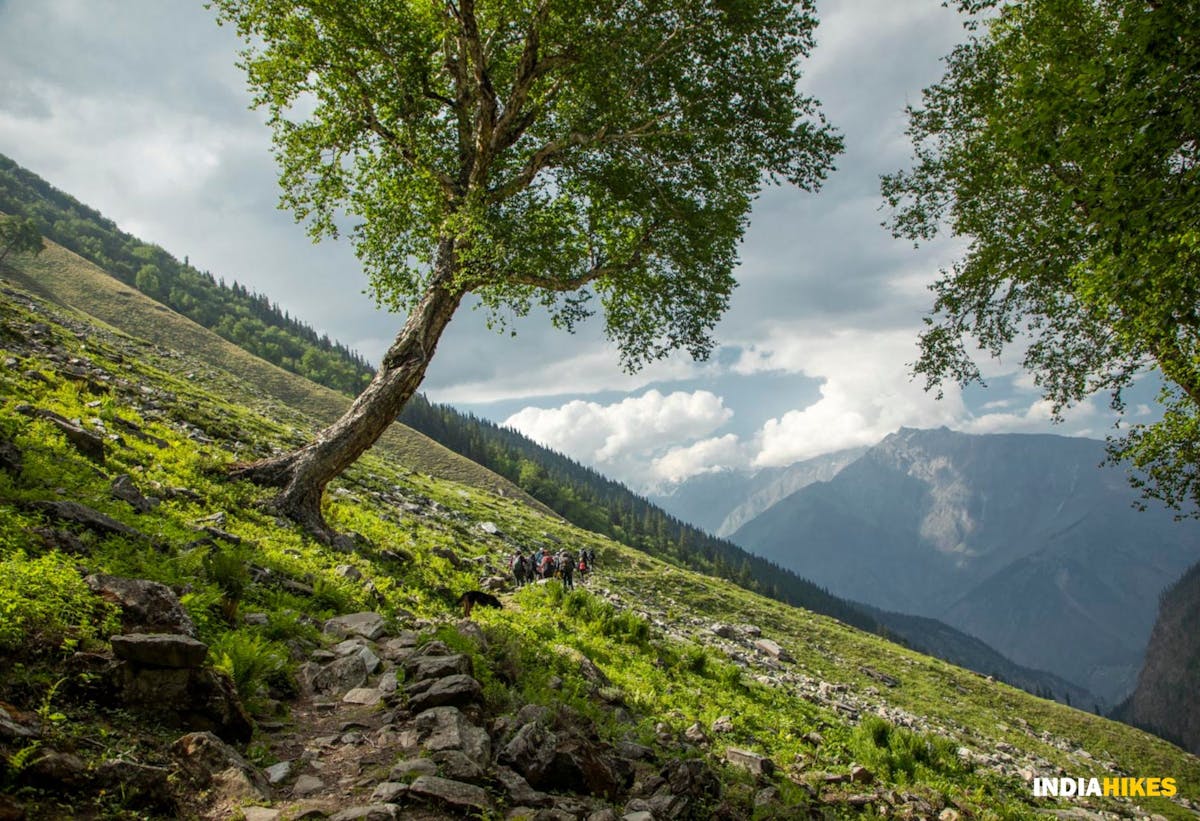 Notice the size of the trekkers walking in front of the juniper trees. Photo by Jothiranjan
8. Barua - Ending your trek in another ancient village
Barua village is one of the big reasons why people must do this trek. There are unique structured houses with fruit-bearing trees growing in their yards. "It's a world in itself, the village, and its people too," comments Sandhya.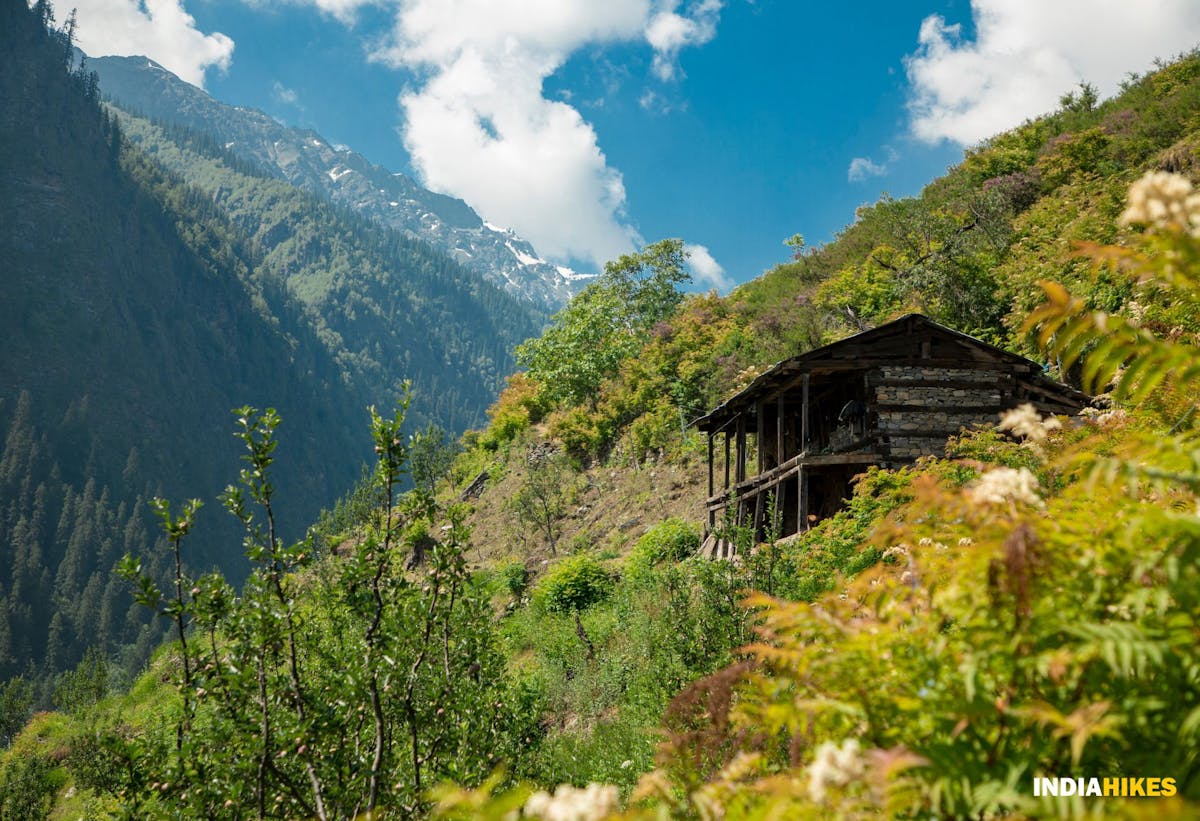 Barua instantly reminds you of Hobbiton, with its unique houses, temples, structure. Photo by Jothiranjan
That brings us to the end of this photo story.
It's a small peek into a trek that goes beyond words and photographs.
For us, it's a lot more than just a trek. The Buran Ghati trek is a memory, it's many emotions and stories all bundled up in a trek.
This video will tell you why
Head over to the Buran Ghati Trek Page to know more about this trek
We have recently opened up our autumn groups (from mid-September to mid-October). Unfortunately, we are opening only 8 groups this year. They're filling up quickly. So act soon if you've been wanting to experience this trek :)
Happy Trekking!
Sign up for our much loved Weekly Mailer
We have terrific trekking tips, trek updates and trek talks to look forward to