World Vegan Day Special – Practical Travel Hacks from Vegan Indiahikers
Share this story
It is a misconception that being a vegan is expensive. Contrary to popular belief, you do not need exotic ingredients to replace the non-vegan ones. So, it's a myth that traveling as a vegan is difficult. It is not.
In this blog, vegans from Indiahikes offer the best way to go about it by sharing tips, tricks, recipes and ingredients that are readily available, easy to use and delicious to consume.
Is it really difficult to travel as a vegan?
It is easy to be a vegan in India. You will find many dishes that don't involve animal products. But what about dishes that do?
"The problem lies in finding vegan alternatives for non-vegan food. Outside metro cities, especially en route to a remote Himalayan basecamp, you may not find alternatives to your vegan menu. In that case, you need to prepare and carry your vegan items with you" says Venkat Ganesh, Head of Training at Indiahikes.
This is where the experience and creativity of vegans come into play.
Vegans at Indiahikes have been traveling within the country and even internationally. Here they share recipes of their favourite vegan snacks that are delicious and easy-to-make. We will get to that in a while. First, let's start with travel hacks that vegans at Indiahikes swear by.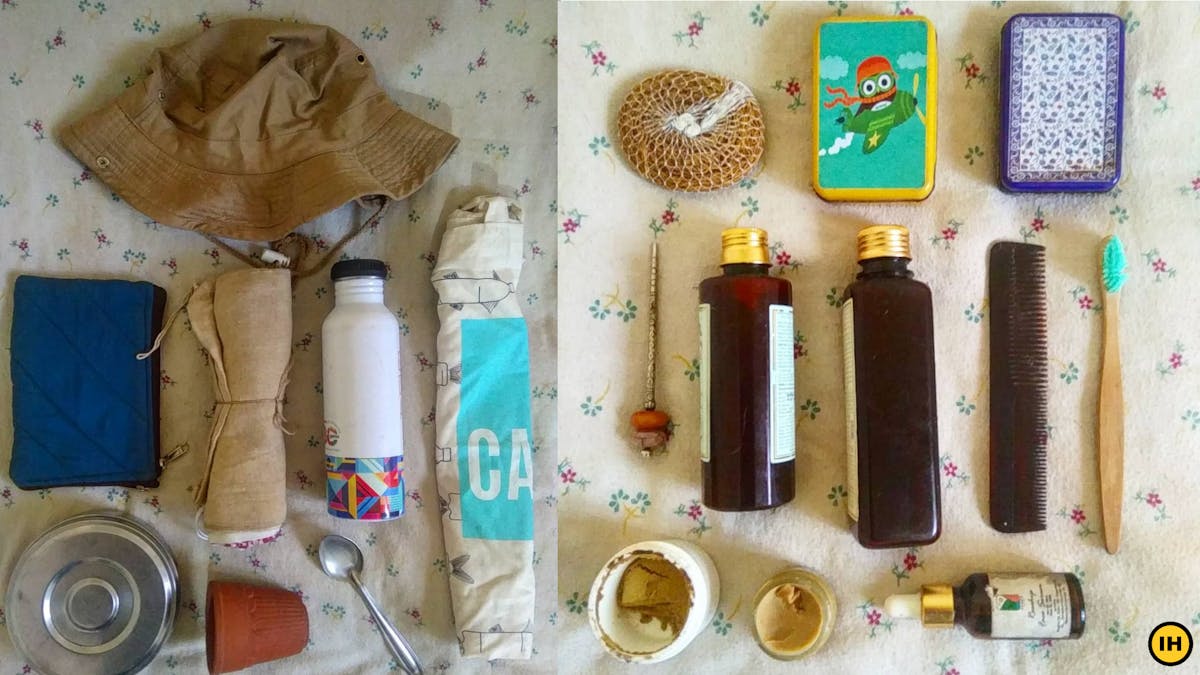 The travel kit of a vegan. Image shared by Lakshmi Selvakumaran
5 Great Travel Hacks for Vegan Travellers 
1. Carry Vegan Snacks – Keep home-made snacks handy for times when your stomach starts rumbling between meals. This could be before a trek, on the way to the base camp,  or even in between campsites when you are on the trek.
For such times, pack snacks like — nuts, fruit, bread, seeds, cereal bars, and biscuits.
2. Know the local phrases – If you are traveling in the same country you are residing, you may not face any problem communicating with the local people. But while traveling abroad, you must be acquainted with the local vernacular when you ask for the local vegan menu.
"Most eateries do veganize their menu upon request. But it would be important to ask if the items have any dairy product in them and ask them to swap it for non-vegan ingredients.  This can be done for items where the dairy item is applied topically — like aloo paratha, no cheese in a burger, no cheese in pasta, etc.
In India, places like Rishikesh, Manali have lots of restaurants that offer a full vegan menu." says Lakshmi Selvakumaran, Head of Experience at Indiahikes.
3. Pack vegan toiletries – Toiletries are also as necessary as food. Therefore, you have to pack your vegan toiletries beforehand. In a country like India, you don't need to worry, but in a few countries (like China) you need to be mindful before buying the toiletries from a local shop.
4. Locate the fruits market – It is most common in all the places. Even if you are traveling to the base camp, you can quickly locate a local fruit shop, and stroll in for a quick, healthy vegan snack.
5. Check Mobile Apps – Here, technology offers you a helping hand to maintain your vegan diet. Before you are traveling, install the apps like HappyCow (Android/iOS), goVegn (iOS), or Vegman (iOS) on your phone. You just need to update your present location, and you can find the vegan restaurant locations around you. 

Hacks are good, and the best one involves making your own snacks. "I feel it is the best way to ensure a healthy meal along the way. Especially while going on a trek because where you are taking your own cutlery, this can be done easily," says Lakshmi.
In fact, Lakshmi has a quick recipe for delicious Vegan Millet Cookies. And it takes only 25 minutes to prepare! They are easy to make and super-easy to carry when you are travelling. 
Listen to Lakshmi's instructions in this audio on how to make these vegan cookies.
Indiahikes · Millet Vegan Cookie Recipe
As a vegan traveller, preparation is the key. It ensures that your snacks last throughout the trip.
Preparation also helps in minimising plastic waste. Being a responsible outdoor enthusiast, you must avoid plastic-wrapped package food in the mountains.
That brings us to the prime question on every vegan's mind:
What to Pack for Your Vegan Meals?
Let's divide the vegan menu into broad categories of proteins, carbohydrates, grains, fats and fibres. 
Your packing plan should balance all these ingredients in the food. A plan which leans towards one kind of nutrient and away from others won't fulfill the nutritional requirement of your body. This can affect your strength and immunity when you are travelling and trekking. 
For directions, observe what your body needs from time to time. 
"As we need to have proper nutrients from the foods, I search for alternative home-made vegan recipes. For munching, I keep dry fruits handy. For sweet, I keep some jaggery to satisfy sweet cravings," says Senior Trek Leader Dushyant Sharma. 
Dushyant has a favourite vegan, high energy mixture that he carries everywhere. It is super-easy to make. In this audio, he takes you through the entire process.
Indiahikes · Vegan Mixture With Dry Fruits
Protip Pack them in a reusable container to avoid plastic. Decrease your carbon footprint.
Coming back to the menu, if you are not mindful, you may end up eating the same food day after day. That gets monotonous. This is why you must mix up the variety. For this, it is important to have a rough idea of what comes under nutritional categories which are given below.
Proteins
Note: If you are open to dehydrating food, then you may dehydrate and take the following sources of protein. They are great to mix and match and prevent your menu from getting monotonous.
1. Dehydrated Beans: Dehydrated beans are high on protein, fiber, calories. This is a ubiquitous camp recipe. Try to arrange dehydrated refried beans — pinto or black beans, depending on your requirement and your trip length.
2. Gojjus/Chutneys: You can enjoy these with rice, whole-grain crackers, sandwich thins, or chapatis. It is easy to cook, flavourful and last really long.
3. Bean Flakes and Split Lentils: You can have both carbohydrates and protein benefits with them. You may pack pre-cooked dehydrated lentils or faster cooking red split lentils. Those will take less time to cook in your outdoor camp.
Grains
1. Semolina flour (Rawa): This is an excellent source of protein and can be used as a base to prepare a variety of dishes. All you need 
2. Oatmeal: Oat is a combination of high protein and fiber. With the porridge texture, oatmeal is inexpensive and convenient for backpacking.
3. Roasted Wheat:  Simply roast the wheat grains till they are crispy. You can have them as a snack as you travel. They are flavourful and very nutritious. 
Fats and Fibre
1. Peanut Butter: It is the alternative to dairy butter, and you can put it in oatmeal, on a flatbread, or eat directly. When you are on the city's outskirts, you may not find the right alternative to dairy butter. Therefore, it is prudent to carry peanut butter. If you are allergic to peanuts, you can find almond, sunflower, or cashew butter options. These are the sources of high calories and fat to satisfy your heavy meal.
2. Fruits, nuts, and veggies: Cashew, raisin, apricots, etc. are convenient for backpacking. For DIY weekend treks, you can use them as the trail-mix. They are good to eat and a high resource of calories. Nuts contain a low glycemic index and contain many antioxidants, vegetable protein, fiber, minerals, and healthy fatty acids, and they are quite resourceful to generate your energy.
│ Note: Avoid classic vegan crutches: It is always advisable to avoid a vegan diet of simple starches or sugary food. You must treat your body well to cope with the exhaustion due to hiking. You can save some Oreo to instill some energy at the end of the day.
Quick-fixes for Vegan Travellers
1. Banana Chips: If you are looking for snacks full of starch and fiber, try some banana chips as your evening snacks outdoors.
2. Home-made Energy Bars: Energy Bars are relatively easy to prepare at home. You need to grind peanuts, almonds, chia, sesame, poppy seeds, flax seeds, and make bars with liquid chocolates. These are a quick source of energy.
Izzat Yaganagi, Head of Experiential Program at Indiahikes has a lovely recipe for an energy bar with a very interesting name. It is sweet, vegan and quite easy to make. Listen to this audio by Izzat to know how to make it.
Indiahikes · Vegan Energy Bar With Dates
Conclusion
With that, we come to the end of this blog. Does being vegan still feel difficult? If you are facing any challenges while designing a menu for your vegan travels, drop your problem in the comments and vegans at Indiahikes will promptly come to your rescue.
Happy trekking! And, happy World Vegan Day!
Sign up for our much loved Weekly Mailer
We have terrific trekking tips, trek updates and trek talks to look forward to