X-Light Down Jacket - A Fiercely Warm Jacket For Himalayan Treks
Share this story
Every time I pack my backpack, my padded jacket, the outer-most layer, is most cumbersome to pack. It buffs up like a balloon as soon as I let go of my grip on the folds. Ranger rolling it is another challenge altogether! Especially on a trek, when I'm in a hurry to pack my backpack and start the day's trek, this is an exhausting exercise!
So when I opened the bag in which Decathlon sent me the X-Light down jacket, I was immediately happy. It was packed in a small cylindrical pouch, no bigger than a 1 litre bottle. I could easily hold it in the palm of my hand. It weighed less than 380 g. Right there I was sold.
I tested it out on the Dayara Bugyal winter trek this month. I'll get to that in a moment.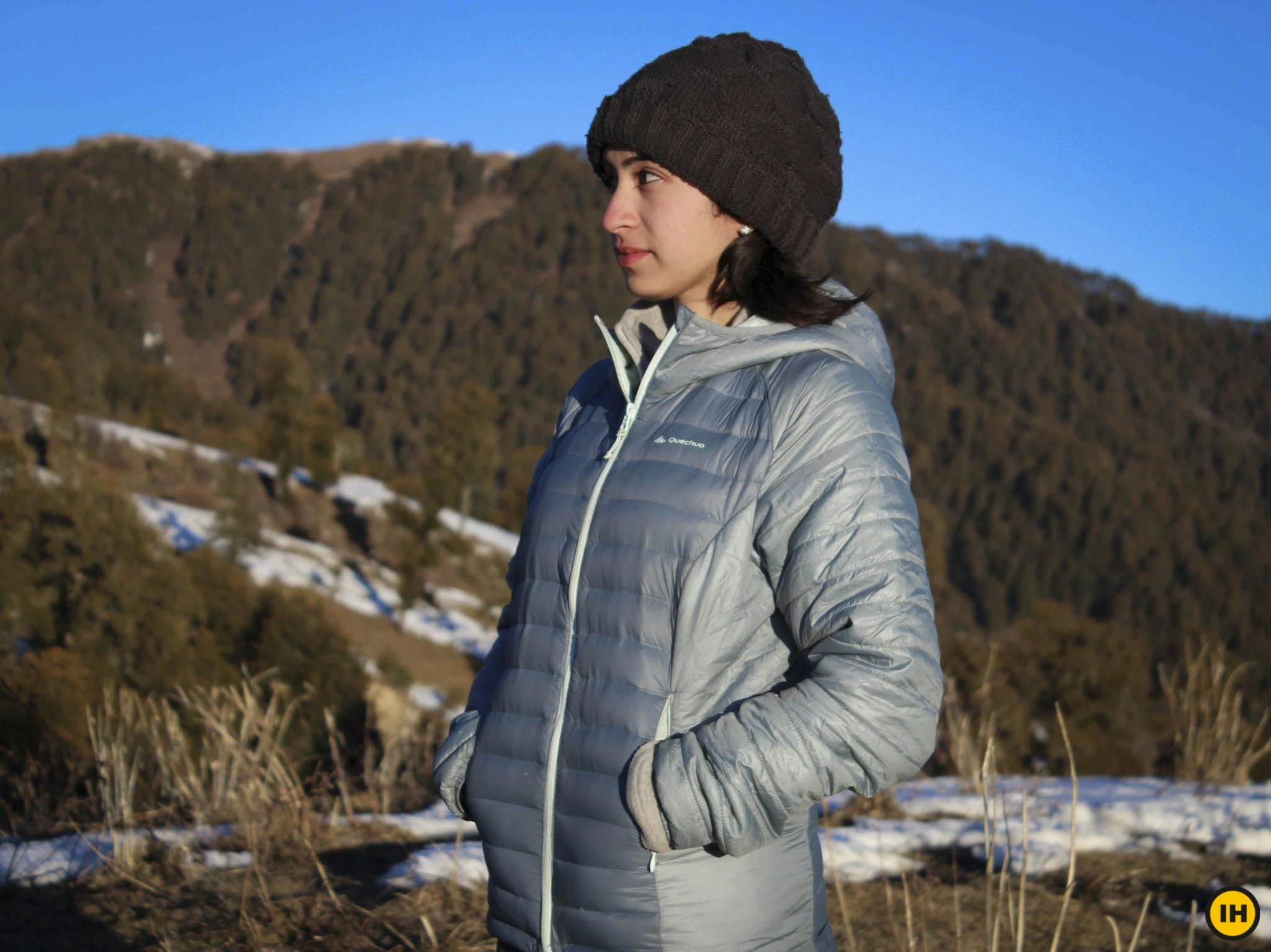 I've seen several trekkers using this X-Light jacket — usually the dark blue or orange variant. But I was particularly impressed by the grey-blue one I got. It was suave and sophisticated — not calling for attention, yet appealing. A colour of a jacket usually doesn't make much of a difference – it's either nice or not nice – but this light shade added to the experience of the jacket.
The outer shell felt soft and baby-like. It felt good on the skin, even as a first layer.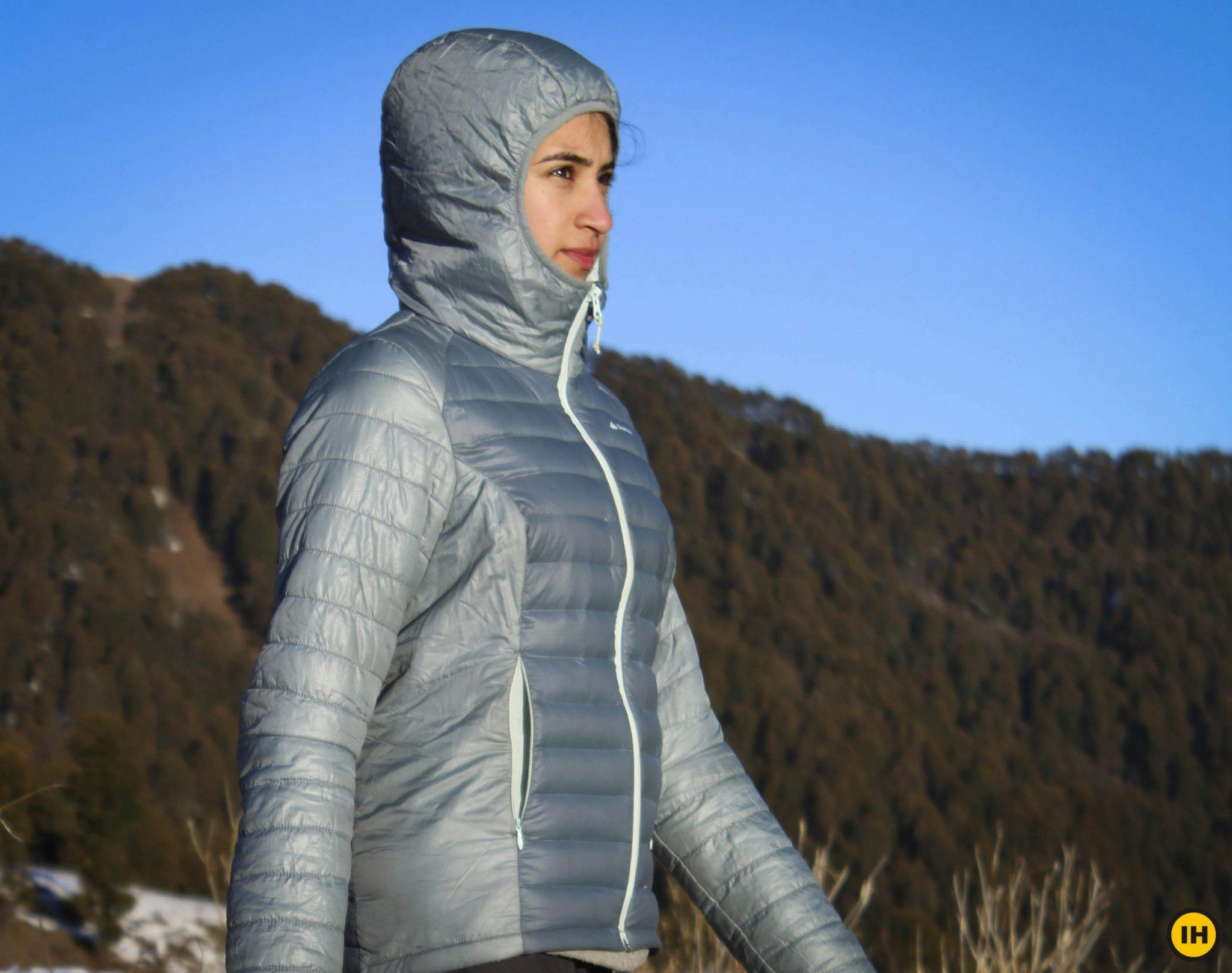 Fit
Next, I'll get to the fit. Being a fairly skinny person, it's a Herculean task for me to find a padded jacket that fits me right. Most of them, even the small sizes, hang over me making me look like a box. I liked the X-Light Women's jacket for the fit. It is designed for women, and it made me feel shapely. Frankly, on a trek, when you cannot shower or wash your hair, it won't do harm to wear something a bit flattering. This jacket did that for me.
Tip: Pick up a size larger than your regular size if you're using it as an outer layer.Pick up a size larger than your regular size if you're using it as an outer layer.
Warmth: X-Light's Biggest Plus Point
The makers of this jacket swear by the technique the jacket uses to keep its wearer warm. With an impressive ratio of 75% down and 25% feather and a fill power of 540 CUIN (amount of "fluffiness" and insulation), their words are justified too.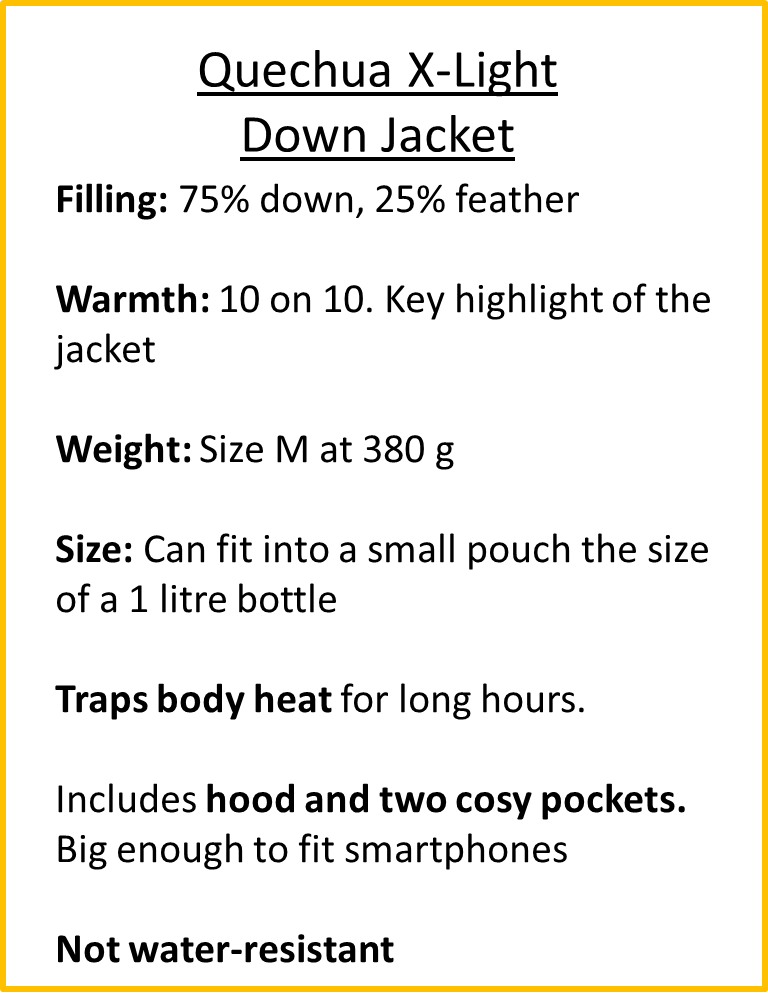 But it's only when you test the jacket you realise that boy! does the jacket live up to their words and how!
To illustrate, last year, when I went on the Kedarkantha winter trek, I wore five warm layers — thermals, a full-sleeved cotton tshirt, a woollen sweater, a fleece jacket and then a padded jacket. It just about kept me warm.
This time, at Dayara Bugyal, the temperature dipped to around -10°C. I just wore my full-sleeved Crosstrek t-shirt, a fleece jacket and the X-Light down jacket. The other layers I had taken lay in my backpack, unused throughout the trek.
The X-Light jacket kept me extremely warm. The material traps your body heat to the T and on a strenuous sport like trekking, it works wonders. It's the warmest jacket I have used till date. It could easily replace two fleece jackets. I'd say this is the biggest highlight of the X-Light down jacket.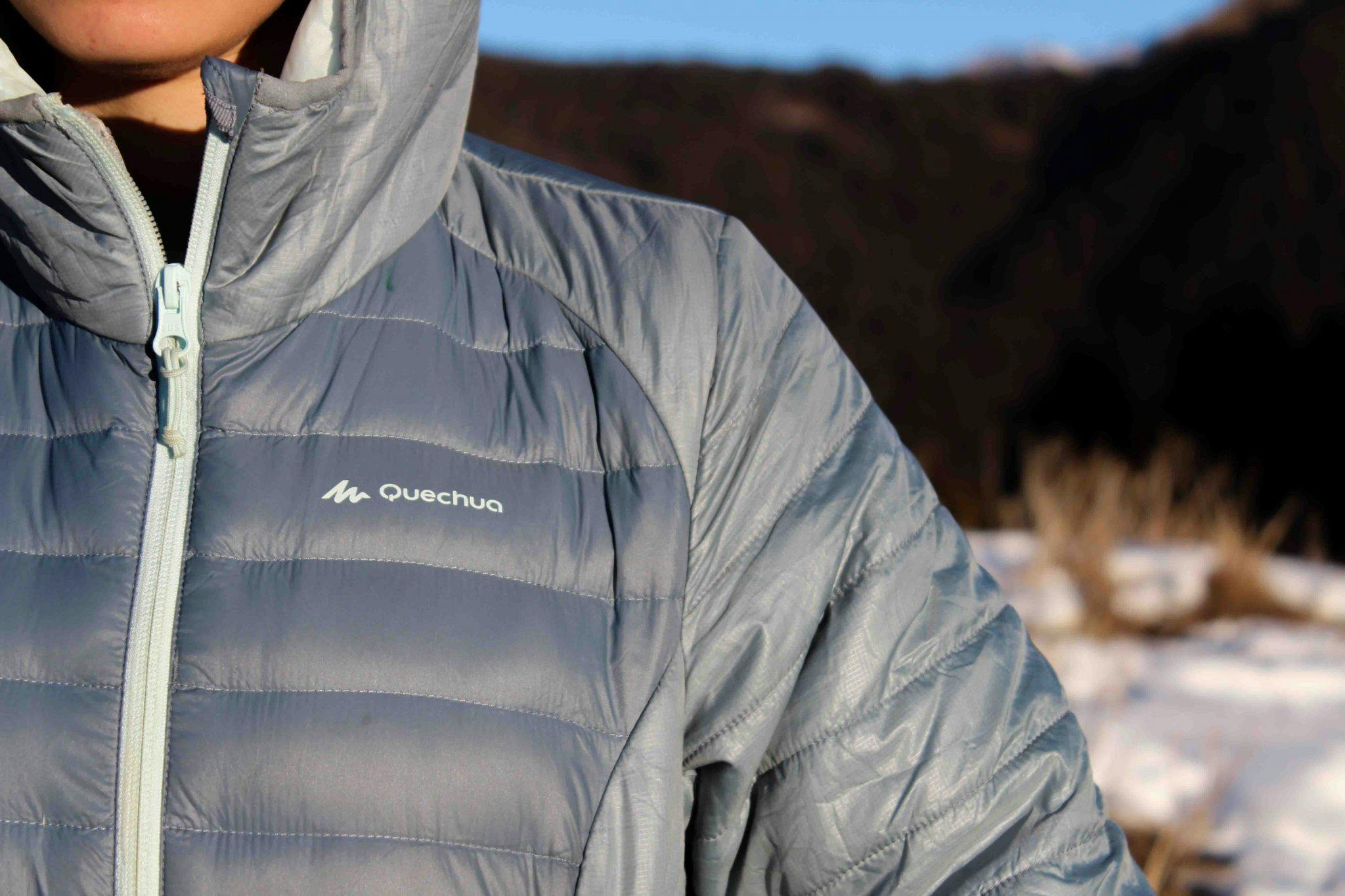 Weight and compact size
Down jackets are known to be light. The X-Light jacket ticks this box without question. It hardly weighs 380 g. But what's impressive is that it's compact too. Down jackets are usually bulky. But this one fits in a small pouch — I give credit to Quechua for the thoughtful touch of this pouch.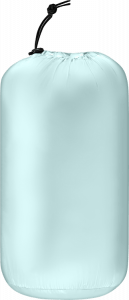 It hardly occupied any space in my backpack. If I use this jacket on all my treks, I could easily do an 8-day-trek with a 40 litre backpack.
Right, with the three main highlights covered, let's head to other aspects of the jacket.
Water resistance
This was something I was worried about. What if it rained while I was using the X-Light as my outer layer? Down jackets are not water-resistant.
It didn't rain, but I did spill some water (and unfortunately, some tea) on it. The water rolled off before it could get absorbed by the material. So the jacket is fairly water-repellent.
But it will not survive rain — it isn't designed for it. So if you're using this as your outer layer, carry a poncho or some kind of rainwear.
Wash and maintenance
Speaking about the tea I spilt on it, I rubbed it a bit with a wet cloth and dried it. The stain went away. If you're wondering whether you can wash the jacket, yes you can. Quechua has a specific set of instructions to do so. You'll find them here.
Pockets
My only complaint, a small one, is about the pocket zip. I found it to be very thin and rather flimsy. It's difficult to catch hold of, more so while wearing big synthetic gloves. However, the pocket was cosy. And big enough to fit a big smart phone.
The verdict
Having used it for a good week in Himalayan winter, I now think this is a must-have jacket for a regular trekker. I easily give it a 4.5 on 5. At Rs 2499, it's a steal. Go for it if you're signing up for a Himalayan trek — whether in summer or winter!
Here's where you can buy the down jacket for women.
A quick note for those worried about the origin of the feathers:
I spoke to the team over at Quechua and they confirmed to me that the feathers used in the jackets are a by-product of the meat industry. The ducks are not harmed in this process. Their feathers are used after they have been consumed in the meat industry.
Sign up for our much loved Weekly Mailer
We have terrific trekking tips, trek updates and trek talks to look forward to