Can You Help Us With Photographs Of This Trek?
We are looking to enrich this documentation with more photos. Pictures go a long way in explaining the trail, more than words ever can. If you have done this trek, can you share your photos with us? We will include them on this page, with due credit to you.Click here to contribute.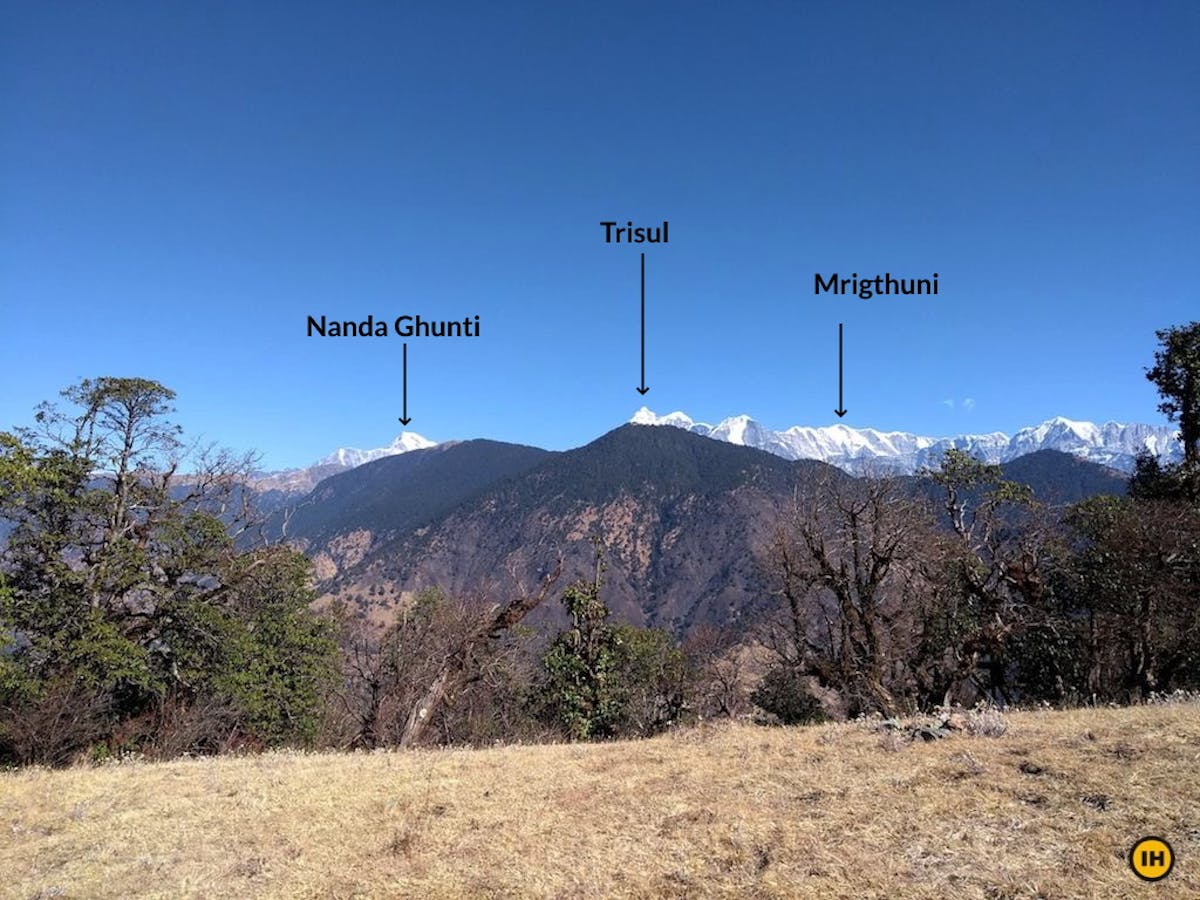 View of the high altitude peaks from Ajan Top. Picture by Samkit Jain
Ajan top is a short, day trek. It is perfect to get acclimatised for your longer trek. From the top, get 180 degree views of big mountains such as Nanda Ghunti, Trisul, Mrightuni, Maiktoli, Devtoli and Tharkot. You can also spot Ali Bugyal and Bedni Bugyal from here.
If you have a spare day before or after your Roopkund or Brahmatal treks, visit Ajan top. This sweeping meadow on a hill top,  next to Lohajung makes for a perfect excursion. You reach this after trekking past small hamlets and through a forest filled with rhododendrons and green oak. The sunset here is especially breath taking.
Trek Details
Altitude: 8,399 ft
Time taken: 2.5-3 hours; 2.35 km one way
Trek gradient: Easy
Water sources: There is a community water tap a few minutes into the trek where you can refill your water bottles. If you start with 2 litres of water, you will not need a refill.
The trek begins from the main market of Lohajung Village. Move in the direction from where Lohajung begins. As you reach the starting point of the village, spot a big iron gate. A trail going upwards on your left starts just before this gate. Take this trail.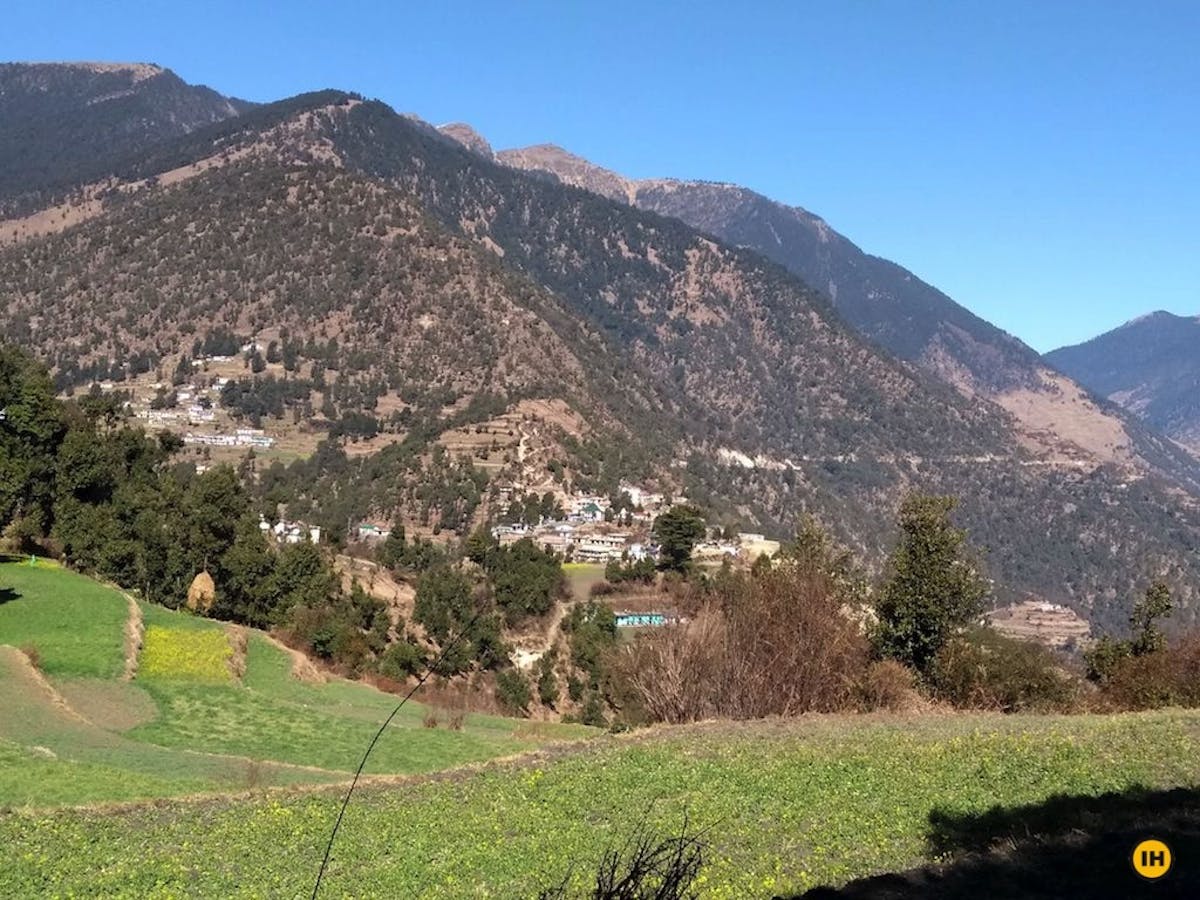 View of Lohajung. Picture by Samkit Jain
As you climb up a few meters, spot the community tap. You can refill your water bottles here. Further ahead, after a few metres  some houses and a playground appear on your left. You might find small children playing cricket there.
Continue on this trail. You are surrounded by rhododendron and oak trees. This trail is very beautiful in March and April when rhododendrons bloom. After approximately 800 meters you spot a small cluster of houses. This is Chibila Village.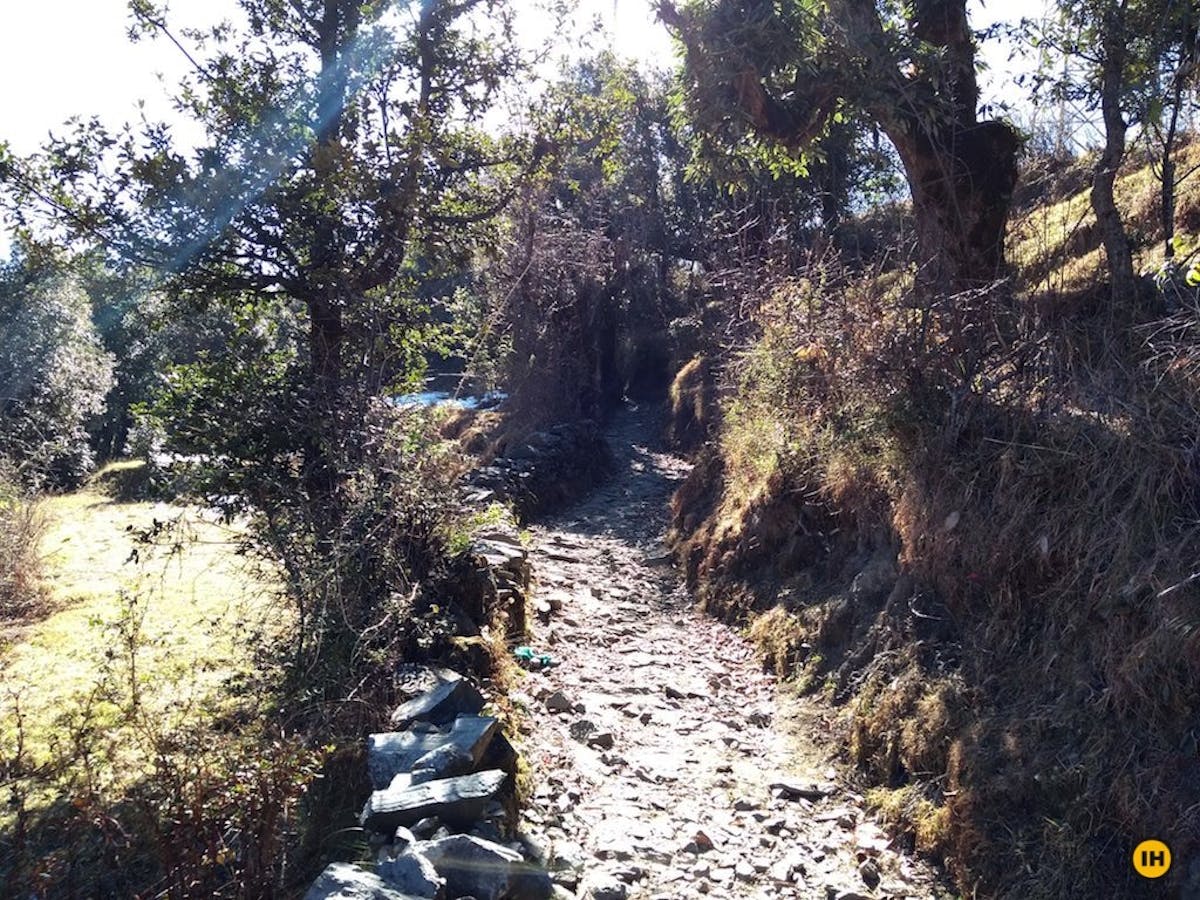 The trail enters a forest with rhododendron and oaks. Picture by Samkit Jain
You get the first glance of Mt Trisul from here. Only the peak is visible, with the rest of the Mountain hidden behind Ali Bugyal. You can also get a glimpse of Tharkot Mountain from the right side. It's just a matter of distance for the whole range to become visible.
From Chibila village , take the cemented paved path which goes upward. On your left, you can spot green and yellow Mustard fields. Take a break and spend some time to appreciate the beautiful scenery. Lohajung is visible beyind the mustard fields.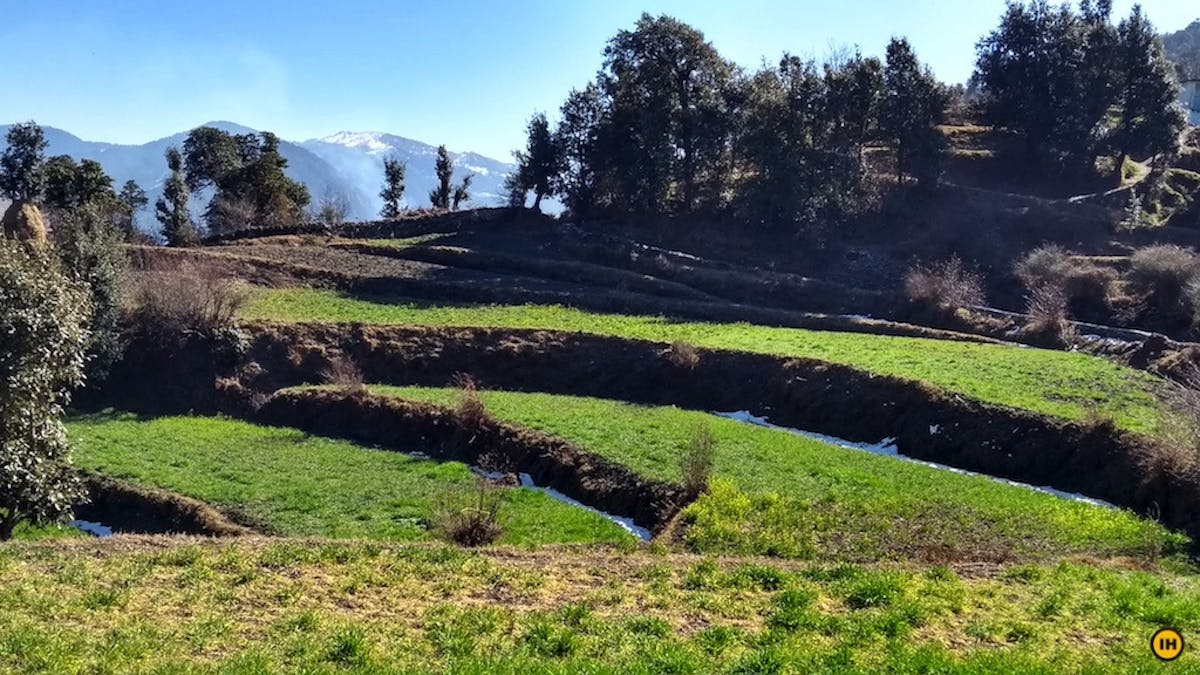 The cemented trail goes winding past fields. Picture by Samkit Jain
The cemented path goes continues for around 500 metres. A stone trail continues hereafter. Continue on this for another 600 metres. You will spot another community tap on the way. At the end of this trail, you find a cemented water tank. The trail ends here.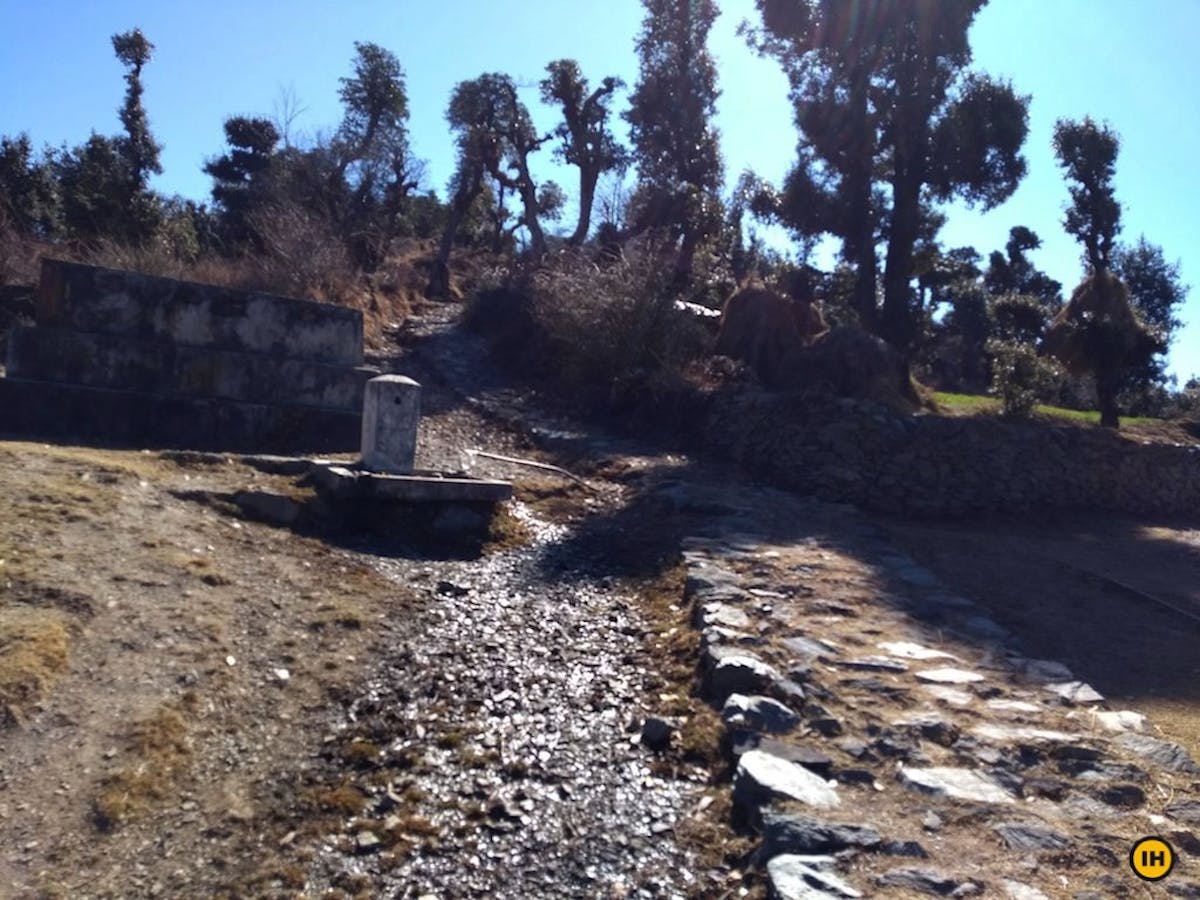 The cemented trail gives way to a stone path around 500 metres from Chibila. The second community tap that you cross on the trail comes up a few hundred metres ahead. Picture by Samkit Jain
From this point up on, there is no marked trail to Ajan Top. Due to soil erosion, multiple trails have formed here. You can take any of these to reach the top. As you cross this part, the tree line begins to recede and you can see a meadow opening up.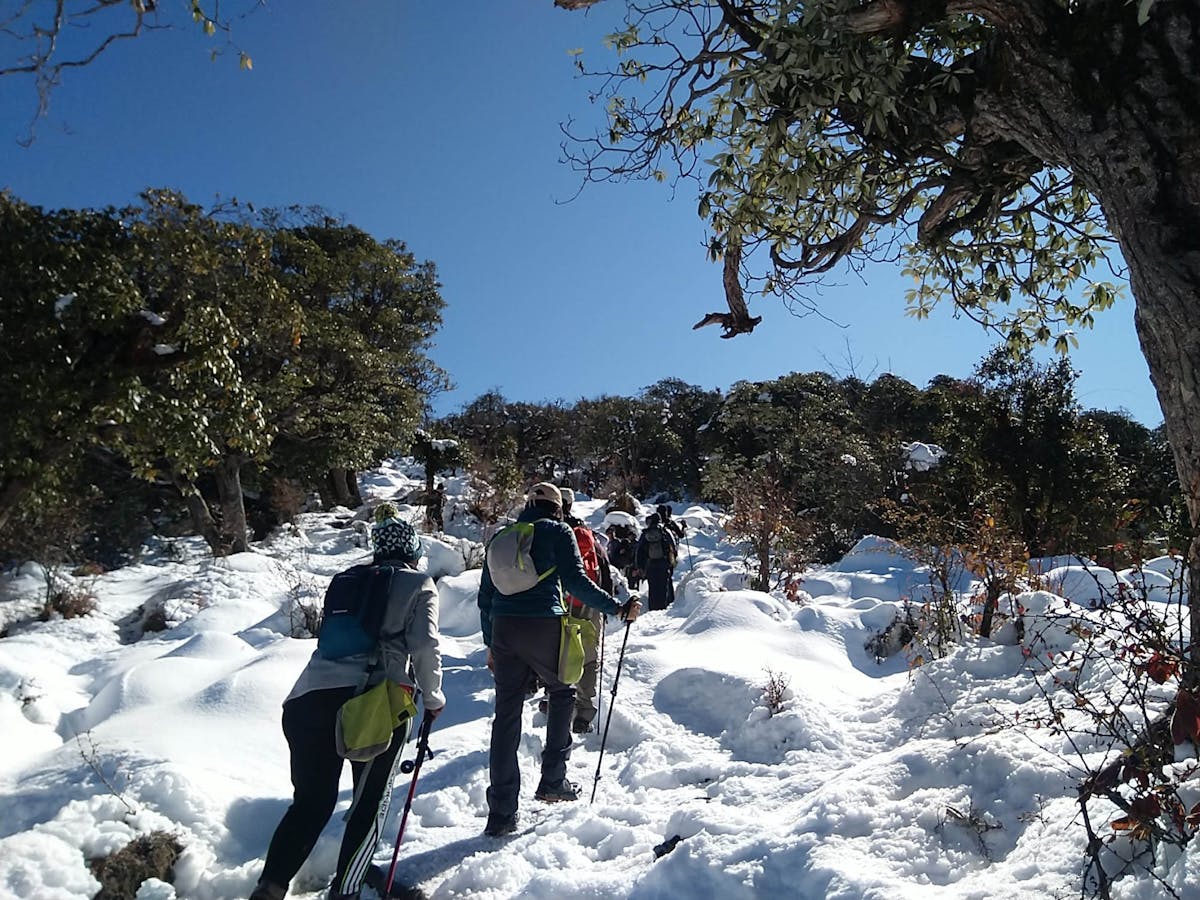 The Ajan top trail in winter. Picture by Mukta Joshi
After this you enter the clearing on the top.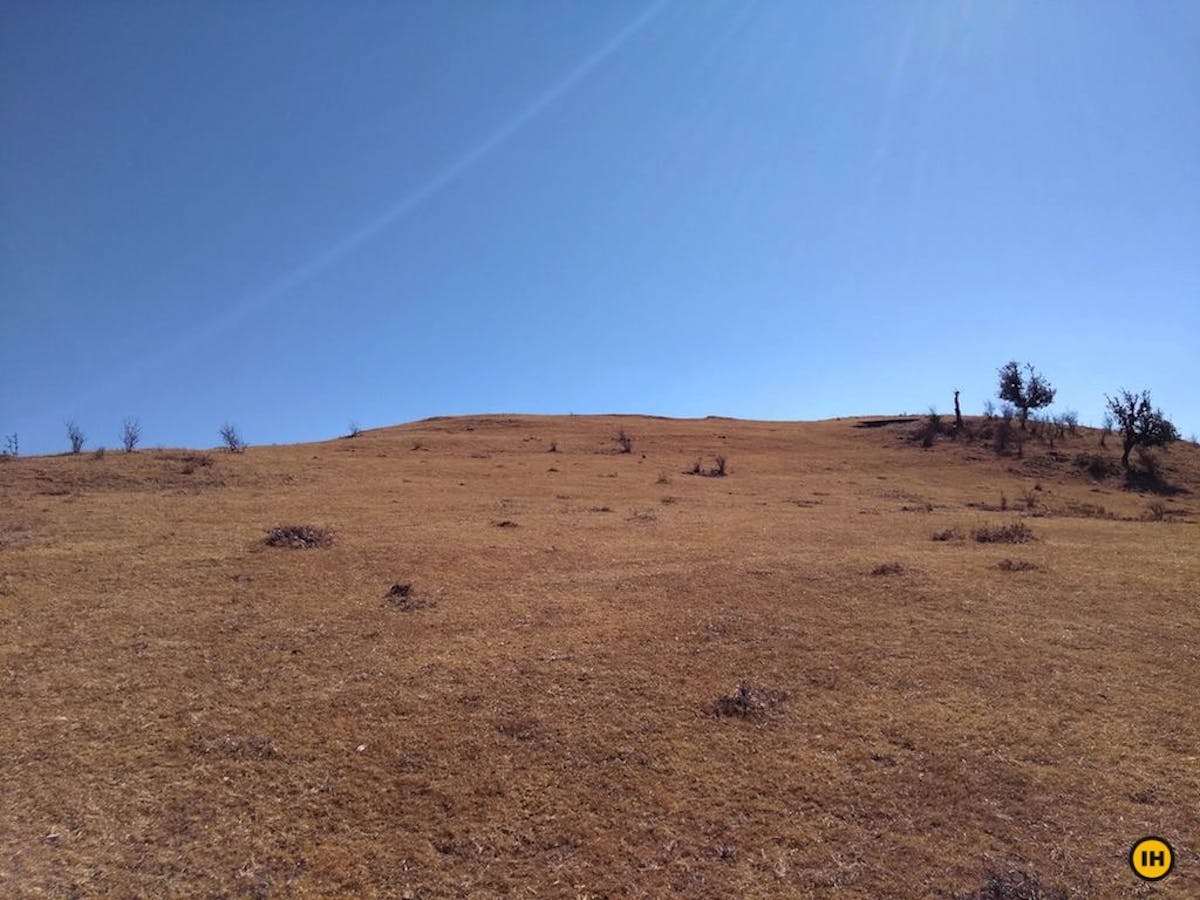 The forest clear, giving to a meadow at Ajan Top. Picture by Samkit Jain
In autumn season this is all lush green and small flowers bloom in the meadow. You can see the Ajan Temple in the centre.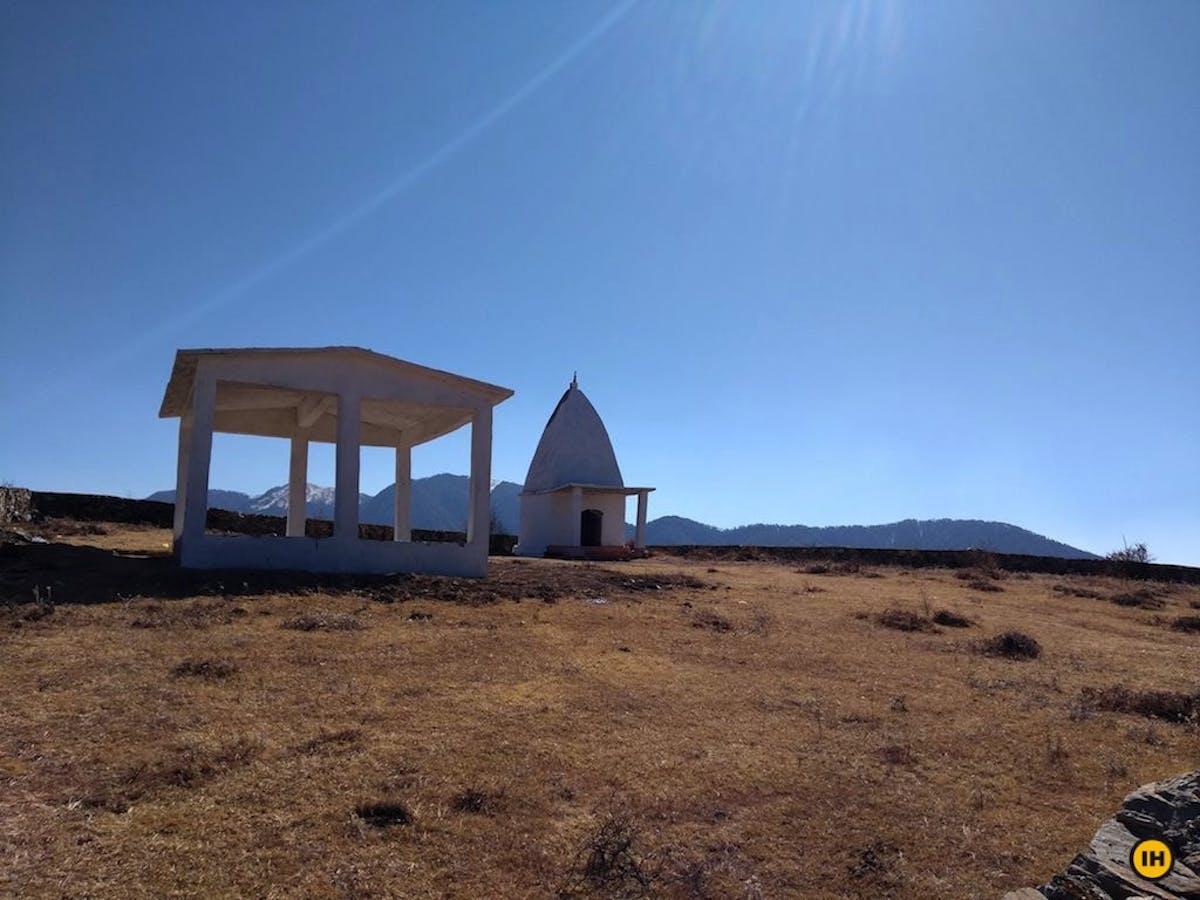 On your right an entire range of mountains opens up, starting from Nanda Ghunti to the left, followed by Trisul 1 (7,120 m) & 2 (6,190 m).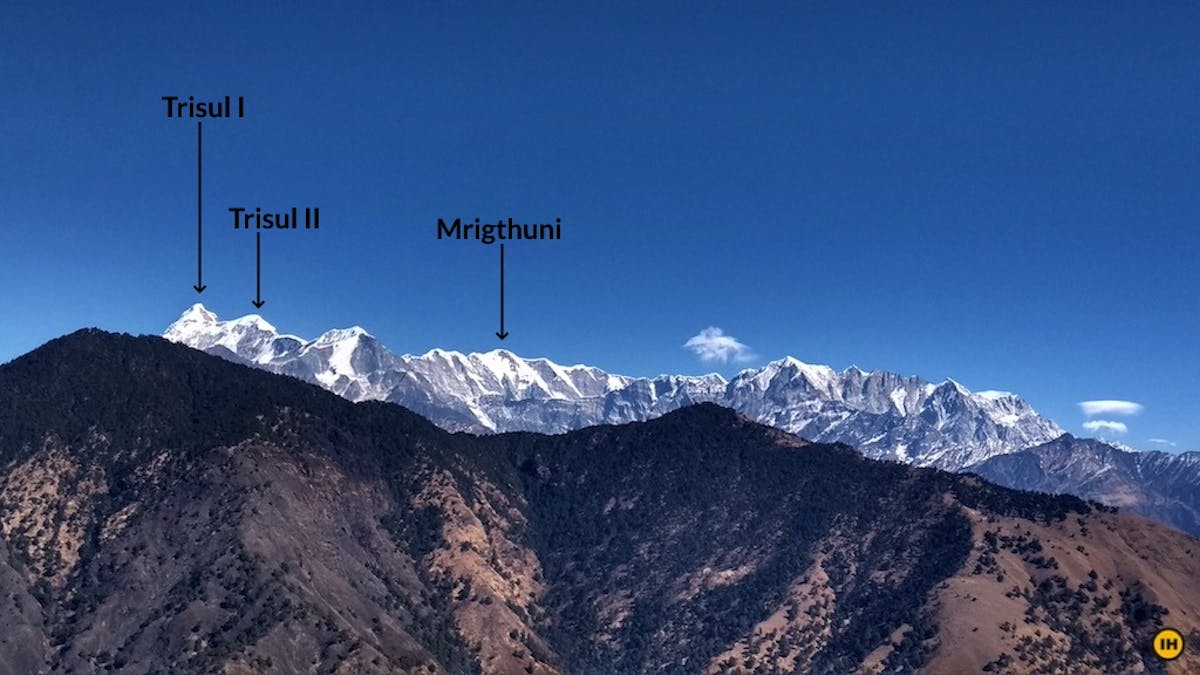 180 degree mountain views open up as you reach Ajan top. Picture by Samkit Jain
To the right of Trishul are Mrighthuni (6,855 m), Devtoli (6,788 m) and Tharkot (6,099 m) respectively. Have lunch here, with the magnificent mountains in front of you.
Descend to Lohajung on the same trail. It will take 40 minutes to 1 hour to reach Lohajung.
➤ How to get fit for the Ajan Top Trek
Ajan Top is an easy trek, that is easy relative to other Himalayan treks. The trail is steep and can be quite tiring but it is not laborious as it is well maintained. Even for a trek as easy as Ajan Top it helps to get fit before doing the trek, it makes the experience a lot more enjoyable. 
Cardiovascular endurance
This trek requires a good amount of cardiovascular endurance. You can begin by jogging everyday. Start jogging at a slow pace and then keep increasing your pace day by day. In order to be prepared for high altitude trek, you should have a combination of distance and speed targets.
Here's a fitness routine that works:
In case you're just starting with a regular fitness routine, phase out your distance targets in the following manner –
–>Target completing 5 km in 45 minutes when you begin.
–> Gradually increase your pace by running 4 times a week and bring it down to 5 km in 40 mins.
–>If you are 45 years or above, try to cover 5km in less than 45 minutes.
If you are somebody you prefers cycling over running, then try to cover 18 km in 60 minutes.
Here is a guide to help you get fit for the trek.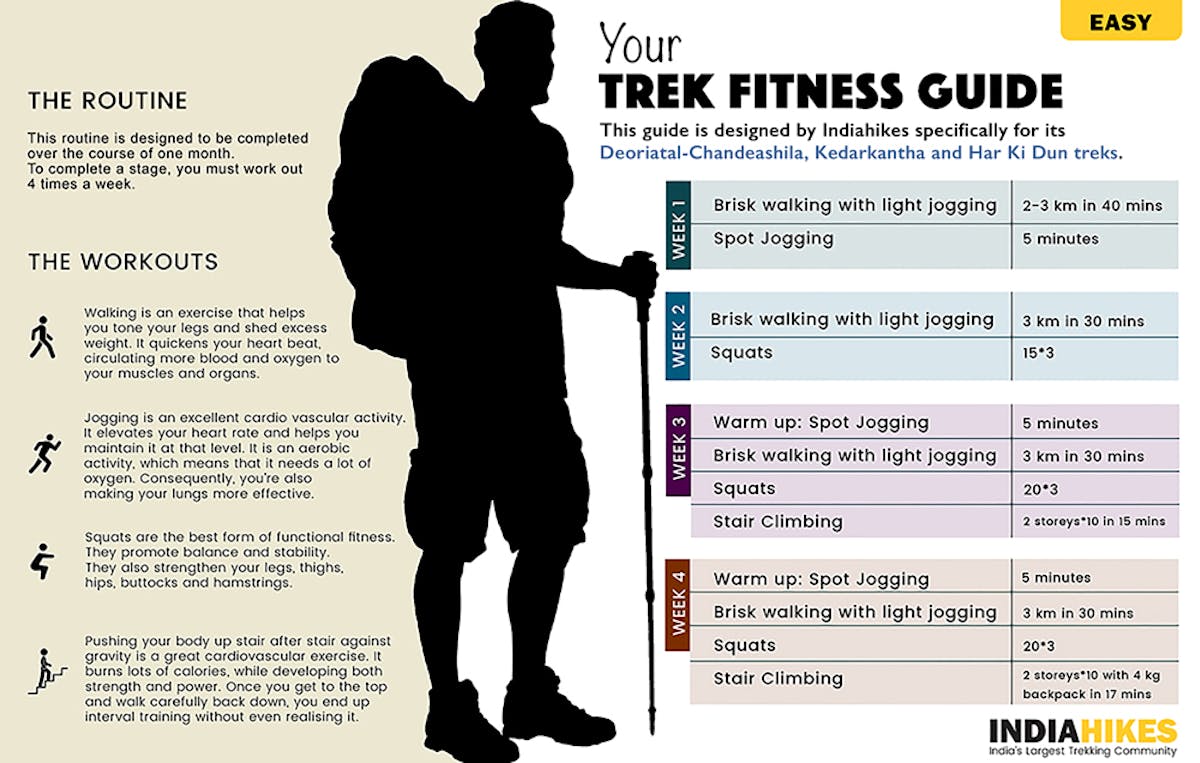 ➤ What to Take on the Ajan Top Trek
Bare necessities:
Trekking shoes: You will need trekking shoes with good grip. This is a very short trek however and you can manage with sports shoes as well. You need not buy trekking shoes just for this one trek. 
Daypack(15-25 litres): This is a short trek and you do not need to carry much, a small 15-25 litre daypack will suffice. You will only need a bigger 30-40 litre backpack if you are carrying your own camping gear. 
Clothes:
Two warm layers: It can get pretty cold at the top during the evening so carry two warm layers.
Two trek pants: One pair of pants should suffice for this trek. But you can carry one spare pair in case the first one gets wet. Wear one pair and carry one pair. 
Two collared t-shirts: Carry light, full sleeved t-shirts that prevent sun burns on the neck and arms. Again, wear one and carry one spare.
Thermals (Optional): Those who are more susceptible to cold can carry thermals to wear at night.
Accessories:
Suncap: The sun is harsh in the mountains, and you will especially need them if you are trekking in late morning or afternoon.
Balaclava: For chilly evenings. You may use woollen scarves instead as well.
Socks: Apart from sports socks, you can take a pair of woollen socks for the night.
Headlamp/LED torch
Trekking pole(optional)
Others:
Toiletries: Sunscreen, moisturiser, light towel, lip balm, toilet paper, toothbrush, toothpaste 
Two water bottles: 1 litre each, you will especially need to carry water to the Ajan top
Plastic covers: While packing, use plastic bags to compartmentalise things and carry few extra plastic bags for wet clothes.
Medical kit: Carry band aid, moov, betadine or some other antiseptic cream, ORS,as well as basic medicines such as crocin, disprin, digene etc.
➤ Maps and Charts
Ajan Top route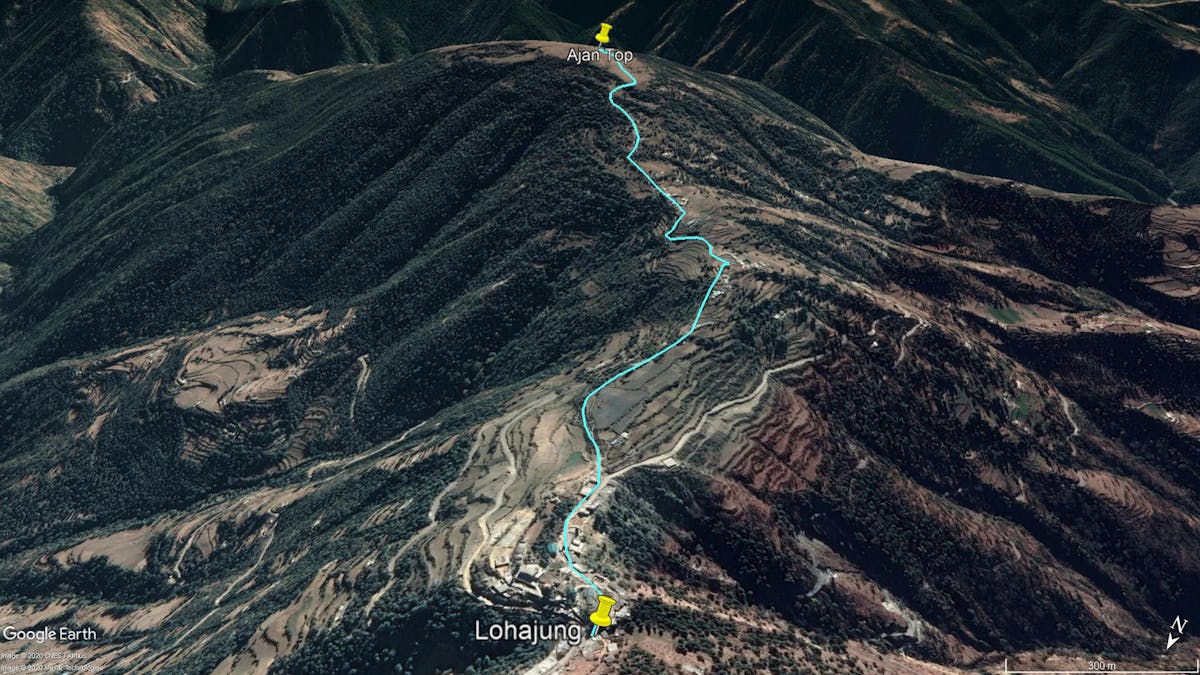 Click here to download the KML file.
Elevation graph

➤ How to Plan Your Travel
How to get to the basecamp – Lohajung
Delhi → Kathgodam → Lohajung
The Ajan top trek begins from Lohajung, a picturesque village in the Chamoli district of Uttarakhand. It is also the basecamp of the popular Brahmatal and Ali Bedni Bugyal trek. Lohajung is situated around 230 km from Kathgodam.
The drive to Lohajung is a pleasurable one, as you pass through several Kumaoni and Garwahli hill stations – Nainital, Kausani and Gwaldam.
How to reach the base camp by yourself
Option 1: Delhi → Lohajung (24 hours)
There is a direct bus from Delhi to Mundoli/Lohajung. It leaves Delhi Anand Vihar terminal at 9.15 pm. You will reach Kathgodam at 4.00 am and Lohajung at 5.30 pm.
Note: This is an extremely long and tiring journey and the buses are not too comfortable. We recommend Options 2 and 3.
Option 2: Delhi → Rishikesh → Lohajung (cab)
From Delhi, get to Rishikesh/Haridwar and hire a Sumo to Lohajung. The route: Devprayag – Srinagar – Rudraprayag – Karanprayag – turn right to Tharali – Debal – Mundoli – Lohajung
Note: Most taxi operators may not have heard of Lohajung. So, you'll have to show them the direction as given above.

Route from Rishikesh to Lohajung via Karanprayag
Option 3: Delhi → Rishikesh → Karanprayag → Lohajung (bus)
From Rishikesh Bus Stand., take any bus on the Joshimath/Badrinath route and buy a ticket to Karanprayag. It is a 6-7 hour journey from Rishikesh to Karanprayag. Take a bus that leaves as early in the morning as possible, preferably around 6.00 am. From Karanprayag Bus Stand, take a shared Jeep to Tharali (47 km). The road to Tharali runs along the Pindar river.
From Tharali, take a shared taxi to Debal (14 km). From Debal, it is another 24 kms to Lohajung.
➤ Trek Contribution
This trek has been documented by Indiahikes trek leaders, Samkit Jain and Mukta Joshi.