Can You Help Us With Photographs Of This Trek?
We are looking to enrich this documentation with more photos. Pictures go a long way in explaining the trail, more than words ever can. If you have done this trek, can you share your photos with us? We will include them on this page, with due credit to you. Click here to contribute.
Bagji Bugyal – The meadow of tigers
A trek to the Himalayas is incomplete without its share of local stories and legends. And Bagji Bugyal has one of its own. The local villagers talk about a time, 60-70 years ago, when tigers (Bagh in the local language) used to freely roam along the meadows.
Tribal herdsmen used to avoid the bugyal lest their flock, or even worse, the herdsmen themselves fall pray to these cats. Just to mark these particular set of bugyal , they gave it name – Bagji Bugyal. The literal translation being tiger meadows. Unfortunately, the tigers disappeared.
Deep virgin forests, gurgling brooks, breath taking campsite and unending meadows is what makes this trek special. Ali and Bedni Bugyal are quite famous among trekkers, but add Bagji to them and they make a great trio of the high altitude alpine meadows. Simply put, the gigantic meadows on this 6 day trek  will blow you away. It will be as if you walked into another world
But the most stunning highlight of them all, aren't the meadows. It is the views along the trail. More so  from Bagji Bugyal Basecamp and the top as well. The trek offers 360 degree views of the all the neighboring peaks. hike the trail with views of Mt Trishul, Mt Mrigthoni, and Mt Nanda Ghunti for company. You will be spending the entire evenings and early mornings just gazing at those mighty mountains in awe.
So let's put on that backpack, tie those laces and start trekking.
➤ Trail Information
Day 1: Reach Ghase
Irrespective of if you're coming from Dehradoon, Rishikesh or Kathgodam it's a 10-12 journey to get to the basecamp in Ghase. After their first glimpse in Tharali,  Mt Nanda Ghunti, and Mt Mrigthoni welcome you to the picturesque village of Ghase.
Altitude: 7900 ft
Time taken: 10-12 hours of driving.
Before reaching Ghase make sure you have all your trek gear ready and make your phone calls to loved ones. There is no mobile phone networks available in Ghase although if you're lucky you might get some on certain spots at Bagji Bugyal basecamp.  You can buy  jackets, gloves, caps and shoes in Dewal but better get them beforehand and not rely on them to be readily available in Dewal.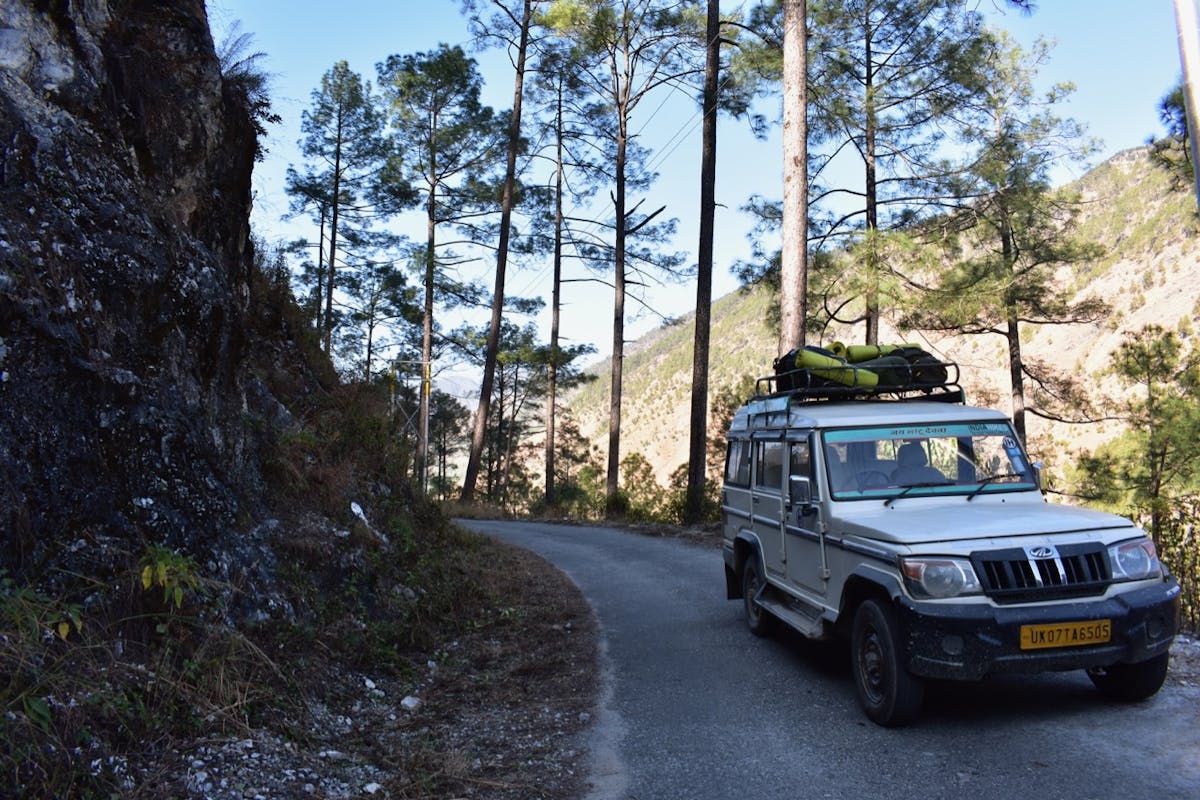 Enroute to Ghase, the base camp for Bagji Bugyal PC: Himanshu Singla
Ghase is village with about 200-250 houses spread over a length of 7kms  on an ascent in a clusters of small hamlets. The village developed in this form over a period of years as the locals migrated from higher hamlets to lower ones at the change of seasons. While you might not think of it as anything noteworthy when you're in the village, you'll be able to appreciate its real beauty on Day 2 when you look at the village from on elevation on following day of the trek.
Day 2: Ghase to Devlikheti
Altitude: 7900 ft to 9811 ft
Time taken: 4 to 5 hours
Trek gradient: Gradual ascent with patches of steep ascent through forest with some rocky patches
Water Sources: Fill your water bottles before leaving base camp. There is only one source near Samrata village an hour after you leave base camp
Fill your water bottles and catch the trail in south east direction on steep ascent for first 10 minutes.  The trail will go up very gradually, then 30 minutes later , look for a single shepherd's hut to your right. All this time Mt  Trishul, Mektoli, Devtoli, Mragthoni will accompany you with you to your  right. 15 minutes later you arrive at a village called Samrata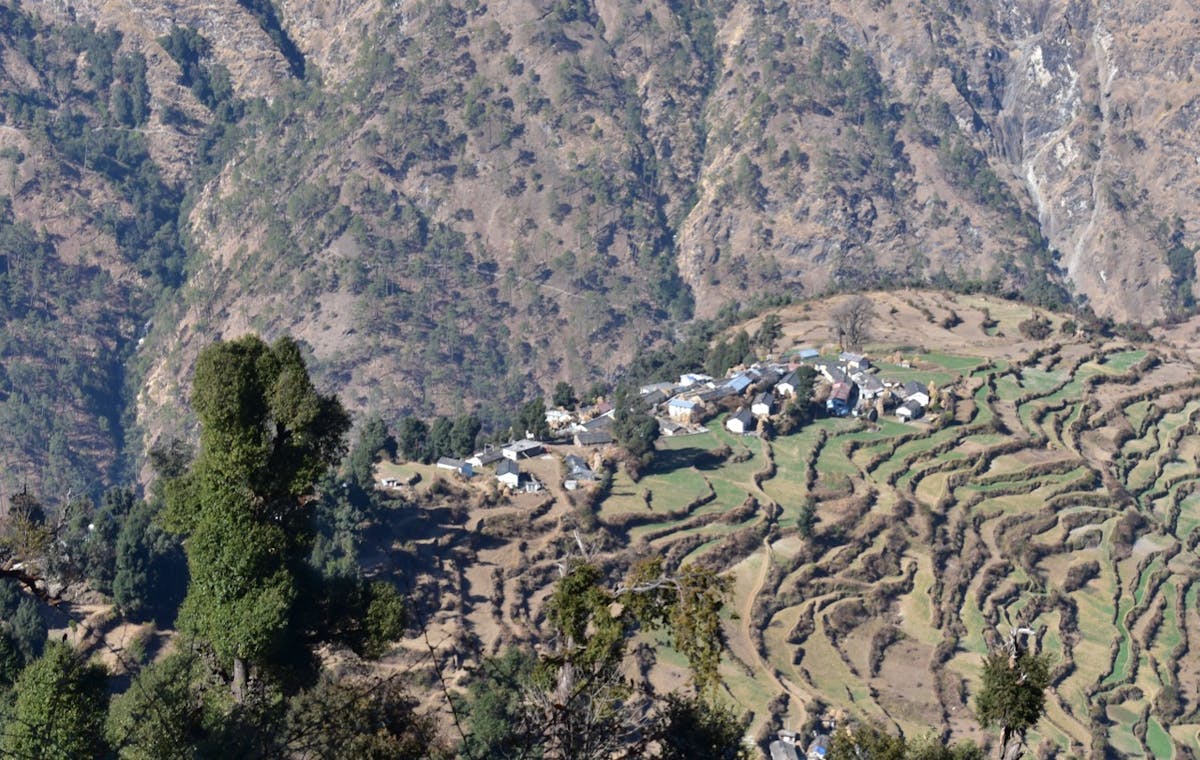 Ghase village as viewed from trail to Devlikheti on Bagji Bugyal Trek. PC : Himanshu Singla
All mighty peaks will be on your back  you go further south on a flat trail. Before you trek ahead a little bit about Samrata. It is the  first high mountain village on trek at the height of 8879ft. Made up a cluster of hamlets and some small fields in which they grow seasonal vegetables, rajma and wheat. Pinder valley looks so endless from here.
Crossing Samrata, head south east  and the trail will ascend steeply for for 150m. The climb takes up to 30 minutes and at the end of it take the extreme left out of 4 trails that you see. 15 minutes of gradual jungle ascent in the north eastern direction will lead you to a Guru Mandir.  Listen to the temple bells ringing as you watch the flags fluttering in the sun. Continue straight on the trail keeping the  temple to  your left. An hour and half after continuing on the path with a gradual ascent and flat trails  you'll reach your first campsite – Devlikheti
From Devlikheti you can see Brahmatal Top staring at you with Ajan top on your right. Navali Bugyal will be at your eye level and 100 year old Rhododendros fencing the campsite
Day 3: Devlikheti to Bagji Bugyal Basecamp
Altitude: 9811 ft to 10600ft
Time taken: 3 to 4 hours
Trek gradient: Gradual ascent with  some patches of steep ascent and some sections of descent as well starting with a jungle walk in the initial part of the trail
Water Sources: There's one water source on the way. Once at campsite traverse for a 100 mts towards Mt Trishul from the Forest Department huts you'll come across a water source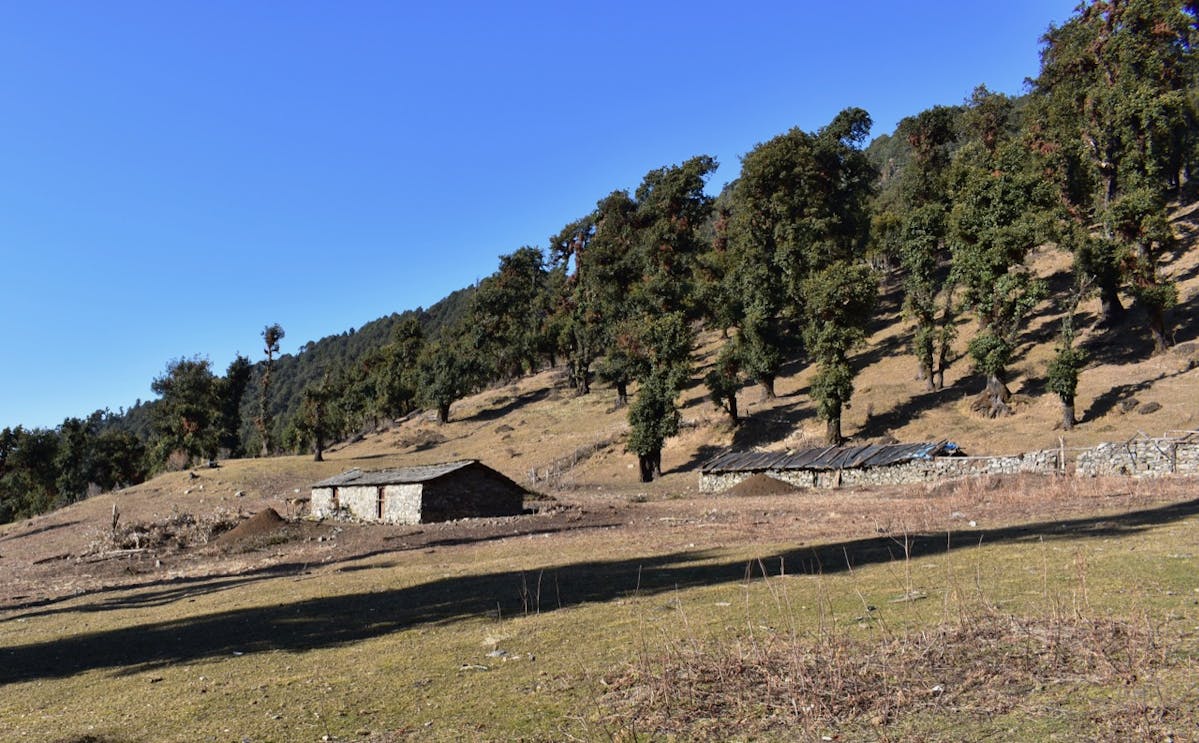 Forest department huts near the campsite. PC : Himashu Singla
Gear up for first ascent of 30 minutes just behind your campsite just to catch the trail in W Direction. The trail then, very gradually  heads north-east. Go ahead this steep incline for 30 minutes in a zig-zag manner as the ascent is steep and walking zig-zag makes it easier. Once you sucessfully negotiate, the next couple of hours is very gradual going up. You'll get a glimpse of Bagji Bugyal. But don't be alarmed if it looks dark. It is only that jungle and the steep slope around doesn't let the sun rays shine on the bugyal.  Enjoy a break here for a while. Not only to catch your breath but also to enjoy the smells and sounds of the jungle. Another 15 minutes of another gradual ascent, Mt Trishul and Mektoli come into your views again. Get your cameras out and press that shutter release button a few times. It is a sight to behold. Bagji Bugyal Basecamp is an hour long walk from here  in an hour in same direction and.  From here you'll see first time you see Chaukhumba on your left and Kedar dome peeking out from clouds. And you are done for the day. Bagji Bugyal summit is a 45 minute hike up the ascent next morning.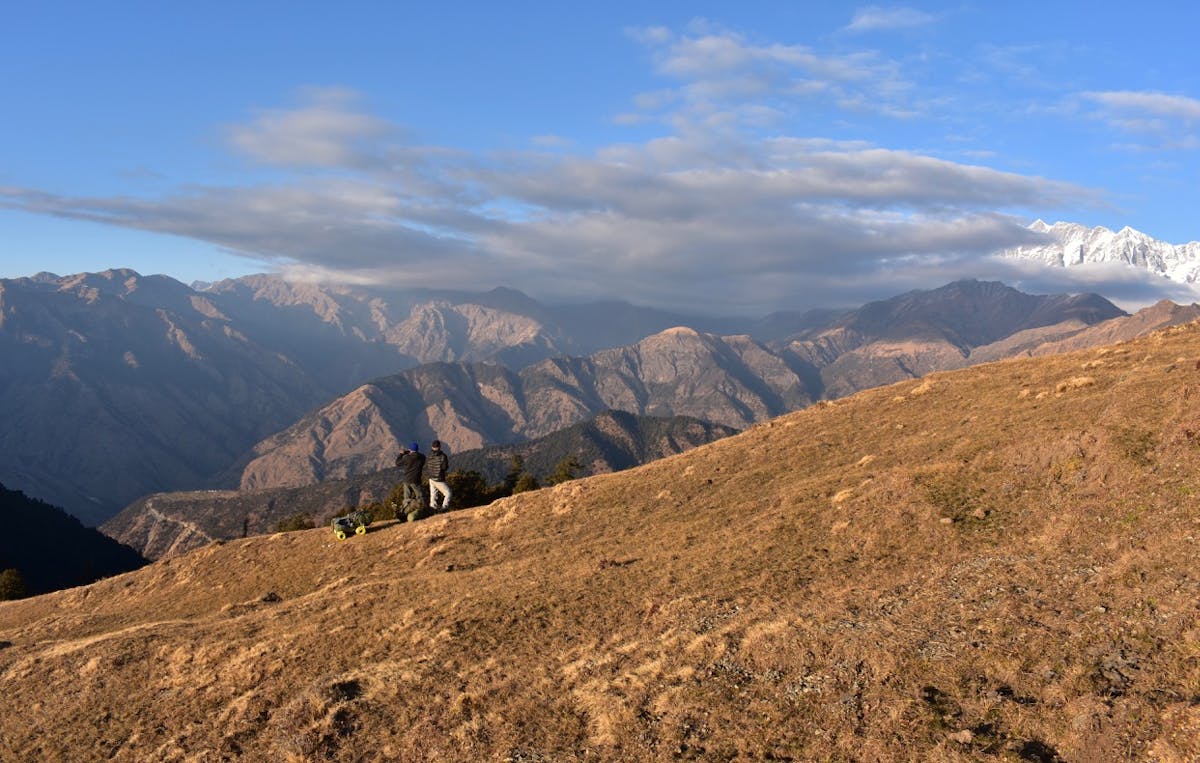 Views from Bagji Bugyal Basecamp. PC: Himanshu Singla
As you gaze at the neighbouring mountains while having your tea, it'll be impossible to resist being spellbound by the magic those colors weave. To one side of meadow, you see Garhwal, Kumaon ranges in red and many shades of it.  While on the other side watch the sun drops into a sea of clouds behind Narvali Top. As the last few rays of the sun fall on big mountains, they mountains change from a shade of dark orange  to red and finally cold white. Enjoy a hot dinner before make your whole day before you sneak into your sleeping bag.  Next morning you summit Bagji Bugyal top.
Day 4: Bagji Bugyal Basecamp to Dhulamb via Bagji Bugyal top
Altitude: 10600ft to 9870 ft via 11100 ft
Time taken: 4 to 5 hours
Trek gradient: A half and half mix of ascent and descent through forests, ridges and meadows
Water Sources: There aren't any water sources along the trail. So make sure you have your water bottles filled before leaving camp. There is water at Dhulamb campsite though.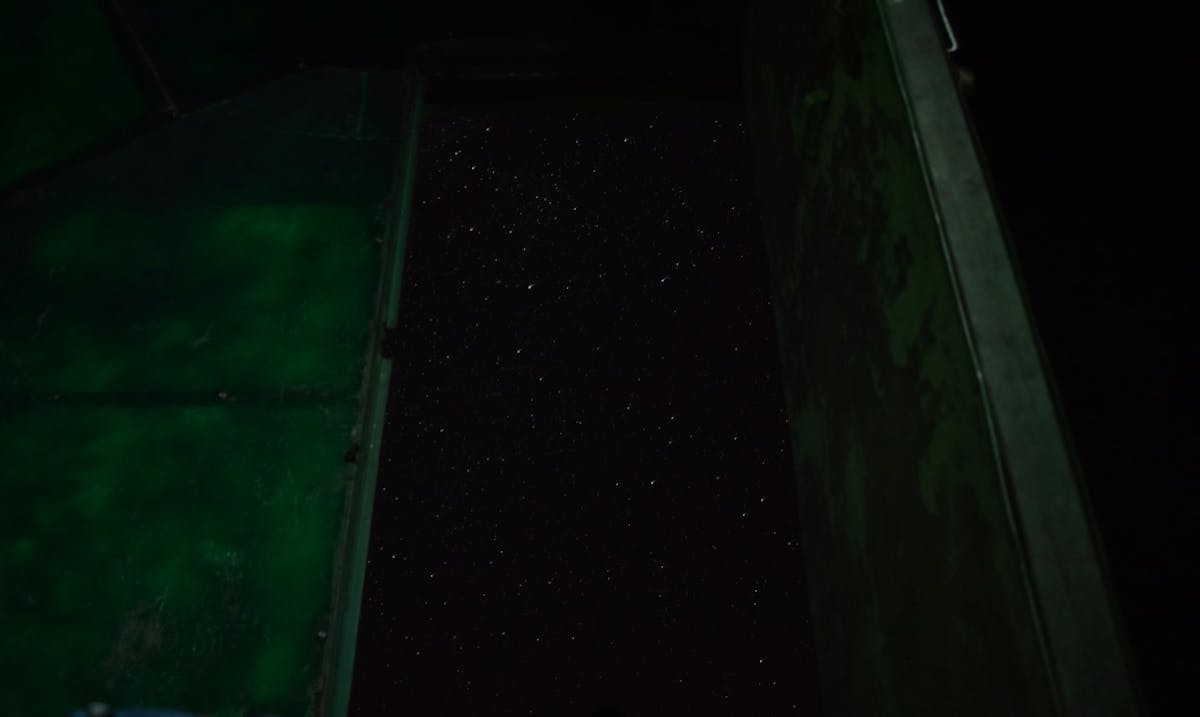 Pre-dawn on Bagji Bugyal Basecamp. PC: Himanshu Singla
Start before sunrise and head towards the summit which is 45 mins of  ascent in the north east direction from the campsite. Watch the sunrise from there and spend about 30 minutes soaking in the first light of the morning. The views from the top are well worth the early morning wake up call. You'll sight the Balan valley with Balan village, Dewal Ghati, Lohajung, the entire Roopkund trail, Brahmtal top, Ali Bugyal, Kaali Daak, Mt Trishul, Mt Nanda Ghunti, Mt Devtoli, Mt Mrigtoli, Mt Mektoli, and Kaalitaal.  After enjoying the 360 degree view of landscape which is rare in Garhwal Himalayas comes the descent.
Walk for 15 minutes along the meadows of Bagji Bugyal keeping Mt Trishul in front of you.From there on it is a steep descent of 45 minutes through a lush jungle. Towards the end of this descent you'll see small pastures from where you take the ridge heading north. You'll gradual hiking up and down for the next 2 hours From here its  gradual ascents, gradual descend for next 2 hours. You'll come across Buniya meadows where you will see some shepherds with their sheeps and cattles.  This would be a perfect place to take a break, stretch those legs and have some water before your 30 minute ascent  of the day. This will be your final ascent of the day after which continue on the trail to your left heading in the northern direction. 30 minutes later you are  at Dhulamb – your campsite for the day. Dhulamb campsite is located in a small patch of meadows surrounded by oak trees. If you're a bird enthusiast, head to the water source close by and you'll heard chirps of various birds and may be spot a few as well.
Day 5: Dhulamb to Himni
Altitude: 9870 ft ot 8400 ft
Time taken: 4 hours
Trek gradient: Descent through forests and meadows some of which can be steep  and mostly a flat trail otherwise
Water Sources: There are a couple of water sources along the way, one of them being a small pond surrounded by grassy land and the other being water reservoir of Himni village.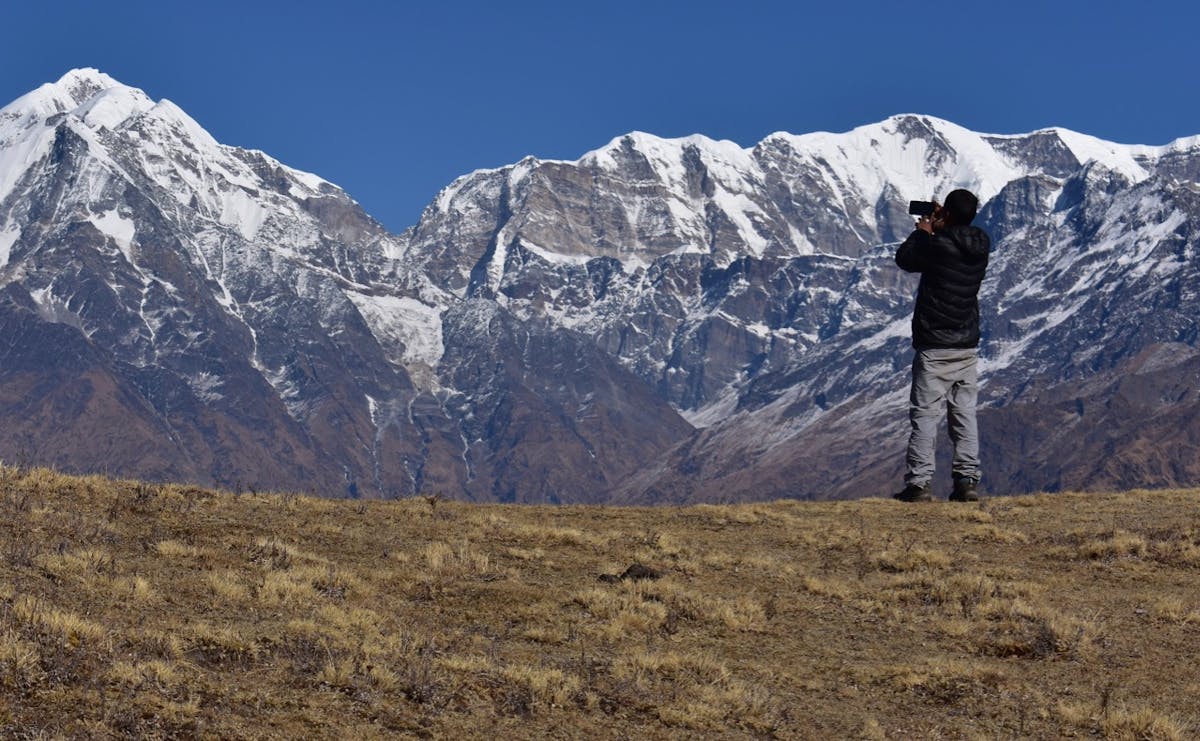 Make sure to take a lot of pictures on Bagji Bugyal Trek. PC: Himanshu Singla
The trail on the  penultimate day of the trek begins near the water source. A gradual ascent of 10 minutes will lead you to a flat pathway going southwest for about 30 minutes. Once at the meadows on a high incline, begin your steep descent at the end of which is a long walk. The first sign of civilization you'll see is what is called a 'chaniya' and small hut, some farm animals. Continue along the trail to your left in the southwest direction for an hour until you see a pond surrounded by grassy area and oak trees to you right. A good place to fill up your water bottles if they're emptied or just simply to take a break and enjoy the view. A further half an hour on the trail you'll see a water reservoir that is the source of water for Himni village. An hour later you'll arrive at Himni village. Observe the little houses, the villagers working in the fields and kids playing. That is how life in many of the villages in this regions passes by.
Day 6: Himni to Dehradun/Kathgodam/Rishikesh
The next morning take a bus or a shared jeep back to the nearest rail head or airport and then ahead to your home.
➤ How to Plan Your Travel
The trek begins at the village of Ghase/Ghes (will rhyme with chase) a bit east of Lohajung. About 25 km before Lohajung likes the village of Dewal. This is where you take a detour to the village of Ghase. The base camp for the trek. Ghase is a picturesque village in the Chamoli district of Uttarakhand welcoming you with sights of Mt Nanda Ghunti and Mrigthoni.
By train
via Kathgodam: If traveling from Delhi, take the overnight Ranikhet Express to reach Kathgodam by 5.00 in the morning. After a quick cup of chai, hire a private taxi to the village of Ghase. The ride will set you back by Rs 5000-6000 and take 10-12 hours. You also get shared jeeps from Kathgodam  going to Ghase via Almora, Kasauni, Gwaldam, Dewal.
via Rishikesh: Another option is to take an overnight train from New Delhi to Rishikesh and then take shared jeep to Karnaprayag and then on to Ghase by changing jeeps at Tharali and/or Dewal
By flight
You can also fly to Dehradoon  and from there take a shared jeep to Karnaprayag and follow the same route as above
By bus
There are regular overnight buses from New Delhi to Dehradoon, Rhishikesh  (from Kashmiri Gate ISBT) and Kathgodam (from Anand Vihar ISBT) and from there it's the same journey as described above.
This trek was explored by our trek leader Himanshu Singla in December 2018