Can You Help Us With Photographs Of This Trek?
We are looking to enrich this documentation with more photos. Pictures go a long way in explaining the trail, more than words ever can. If you have done this trek, can you share your photos with us? We will include them on this page, with due credit to you. Click here to contribute.
Balekallu and Kodekallu Peak Trek
Balekallu Peak is one of the highest peaks in Charmadi and is located around 15 km from Charmadi. Kodekallu is close to Balekallu. "Kode" means umbrella in Kannada and the hill got this name because of an umbrella-shaped boulder at the peak. More than 30 people can take shelter under this boulder.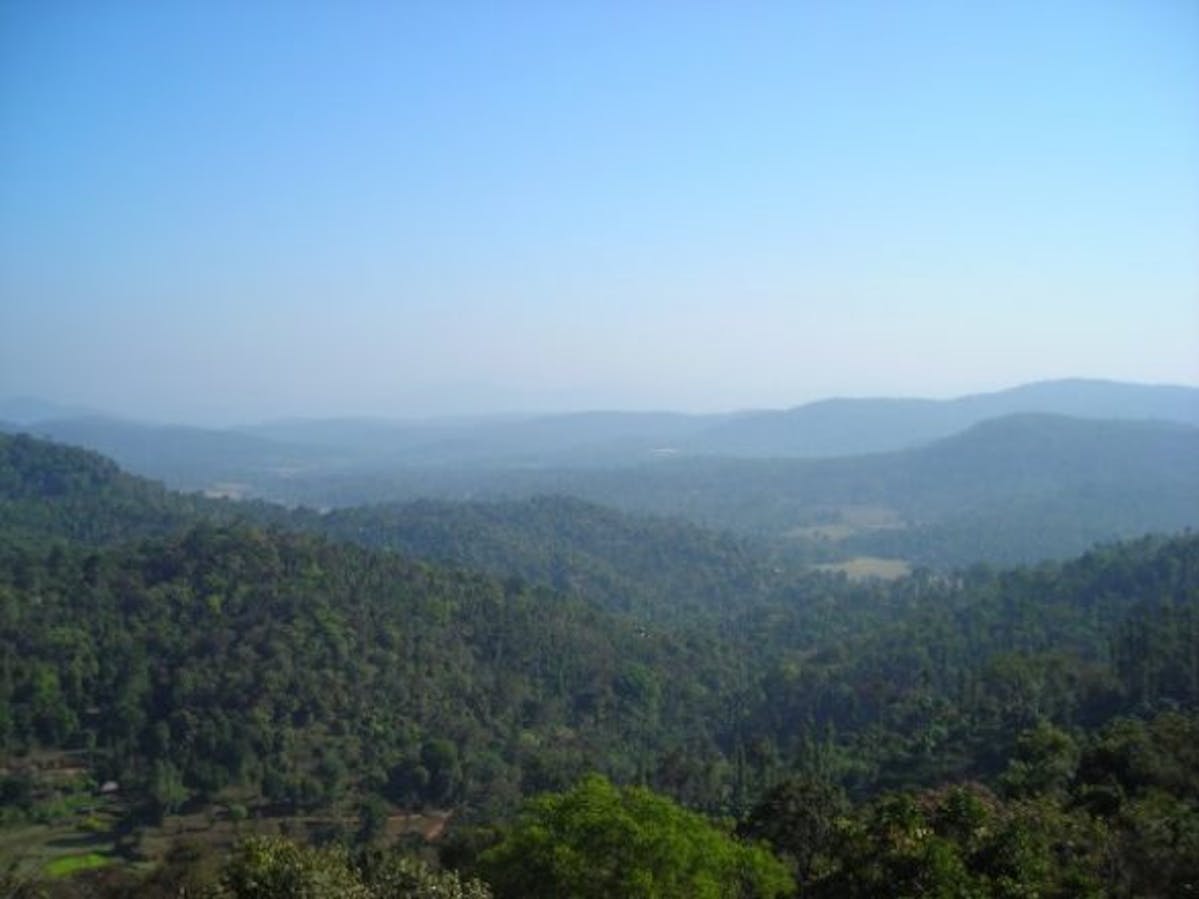 Charmadi (Photo Credit: Abhijit Shylanath)
➤ Short Itinerary
A short and sweet trek in Charmadi Ghats
Kodekallu and Balekallu hills are one among the many trek peaks of Charmadi Ghat.
A trek to these places passes through vast grasslands and forests is easy and not lengthy.
Lush greenery surrounds every step you take and breath-taking views pop out at you at every bend.
➤ Trail Information
There are numerous trails running up these hills. The two most frequented ones are the ones from Charmadi bus stop and from Bidruthala village.
How to reach Charmadi
Charmadi is around 350 km from Bangalore. To reach Charmadi, board a bus towards Dharmasthala. From there catch a local bus to Charmadi. You can also catch a bus to Ujire and from there, to Charmadi. Get down at Charmadi Hotel bus stop. From there, catch a local bus to the peak, which is around 20 km away. Atop the peak, there is a temple. Behind the temple is a Jeep track. This is the starting point of the trek.
How to reach Bidruthala:
Board a bus towards Dharmasthala. From there, catch a local bus to Kottigehara village. Then catch an auto/Jeep to Bidruthala village. There are also local buses, but they are infrequent.
Trek to Balekallu and Kodekallu Peak via Jeep track:
Start walking on the Jeep track. After around 30 minutes, you will reach a house. Here take a left towards Balekallu peak. Beware of bisons and elephants that often take this path.
You encounter grasslands very early in this trek. The grasslands can be slippery and are full of leaches during monsoon. So take adequate precautions. After around 2-3 hours, you will reach the peak. You can view peaks like Jenukallu, Kodekallu, Minchukallu, etc. from here.
The Kodekallu peak is another 30 minutes from here. The trek is easy, there are no steep ascents or descents. But the walk can be tiring if it's very sunny, because there isn't much shade in the grassland.
From the Kodekallu peak, you get amazing views of Kudremukh forests, the surrounding Durgadabetta mountains and the Banjarumale hills.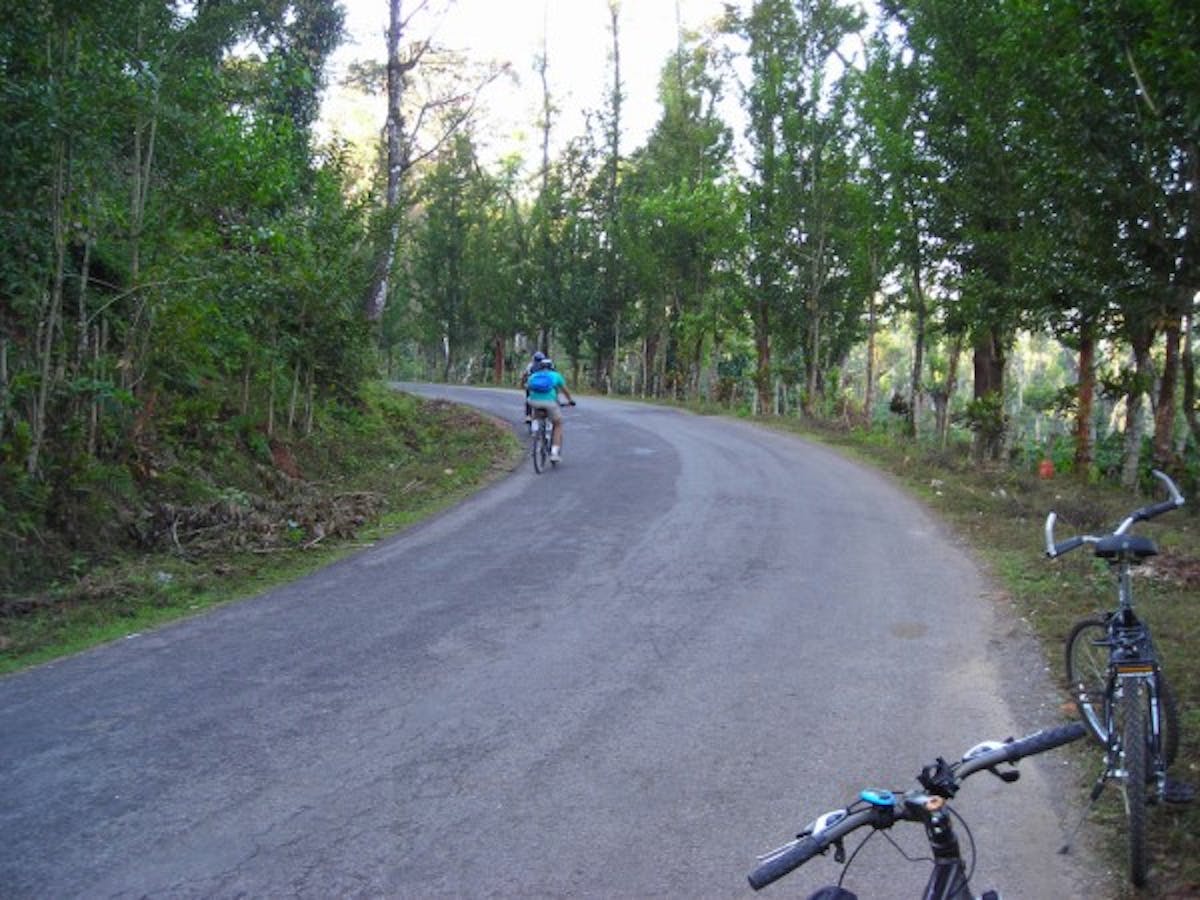 Ghat roads(Photo Credit:Abhijit Shylanath)
Descent:
Another 30 minutes later, spot the Charmadi ghat road from the Kodekallu peak. You may not find any vehicles here. So, it is best to book a Jeep/cab and ask them to pick you up from here.
Trek to Balekallu and Kodekallu Peak from Bidruthala:
Once you enter Bidruthala village, you can see the Bidruthala hill. The village has a couple of thatched houses. Take a deviation in the village towards Bidruthala hill. The route takes you through forests. Around 30 minutes later, you reach the peak. Once atop the peak, you encounter open grasslands. There are a number of peaks like Jenukallu, Balekallu, Minchukallu that you can trek.
The  trek is easy, with a wide route. It alternately passes through vast grasslands and forest patches.  As you trek, you first reach Jenukallu gudda, then Balekallu hill, which is relatively higher than the other peaks. From here, the route to Kodekallu is the same as one outlined in the previous trail.
Food and Accommodation:
Tents can be pitched on either Balekallu gudda or Kodekallu. But camping is best avoided, as these jungle trails are frequented by elephants, bisons etc.
It is best to trek this place between November and February. During summer, the hills are devoid of greenery. Ballalarayana Durga Fort is another nearby trek that you can do from this place. Another place you can visit is Alekkan waterfalls. This is on the way from Charmadi to Kottigehara.
All photos by Abhijit Shylanath.
➤ How to Get Fit for Balekallu and Kodekallu Peak Trek
Cardiovascular endurance 
The secret to ascending any trail lies in building your cardiovascular endurance. You can begin by jogging everyday. Ideally, you should be able to jog 4 km in 20 minutes before the start of the trek. It takes time to be able to cover this distance in the given time. Start slow and increase your pace everyday. Swimming, cycling and stair climbing without too many breaks in between can help too. Strength This is another area you should work on. You will need to build strength in your muscles and in your core body. You can do some squats to strengthen your leg muscles. Do around 3 sets of squats, with 8 squats in each set. Apart from this, you can add planks and crunches to your work out.
Flexibility
Another aspect that will help you trek comfortably is flexibility. For this, you can do some stretching exercises – stretch your hamstrings, quadriceps, hip flexors, lower back muscles and shoulders regularly. Carrying a backpack, however light, can become a strain after a while. These exercises will help you to be in good shape before the trek. Working out indoors
If you can't go out and jog because of time and space constraints, here's a videoyou can use to work out indoors.
➤ What to Take on Your Trek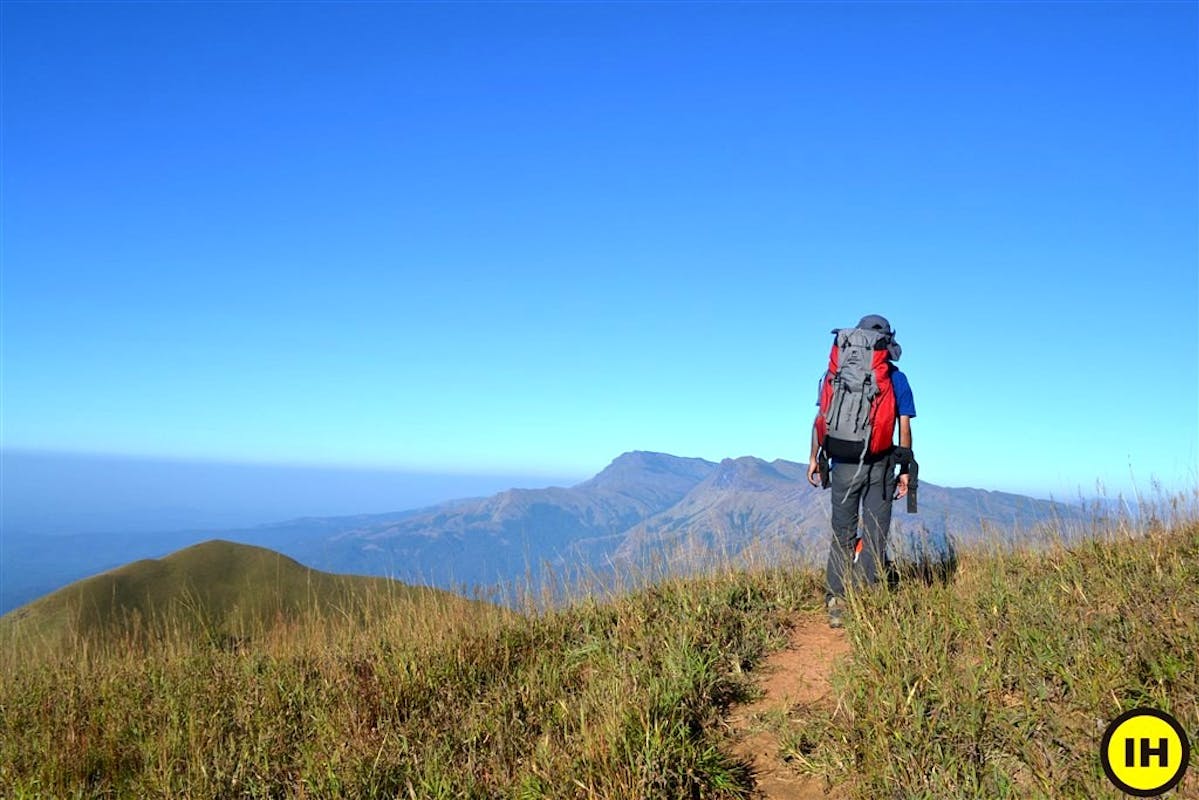 Balekallu and Kodekallu Peak is just a one day trek. You will only need the following things.
Small 20L backpack
One litre bottle
A jacket or poncho in case of rain
Snacks
Lunch
➤ Trek Contribution
About the Author: USHA HARIPRASAD
Usha Hariprasad is a freelance writer and has worked with Citizen Matters, Alternative and Indus Ladies writing about travel and green living. She worked in the IT field for 5 years before deciding to follow her passion for writing. She is now part of the content and tech team at Indiahikes.
A note to trekkers
Indiahikes does not run the Balekallu & Kodekallu Peak Trek any time during the year. However, it is a wonderful Do-It-Yourself trek
Indiahikes only runs treks in the Himalayas. You can choose a Himalayan trek that you wish to based on your experience, season and difficulty here