Can You Help Us With Photographs Of This Trek?
We are looking to enrich this documentation with more photos. Pictures go a long way in explaining the trail, more than words ever can. If you have done this trek, can you share your photos with us? We will include them on this page, with due credit to you. Click here to contribute.
The Complete Guide to the Chambal Valley Trek
Quick, what are the top three things that pop in your head when I say 'Rajasthan'. Forts, deserts, Rajasthan Royals? How about trekking? And how about one that takes you past dense jungles and beautiful waterfalls through the heart of Rajasthan! That, in a nutshell, is the Chambal Valley Trek for you.
The Chambal Valley Trek is an easy-moderate level trek that traverses through the untouched Chambal Valley – known for its rich biodiversity – more than 300 species of birds have been recorded here.
The trek is located in Chittaurgarh district, around 48 km from the town of Kota. The trek showcases the contrasts of the region – rocky terrain and dense forests, gushing waterfalls and lush valleys, vast plateaus and refreshing water pits. 
The trek starts from the town of Rawatbhata. The name of the town is derived from the erstwhile ruler of the region – Rawat Sahab of Bhainsrorgarh who used to camp near a big rock in the region and go for tiger hunting. The town was called Rawat ji ka bhata ('bhata' means big rock in Hindi) which over time became Rawatbhata.
➤ Table of Contents
Just like you, we love trekking! And this is a trek we've documented in great detail to help you do it on your own. Drop in your comments at the end of the page if you need any help!  You will get all the information required to do the Chambal Valley Trek on your own.
To navigate through the documentation easily, use this section of the Table of Contents.
➤ Highlights of the Chambal Valley Trek
1. Gushing waterfalls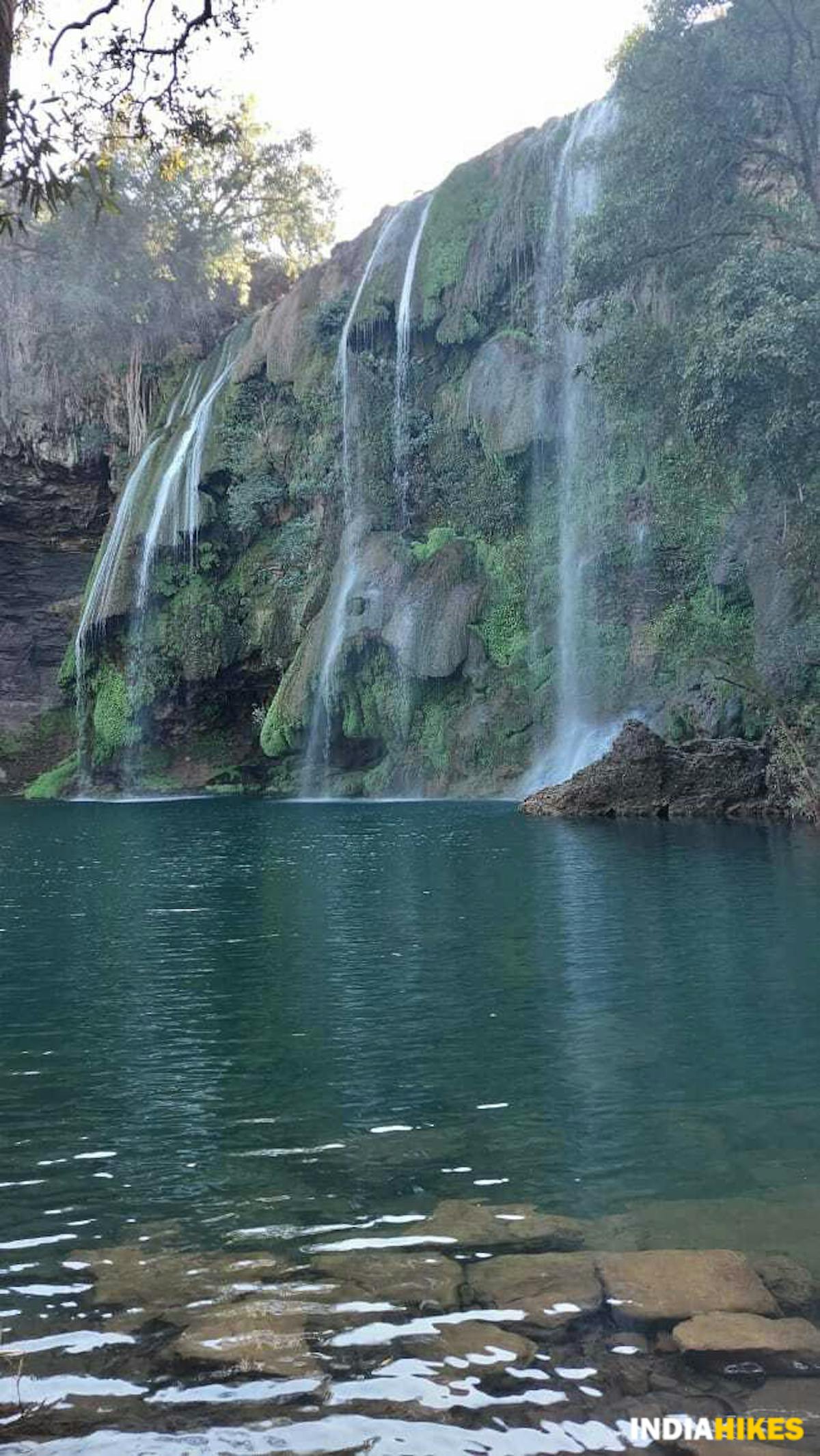 The Chambal Valley Treks busts the myth that Rajasthan is an arid state. Visit during the post-monsoon season for the chance to see full waterfalls.
One of the biggest highlights of the trek is that you get to experience six waterfalls. If you visit after the monsoon season, during the months of September and October, you will see Chulliya Waterfalls, Padajhar Mahadev, Chota Jharna (located 250 meters from Padajhar Mahadev), Mandesra Falls, Kalshiya Mahadev and an unnamed waterfall in its full glory.
Chulliya Waterfalls is an artificial waterfall in the sense that it is created by the waters of the RPS Dam. The other five are natural falls. Kalshiya Mahadev is active throughout the year. The pond and stream below Kalshiya Mahadev and Padajhar Mahadev also have water till January. The waterfalls are popular tourist spots and you will see villagers and locals from nearby towns visiting them when they are at their fullest. 
2. Interactions with local tribes
The Chambal Valley Trek cuts across tribal villages. These villages are home to the Bhil, Gujjar, Dhakar, and Banjara tribes. Most of these tribes are engaged in farming and are very dependent on resources available in the forest. You will get to see a slice of their life as you make your way through the village and farm.
The Bhil tribe is known for their nature-inspired paintings that use natural materials and colors. They are also considered to have very good knowledge of herbs and are quite secretive about it. Those who do not own land take up fishing contracts with the RPS Dam authorities.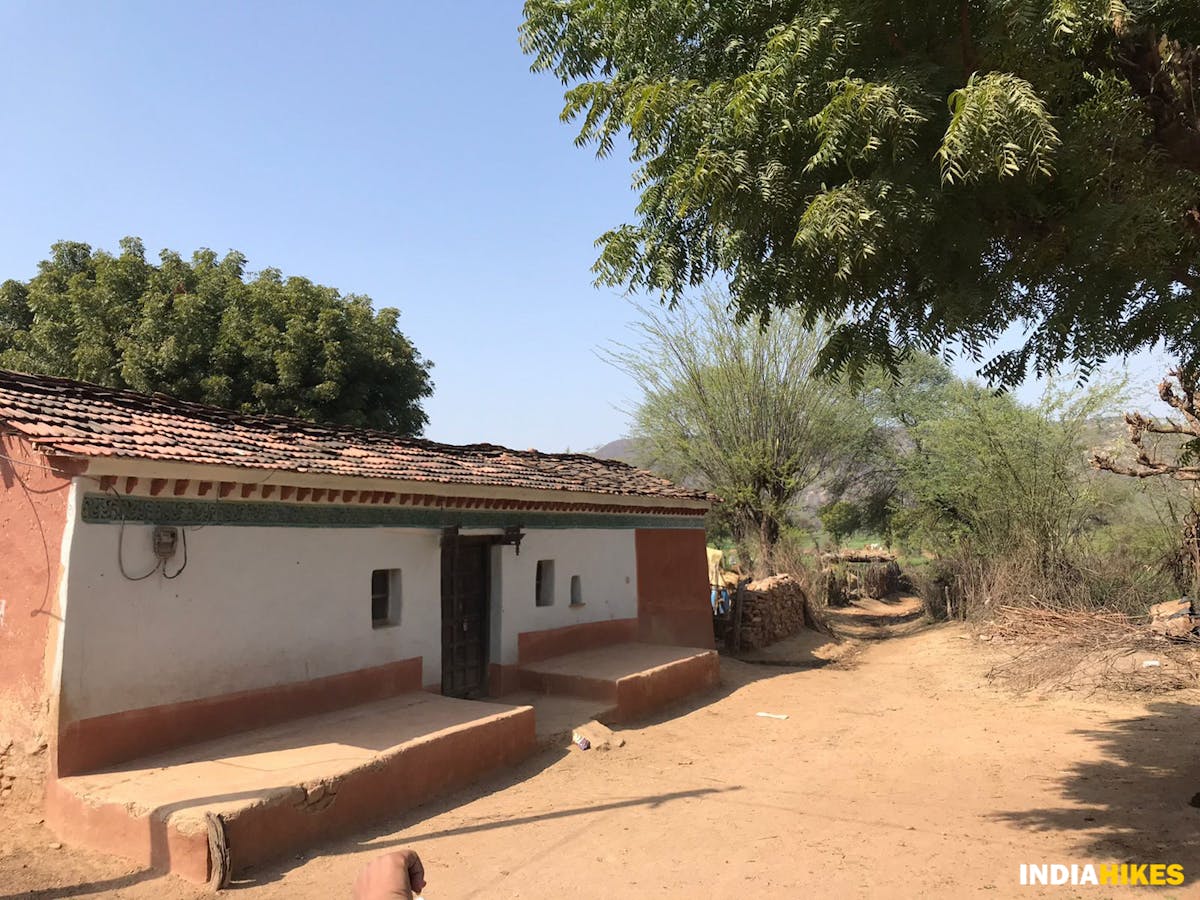 The tribes of Rajasthan live in mud houses that are designed keeping in mind the weather conditions of the region
They live in huts made up of stones and Kelu (Gujrati tiles) which keep the inside of the house cool in summers and warm in winters. They are completely different from how our homes look and feel in the city. You can see the walls of their homes adorned with beautiful artwork.  The villagers are welcoming and it's easy to strike up a conversation with them. 
3. Diversity of wildlife
Chambal Valley is home to an incredible variety of wildlife including wild boars, deer, porcupine, jackal, hyenas, rabbits, blue bull, leopards, tigers & pangolins among other animal species. The catchment area of the dam also welcomes around 5000 birds every year. This includes bar heads, gray-legged mallards, lesser whistling teals, comb ducks, pintails & spotted bills.
On Day 8 of the trek, when you make your way to Patloi Farm, the backwaters of the RPS Dam open up in front and you will have the opportunity to do bird watching and bird photography. The best time for bird watching is the months of November to January. The winter months are also great for spotting crocodiles and you just might end up spotting 70-80 crocodiles near Devariya Farm (Day 5 of your trek).
4. Sunrise and sunset views from the plateau
Day 3 at Sabri Ashram, Day 6 at Khokhi and Day 9 and 10 at Chittoriya give you the opportunity to witness some beautiful sunrises and sunsets. Camping atop a cliff on Day 3 of your trek promises to be an unforgettable experience.
➤ Quick Itinerary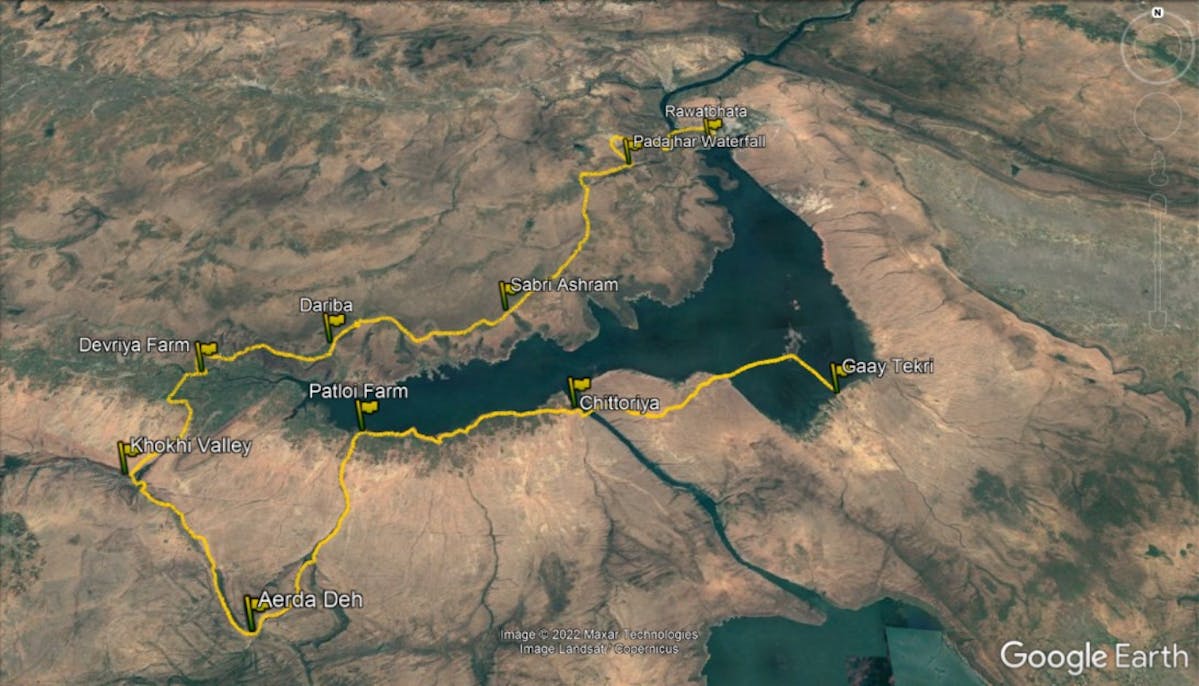 Route Map of the Chambal Valley Trek. Screenshot on Google Earth Pro
Day 1: Kota/Jaipur to Rawatbhata
Drive distance: 53 km | Duration: 1.5-2 hours 
Drive from Kota to Rawatbhata. You can take a taxi or bus to get to Rawatbhata. If you prefer to come through Jaipur, then fly into the city and then reach Rawatbhata. 
Day 2: Rawatbhata to Padajhar waterfall
Trek distance: 12 km | Duration: 3-4 hours
Trek type: Easy-moderate. Rolling terrain with rocks, motorable mud roads and forest trails. You'll come across small streams on the way that dries up by the month of March. We'll see many birds in this valley. You can fill water at Rawatbhata or at the small streams, wells and waterfalls that you will be crossing. 
Day 3: Padajhar to Sabri Ashram
Distance: 15 km | Duration: 4 hours
Trek type: Easy-moderate. Your source of water will be from wells, handpumps and tube wells that you will cross during the day's trek. Follow forest trails and roads to get to the destination.
Day 4: Sabri Ashram to Dariba
Distance: 12 km | Duration: roughly 4 hours
Trek type: Easy-moderate. Rocky terrain with forest trails, mud trails and road. You can fill up your water bottles at the handpumps, wells and ponds that you come across on the way. 
Day 5: Dariba to Devriya Farm
Distance: 10 km | Duration: 3-4 hours
Trek type: Easy-moderate. The trek is mostly through mud trails in forests and farmlands. End the day by crossing the Gunjali River by boat. The villages that you cross will have wells and water taps and you can fill up your water bottles there. 
Day 6: Devriya to Khokhi Valley
Distance: 9-10 km | Duration: 3-4 hours
Trek type: Easy-moderate. Trek on mud trails and well laid out roads today. The trail gets rocky after crossing Peli Puliya. You can fill your water bottles at wells or from the Khokhi stream. 
Day 7: Khokhi Valley to Aerda Deh
Distance: 12km | Duration: 4 hours
Trek type: Easy-moderate. Today's trek will take you through forest trails in the valley and mud trails and laid out roads past villages. You will be passing through natural water pits in the valley. The water is fresh and potable. You can also fill your water bottles at wells and tubewells in the village. 
Day 8: Aerda Deh to Patloi
Distance: 12.5 km | Duration: 3 hours
Trek type: Easy. The day's terrain will be primarily rocky in nature. Follow the trail and the river towards Patloi farm. The many water pits in and around Aerda Deh will be your source of water for the day. 
Day 9: Patloi to Chittoriya
Distance: 12 km | Duration: 3-4 hours
Trek type: Easy-moderate. Today's walk will mostly be near farmlands. The last 2.5 km will be on a rocky path. The Chambal River and RPS Dam backwaters will be your source of water for the day. 
Day 10: Chittoriya to Gaay Tekri
Distance: 12km | Duration: 3 hours
Trek type: Easy-moderate. Trek on rocks for the first 8 km and then hop on a boat that will take you to the island of Gaay Tekri. The Chambal River and RPS Dam continue to be your source of water for the day.
GPX File of the Chambal Valley Trek
Click here to go back to the Table of Contents.
➤ Know Your Trek
We have always wanted trekkers to be well-informed before they go on a trek. Knowledge is the difference between a safe trek and a dangerous one. It's also the difference between a wholesome experience and a superficial experience.
Use this section to learn about the Chambal Valley Trek. It has in-depth information about each day of the trek, what to expect, and how you need to prepare for it. Many years of expertise have gone into this content. Don't miss the 'Frequently Asked Questions' section. Trekkers find that extremely useful.
Day 1: Kota/Jaipur to Rawatbhata
Jaipur is the nearest airport to Rawatbhata. You can take a train, bus or private vehicle from Jaipur to Rawatbhata. If you arrive by train to Kota, you can catch a bus or taxi and reach Rawatbhata. 
It's interesting to note that people migrated to Rawatbhata from all over the country taking up jobs in the irrigation department and the hydroelectric plant after the construction of the dam (Construction began in 1963 construction and by 1970 the dam was fully functional) and the nuclear power plant RAPS (Rajasthan Atomic Power Station) &RAPP (Rajasthan Atomic Power Plant). The RAPS is India's biggest nuclear power station with 7-8 active units. 
Day 2: Rawatbhata to Padajhar Waterfall
Trek Gradient: Easy. Rolling terrain with mainly motorable mud roads and forest trails.
Water Source: You'll come across small streams, handpumps, well, tube well and waterfalls.
Take a taxi or auto to cross the length of the dam (1100 meters long) towards Vikram Nagar which is located at the other end of the dam. Do note that the security of the RPS Dam will not allow people to cross the dam on foot. Reach the Erector's guesthouse and start your trek from here. 
Once you cross the dam, you will see a road on the left going uphill towards Vikram Nagar and Mandesra. Do not take this road.  The road on the right goes slightly downhill. This is the road you should take. Walk for around 2.5 km and you will reach Chulliya Falls. The falls are beautiful and the rock formations are very interesting to observe. Chulliya Falls receives its water from the RPS Dam. You can spend 30-40 minutes over here.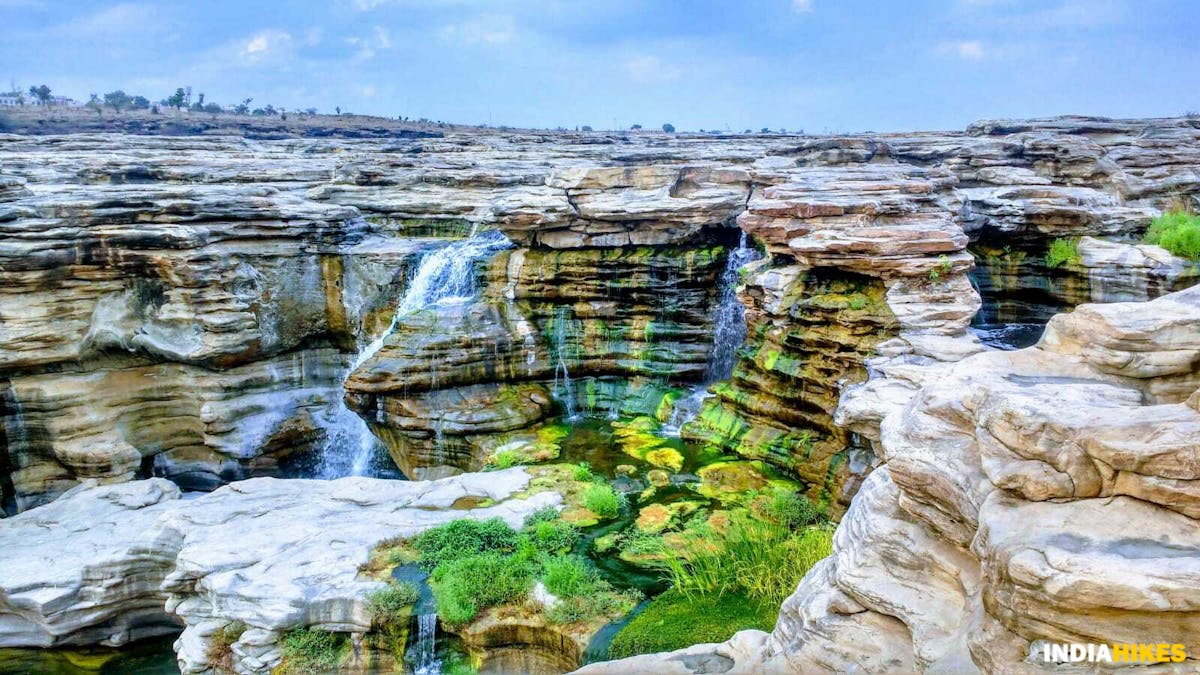 Chulliya Falls is a popular picnic spot for locals
Trek on the rocks or the road parallel to the water stream that flows from Chulliya Falls. You will reach the foot of the plateau which is called Bridge Sight. Here you will find a road. If you take the right, you will go back to Rawatbhata. The road towards the left will take you to Padajhar Falls. However, you need to go straight and take the jungle trail.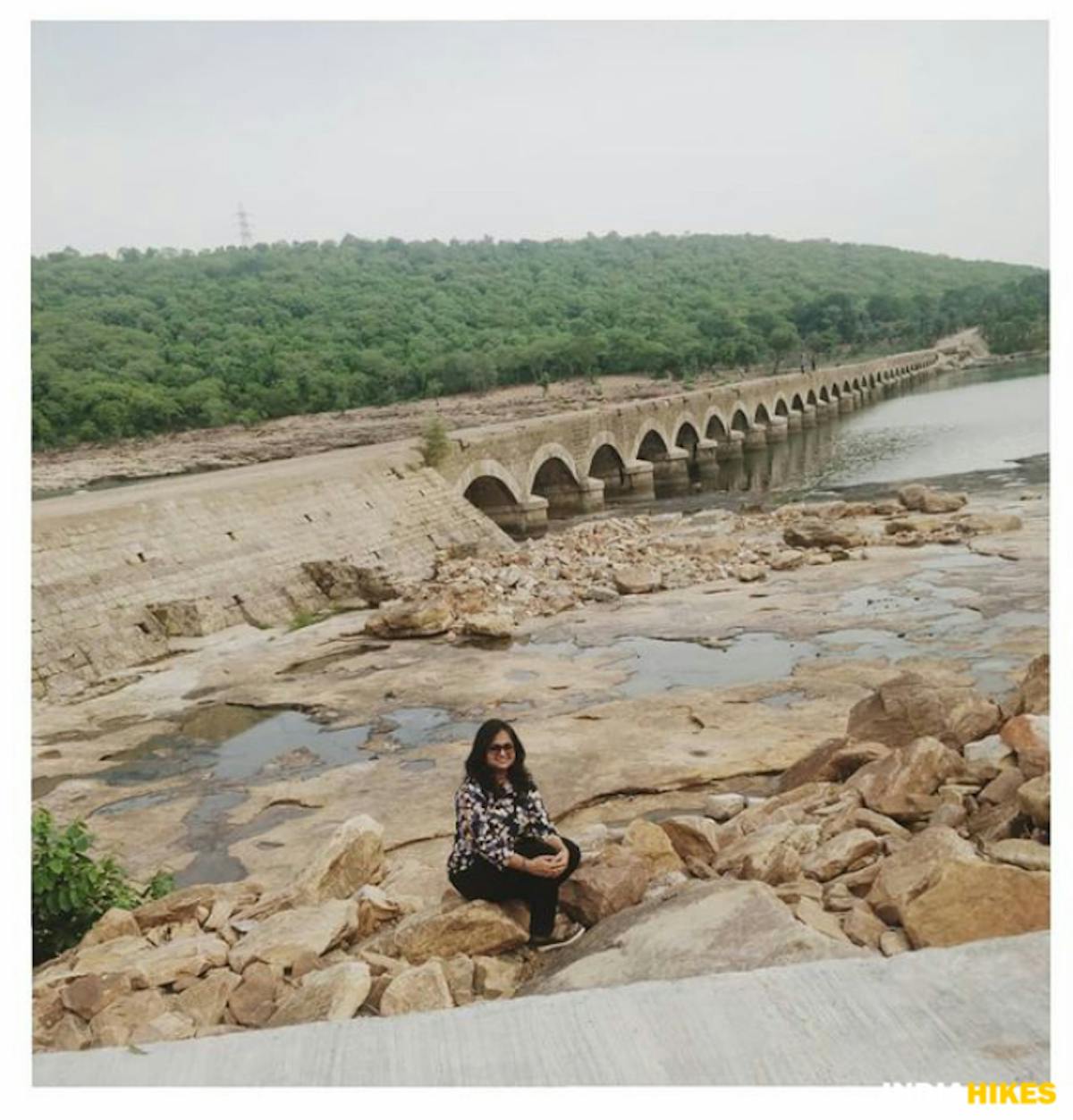 The Bridge Sight point that you will walk to after visiting Chulliya Falls
You'll have to walk on this trail for around 1.5 – 2 km. You'll find flowing water on your right side. Soon you will reach a stream that is active only during the monsoons. Cross over a small bridge and you'll reach the Nahar Singh Mata temple. (You should find this temple is on the left side of the road). Take the left turn from the temple and hike for 3 km. You will soon reach Bakhatpura village. Soon after, you will reach the day's destination – the Padajhar Mahadev waterfall.
There are two waterfalls at a distance of 250 meters from each other – Padajhar Mahadev and Chota Jharna. Both of them are active during and soon after the monsoon season (August to October). While the waterfalls might not be at their fullest during the non-monsoon season, the pond is always filled with water, even in summers. You will find a cave with a Lord Shiva idol inside near the waterfalls.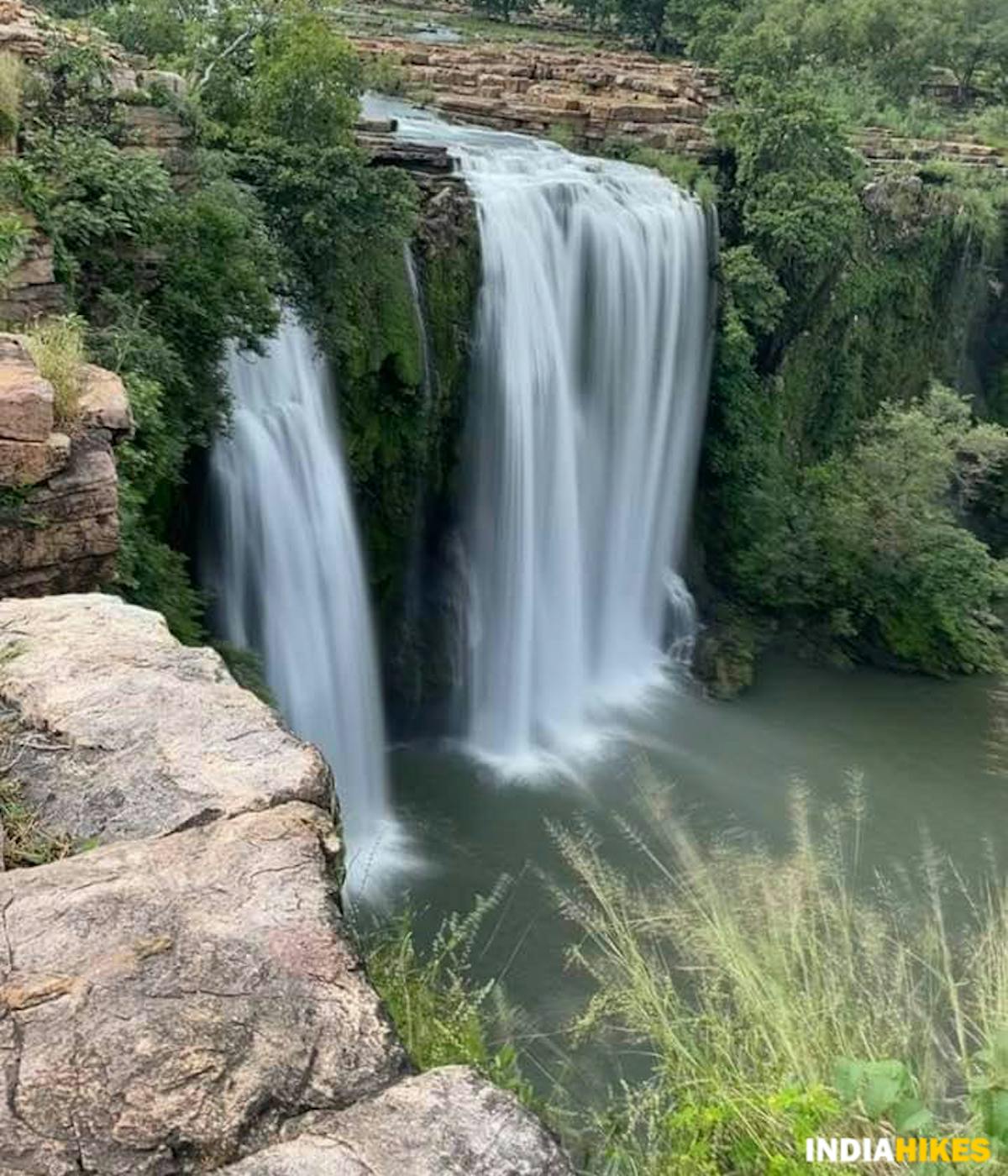 The Padajhar Mahadev Waterfalls are a wonderful sight after the monsoon season.
This is a popular spot to visit for locals on weekends. The villagers also come to this waterfall for Bhandara (lunch for the whole village) after harvesting their crops in the summers. This is called 'Gaav barne' in the local language which means there's lunch outside the village.
You can camp on the open ground at the top of the waterfalls.
Day 3: Padajhar to Sabri Ashram
Trek Gradient: Mud trails at the beginning for the first three km that will lead you to the Jawda – Rawatbhata road followed by a forest trail with muddy and rocky terrain.
Water Source: Well, handpumps and tube well.
This is going to be a long day as the next campsite is quite far. Start from Padajhar Falls and trek towards Mandesra village which is 2 km away. Gujjar tribes, who are involved in cattle raising and dairy production, live in this village. They are very welcoming and open-hearted and this is a wonderful opportunity to interact with them and get a peek into their lives and customs. Rajasthan is known for its hospitality and you will get to experience it in the most authentic form at this village.
As you trek towards Chainpura, you'll hike past more villages where you will get to observe the lifestyle of the local Bhil tribes too. Their ancestors participated in the war at Haldighati with Maharana Pratap against the Mughals. If you're curious to know their way of life, just peep into a local's home (with permission, of course) and you'll be fascinated by the way they arrange their homes. 
Soon, you will reach the cluster of three villages (Arne Kalan- Ganeshpura- Doodh Talai). Here we'll take the road for 1.5 km till we reach our destination. After crossing Doodh Talai village, we'll reach the edge of the cliff which is opposite Sabri Ashram. So, when you are on the Rawatbhata-Jawda Road, the cliff will be to your left and Sabri Ashram will be to your right.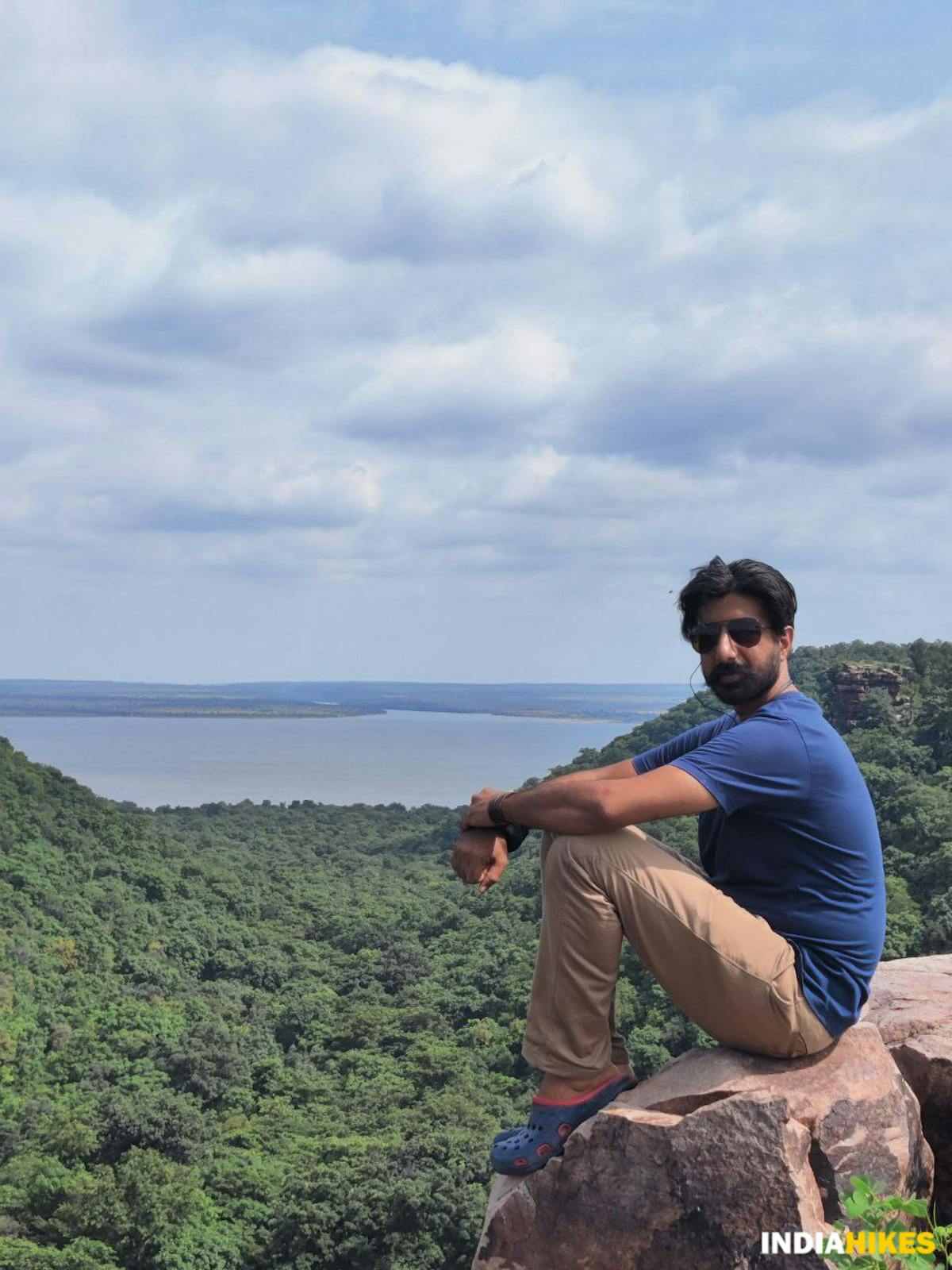 Enjoy sweeping views of the valley and the waters beyond from Sabri Ashram
How exciting it is when you realize that you'll be spending your night here. This valley is full of birds and herbs. Just be careful when you go near the cliff. It's deep.
Day 4: Sabri Ashram to Dariba
Trek Gradient: Road for the first kilometre followed by a forest trail till you reach Agra village. 
Water Source: Hand pump, well and pond at the waterfall.
Take the path that starts behind Sabri Ashram. Take a left turn and walk on the forest trail, walk past Agra village and then you will reach the top of Kalshiya Mahadev Falls. This waterfall is active throughout the year, though the intensity is very low during summer.
Walk down to the bottom of the falls following a forest trail. Cross the stream, take a right turn and walk around 800 m and you will reach Kalshiya Mahadev cave and pond. You can spend some time here before resuming your trek.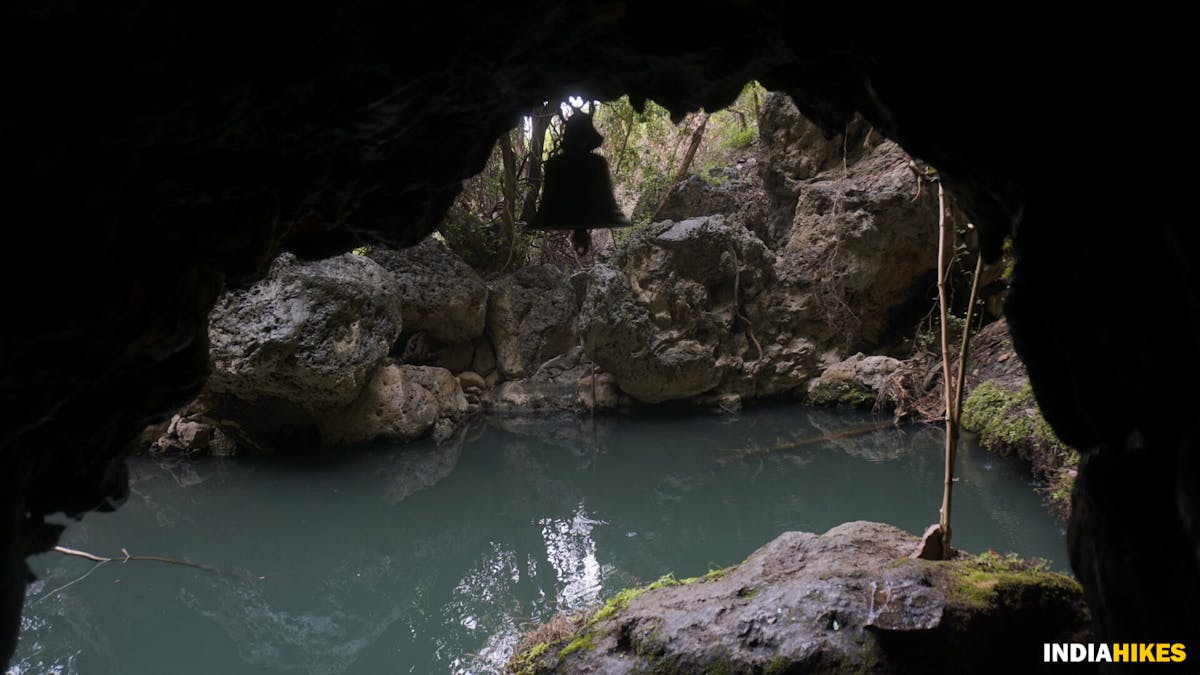 The shaded areas near the Kalshiya Mahadev Falls provide a welcome break from the sun.
From here, your walk will be in the valley till you reach Dariba village. Feel the freshness of the crops cultivated by the local people. You'll find seasonal crops here. If you visit the region during October, November or December,  you will get to see maize, rice. During the months of January, February, the fields will be full of wheat. 
Trek on for two kilometers and you will reach the village of Dariba. Dariba is a village situated inside the forest at the base of the valley where the Bhil tribal community resides. 
One of the most popular stories associated with the Bhils involves Maharana Sanga. It is believed that Maharana Sanga was grievously injured with over 80 wounds when he waged a war against the Mughals. Hearing about the Bhil community's knowledge of herbs and plants, he went to one of their villages in the region and was healed in a matter of seven days through the potions and concoctions that members of the tribe gave him. 
The Bhils still have a head for the village who is referred to as the Patel of the village. If any issue occurs to any individual, they report it to the Patel who then deliberates over it and comes to a conclusion. 
Your camping spot will be in an open area just before the village. 
Day 5: Dariba to Devriya farm
Trek Gradient: Forest trail and mud trail
Water Source: Wells and water taps
No need to set an alarm for this morning as you'll wake up to the sound of the birds chirping and tweeting. Get up early to watch the first rays of the sun flood the region. After having breakfast, start the day by crossing the village and walk towards the Kotda Balaji temple. There are farmlands on both sides for around two and a half kilometers. This day promises to provide a totally different experience when compared to your journey thus far – you will be crossing a valley and a wooded region that is the site of two historic forts – the ruins of Nathgarh Fort that belonged to the Royal Family of Neemri and the Kotdagarh Fort that was constructed by the Royal family of Udaipur. 
As you are crossing the valley, you'll see a stepwell on the right side. The ruins of the Nathgarh Fort will be on the left side at some distance (though this might not be visible during this part of the trek) . This valley is full of birds so you will be accompanied by bird calls for a good part of the day. If you're lucky you might see a few wild rabbits here.
After climbing up to the top, you'll reach Kotdagarh Fort. Some old walls of the fort still remain – a reminder of the history of this region. Walk another 500 meters to reach the Kotda Balaji temple. From here one can see the Khokhi dam, Gunjali river, Devriya Farm and all the villages (depending on the clarity of the atmosphere).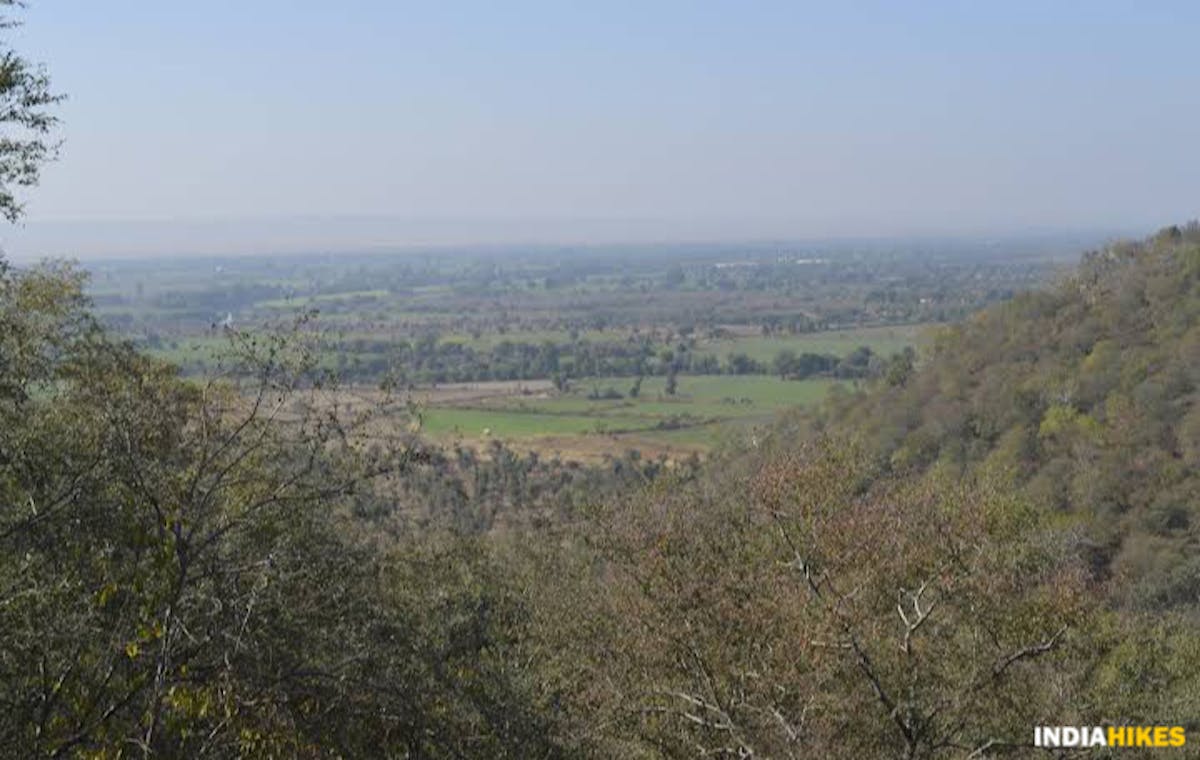 Enjoy the greenery that surrounds you from the Kotda Balaji temple
Walk to the foot of this plateau and you will soon reach Balagunj village. Continue on till you reach the Jawda-Rawatbhata Road. If you take the right here, you will head back to Rawatbhata and the left turn will take you to Jawda village which is 10 km from your location. Walk on the road for 200-300 meters. 100-200 meters away from the main road is Jhoopriya village. After crossing this village, you will enter the farmlands of this region.
The farmlands will lead you to a stream which you will have to cross on foot (it is active in the monsoon). From this point, the bank of the Gunjali river is only 80 meters away. It is one of the biggest tributaries of the Chambal river. You will have to cross this section of the river by boat which you will find by the banks of the river. 
After crossing the river, you'll reach Devriya farm, your campsite for the day. Devriya Farm is located in the middle of farmlands. It is surrounded by the Gunjali River and the Khokhi stream. You'll see a lot of green pigeons, parrots, vultures, sparrows, kingfishers, partridges and many other bird species.
Click here to go back to the Table of Contents.
Day 6: Devriya to Khokhi Valley
Trek gradient: Walk on a paved road for the first 2.5 kms until you reach Balkundi. Then it is a mud trail for 1 km till Peli Puliya. The next segment has mud trails for around 1 km followed by 5 km of rocky trail.
Water sources: Wells and river
You can start the day by heading to the crocodile point which is around 1 km from Devriya Farm. If you visit during the winters and the day is sunny, you can see anywhere from 10-80 crocodiles basking under the sun. 
After this, start to walk towards the village of Amarpura. This village is home to the Gurjjar tribe. Next, you will pass the village of Balkundi.
From Balkundi, walk toward a broken bridge known as Peli Puliya or Faant ki puliya. Take a right turn before the bridge and you'll see the stream of Khokhi river on your left.  Walk along the river – the path is rocky and the slope is gentle. Walk for around two kilometres to reach the road connecting Gopalpura (on the left – 1 km) and Jawda (on right – 10km). Trek for around one km, we'll reach Khokhi dam.
Take a lunch break at the foot of this dam. Continue up the stairs to the top of the dam and take the forest trail that goes uphill to reach the top of the plateau. This place is known as Malya which translates to plateau. Locals mine stones from here to construct houses. This spot is known for its glorious sunset views. You might also get to spot deer in this region.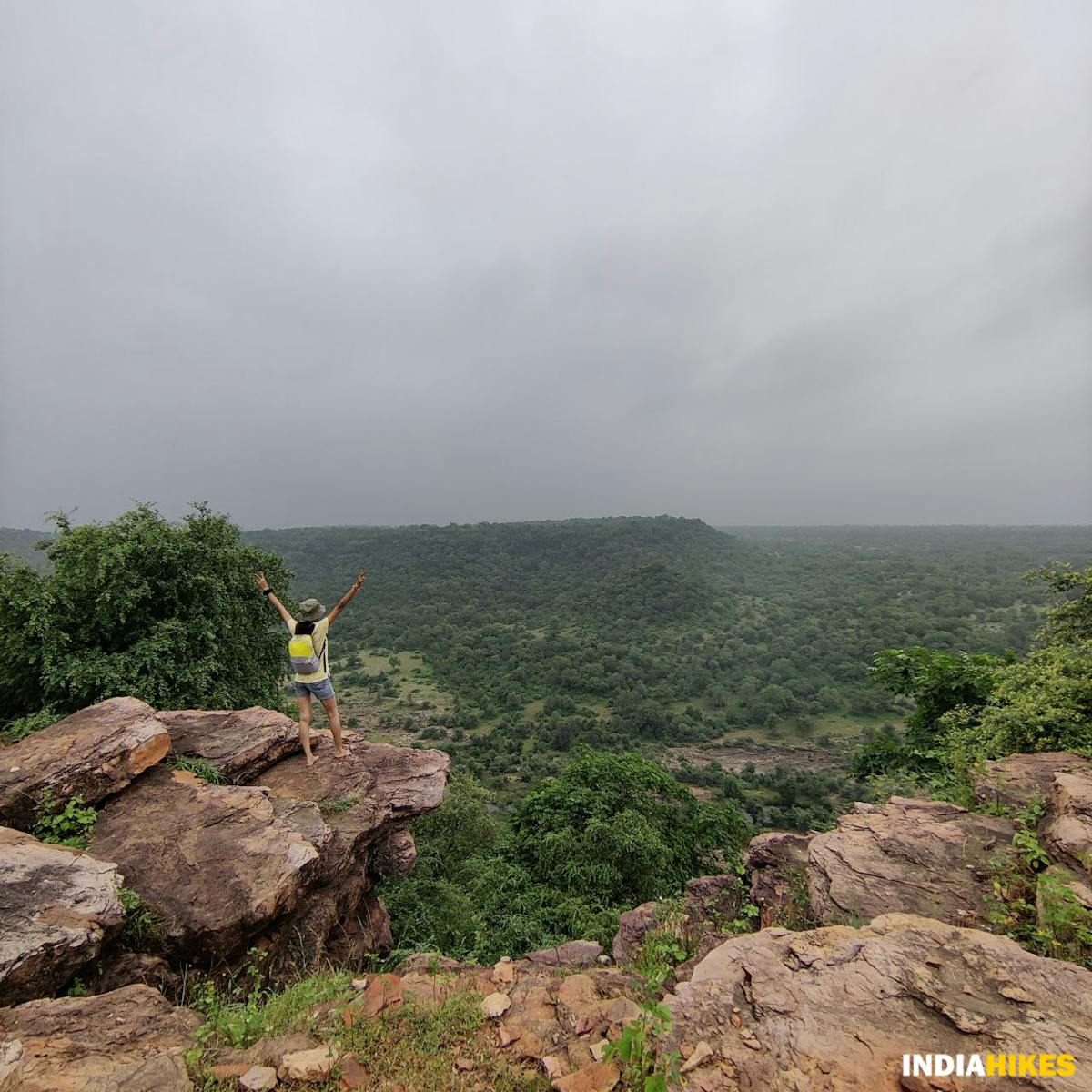 The only sounds at Khokhi Valley are the sounds of nature.
You can camp here for the night.
Day 7: Khokhi Valley to Aerda Deh
Trek Gradient: You will be walking on a variety of terrains – Rocky valley, forest trail, mud trail and road
Water Source: Well, hand pump & water pits of Khokhi river & Aerda Deh
Start your trek by walking down to the base of the valley. You can fill up your water bottles from the flowing water of the Khokhi river. Continue to walk on the same path. You will pass through farmlands before reaching the village of Bakhtuni. This village lies in Madhya Pradesh.  Once you reach this village, take the main road (connecting Bakhtuni and Chowkdi) for 1 km till you reach the topmost point of the village. Continue on mud trails till you reach the village of Barda.
People come to this valley to harvest honey.
The locals here are mostly engaged in farming. You will cover the dense valley of Khokhi on this walk. Our camping site will be near a water body called Aerda Deh. Here you can take a bath in the small rocky pits filled with water. They're 4-5 feet deep.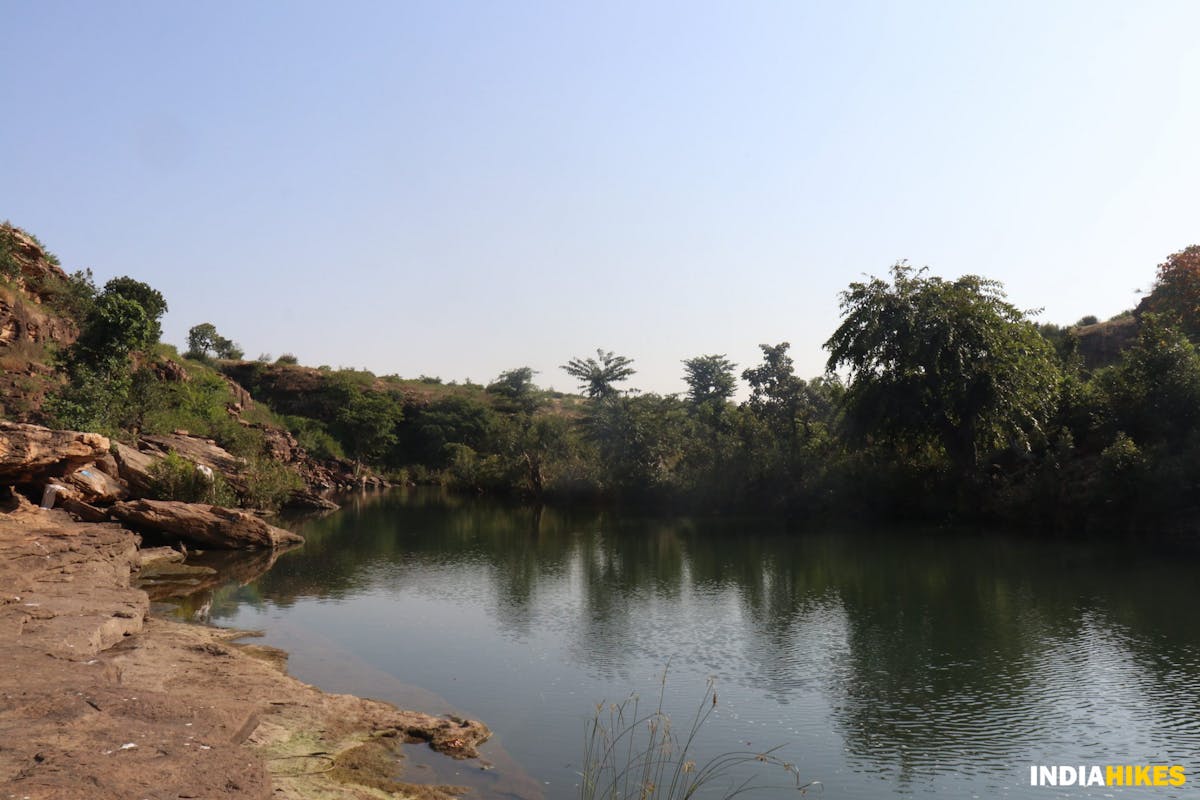 Natural water pits formed due to the forces of nature. You can dip your feet in here or even go for a swim.
The Patloi river flows over to these water pits. When the water flows down from the river, it remains in the pits for the whole year. This water is rocky and it tastes good.
You might get to see fireflies here.
Day 8: Aerda Deh to Patloi
Trek Gradient: Rocky and mud trails
Water Source: Water pits at Aerda Deh & Dev ka Chaja. There are many pits full of water.
Before you move forward, fill up your water bottles because you won't be crossing any villages today before the main road. Start moving towards the north. This day is going to be easy as the slope is gentle and the water is flowing down and merging with the river. Follow the water first, then climb up to the Dev Ka Chaja water pit. Aerda Deh, Choriyo Ka Deh, Dev ka Chaja, Bhoot ka Khodiya are the different names of the water pits and they are all part of the Patloi River. You will also see Egyptian vultures when you're about to reach the road.
This river flows with force in the monsoon. Start following the trail and you will find the valley to your left. After trekking for 11 km, you'll cross the road connecting Gopalpura to Gandhisagar. The village on the left side of the river is called Karan ka Kheda and on the right side of the river is Patloi village. The people of Patloi are of the Bhil tribe while the people of Karan ka Kheda village are Banjaras.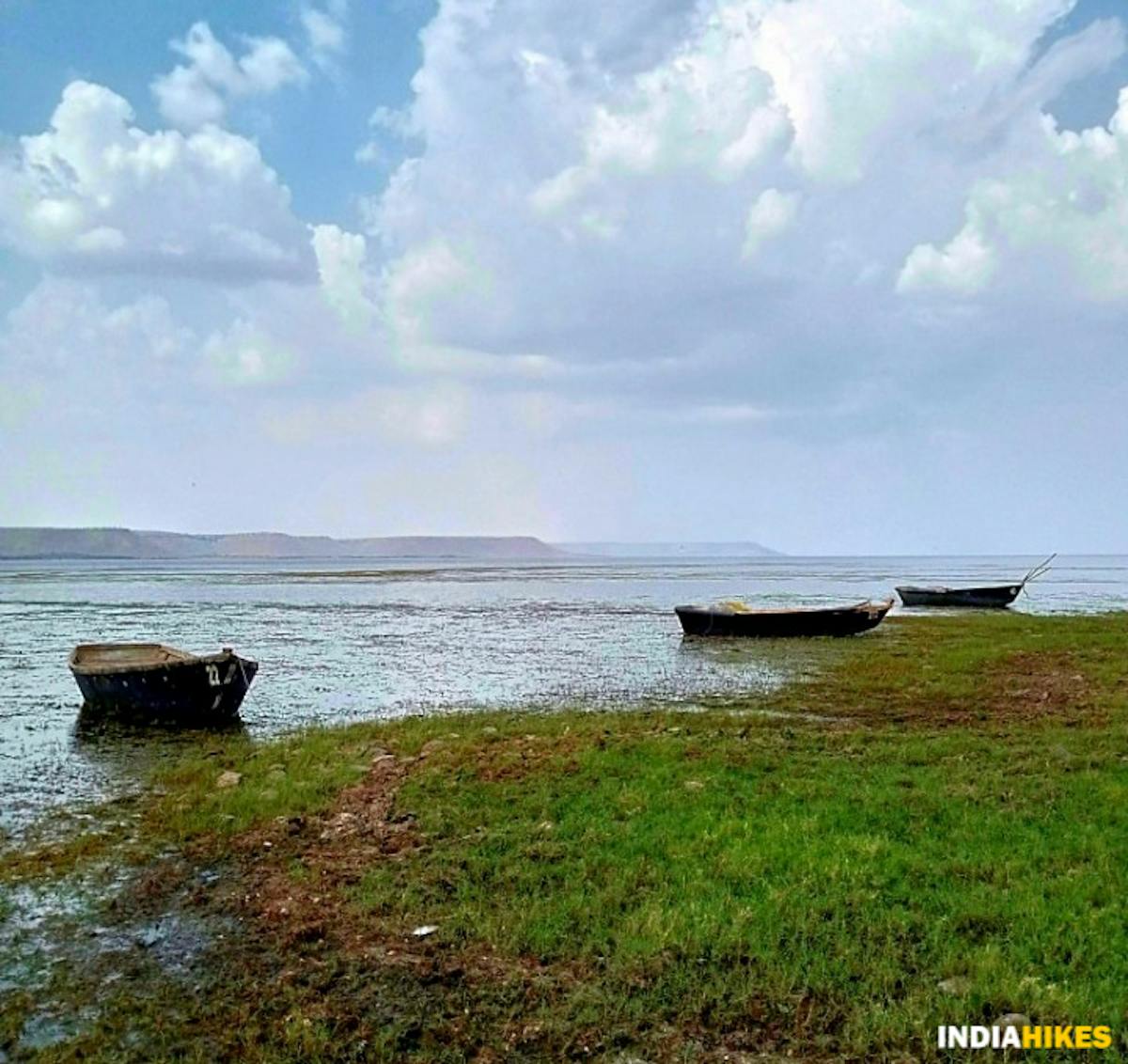 Boats tied up at Patloi Farm
Continue on until the waters of the Patloi river merge with the backwaters of the RPS dam. The last farm at the point of the meeting of the waters is the Anwalhera farm – your camping spot for the day. You'll see the backwaters of the RPS Dam spread out – spreading 3.5 km in front and 20 km sideways.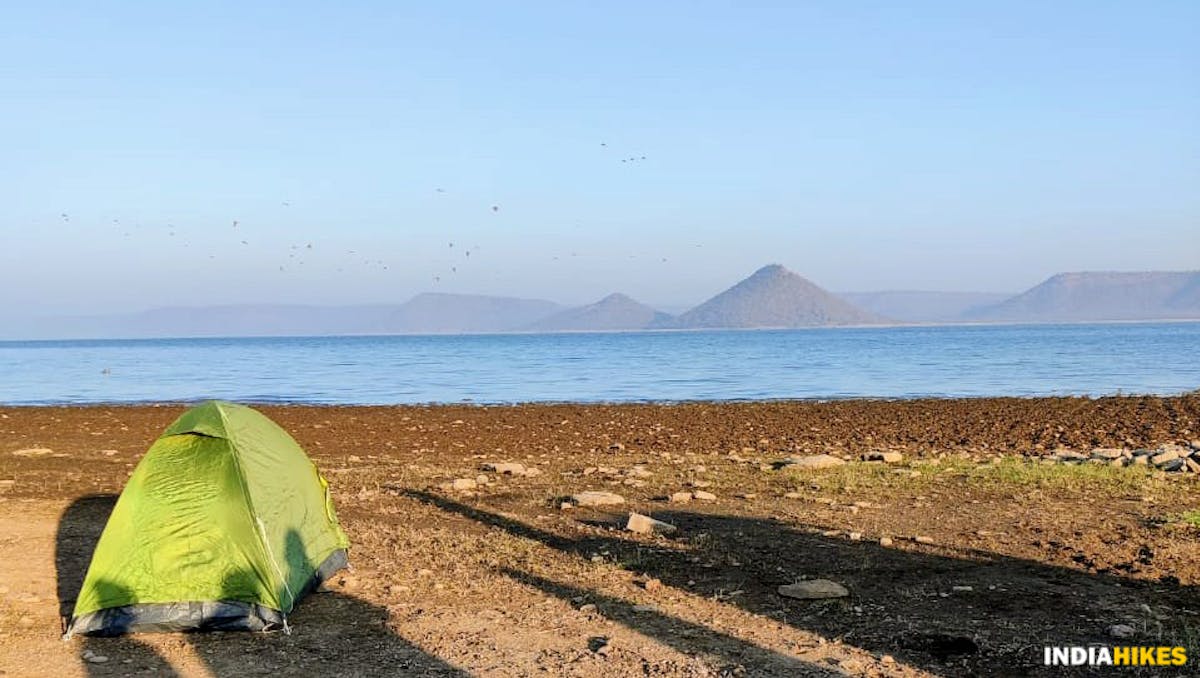 Welcome to Anwalhera farm at the backwaters of the RPS Dam.
You can see many migratory birds and ducks here. As there is no city nearby, you can also do stargazing at night.
Day 9: Patloi to Chittoriya
Trek Gradient: Walking on mud trails for 10 km. The last 2 km is rocky.
Water Source: River.
Today you will trek to the banks of the Chambal River. The river will be on our left. As you trek, you will see farmers working on their farms. There are tracks to walk on these farmlands so you can follow them. We'll take a right turn before entering the village Chittoriya. From here one can see the big tunnel (400meters approx) of this river merging into the catchment area of the RPS Dam. This is the deepest part of the river and the spot where people come to harvest fish through the net. 
River Kulthi merges with the backwaters of the RPS Dam at Chittoriya. You can camp 200-300 meters before this merging point. The camping point is situated right between the merging point and an electric pole holding electric wires over the river.
Get up early in the morning to witness a lovely sunrise.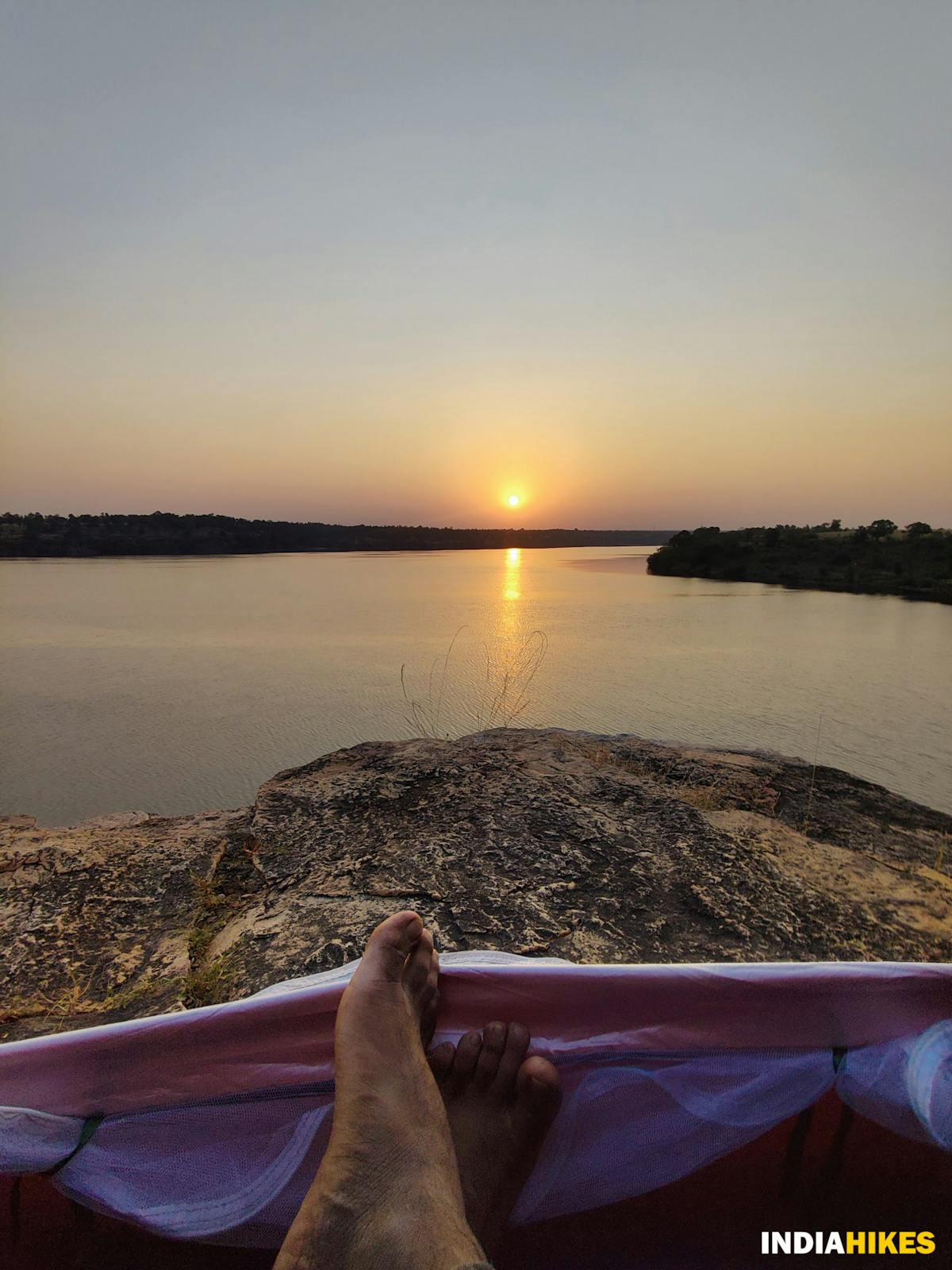 Experience a peaceful sunrise by the banks of the river
Day 10: Chittoriya to Gaay Tekri
Trek Gradient: Rocky terrain.
Water Source: River.
From Chittoriya, get to the river bank and cross the waters on a boat. Climb out of the boat and start walking on the trail till you reach Dotara. Once you reach Dotara, take another boat ride to reach the island.
The island is called Gaay Tekri; gaay means cow and tekri means hill after the wild cows that graze here. 
This island is 6 km wide and will serve as the camping spot for the day. Please note that the island has snakes and it is best to stay close to your camp area, especially at night.
After spending the night, take a boat the next morning and get off at Singadiya Fishing Camp. Walk 4 km to the main road that connects Gandhisagar and Rawatbhata. You can arrange for a vehicle to pick you up or take a bus to Rawatbhata. From there, you can head back to Kota.
Click here to go back to the Table of Contents.
Exit Points 
Jawda (near Devriya Farm 10km)
Gandhisagar (near Chittoriya 10km)
➤ How Difficult is the Chambal Valley Trek?
We rate this as an easy-moderate trek because some of the days have long hours of walking yet the terrain itself is not tough – mostly consists of mud or jungle trails with gentle ascents and descents.
➤ Is the Chambal Valley Trek Safe?
The Chambal Valley Trek is safe. While there are some wild animals in the forests and valley, they are very shy and avoid confrontations with humans. 
Some of the campsites are very close to villages while others are 2-3 km away from human settlements. 
➤ Closest Hospital 
The towns of Rawatbhata, Jawda, Gopalpura and Gandhisagar have hospitals and medical facilities available.
➤ Best Time to do the Chambal Valley Trek
The best season to visit this valley is post-monsoon, during the months of October and November as the temperatures will be bearable and the waterfalls will be at full capacity. You can also trek in the region during the months of December to March. It's best to avoid the summer months as the temperatures can exceed 50° C which can cause dehydration and heat strokes.
➤ Weather and Temperature on the Chambal Valley Trek
Weather conditions are extreme here. In winters, the temperature drops to 5 degrees at night around 20th December. October to March is a good time to visit this place. 
Weather during the post-monsoon season – October and November
Daytime – 30-35° C
Nighttime temperature – Around 20 -22° C
Weather during winter – December and January
Daytime temperature – Below 20° C
Nighttime temperature – 0 – 5° C
Weather during spring  – February and March
Daytime temperature – Around 30° C
Nighttime temperature – Around 15-20° C
➤ How to Plan Your Travel
By Flight
Fly to Jaipur and then take a 4- hour train ride to Kota and a 1-hr road journey from Kota to Rawatbhata.
 Fly to Jaipur and take a 5-hour road journey to Rawatbhata.
By Train 
Get off at Kota Railway Station and take a bus or vehicle to Rawatbhata. (located 53 km away)
➤ What to Take on Your Trek
Things to get for the Chambal Valley Trek
Chambal Valley Trek is a regular trek in the interiors of Rajasthan. The trekking gear you need to carry for this trek is a bit similar to our high altitude treks. So pay careful attention to this entire section.
– A list of everything you need for the trek
– A list of medicines for your trek
First, the Essentials. You cannot do the trek without these.
1. Trekking Shoes:
Chambal Valley Trek requires trekking shoes that are sturdy, have good grip, have ankle support and can handle uneven terrain.
Buying Tip: The Trek series and MH series are good options by Decathlon. They are tried and tested. There really isn't any necessity to buy the higher-priced models. Here is a list of other budget shoes that trekkers are using.
2.  Backpack:
For a trek like the Chambal Valley Trek, you need a 30-40 litre backpack. Make sure your backpack has good hip support, shoulder support and quick access pockets. 
Buying Tip: Wildcraft, Decathlon and Adventure Worx usually make good backpacks. While Wildcraft has more expensive ones, the other two brands have budget-friendly backpacks to choose from.
3. Clothes:
Wearing layers is the mantra in the jungles, especially if you are travelling during winter. Layers give you maximum protection from all elements. And when the weather changes, you take off or put on layers as required. 
4. Base Layer:
3 T-Shirts:
Wear one T-shirt and carry two. Carry full sleeve dry-fit T-shirts (preferably collared). These prevent your arms and neck from getting sunburnt or bitten by insects.
Dry-fit T-shirts quickly dry your sweat, they are easy to wash and in case of a rainy day, they dry quicker. Round neck T-shirts are ok, but collared ones are better.
Buying Tip: You can get dry-fit T-shirts from Decathlon. Also, stores like Reliance Trends, Max have dry-fit T-shirts. They don't usually cost much.
Protip: If you are extra susceptible to cold, you could get a set of thermal inners for the winter trek. In our experience, wearing two T-shirts over another works as a better thermal. And they save you weight and space, since you're already carrying them. 
5. Two Trek Pants:
Two pairs of trek pants should suffice for this trek. Wear one pair and carry two just in case it rains. Trek pants with zippered cut-offs at the thighs are very suitable for treks. Also, choose quick-dry pants over cotton. They dry up soon in case of small stream crossings/rain.
Buying Tip: Go for pants with zippered pockets. They come in handy to keep your phone, handkerchief or pocket snacks.
Track pants or trek pants? Stretchable track pants make a good backup and can double up as your thermal bottoms. But track pants are not trekking pants — so don't use them as your main outerwear. Keep them only as a backup.
Mandatory Accessories:
These accessories are mandatory. Don't go to Chambal Valley Trek without them. Trekkers generally put off purchasing / borrowing the accessories for the last minute. We suggest the opposite. Start gathering these accessories first.
1. Sun Cap:
A sun cap is mandatory. Trekking without a sun cap can lead to headaches, sunstrokes, quick dehydration and a sharp drop in trekking performance.
Protip: Sun caps with flaps are a blessing for trekkers. They cut out almost all UV leaks, prevent sunburns in every possible way. Also, they are a lot more effective than sunscreen lotion. A wide-brimmed sports hat also helps to prevent sunburn in a big way.  
2. Socks (2 Pairs):
Carry 2 pairs of sports socks to give you cushioning plus warmth. Again the mantra is to wear synthetic socks or at least a synthetic blend. Cotton socks soak in water and sweat. They are very hard to dry. As for woollen socks, they help you to keep warm and snug in the night. If you cannot get woollen socks, wearing two sports socks serves the purpose as well. 
3. Headlamp:
Trekkers are often confused about whether they need to get a headlamp or a handheld torch. You need to get a headlamp because it leaves your hands free to do other activities. On the Chambal Valley Trek, you'll need your hands free to wash dishes, pitch tents and hold your trek poles.
Buying Tip: Ensure your headlamp covers a wider area and is not too focused as a single beam. On a trek, your headlamp must help you see around you as much as ahead of you. 
4. Trekking Pole (A Pair):
Trekking poles give you stability and balance. They reduce your energy consumption by almost 40%. On the Chambal Valley Trek, there are rocky sections and some ascents and descents. A pair of trekking poles will make the difference between a comfortable and a strenuous trek. In India, we tend to use a single trekking pole. However, two trekking poles give you greater stability and balance. They also increase your walking pace.
5. Rainwear:
On a trek, the weather can change quickly. A bright sunny day can turn into a downpour in a matter of minutes. Carry a poncho or a rain jacket to tackle this. A poncho is a big rain cover with openings for your arms and your head. It is extremely effective because it covers both you and your backpack. It is extremely light and weighs next to nothing.
Rain jackets are more streamlined and less cumbersome but weigh more. Rain pants are really not required. Dry-fit trek pants dry quickly even if soaking wet.
6. Rain Cover for your Backpack:
Backpacks are your life. You carry all your dry clothes, your warm gear in your backpack. It is important that your backpack stays dry at all times. Modern backpacks usually come with built-in rain covers. If your backpack does not have a rain cover, ensure you get a rain cover by either (a) buying a rain cover (b) or cutting a large plastic sheet to the size of your backpack. You can roll the plastic sheet around your backpack and keep it in place with a string or elastic. 
Protip: It's good practice to compartmentalize your clothes, accessories and other things in plastic covers inside your backpack. That way, even if it rains and your backpack gets wet, your things are water-proof inside the backpack.
Other Mandatory Requirements:
1. A Toilet Kit:
Keep your toilet kit light. Carry just the basics — toothbrush, toothpaste, small soap, toilet tissue roll, a small moisturizer, lip balm, and a roll-on deodorant. You will not be able to have a bath on the trek, so don't overload on soaps and shampoos.
Protip: Carry miniature-sized items. You will not need more than that. If you're travelling in a group, share one toothpaste for all.
Avoid getting large toilet rolls. The smallest size roll is more than enough for a trek like Chambal Valley.
For women: If you are likely to have your periods on your trek date, don't worry about it. You can use your pads, tampons or menstrual cups on the trek. There will be toilet tents where you can get changed. Make sure you carry ziplock bags to bring back your menstrual waste. Don't leave behind any waste in the mountains. Watch this video to learn how to dispose of your sanitary waste.
2. Cutlery:
Carry a lunch box, a mug and a spoon. Your lunch box must be leak proof. 
ProtipCarry stainless steel cutlery. Avoid fancy high grade plastic cutlery. Stainless steel cutlery is infinitely easier to wash in cold water. Grease is easier to remove and hygiene is at the highest. Watch this video on why steel cutlery is better than plastic.
3. Two 1-Liter Bottles or a 2-Liter Hydration Pack:
Chambal Valley Trek has long walking days. You need to carry two one-litre water bottles to keep yourself hydrated over the distance. If you are used to a hydration pack, then that is ok too. If one among the two bottles is a lightweight thermos, then that helps you to store warm water on a really cold day or for late evenings and early mornings.
4. Plastic Covers:
Carry 3-4 old plastic covers to keep your used clothes. You could use them even for wet clothes. Re-use old plastic bags for this and do not buy new ones.
Personal Medical Kit:
Carry these medicines with you, easily accessible at all times. 
1. Dolo 650 (5 tablets): This is a paracetamol. It helps to tackle fever, mild pain
2. Avomine (4 tablets): Carry this especially if you are prone to motion sickness. Pop one-half hour before the start of your road journey.
3. Combiflam (5 tablets): Take a Combiflam if you get a sudden twist of the leg or a muscle strain. It is a pain reliever. It also contains paracetamol.
4. Digene (4 tablets): Take it if you feel the food that you've taken is undigested.
5. ORS (6 packs): Consume a pack of ORS water at least once a day, usually mid-day when you are in the middle of your trek. It replenishes essential salts lost while trekking.  Tip: It also makes cold water easier to drink.
6. Knee Brace (optional): Carry this if you are prone to knee injury or have known issues of knee pain.
Click here to go back to the Table of Contents.
➤ How to Get Fit for Your Trek
Cardiovascular Endurance
This trek requires a good amount of cardiovascular endurance. You can begin by jogging every day. Start jogging at a slow pace and then keep increasing your pace day by day. In order to be prepared for a strenuous trek, you should have a combination of distance and speed targets.
Here's a fitness routine that works:
–> Target completing 5 km in 40 minutes when you begin.
–> Gradually increase your pace by running 4 times a week and bring it down to 5 km in less than 35 mins.
–> If you are 45 years old and above and are more comfortable with long-distance walking than jogging, then before you go on the trek, you should be able to walk at least 10 km at a stretch. Target completing this in 90 minutes.
If jogging is fine for you, your target should be completing 5 km in 45 minutes initially, and 5 km in less than 40 minutes before you go on the trek.
–> If you are somebody who prefers cycling over running, your target must be to cover 22 km in 60 minutes.
Working out indoors
If you can't go out and jog because of time and space constraints, here's a video you can use to work out indoors.
➤ Frequently Asked Questions
1. How long is the trek?
The itinerary for this trek is for 10 days and 100 km long but it can be modified according to your comfort. 
2. Where is the Chambal Valley Trek?
The starting point of the trek is Rawatbhata (dist. Chittaurgarh via Kota). One can easily reach Kota by train, bus or plane. To reach Rawatbhata from Kota, you can easily get a taxi or a bus from Kota as the distance is just 53 km.
3. Do we need permission to do the trek or to camp in the forest and near the villages?
No permission is required to trek or camp on the Chambal Valley Trek. 
4. How many waterfalls do we see on the trek?
There're 6 waterfalls. They are active in the monsoon. One of them is active throughout the year, at very low intensity in summers. You'll see 2 ponds of the waterfalls where we'll be camping.
5. Do I get to see any animals on the trek?
The valleys and forests are home to wild rabbits, hyenas, jackals, blue bulls, wild boards, deer, leopards and many more.  Spotting an animal is a game of luck. Most animals tend to shy away from humans. However, the trek presents plenty of opportunities to spot a variety of birds. 
6. Is it safe to trek in Rajasthan?
 Yes, it is safe to trek here as the route is quite easy and the medical facilities are within a radius of 25 km. The nearest hospitals are in Rawatbhata, Jawda, Gopalpura & Gandhisagar. The animals are shy and do not attack humans. Villagers are cooperative and are ready to help the guests.
However, if you prefer to do the trek with a guide, we recommend contacting Divyapratap Singh or Karan Pratap Singh of Wild Wonders (Ph.no – 9509576361/918094969646, Email ID – wildwondersadventure@gmail.com).
7. How to get to the trek?
The best way to reach Rawatbhata is through Kota. If you are flying in, you can fly into Jaipur Airport and then catch a train, bus or private vehicle to Kota then take a bus or taxi for  Rawatbhata.
8. What are the water sources on the trek?
Wells, flowing rivers, hand pumps and water taps in villages are the main sources of water on the trek. If you are not comfortable drinking water straight from a well or river, you can get water purification tablets or invest in a Lifestraw filter bottle. 
➤ Trek Trivia
There are 4 rivers between Jawda and Gandhisagar (all flowing from south to north and merging in the RPS Dam). All of them have deep valleys and dense jungles with big water patches that hold the water even in summers. All 4 valleys were once the hub of tigers. 
Khokhi river – between Balkundi and Gopalpura.
Patloi river- between Patloi and Karan ka Khera
Falku river – near Muwada
Kulthi river – near Kuwakhera also known as Jawahar Nagar.
All the villages mentioned above are located on the road connecting Jawda and Gandhisagar. 
➤ Trek Contribution
Trek explored, documented and photos clicked by – Divyapratap Singh Mahechha
Phone number – 9509576361/918094969646
Email id – wildwondersadventure@gmail.com
IG account – @wildwonders_gowildorgohome
Trek written and edited by – Gayathri Ranganathan
GPX File Opt in
We go to great lengths to ensure you have a safe trek. So here's a GPX file of the trail to help you navigate without getting lost.