Can You Help Us With Photographs Of This Trek?
We are looking to enrich this documentation with more photos. Pictures go a long way in explaining the trail, more than words ever can. If you have done this trek, can you share your photos with us? We will include them on this page, with due credit to you.Click here to contribute.
The Complete Guide to the Dharansi Pass Trek
The Dharansi Pass will let you trek close to the higher meadows of the Nanda Devi Sanctuary, which are undiluted and pretty. The flowers are abundant and unspoiled. There is little or no human presence. To top it off, the views of the surrounding mountains of Garhwal are the best one can get. The Nanda Devi and Dunagiri, which are deliciously close, look larger than life while on this trek. The exclusivity of the Dharansi Pass Trek makes this one of the most sought-after trekking destinations in Uttrakhand.
➤ Highlights of the trek
A trek to Dharansi Pass is perhaps the only trek that allows one to venture close to the World Heritage Site of Nanda Devi Sanctuary.
Not many people can go close to the Queen of the Himalayas – Nanda Devi. Nobody, save for a privileged few, is allowed to even set foot in her realm.
With a limited number of trekkers allowed to enter the park, one tends to feel fortunate to have even entered this real-life Shangri-la.
➤ Trail Information
Day 1: Reaching Base Camp – Joshimath
The base camp for the Dharansi Pass Trek is Joshimanth. This city is 256 km from Rishikesh and 273 km from Haridwar. Take an overnight train from Delhi to Haridwar or Rishikesh. Once you reach Haridwar or Rishikesh in the morning, you can either hire a jeep or take a bus to get to Joshimath, which is the base camp for this trek. From Rishikesh, shared jeeps are available near the GMVN Bharat-Bhoomi Guest House. The roads to Joshimath are in good condition, except for a few stretches from Srinagar to Rudraprayag and from Chamoli to Joshimath. The road journey is long, but scenic, passing via Devprayag, Srinagar, Rudraprayag, Karanprayag and Chamoli.
Day 2: Joshimath to Lata Village via Lata roadhead
Distance: 25 km jeep ride to Lata roadhead + 1.5 km trek
Time taken: 2 – 3 hour (including road travel)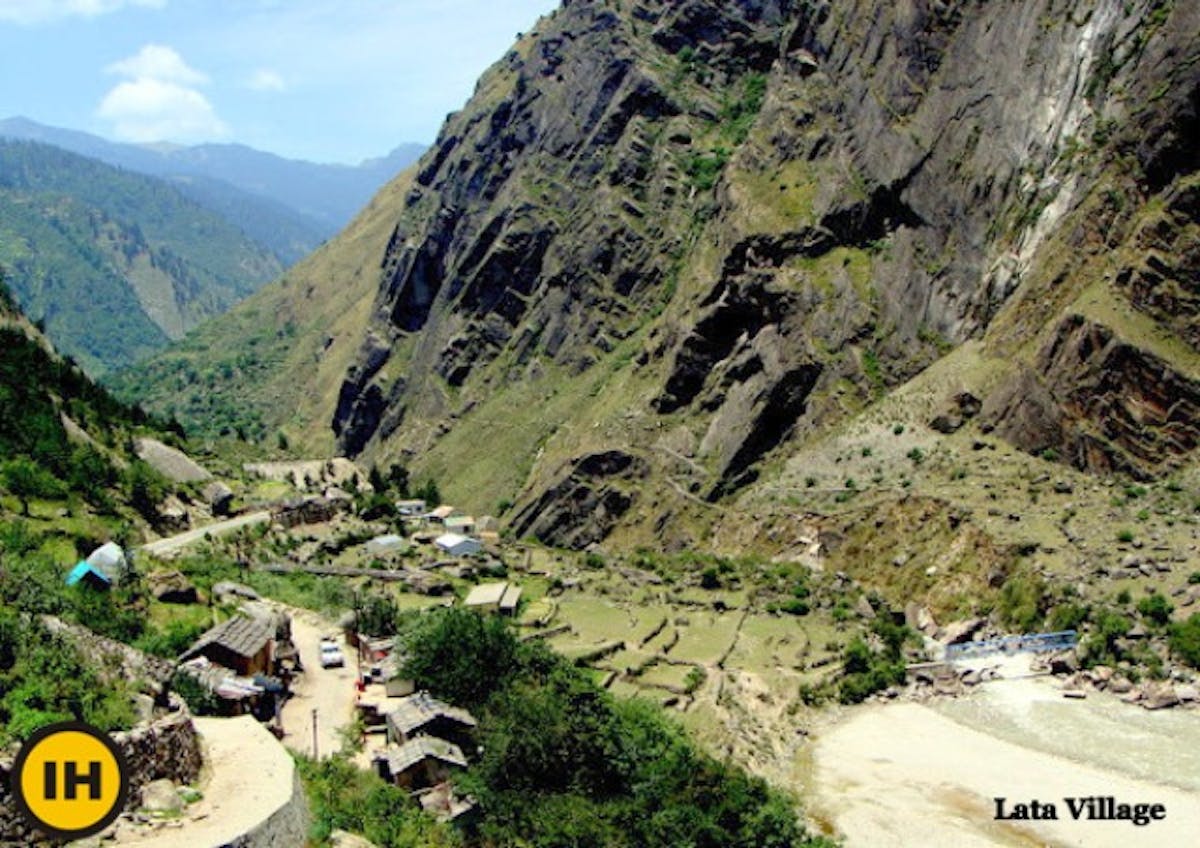 Glimpse of Lata village.
The trek starts from the roadhead to Lata Village. Lata Village is located around 1.5 km above the roadhead. The trek to the village is an easy day for trekking with an elevation gain of 370 meters. The trail ascending to Lata Village is cemented and passes through terrace fields. The views are striking as you gain altitude. Watch out for apple, apricot and walnut orchards as you approach Lata. As you reach the summer village of Lata, look for the traditional village houses built with wood and covered with stone roofs. The villagers of Lata settle here during summer, which is why the name Lata Summer Village has stuck. It takes about an hour to reach here. It is advisable to rest here for the day for acclimatization purposes.
Day 3: Lata Village to Lata Kharak
Distance: 9 km trek
Time taken: 8 – 9 hour
Today, an altitude gain of over 1,500 meters (4,921 feet) makes for a hard day for trekking. This should only be done by experienced trekkers that are used to high altitude in the Himalayas. Others can choose to trek to to Bhelta Village, which is approximately four kilometres away from Lata.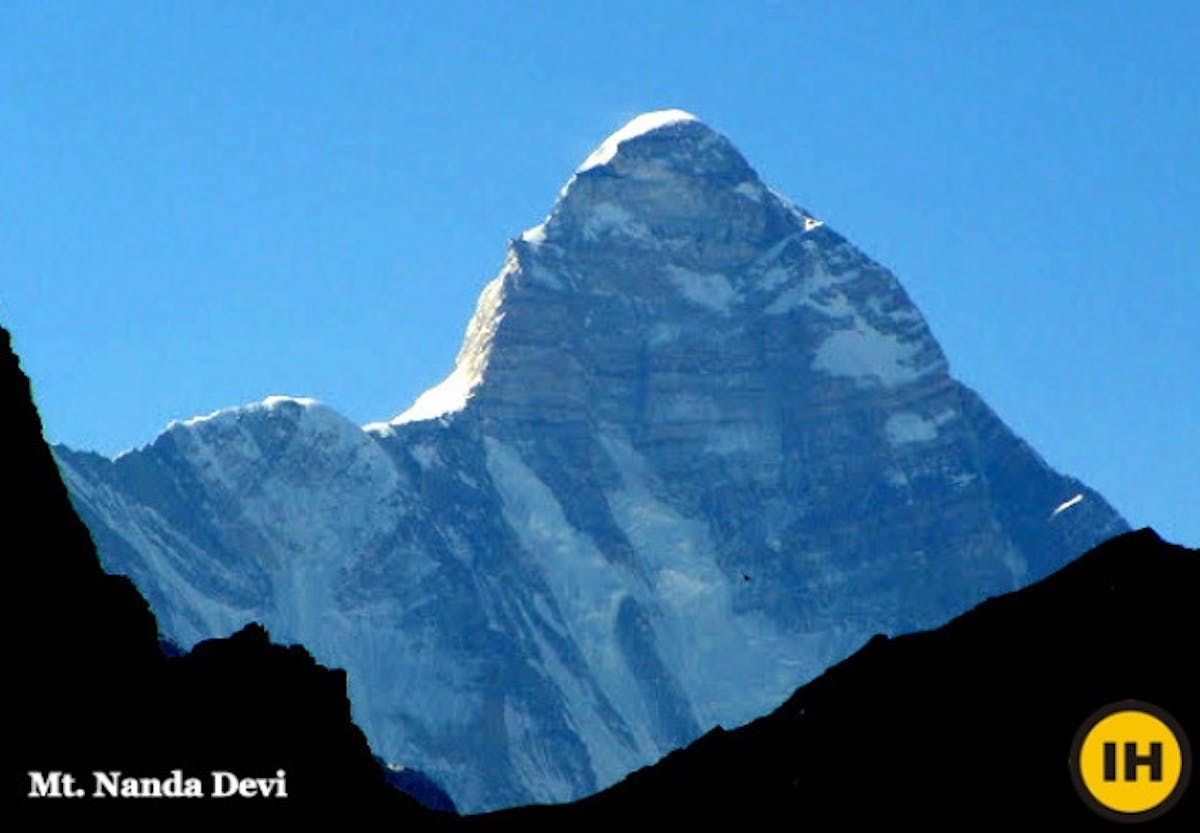 Stunning sight of Mt. Nanda Devi
Take the cemented trail that goes up from Lata Village towards Bhelta Village. After about a kilometre, the cemented trail turns into a  narrow pathway going inside a pine forest. The trail has loose stone andscreewith few small rivulets running by. It takes about three hours to reach Bhelta. There are small patches of land, where one can pitch tents here. Bhelta is known for its medicinal plants and alpine flowers. It also has a good water sources, making it an excellent camp site. From Bhelta, Lata Kharak is five kilometres away. There is still a 1,000 metre of ascent to be done. Take the trail that ascends straight ahead. Pass by the last few sections of pine and birch forests. Follow the trail till you reach a bifurcation. The left side trail goes to Khanook Kharak. Ignore that and take the trail going straight ahead. There are a series of never ending switchbacks and scissor bends that takes a lot of time to cover.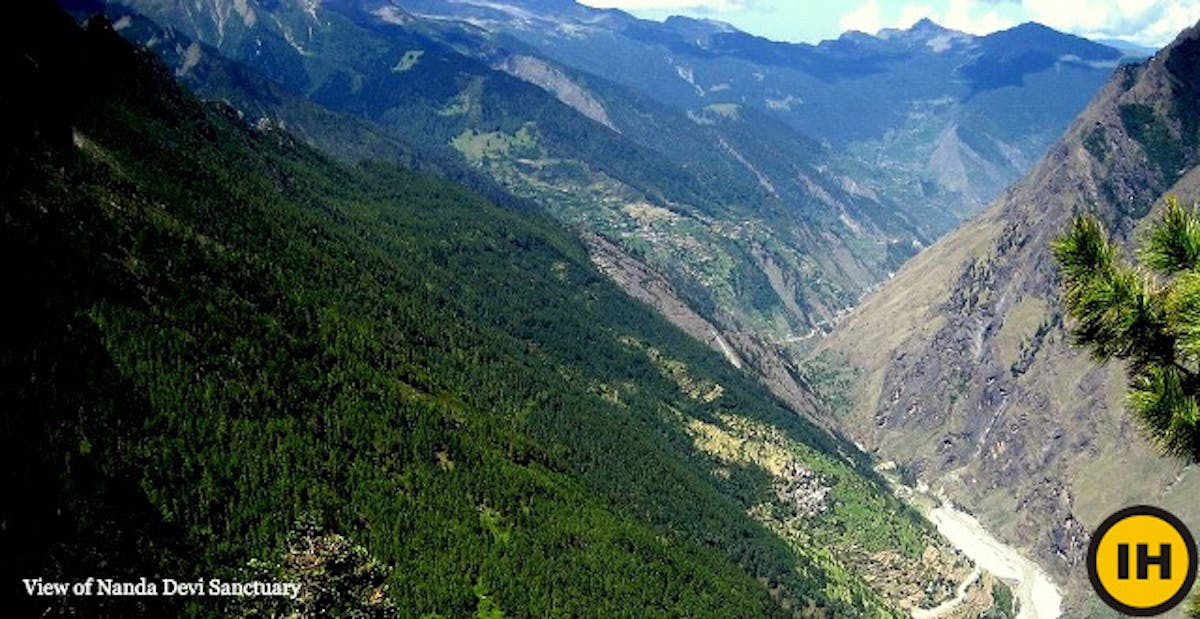 As you reach the top of a cliff, the ridge top of Lata Kharak is visible. Located at the end of the treeline comprising of rhododendron and birch, the views are fantastic from here.  Look out for Bithartoli-Himal (6,354 m), Nanda Ghunti (6,309 m), Ranthi Peak (6,003 m) Dronagiri or Dunagiri (7,066 m). Towards the south, the Lord Curzon trail and camp sites of Kuari Pass Trek can be seen. Mobile network may work here during day time. There a log hut here, where one can stay for the night. Prior availability needs to be confirmed.
Day 4: Lata Kharak to Dharansi Pass
Distance: 10 km trek
Time taken: 8 hours
Start early in the morning as the weather gets unstable after noon. The altitude gain is lesser today (1,476 feet) than the previous day. Walk ahead from Lata Karak, taking a trail going along a series of pasture lands. The meadows here are raw and attractive. As you move up, the views of the valley and mountains keep getting better.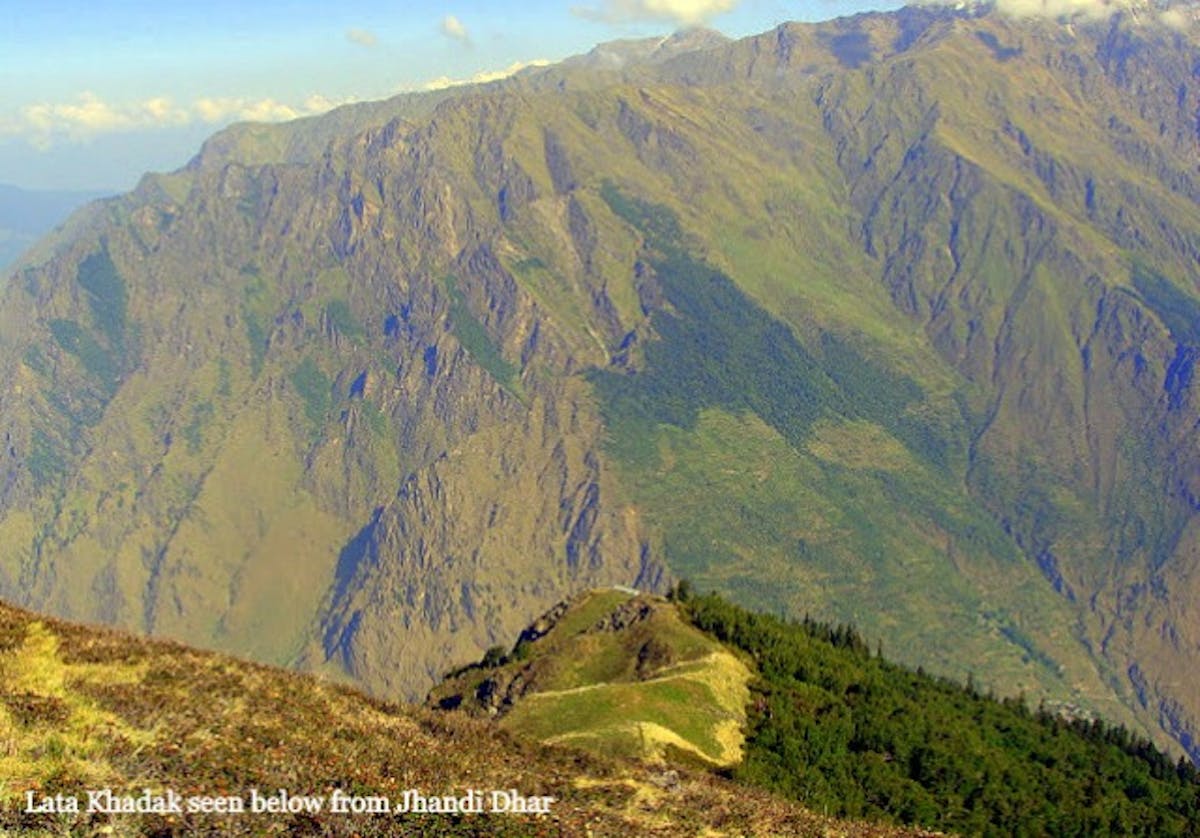 After walking for couple of hours, you will reach a bifurcation on the trail. The trail to the left goes to Jhandi Dhar and all the way to Dharansi Pass. The one heading straight goes to a meadow known as Saini kharak. This is a good side-excursion if one is camping at Lata Kharak an extra day. Take the trail towards the left that goes up the grassy ridge, all the way to Jhandi Shar cliff top. From the Jhandi Dhar ridge, soak in view of the other side of the valley. Mt. Dunagiri looks like a stone's throw away from here. On a clear day, one can see the peaks from Kedarnath side as well from here.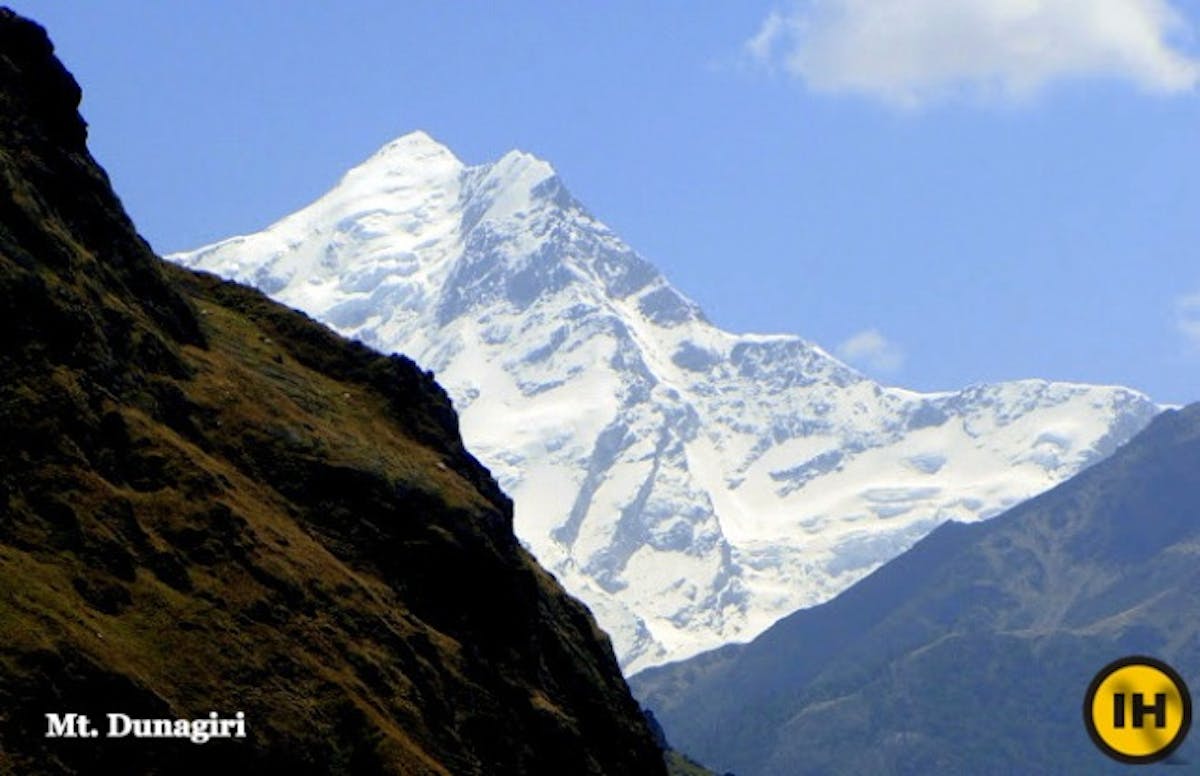 At the top of the ridge, look for a series of cairns. There is a tri-junction map drawn on a stone, indicating the directions to Dharansi Pass and Lata. The trail going to left goes to Tomla. The trail stretching straight ahead with a slight bend towards the connecting ridge proceeds to Dharansi Pass. The pass is now only 1.5 kilometres away. A final ascent over a rocky ridge gets you to the saddle of Dharansi. If weather permits, one can camp here for the night.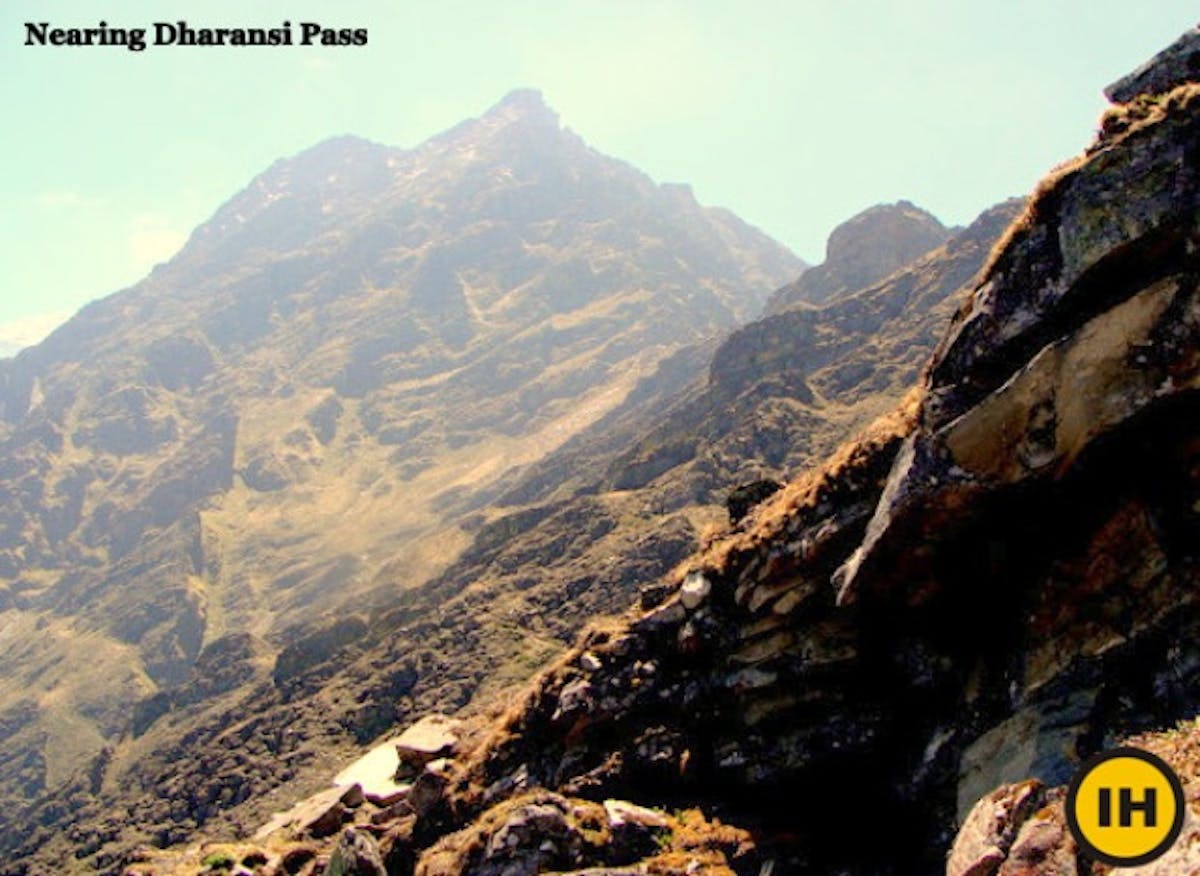 Those planning to head to meadows of Debrugheta should camp at Dharansi Pass. However, the winds are strong here and are very cold during night time. It is advisable to return to Lata Kharak if the weather is not permissible.
Explore another trail with amazing Nanda Devi views here.
Day 5: Dharansi Pass to Debrugheta and back to Dharansi Pass (Optional day)
Distance: 14 km trek
Time taken: 9 hour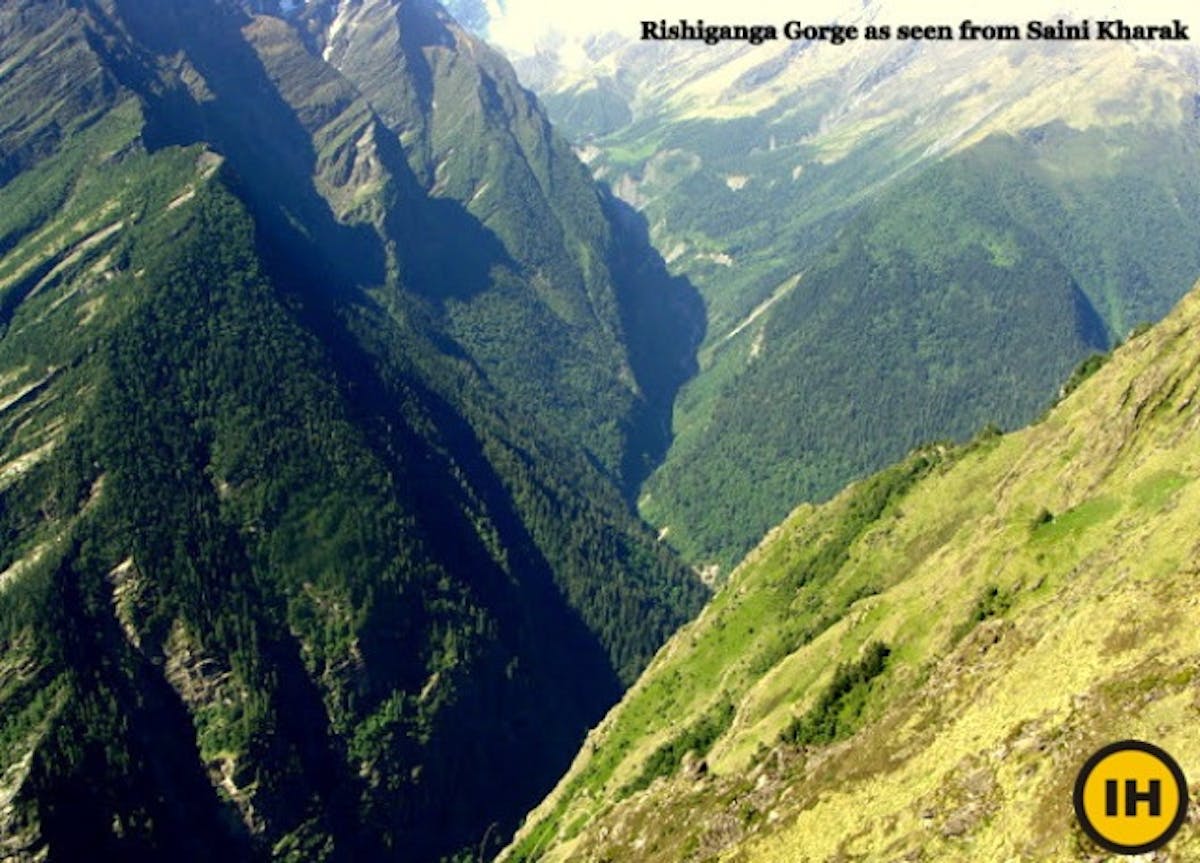 Another early start is required for today. The Malthuni-Bethartoli ridge divides Dharansi from Debrugheta. It also bifurcates the inner and outer boundary of Nanda Devi Sanctuary. One is not allowed to venture any further than Debrugheta, as the Inner Sanctuary is off limits. To reach Debrugheta, take the connecting ridge that descends sharply to the lower catchment area of Debrugheta. The trails are un-steady and slippery. Extra care must be taken while descending down 2,460 feet to Debrugheta. It takes about 3 hours to reach Debrugheta fields. There is no viable source of drinking water here, so one has to return back to Dharansi Pass. The climb up is tiring. It takes about five hours to get back to Dharansi Pass.
Checkout another 12 day challenging trek to the Nanda Devi Base Camp.
Day 6: Dharansi Pass to Hitoli Campsite
Distance: 12 km trek
Time taken: 7 hour
Having reached Dharansi Pass, it is time to head down to Lata. Take the trail down to Jhandi Dhar. From here, refer to the stone map and take the trail heading down towards your right to Tomla. The descent is long. It's quite taxing on the knees. Take small steps and don't descend too fast. You now enter an enticing forest of rhododendron, birch and Raga fur. The forest trail is refreshing with many water points. The trail heads down to a small camping ground of Hitoli. Camp here for the night.
Day 7: Hitoli Campsite to Surai Thotha via Tomla. Drive from Surai Thotha to Joshimath in a Jeep.
Distance: 8 km trek, 30 km/2 hour Jeep ride from Surai Thotha to Joshimath
Time taken: 6 hours (including Jeep ride)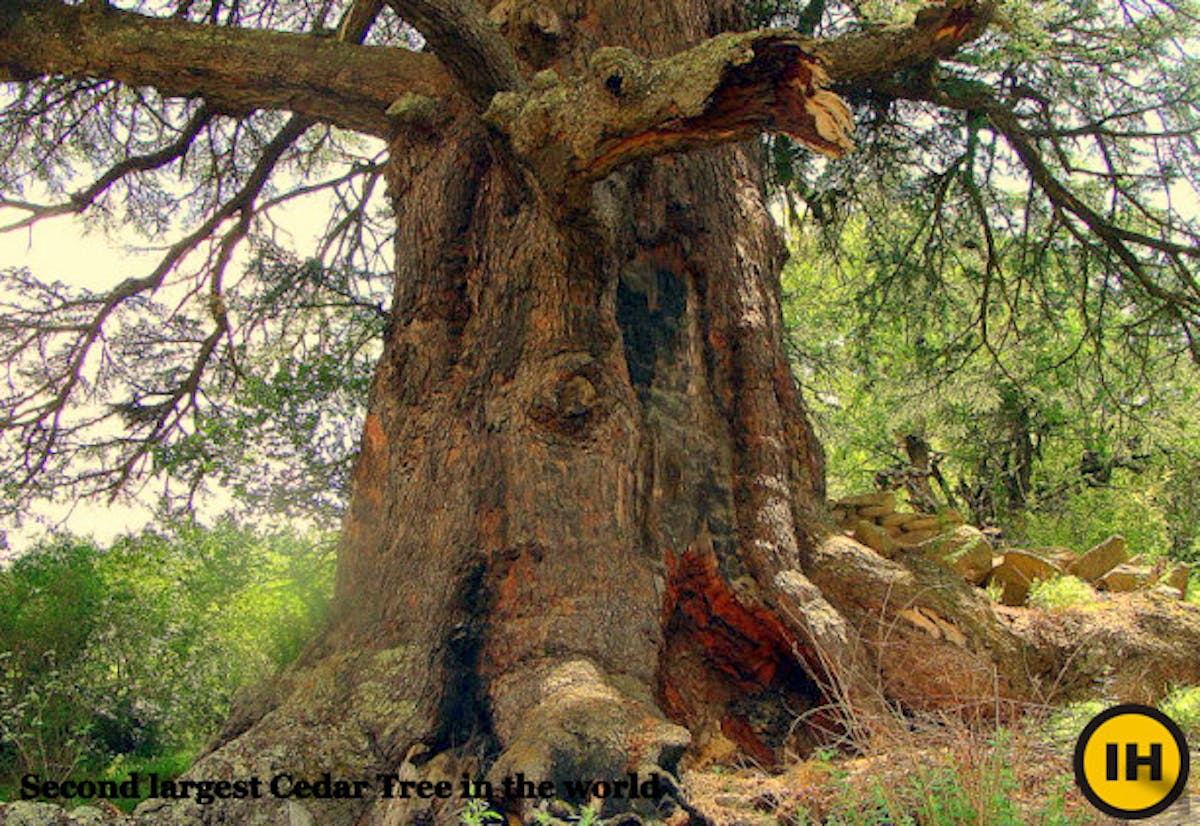 The descent from Hitoli passes by the charming village of Tomla. The five kilometre Cedar (deodar) forest trail is a picturesque one. As you pass by Tomla Village, Surai Thotha is another three kilometres below. The descent can be brutal, though the trail is lively. As you reach the roadhead of Surai Thotha, take a shared Jeep all the way to Joshimath. Lead and third picture by Kothanda Srinivasan. Rest of the pictures by Sadanand Kamath.
➤ How to get fit for the trek
Cardiovascular endurance
This trek requires a good amount of endurance. You can begin by jogging everyday. Start jogging at a slow pace and then keep increasing your pace day by day. Make sure you are able to jog 4 km in 20 minutes before the start of the trek. It takes time to be able to cover this distance in the given time. Swimming, cycling and stair climbing without too many breaks in between can help too.
Strength
This is another area you should work on. There is a lot of trekking distance that you will cover carrying your backpacks and trekking along with your backpack is not a very easy task. You have to walk on uneven terrain during the trek. It could be taxing for your legs. For this, strengthening your legs will help. You can do some squats to strengthen them. Do around 3 sets of squats, with 8 squats in each set.
Flexibility
Another aspect that will help you trek comfortably is flexibility. For this, you can do some stretching exercises – stretch your hamstrings, quadriceps, hip flexors, lower back muscles and shoulders regularly. On your trek, it is important that you arrive on the slopes with your muscles relaxed. Carrying a backpack, however light, can become a strain after a while. These exercises will help you to be in good shape before the trek.
Working out indoors
If you can't go out and jog because of time and space constraints, here's a video you can use to work out indoors.
➤ What to take on your trek
Bare necessities
Trekking shoes: The trek distance is long and you will have to walk for long distances which need you to have comfortable trekking shoes. You can watch this video to learn to choose the right trekking shoes.
Backpack (40-60 litres): A backpack with sturdy straps and a supporting frame. Rain cover for backpack is essential.
The Miyar Valley Dun trek happens round the year except for monsoons so make sure your have the proper clothing as per the season demands so you can keep yourself protected during the trek.
Clothes
Three (Five in Winter) Warm Layers: You will be trekking and camping at high altitudes. So make sure you have the apt clothes for the climatic conditions. It will be cold at the higher altitudes so make sure you have at least three layers of warm clothes to protect yourself.
Two trek pants: One pair of pants should suffice for this trek. But you can carry one spare pair in case the first one gets wet. Wear one pair and carry one pair.
Two collared t-shirts: Carry light, full sleeved t-shirts that prevent sun burns on the neck and arms. Again, wear one and carry one.
Thermals (Optional): Those who are more susceptible to cold can carry thermals to wear at night.
Accessories
Sunglasses: Sunglasses are to prevent snow blindness. There might be snow in Har Ki Dun Valley or from Kalkatiyadhaar (depending on the season you are going in), so carry a pair of sunglasses.
Suncap: The sun is more harsh at high altitudes so wear a suncap to protect your face and neck.
Synthetic hand gloves: One pair of fleece or woolen hand gloves. One pair of water proof/resistant, wind proof gloves.
Balaclava: You may use woollen scarves instead as well.
Socks (2 pairs): Apart from two sports socks, you can take a pair of woollen socks for the night.
Headlamp/LED torch: Mandatory
Trekking pole: Watch this video to understand why you need a trekking pole.
Others
Daypack (20 litres): If you are offloading your backpack, you will need a smaller backpack to carry water, medical kit and some light snacks.
Toiletries (Sunscreen, moisturiser, light towel, lip balm, toilet paper, toothbrush, toothpaste)
Cutlery: Carry a spoon, coffee mug and a lunch box. We insist on trekkers getting their own cutlery for hygiene reasons.
Two water bottles: 1 litre each
Plastic covers: While packing, use plastic bags to compartmentalise things and carry few extra plastic bags for wet clothes.
Mandatory Personal Medical Kit
Diamox – 10 tablets (to prevent AMS)
Crocin – 6 tablets (fever)
Avomine – 4 tablets (motion sickness)
Avil 25mg – 4 tablets (allergies)
Combiflam – 4 tablets (Pain killer)
Disprin – 6 tablets (headache)
Norflox TZ & Lomofen– 6 tablets each (diarrhea)
Digene – 10 tablets (acidity)
Omez/ Rantadine – 10 tablets (antacids)
Crepe bandage – 3 to 5 meters
Gauze – 1 small roll
Band aid – 10 strips
Cotton – 1 small roll
ORS – 10 packets
Betadine or any antiseptic cream
Moov spray (aches, & sprains)
➤ Trek Contribution
Author: Vaibhav Chauhan
Vaibhav is associated with Indiahikes as a Writer & Chief Explorer. He is an avid traveler with a passion for trekking in Indian Himalayas. With his roots in Shimla district of Himachal Pradesh, the love for the mountains is in his blood. When not travelling he likes to spend time interacting with like-minded trek enthusiasts and read books on travel and mountaineering.