Can You Help Us With More Photos Of This Trek?
Thousands of trekkers use this documentation to trek on their own. Which is why we are looking to enrich it with photos of different sections and different seasons. If you have photos from this trek, can you share them with us? They'll go a long way in helping trekkers. Click here to know more and contribute.
The Complete Guide to George Everest Peak Trek
George Everest Peak takes you to the house of Sir George Everest. Sir George Everest was a Surveyor-General of India from 1830 to 1843 and led a significant part of India's Great Trigonometrical Survey. He was the one who hired Andrew Waugh and Radhanath Sikdar who made the first-ever observation of Mount Everest and calculated its height. 
The House of Sir George Everest, perched on a peaceful hilltop in Mussoorie, is legacy in ruins. The iconic house offers a mesmerizing view of the Doon valley on one side and the Aglar river and Majestic Himalayan peaks on the other.
For a very long time, its importance was underestimated. However, in 2020 the significance of the place was well recognized by the Uttarakhand government, who then decided to renovate the heritage bungalow of Sir George and announced to convert it into a cartography museum. The museum thus will showcase the surveying instruments of Sir George, which will include theodolites and baseline bars. 
George Everest peak is one of the major tourist attractions in Mussoorie, the Queen of the hills.  Just 4 km away from Mussoorie, it is one of the popular places famous for camping, picnics, and adventure outings. The trek takes you through the forest sections filled with Deodar, Fir and Rhododendron trees. It's a treasure for birders. It offers beautiful views of snow-clad mountains from the summit.
George Everest Peak trek is an easy trek. It can be done by fit beginners and experienced trekkers. However, the last stretch of the trek is challenging. Make sure you are well prepared before planning for the trek.
Table of Contents
Just like you, we love trekking! And this is a trek we've documented in great detail to help you do it on your own. Drop-in comments at the end of the page if you need any help! You will get all the information required to do George Everest Peak Trek on your own.
To navigate through the documentation easily, use this section of the Table of Contents.
Highlights
Trail Information
Best Season to do the George Everest Peak Trek
Difficult Sections on the George Everest Peak Trek
How to Reach the George Everest Peak Trek
Frequently Asked Questions
Emergency Contacts on the George Everest Peak Trek
ATMs and Networks on the trek
Places to visit after the George Everest Peak Trek
Highlights
1. Flora and Fauna on the trail
The George Everest Trek is undoubtedly a treasure trove of biodiversity. The trail is filled with Rhododendron trees on either side from Hathipaon Chowk to George Everest's house.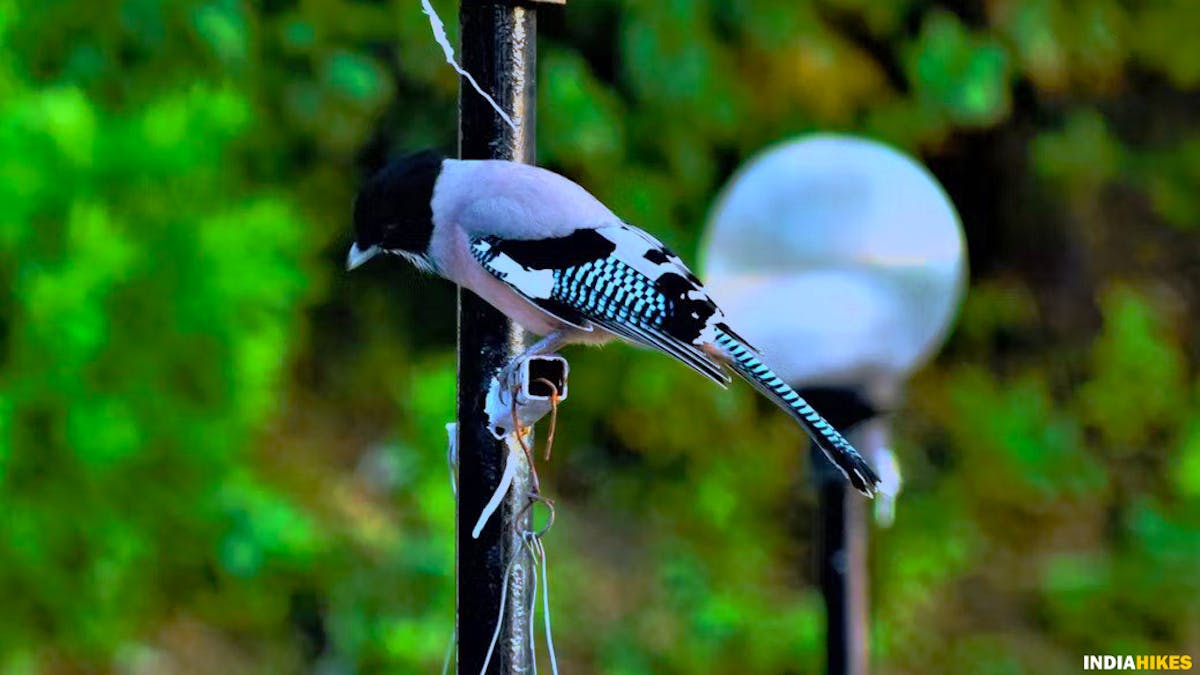 Picture of Black-headed Jay spotted on the trail. Picture by Deepali Bansal
All seasons attract birds of all kinds, including Himalayan Griffin Vultures, Shikra, Bar-Tailed Tree-Creepers, Rufous Bellied Woodpeckers, Black Drongo, and several species of babblers, tree pie and warblers. If you're lucky, you may also encounter beautiful Black-headed Jay soring and feeding nearby woods. 
Tip: Start your trek early in the morning to spot most of the birds.
2. View from the Summit
The summit climb to George Everest Peak is quite an adventurous one. Once you're at the peak, the way it opens up to the views of the entire Doon valley blows your mind. The place offers a spectacular view of gigantic snow-covered peaks - Swargarohini, Bandarpoonch, Srikant, Gangotri, Jaonli, Brigupanth, Satopant, Kedarnath, and Chaukhamba.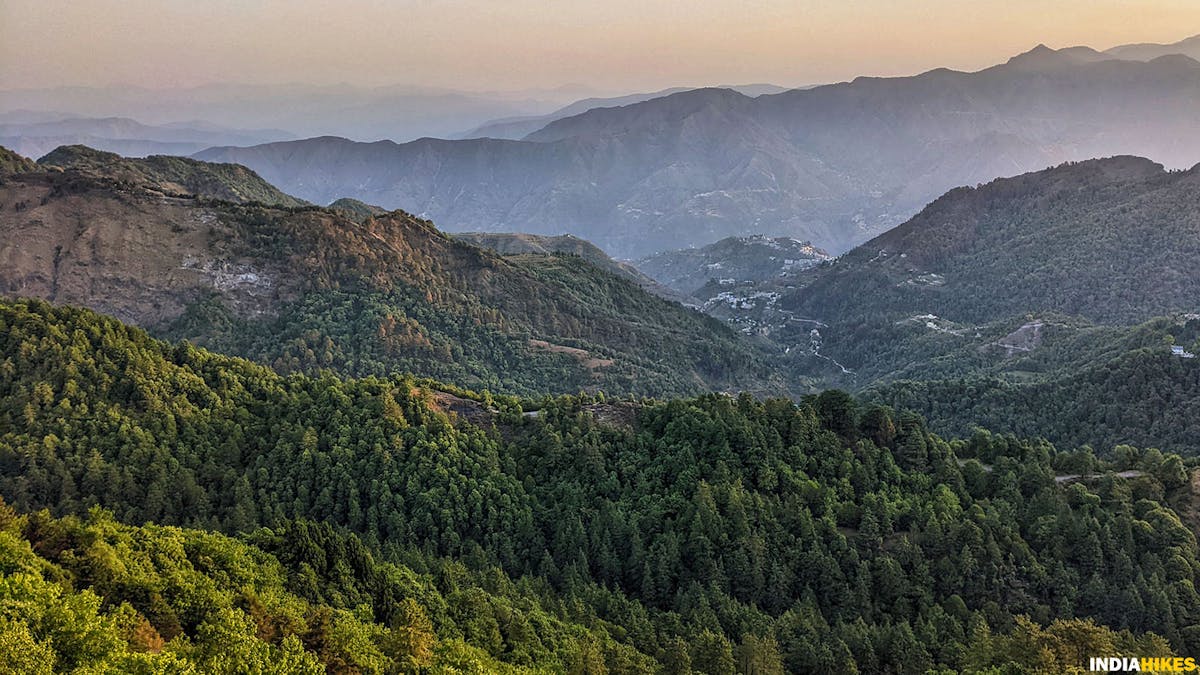 View of the beautiful hills after Sunrise. Picture by Loges R
Another main attraction at the summit is the Himalayan prayer flags. It symbolizes peace, strength, compassion, wisdom and good fortune. It's quite surprising to see the amount of these flags that are present.
Trail Information
Route Map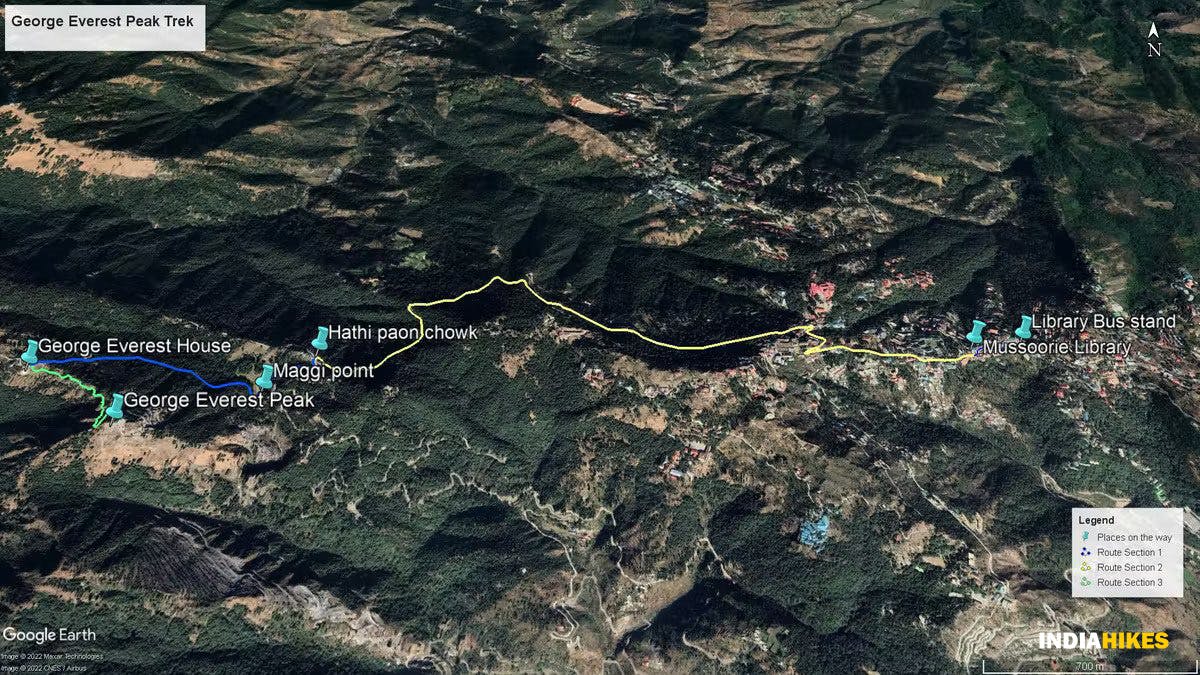 Route Map. Picture from Google Earth
The George Everest Trek can be divided into 4 different sections.
Section I: Library Bus Stand to Hathipaon Chowk
Section II: Hathipaon Chowk to George Everest base
Section III: George Everest base to George Everest House
Section IV: George Everest House to George Everest Peak
Section I: From Library Bus Stand to Hathipaon Chowk
Trek Distance: 4 km
Trek Duration: 45-60 minutes
You can start the trek either from Library Bus Stand or Hathipaon Chowk based on your convenience. If you are travelling by public transport, then you can start your trek from Library Bus Stand. If you are going by your vehicle, you can drive to Hathipaon Chowk directly.
Starting your trek from Library Bus Stand adds 4 km to the total distance. But, a scenic walk for the major part of this stretch makes it worth. It starts from a lively market and restaurant area and gradually transcends to the secluded forest road. 
Start walking from Library Bus Stand. Just about 200 metres away is the Mussoorie library, the oldest place in Mussoorie and has been maintained for the last 175 years.
From here, head towards Spring road which passes by Pine Tree Apartments and Suites. Then take a sharp left at Ashok Guest house, passing by the Laxmi General store. This lane will lead you to a junction after covering around a kilometre. Take a right turn which will lead you directly to the Hathipaon chowk.
The road now passes through the middle of the forest and makes you feel like you've entered a whole different world. Deodar trees and other coniferous flora make the walk in this road even more beautiful. Keep your eyes and ears open as you can spot a lot of birds in this region.
Section II: From Hathipaon Chowk to George Everest Base
Trek Distance: 1.5 km
Trek Duration: 15-20 minutes
Near Hathipaon Chowk, there are many breakfast/snack points. Bun omelette, parathas and Tea are readily available meals here in the morning. 
At Hathipaon Chowk, there is a signboard indicating the direction to George Everest Base. Start your trek on this trail. The trail descends to the George Everest Base. The entire trail is populated by Rhododendrons and Fir trees.
Tip: Rhododendron trees will be in full bloom during spring. If you want to see the entire filled with blooming Rhododendron, time your trek in March end - April. 
Continue on the trail. At the end of this section, you will see a clearing that is also a private grazing ground maintained by the local society. This comes as a pleasant surprise on the trail bordered by Rhododendrons and Fir trees. This is George Everest Base.
From here, the ascent to George Everest Peak starts.
Section III: From George Everest Base to George Everest House
Trek Distance: 1.1 km
Trek Duration: 15-20 minutes
From George Everest Base, the trail ascends gradually to George Everest House. The trail is well laid out. It has a forested valley on one side and an elevated forest section on the other side. It's a proper trail made out of stones and is fenced on the valley side. Trekking on this picturesque trail soothes your soul.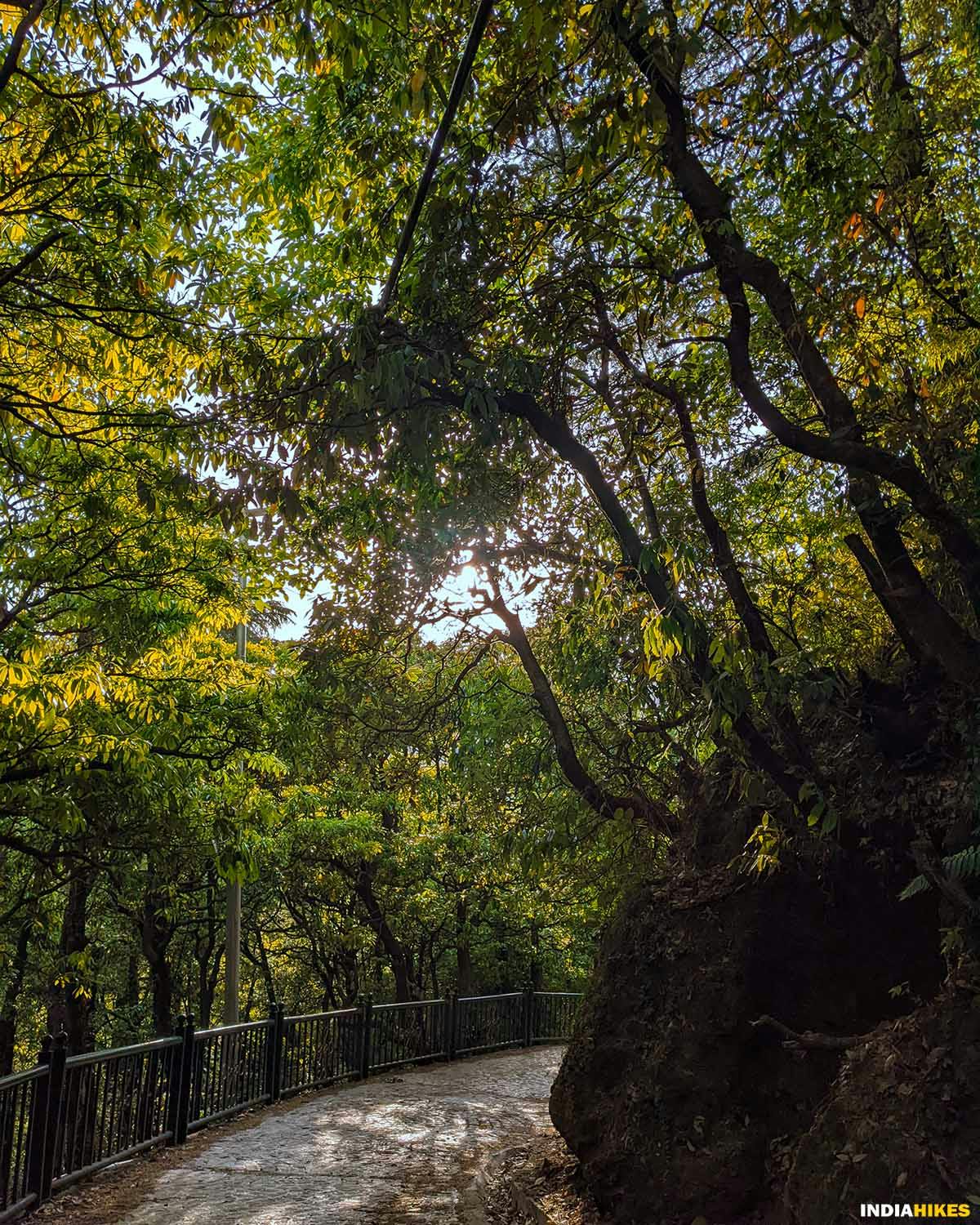 Picturesque forest trail en route George Everest House. Picture by Loges R
Big old trees with mosaic patches of Rhododendrons add charm to this trail. This trail is even famous among birders and photographers. Every turn on this trail opens up to mesmerizing views of the surroundings. These surprises will give you goosebumps even if you are here for the nth time.
As you continue walking on the trail, mesmerized by the beauty of nature around, you reach the entrance gate/ticket counter to George Everest's House. Entry into the house is prohibited for the public as of now and hence there is no entry fee. But there will be an entry fee once it opens to everyone.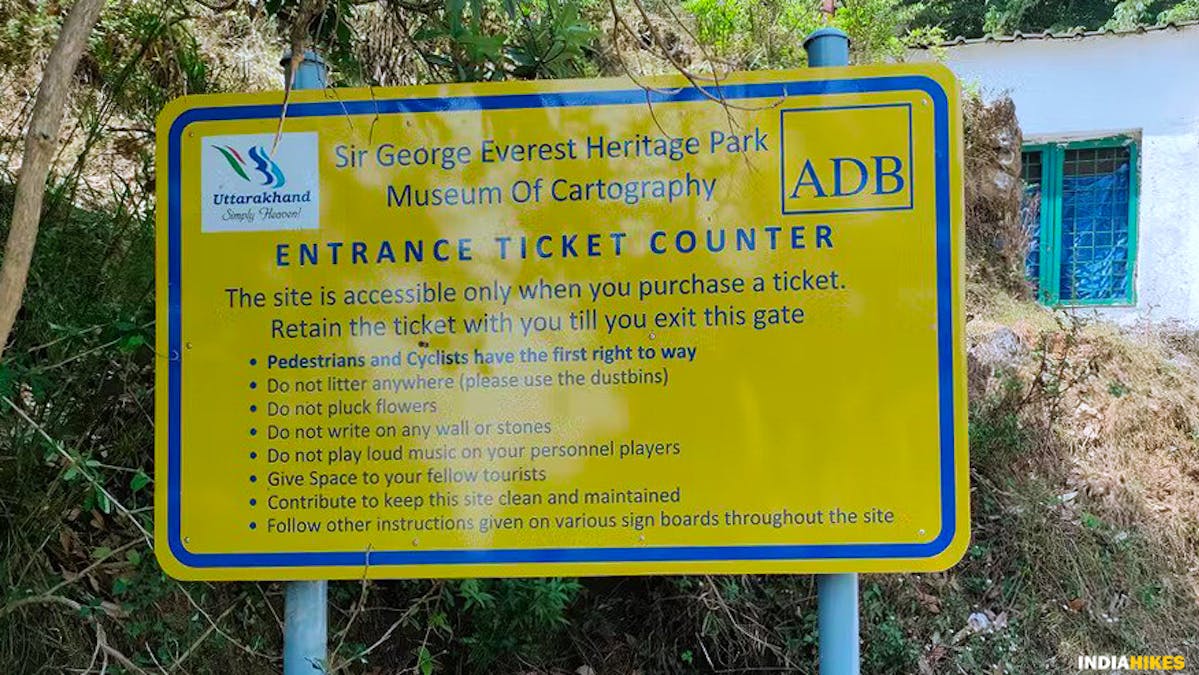 Entrance to George Everest Heritage Museum. Picture by Deepali Bansal
A few metres ahead from the entry gate is beautifully renovated Sir George Everest's house. As per the locals there, the renovation/reconstruction work did not preserve the older look and beauty of the house. However, converting it into a museum will draw the attention of a lot of history enthusiasts.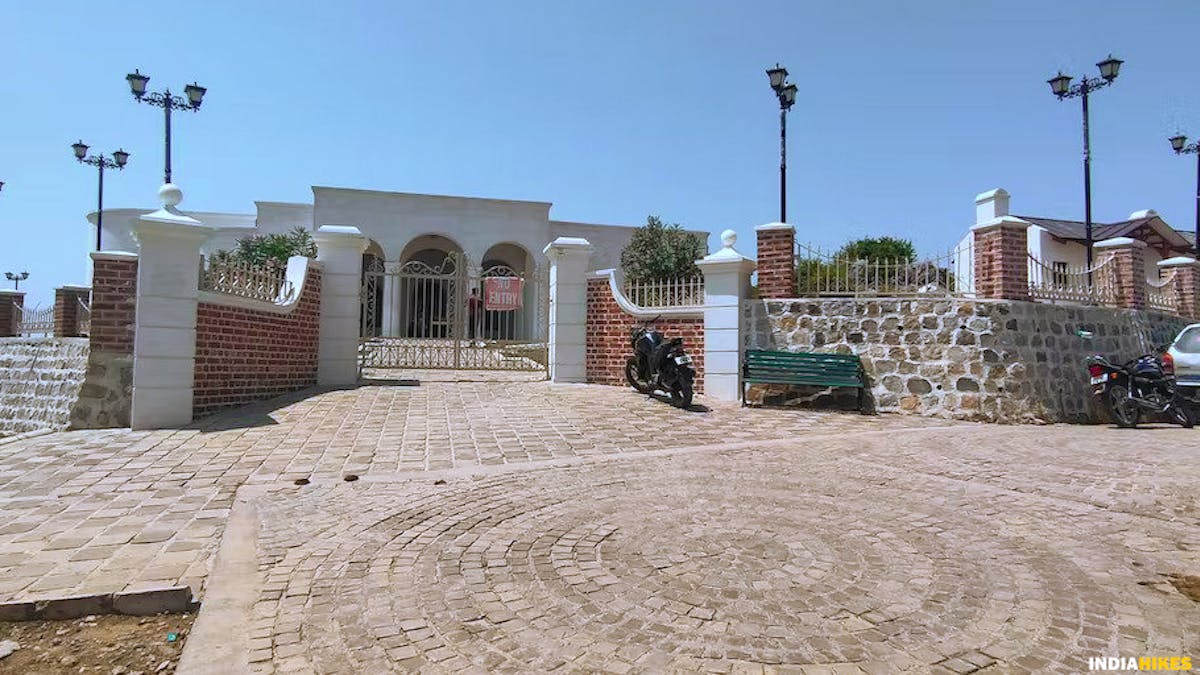 Renovated George Everest's house that will be converted into a heritage museum. Picture by Deepali Bansal
Section IV: From George Everest House to George Everest Peak
Trek Distance: 900 metres
Trek Duration: 30-45 minutes 
Right next to George Everest's house is a huge open ground. It's fenced on all the sides and is famous for sightseeing. You can spot flying Himalayan Griffon Vultures in abundance here.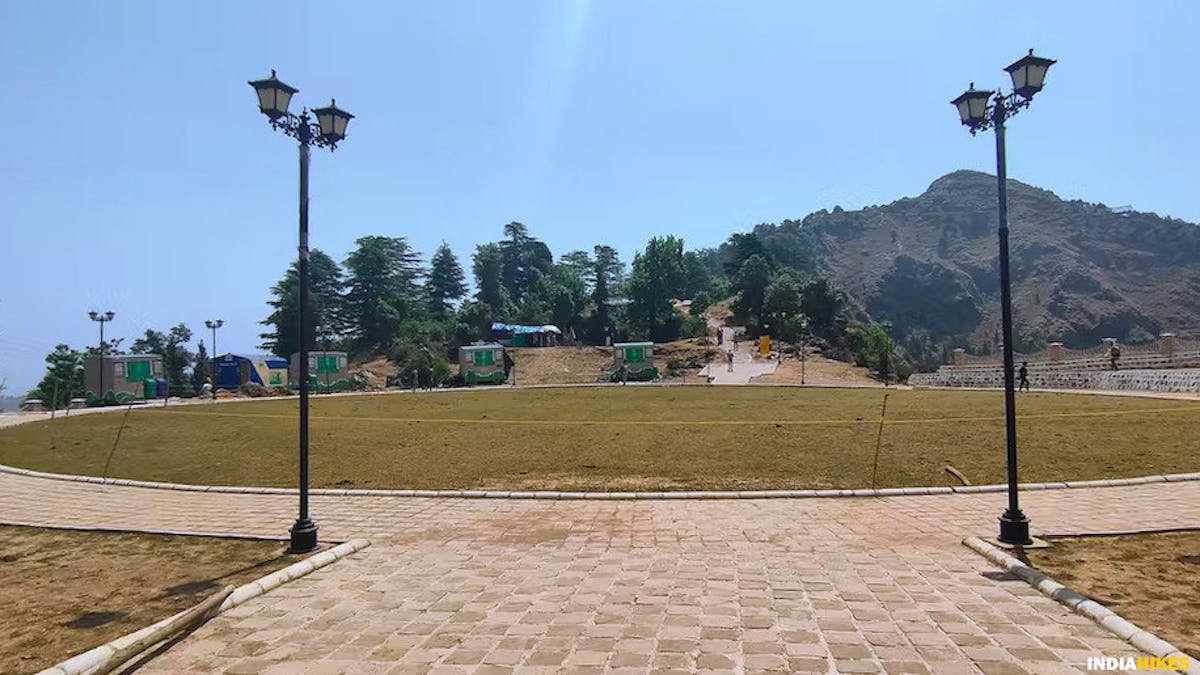 An open ground next to George Everest House. Picture by Deepali Bansal
There are a few tapari (small local shops) where you can buy some basic food items. 
About 50 metres from the ground is a camping site where one can camp.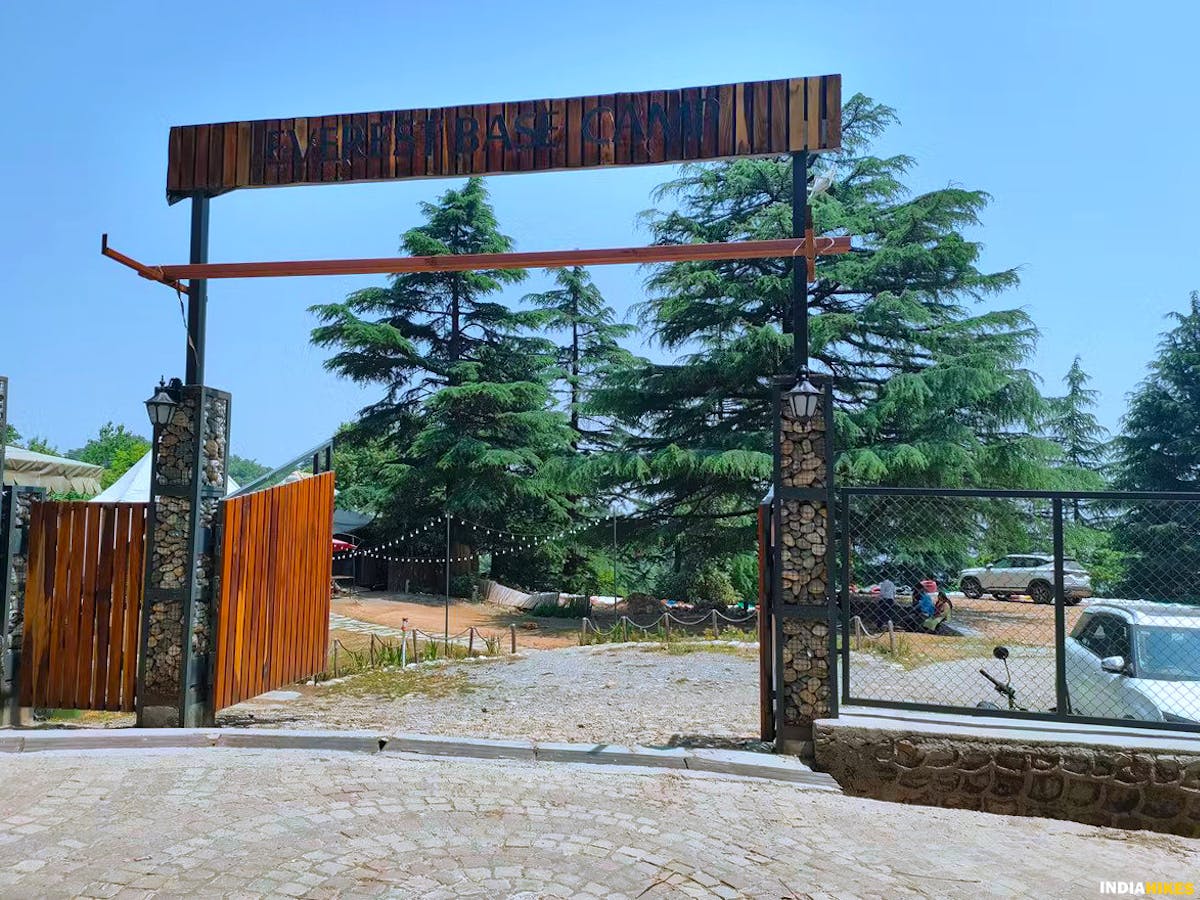 George Everest Base camp-George Everest Peak-Indiahikes-Deepali Bansal
From here, to the George Everest peak, it's a steep ascent. It's a tiring hike, so keep yourself hydrated before starting this sectoin. This was once a steep trail over the ledge but now there are steps laid out by the government which makes it slightly easier.
As you gradually ascend higher and higher in this section, views of the surrounding mountains start unfolding in front of you.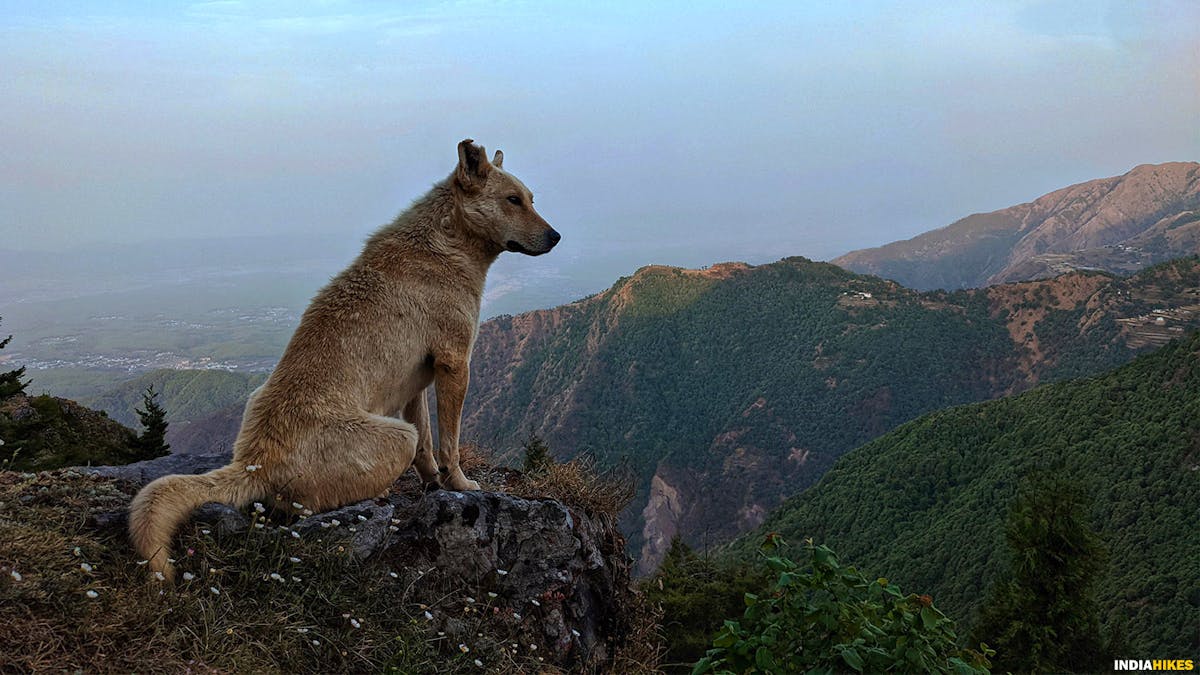 The best trekking companion you can have. Picture by Loges R
On the way, there is a newly opened resting-cum-café spot with beautiful décor. The ambience of the place is vibrant and colourful. Use this as your resting spot.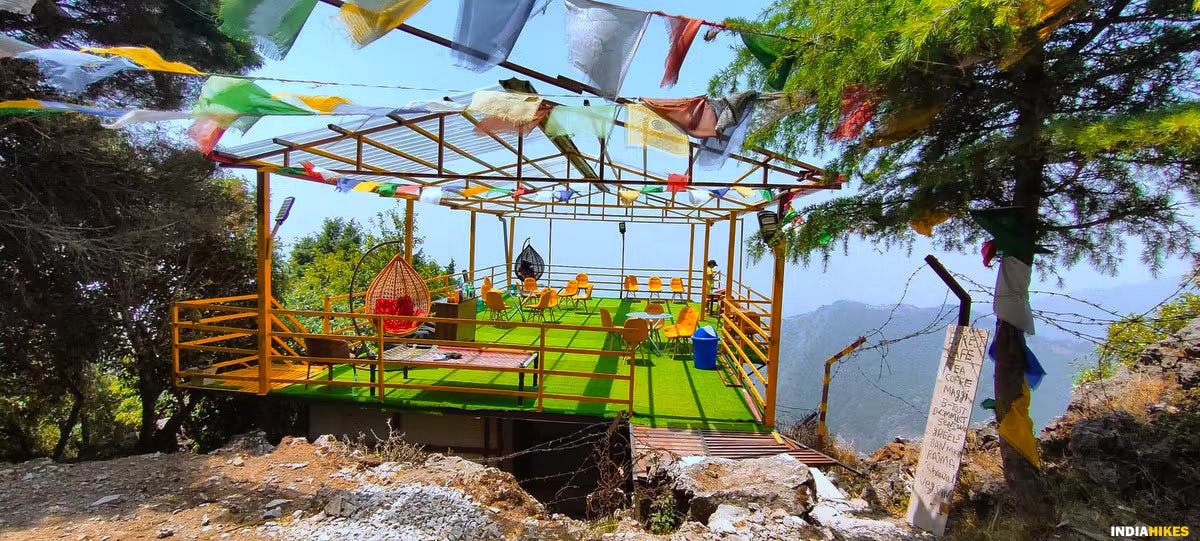 Vibrant cafe on the way to summit. Picture by Deepali Bansal
Another 250 metres of ascent from here, is the George Everest peak. So keep your excitement alive. The last 100 metres of the trail are rugged. The route is filled with small loose stones throughout. It's very slippery. Carefully navigate through this section. Before you know it, you'll be at the peak of George Everest.
Slippery patch that you've to navigate through for the last 100 metres. Picture by Deepali Bansal
The George Everest peak offers an astonishing view of the great Himalayas. Spend an hour here reflecting on your journey and taking in all the views it offers. Himalayan prayer flags are another attraction here, symbolising peace, strength, compassion, wisdom, and good fortune.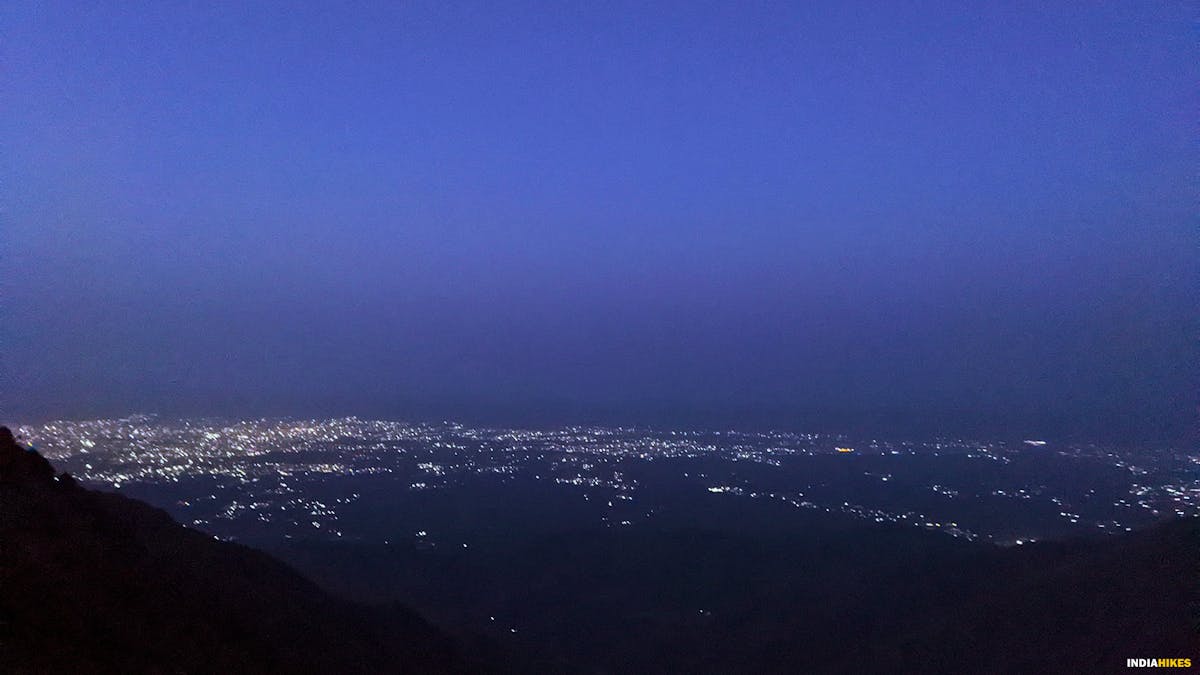 Beautiful view of Doon valley from the summit before Sunrise. Picture by Loges R
You'll see a lot of litter all around and broken glass bottles have made the place a real pain in the heart of nature lovers. This is a sad sight to see.

Carry your tiffin box, a mug and a water bottle and avoid using disposables anywhere on the trek. This makes sure you're not adding to the litter that already exists. You can even collect a few and take them back. This way you will leave the mountains in a better condition than what you find them in.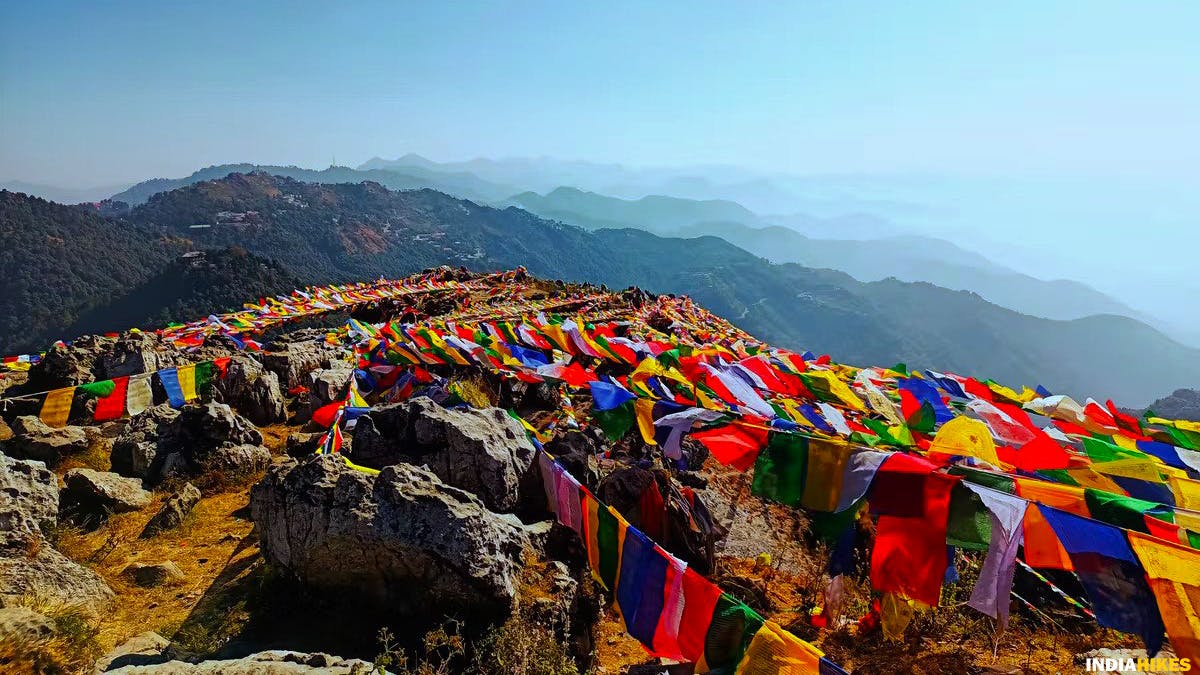 Prayer flags swaying in the wind at the Summit. Picture by Deepali Bansal
Best season to do the George Everest Peak Trek
The best time to trek to do the George Everest Peak is from September to early November and from March to May. 
Due to heavy rainfall in monsoon and snow in peak winters, the trek route becomes inaccessible.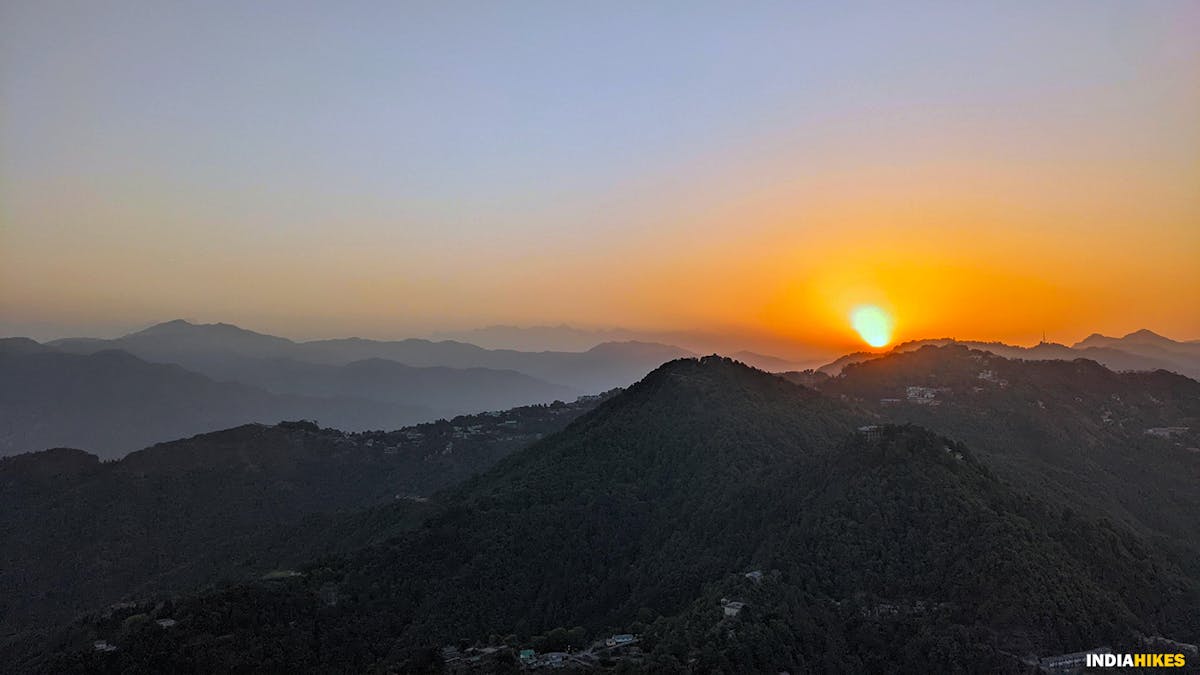 This is why Mussoorie is called the Queen of Hills. Picture by Loges R
Difficult Sections on the George Everest Peak Trek
The difficulty level of George Everest Trek can be classified as Easy. 
The trail from George Everest House to George Everest Peak is a steep ascent and is very tiring for trekkers who are not fit. Carry enough water and keep yourself hydrated. 
The last stretch of the trek has loose rocks and is very slippery. Wear proper trekking shoes and carry a pair of trekking poles.
How to Reach the George Everest Peak Trek
The trek starts from Hathipaon Chowk which is 4 km away from Library Chowk, Mussoorie.
For ease of understanding, we've broken down the journey based on the transport and the route you take.
Reaching Hathipaon Chowk by your own transport 
Hathipaon Chowk is 4 km from Mussoorie and takes about 20 minutes to reach. It is around 35 km from Dehradun and takes about 1 hour and 20 minutes to reach.
If you plan to go by your own vehicle, use this link to help set up navigation on Google Maps.
Reaching Hathipaon Chowk by Public Transport System
There are no buses to Hathipaon Chowk. You can either choose to trek from Libary Chowk or hire a taxi to Hathipaon Chowk.
If you're traveling from some other city, there are many buses that run from Dehradun to Mussoorie. It's around 35 km and takes about 1 hour and 30 minutes to reach.
Nearest Railway Station and Airport
Dehradun Railway Station is the nearest Railway Station and is 35 km away.
Jolly Grant International Airport, Dehradun is the nearest Airport and is 58 km away from Lal Tibba.
Frequently Asked Questions
Parking facility near George Everest
If you plan to reach the base by your own vehicle, there is a parking space near the base of George Everest and Hathipaon Chowk. However, it is recommended to reach the place early to fetch a good spot, as sometimes it becomes packed with vehicles.
If you plan to trek from Library Chowk, you may park your vehicle at mall road public parking.
Permission and Camping
You don't need any permission to do the George Everest Trek. 
However, you need to take permission at George Everest Basecamp, if you want to camp there. You've to take permission at the Basecamp, once you reach there. You don't have to pay any fee. But the officials will note down your details in their records and grant you permission. Carry a government ID proof with you. 
Stay Options near the Trek 
You can camp in the George Everest Basecamp.
Another option is to stay at Mussoorie. It has many hotels and Airbnb. Check out the link here.
Timings on the Trek
There are no timing restrictions to do the George Everest Trek. 
However, it's best to start your trek in the morning latest by 8 AM especially if you're trekking from the Library Chowk. Keep a Turn Around Time (TAT) as 4 PM, so that you'll be back by dusk.
Food and Water Source on the Trek
Food: There are many food stalls on the way from Library Chowk to George Everest House. But make sure to carry your own tiffin box and a mug and not use any disposables on the trail.
Water: There are no natural water sources on the trek. Make sure to carry at least 2 litres of water per person. If you run short of water, you can ask in one of the stalls for a refill.
Emergency Contacts on the George Everest Peak Trek
Nearest Hospital and Police Station
Hospitals: Below is a list of nearby hospitals with complete addresses and contact details:
Landour Community Hospital
Landour Cantt, Mall Road
Mussoorie, Dehradun District, Uttarakhand – 248179
Phone: 0135 2632053, 0135 2632541

St. Mary's Hospital
22, Near Punjab National Bank
The Mall Road, Kulri
Mussoorie Ho, Dehradun District, Uttarakhand - 248179
Phone: 0135 2632869

Civil Hospital
Ghanta Ghar, Mussoorie HO
Mussoorie Dehradun District, Uttarakhand - 248179
Phone: 0135 2632891
Mussoorie Police Station is the nearest police station and is just 1.6 km away.  Contact Number: 01352716227
ERSS: For any kind of emergency help, you can contact the Pan-India Emergency Response Support System (ERSS) number- 112
ATMs and Networks on the trek
There are a few ATMs near the Library Chowk bus stand. Make sure to withdraw enough cash from here as there are no ATMs nearby Hathipaon Chowk.
Places to Visit after the Trek 
Kempty Falls: Kempty Falls is one of Mussoorie's most popular attractions and picnic spots. This 4500 feet high waterfall is surrounded by high mountain cliffs. The pond at the foot of the waterfall is a great place to swim. The name Kempty Falls derives from the term "camp and tea," which was once a reference to the gorgeous evening tea party held here and eventually became the localized name for Kempty.

Benog Wildlife Sanctuary: A part of the renowned Rajaji National Park, Benog Wildlife Sanctuary is famous for its beautiful nature trails and biodiversity. Endangered Quails, deer, leopard, black bear and red-billed blue magpie are a few of the sightings of the sanctuary. It is an ideal place for birders and wildlife enthusiasts. Pine clad sloped with a beautiful view of Himalayan peaks will refresh you. 

Camel's Back Road: In the heart of Mussoorie, Camel's Back road is a 3 km road lined with natural rocks shaped like camel humps. Overlooking the Doon Valley, you can enjoy breathtaking views of the Himalayas. It is also a popular place to see the sunrise and sunset. Long walks and morning jogs along this street are the best way to explore what this beautiful street offers. Along the backstreets of Camel, you can also see the 180-year-old English cemetery in Mussoorie.
Trek Contribution
Trek documented by Deepali Bansal
Trek edited by Manasa N L.
Photos contributed by Deepali Bansal & Loges R
Photos Edited by Sneha.G.Iyer
Latest Updates
CONTEST ALERT: February 2023 Photo Contest Open!
Weekend Treks Announced from February to June 2023!
Trekkers Enjoy Fresh Snowfall On Brahmatal Trek
Adventure Therapy Trek Announced for 2023
Why Jan-Feb '23 treks are better than '22
Finally, A Film That Does Justice To The Dayara Bugyal Trek
GPX File Opt in
We go to great lengths to ensure you have a safe trek. So here's a GPX file of the trail to help you navigate without getting lost.