The Complete Guide to Hanol Trek
Hanol is a small village located on the banks of Tons river in Chakrata. Surrounded by verdant hills, it's a place not frequented by tourists but greatly esteemed by local hill dwellers. 
Hanol is famous for Mahasu Devta Temple, a 9th century stone temple dedicated to Lord Shiva. The temple is on a small lawn, surrounded by hills and a clear stream flowing in the distance. The reflecting sunlight on hills highlights the water and the temple, creating an astoundingly charming landscape. 
Hanol was also once home to Asia's tallest pine tree. Although the tree is no more, you can see the bark of the tree safely preserved.
Unknown to many, Hanol has many hidden treasures and is a perfect place for you if you are looking for 2-3 days trek in Uttarakhand. It's an easy-moderate trek and can be done by both fit beginners and experienced trekkers.
Table of Contents
Just like you, we love trekking! And this is a trek we've documented in great detail to help you do it on your own. Drop-in comments at the end of the page if you need any help! You will get all the information required to do Hanol Trek on your own.
To navigate through the documentation easily, use this section of the Table of Contents.
Highlights
Trail Information
How to Reach the Hanol Trek
Best Season to do the Hanol Trek
Difficult Sections on the Hanol Trek
Frequently Asked Questions
Emergency Contacts on the Hanol Trek
ATMs and Networks on the trek
Places to visit after the Hanol Trek 
Highlights
The views on the trail
The views on the trail are breathtakingly beautiful. Every turn on the trail leads to a viewpoint that offers panoramic views of the entire valley. The soothing sound of the Tons river makes it hard for you to keep track of time.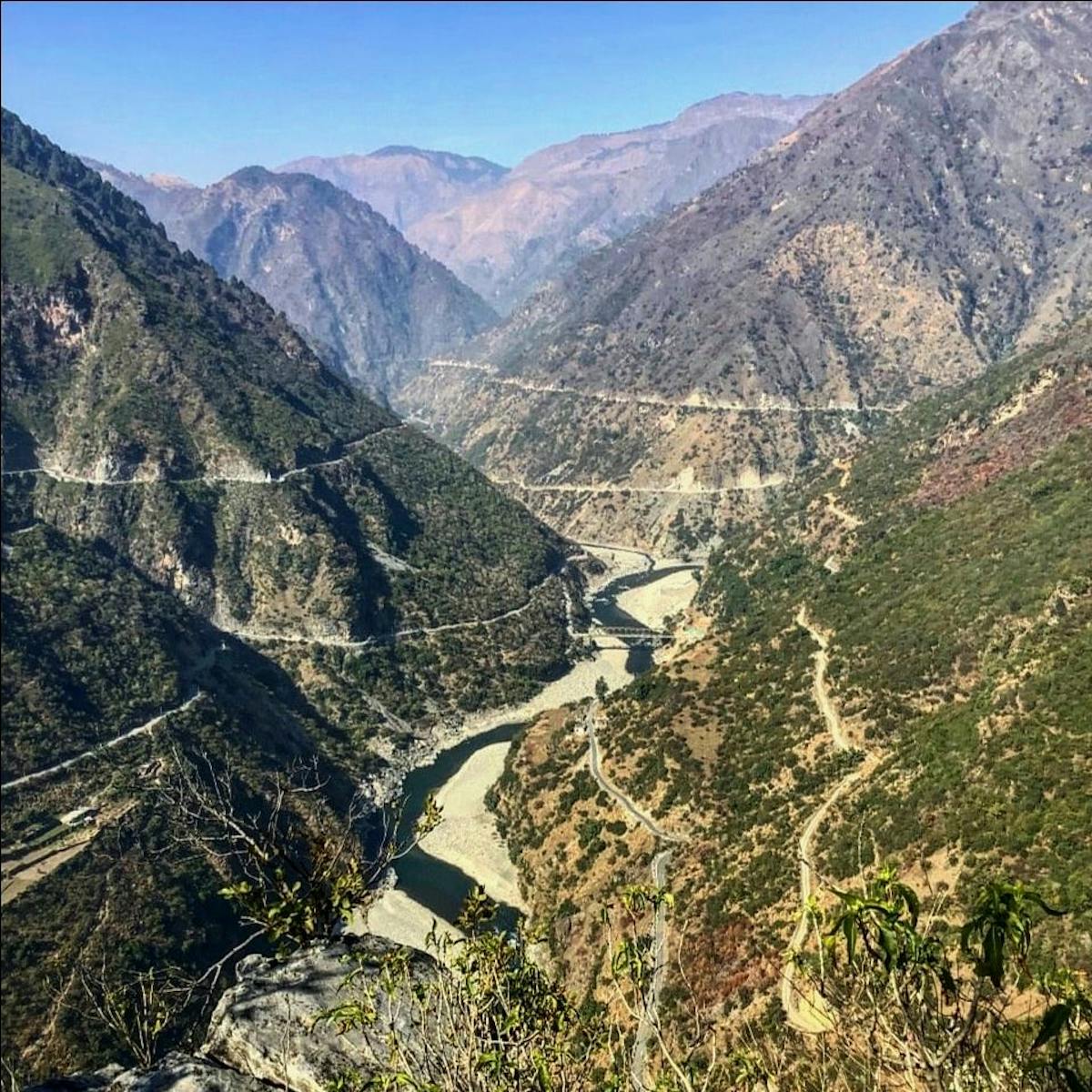 View of the Tons river flowing between the gigantic mountains. Picture by Deepali Bansal
The architectural beauty of Mahasu Devta Temple
The architecture of Mahasu Devta Temple draws your attention for sure. This stone temple is covered by a high slate roof. The balcony overhang is gracefully decorated with dangling tassels and bells. The temple complex contains a pair of spherical stones about a foot in diameter, which is said to have been used by Bhim (the second Pandava) for exercise. They're really very heavy, and part of the fun here is trying to lift them over your shoulders and throw them back.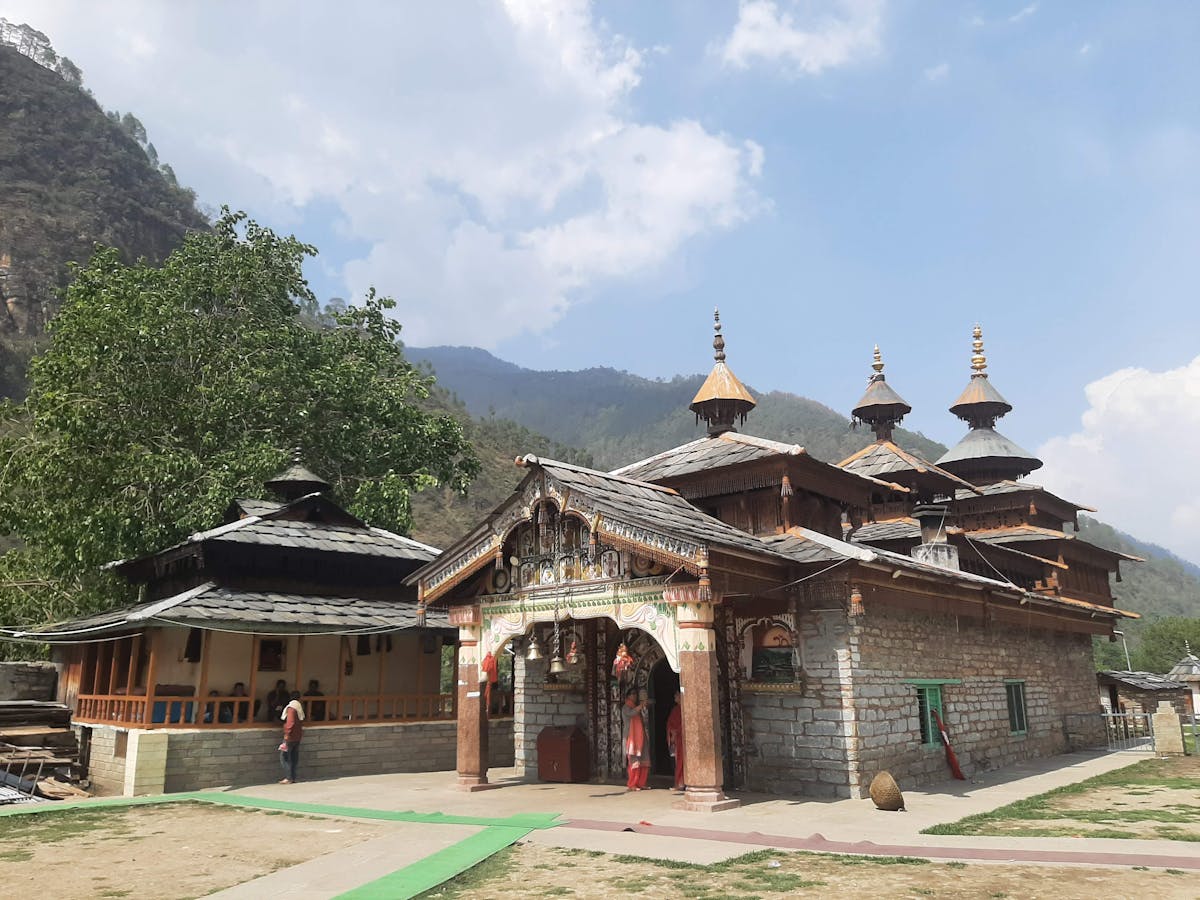 Mahasu Devta Temple, Hanol. Picture by Deepali Bansal
The locals believe that only a person with the purest of hearts can lift these stones without breaking a sweat. However, the priests say that no one has succeeded in this endeavor.
Birdlife on the trek
For a birder, the stretch between Tiuni to Hanol is a paradise. You can spot a variety of birdlife here. Various Finches, grass birds, wall-creepers, babblers, Himalayan griffon vultures and other raptors are commonly found here.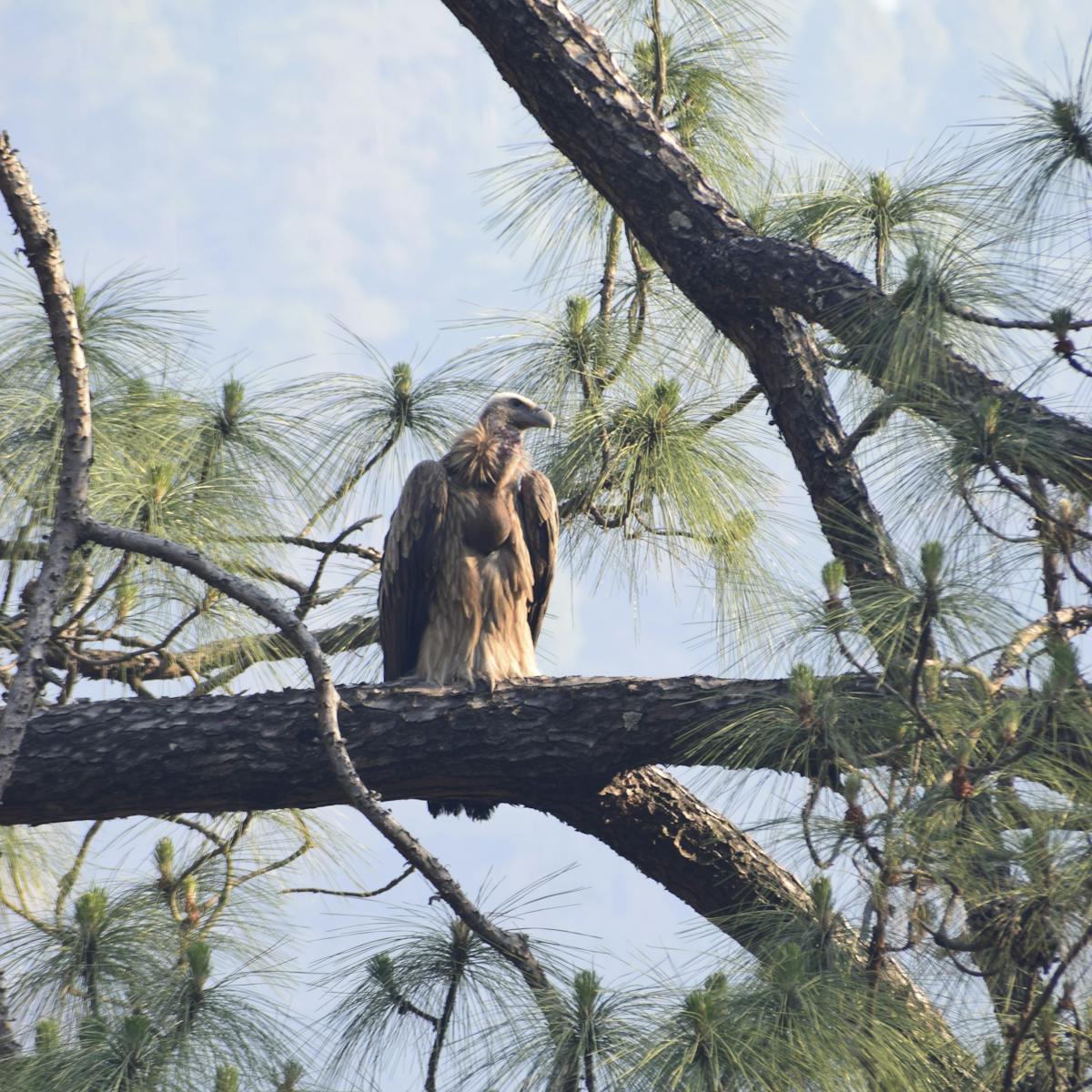 Himalayan Griffin Vulture spotted on the trail. Picture by Deepali Bansal
Trail Information
Route Map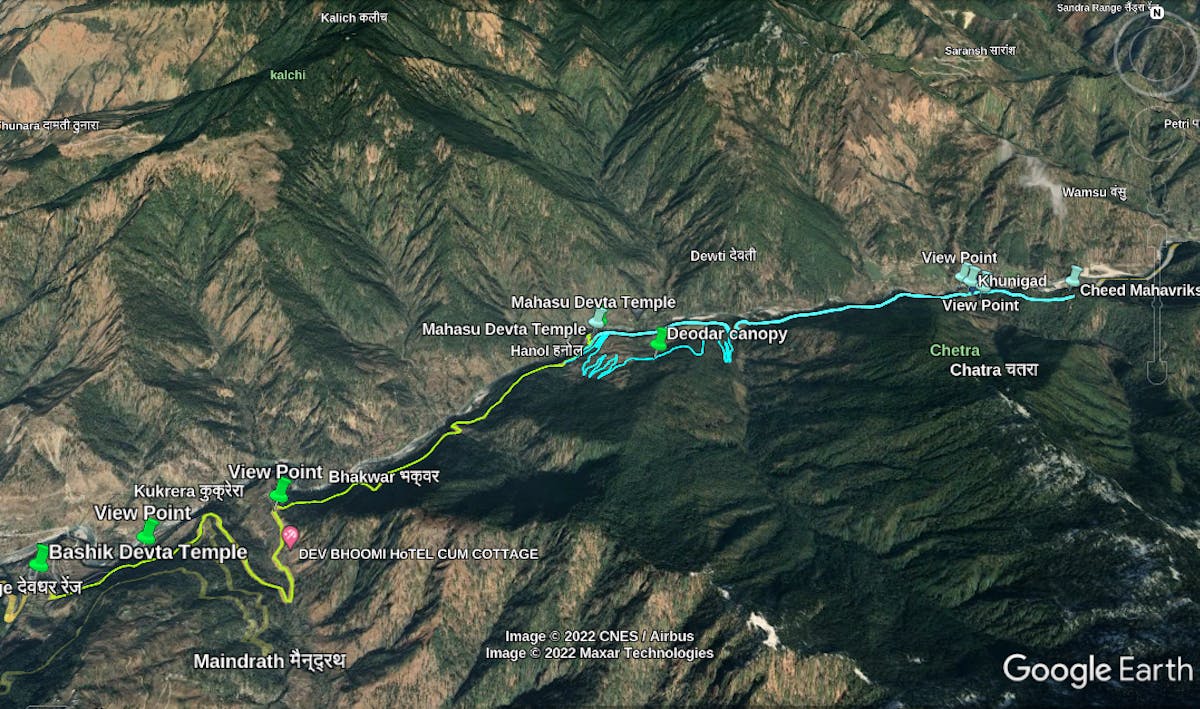 Route Map of Hanol Trek. Screenshot on Google Earth Pro.
Short Itinerary:
Day 1: Trek from Bashik Devta Temple, Tiuni to Mahasu Devta Temple, Hanol
Trek Distance: 9 km |  Trek Duration: 7-8 hours | Altitude Gain/Loss : 3467 ft to 3480 ft via 3720 ft
Trek on a man-made trail. You'll pass three major vantage points that offer a pretty view of the valley and the Tons river.
Day 2: Take a tour around Hanol village
Trek Distance: 9 km |  Trek Duration: 7-8 hours | Altitude Gain/Loss : 3480 ft to 3480 ft via 4517 ft 
Trek through the deodar forest and the terrace farms of Hanol. You'll get a peek at the village and its culture on this day. 
Day 3: Trek from Mahasu Devta Temple to Devta Range
Trek Distance: 7 km |  Trek Duration: 5-6 hours | Altitude Gain/Loss: 3480 ft to 3467 ft via 3645 ft
Trek through a dense Deodar canopy that leads to the preserved trunk of Asia's tallest pine tree.
Detailed Itinerary           
Day 1: Trek from Bashik Devta Temple, Tiuni to Mahasu Devta Temple, Hanol
Trek Distance: 9 km
Trek Duration: 7-8 hours
Altitude Gain/Loss : 3467 ft to 3480 ft via 3720 ft
The trek starts from Bashik Devta temple, Tiuni. The temple is a symbol of the traditional culture and beliefs of the native people. Vashik, the son of Deolari Devi, is worshiped here.
Tiuni is the second prime hub of the Jaunsari tribal block. It shares its border with Himachal Pradesh's Sirmour district. The customs, traditions, attire and even the dialect of the native Jaunsari people are very similar to that of their neighboring Himachali people.
Tiuni is also a place where Tons and Pabbar rivers meet. The confluence of these rivers is a beautiful sight to behold.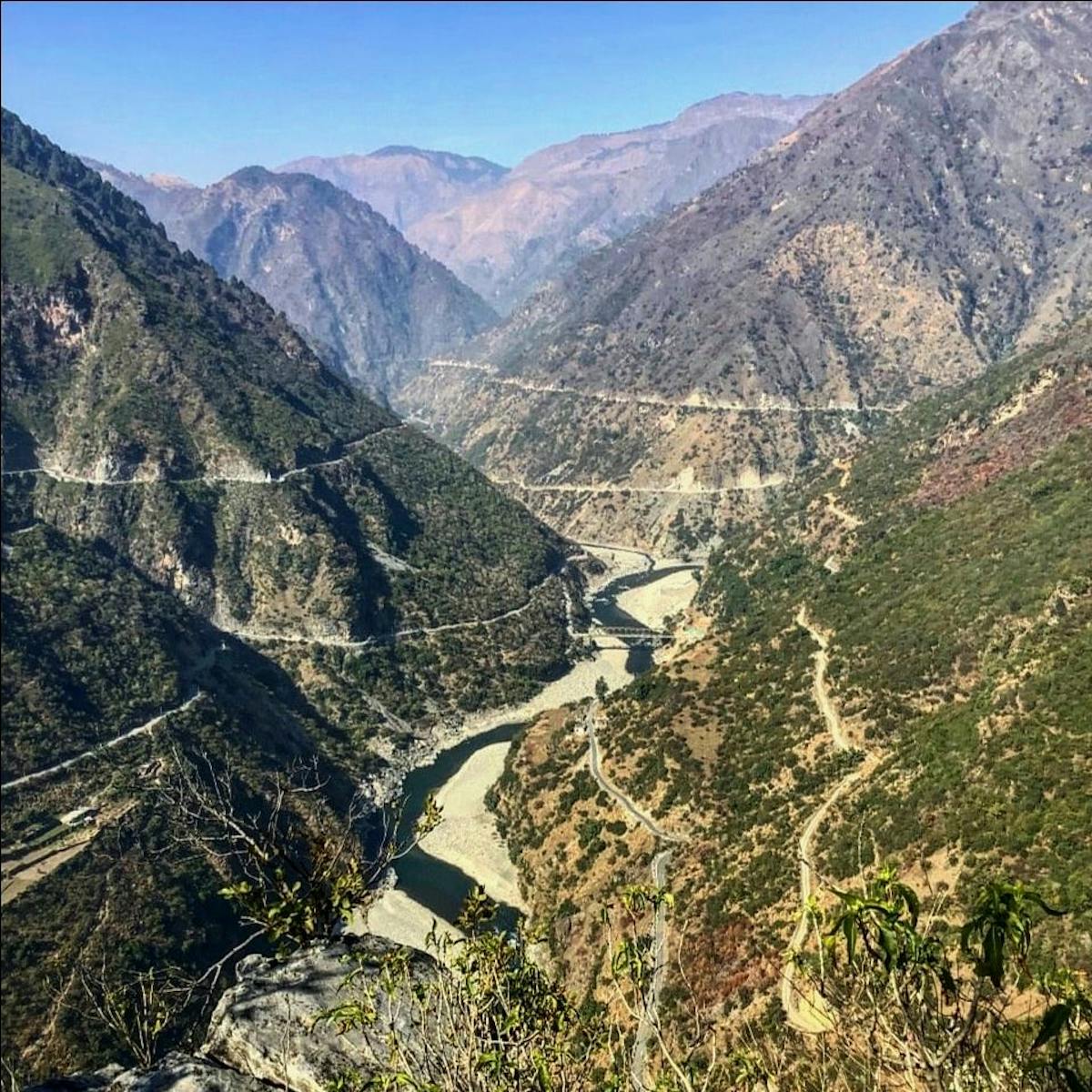 View of the Tons river flowing between the gigantic mountains. Picture by Deepali Bansal
The trek is well laid and concretized. You can cover Day 1 by a vehicle as well. However, we recommend you trek on this route to savour the scenery and landscape. Trekking also provides you with an opportunity to learn about the culture and tradition of the locals. That enhances your whole trek experience.
A few meters ahead of the temple is a kaccha (mud) road to your left. From here you can enjoy the scenic beauty of the transparent and beautiful Tons river. Spend some time sitting on the bank of the river.

Gushing Tons river. Picture by Deepali Bansal
Continue your trek for about 5 km till you reach a village named Bhakwar. Observe terrace farming in this village. This is practiced throughout the year. Indulge in a conversation with the locals to know more about their culture and lifestyle. 
Tip: There are a few stalls at Bhakwar village for food options. Carry your own tiffin boxes and a mug to avoid producing any waste on the trail.
Ahead of Bhakwar village, starts the beautiful and dense deodar canopy. Each turn on this trail opens up a different shade of green. You see numerous fallen deodar cones on the corners. This entire stretch is less explored by people; thus, it offers you many opportunities to observe nature very closely.
Tip: This section is rich in birds' activity. Carry binoculars if you want to watch them up close.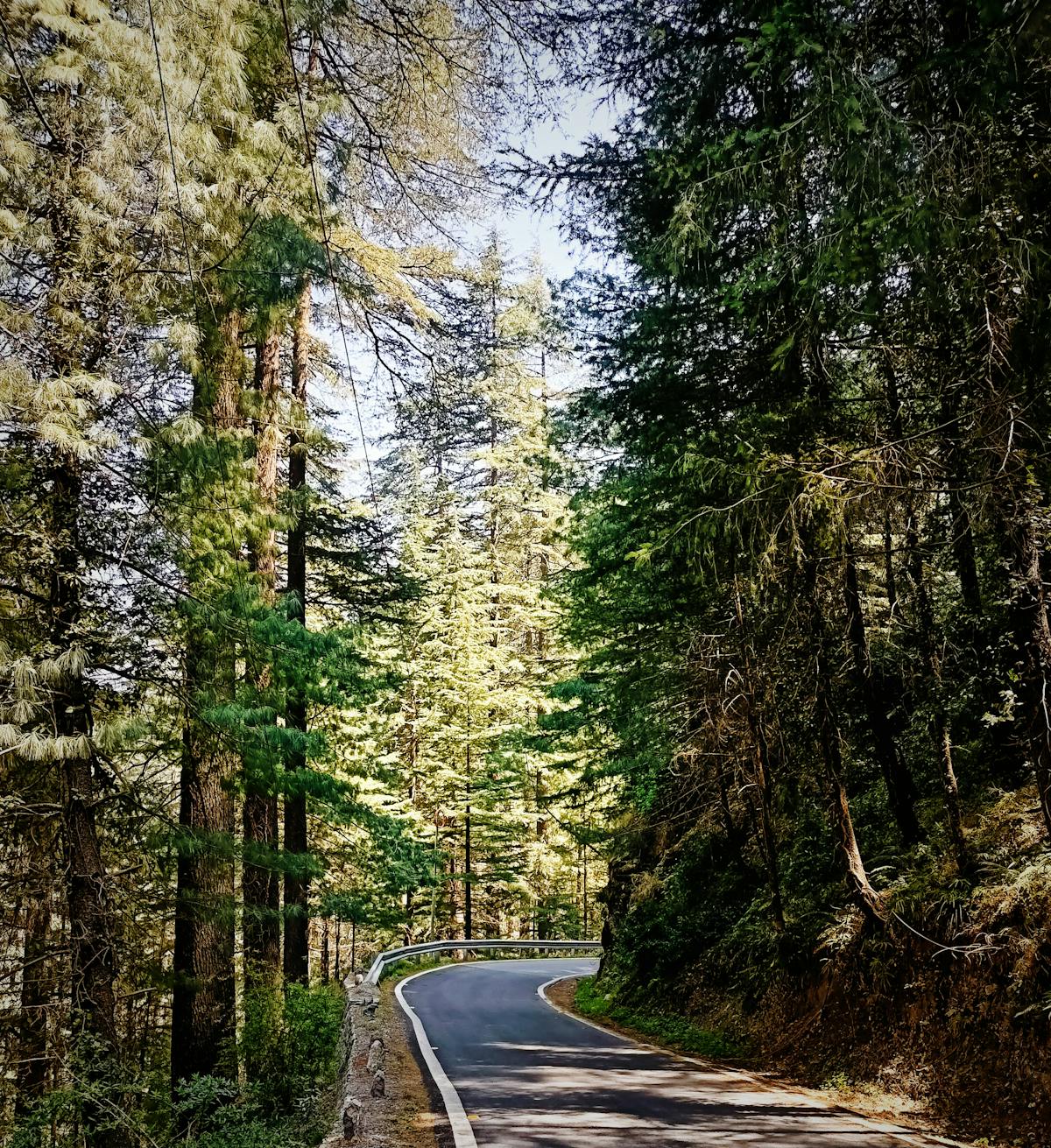 Dense deodar forest Picture by Deepali Bansal
Trek for about 4 km in this beautiful deodar forest. You'll reach Hanol, a small village near Tons river. The famous Mahasu devta temple is right there.

The temple is surrounded by small bugyals. You can camp on one of these bugyals for the day.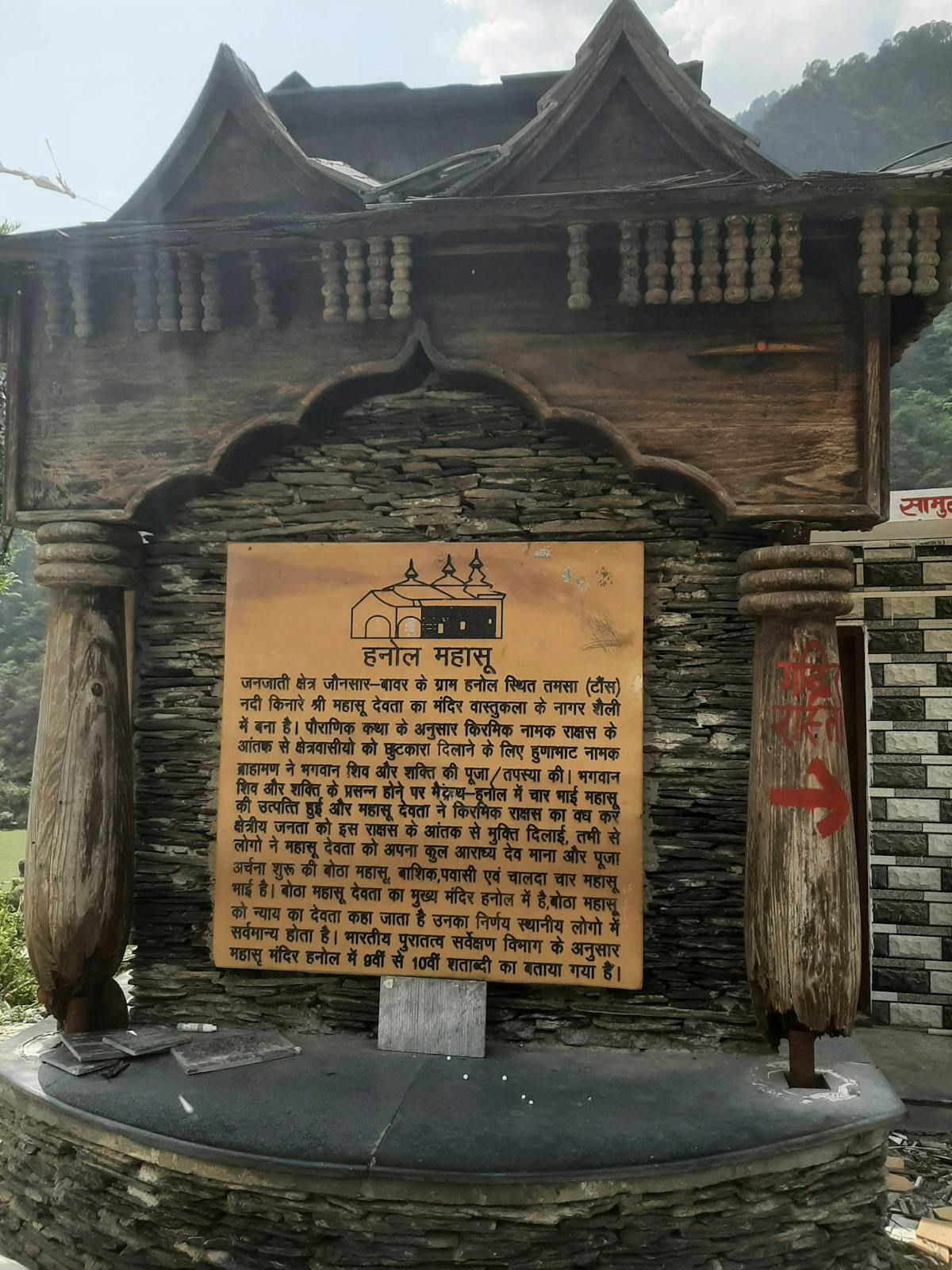 The board that tells about the history of the temple. Picture by Deepali Bansal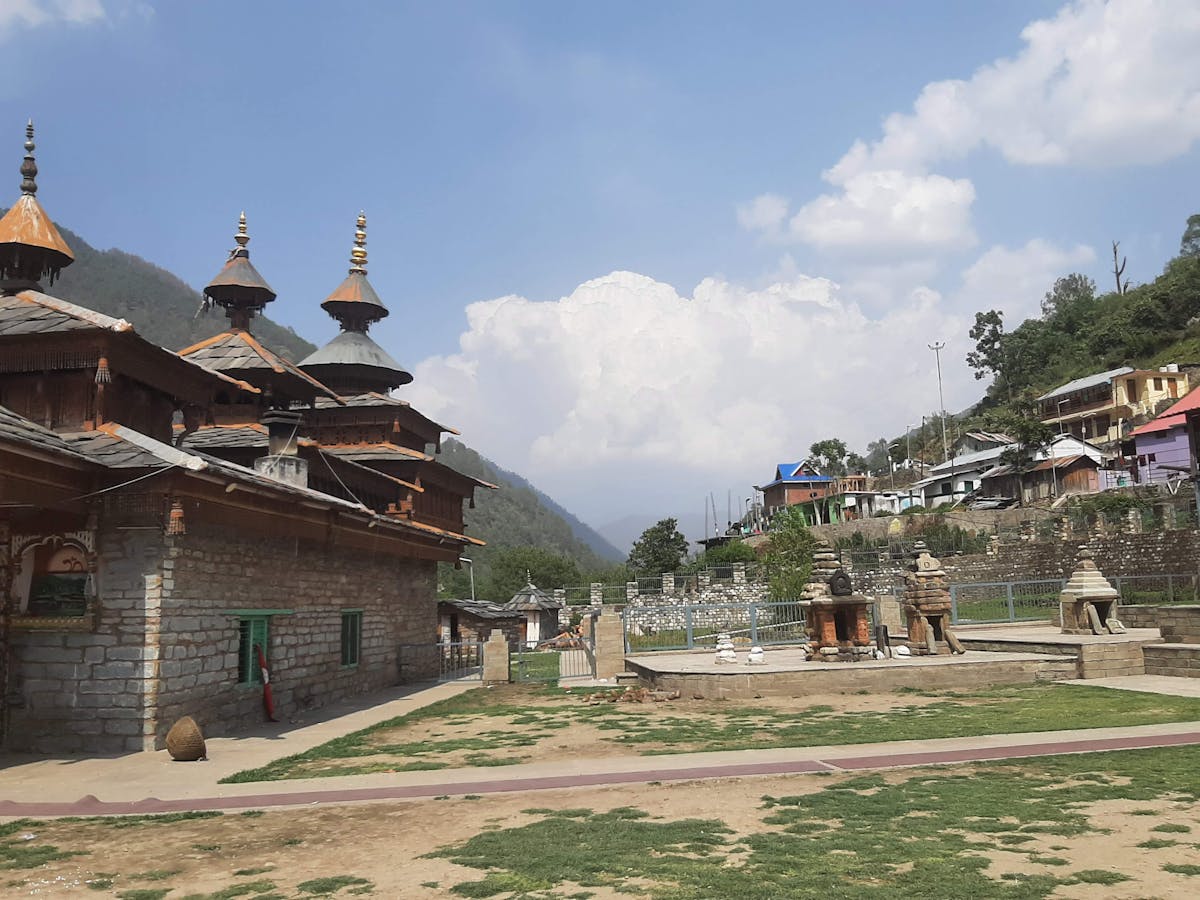 Glimpse of Mahasu Devta Temple, Hanol. Picture by Deepali Bansal.
Day 2: Take a tour around Hanol village
Trek Distance: 9 km
Trek Duration: 7-8 hours
Altitude Gain/Loss : 3480 ft to 3480 ft via 4517 ft 
Hanol is a beautiful village. Exploring Hanol gives you a great insight into the culture and lifestyle of the villagers. Talk to the community there and have a cup of tea with them. People are warm and welcoming here. It's an experience unique to this trek and definitely worth it. 
As you can see in the trail map, this section passes between the deodar canopy on one side and an incredible terrace farming on the other. 
Terrace farms are definitely a thing of beauty and treat for the eyes. These farms involve the creation of giant steps on the mountain slope, sustaining the agriculture of the entire village.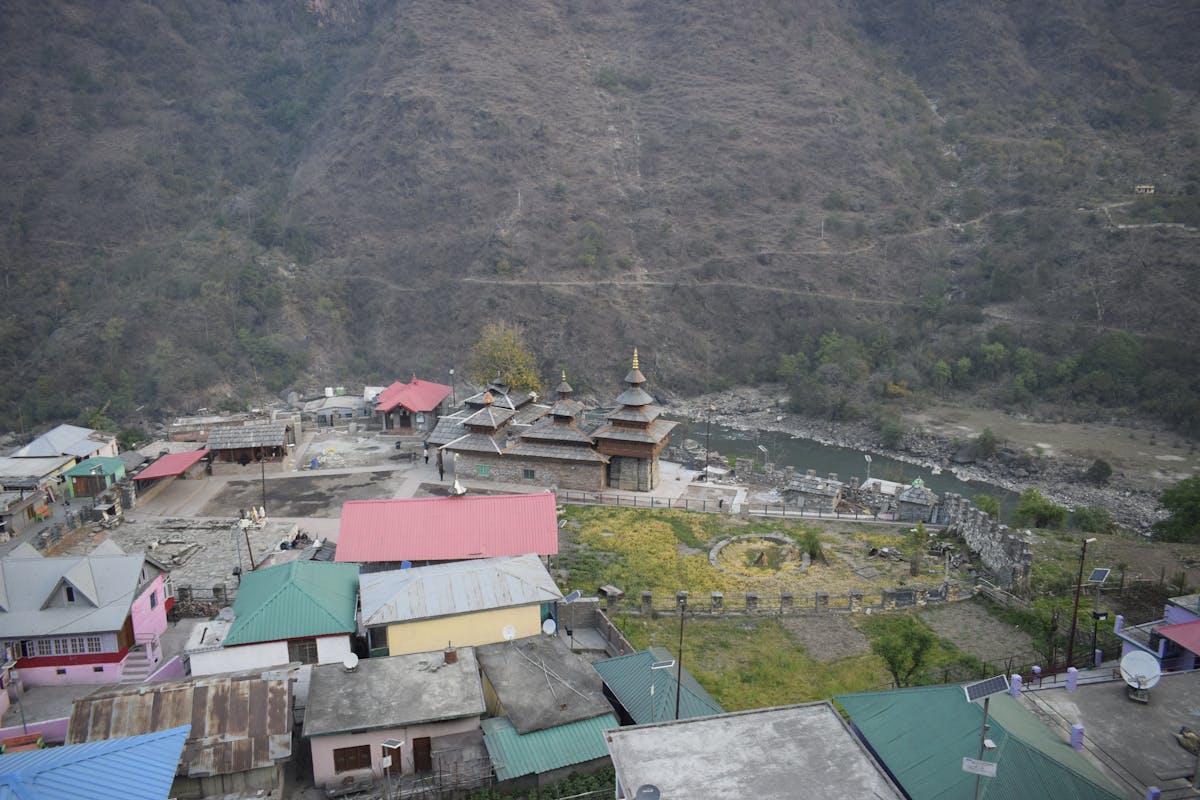 Aerial view of Hanol village. Picture by Deepali Bansal.
Finding the trail could get a little tricky here. But we've found one of the good ones. We've documented it in this GPX. 
However, you may take your own path here. Several inter-linked paths pass between the terrace farming. Just make sure you don't harm the crops. The local villagers commute via these paths, which are very convenient yet muddy. You won't find concrete paths here.
The total trek distance comes to about 9 km. Come back to the same place where you've camped the previous night and stay there for one more day.
Day 3: Trek from Mahasu Devta Temple to Devta Range       
Trek distance: 7 km
Trek Duration: 5-6 hours
Altitude Gain/Loss: 3480 ft to 3467 ft via 3645 ft
Highlight: Asia's tallest pine tree in Devta Range
This stretch takes you to the samadhi of Asia's tallest pine tree. This whole stretch is about 7 km. The entire lane is concretised. You can also make use of local transport to reach here. Shared taxis from Hanol are available. It costs you between Rs 100 and Rs 150.
However, we recommend trekking as the route is scenic. There are a few viewpoints as well which you would miss if you choose to go by vehicle. The entire trail runs parallel to the gushing Tons river. It's so soothing to trek alongside Tons.
Dense deodar and pine canopy with fallen wooden cones add to the beauty of the landscape. Children going to the school and villagers sowing the saplings in the terrace farms is something you will observe on this route. 
Soon, you will reach a village called Khunigad. About a few kilometers from there is the Samadhi of the pine tree, where the bark of it is still preserved. You can see the girth of the pieces and learn about their history.
Asia's tallest and largest Pine tree, preserved in Devta forest range. Picture by Deepali Bansal.
This tree was situated near Tons river in Devata Forest range in Uttarakhand. It fell down due to a heavy storm. The tree became hollow at the base and was affected by the fungal infection. It is declared Asia's largest and tallest 'Pine' tree by the officials of the Forest Department. Its girth was 2.70 meters, and its height was 60.65 meters.
History of Asia's Tallest Pine Tree:         
There is a beautiful story related to it. During 1964, the Gujjar community came and settled in the Devta forest range. Their settlement was declared unauthorized by the government, and as a result, necessary actions were to be taken. One of the forest officials asked a Gujjar lady, who was fighting for the land, that if she successfully climbed that tallest pine tree, she would be allotted a piece of forest land as a reward. Taking it as a challenge, she climbed the tallest tree but getting down was a herculean task for her. Unfortunately, while climbing down, she slipped off the tree and died. She was buried there only by the officials, and the entire land was officially transferred to her family as a tribute to her.
You can trace back the same route to Mahasu Devta Temple. 
How to reach Hanol
Roadway:
Hanol is around 170 km from Dehradun, 158 km from Mussoorie, and 95 km from Chakrata.
You can take a bus or a shared taxi from Chakrata Taxi Stand or Dehradun Railway Station to reach Hanol directly. If you plan to trek from Tiuni village, you can get down there which lies on the way to Hanol.
To reach Chakrata, you get shared taxis from Dehradun Railway Station. 
To reach Chakrata by bus, there are no direct buses. However, you get buses to Vikas Nagar. From there you can take a shared taxi.
Railway:
The nearest railway station is Dehradun, around 181 km. There is no further train connectivity to reach Hanol.
Airway:
The nearest airport is Jolly Grant Airport, Dehradun (208 km).
Best Time to Visit The Hanol Trek 
This trek can be done throughout the year except during monsoon. In monsoon, the trek becomes slippery and challenging to explore. This portion of Uttarakhand also receives heavy rainfall in the monsoon season. So it is not recommended to pay a visit in this season.
During winters, the entire landscape will be covered in snow. It's stunning to witness winter in this section. During Spring, the whole place is in full bloom. Summers are the best if you are looking to escape from the scorching heat of city life.
Difficult Sections on the Hanol Trek
There are no difficult sections as such in this trek. However, each day you've to cover around 8-9 km. So it's really important that you are fit in order to enjoy the whole experience of the trek.
Frequently Asked Questions
What is Hanol famous for?
Hanol is a popular place in Uttarakhand, famous for its temples, beautiful landscape and
monuments of national significance.
It is a small town located on the bank of the Tons river, known for its aesthetic beauty and culture.
The Mahasu Devta temple is one of its major attractions, where people from various parts of Uttarakhand and Himachal Pradesh visit. The archaeological survey of India has also declared the temple as of national significance.
It is home to several secluded nature trails where you can truly enjoy and connect with nature.
Do I get food and water on the Hanol Trek?
From Tiuni to Hanol, on the way you pass through Bhakwar. It's a small village where you'll get basic food and water. You get parathas and bun omelets. Also there are a few shops inside houses which offer traditional dishes which are worth a try.
In Hanol, there are a few homestays that you can rely on for food.
What are the stay options available on the Hanol Trek?
For stay in Hanol, two types of accommodation are available. 
First, the GMVN guest house offers a good stay at reasonable prices. It has limited accommodation - 5 economy rooms and a dormitory of 8 beds. They charge between 500 and 1500 depending on what you choose. Refer this link to book in advance.
Second, the locals stay near the temple. There are few homestay options available if you want to enjoy your stay in a local traditional-style hut.
Do I need any permission to do the Hanol Trek?
No. You don't need any permission either to do the trek or to camp on the bugyals near the temple. 
However, make sure you keep the camping space neat and tidy. Follow the Green Trails etiquette while you trek. 
Emergency Contacts on the Hanol Trek
Hospital             
Hanol is a small village and there are no hospitals or medical facilities.
Tiuni Government Hospital  is the nearest hospital and is about 14.5 km away from Hanol.
ATMs and Network
There are a few ATMs in Tiuni village. Carry enough cash as there are no digital payments available. 
You get a good connection of Jio and Airtel throughout the trek.
Nearby places to visit           
Lakhamandal: Located in Dehradun, surrounded by beautiful mountains and the     scenic Yamuna waterway, the Lakha Mandal Temple is dedicated to Lord     Shiva. The main attraction of this temple is the plumbago symbol that glows only when water is poured over it. This temple, and therefore the adjacent cosmic entity, was believed to be where     Duryodhana, in the Mahabharatam episode, conspired to burn alive Bhaskar of Lakshagriha's house, made of shellac. The temple is behind Kempty Falls along Mussoorie-Yamnotri Road, 128 km from Dehradun and 35 km from Chakrata.
Chakrata: Surrounded by lush conifers, fiery red rhododendrons, towering oaks and the snow-capped Himalayas, Chakrata is one of Uttarakhand's true treasures. This hilly town is a haven for nature lovers, wildlife photographers and ornithologists. The forest is home to various birds and animals, including spotted deer and leopards. Chakrata is also home to several types of medicinal plants. Bird watchers can head to the Deoban area (about 8 miles from Chakrata). Located at an altitude of about 9,400m, the Deoban area has a thick cover of Deodar and offers uninterrupted views of the Himalayas. Another popular attraction in Chakrata is Tiger Falls. Located about 3 miles     (5 km) from the city, the waterfall tumbles over 300 meters onto a rocky outcrop.
Uttarkashi: Uttarkashi is an ancient land with a rich cultural heritage, postcard-perfect charm, and sweeping mountain views. Famous for its ancient temples dedicated to Lord Shiva, it is visited by thousands of people throughout the year. As its name suggests, it is the Kashi of the North (Uttar). Uttarkashi is dotted with several temples dedicated to Lord Hanuman, Goddess Durga, Parshuram, Annapurna, Laksheshwar, Ekadashurdra and others. It is surrounded by the Himalayas, green meadows and several hot springs. It is covered with snow in winter.
Trek Contribution:
Trek documented and photos contributed by Deepali Bansal.
Trek edited by Manasa N L.