Can You Help Us With Photographs Of This Trek?
We are looking to enrich this documentation with more photos. Pictures go a long way in explaining the trail, more than words ever can. If you have done this trek, can you share your photos with us? We will include them on this page, with due credit to you.Click here to contribute.
The Complete Guide to Mt. Jogin Advance Base Camp Trek
Jogin Advance Base Camp Trek takes you to a spectacular campsite located at an altitude of over 16,000 ft with a breath-taking view of the Jogin peaks that lie at the end of the valley forming an amphitheatre with Mt. Thalay Sagar. A day's exploration of Kedar-bamak glacier ahead of Kedartal can be rewarding for those who are smitten by the beauty of these Himalayan peaks and are inspired to climb them.
➤ Trail Information
Day 0: Acclimatization day at Gangotri.
Haridwar to Gangotri is a long and tiring road journey so it's advisable to have a rest day at Gangotri before starting the trek. Gangotri is a beautiful place where you can wander off just ahead to Chirbasa on the way to Gaumukh or spend some private moments next to the Bhagirathi River. After the hustle and bustle of city life, the chaos one encounters in Gangotri amidst hundreds of pilgrims seems alright. The evening prayer next to the banks of Bhagirathi river is a soothing experience. Meanwhile, give attention to your preparation and approach the Forest Officer in Gangotri for permission to enter the Gangotri valley towards the Kedartal trail.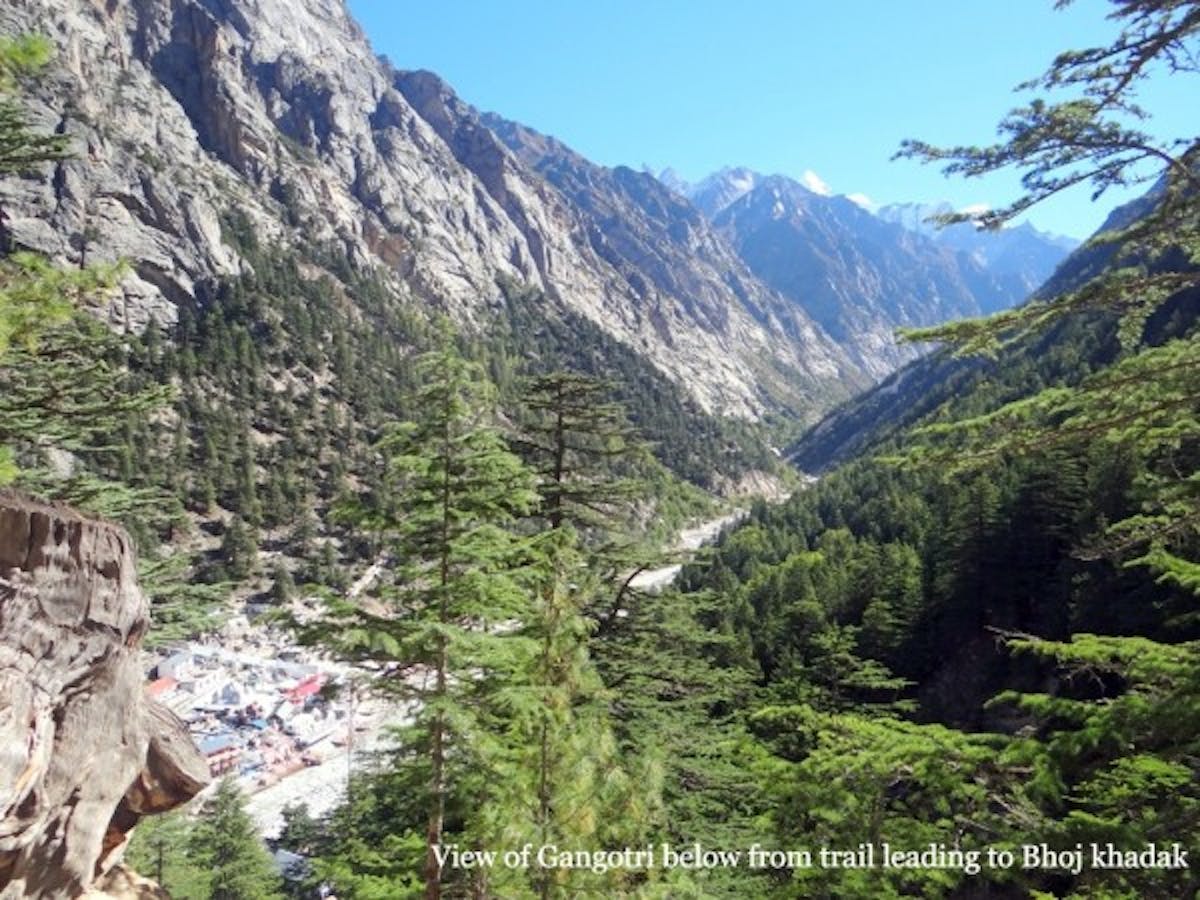 View of Gangotri
Day 1: Gangotri (9842 ft) to Bhoj-kharak (12,339 ft); 8 km; 3-4 hours
The Kedartal Valley lies across the Bhagirathi River .You reach it via the Bhairav-Ghati after passing the Forest Department office and a Yoga and Meditation camp. Take a left as you cross the camp with the trail proceeding upwards toward the Birch forest ahead of you. You see a Forest Department signboard followed with a 15 minute steep incline through a well defined path.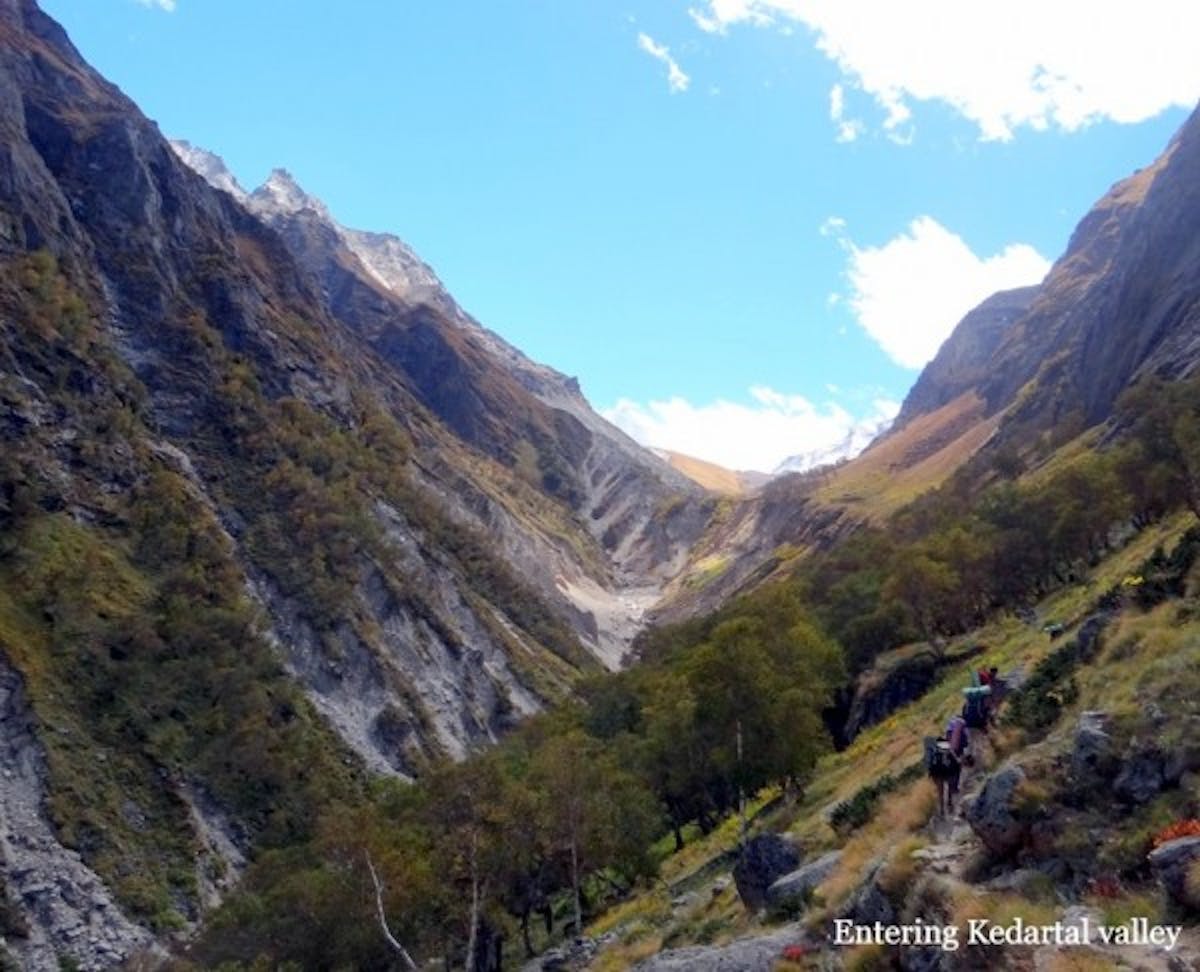 Entering Kedartal Valley
As you reach a level trail, look out for a view of Kedar Ganga Gorge and the sight of the roaring Kedar Ganga River going down to meet Bhagirathi. The trail here narrows down as you meander ahead on a rocky slope of the valley. After a 10 minute level walk you see a huge sized boulder placed precariously at the left of your path as you prepare for a steep incline hike going around a set of boulders and again disappearing inside the forest cover. By now you have climbed around 330 ft. from Gangotri and another 1970 ft. is to be done.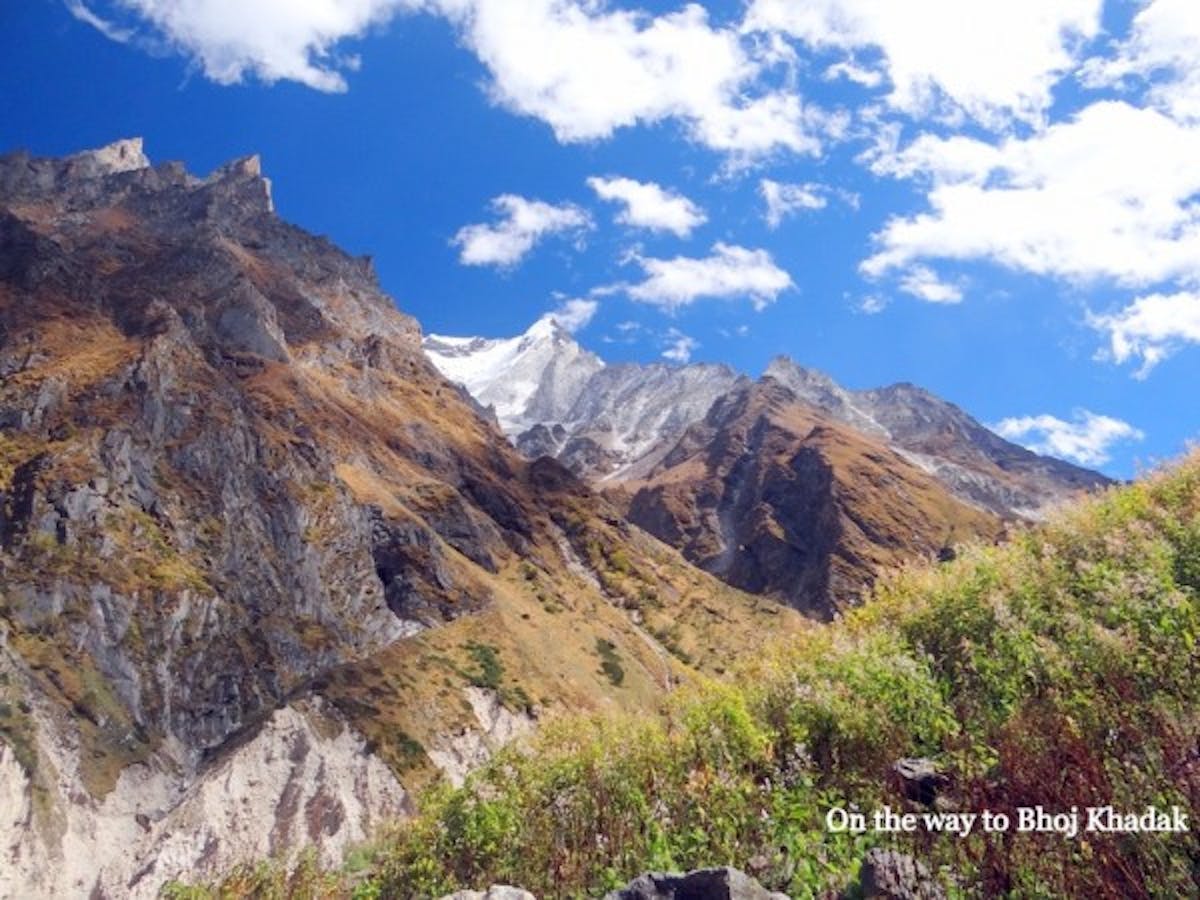 On the way to Bhoj Khadak
An hour into the hike you will find the trail in a bad shape due to constant falling rocks and intense rainfall during the monsoons. You will see the first signs of a 60° vertical wall that's part of the trail with only space for a single footing. This is located along a stream of water. For experienced trekkers, this is a cakewalk. However, for the less experienced ones, the best way to handle this section is to remain calm and keep your focus on the trail. Look out for spaces on the rocks where you can use your hand for a momentary grip and proceed ahead quickly. A well-balanced footing is crucial here and there is no need to panic. In case there is a major problem, you can always use a rope in this section.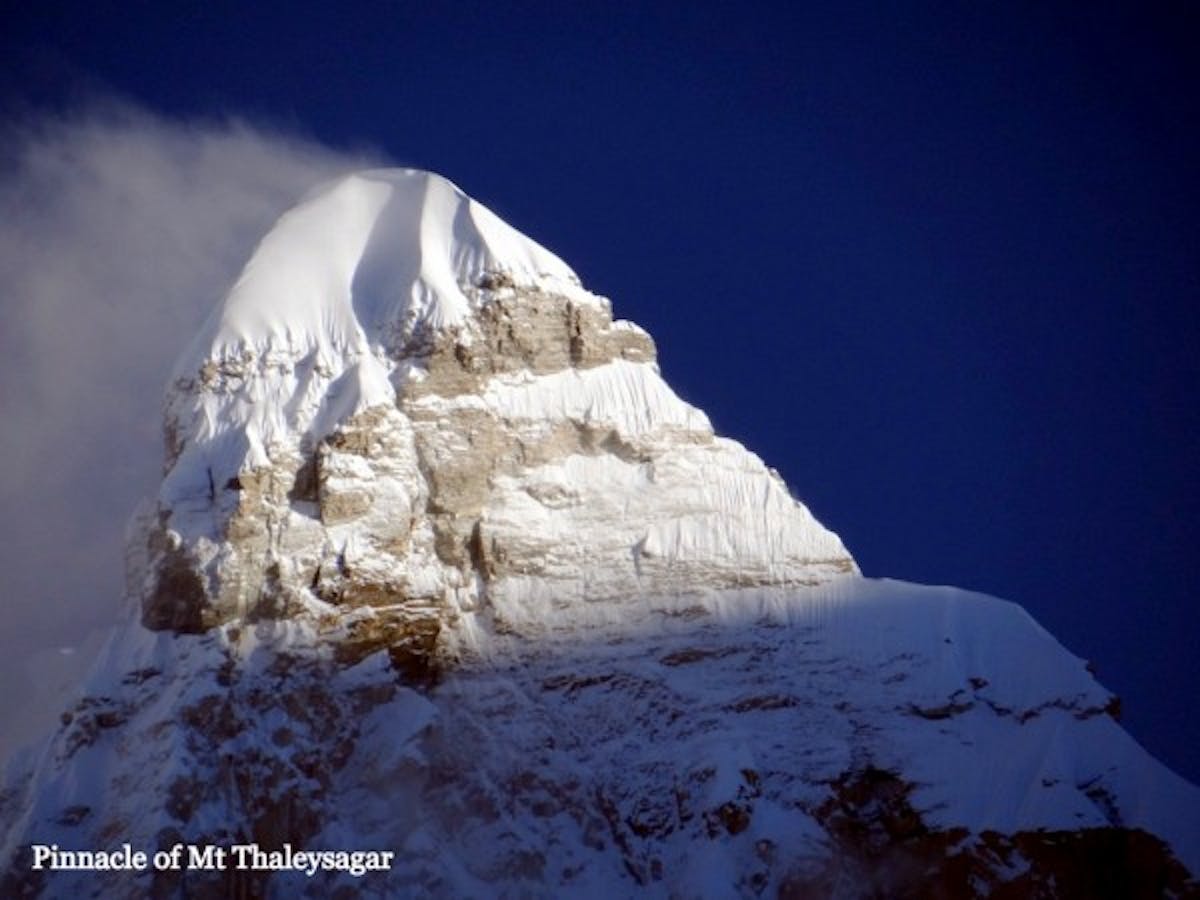 First view of Mt Thalay Sagar
The trail now moves up for the last 656 ft. An hour into the climb you will come out of the Birch forest and see the vast expanse of the valley ahead with a small pinnacle of Mt. Thalay Sagar visible in the background. There is another landslide prone wall lying in front. On passing this section a 10 to 15 minute hike will have you reach a small campsite spot just below a ridge known as Bhojkharak. You will spot a small temporary tin roof kitchen space made by local shepherds which can be used for kitchen purposes. Bhojkharak campsite is just below the mountain and so it gets very cold in the evening and night.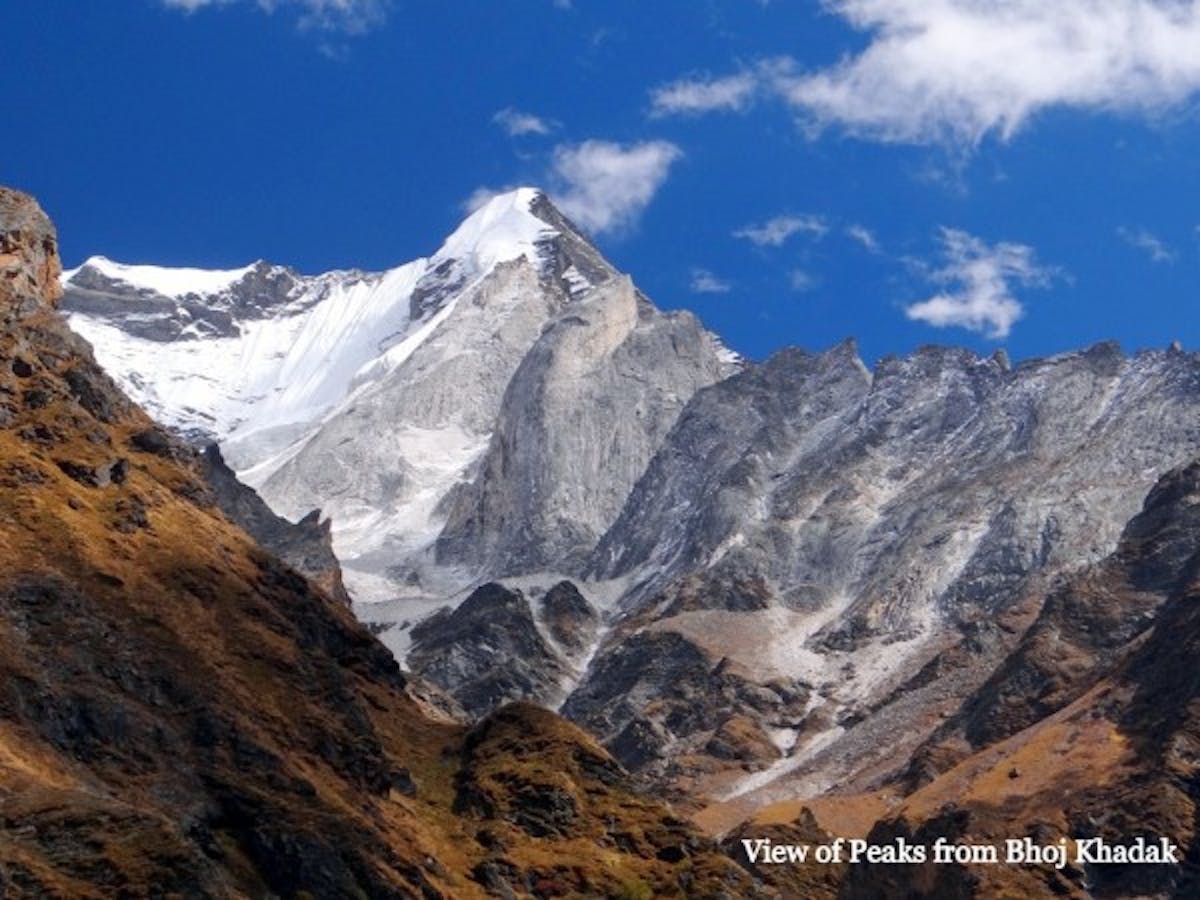 View of Peaks from Bhoj Khadak
Day 2: Bhoj-kharak (12,340 ft) to Kedartal (15,571 ft) via Kedar-kharak, 9 km, 5–6 hours
Start early in the morning so that you reach Kedartal by lunch time to avoid bad weather. A lot of altitude gain is expected for the day (3280 ft approximately). Proceed ahead climbing up the small ridge from the Bhojkharak camp. This will take about 10 minutes till you get a clear shot view of the Valley and Kedar-kharak campsite just above on the left side. You will also witness for the first time a clear view of Mt. Bhrigupanth and Mt. Thalaysagar in the back-drop.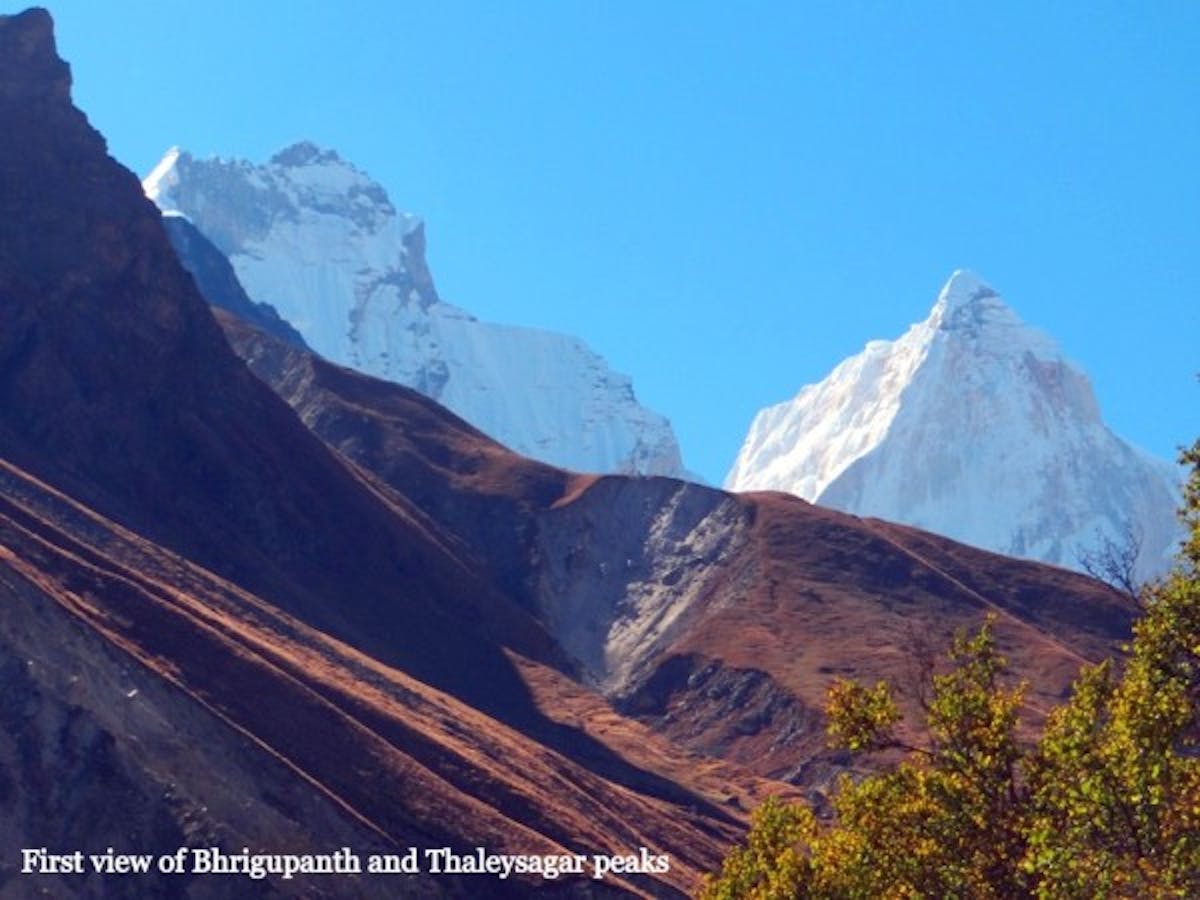 First view of Bhrigupanth and Thalay Sagar Peaks
Kedar-Ganga River remains constant towards the gorge below your right. The Manda ranges (Manda 1, 2, 3) along with its subsidiary ranges can be seen above across the right side of the valley. Some of these rock faces are incredibly sharp and require prudent technical rock climbing skills. They have a sharp resemblance to Arwa Tower (located at the trails ahead of Badrinath) and can be a challenging option for expert climbers. The birch forest disappears now as you reach 9843 ft altitude and are greeted with a radiant multi-colored meadow. 40 mins of steep climb is followed with a 10 minute level walk and then a gradual descent towards a gorge leading to a stream.
Beautiful meadows enroute to Kedar Khadak
The path narrows down and the loose sand on the trail calls for careful footing. Keep going down towards the start of a rockfall section. Depending upon the condition of the rockfall section, plan your movement ahead as small rocks keep coming down constantly.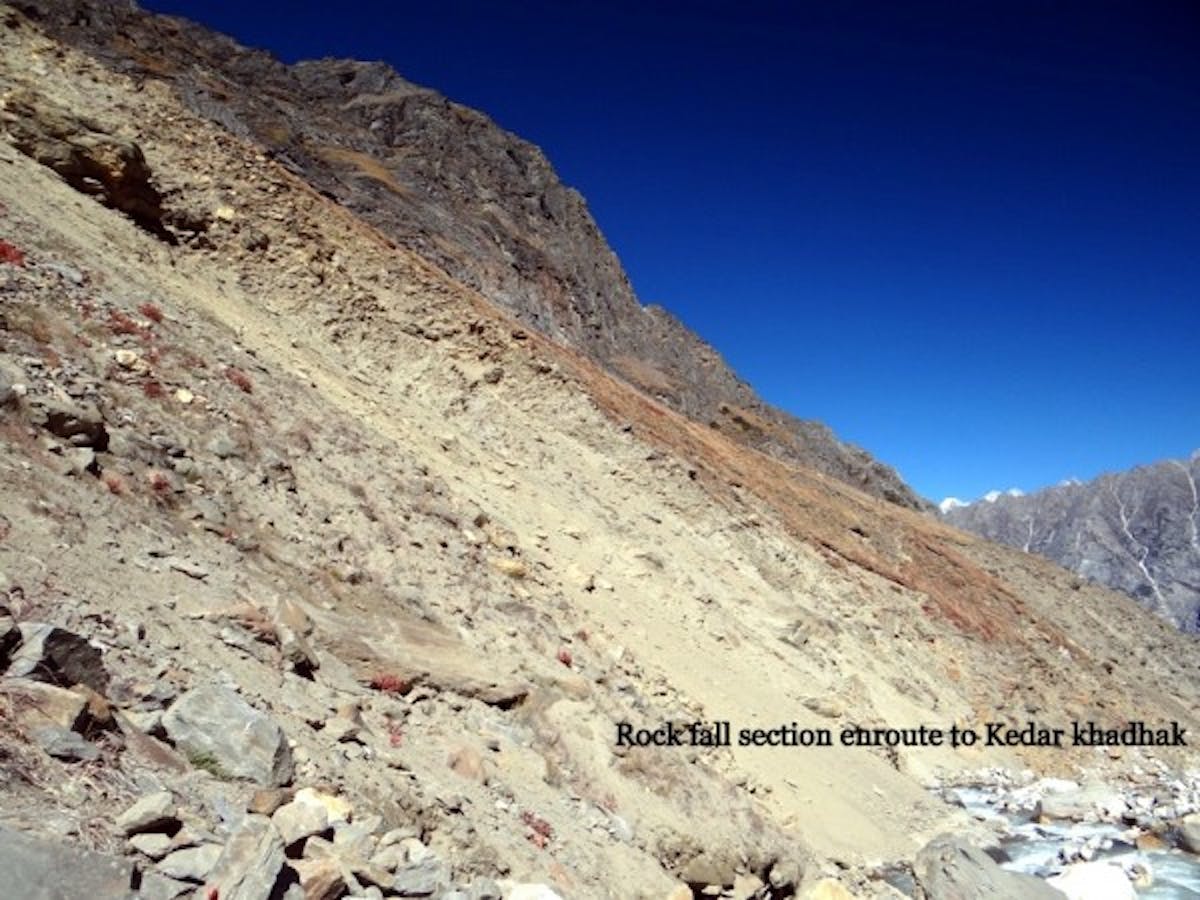 Rockfall section enroute to Kedar Khadak
Climbing down to Kedar-Ganga banks involves going straight down via a slippery rock face where you need to be careful of slipping. This section can also be done with people roped in. The whole mountain here has caved in and is filled with loose sand which brings with it large chunks of rocks down the river-side. Keep a lookout at the rockfall as you dash ahead across the boulder river-bank. Look out for a suitable spot from where you do not see falling rocks. You need to now climb up again on this barren rock-prone side of the mountain. Keep walking towards the ridge ahead where Kedar-kharak campsite is located.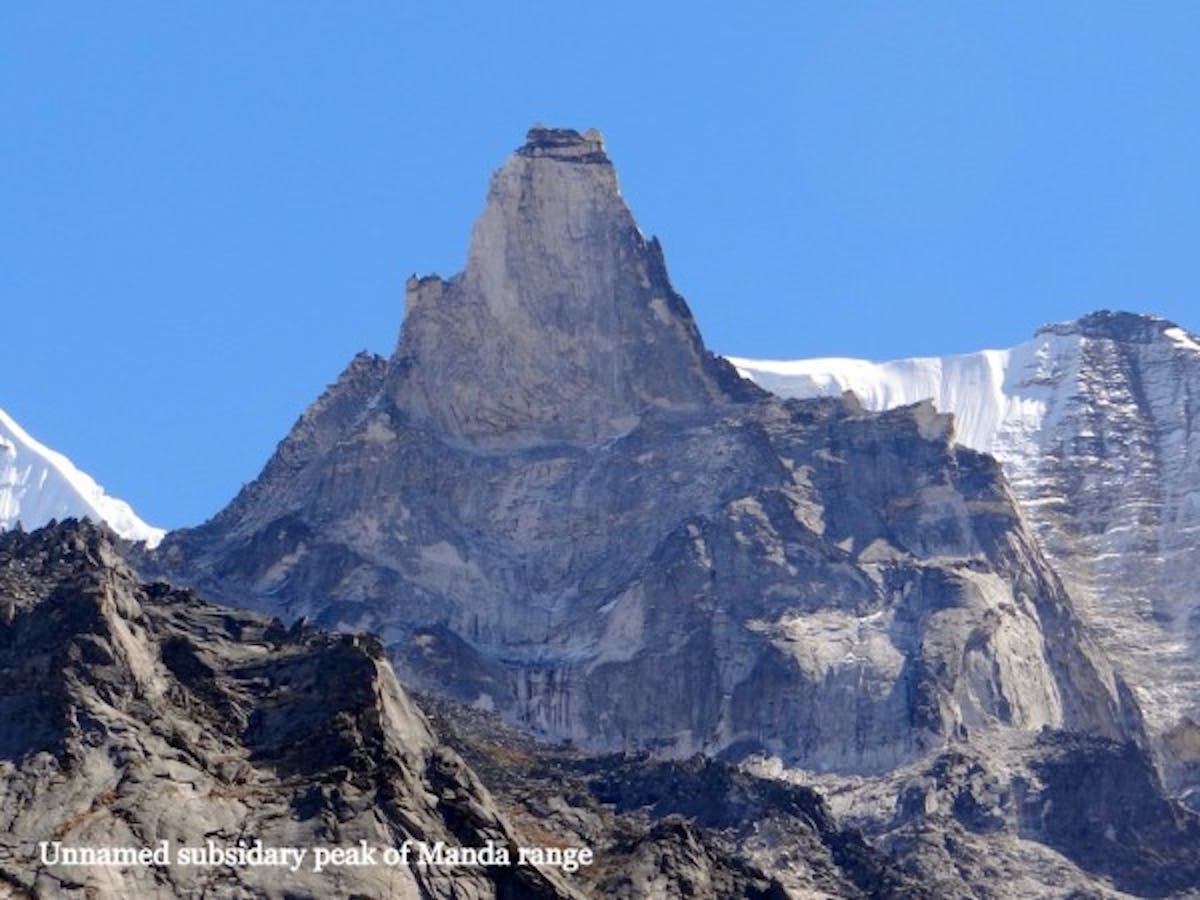 Unnamed Subsidiary peak of Manda range
An hour into the hike lookout for a stream coming down to meet the river. Fill your water bottles if need be. The only viable source of water now is at Kedar-kharak meadows. Half an hour of steep climb will have you reach a flat meadow land. This is Kedar-kharak which is terrific spot for night camping.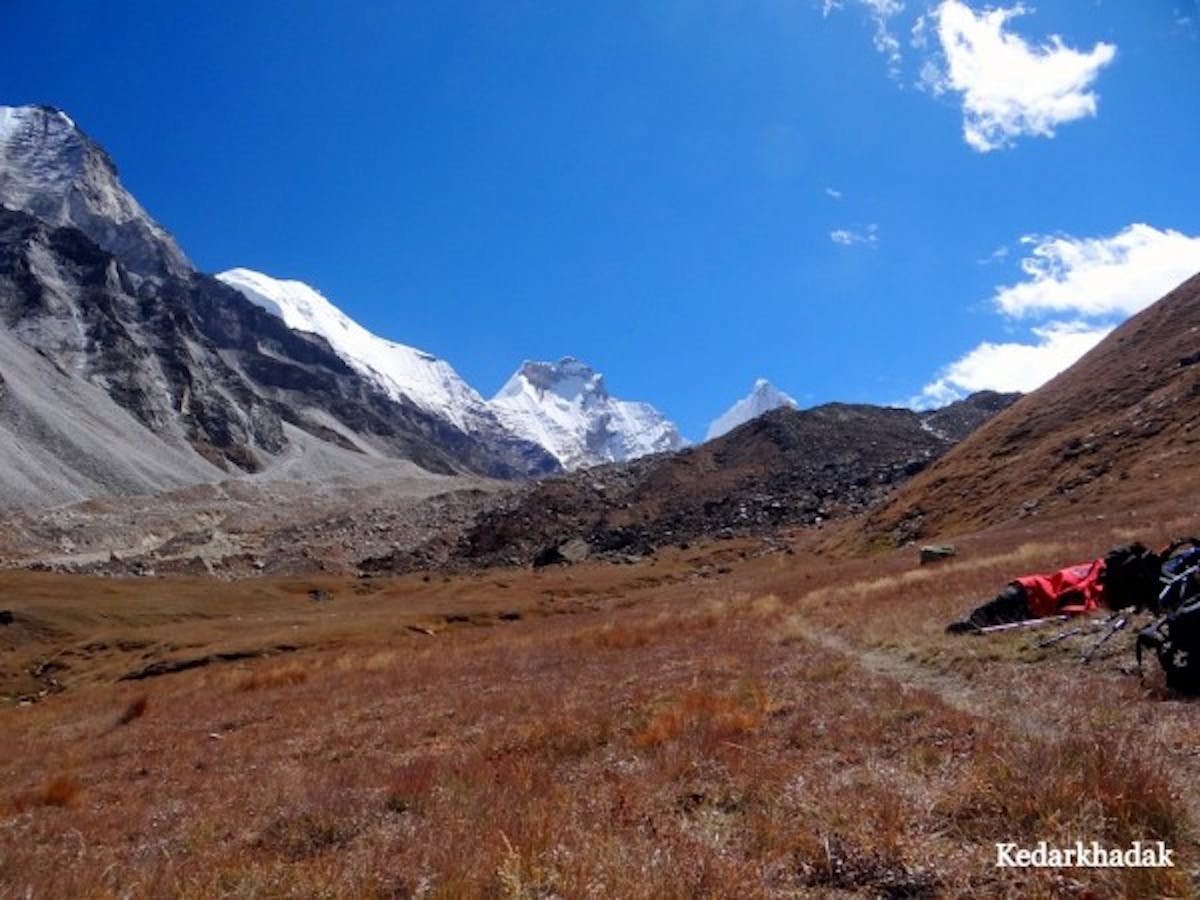 Kedar Khadak
Himalayan Ibex can be seen in large numbers grazing in its vicinity. In front ahead you can see a huge ridge made of chunks of huge boulders. It is a 5 km incline hike from Kedar-khadak to Kedartal.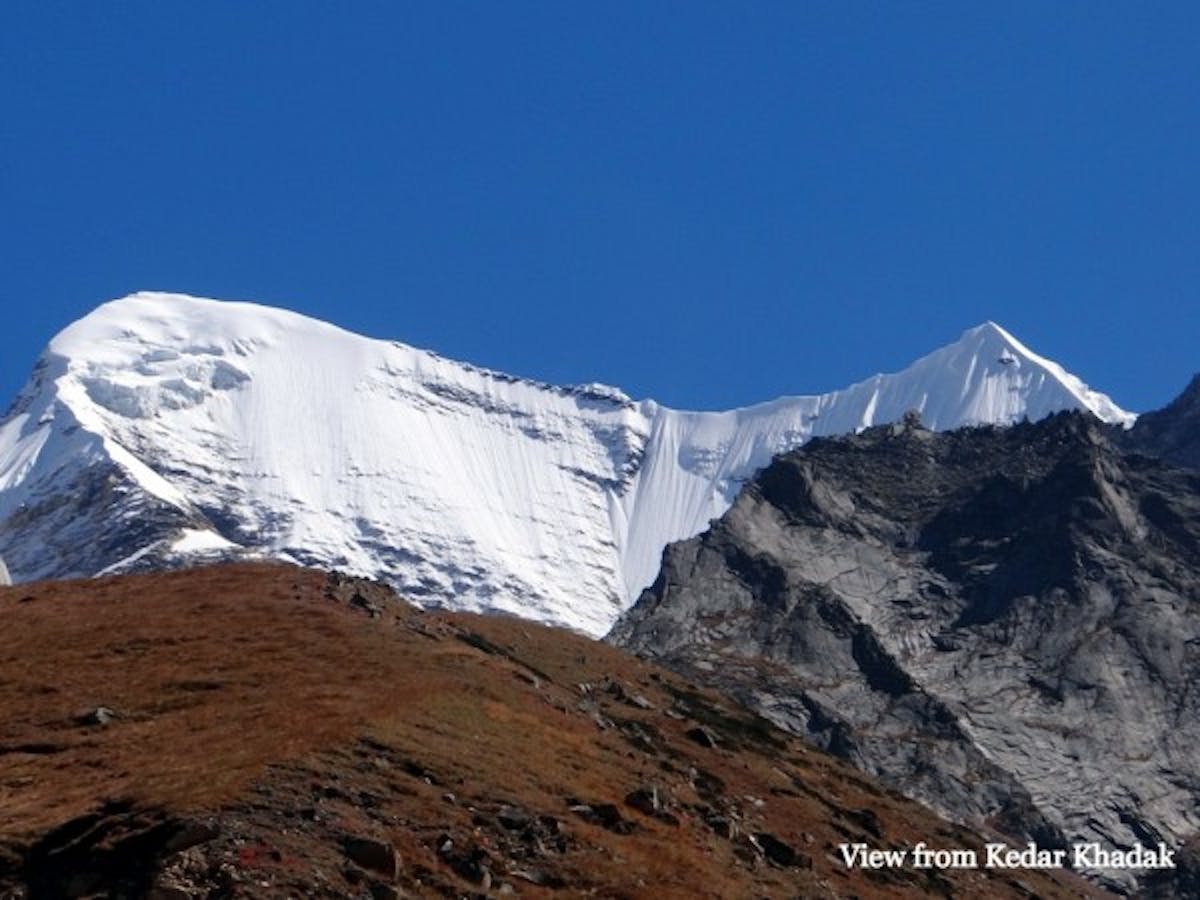 View from Kedar Khadak
The trail from here requires finding a way through a complicated moraine ridge. The trail keeps changing each season due to the havoc the weather plays in this region. The logical way forward is to always remain on the left side of the ridge and go around it towards the right as you climb up the ridge. The left side of the ridge is made of the remains of Kedar-bamak glacier. That zone is prone to hidden crevasses and it is advised not to use this way to Kedartal. Keep a lookout for a set of stones strategically placed on the boulder terrain by local shepherds. This will help you find the way across the fragmented ridge.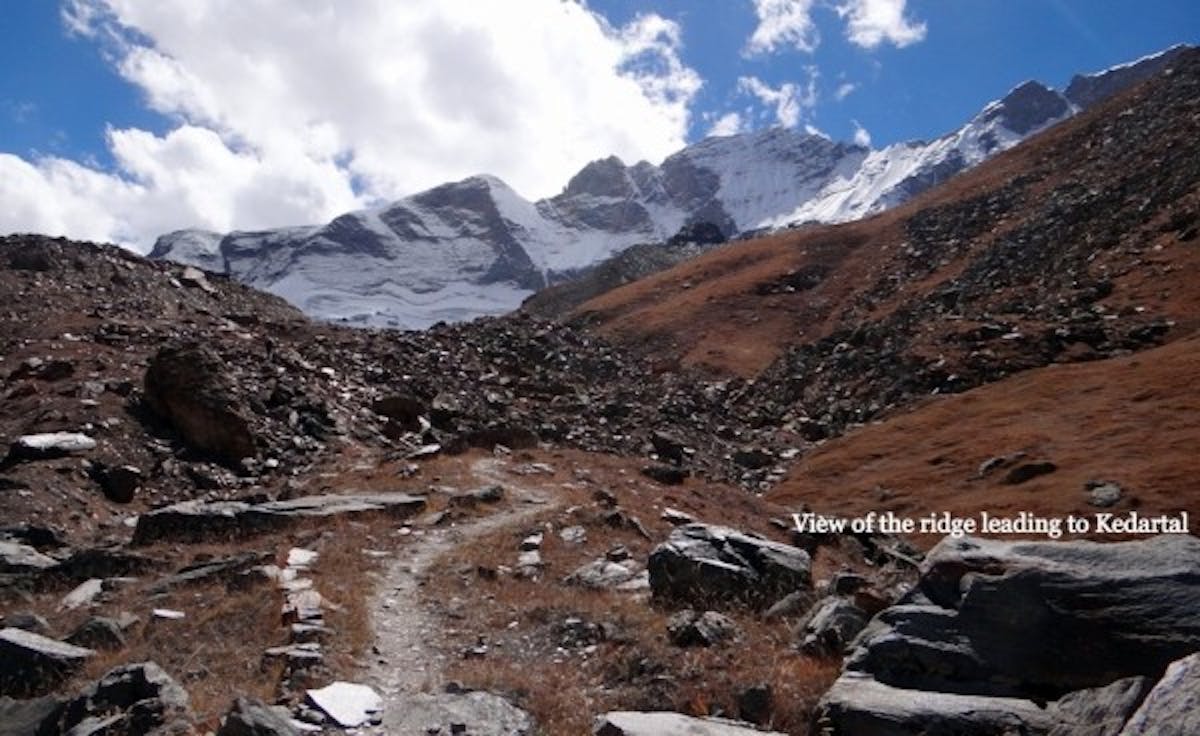 View of the ridge leading to Kedartal
The last ridge ahead has a 50 meter steep climb. This section can become trickier if you happen to trek here in the early summer as you will find this section of the slope under snow. As you reach the top of this ridge, a ten minute level walk will have you reach a spot from where you can see Kedartal some 66 ft. below you.
Kedartal
There are many camping spots around Kedartal with the first one just below this spot. An alternative campsite is another 5-minute hike on the left side moraine of Kedartal till you reach a level ground on top of a small moraine ridge next to Kedartal. The weather can be extremely windy and you can expect sporadic spells of snowfall at the campsite.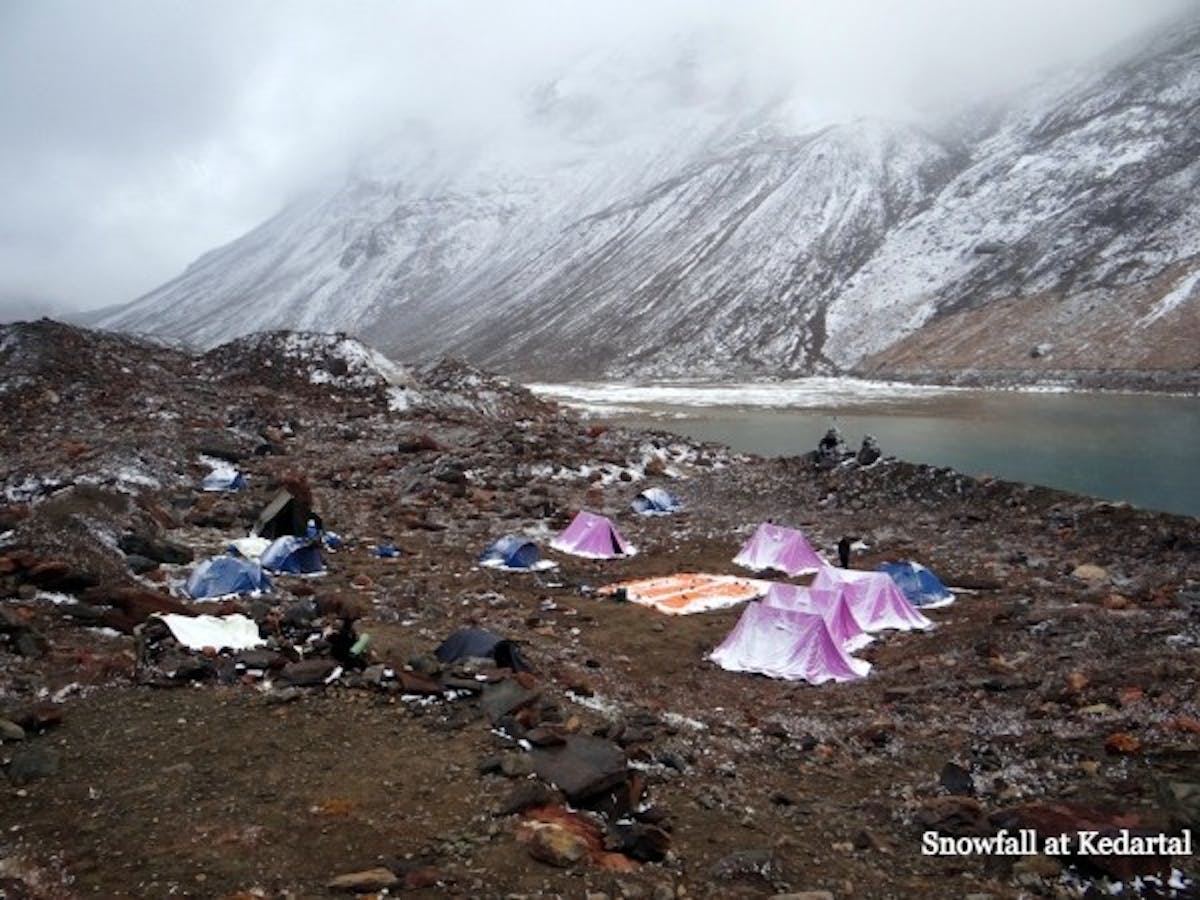 Snowfall at Kedartal
Day 3: Acclimatization day at Kedartal
You may use this day to get used to the high altitude of Kedartal.If the day is sunny it makes for a perfect setting to explore around the emerald green glacial lake and see it at its beautiful best.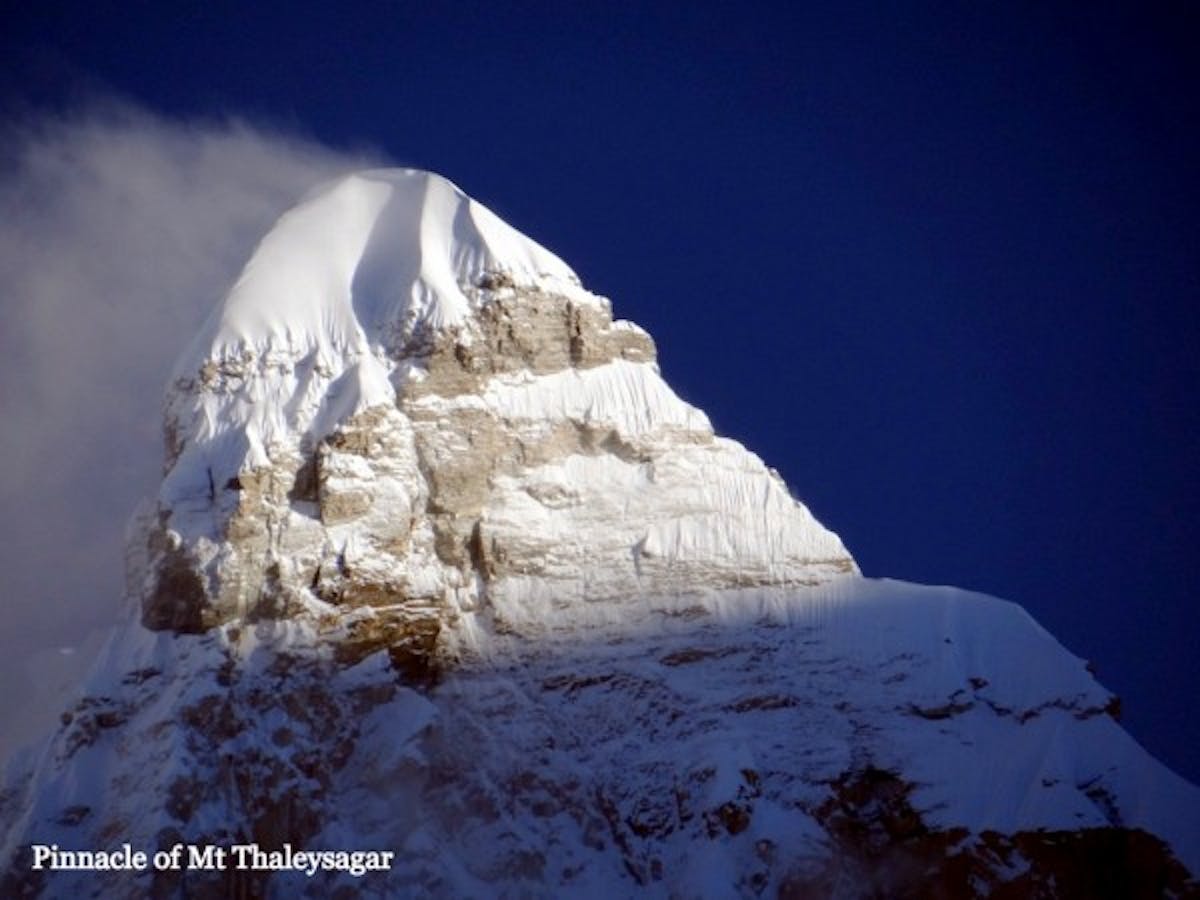 Pinnacle of Mt Thalay Sagar
You may also utilize the day to push for the Advance Base Camp location ahead and come back in the afternoon if you are not planning to camp at Jogin Advance Base campsite.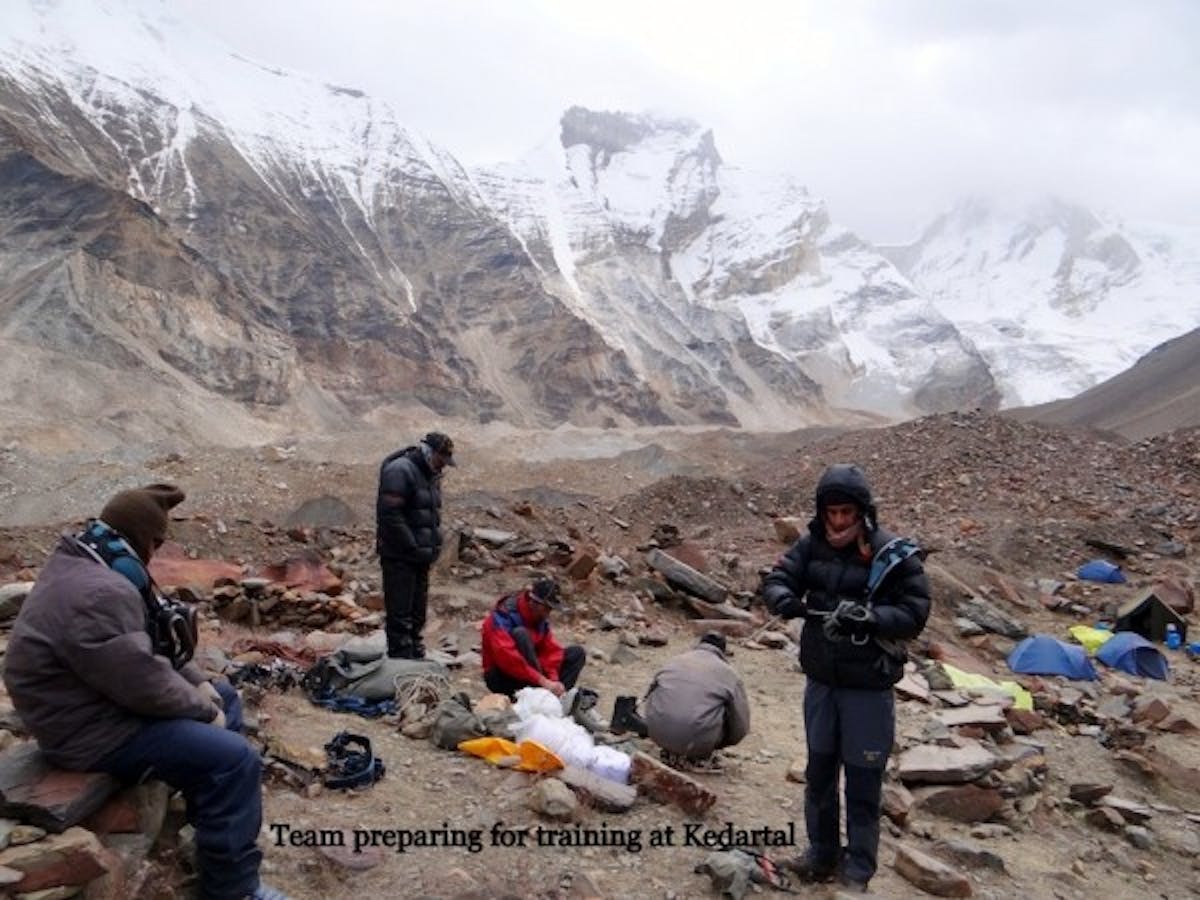 Team preparing for training at Kedartal
You could proceed to the nearby ice-wall of Kedar-bamak glaciers to get well oriented with your climbing gear and for training on the ice-wall. By afternoon it started to snow making it impossible to ferry the load to Advance Base Camp.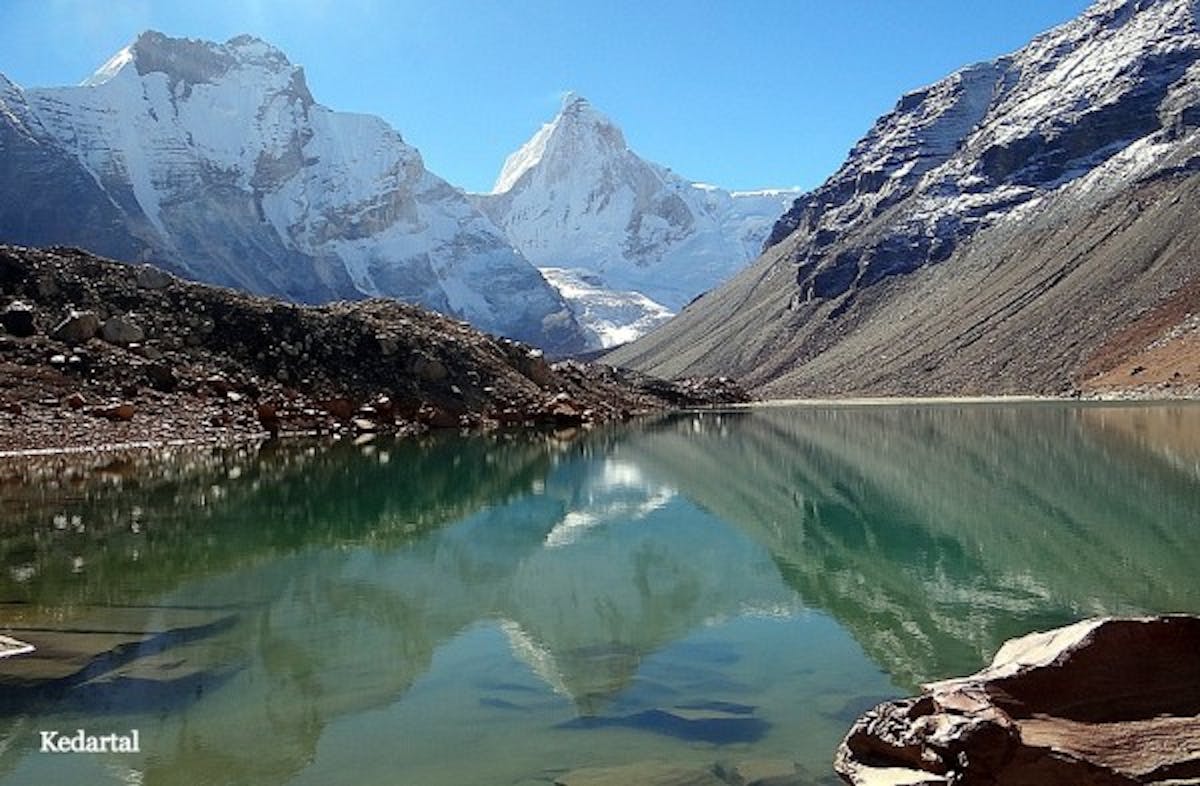 Kedartal
Day 4: Load Ferry day to Advance Base Camp (16,000 ft) and back to Kedartal, 3 km one way and total 6 km, 2-3 hours
On this day the team is expected to carry the expedition load and dump it at Jogin ABC and return back to Kedartal. The Advance Base Campsite is only a 3 km hike on the moraine with less than 656 ft. of altitude gain. Follow the trail going towards Mt. Thaleysagar ahead. The trail is well defined, although during early summer this ridge can be covered in snow.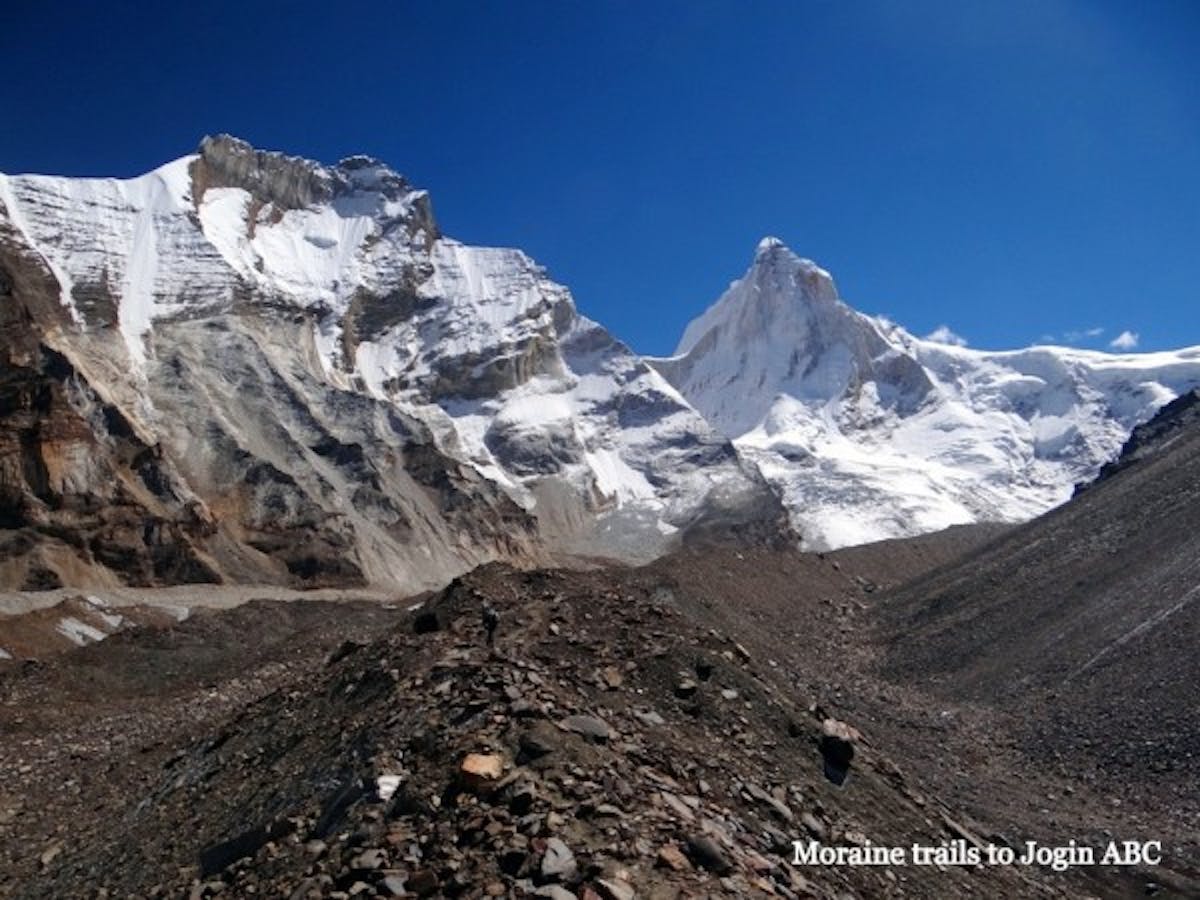 Moraine trails to Jogin ABC
As you walk ahead, the trail curves towards the right side to the point you can see the face of the mountain ridge towards your left. Looking back, this is the last point from where Kedartal is visible. You can now see the impressive connecting ridge of Mt. Thalay Sagar running all the way towards the right finally reaching out to the Jogin ranges on the extreme right side.
Nearing Jogin ABC
Ten minutes walk over the moraine will lead you to an open level ground which is covered by the small ridge and a huge face of a rocky mountain prone to landslides. This is the campsite used by Mountaineers to establish Advance Base Camp for climbing Mt. Jogin and other peaks in this vicinity.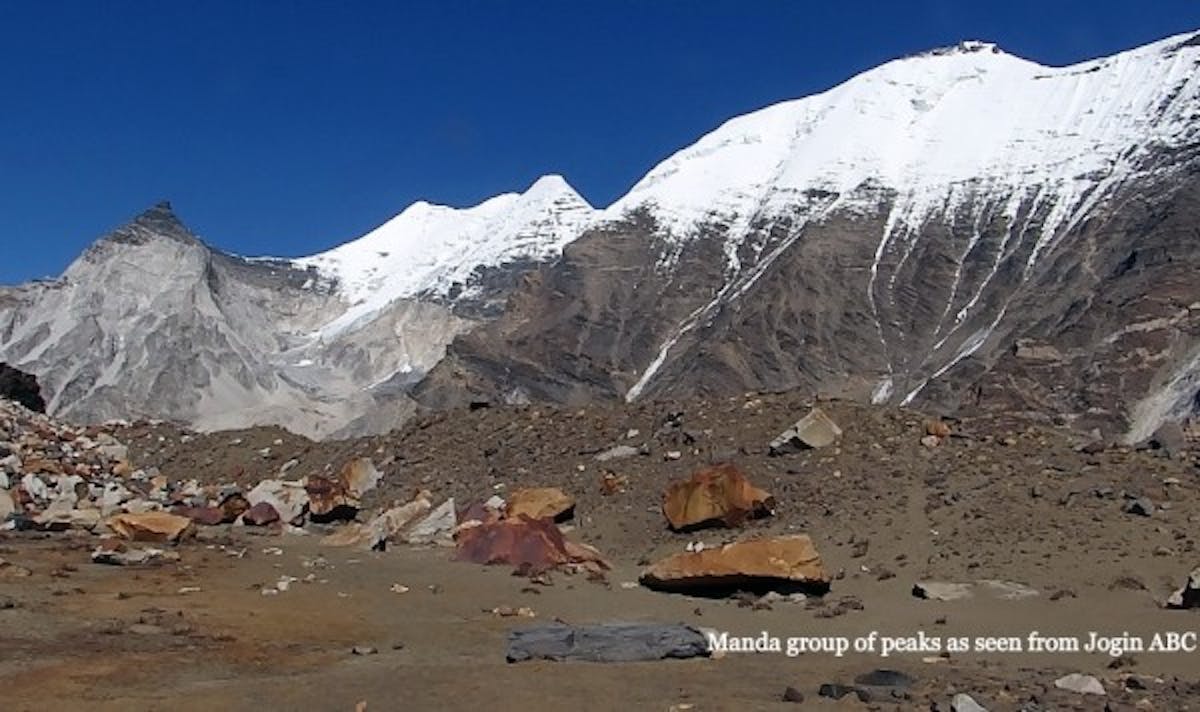 Manda group of peaks as seen from Jogin ABC
From the Advance Camp you get an unprecedented 180° view of the Himalayan peaks starting from Manda 1, 2 & 3 ranges on the extreme left, followed by Mt. Bhrigupanth and Mt. Thaleysagar in the middle connecting with its ridge all the way till Jogin ranges. The space between the ABC and these peaks is occupied by the Kedar-bamak glacier which is full of crevasses.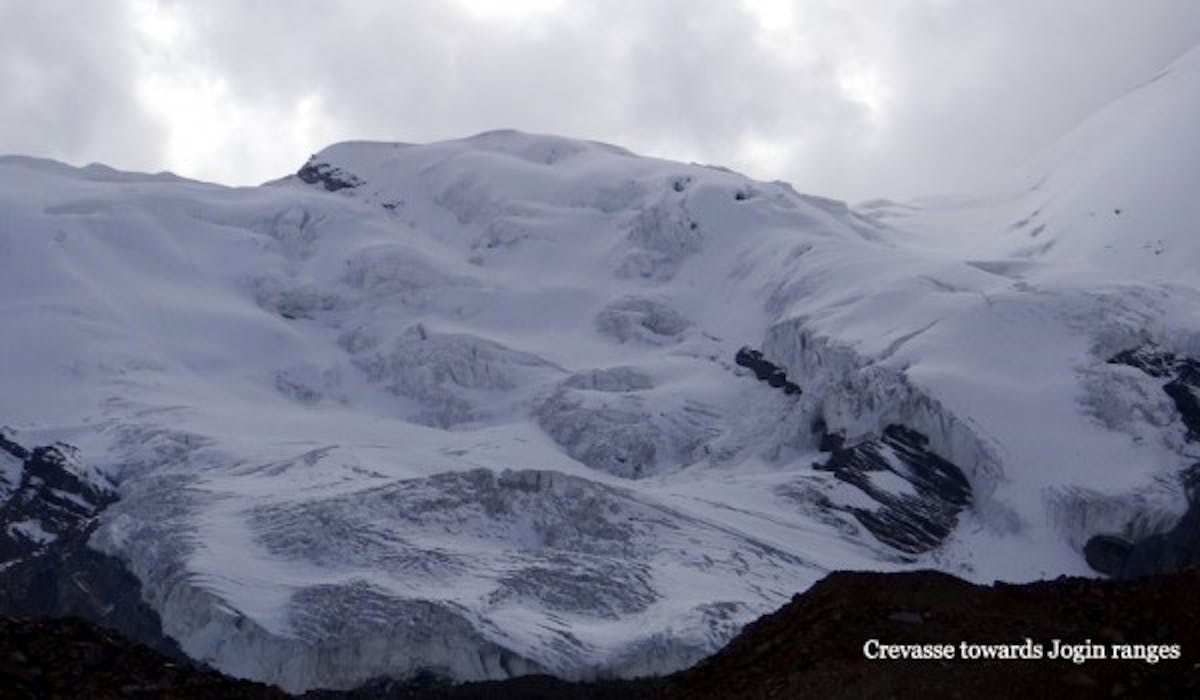 Crevasse towards Jogin ranges
You can proceed ahead from the campsite up the right side ridge to get a better view of the rear view of the Jogin ranges (Jogin 3, 1 and 2) and a route leading to campsites for those who want to summit these peaks. The maximum altitude gained at the top of this ridge is 16,732 ft. Any exploration above this altitude will require proper mountaineering equipment.
Day 5: Jogin Advance Base Camp to Gangotri, 20 km, 7-8 hours
This is a long and tiring descent down to Gangotri which normally only the porters are accustomed to. You can break the return journey once by camping at Kedar-kharak. This can be planned according to the time available and the fitness of the team members. A lot depends upon how well the team members acclimatize. At any point the most important tip is to not move up too fast and to monitor the health of all the team members at all times.
Alternate treks by Indiahikes
Jogin Advance Base Camp is a challenging trek with breath taking views. But it is not for everyone. The trek is mostly done by expedition teams going to Jogin peak. Also, you'll have to be a extremely experienced mountaineer to be on such teams and most of the organizing has to be done by yourself and your team.
However, if you do not have a team, or not confident of organizing a trek by yourself, then you there are a few alternate treks that you could go on with Indiahikes.
The first of those is Kedartal. You trace the same route as Jogin Base Camp trek but you return from Kedartal. At 16116 feet, that in itself is quite an experience.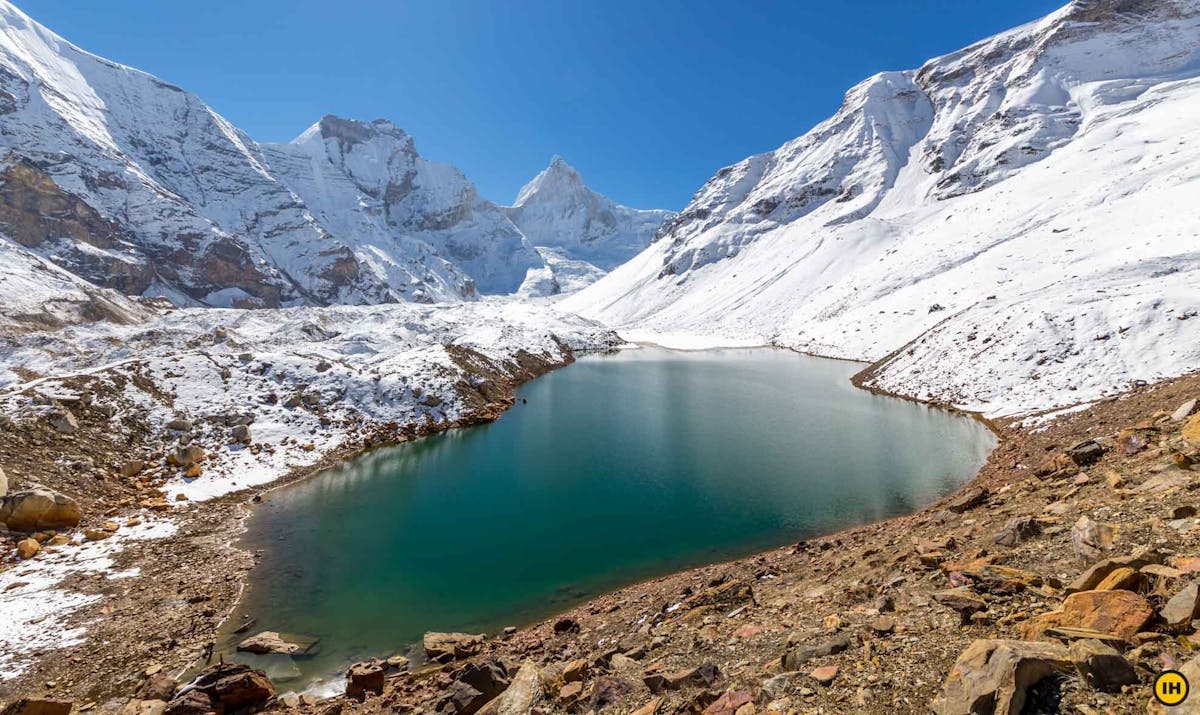 The emerald-blue waters of Kedartal lake at 16,116 ft. Picture by: Ashwin Shrinivasa
However, if you want to trek to basecamp of a mighty mountain, then we can't recommend Annapurna Basecamp trek enough. It brings you face to face with an 8,000-er, mountain views that leave you spell bound, a chance to trek through the forests of Annapurna Conservation Area, and a peek into the life at village along the trail.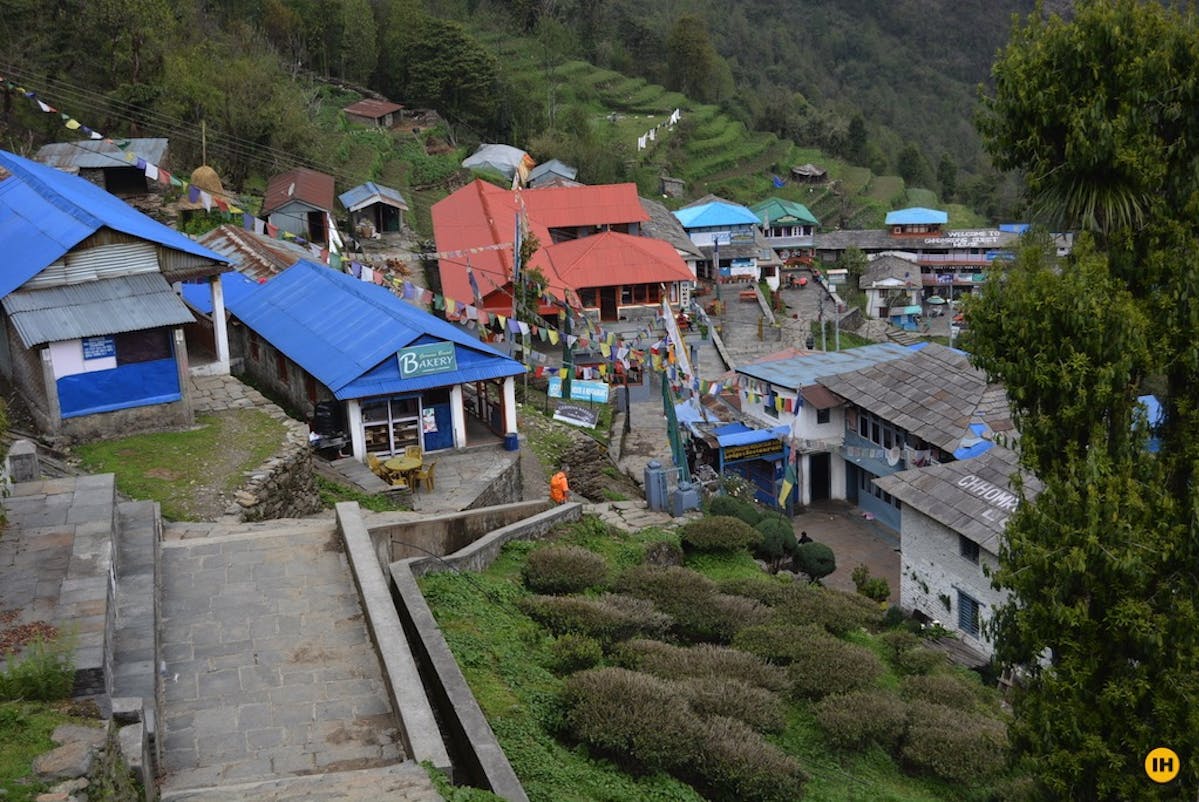 Cluster of tea houses at Chomrong. PC: Lakshmi Selvakumaran
➤ How to Get Fit for the Trek
How to get fit for the Mt. Jogin Advance Base Camp trek
The Mt. Jogin Advance Base Camp trek is classified as a difficult trek. You trek up to an altitude of over 16,000 feet. You start from an altitude of 9800 feet at Gangotri and reach the highest point of 16,000 feet at the Mt. Jogin Advance Base Camp Trek. You have to make sure your lungs are strong for this.
Cardiovascular endurance
On the Mt. Jogin Advance Base Camp trek, apart from huge altitude gains, the trail is long and tiring. This requires a good amount of endurance. You can begin by jogging everyday.  Start jogging at a slow pace and then keep increasing your pace day by day. Make sure you are able to jog 4 km in 20 minutes before the start of the trek. It takes time to be able to cover this distance in the given time. Swimming, cycling and stair climbing without too many breaks in between can help too.
Strength
Flexibility
Another aspect that will help you trek comfortably is flexibility. For this, you can do some stretching exercises - stretch your hamstrings, quadriceps, hip flexors, lower back muscles and shoulders regularly. On your trek, it is important that you arrive on the slopes with your muscles relaxed. Carrying a backpack, however light, can become a strain after a while. These exercises will help you to be in good shape before the trek.
Working out indoors
If you can't go out and jog because of time and space constraints, here's a video you can use to work out indoors.
➤ What to Pack for your Trek
What to take on the Mt. Jogin Advance Base Camp trek
Bare necessities
Trekking shoes: The trek distance is long and you will have to walk for long distances which need you to have comfortable trekking shoes. You can watch this video to learn to choose the right trekking shoes. 
Backpack (40-60 litres): A backpack with sturdy straps and a supporting frame. Rain cover for backpack is essential.
Clothes
 Three (Five in Winter) Warm Layers: You will be trekking and camping at high altitudes. So make sure you have the apt clothes for the climatic conditions. It will be cold at the higher altitudes so make sure you have at least three layers of warm clothes to protect yourself.
Two trek pants: One pair of pants should suffice for this trek. But you can carry one spare pair in case the first one gets wet. Wear one pair and carry one pair. 
Two collared t-shirts: Carry light, full sleeved t-shirts that prevent sun burns on the neck and arms. Again, wear one and carry one.
Thermals (Optional): Those who are more susceptible to cold can carry thermals to wear at night.
Accessories
Sunglasses: Sunglasses are to prevent snow blindness. There might be snow in Har Ki Dun Valley or from Kalkatiyadhaar (depending on the season you are going in), so carry a pair of sunglasses. 
Suncap: The sun is more harsh at high altitudes so wear a suncap to protect your face and neck.
Synthetic hand gloves: One pair of fleece or woolen hand gloves. One pair of water proof/resistant, wind proof gloves.
Balaclava: You may use woollen scarves instead as well.
Socks (2 pairs): Apart from two sports socks, you can take a pair of woollen socks for the night.
Headlamp/LED torch: Mandatory
Trekking pole: Watch this video to understand why you need a trekking pole.
Others
Daypack (20 litres): If you are offloading your backpack, you will need a smaller backpack to carry water, medical kit and some light snacks. 
Toiletries (Sunscreen, moisturiser, light towel, lip balm, toilet paper, toothbrush, toothpaste)
Cutlery: Carry a spoon, coffee mug and a lunch box. We insist on trekkers getting their own cutlery for hygiene reasons. 
Two water bottles: 1 litre each
Plastic covers: While packing, use plastic bags to compartmentalise things and carry few extra plastic bags for wet clothes.
Mandatory Personal Medical Kit 
Diamox - 10 tablets (to prevent AMS)
Crocin – 6 tablets (fever)
Avomine – 4 tablets (motion sickness)
Avil 25mg – 4 tablets (allergies)
Combiflam – 4 tablets (Pain killer)
Disprin – 6 tablets (headache)
Norflox TZ & Lomofen– 6 tablets each (diarrhoea)
Digene - 10 tablets (acidity)
Omez/ Rantadine – 10 tablets (antacids)
Crepe bandage – 3 to 5 meters
Gauze - 1 small roll
Band-aid – 10 strips
Cotton – 1 small roll
ORS – 10 packets
Betadine or any antiseptic cream
Moov spray (aches, & sprains)
Mandatory Documents
Please carry the below documents. Document two and three need to be downloaded (PDF), filled in, signed and handed over to the trek leader at the base camp. 
Original and photocopy of government photo identity card- (driving license, voters ID, etc.)
Medical Certificate and Disclaimer (to be filled by the trekker) - Download PDF
Medical certificate (to be filled by a doctor) - Download PDF