Can You Help Us With Photographs Of This Trek?
We are looking to enrich this documentation with more photos. Pictures go a long way in explaining the trail, more than words ever can. If you have done this trek, can you share your photos with us? We will include them on this page, with due credit to you. Click here to contribute.
The Complete Guide to Kalsubai Peak Trek
Kalsubai Peak is a very popular trek in the Sahyadri region. It is the highest peak in Maharashtra at 5,400 ft and is easily accessible both from Mumbai and Pune. The trek offers a breathtaking combination of natural environments like waterfalls, forests, grasslands, and historic forts. 
The Kalsubai Temple at the summit of the peak draws people from the nearby villages throughout the year. They come to take blessings from Kalsubai Devi.  It is believed that a young village girl named Kalsubai, lived in the mountains. During that time she cured villagers and animals and also helped in village activities. One day she left for the summit and never returned. So in her memory, a small temple was built at her home on the mountainside and the main Kalsubai temple was built on the peak.
The Kalsubai trek offers views of many famous forts like Alang, Madan, and Kulang. The treks to these peaks are pretty challenging. On a clear day, you also get imposing views of other surrounding forts such as Harihargad, Harishchandragad, and Ratangad. Many experienced trekkers combine these treks for added adventure.
The Kalsubai trek is also a very popular night trek. Trekkers flock here for the brilliant views of the sunrise!
What To Watch Out For
1. Spectacular View of the Famous Fort Peaks from the Summit
The views from the summit of Kalsubai Peak are astounding. Most of the famous peaks of the Sahyadris like Alang, Madan, Kulang, Ratangad, Ajoba are visible from here. Trekkers combine two or more treks for more adventure and challenge.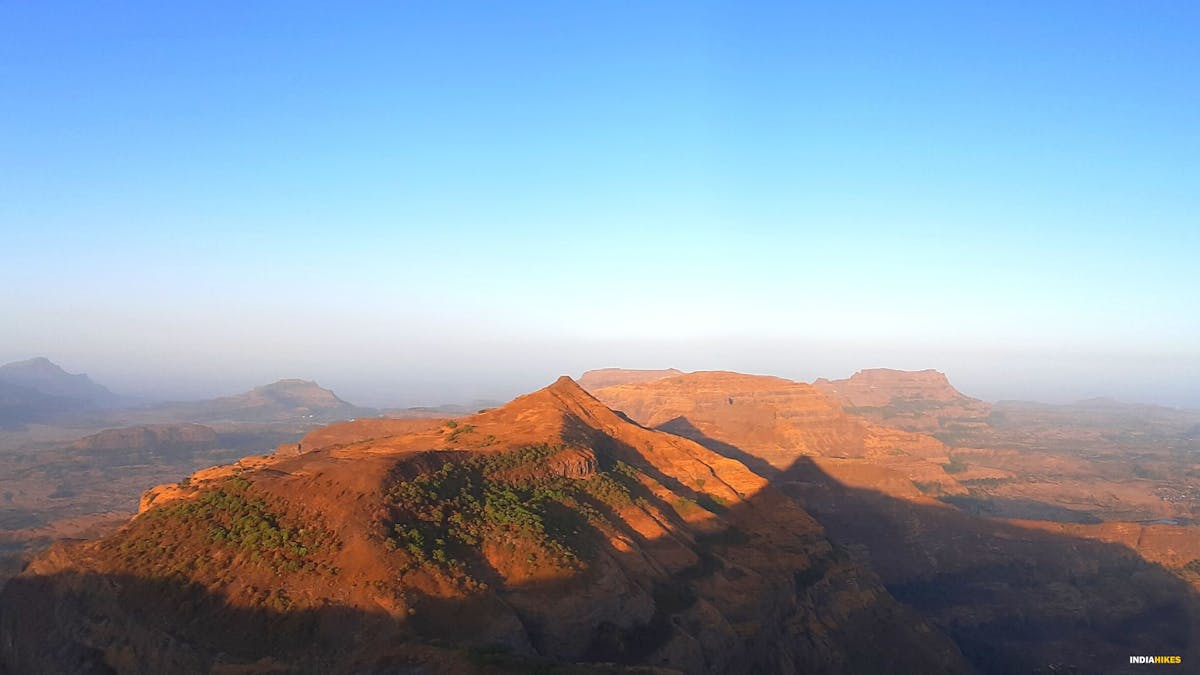 All the fort peaks of Alang, Madan, Kulang, Ratangad, Katrabai and Ajoba with Kalsubai in the shadow can be seen in one frame. Picture by Amit Mohite
A Pleasant Walk amidst Fields, Farmland, and Grasslands
Bari village is a farming village, from the start of the trek the walk is through extensive fields and farming land. This is the best part of the trek and is an easy enjoyable walk.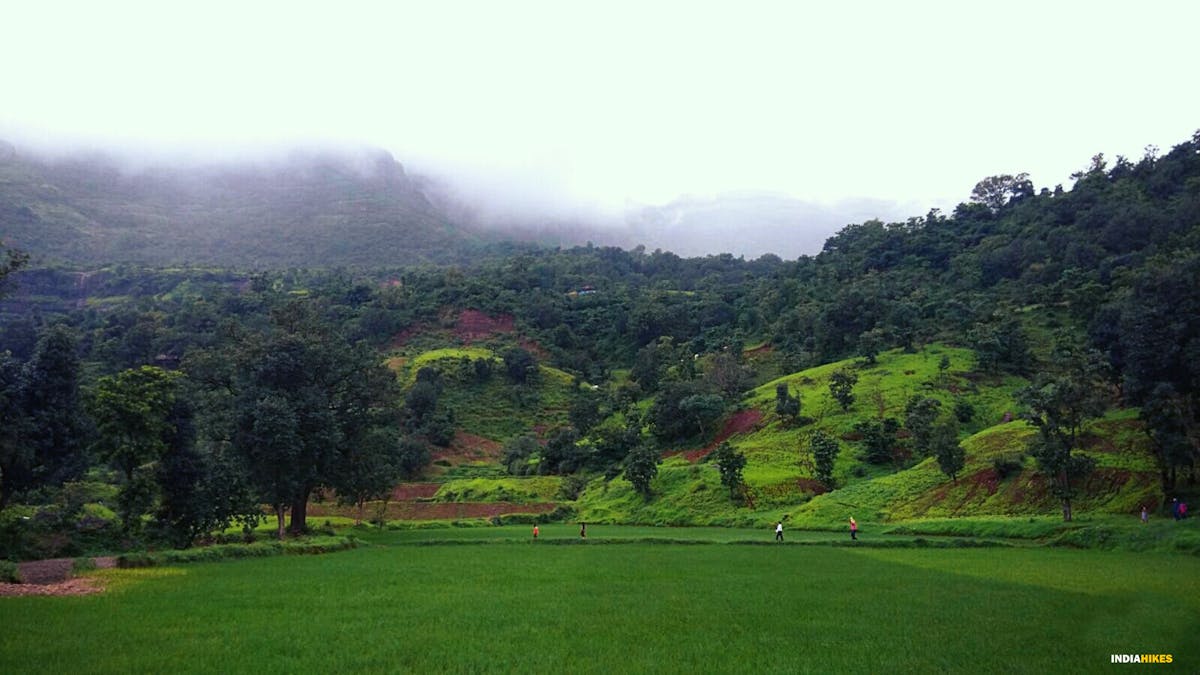 Paddy fields greet your eyes. Picture by Krupa Vyas
The Thrill of climbing four narrow iron ladders on vertical rock faces!
The ladder section comprising four narrow iron ladders is the most adventurous and challenging part of the trek. The ascent and descent on this trek is the same way so there is a two-way traffic of trekkers and villagers! Trekking in the monsoon season can be tricky on these ladders.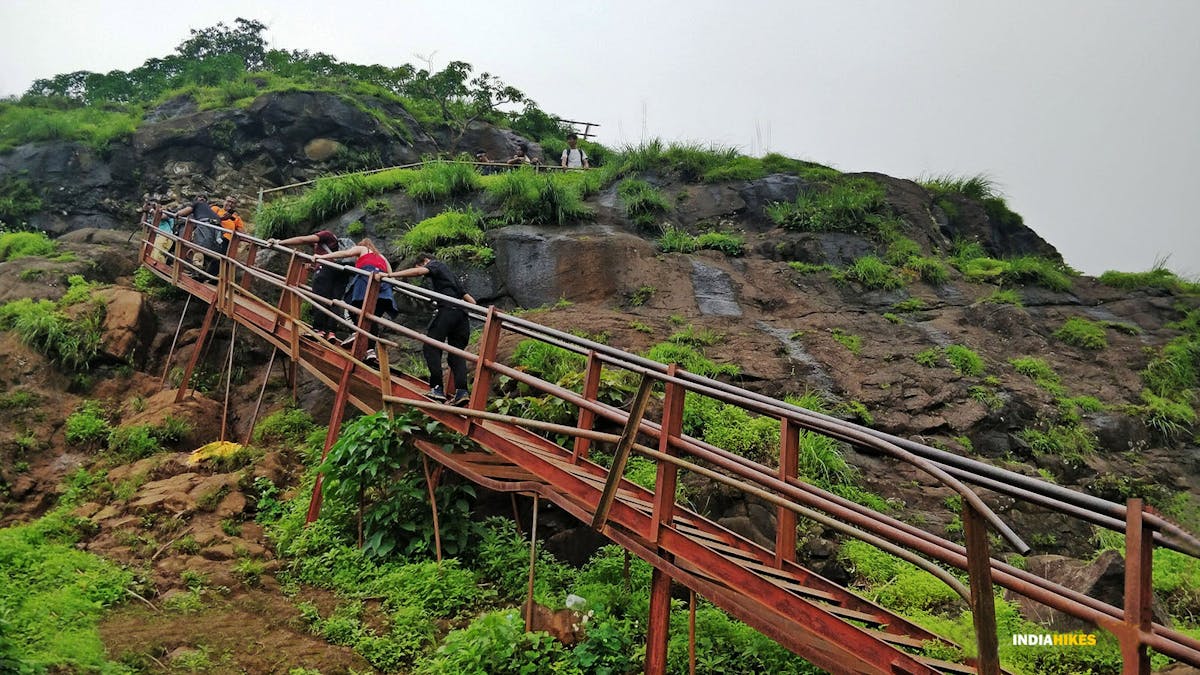 Trekkers carefully ascending one of the ladders. Picture by Jay Mehta
The Auspicious Temple of Kalsubai Devi at the Summit
The Kalsubai temple is considered very auspicious and many villagers still visit the temple to seek the blessings of Kalsubai Devi. The temple is open throughout the year.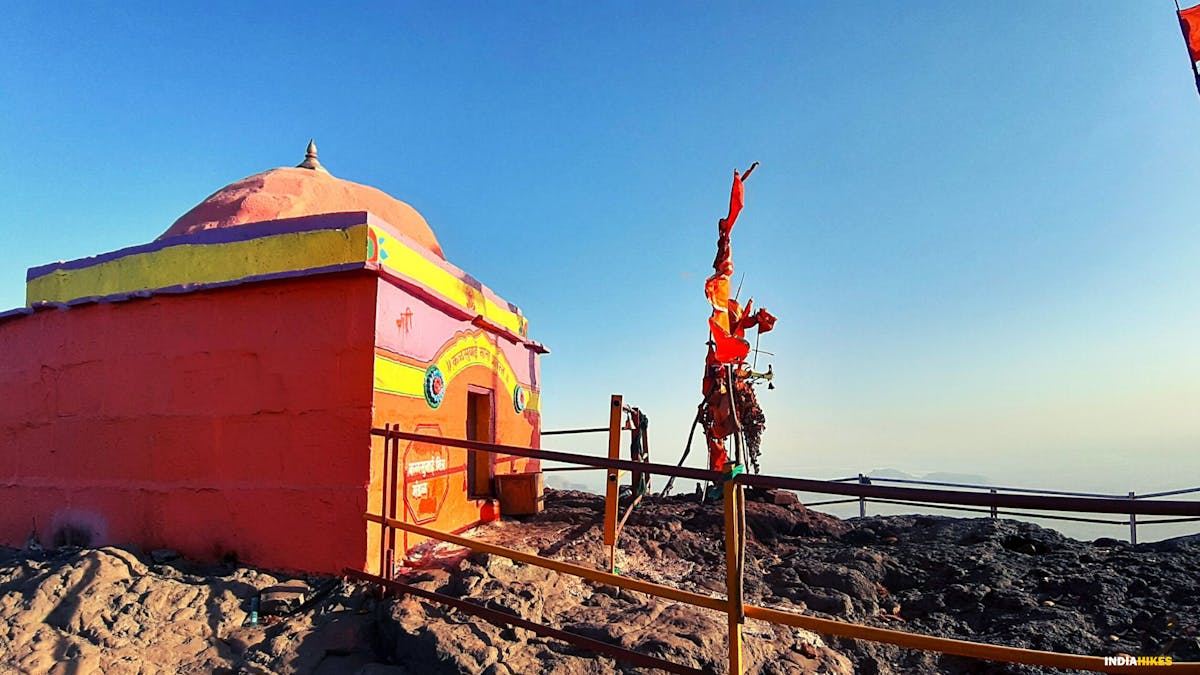 Seek the blessings of Kalsubai Devi at the temple at the summit. Picture by Amit Mohite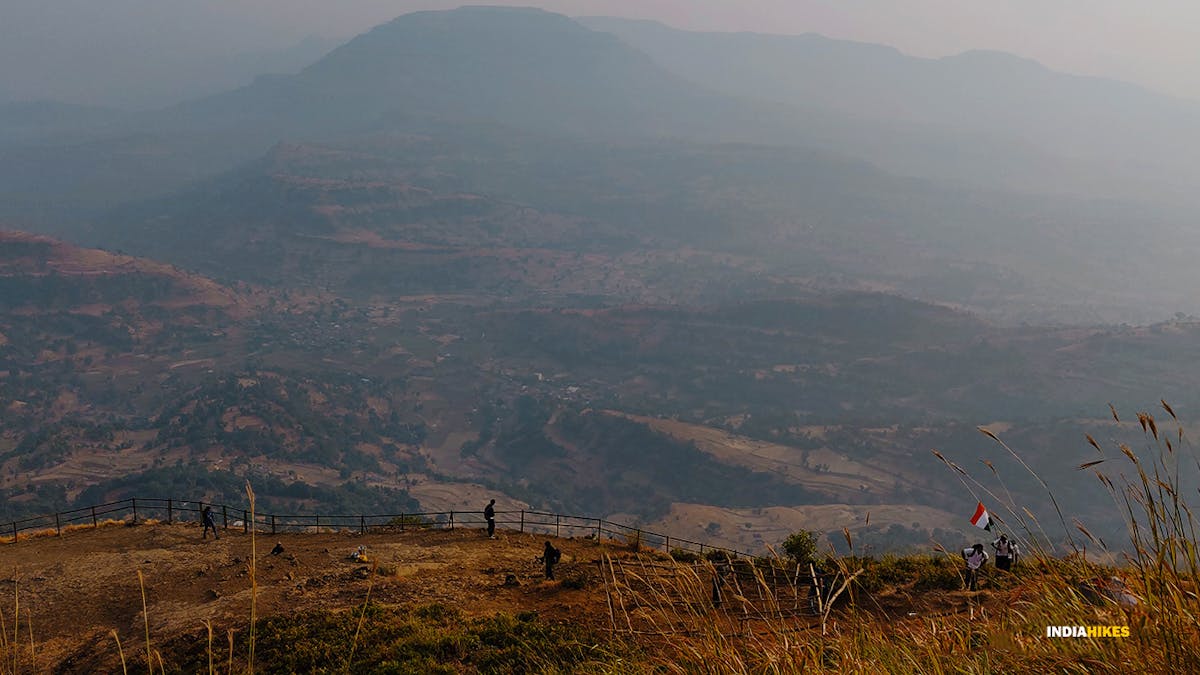 View of the Railing from the top. Picture by Roshani
Trail Information On The Kalsubai Peak Trek
The Kalsubai Peak trek trail starts from Bari Village and can be divided into 2 sections.
The first section is from Bari Village, through fields, grasslands, and a short forest section.
The second section is the challenging ladder section with about 4-5 steep ladders. After a viewpoint area, you reach the final summit where the Kalsubai Temple is located.
The descent is the same way back down.
Route Map of Kalsubai Trek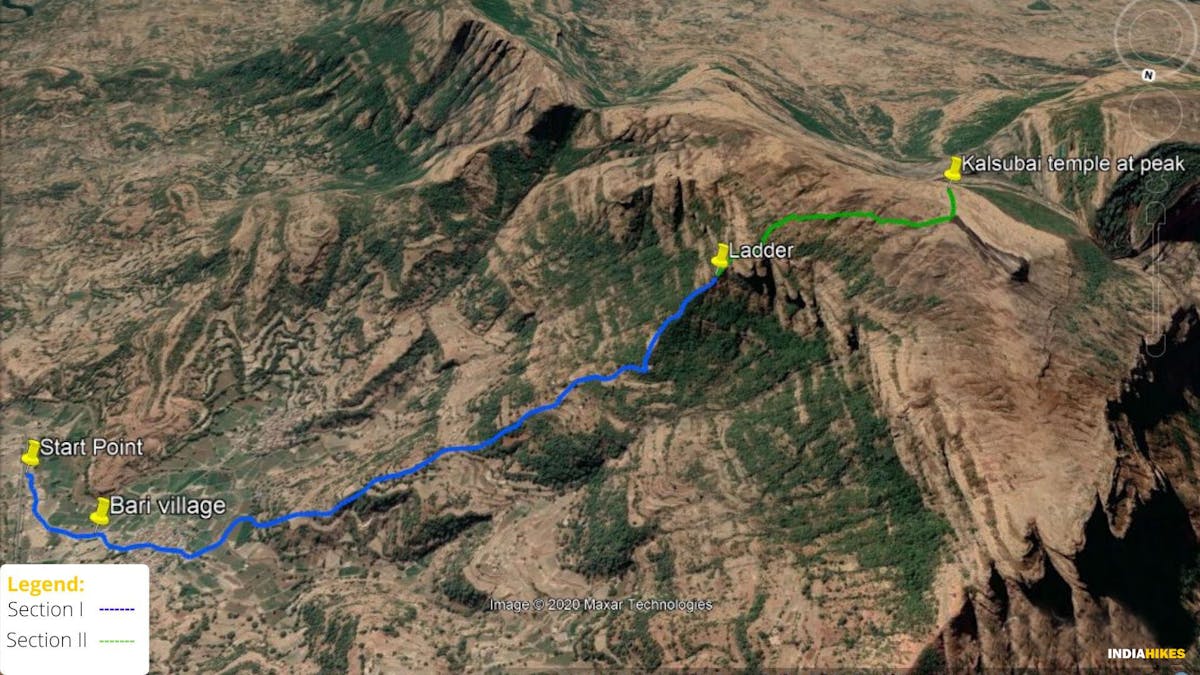 Route Map of Kalsubai Peak Trek. Screenshot on Google Earth Pro
Trek distance: 3 km
Trek duration: 1 hour 45 minutes
GPS coordinates of Bari village: 19°36'44.48"n  73°43'57.19"e
GPS coordinates of ladder section: 19°36'10.87"n  73°43'2.55"e
The trek starts from Bari village. Walk through the village on the path that leads straight through it, without taking any of the turns that you come across.
Once you leave the village behind, the trek begins with a walk through some fields. Take a right after you reach the end of the hutments. In monsoon, there will likely be a stream flowing here. You will need to cross this and continue walking through the fields.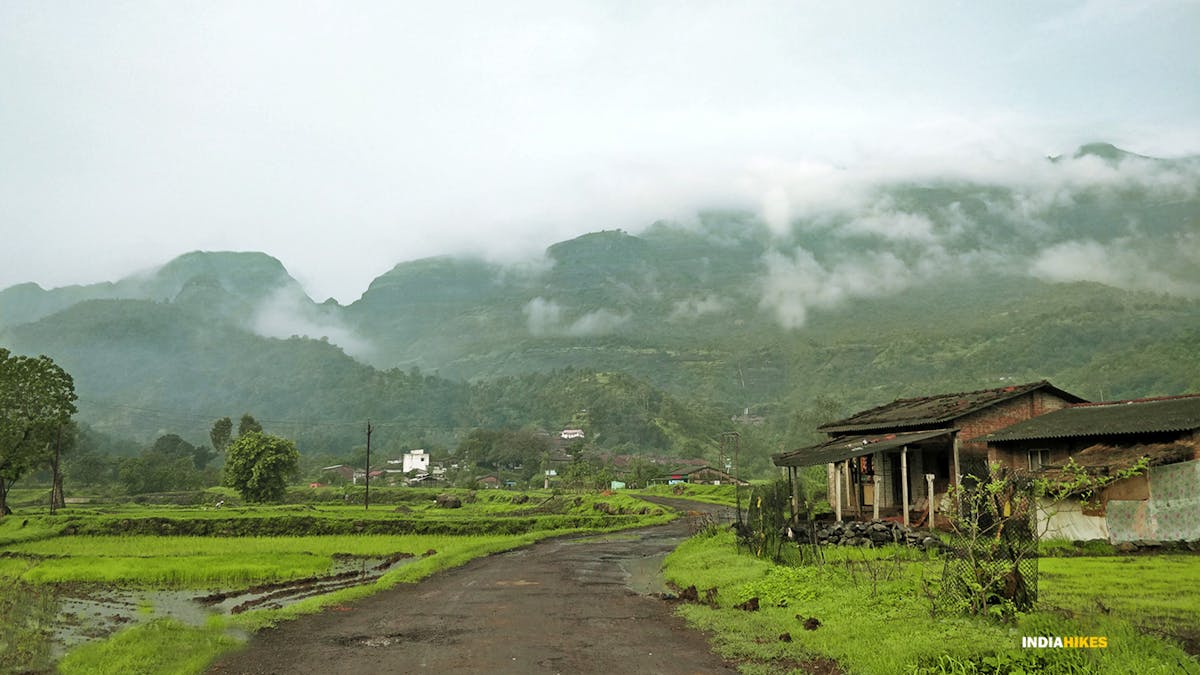 Road that leads you towards your the Summit. Picture by Jay Mehta
Walk through the farmlands where a variety of rice like Indraini, Kolum, and Tukda are grown. Wheat and green vegetables like Tandul are also cultivated. The trail passes through one or two villager houses and dhabbas. There are some steep ascents in this section.
The path naturally turns upwards to the left after the fields. The trail now becomes a little rocky. It is well shaded by trees. The first small ascent leads you to the temple of a local deity. This is an ideal place for some quick rest.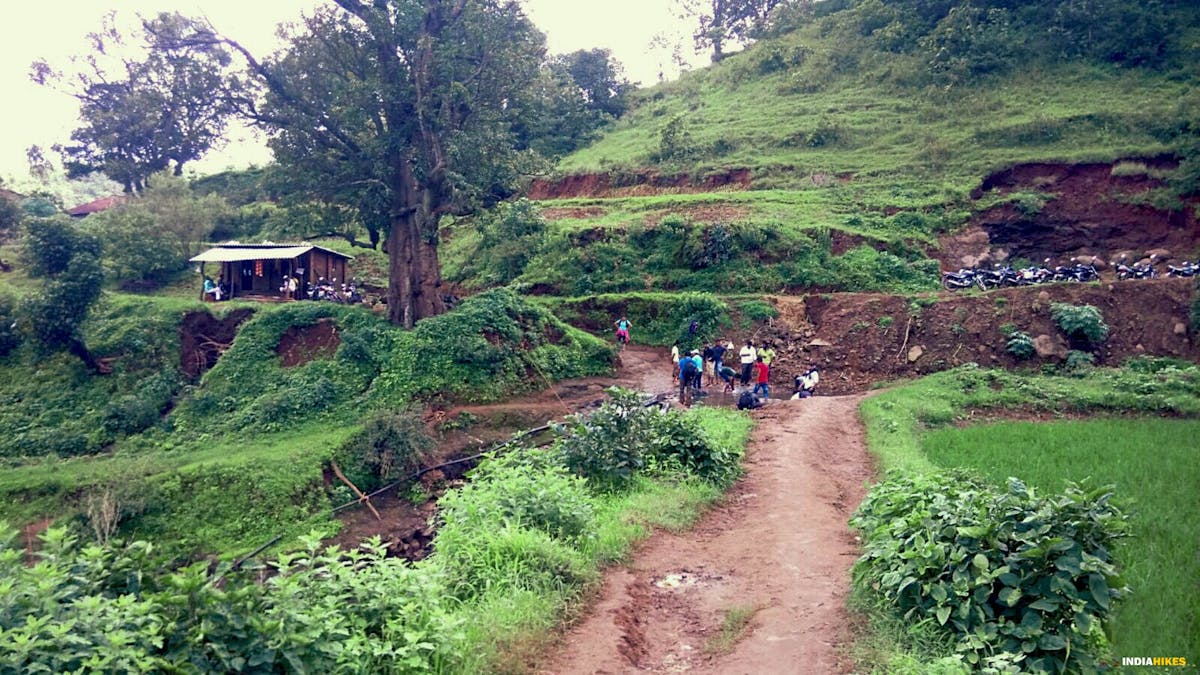 The trail after the river crossing. Picture by Krupa Vyas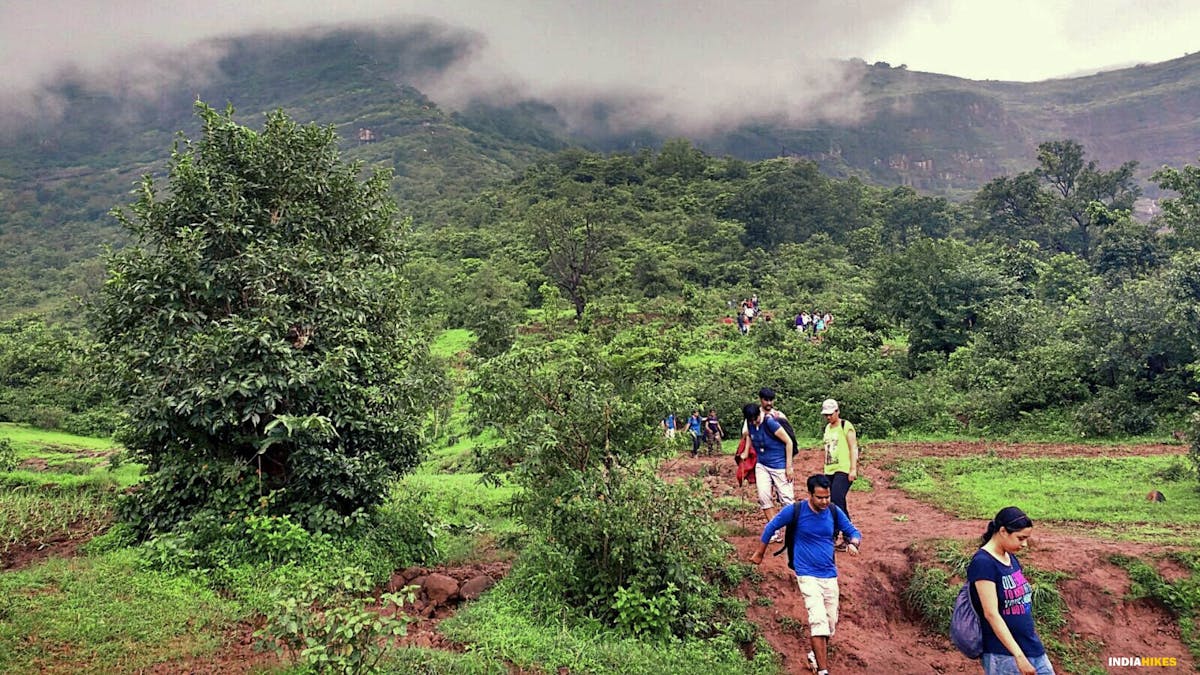 Trekkers heading towards the ladder after the fields. Picture by Krupa Vyas
The summit is visible from this point and looks deceptively close but you're at least 2.5-3 hours away.
The trail ahead is marked almost throughout with no scope of getting lost. It continues to ascend from here and the terrain is rocky. The tree cover disappears in around half an hour.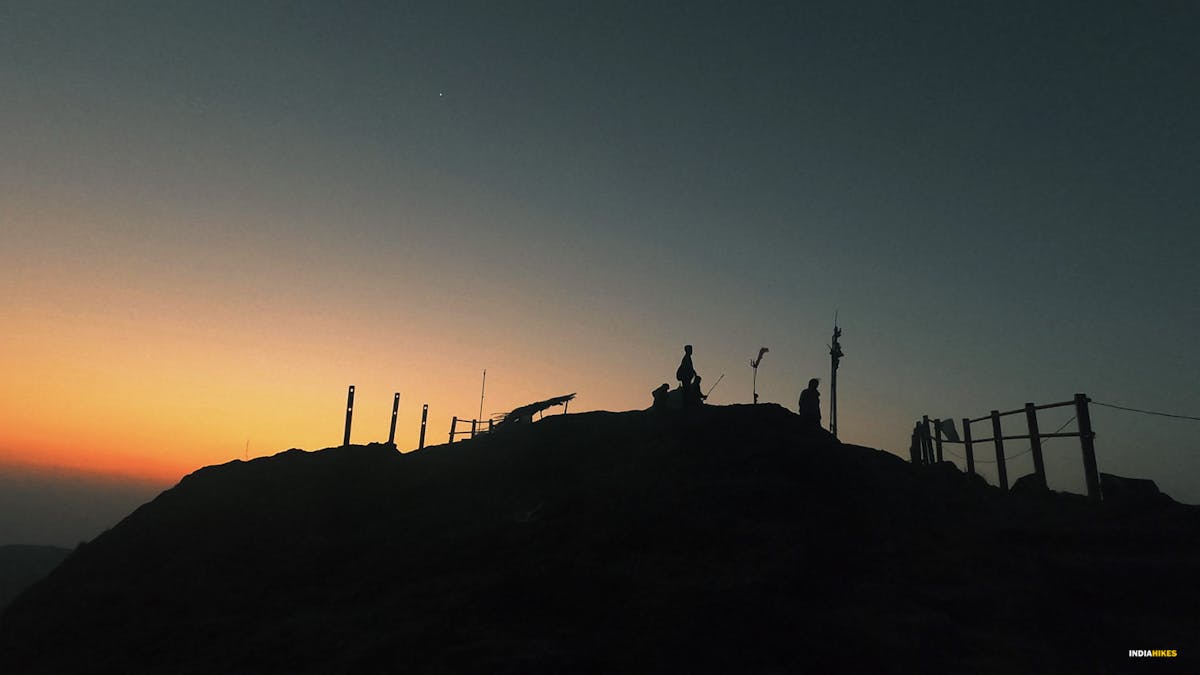 Sunset Silhouttes. Picture by Kritesh Sharma
Trek distance: 1.3 km
Trek duration: 1 hour 30 minutes
GPS coordinates of Ladder section: 19°36'10.87"n  73°43'2.55"e
GPS coordinates of Kalsubai summit: 19°36'1.07"n  73°42'38.89"e
After an hour of trekking, you reach the first set of iron steps. Be careful while climbing this. It becomes a little slippery in monsoon. There are four such climbing ascents. Each of these is quick and steep. The descent might induce knee pain.
The rock surface is steep. To tackle these, the steps are at spots where climbing the rock surface is difficult.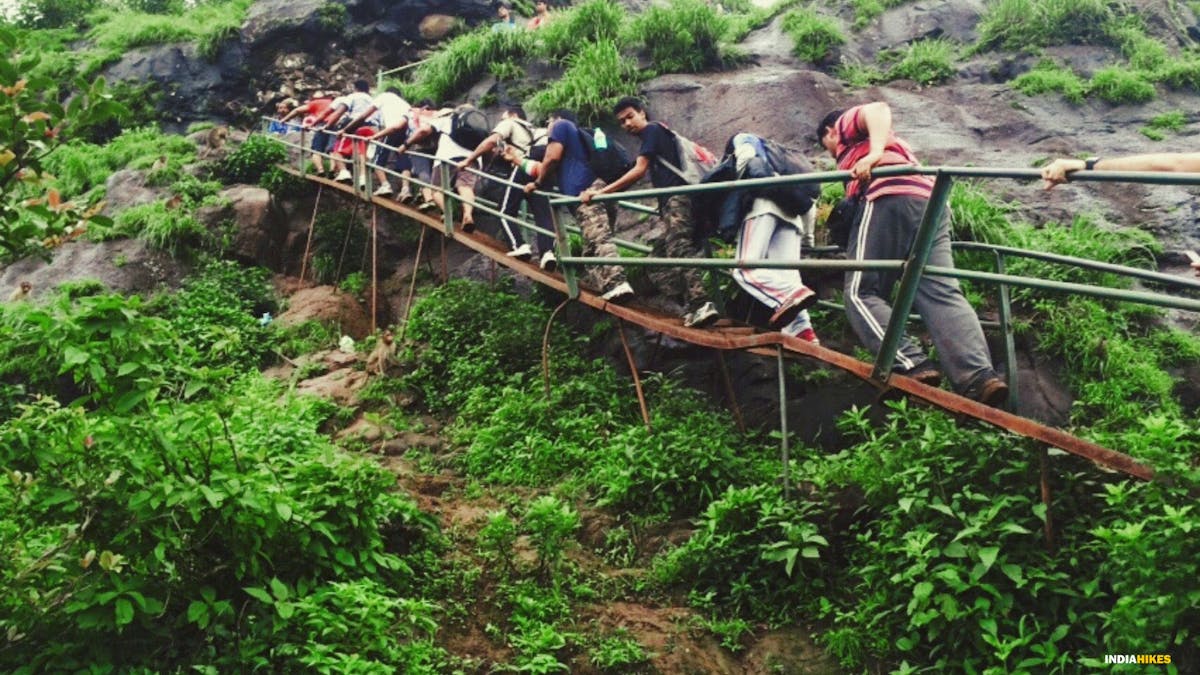 Trekkers negotiating the Ladder. Picture by Krupa Vyas
Each of the ladder sections is followed by an ascending trail which flattens out into small sections. It's mostly grassy here. If there are many trekkers during the monsoon, the path tends to get slushy.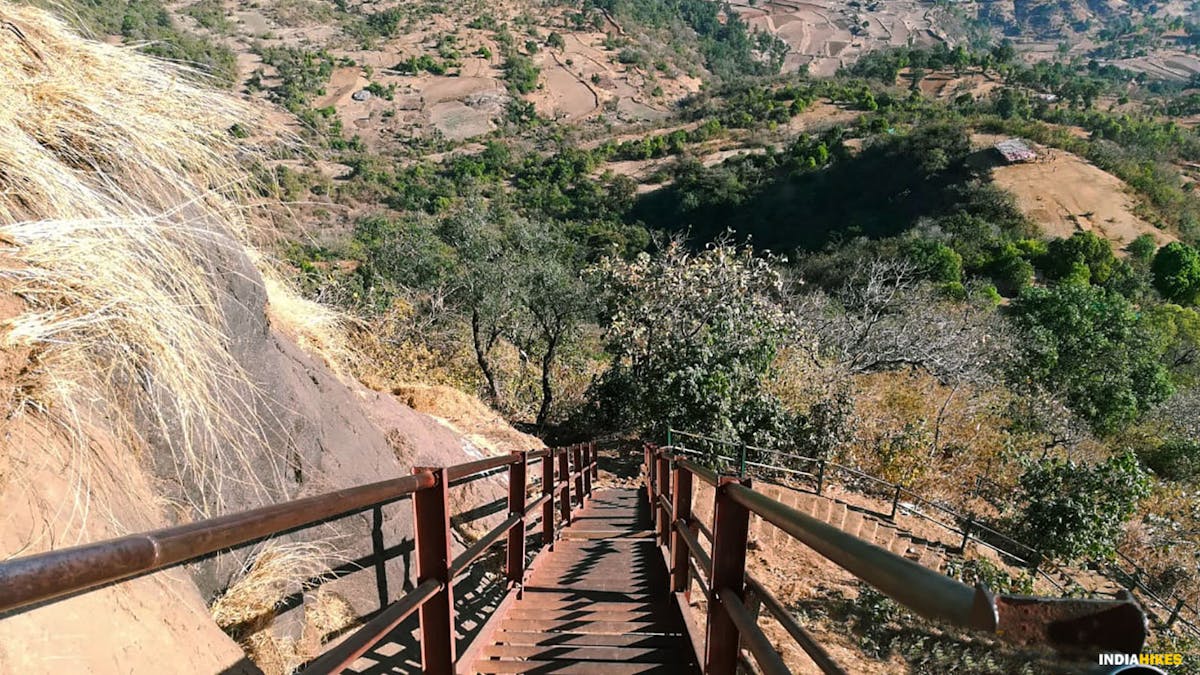 Notice how steep the ladder section is. Picture by Vijay Ogalapurkar
From the ridge to the summit, you are likely to face very strong winds. Secure your bags and any loose items you might be carrying.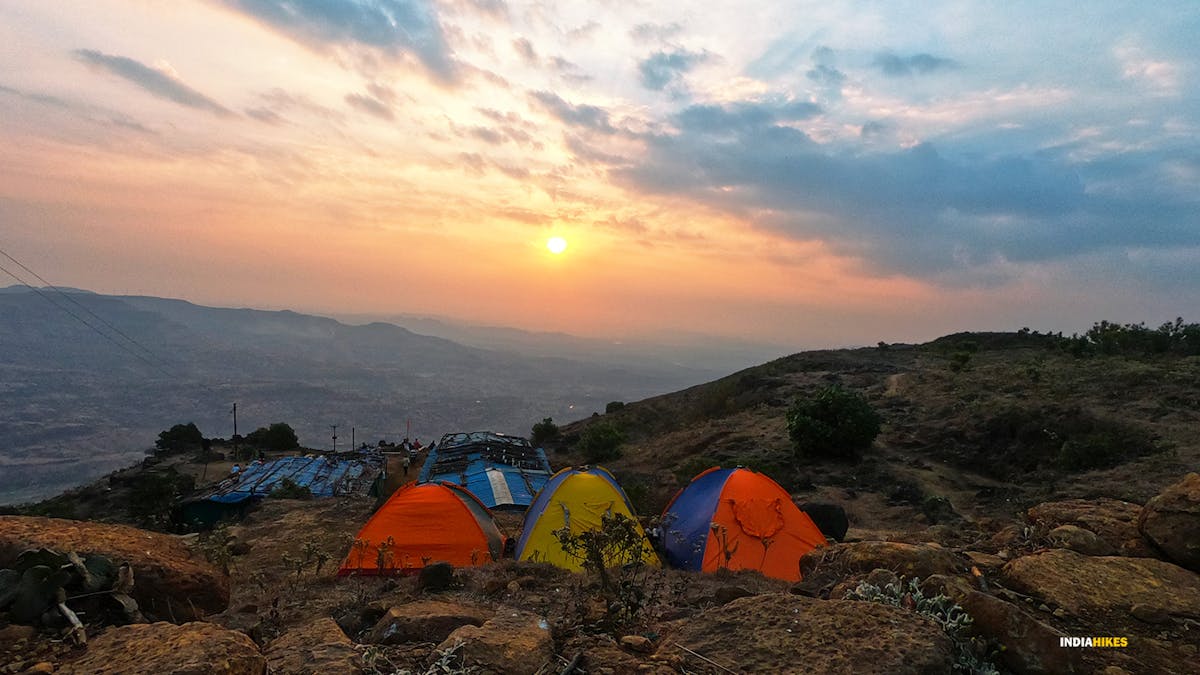 The best days are spent by Camping. Picture by Kritesh Sharma
After close to 3 hours of climbing, you reach a ridge-like area when you might believe you have reached the summit. However, there's still a small last climb left.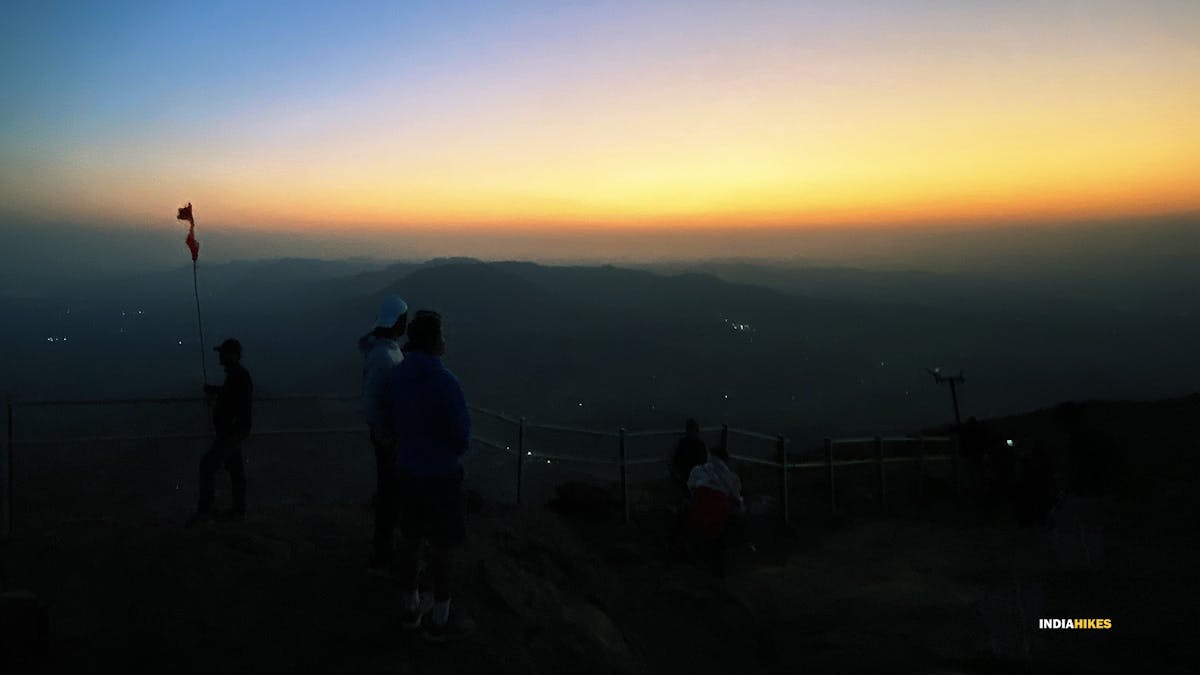 Horizon view from the railing area just after the sunset. Picture by Vishal Gujar
The final ascent is again facilitated by steel stairs. People with vertigo/mild vertigo need a lot of courage to complete this one! The descent can get scarier.
Notice the last ladder to the final ascent, it is almost vertical. Picture by Rucha Ghanekar
Panoramic views of the different mountain forts and the Kalsubai-Harishchandragad range makes the summit worth the demanding trek. Make sure you spend enough time to absorb what the mountain views offer!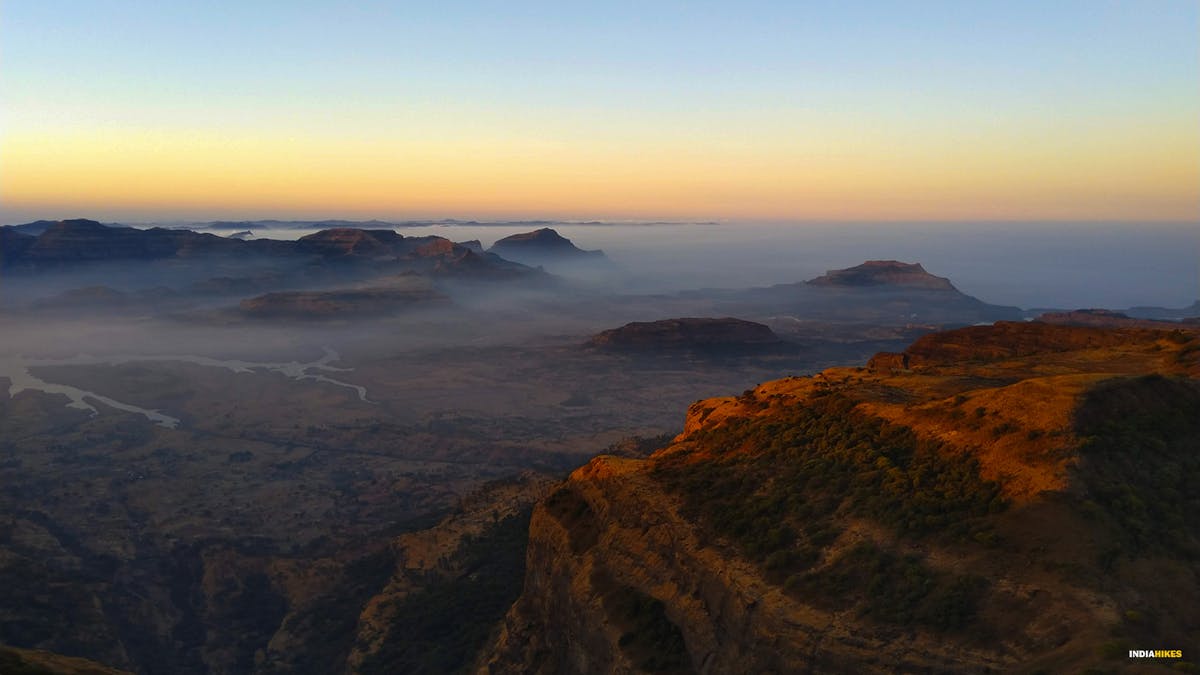 The mighty Sahyadris soaking in the golden hour. Picture by Vijay Ogalapurkar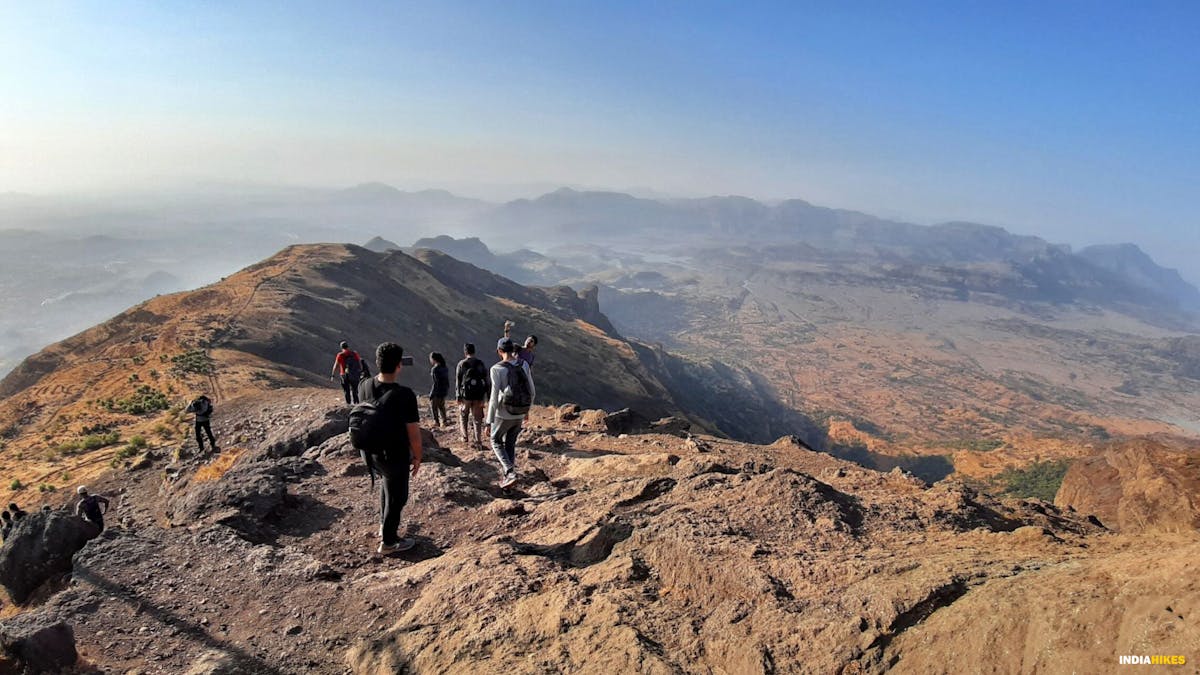 Trekkers enjoying the panoramic view. Picture by Amit Mohite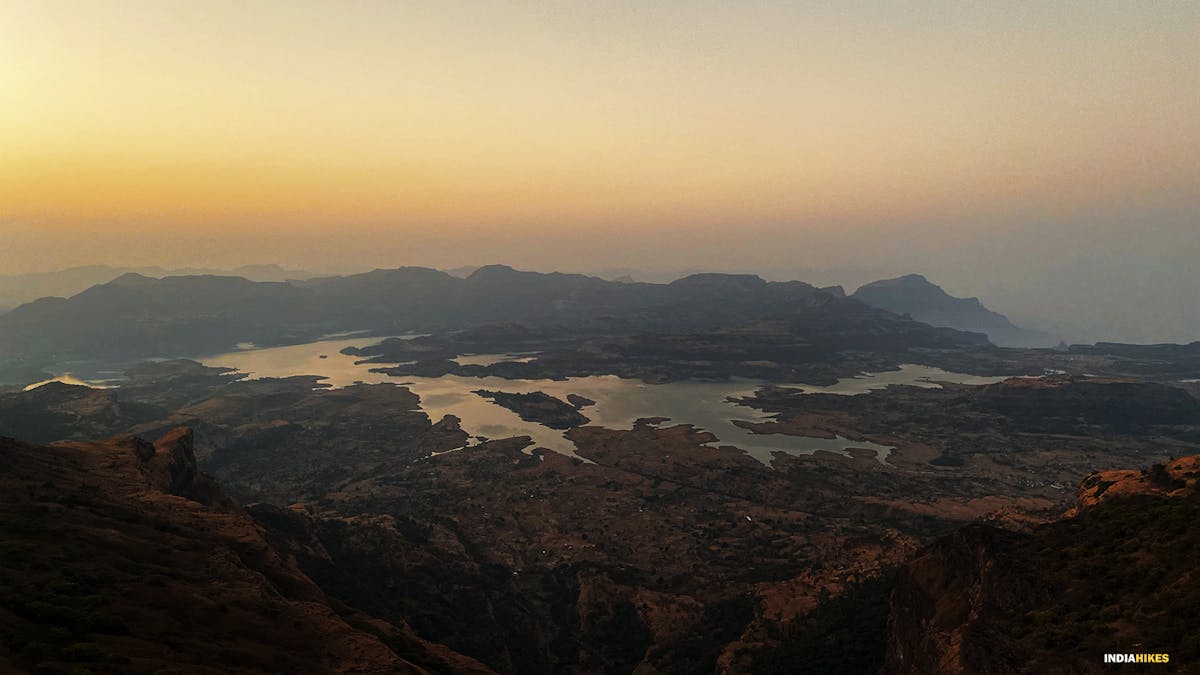 Panoramic view of Lake Bhandardara or Lake Arthur Hill. Picture by Vishal Gujar
The descent down takes about two to three hours of trekking. You will have to take the same trail down to reach the base village of Bari.
Aerial view of the valley. Picture by Jay Mehta
Best time To Do The Kalsubai Peak Trek
The trek is open throughout the year with each season having a different landscape. So choose the best time depending on what you would like to experience.
July to September is the monsoon season. You get to see lush green landscapes and experience trekking in heavy rain. Although the monsoon season is the peak season it gets extremely crowded with about 2000- 3000 people on the trail.  It gets very slippery and risky due to the slushy trail. It is very difficult to get clear views too so it's best to avoid this season.
September and October are the flowering seasons. These autumn months give clear views of the surrounding peaks and forts. You get to experience walking on grasslands with a vast variety of flowers. The same variety of flowers found in the Kaas plateau is also found here. Snake lovers get to see some rare species on the iron ladders.
Night hikes are best from November to April when the weather is perfect to witness the spectacular sunrise from the summit. It can get a bit chilly so carry a light jacket.
May and June are the pre-monsoon months. The clouds form interesting patterns, also look out for the fireflies!
To know more about the permissions, water sources, and other finer details about the trek, head over to the FAQ section.
➤ How to Get Fit for the Trek
The Kalsubai Peak trek is classified as a Moderate grade trek. From Bari Village at 2400 feet, you will gain approximately 3000 feet in altitude. 
Here's a guide to help you get fit for a Moderate grade trek in 4 weeks.
Cardiovascular Endurance
In case you're just starting with a fitness routine, start slow and increase your pace every day in the following manner –
Target completing a brisk walk of 5 km in 45 minutes when you begin.
Gradually increase your pace by walking 5 km, 4 times a week.
As you become more comfortable, introduce jogging into your routine. 
Progressively increase the distance you jog in a workout until you can complete 5 km in 37 mins.
If you prefer cycling over running, target covering 15 km in 60 minutes when you begin.
Progressively increase your pace to cover 20 km in one hour.
Strength Training
This is an important area you need to work on. 
Strength training is equally important to trek comfortably. Work on your glutes, calves and knees. Additionally, work on strengthening your core.
You must strengthen your core muscles. For strengthening your core muscles, holding a plank and its variations (elbow, side planks) are the best exercises to go about doing it.
Also, try these exercises for strength-
Target 4 sets of squats with 20 in each set
– Squats (Mix it up with sumo squats)
– Lunges (Forward, backward and lateral lunges)
– Planks
Flexibility
Flexibility determines the amount of movement your bones can make in any direction around joints such as shoulders, elbows, hips, and knees. 
It is an aspect that will help you trek comfortably. Carrying a backpack, however light can become a strain. Stretching your hamstrings, quadriceps, hip flexors, and lower back muscles regularly promote relaxation in the tissues reducing the strain on your back.
If you can't go out and jog because of time and space constraints, here's a video you can use to work out indoors.
➤ What to Pack for the Trek
Basic First Aid kit*
Identity Card
Cap/ Scarf/ Bandana & Sunglasses
Raincoat
Water (Minimum two litres)
Lemon and salt OR Electrolyte Powder/Drink (Electral/Gatorade/Glucon D, etc.)
High-calorie snacks (Nuts & dry fruits, a home-baked cake, etc.)
Multi-Tool/ Swiss Army Knife
Safety Pins, Rubber bands & Whistle (Useful in emergencies.)
2 Quick Dry T-shirts are preferable over cotton tees.
1 pair of trekking pants/track pants
Sunscreen (SPF 50+)
Optional: Camera.
Torch with extra batteries for a night hike.
Light Jacket for a night hike.

 *First aid kit:
Scissor
Band-aids (Regular & Waterproof)
Analgesic spray (Relispray, Volini, etc.)
Antiseptic Liquid (Savlon, Dettol, etc.)
Antiseptic powder (Povidone-Iodine based powders like Cipladine, Savlon, etc.)
Cotton roll & Bandage
Crepe Bandage
1-inch wide medical tape (paper or cloth.)
Micropore tape
Tablet for motion sickness (Avomine), Acidity (Gelusil, Digene, etc.).
Mild pain relief tablet (Crocin)
Note: Always consult a doctor before taking any medicine.
➤ How Difficult is Kalsubai Peak Trek
There are some sections on the Kalsubai Trek that can be classified as moderate-difficult. A trekker must always be aware and should prepare for any eventuality. 
Here are a few difficult sections on the Kalsubai trek you should keep an eye out for - 
The Ladder Section - The 3rd and 4th ladders on the trek are one of the most difficult sections to cross. The ladders are slightly old with a few sections having broken handles. They are vertical and steep over rock faces.
During the monsoon season, the trail is crowded and you will have trekkers simultaneously ascending and descending on the ladders. As the ladders are not in very good condition, you need to be extremely cautious while using them.
Also, trekking in monsoon, the section after the small temple, and before the ladders get very slippery and slushy, be extremely careful in this section.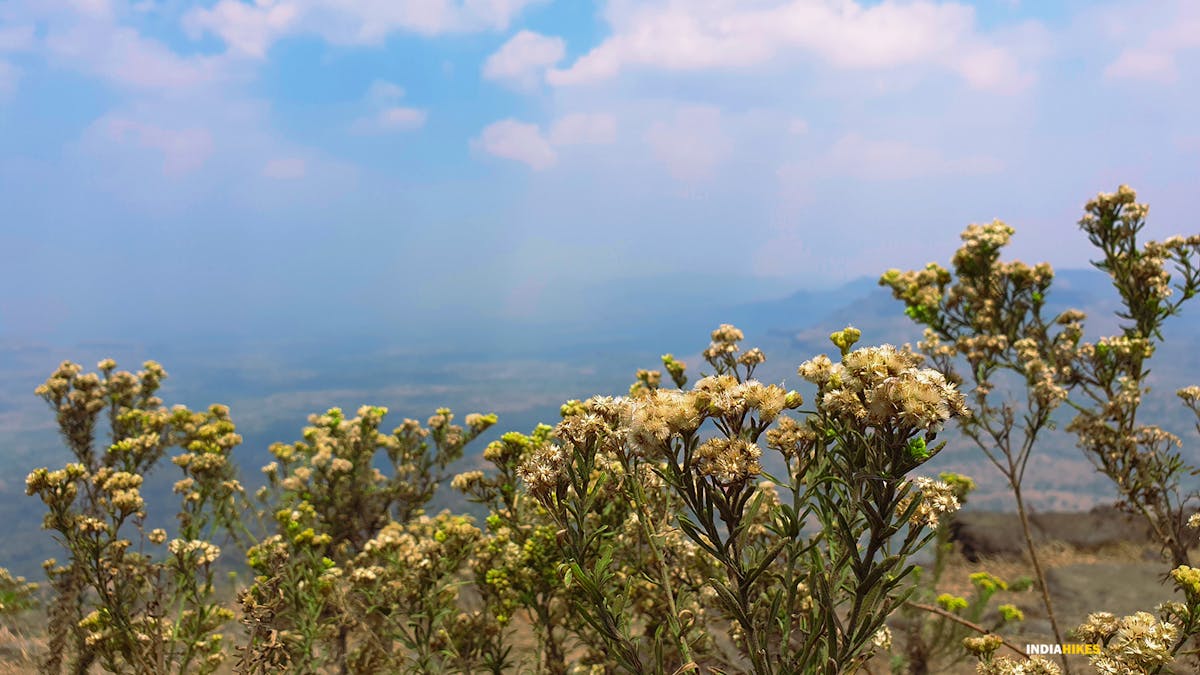 Wild flowers found on the trekking trails. Picture by Kristesh Sharma
➤ Emergency Contacts
Hospital:  The Government hospital closest to Kalsubai trek is The Rural Hospital at Ghoti is 1 hour away (Contact Number is +91 2553 220730)
Police station: The police station closest to Kalsubai Trek is Ghoti (the contact number is +912553220544)This information is correct as of June'20.
Mountain rescue: Giripremi has started a Pan-Maharashtra rescue group called Maharashtra Mountaineers Rescue Coordination Centre (MRCC). You can contact them on 7620230231 for help in the Sahyadris. Read more about this wonderful initiative here: (Link: http://www.giripremi.com/mmrcc/) 
ERSS: For any kind of emergency help, you can contact the Pan-India Emergency Response Support System (ERSS) number- 112
➤ Plan Your Travel
How To Reach the Base of Kalsubai Trek
Bari Village is the base village for the Kalsubai trek and is primarily a farming village. It is at an altitude of 2400 ft. It is easily accessible from Mumbai and Pune. 
You can travel by road in your vehicle or take public transport to the base village. If you are taking your vehicle, you can park at Bari Village.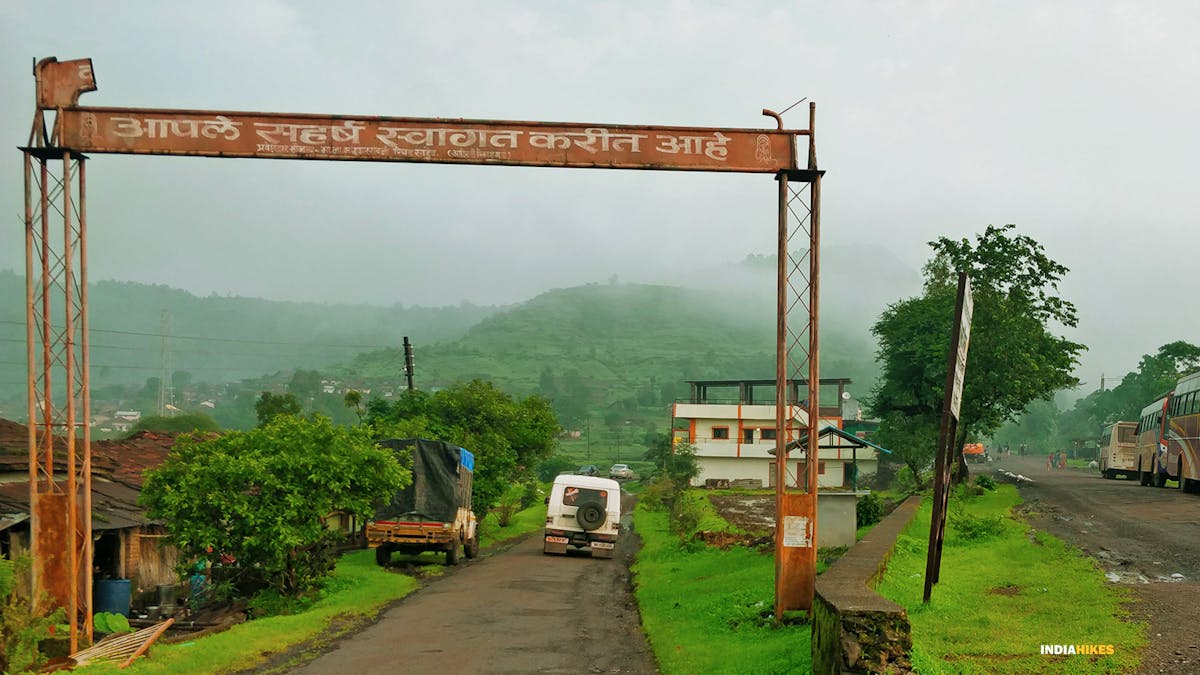 Gateway to Bari Village (cars can be parked here). Picture by Jay Mehta
Reaching Kalsubai Trek by Your Vehicle from Mumbai
If you are planning on reaching the Kalsubai trek using your own vehicle, use this link to help set up navigation in Google Maps.
Take the NH 160 from Dadar on the Mumbai Nasik route to Igatpuri. Then reach Ghoti and arrive at Bari Village.
The distance is 160 km and takes about 4 hours.
Reaching Kalsubai Trek by Your Vehicle from Pune
If you are planning on reaching the Kalsubai trek using your own vehicle, use this link to help set up navigation in Google Maps.
Pune - Sangamner - Rajur - Bhandardara - Bari village
Take the NH 60 from Agarwal Rd, Kamala Nehru Hospital Rd and Jawaharlal Nehru Rd to Dr Baba Saheb Ambedkar Rd/Mumbai Hwy/Mumbai - Pandharpur Rd. Continue on NH 60 to MH SH 21 and MH SH 44 to your destination.
The distance is 180 km and takes 5 hours.
Reaching Kalsubai Trek by Your own Vehicle from Nashik
If you are planning on reaching the Kalsubai trek using your own vehicle, use this link to help set up navigation in Google Maps.
To reach the base village at Bari take the route via Ghoti - Shirdi Rd/Ghoti - Sinnar Rd/Nagpur - Aurangabad - Mumbai Highway/Padgha - Shirdi Rd- Bari base village. 
The distance is 60 km and takes about 1 hour and 45 minutes.
Reaching Kalsubai trek by Public Transport System
Nearest railway stations:
Ghoti is the nearest railway station but not the most accessible one. The most conveniently accessible railway stations are:
1. Kasara
2. Igatpuri
Take a local train from Dadar Mumbai, and take the central line to Kasara station. Then take a shared cab to Bari Village which costs Rs 2,600 to Rs 3,000 two way i.e. return journey. It is shared between 6 to 9 people depending on which vehicle it is.
If you take an express train from Mumbai, Dadar Railway you can go to Igatpuri station and take a shared cab to Bari Village. It takes about 1 hour and 45 minutes and 51 km to reach Bari base village from Kasara station road.
Tip: State buses are available from Igatpuri and Kasara station to Ghoti village, though not very frequent. From Ghoti take another bus or local shared vehicle to Bari village.
Pro Tip - It is better to take public transport from Dadar to Kasara and then take a shared vehicle to Bari Village.
Nearest International and Domestic Airport
➤ Mobile Network and ATM
Network on the trek: Airtel (at the small temple in section one), Idea (base village), Bsnl (in between spots)
The closest ATMs are at:
1. Shendi Village (13 km from Bari base village), Central bank ATM.
2. Ghoti Village (22 km away from the base village)
➤ Frequently Asked Questions About Kalsubai Trek
1. Do I need permission for the Kalsubai Trek?
We need to inform the Gram panchayat and Sarpanch of the Bari village at his home before starting the trek. No official forest permission is required.
2. Is camping allowed on the Kalsubai Peak Trek?
You can pitch tents about 200-300 ft below the summit at the dabbawala. It is recommended that you take along a guide from the village if you plan to stay. Note that this place can be very windy. There are no water sources.
Santosh Khade from Bari Village is a reliable person to contact for accommodation, +91 99234 42273
You can also opt to stay in the temple in the Hanuman village for free. The space is big enough to accommodate about 15 people. However, during winters it gets extremely chilly. It is highly recommended that you carry a lot of warm clothes.
3. Is there water sources on the Kalsubai Peak trek?
At base camp, there is a water pump. Apart from it, there are dhabas on the way where we can fetch water. During monsoons, we can find some water streams on the way!
4. Is there food on the Kalsubai Peak trek?
The base village Bari is a farming village, and the villagers' houses there are open to hikers and trekkers for food and accommodation. Villagers set up food stalls on the way and the temples can provide some food.
5. Is Kalsubai Trek difficult?
It is a moderate grade trek. Mainly consisting of steep ascends with iron ladders and steps. If you have never trekked before and are attempting this for the first time, it can be difficult. So prepare well and avoid the monsoon season.
6. Are there any wild animals on the Kalsubai Peak trek?
There are plenty of langurs on the ladder sections, looking for food. So beware as they might snatch your bag in search of food. You can sometimes spot snakes on the ladders. There are reports of leopard sightings in the area, so take a guide especially if you are doing a night trek.
7. Which is the nearest trek to Kalsubai Peak trek?
You can combine the Kalsubai trek with the Harishchandragad trek. Keep in mind to include one and a half hours of travelling in between the two basecamps.
8. Is Kalsubai trek for beginners?
Kalsubai is a moderate level trek. It can be done by fit beginners but you need to be mindful of the tricky sections that you have to navigate on this trek. Go through the difficult sections on the trek to know more.
9. Where is Kalsubai located?
Kalsubai is located in the Bari village in Ahmednagar district of Maharashtra. Bari village which is the base of the Kalsubai trek is around 150 km from Mumbai and 170 km from Pune.
10. Can Kalsubai trek be done alone?
Yes. If you equip yourself with the right information, enough knowledge about the trek and the gpx file to help you navigate without getting lost, you can go for this trek solo.
➤ Nearby Places to Visit
Bandardara Dam is 12 km and 22 mins from Bari Village. It is constructed on the Pravara River and has a natural environment with mountains and waterfalls and you can visit Wilson Dam and Arther lake. Agastyarishi Ashram is very old and believed to be where Ram had gone to take Guru Shiksha from the rishi. It is 24kms from Bhandardara. From the top of Bhandardara Dam you can see Harishchandragad, Ratangad and Alang-Madan-Kulang forts.

Harishchandragad fort trek is the 3rd highest peak in Maharashtra and has an elevation of 4668 ft. It is a physically daunting trek climbing at 80 degrees to a concave cliff that looks like a cobra head.

Ratangad fort trek is about 32 km from Bari Village and takes about 1:10 mins to the base. It is a 400-year-old fort at an elevation of 4225 ft and in Ratanwadi Village in the Kalsubai range. The natural rock formation has an emerging tip at the top known as "Nedhe'' or  "eye of the needle". It lies in the Ajoba mountain range on the banks of the Bhandardara lake.
Alang Madan Kulang fort treks are 3 different fort treks and are one of the toughest treks in the Sahyadris. There are rock climbing areas which makes the trek difficult. These are usually done together as one trek. It is situated in the Kalsubai range in Nashik district along the Bhandardara river. Alang is at an elevation of  4852 ft, and Madan at 4841 ft.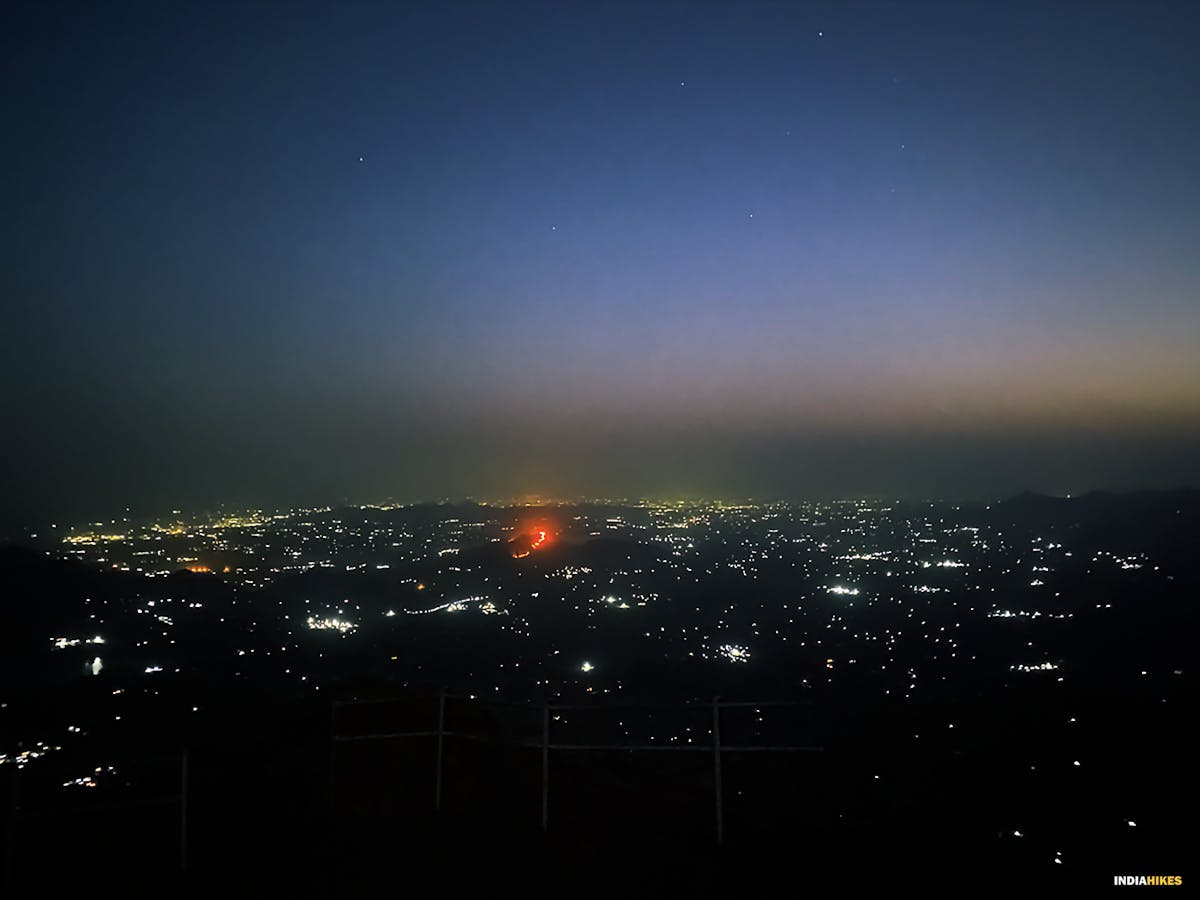 Beyond the crowds and citylights. Picture by Vishal Gujar
Igatpuri is a lovely hill station in the Western Ghats in the Nashik district. It is situated on the Mumbai Nashik National Highway, NH 3. It is well connected as it has a railway station with trains from Mumbai. You can visit the Bhavali Dam and waterfalls which is 11 km from the station and takes 20 mins to reach. Darna Dam, Vaitarna Dam, Tringalwadi fort, and the famous Vipassana International Academy are some of the places you can visit from Igatpuri. You can also visit the Amruteshwar temple of Lord Shiva which is maintained by the Archeological Survey of India.
➤ Trek Contribution
Trek documented by: Rucha Ghanekar, Sneha Rao, and Krupa Vyas
Banner Image: Jay Mehta
GPX File Opt in
We go to great lengths to ensure you have a safe trek. So here's a GPX file of the trail to help you navigate without getting lost.