Can You Help Us With Photographs Of This Trek?
We are looking to enrich this documentation with more photos. Pictures go a long way in explaining the trail, more than words ever can. If you have done this trek, can you share your photos with us? We will include them on this page, with due credit to you.Click here to contribute.
The Complete Guide to Kugina Pass Trek
The Kugina Pass trek is a virgin trail that lies in the same vicinity of our famous Roopkund and Brahmatal trails. This pass next to Lohajung makes for a perfect excursion or an acclimatization trek in preparation for a bigger trek.
The trek begins from Wan, winds through oak forests with tiny spurts of civilization and ends at the pass. From here, one can see 15 mountain peaks, the Brahmatal summit along the Tilbudi ridge and the group of villages below.  One of the villages you can see from the pass, and which the trail from the pass subsequently joins, is the Ramni village.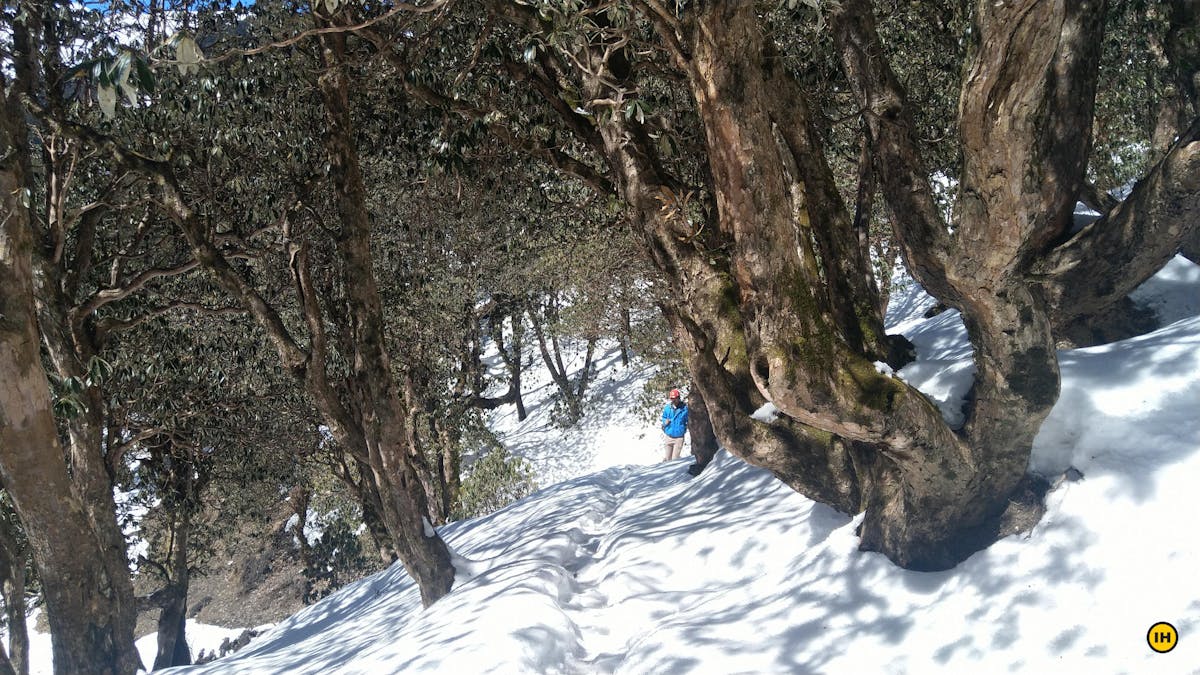 The Oak trail on Kugina Pass. Picture by Ravi Ranjan
Ramni is where the trail to Kuari Pass begins - the segment of Curzon's trail that is popularly done today. It is said that Lord Curzon, Viceroy of India, was a keen trekker who traversed these mountain passes.
Trail Information
Day 1: Lohajung to Kugina Pass. Back to Lohajung
Altitude: From 8461 ft (2579 m) to 10,318 ft (3145 m) to 8234 ft (2510 m)
Time taken: 5-6 Hrs
Terrain type: forest/rocky
From Lohajung, take a vehicle to Wan (8,234 ft). Drive another 1.5 km to reach the Bharaan village at an altitude of 8,461 ft.
The trek starts at the end of the road where you will be accompanied by a water stream. Cross the bridge and start climbing up along the village trail.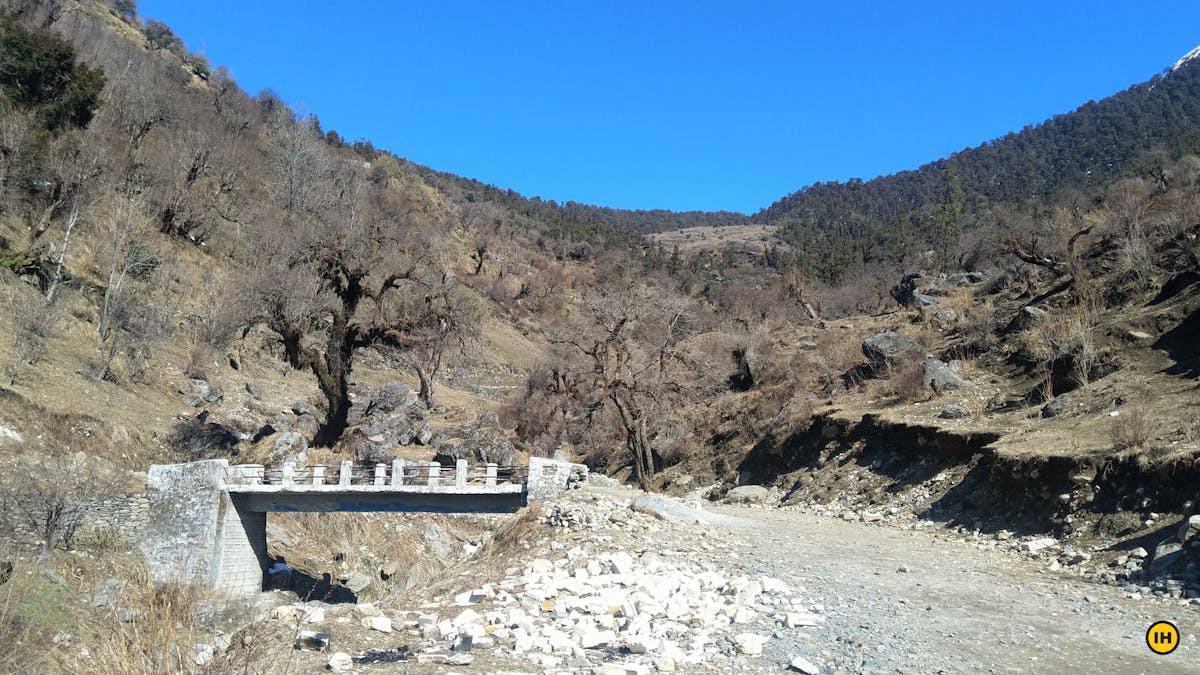 The starting point. Picture by Ravi Ranjan
The occasional encounters with civilization on this trek do little to diminish the sense that you will be witnessing things just as they were in 1905, when Lord Curzon, then Viceroy of India, first blazed this trail and left it with his name.
The trail is composed of rocks and occasionally, you will be greeted with the sounds of domestic animals. Sometimes, you will receive greetings from a friendly villager. The trek continues climbing up and will give you the first taste of high altitude. You will find two water points on the way. At the first rest point, you will find the forest department has erected a bench for visitors. Depending on the season, from this point forward, you will find snow on the trail.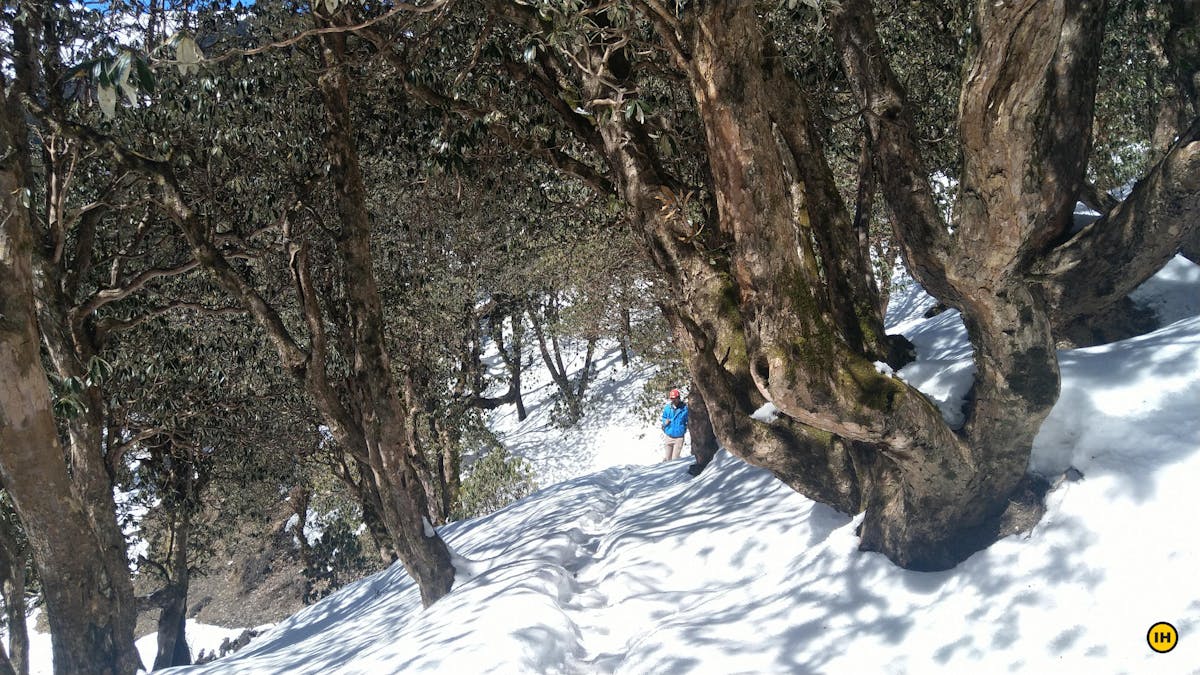 The Oak trail on Kugina Pass. Picture by Ravi Ranjan
The climb continues amidst silver oaks and rhododendron. If there is snow on the trail, a pair of Gaiters and microspikes is required to be worn at this point. You will come across another resting point with similar concrete benches. This point forward is your final ascent.
The horizon with the clear blue sky above will keep you motivated. Spot a watch tower at the edge of the horizon. Perhaps you have reached the pass.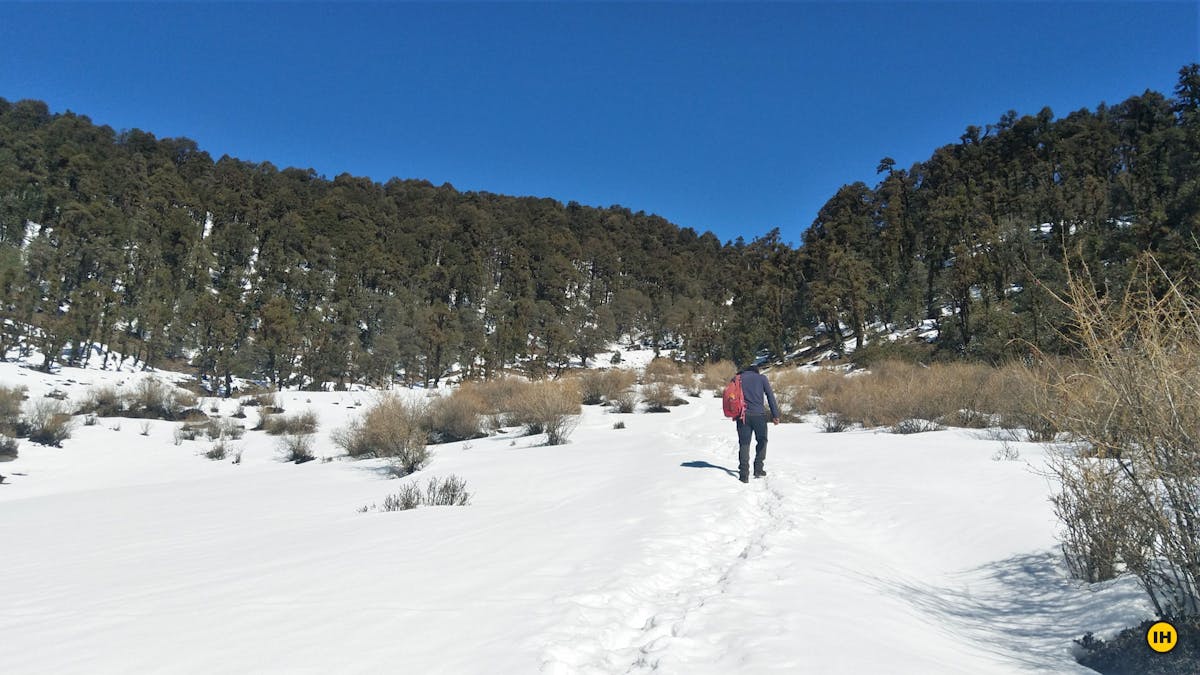 The climb continues amidst silver oaks and rhododendron. Picture by Ravi Ranjan
Kugina pass welcomes you with the majestic view of around 15 mountain peaks! You will be left awestruck with the kind of view you will get after such a simple day hike.
The trail further moves to join 12- 15 villages. Kanol, Peri, Ahla, Badher, Jokna, Ramni (starting point of Kuari Pass trek) are some of the prominent villages which can be seen from the Kugina Pass. Behind you, you can see the Brahmatal Summit along the Tilbudi ridge. At the rear end of this ridge is the Jhandi top.
The view of the valley from Kugina Pass. Picture by Ravi Ranjan
Retrace the route all the way back to Waan village. Drive to Lohajung.
How to Reach Kugina Pass
Delhi → Rishikesh → Lohajung
The Kugina Pass trek begins from Lohajung, a picturesque village in the Chamoli district of Uttarakhand. It is also the base camp of the popular Roopkund trek.
Option 1: Delhi → Lohajung (24 hours)
There is a direct bus from Delhi to Mundoli/Lohajung. It leaves Delhi Anand Vihar terminal at 9.15 pm. You will reach Kathgodam at 4.00 am and Lohajung at 5.30 pm.
Note: This is an extremely long and tiring journey and the buses are not too comfortable. We recommend Options 2 and 3.
Option 2: Delhi → Rishikesh → Lohajung (cab)
From Delhi, get to Rishikesh/Haridwar and hire a Sumo to Lohajung. The route: Devprayag - Srinagar - Rudraprayag - Karanprayag - turn right to Tharali - Debal - Mundoli - Lohajung
Note: Most taxi operators may not have heard of Lohajung. So, you'll have to show them the direction given above.
Route from Rishikesh to Lohajung via Karanprayag
Option 3: Delhi → Rishikesh → Karanprayag → Lohajung (bus)
From Rishikesh Bus Stand., take any bus on the Joshimath/Badrinath route and buy a ticket to Karanprayag. It is a 6-7 hour journey from Rishikesh to Karanprayag. Take a bus that leaves as early in the morning as possible, preferably around 6.00 am. From Karanprayag Bus Stand, take a shared Jeep to Tharali (47 km). The road to Tharali runs along the Pindar river.
From Tharali, take a shared taxi to Debal (14 km). Once you reach Debal, contact our transporter, Raju Shah Ji on +91 8979 321 600. He will help you with an onward transport to Lohajung (24 km).
How to Get Fit for Your Trek
The Kugina Pass trek is classified as an easy trek. It is not a very difficult trek in summer and autumn. In winter, it could be a little challenging with a lot of snow. 
Cardiovascular Endurance
This trek requires a good amount of cardiovascular endurance. You can begin by jogging everyday. Start jogging at a slow pace and then keep increasing your pace day by day. In order to be prepared for high altitude trek, you should have a combination of distance and speed targets.
Here's a fitness routine that works:
In case you're just starting with a regular fitness routine, phase out your distance targets in the following manner -
-->Target completing 5 km in 45 minutes when you begin.
--> Gradually increase your pace by running 4 times a week and bring it down to 5 km in 40 mins.
-->If you are 45 years or above, try to cover 5km in less than 45 minutes.
-->If you are somebody you prefers cycling over running, then try to cover 22 km in 60 minutes.
Working out Indoors
If you can't go out and jog because of time and space constraints, here's a video you can use to work out indoors.
What to Take on the Kugina Pass Trek
Bare necessities
1. Trekking shoes: The terrain may be rough and you will need trekking shoes with good grip. Regular sports shoes will not be comfortable enough. You can watch this video to learn how to choose the right trekking shoes.
2, Backpack (20-30 litres): A backpack with sturdy straps and a supporting frame. Rain cover for backpack is essential.
The Kugina Pass trek is just a one day hike. You need to carry things depending on the season you go in.
Clothes
On a trek, carry fewer clothes than you would normally need. Do not pack for 'what if situations'. That will only add to the weight of your backpack and not be used on the trek. Once your clothes get warmed up on a trek, you will not feel like changing. Just maintain personal hygiene.
1. Three warm layers (Winter): The highest altitude you reach in this trek is 10, 315 ft and the climate may require you to have more warm clothes. You will need at least three warm layers (two lights layers such as fleece and woolen and one padded jacket) for this trek. In non winter months, two warm layers should suffice.
2. One trek pant: One pair of pants should suffice for this trek.
3. Two collared t-shirts: Carry light, full sleeved t-shirts that prevent sun burns on the neck and arms.
4. Thermals (Optional): Those who are more susceptible to cold can carry thermals to wear  for winter night in Lohajung.
Accessories
1. Sunglasses: Sunglasses are to prevent snow blindness.
2. Suncap: The sun is more harsh at high altitude. To prevent sunburn, we recommend wearing this.
3. Synthetic hand gloves: One pair of fleece or woolen hand gloves which is water resistant.
4. Balaclava or a woolen cap
5. Socks (2 pairs): Apart from two sports socks, you can take a pair of woolen socks for the night.
6. Headlamp/LED torch: Mandatory
7. Trekking Poles: Watch this video to understand why you need a trekking pole.
Frequently Asked Questions
1. Is there network connectivity on the trek?
Lohajung has good connectivity for all networks. However, expect this to be sporadic as you start your trek.
Nearby Places to Visit
The drive to Lohajung has multiple places where you can stop by.
Bhimtal lake
There is a lovely water spot halfway around the lake. Good place to fill your bottles with cool mountain waters and take a good view of the lake. The shade is very inviting too.
Kainchi Dham Ashram
This modest ashram falls on the way to Almora. It is difficult to fathom that this nondescript ashram by the riverside attracted the likes of Steve Jobs and Mark Zuckerberg! Steve Jobs visited the ashram in 1970s to understand his own vision for the future. If you use an Apple product at least you know where the inspiration is coming from! Right before the bend to Kainchi Dham is a dhaba with the most delicious aloo paranthas. Try these!
Almora 
This hill town is almost a city! Make your way to Tagore Bhavan here. It is said that Rabindranath Tagore wrote his collection for children (Shishu) here.
The Temple Ruins of Baijanth
These shrines were built during the time Katyuri kings ruled the area: 7th to 11th century. One of the shrines lean like the Leaning Tower of Pisa!
Trek Contribution
Trek Explored by Ravi Ranjan
Trek Written by Aswati Anand