Difficulty
?
Moderate treks may have steep ascents and descents. These can go upto 14,000 ft or higher and trekking hours can go upto 6 hours everyday. Easy exits are possible from a few campsites.
Moderate
Maximum Altitude
12,250 ft
Pickup point
Live Free Hostel, Rishikesh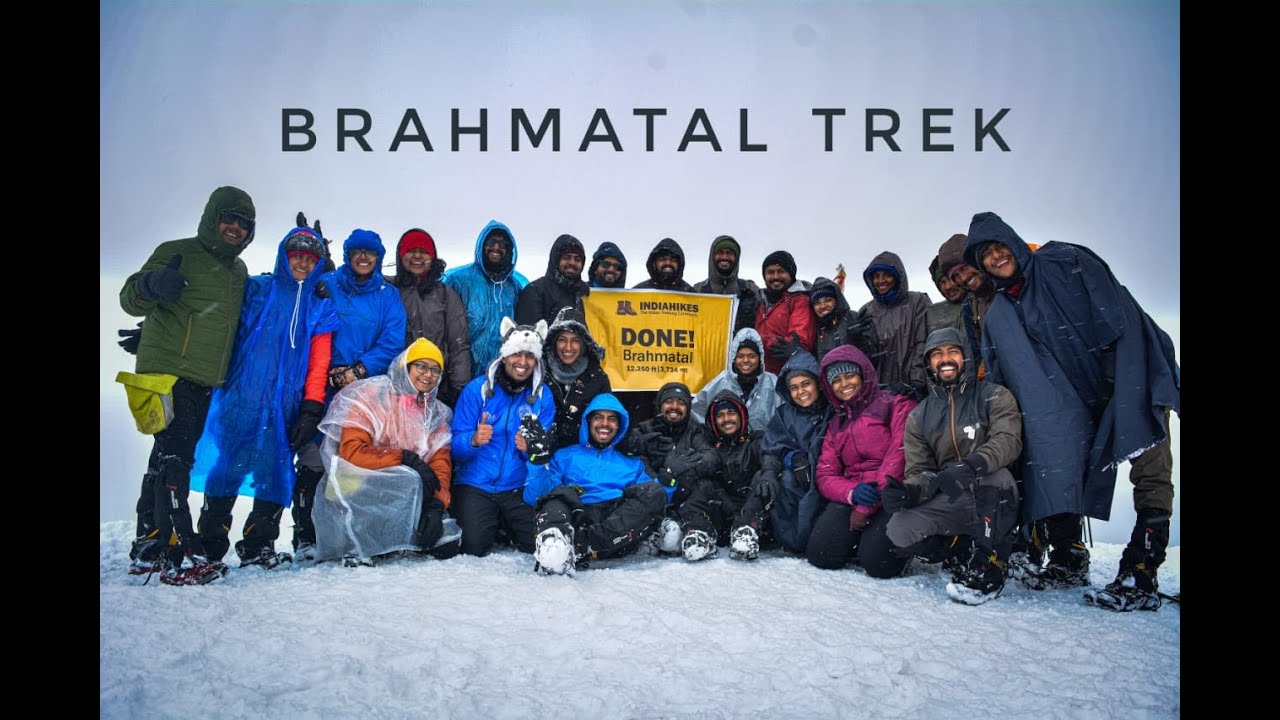 The only trek in winter that goes to an alpine lake
One of the top moments of a Himalayan trek is when you trek to an alpine lake. Unfortunately, in winter, most alpine lakes on our treks are out of bounds. 
Yet, on the winter Brahmatal trek you not only trek to an alpine lake, you also camp near it. Getting an opportunity to trek to such a lake in winter is what makes the Brahmatal trek special. 
When you stand beside the frozen lake at Brahmatal, you are already at around 12,000 feet. The setting is magnificent. The lake is in a crater, the waters crystal clear, a shrine sits beside the lake, a lone tree standing on the far bank. And just beyond the rim of the lake you are looking at two of the most beautiful mountains of our country — Mt Trishul and Mt Nandaghunti. 
In fact if the snow is not too much, we will camp just beyond the lake. The experience of camping in such a setting is in itself an experience. 
While all the attention is on Brahmatal, let's not forget Bekaltal, another lake trekkers fall in love with. Lower down, surrounded by thick forests and enchanting folklore, Bekaltal, too, is a wondrous sight. On treks we really do not find such big lakes inside forests. Yet, on this trek we not only trek to Bekaltal, but we camp near it at Gujrani.
The forest walks on this trek over a carpet of snow are one of the best that we have. They are enchanting yet not overwhelming. You can see a distance through the forest, with snow hanging heavy on the boughs of the trees. 
Also, each campsite on this trek is special. Look out for our campsite at Gujrani. Nestled in a clearing within the forest — it has become a special with Indiahikes trekkers. The Tilandi and Brahmatal campsite are our trekker favourites too. 
Brahmatal is a relatively new trek in India. Yet, within a few years it has become very popular. There is a good reason for it — the trek has almost perfect settings for a winter snow trek.
If you want to avoid the crowd though, do the trek in January, February and March. The snow is better than in December minus the crowd on the trail. 
Brahmatal: Table of Contents
Use these pointers to navigate through this extensive trek guide:
---
What I Like And Don't Like About Brahmatal
Brahmatal is hugely popular as a winter trek. But did you know that the trek is worth its weight in gold even when there is absolutely no snow?
I give here some evergreen highlights of Brahmatal which made me fall in love with the trek. These sections on the Brahmatal trek are smashing in every season and you don't have to wait for winter to see them at their best.
---
What I like about Brahmatal
➤

The Rhododendron forest from Bekaltal to Tilandi
Brahmatal has  mesmerising forest walks. You get to walk through centuries old forests of Oaks and Rhododendrons. What particularly stays with me is the dedicated section of Rhododendrons! Just out of Bekaltal, you get a clearly demarcated section of Rhododendron forests.
The Rhodo forests are a treat to the eyes. The trunks twist and turn in shapes and forms. The trunks are usually bare and smooth wooded. The trees are not too tall and form a nice canopy at the top. They are close enough to form a perfect green roof over your head.
This is what you see throughout the year. If you come here during March and April, you get a pink flowery roof. If you come here during winters, you get a white snowy carpet!
➤

The ridge meadow walk from Tilandi to Jhandi Top
On the second day, you climb out of Bekaltal trekking up through some of the most beautiful rhododendron and oak forests. As you near the top, you are curious and impatient to see what lies outside the tree line.
You enter the meadow on the mountain top and in front of you is a wall of white mountains. Having climbed all the way up to the ridge (which runs parallel to Ali Bugyal of the Roopkund trek), you see grand views of the Trishul range.
You know you are climbing to the top but the enormity of the mountain ranges so up close is something very special to Brahmatal.
Starting there, all the way to Jhandi top is one of the best ridge walks you will do in our mountains. On one side you have the mighty Trishul range fanning out and on the other side opens up to layers and layers of mountain ranges arranging themselves in height order going down all the way to Deval and Tharali.
These are the villages that you drove through to reach the base camp. To your right below the Trishul range spreads out the entire Roopkund trek. Every landmark, every campsite, every climb on the Roopkund trek is seen from the Brahmatal ridge. I have never stood on one trek and gone through another trek, that too perhaps the most iconic trek in its entirety like this.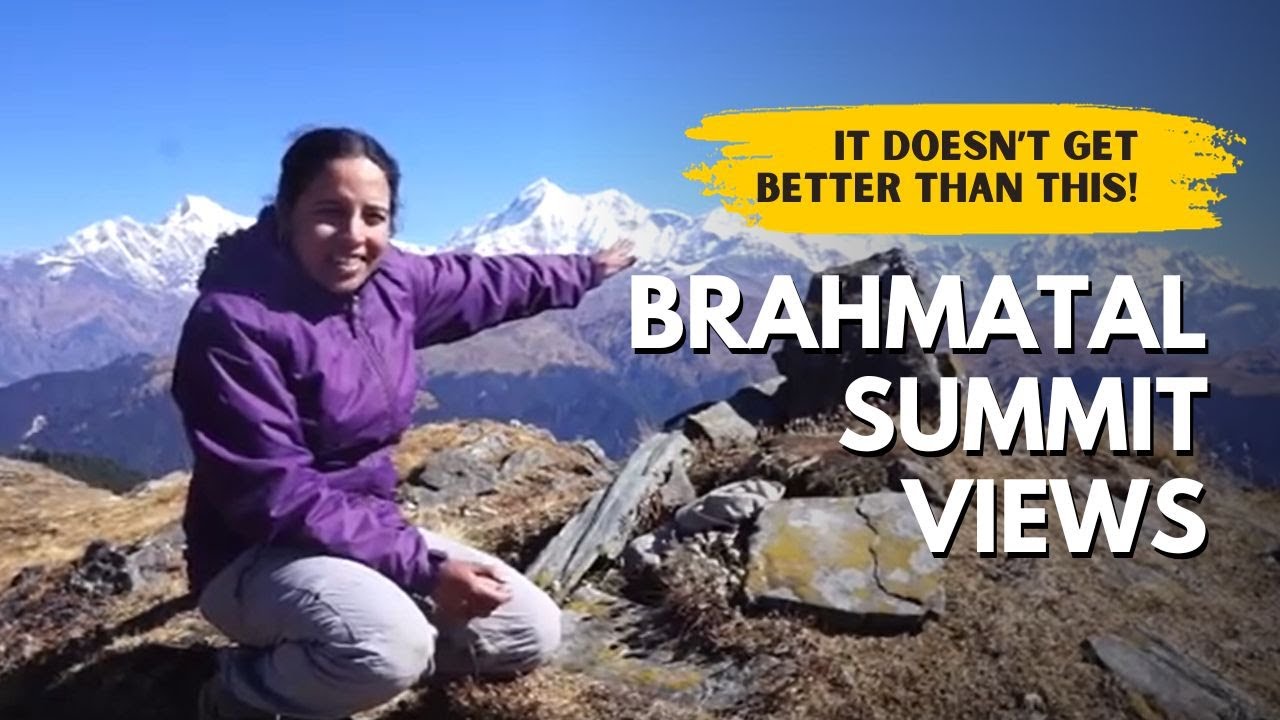 ➤

The Brahmatal Lake
The Brahmatal campsite and the lake are both special to me. The campsite sits exposed at one end of the ridge opening up to layers of mountains falling down to meet the lower towns below. You get uninterrupted views of almost 25 km from here.
Facing the western horizon, the colors of the sun just light up the sky at dusk. Watching the sky change colors from yellow to orange to pink to blue over more than half an hour was a surprise treat for me.
Brahmatal around which the trek revolves is not very big as a lake. It is not on the trail either. You need to go to the lake that lies bang in the middle of an undulating meadow.  A lone tree or two is the only other element in the picture. The lake is like a crystal clear blue oasis in the middle of a vast meadow.
Standing beside the lake I felt totally away from everything else in the world. The reflecting clear lake with nothing else in sight is the perfect place to take you into a reflective zone yourself. At Brahmatal, the experience is more of looking inwards than looking out at anything else.
---
Best Time To Do The Brahmatal Trek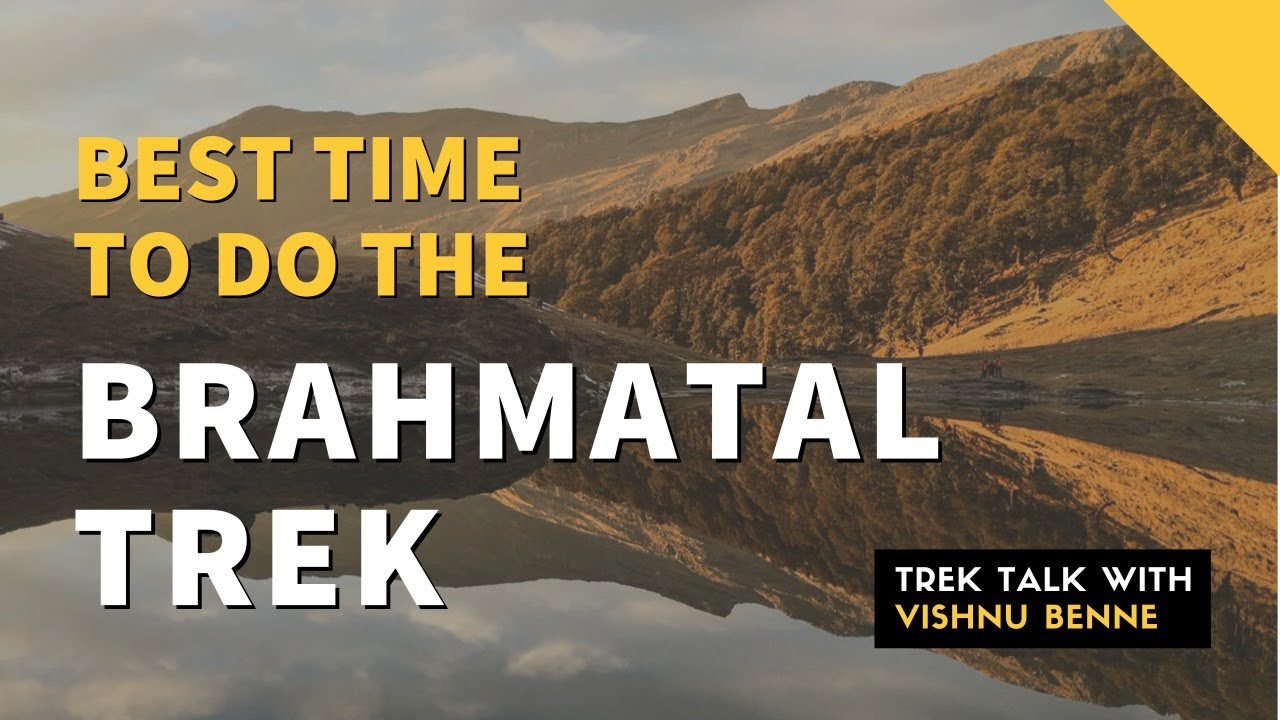 ---
Brahmatal is a great trek to do in all seasons, except the summer and monsoons. Each season – spring, autumn, and winter – brings out a different flavour of the trek.
Say, spring is a great time to witness the Himalayan rhododendrons, birdwatching, as this is one of the Best Himalayan Treks for Bird Watching. Autumn is known for crisp mountain views and in winters, when the landscape is draped in white, you trek in snow and witness frozen lakes on the trek.
Brahmatal Trek in Spring
While Deoriatal-Chandrashila pops up in discussions when we talk about rhododendrons, not many know that Brahmatal too is a charming trek to do in spring. In fact, its slopes are lined with rhododendrons (Buransh). And in spring, the slopes look fiery with rhodos blooming dark pink and crimson. Imagine this in the backdrop of receding snow!
But you won't see these flowers throughout the trek. Although, you may start spotting lonesome trees in bloom from Lohajung itself!
After that, as you begin your trek, watch out for the section between Bekaltal and Tilandi. Here, just as you step out of Bekaltal, you enter a rhodo forest and the blooming flowers form a canopy over your head as you trek.
Finally, watch out for rhodos towards the end of the trek, around Khorurai.
For a magical experience, trek to Brahmatal in early spring (March). So that you get to trek on snow even as you see the flowers in bloom. During this time, you will find snow in sections upwards from Tilandi. As the season goes by, snow recedes to the higher altitude, around the Brahmatal lake which lies at 10,440 ft.
By mid-April, most of the snow on the trail and around it has melted.
| Note: Although you can access Brahmatal in summers, it's not a great season to experience the trek. During monsoons, the trek becomes inaccessible due to the rains. That brings us to the next season – autumn.
Brahmatal Trek in Autumn
The flowers you witnessed in spring would have wilted and vanished in autumn, leaving a dark canopy of the rhododendron and oak trees. In this season, the trees start shedding leaves, offering a distinct crunch to your step as you walk over them.
With that setting in place, look up at the mountain views. They're the highlight in autumn, at their clearest post-monsoon when the air is free from haze.
In this season, watch out for the ridge that Sandhya mentioned earlier in the trek guide. This ridge runs parallel to Ali Bugyal of the famed Roopkund trail. From here you can see the grand Trishul range rise over Asia's largest meadow. It is a breathtaking experience.
Further up the trek, as you reach Jhandi top, brilliant mountain views of Mt Chaukhamba, Mt Neelkanth, and Mt Hathi Ghoda open up under the blue autumn sky.
There's one more aspect of autumn that not many talk about, sunrises and sunsets. They are the most vibrant during autumn. Especially at the Tilandi campsite, simply because it is situated on the ridge.
Words fall horribly short, but watch out for the sunset when you reach Tilandi. It is a dramatic affair. The sun splashes vibrant crimson hues across the sky. And the next morning, wake up early to watch the golden sunrise on the other side.
Lastly, autumn is also a great season if you like empty trails. But it's not empty for the whole of autumn. For a quiet experience, aim for dates after Dusshera/Diwali vacation and before winter sets in. During this time the Brahmatal trail is at its emptiest.
Brahmatal Trek in Winter
---
When most treks in the Himalayas shut during peak winters – January and February, Brahmatal stays accessible. It remains open from December to February and then into spring.
And that's a treat because winter snow is heavenly on Brahmatal trek. Although it makes the trek a notch more difficult. But the experience is still worth it.
In winters, oak and rhododendron trees stoop under the weight of the snow lending a Narnia-like vibe to the trek. And this happens as soon as you set off from Lohajung.
Apart from the snow, the sight of the frozen Bekaltal lake is mesmerising. Standing by it gives the impression of being frozen in time. But be careful about stepping on this frozen lake. Depending on the month, the ice may or may not be hard enough to support your weight.
Another highlight of winters is camping on the snow at Tilandi with spectacular sunrises and sunsets. Unlike autumn, now the vibrant colours are reflected on the white, snowy landscape.
And last year, trekkers filled their Instagram feeds with images of this campsite covered in snow. (View Tilandi pics on Instagram)
On the flip side, Brahmatal lake or top may not be accessible in the peak winters due to snow. But regardless of that fact, you will be able to witness the beauty of this trek from the ridge and the Tilandi campsite. And that's fulfilling in itself.
At a glance

| March-April | Sept-Nov | Dec-Feb |
| --- | --- | --- |
| Fiery rhododendrons between Bekaltal to Tilandi, receding snow above Tilandi campsite. | Brilliant mountain views and vibrant sunrises and sunsets (especially at Tilandi) | Narnia-like setting where you trek and camp in snow, witness the frozen Bekaltal lake. |

Different seasons of colors in Brahmatal Trek
---
Weather And Temperature On The Brahmatal Trek

There are three clear seasons – spring, autumn and winter – to do this trek. And the weather in each season differs.

So what kind of weather can you expect in these seasons?

Spring (Mid March — Mid April): The winter is receding but hasn't totally left yet. The snow is still in patches on the ground. On the upper slopes, especially above 10,000 feet it is still snow bound.

Expect cold nights at your higher camp (like Tilandi and Brahmatal). Temperature during the night can drop to around zero but generally will hover around 1-5 °C.

The day temperatures are usually very pleasant on the trek at an average of 15 – 20 °C. If the sun goes behind the clouds and there is a bout of rain, then the temperature can fall to around 10 degrees.

Autumn (Mid Sep — Mid October). Autumn is generally like Spring, but a few degrees colder. Nights can be nippy at slightly below zero at the highest camp. As you move towards late November, it is perceptibly colder. Higher camps are 2-3 degrees below zero. Though, at the lower camps the temperature will hang slightly above zero.

While trekking in autumn, day temperatures are pleasant at around 13 – 18 °C, but any rain or slight drizzle brings down temperature rapidly to around 8 – 12 °C. You need to keep a pullover handy with you always.

Watch out for strong winds at the Tilandi campsite which is situated on a ridge that's exposed. The wind-chill factor will be high here.

Winter (December — January). December brings in the snow. Along with it comes the winter chill. Even in lower camps, the air is frosty with a sharp bite.

Expect sub zero temperatures even at your base camps in the evening in winter.

During the day when the sun is out, it is quite comfortable to trek. The temperature is a balmy 8 — 12 °C. If you are on snow, then the snow reflects, which makes it quite warm sometimes!

At the higher camp, temperatures could fall below minus 7 or 8 °C in the night. As long as you are inside your tent and in your layers, it is absolutely fine.

On your early morning summit climb, expect to start in temperatures well below zero. The day will get progressively warmer as the sun touches the ground, even though you may be on snow. Be prepared to shed off your layers as you climb.
---
How To Stay Safe On The Brahmatal Trek
To stay safe on any high-altitude trek, you must have a fair knowledge of the terrain, altitude, exit points and AMS. And the same goes for Brahmatal. So, we will touch upon each of these sections:
How difficult is Brahmatal trek?

What you must know about AMS

Exit points from Brahmatal trek

Closest hospital to Brahmatal trek.
How difficult is Brahmatal trek?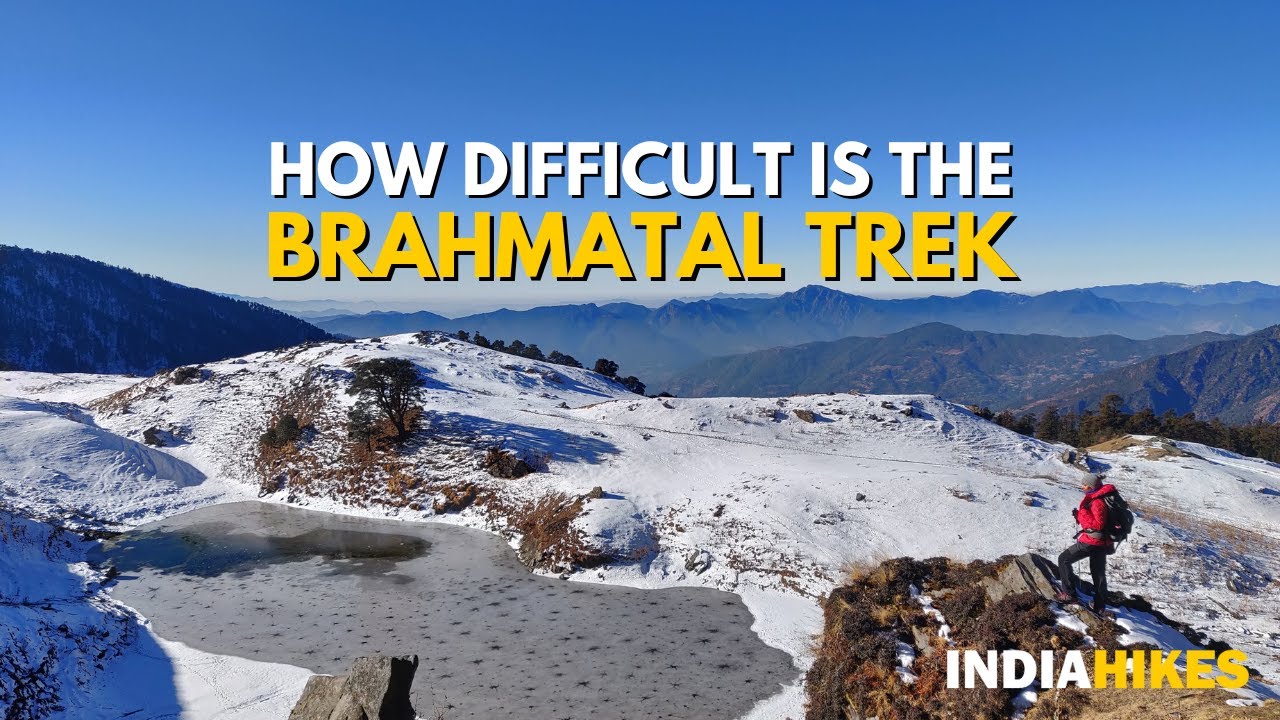 ---
Brahmatal trek climbs to 12,250 feet and we rate it as moderate. A moderate rating refers to marginally longer trekking days with a few steep climbs in between. So, Brahmatal trek is a notch more difficult than the easy-moderate treks like Kedarkantha and Dayara Bugyal. But it has easy exits and there are no technical sections.
Coming to the details, you will cover a total of 24 km in three days during which you will gain approximately 4,650 feet. On an average, you will trek 7 kms every day, which will include ascents and descents.
| Note: Like any other Himalayan trek, the difficulty level on Brahmatal too increases when you are doing the trek in snow.
In winters, you will climb this trail buried in knee-deep snow. Although it does not require support of a technical staff, you will need proper safety equipment to negotiate it.
So, when talking about safety, there are two things you need to keep in mind — endurance and trekking in snow. Like other high-altitude treks, being physically fit is a must for otherwise you will miss out on the beauty of this trek due to fatigue. Click here to know how to get fit for the Brahmatal trek.
When it comes to safety, there is one section you need to be careful about, especially if you are trekking to Brahmatal in winters.
It is the Steep snow section near the peak (in winter season): Your final high altitude camp before you attempt the Brahmatal top is Brahmatal or Tilandi. As you step out of the campsite early in the morning, the snow is going to be hard, having frozen overnight. This snow section continues until you get to Brahmatal top, getting steeper as you approach the summit. 
| Trekking with Indiahikes? Read how Indiahikes keeps you safe on high-altitude treks
Here are some important safety tips for Brahmatal trek:
While climbing to the peak through the thick snow, ensure you wear your microspikes. Hard snow is extremely prone to slips. A small slip can result in injuries like a ligament tear, a sprained ankle or even a fracture. Always put your foot on footholds made by earlier trekkers. Look out for deep footholds. Do not try to make new paths of your own.
| Note: If you are trekking with Indiahikes, your Trek Leader will tell you when to wear the microspikes. Indiahikes technical team will lead in this section to make the footholds required for trekkers to step on.
AMS: At altitudes above 10,000 ft, the chances of being hit by Acute Mountain Sickness are real. Altitude sickness does not distinguish between a first timer and an experienced trekker. Even experienced trekkers can get affected. Fitness helps in making your trek easier. But do not forget that even a fit person climbing too high too soon runs equal risk of developing AMS.
Some symptoms to watch out for: (a) Persistent headache (b) Feeling fatigue or weak (c) Feel nauseous or vomit (d) Feeling dizzy or lightheaded, often while sitting up or standing suddenly (e) You don't feel like eating, you have a loss of appetite (f) You don't sleep very well at night.
The itinerary of Brahmatal trek allows you to acclimatize well. And yet, you must stay alert for any signs of AMS.
Watch the video below to gain clear understanding of Acute Mountain Sickness:
Exit Points: Wherever you are on the trek, you are just one day away from Lohajung. In case of an AMS emergency, you will need to return to Lohajung. To be prepared for that window of a day, you must have knowledge about AMS if an evacuation comes up.
Closest Hospital:  In case of a medical emergency, your closest hospital is at Tharalil. It is 45 km from Lohajung. .
---
How To Reach The Brahmatal
Two routes lead to Lohajung. One is a longer route from Rishikesh (259.2 km) and another is around 40 km shorter and goes from Kathgodam Railway station (222 km).
Reaching Lohajung From Rishikesh
Although this is the longer route (259.2 km), certain scenic sections – like the expansive sight of Alaknanda after the dam in Srinagar or the section between Karnaprayag and Tharali where you move along the Pindar river – make the journey worthwhile.
By Bus: Take the early morning 5 am bus from Rishikesh. The ticket costs between Rs.300-350. (Tip: Reach 10-15 mins earlier to secure a seat for yourself.)
The route: Rishikesh-Devprayag-Rudraprayag-Karnaprayag-Tharali-Deval-Lohajung
Time taken: Approx. 12 hours
After leaving from Rishikesh, the route climbs to Teen Dhara where the bus will stop at a dhaba for breakfast.
Right after breakfast the route descends into the valley to Devprayag. This is a beautiful section and on a clear day, the views are brilliant. But even if it is cloudy, watching the clouds hang low in the valley is mesmerizing.
Then the bus moves to Srinagar where after crossing the dam you witness the brilliant view of the still waters of Alaknanda. And there is one spot, a photo-point that captures the expanse of this frame.
After that you cross Rudraprayag and reach Karnaprayag around 1 pm. Stop here for lunch.
Till here you will be on the Badrinath Highway, sharing the route with other treks like Valley Of Flowers, Kuari Pass/Pangarchulla.
From Karnaprayag, your bus will leave the highway and take the route to Tharali. Due to this, the traffic reduces by 60-70% and you enter another scenic section of the route.
Along with Karnaprayag, you also leave the Alaknanda behind and start moving with the gurgling Pindar river which has quaint settlements on its side. This section continues for 1-1.5 hours till you reach Tharali. Now you are only 12 kms from Deval.
The route starts climbing up from Deval. The route from Kathgodam merges with the Rishikesh route at this point.
From here, narrow, winding roads take you up to the basecamp. The temperature begins to drop, so keep a jacket handy. By 5-6 pm you will reach Lohajung.
By Car: If you are traveling by car or shared cab then you will have the flexibility of getting off at certain scenic points discussed in the above section. 
Also, if you wish to have breakfast early on the route, you may stop at Kodiyali. But if you can wait and would like to halt at a proper restaurant stop at Dewli near Kirtinagar. This comes before you reach Srinagar and you will get a variety of options to choose from. Please note that food is a bit expensive here.
PROTIP If you are not in a group, and do not want to travel by bus, you may get in touch with Mr. Raju Shah (+91 89793 21600) to enquire if a local vehicle is leaving from Dehradun/Rishikesh early that morning. There is a chance you can get accommodated in that for a nominal price.
Which route is better for you?

If you are traveling on your own, it's easier to find public transport from Rishikesh to Lohajung. But, if you are travelling in a group of 5-6 and are planning the trip well in advance, it makes sense to book a train journey till Kathgodam and then take a shared cab from there till Lohajung.
---
Reaching Lohajung From Kathgodam
| Travelling with Indiahikes? | Click here for more information
There are three trains from Delhi that will take you to Kathgodam. 
The

Ranikhet Express

leaves at night from Delhi (8 pm) and reaches Kathgodam (5.05 am) early in the morning. 

The

Uttarakhand Sampark Kranti Express

which leaves from Delhi early in the evening (4 pm) and reaches Kathgodam at night (10.45 pm). 

The

NDLS-Kathgodam Shatabdi

which leaves Delhi early in the morning (6.20 am) and reaches Kathgodam almost by noon (11.40 am). 
Instead of doing an overnight journey and continuing to Lohajung without a break, it's advisable to break the journey at Kathgodam for a night's halt.
So, aim to reach Kathgodam on the same day, stay there for the night and continue to Lohajung next morning. This will ensure that you are well-rested before the trek.
Get down and take a Sumo to Lohajung. The route to Lohajung is via Almora — Gwaldam — Tharali — Dewal — Mundoli — Lohajung (many Tata Sumo drivers may not know this).
The Almora route is any day better with its green cover, rivers flowing by and Deodar forests. The journey is in itself a nice prelude to the trek and worth every moment of it. The Rishikesh route is crowded and barren. The road is in bad condition and prone to traffic pile-up.
There is no direct transport to Lohajung from Kathgodam. You will have to change buses or shared cabs.
Bus: Take the 4:30-5 am bus from Kathgodam bus stop to Gwaldam, you reach at 3 pm. The bus stop is just opposite the railway station, about 50 m away. There are no buses from Gwaldam to Lohajung so you need to change to a shared cab to Lohajung.
The bus to Gwaldam costs Rs.500 and shared cab to Lohajung is about Rs.50. The last shared cab is at 3:30 pm to Lohajung. Make sure you don't miss it.
Shared Taxi: These are other options in case you miss the bus, but again you will have to change cabs many times.
Take the shared taxi from the bus stop to Gwaldam, then change to Tharali/Dewal and then again change to Lohajung. This will cost you around Rs.650.
The last shared taxi from Dewal is at 3:30 pm. In case you reach after 3:30pm, a vehicle for Rs.800-1000 is only available.
Once you reach Dewal, a local transporter can help you with the onward transport to Lohajung (24 km).
The Basecamp of Brahmatal is Lohajung, which is a tight town situated on a mountain pass situated in the south of Uttarakhand in the Kumaon side of Himalayas.
---
What To Pack For Brahmatal Trek
Before you start shopping and packing for the high-altitude Brahmatal trek, watch this video to get a clear idea about what you need to take along.
Complete Video Playlist: How To Pack For Brahmatal Trek
---
Mandatory Documents to carry on Brahmatal Trek
Carry an Original and photocopy of government photo identity card. Anything such as a driver's license, Aadhar card, a passport will do.
You will need to submit your identification to the forest department. Without these, you will not be allowed to trek.
| Tip: Keep important documents in a clear plastic cover and slide them into the inner pocket at the back of your backpack to prevent them from getting wet.
If you have registered with Indiahikes, you also need to carry the Disclaimer Certificate and the Medical Certificate.
For an exhaustive list of things to carry, click here.
---
Network And Connectivity On Brahmatal Trek
| Last ATM | Electricity | Mobile Service Providers | Network Hotspots |
| --- | --- | --- | --- |
| Lohajung, Tharali (1 hour drive from Lohajung) SBI, Punjab National Bank and Bank of India. Deval a small town has 1 ATM but it's not reliable But do not bank upon the last ATM, they too run out of cash. Withdraw cash before you begin your road journey to Lohajung. | Basecamp has reliable electricity. Though there is no backup and if it goes it can take some hours to come back. There is no electricity at any other point on trek. | Idea, Vodafone, BSNL & Airtel at Basecamp. | You may get 4G at basecamp and Jio, Idea, Vodafone at Jhandi top. |
---
<!–- -–>
Brahmatal Quick Itinerary
Day 1: Drive from Rishikesh to Lohajung
Reach Lohajung; 10-11 hours drive from Rishikesh. Transport will be arranged from Live Free Hostel, Rishikesh at 5.00 am. Cost of cab – Rs 7,000/- per vehicle and the cost of a Tempo Traveller is Rs 10,500.
Alternate route till Nov 2021: Drive from Kathgodam Railway Station to Lohajung
It is an 8-9 hours drive from Kathgodam Railway Station. Transport will be arranged from Kathgodam Railway Station at 6.00 am.
Cost of cab – Rs 6,500/- per vehicle and the cost of a Tempo Traveller is Rs 9,500. This amount is shared by trekkers.
Day 2: Trek from Lohajung to Gujrani
Trek distance: 4.6 km | Duration: 5 hours
Altitude gain: 7,600 ft to 9,200 ft
Day 3: Gujrani to Tilandi
Trek distance: 2.9 km | Duration: 4-5 hours
Altitude gain: 9,200 ft to 10,495 ft
Day 4: Tilandi to Brahmatal
Trek distance: 5.5 km | Duration: 5-6 hours
Altitude loss: 10,495 ft to 10,440 ft
Day 5: Brahmatal to Lohajung
Trek distance: 8.45 km | Duration: 7-8 hours
Altitude loss: 10,440 ft to 7,600 ft
Day 6: Drive from Lohajung to Rishikesh/Kathgodam
You will reach Rishikesh/Kathgodam by 6-7 pm.
What this itinerary means:
This Short Itinerary offers a quick glance at the Indiahikes route, the campsites, the altitudes, distances and time taken everyday.

We have chosen this route to give you the best experience of Brahmatal trek. We've arrived at this one after many explorations and experiments on other routes. (We still continue to explore more trails in the region.)

This is part of why you trek with Indiahikes.

When you sign up for a trek with Indiahikes, you are signing for an experience beyond the trek. Our team works tirelessly to design an itinerary that gives you a transformative experience. We also focus on the safety aspect of the trail, the environmental impact and the information we have on the trail, which we share with you transparently.

Screenshot the itinerary and save it on your phone. It comes handy while planning your travel too.
Important note:
Please note that you will be staying at a guest house in Lohajung.
It is mandatory for trekkers to carry a copy of their photo id for entry at forest check posts on the trek.
Here is the detailed itinerary for Brahmatal trek
Day 1 (Pick-up Day) : Reach Lohajung
Lohajung is the base camp for the Brahmatal trek. A great way to reach here is from Rishikesh. You drive along mountain roads, through forests. You also get glimpses of the Garhwal mountains in the distance on a clear day.
Altitude:

7,600 ft (2,316 m)

Drive time: 8 hours drive from Rishikesh
Once you reach Lohajung, you find yourself face to face with the beautiful Nanda Ghunti peak. If you reach before sunset, the colours of the peak will enthral you.
Lohajung is at the centre of 12-15 nearby villages. There are a couple of local stores where you can buy jackets, hand gloves, caps, shoes etc. if need be. However, it is advised that you carry all the required things for trek beforehand and not rely on these shops. You will have a mobile network in most parts of Lohajung.
Lohajung, as the locals say, is the place where Goddess Parvati had a war (jung) with the demon, Lohasur. Hence, the name, which translates to 'War with Lohasur.'
Day 2: Trek from Lohajung to Gujrani
Trek distance: 4.60 km | Duration: 5 hours
Altitude gain: 7,600 ft (2.316 m) to 9,200 ft (2,804 m)
Trek gradient:

Moderate; gradually ascending through forests on well-defined trails

Water sources: There are multiple points where you can fill your bottles 30 to 45 minutes after starting the trek. There is a big stream 3 hours into the trek. Carry sufficient water.
The trek begins from Lohajung central market (chowk). Move upwards from Bisht General Stores on the well-marked, human-made trail. Walk through the upper region of Lohajung and then through the forest trail with a few more houses. After a short trek, spot Mundoli village on your left.
As you climb higher, on your left, you will be able to see the Kali Valley, where Kali and Pindari Rivers join. Follow the water pipes that supply water to Lohajung, as they lie along the trek trail. After some time, cross a small cluster of homes called Budla, on the left. Here, you will find rhododendron trees, which make this part of the trail very beautiful from February to March.
At approx 8,500 ft, you will find a 10-metre bridge (known as Link-gaad), which will help you cross the stream. After around two hours, you will reach Begum, where you can rest for some time. This place provides splendid views of Navali Bugyal and Bagdi Bugyal. After 10-15 minutes of walking from Begum, you will find another stream.  From here, an hour's walk and a right turn at Mahaveer dhaba will bring you to Gujrani.
"This campsite is surrounded by Green oak, brown oak, and rhododendrons. It's inside a clearing and comparatively warmer as the sun rises around 8.00 AM and stays till 5.00 PM in the evening. I personally liked this campsite because of the birds I saw, namely Himalayan Woodpecker, Asian Barred Owlet, Blue-fronted Redstart, and Solitary Snipe. I heard the barking deer too. I liked this campsite for its silence and seclusion, in between the forest, sun, sound of the water stream next to the campsite," says Ravi Ranjan, Senior Slope Manager at Indiahikes.
Day 3: Gujrani to Tilandi
Trek distance: 2.90 km | Duration: 4-5 hours
Altitude gain: 9,200 ft (2,804 m) to 10,495 ft (3,200 m)
Trek gradient:

Moderate. Initial steep climb for an hour brings you to a meadow where you ascend gently, followed by a gradual descent to Brahmatal

Water sources: None. Make sure that you fill 2 litres of water before starting the trek since this will be a long day
From Gujrani, the trail enters thick Oak forests and keeps climbing moderately. In about 30 minutes, at sections where the mountainside is to your left and valley to your right, catch the first views of Mt Trishul imposing itself on the horizon. An hour and a half through the forest climb you land at a flat section with a small crater in the centre. At one end of the crater, the plateau is the valley of Deval.  This place is called Khopdalia. It is actually a small dried lake. This is the campsite for Bekaltal which lies just above the campsite.
Bekaltal is a ten-minute trek up from Khopdalia. It lies surrounded by a thick cluster of Oak trees. The waters of Bekaltal are always brown. The brown water indicates a high amount of dissolved organic matter.
Typically, brown lakes are surrounded by forests or wetlands. Dense forests provide dark organic material that dissolves in lake water like a teabag. This dissolved organic material stains the water brown and shades the underwater world.
Overall, brown water lakes tend to be light-limited. The algae in these lakes survive through certain adaptations that allow them to adjust to low light levels. These lakes can also sometimes be acidic and contain few fish or other organisms.
From Bekaltal, the trail starts out of the campsite and climbs steeply into the Oak and Rhododendron forest. Notice that to your left is the ridge which opens up to the valley below. Immediately to your right below is Bekaltal. As you climb on, half the trail is dominated by Rhododendron trees and somewhere midway the Oak trees take over. After about an hour, the tree line ends and you enter the meadows of Tilandi. Right in front of you is the spectacular panorama of Mt Trishul and Mt Nanda Ghunti with their associated ranges.
You are usually drawn to the edge of the meadow which is a ridge right on top of Lohajung, your base camp. Below you is the valley from Lohajung to Wan. Right opposite where you are on the opposite mountain ridge are the famous meadows of the Roopkund trail – Ali and Bedni Bugyal.
Day 4: Tilandi to Brahmatal
Trek distance: 5.50 km | Duration: 5-6 hours
Altitude loss: 10,495 ft (3,200 m) to 10,440 ft (3,182 m)
Trek gradient:

Moderate; Moderate ascent to the ridge followed by a flat walk and then a steep descent.

Water sources: None. Make sure you carry 2 litres of water from the camp before setting off.
This day's trail weaves along the ridge. You see the treeline sometimes below you, sometimes beside you as you gain and drop height. The trees are largely Rhododendron or Oak again. Overall you gain height when you head to Jhandi Top, the highest point on the ridge. It's another vantage point for clear views of the mountain panorama. You can map the entire Roopkund trail here right from Wan to Roopkund. Spend at least twenty minutes at Jhandi Top to soak in the place. It usually gives you goosebumps to just comprehend what you are seeing in front.
As you walk along the ridge, the majestic mountains and sweeping valleys greet you. You see at least 7 to 8 layers of mountain ranges one behind another. The sense of openness is unmatchable to most trekking days anywhere.
From Jhandi top, the trail gradually descends to Brahmatal over a kilometre and a half.
Once off Jhandi Top, you descend below the actual ridge which takes away the mountain views. The Brahmatal campsite at 10,440 ft is 500 meters away from the lake to the left on the edge of the slope.
Day 5: Brahmatal to Lohajung

Trek distance: 8.45 km | Duration: 7-8 hours
Altitude loss:10,440 ft (3,182 m) to 7,600 ft (2.316 m)
Trek gradient:

Moderate. It is a long descent all the way to Lohajung.

Water sources: You'll get enough water sources on the trail. Carry at least 2 litres of water when you start from Brahmatal.
The day's trek sees you climbing back to the ridgeline you left the day before, later traversing it further before descending down steep into the treeline. All along you will be treated to great mountain views if you have a clear sky. Anyone who treks this day will not hesitate to say that the day is the most visually fascinating day of the entire trek.
Start early by 6.00 AM to give you time to catch the mountain views before the clouds come in. It takes about 10-15 minutes to trek to the Brahmatal Lake, your first stop on the trail.  The trail till Brahmatal is a gradually ascending one through the grasslands. The Brahamatal lake sits pretty bang in the middle of the grassland in a crater. The lake glistens in deep blue colour as the morning sun rays hit its surface. The lone tree by the side of the lake reflects perfectly off its waters. Go around the lake to get a view from all angles. You will be surprised to see how different the lake looks at each angle.
From Brahmatal, take the trail to the left that climbs up to the ridge. As you move up, you see the lake set in the middle of the vast meadow.  Behind you appears a wide-open valley. You can see Tharali and Gwaldam. The first ridge climb brings you to a gently ascending stretch which then leads you to the final ridge climb.
At the ridge opens up majestic views of Mt Trishul and Mt Nanda Ghunti. The view is a magnified or closer version of what you saw from Jhandi Top.
Take a moment at the pass. Have your packed lunch here. Don't stop for long as the winds will be strong. Descent with mountains on your left and valley on your right. This part of the trail is completely new.
After the initial descent from the pass, the trail will ascend again through alpine grass. Mt Trishul and  Mt Nanda Ghunti accompany you on the right. As the ascent ends, you reach a platform-like area from where you get a 180-degree view of the Himalayan range. Mountains such as Kamet, Mandi, Mana, Nilgiri, Neelkanth, Trishul, Nanda Ghunti, Maitoli become visible.
As you continue further, a sharp narrow descent awaits you. This marks the treeline and beginning of rhododendron and oak forest. A descent of one hour brings you to a clearing surrounded by trees on all the sides. You've now reached Khorurai – your campsite. Khoru in Garhwali means Brown Oak and Rai means the flat grassy area inside a forest. Take some time to rest and appreciate your surroundings.
Begin the descent to Lohajung right after breakfast. Till Tilandi the vegetation is sparse.
It is well made all the way and crosses 2 streams in between.
After about an hour from starting, you will reach Shepherd huts. This place in the local language is also called 'chawni' and is used by villagers and shepherds to keep their livestock.
Continue on the man-made trail from here. This trail connects these mountain villages down to Lohajung.
Day 6 (Drive-back Day): Lohajung to Rishikesh
Check out the reaching the basecamp section for more details about getting back after your trek.
If you have an additional day in Lohajung before or after your trek, visit Ajan Top, an easy trek that you can do on your own.
Plan Your Travel for the Brahmatal trek
It is great to see you going on the Brahmatal Trek, a grand buffet of our greatest treks. While it is a great trek to do, you need to get your travel plan worked out perfectly.
Here is a step-by-step guide on what to do next. Use this guide and nothing else to plan your travel.  
1. Here's a quick view on how to plan your travel
Day 0: Book your air ticket to Dehradun. Drive from Rishikesh to Lohajung. Reach Lohajung; 10-11 hours drive from Rishikesh. Transport will be arranged from Live Free Hostel, Rishikesh at 5.00 am. Cost of cab – Rs.7,000/- per vehicle and the cost of a Tempo Traveller is Rs.10,500.
Day 2 to Day 5: Trek days
Day 6: Depart from Lohajung. You will reach Rishikesh between 6.00 pm and 7.00 pm. The cab costs Rs.7,000 for an SUV and Rs.10,500 for a Tempo Traveler.
| Important points to note:
Buffer Day: Keep a buffer day for emergencies. Your trek is 6 days long, but keep an extra 7th day as your buffer day. This is outside the itinerary. You cannot predict bad rain, landslides or a political situation on a trek. 

Always book your return flight/train tickets after including the buffer day in your itinerary. 
---
2. Planning your onward flight/train booking  
If you are travelling from Bengaluru, Chennai, Pune, Mumbai or any other city, book your air tickets for Day Zero, which is the day before Day 1 on the itinerary. If your trek start day is 25 August, book your air tickets for 24 August to either Delhi/Dehradun. 
There are two options for your flight booking.
1. Fly directly to Dehradun: We recommend taking a flight to Dehradun. It gives you an added rest day at Rishikesh. Most metros are directly connected to Dehradun. From Dehradun it takes one hour by bus to Rishikesh.
2. Fly to Delhi: Reach Delhi before 09.00 PM, one day prior to your pick-up date, and take a bus from there.
Here are the options for your train booking.
1. Take the Dehradun Shatabdi (Train no: 12017): From New Delhi Railway Station at 6:45 am and reach Haridwar at 11:30 am. From Haridwar take a bus to reach Rishikesh. There are buses which ply at frequent 10-15 minute intervals to Rishikesh. It takes about 1 hour to get there. Note: Do not take a train to Dehradun, its longer to reach Rishikesh from Dehradun railway station. Take the train only up to Haridwar.
2. Take the Dehradun Jan Shatabdi (Train no: 12055): From Hazrath Nizamuddin station, which leaves at 3.20 pm and reaches Haridwar at 7:33 pm. Stay overnight in a hotel at Rishikesh and join the team vehicle the next morning. Note: Live Free Hostel is a good place to halt for the night. The place is decent and clean.
If you don't get the train, there are regular overnight Volvo AC buses from Delhi.
1. Take an overnight bus from Delhi's ISBT Kashmiri Gate to Rishikesh. Buses are frequent and not usually crowded. You can get a bus almost every half hour. It take 8-9 hours to get to Rishikesh from Delhi. AC bus tickets cost about Rs.900. Take a bus that reaches at 5:30 AM.
Note: Whichever mode of transport you choose make sure you reach Rishikesh a day earlier, Day 0.
---
3. Planning your return flight/train booking
Booking your return tickets require some thought. First, always book your return ticket keeping in mind the buffer day. The buffer day must be included in your itinerary. If your trek ends on day 6, do not book your flight/train tickets for day 7. Instead book for day 8. Day 7 is your buffer day.
Next, if your onward flight departs from Delhi, then book flight tickets for Day 9. 
Sometimes trekkers worry if they can book an early morning flight out of Delhi on Day 9. Yes, you can. But book flights that depart only after 8 am. Do not book any flight between 6.00 and 8 am. You may not reach Delhi in time.
---
4. Planning your hotel/stay
While booking hotels on your return, always book your rooms assuming the buffer day is not being used. Assume the trek is going to run without any hiccups. So what happens if you use your buffer day on the trek? Unfortunately, then you'll probably lose your hotel booking. So book hotels where you may not have to transfer money in advance. Even if you do, consider it better than missing out on the trek. 
---
5. What if you miss the Indiahikes pickup? Getting to Lohajung on your own
If you miss the Indiahikes pick up from Kathgodam. Here is how you can get to Lohajung base camp on your own.

Option 1: Delhi → Lohajung (24 hours)
There is a direct bus from Delhi to Mundoli/Lohajung. It leaves Delhi Anand Vihar terminal at 9.15 pm. You will reach Kathgodam at 4.00 am and Lohajung at 5.30 pm.

Note: This is an extremely long and tiring journey.

Option 2: Delhi → Rishikesh → Lohajung (cab)
From Delhi, get to Rishikesh/Haridwar and hire a Sumo to Lohajung. The route: Devprayag – Srinagar – Rudraprayag – Karanprayag – turn right to Tharali – Debal – Mundoli – Lohajung

Note: Most taxi operators may not have heard of Lohajung. So, you'll have to show them the direction as given above.

Option 3: Delhi → Rishikesh → Karanprayag → Lohajung (bus)
From Rishikesh Bus Stand., take any bus on the Joshimath/Badrinath route and buy a ticket to Karanprayag. It is a 6-7 hour journey from Rishikesh to Karanprayag. Take a bus that leaves as early in the morning as possible, preferably around 6.00 am. From Karanprayag Bus Stand, take a shared Jeep to Tharali (47 km). The road to Tharali runs along the Pindar river.

From Tharali, take a shared taxi to Debal (14 km). Once you reach Debal, you can arrange onward transport to Lohajung (24 km).
How to get fit for the Brahmatal trek
The Brahmatal trek is classified as a trek of moderate difficulty. You start from an altitude of 7,600 ft at Lohajung and reach a highest point of 12,250 ft at Brahmatal top. You gain around 4,650 ft over two days of trekking. While this isn't much altitude gain, there is a lot of snow on the trail in the months of January and February, which makes it a trek of moderate difficulty. 
Cardiovascular endurance
This trek requires a good amount of cardiovascular endurance. You can begin by jogging every day. Start jogging at a slow pace and then keep increasing your pace day by day. In order to be prepared for high altitude trek, you should have a combination of distance and speed targets.
Here's a fitness routine that works:

–>Target completing 5 km in 40 minutes when you begin.
–>Gradually increase your pace by running 4 times a week and bring it down to 5 km in less than 40 mins.
–>If you are 45 years old and above and are comfortable with long distance walking than jogging, then before you go on the trek, you should be able to walk at least 10 km at a stretch. Target completing this in 90 minutes.
If jogging is fine for you, your target should be completing 5 km in 45 minutes as you start jogging, and 5 km in less than 40 minutes before you go on the trek.
–>If you are somebody who prefers cycling over running, your target must be to cover 22 km in 60 minutes.

Strength – Target 3 sets of squats with 15 in each set

This is another area you should work on. Carrying your backpack and ascending will require core body strength and also strong legs. For this, add squats to your routine. Start with 3 sets of squats, with 8 squats in each set and work towards reaching your target in 3 weeks.

Flexibility
Another aspect that will help you trek comfortably is flexibility. For this, you can do some stretching exercises – stretch your hamstrings, quadriceps, hip flexors, lower back muscles and shoulders regularly. These exercises will help you to be in good shape before the trek.

Here's a guide to help you get fit for the trek.

Working out indoors
If you can't go out and jog because of time and space constraints, here's a video you can use to work out indoors.
Things to get for the Brahmatal Trek
Brahmatal is a high altitude trek with snow. In winter, the temperatures drop to negative temperatures. You'll need enough warm layers and accessories to keep you warm and help you trek comfortably. So pay careful attention to this entire section. 
First,

The Essentials

. You cannot do the trek without these.
1. Trekking Shoes
The Brahmatal trek requires trekking shoes that are sturdy, have good grip, have ankle support and can handle snow. Here is a quick video on how to choose your trekking shoes.

| Buying Tip: The Trek series and MH series are good options by Decathlon. They are tried and tested. There really isn't any necessity to buy the higher priced models. Here is a list of other budget shoes that trekkers are using.
| Rental: We have the Trek series and the MH series by Decathlon available on rent from the Indiahikes store. They are already broken into and in good condition. Rental shoes are not dirty or unhygienic. This is how they are kept clean. Rent here.
2. Backpack
For a trek like Brahmatal, you need a 50-60 litre backpack. Make sure your backpack has good hip support, shoulder support and quick access pockets. Here is a guide on how to choose a backpack.
| Buying Tip: Wildcraft, Decathlon and Adventure Worx usually make good backpacks. While Wildcraft has more expensive ones, the other two brands have budget-friendly backpacks to choose from. 
| Rental: The 48 litre backpack by Adventure Worx is available on rent from the Indiahikes store. They are custom-made for our Himalayan treks. Rent them if you don't have a backpack. Rent here.
3. Clothes
Wearing layers is the mantra in the mountains. Layers give you maximum protection from all elements. And when the weather changes in the mountains (as it happens every few hours), you take take off or put on layers as required. 
Base layer: 3 T-shirts
Wear one T-shirt and carry two. Carry full sleeve dry-fit T-shirts (preferably collared). These prevent your arms and neck from getting sunburnt. In the rarified air on the trek, especially at high altitudes, UV rays can burn you in no time.
Dry-fit T-shirts quickly dry your sweat, they are easy to wash and in case of a rainy day, they dry quicker. Round neck T-shirts are ok, but collared ones are better.
| Cotton or Synthetic? As Indians, we love cotton. Down in the plains when the heat is a blistering 40°C it makes sense to wear cotton. But it takes a long time to dry when it gets wet. In the mountains, where it is cooler, synthetic is what you wear. They wick sweat rapidly and keep you dry. (But they do tend to smell quickly, so carry a roll-on deodorant with you.)
| Buying tip: You can get dry-fit T-shirts from Decathlon. Also, stores like Reliance Trends, Max have dry-fit T-shirts. They don't usually cost much.
| Pro Tip: If you are extra susceptible to cold, you could get a set of thermal inners. In our experience, wearing two T-shirts over another works as a better thermal. And they save you weight and space, since you're already carrying them. 
5 insulation layers in winter
The Brahmatal trek is primarily a winter trek. If you're going any time between December and March, you will need at least 5 warm layers.
You will need 1 pair of inner thermals, 2 light fleece layers, 1  light sweater and 1  padded jacket. Do not get hand-knitted sweaters, which can be very heavy. You need sweaters and fleece jackets that can fold into compact rolls.
For your outer later, a padded jacket serves the purpose here. You don't really need a water resistant material. But you need an outer padded jacket that keeps the wind and cold out. Ensure your padded jacket has a hood as well.
| Do you need a down/feather jacket? Not really. A regular padded/shell jacket will do. This video here will help you to learn more about the difference.
| Note: Down/feather jackets are really not available these days. Many jackets masquerade as down/feather jackets. They are essentially fine polyester-filled jackets. They mimic the function of a down jacket but are usually expensive.  
| Rental: Padded jackets made by Fort Collins are available on rent at the Indiahikes store. They are custom made for Indiahikes and trekkers find them terrific, even in winter. Rent here.
Trek pants
A minimum of one pair and maximum of two pairs of trek pants should suffice for this trek. Wear one pair and carry one just in case it rains/snows. Trek pants with zippered cut offs at the thighs are very suitable for treks. Also, choose quick-dry pants over cotton. They dry up soon even in the cold climate.
| Buying tip: Go for pants with zippered pockets. They come in handy to keep your phone, handkerchief or pocket snacks.
| Track pants or trek pants? Stretchable track pants make a good backup and can double up as your thermal bottoms. But track pants are not trek pants — so don't use them as your main outerwear. Keep them only as a backup. 
Mandatory Accessories, without these too you won't be able to do the trek.
These accessories are mandatory. Don't go to the Brahmatal trek without them. Trekkers generally put off purchasing / borrowing the accessories for the last minute. We suggest the opposite. Start gathering these accessories first. 
1. Sunglasses
Sunglasses are to prevent snow blindness. On a snow trek like Brahmatal, expect to walk on long stretches of snow. A small overexposure to direct sunlight on snow can lead to snow blindness (about a half hour's exposure). That's because fallen snow is like thousands of mirrors that reflect direct UV rays. So you need sunglasses with UV protection. 
| Wearing tip: Wear sunglasses if the trekking day is bright and sunny (on open sections, meadows). On a snowy section you must absolutely never take off your sunglasses until the section has been fully crossed.
| Buying Tip: Try getting sunglasses that wrap around instead of those that have openings on the side. Even peripheral UV ray exposure is not a good idea.  
| If you wear spectacles: If you wear spectacles, you can get oversized sunglasses that you wear over your regular glasses (available at Decathlon). If that is cumbersome, photochromic lenses work equally well. Here's a quick guide on managing sunglasses with spectacles.
| Contact lens users: If you use contact lenses, you can use them on the trek too. The lens solution will not freeze. You will also not face any problems in changing your lens in your tent. Just carry enough cleaning solution with you to clean your fingers well. Wear your sunglasses over your contact lens. Read this article for more guidance on managing contact lenses on treks.
 2. Suncap
A sun cap is mandatory. Trekking without a sun cap can lead to headaches, sun strokes, quick dehydration and a sharp drop in trekking performance. 
| Tip: In the mountains, the general rule is to keep your head covered at all times. During the day a sun cap protects you from the harsh rays of the sun (it is doubly stronger with naked UV rays). A sun cap keeps your body temperature in balance. In the evening/early morning, the reverse is true. Your head loses your body heat quickly. A woolen cap prevents heat from dissipating from your head.
| Pro Tip: Sun caps with flaps are a blessing for trekkers. They cut out almost all UV leaks. They prevent sun burns in every possible way. They are a lot more effective than sunscreen lotion. A wide-brimmed sports hat also helps to prevent sunburn in a big way. 
3. Synthetic hand gloves
On a trek like Brahmatal you are going to be handling snow quite a bit. You'll need gloves to grip something or to steady yourself in snow. You also want the gloves to keep you warm. Get synthetic hand gloves that have waterproofing on the outside and a padded lining on the inside. If you find the combination difficult to get (not likely), wear a tight fitting fleece hand glove inside a synthetic hand glove. Hand gloves are mandatory on this trek.   
4. Woollen cap or Balaclava
Ensure these cover your head. In the cold mountains, you lose maximum heat from your head, not from your hands, feet or the rest of your body. Which is why you need to keep your head protected, especially when the sun is down. Early mornings, late evenings, a cold trekking day are when you must use your woollen cap.
Your ears are sensitive too, so a woollen head cap that covers your ears is absolutely essential. A balaclava is a modern version of the woolen cap. It covers your ears, neck and parts of your face as well. If you get woollen cap that only covers your head, you will need a neck warmer or a woolen scarf.
5. Socks (4 pairs)
Apart from three to four pairs of sports socks, take a pair of woollen socks. Sports socks give you cushioning plus warmth. Again the mantra is to wear synthetic socks or at least a synthetic blend. Cotton socks soak in water and sweat. They are very hard to dry.
As for woollen socks, they help you to keep warm and snug in the night. If you cannot get woolen socks, wearing two sports socks serves the purpose as well. 
6. Headlamp
Trekkers are often confused about whether they need to get a headlamp or a handheld torch. You need to get a headlamp because it leaves your hands free to do other activities. On the Brahmatal trek you'll need your hands free to wash dishes, pitch tents and hold your trek poles. 
| Buying tip: Ensure your headlamp covers a wider area and is not too focused as a single beam. On a trek, your headlamp must help you see around you as much as ahead of you.
| Rental: Headlamps are available on rent on the Indiahikes store. Rent here.
7. Trekking pole (a pair)
Trekking poles give you stability and balance. They reduce your energy consumption by almost 40%. On the Brahmatal trek there are steep ascents and descents. A pair of trekking poles will make the difference between a comfortable and a strenuous trek. In India we tend to use a single trekking pole. However, two trekking poles give you greater stability and balance. They also increase your walking pace.
| Rental: Imported side-locking trekking poles are available on rent on the Indiahikes store. Rent here.
8. Rainwear
On a trek, the weather can change quickly. A bright sunny day can turn into a downpour in a matter of minutes. Carry a poncho or a rain jacket to tackle this. A poncho is a big rain cover with openings for your arms and your head. It is extremely effective because it covers both you and (partially) your backpack. It is extremely light and weighs next to nothing. 
| Pro tip: Rain jackets are more streamlined and less cumbersome but weigh more. Rain pants are really not required. Dry fit trek pants dry quickly even if soaking wet.  
| Rental: High grade ponchos are available on rent on the Indiahikes store. Rent here.
9. Rain cover for your backpack
Backpacks are your life. You carry all your dry clothes, your warm gear in your backpack. It is important that your backpack stays dry at all times. Modern backpacks usually come with built in rain-covers. If your back pack does not have a rain-cover, ensure you get a rain cover by either (a) buying a rain cover (b) or cutting a large plastic sheet to the size of your backpack. You can roll the plastic sheet around your backpack and keep it in place with a string or elastic.  
| Pro tip: It's good practice to compartmentalise your clothes, accessories and other things in plastic covers inside your backpack. That way, even if it rains and your backpack gets wet, your things are water-proof inside the backpack.
10. Daypack (20-30 ltrs, optional)
Some trekkers opt to offload their bags to a mule on the Brahmatal trek. While we do not encourage this practice, in case you opt for offloading, then carrying a daypack is mandatory. In your daypack you carry essentials like water bottles, rainwear, emergency medicines, headlamp, some snacks and a warm layer. Your main backpack that carries most of your equipment is accessible only at the campsites. 
A daypack is a smaller backpack that is usually of 20-30 ltr capacity. Laptop bags are not daypacks. Do not get them. 
Other mandatory requirements
1. A toilet kit
Keep your toilet kit light. Carry just the basics — toothbrush, toothpaste, small soap, toilet tissue roll, a small moisturiser, lip balm, and a roll-on deodorant. You will not be able to have a bath on the trek, so don't overload on soaps and shampoos.
| Pro tip: Carry miniature-sized items. You will not need more than that. If you're travelling in a group, share one toothpaste for all.
| Pro tip: Avoid getting large toilet rolls. The smallest size roll is more than enough for a trek like Brahmatal. 
| For women: If you are likely to have your periods on your trek date, don't worry about it. You can use your pads, tampons or menstrual cups on the trek. There will be toilet tents where you can get changed. Make sure you carry ziplock bags to bring back your menstrual waste. Don't leave behind any waste in the mountains. Watch this video to learn how to dispose your sanitary waste.
2. Cutlery
Carry a lunch box, a mug and a spoon. Your lunch box must be leak proof. You are expected to wash your own cutlery. Trekkers often expect Indiahikes to wash their cutlery. When you allow Indiahikes to wash your cutlery, your cutlery becomes part of a mass washing system. You immediately invite germs, bacteria to settle on your cutlery. Incidence of stomach disorders rises exponentially.  
| Pro tip: Carry stainless steel cutlery. Avoid fancy high grade plastic cutlery. Stainless steel cutlery is infinitely easier to wash in cold water. Grease is easier to remove and hygiene is at the highest. 
| Two 1 litre bottles or a 2 litre hydration pack: Brahmatal has many hours of trekking everyday (approximately 6 hours). You need to carry two one litre water bottles to keep yourself hydrated over the distance. If you are used to a hydration pack, then that is ok too. If one among the two bottles is a lightweight thermos, then that helps you to store warm water on a really cold day or for late evenings and early mornings.   
| Rental: You could rent lightweight thermos flasks from the Indiahikes store. Rent here.
3. Plastic covers
Carry 3-4 old plastic covers to keep your used clothes. You could use them even for wet clothes. Re-use old plastic bags for this and do not buy new ones.
Useful videos to help you with your gear:
Personal medical kit
Carry these medicines with you, easily accessible at all times. Do not take any medicine unless you have consulted your trek leader. 
Dolo 650

(5 tablets): This is a paracetamol. It helps to tackle fever, mild pain

Avomine

(4 tablets): Carry this especially if you are prone to motion sickness. Pop one half hour before the start of your road journey.

Combiflam

(5 tablets): Take a combiflam if you get a sudden twist of the leg or a muscle strain. It is a pain reliever. It also contains paracetamol. 

Digene

(4 tablets): Take it if you feel the food that you've taken is undigested. Alert your trek leader immediately. It could be a sign of AMS. 

ORS

(6 packs): Consume a pack of ORS water at least once a day, usually mid day when you are in the middle of your trek. It replenishes essential salts lost while trekking. 

Tip

: It also makes cold water easier to drink.

Knee Brace

(optional)

:

Carry this if you are prone to knee injury or have known issues of knee pain.
Our trek leaders carry a high altitude medical kit with them which also consist of Life Saving Drugs. If there is an emergency our trek leaders know how to tackle it. Meanwhile, contact your trek leader before consuming any of these medicines listed here.
| Pro tip: We find that these medicines by trekkers are rarely used. But you cannot do away with them. At the end of the trek please donate unused medicines to your trek leader. Some of these medicines get distributed to villages on the trek and some are added to the Indiahikes medical kit.   
Mandatory Documents to carry
These are documents required for legal purposes by Indiahikes and the forest department. Without any of these, you will not be allowed to trek.
Original and photocopy of government photo identity card.

Anything such as a driver's license, Aadhar card, passport will do. This is required by the forest department for your identification.  

Disclaimer certificate.

This is a legal requirement. Download the PDF, read carefully and sign it. This must be handed over to your Trek Leader during registration at the base camp –

Download PDF

Medical certificate.

There are two sections in this. The first part must be filled by a practising doctor. The second part must be filled by you. Without the medical certificate the forest department will not issue permissions for your trek. It is also a requirement by Indiahikes –

Download PDF
| Pro tip: Keep important documents in a clear plastic cover and slide them into the inner pocket at the back of your backpack. This keeps them from getting wet. 
How safe is the Brahmatal trek?
The Brahmatal trek is a moderate one. The trails are well laid out. The altitude isn't too high – the highest point is 12,250 ft and you gain this slowly over 3-4 days. At 12,250 feet, the risk of being hit by Acute Mountain Sickness is relatively low. However, you still need to be mindful of the fact that you are in the mountains in extreme weather conditions, and take necessary precautions to ensure that you have a safe trek.
What Indiahikes does to ensure your safety
Our philosophy is simple. We ingrain safety aspects in the people we work with, in the processes that we follow, and in the equipment we carry. All our trek leaders are trained repeatedly on safety issues and protocols. Most issues are resolved with their intervention.
Right from the time you decide to register for the trek till the last day of the trek, these safety procedures will be running in the background. We have listed a few of them below:
1. Fitness criteria before registration
Over the years, we have come to notice that safety issues are widespread among unfit, unaware and ill-prepared trekkers. Therefore we have brought in an eligibility criteria for the Brahmatal trek.
Before registration, you need to meet the fitness requirements. The primary measure for fitness is BMI or Body Mass Index. An ideal BMI is a minimum requirement to register for this trek. You can take a look here.
2. Monitoring health on a trek
Every trekker will be given a Health Card at the beginning of the trek. The Health Card is issued to monitor the trekker's daily health. It contains details of symptoms he should look out for and what action he should take during emergencies as well. These Health Cards will be taken back at the end of the trek.
On the Brahmatal trek, your Trek Leader will be monitoring your Oxygen levels and Pulse rate twice a day. Your blood pressure is measured once every day. Any abnormal reading will be paid special attention to and immediate action will be taken.
3. High Altitude Medical Kit
Your trek leader will also be carrying a full-fledged high altitude medical kit. This will include basic medicines and specific medicines catering to altitude sickness – Diamox, Dexamethasone (tablets and injections) and Nifedipine.
Your Trek Leader will also be carrying a portable oxygen cylinder throughout the trek. In addition to that, there are oxygen cylinders installed at all high campsites for any emergency situations.
4. High Altitude Trek Equipment
Brahmatal is popular for its snowy terrain. If you go on this trek in the months from December to mid-April, you will be trekking on snow. To ensure safe trekking on snowy terrain, Indiahikes will provide you with micro-spikes.
These are attached to your shoes and will give you good traction on hard snow. To avoid snow from entering your shoes, Indiahikes will provide you with gaiters that you can wear over your shoes. You will have qualified technical guides with you. They lead the way on difficult terrain, where there might be too much snow.
All our sleeping bags and tents are custom-made for high altitude. If it is cold outside, it will be around 10 degrees warmer inside the tent. Our sleeping bags can withstand temperatures as low as -10 degree Celcius.
5. Being hydrated and well nourished on the trek
You need to drink a minimum of 4 litres of water every day during the trek to ensure that you're well hydrated. De-hydration on a trek can make you lose energy very quickly and intensify the effects of AMS. Your trek leader will brief you about the amount of water that you need to carry with you at the start of each day as well as water sources on the trail.
We provide trekkers with nutritious meals to ensure that they are energized to complete the trail each day. Apart from this, snacks or packed lunch is provided wherever the trail before a meal break is likely to be long. Make sure that you do not skip any meal as this can lead to serious health emergencies on high altitudes.
With all these processes and equipment in place, you can be rest assured that you will have a safe trek with Indiahikes.
Nevertheless, you will need to be cautious and report the slightest of symptoms of uneasiness to your trek leader as soon as you feel them.
What you need to know if you're going on the Brahmatal trek
If you have registered for this trek, then here is some information that you must know in order to have a safe trek. At Indiahikes, we believe that as long as you are well-informed and well-prepared, you can survive easily at high altitude.
Like in every winter trek, a common risk factor on the Brahmatal trek is slippery snow. You will be provided with micro spikes to help you walk better. But if you fall, no need to panic.
Even the smallest wound takes longer to heal at higher altitude. Reasons for this are increasing stress hormones and lower overall oxygen delivery to the tissues. Keeping your wounds clean and covered will prevent infection. To prevent the bruise from festering, apply a triple antibiotic ointment regularly.
Where on the Brahmatal trek is Acute Mountain Sickness likely to affect you:
Any campsite above 11,000 ft poses a risk of AMS. From here and while going up to the summit is when you should watch out for symptoms.
AMS occurs when your body isn't acclimatising to its surroundings. It can accelerate very rapidly, so it is important to identify the symptoms as soon as you see them. Before you read further, watch this video to understand the symptoms of AMS.
We cannot stress enough on how important it is for you to communicate any symptom to your Trek Leader.Only then will he be able to take steps at the right time.
What to do if you feel symptoms of AMS at Brahmatal Base Camp
Very few cases of AMS have been recorded on the Brahmatal trek. Nevertheless, don't let your guard down. If you feel any symptoms of AMS on the trek, report to the Trek Leader immediately. Do not wait till the end of the day's trek. Do not try to handle it yourself either. Our Trek Leaders are well-trained and experienced to handle any cases and they will be the decision makers in any such cases.
Watch the video below to understand how to treat and prevent AMS. The information in this video is rare to find. With this knowledge, you can probably save your own life or another's trekkers life.
As a first step, your trek leader will run you through the Triple One Test – One Disprin, One litre of water and One hour of rest. If you're suffering from dehydration, this will solve the problem and you will be fine in one hour.
If the symptoms don't go away, then he'll begin to treat you for AMS, perhaps with a course of Diamox. If you're already on a course of Diamox, your trek leader is likely to increase the dosage. The increased dosage of Diamox usually takes care of the Acute Mountain Sickness. Evacuation will be done if no improvement is shown. You will be taken down to Lohajung as descent is the sure cure for AMS.
Exit points on the Brahmatal trek:
There are only a few exit points on the Brahmatal trek – the easiest one being the base camp. It takes around 5 hours to descend from the highest campsite of the trek. Both these base camps are well below high altitude. So any symptoms of AMS will stop showing there.  
Why you should personally know about the risks and precautions of high altitude treks
If you cannot find your fellow trekkers or anyone else while trekking independently or with another organisation, there are some life-saving steps you can take.
Firstly, you should be able to recognise symptoms of altitude sickness. So acquaint yourself with the symptoms.
Secondly, there might be instances when you have to administer medicines to yourself or to a fellow trekker.
There are three life-saving medicines that you should always carry on you – Diamox, Dexamethasone and Nifedipine.
If you are trekking independently, you need to know when exactly to administer these medicines and in what dosage.
Here, Sandhya UC, partner at Indiahikes, explains in detail about HAPE and HACE. Here, you can learn about the advanced symptoms are and how to tackle them.
It is a myth that fit and experienced people are not affected by Acute Mountain Sickness
Click here to read about Sandhya's first hand experience of suffering from AMS on her 28th high altitude trek.
If you're of the opinion that fit people don't get AMS, please get rid of that notion right away. AMS can affect anyone without paying heed to their fitness and prior experience at high altitude! Altitude sickness does not distinguish between a first timer and an experienced trekker.
For more detailed information about Acute Mountain Sickness, you can download and study the manual below.
Your trek includes –
Accommodation – Stay is included from Day 1 to Day 5 (Lohajung to Lohajung). You will be staying in a guest house at Lohajung and camping on the trek (3 per tent).
Meals – All meals from dinner at Lohajung on Day 1 to breakfast at Lohajung on Day 6 . Meals are simple, nutritious and vegetarian.
Camping charges – All trekking permits and forest camping charges are included.
Trekking equipment –  We provide high quality tents, sleeping bags, ice axes, roped, micro spikes, gaiters etc. as required.
Safety equipment – First aid, medical kit, oxygen cylinders, stretchers etc.
Your trek does not include –
Transport to and from the base camp – We will arrange shared taxis for trekkers to pick you up from Kathgodam Railway Station and drop you back from Lohajung. This will cost approx. Rs. 6,500 per 5-6 seater vehicle and Rs. 9,500 for a tempo traveller. You will have to share this cost with the other trekkers.
Food during transit to and from the base camp – The trek fee does not include meals purchased during the journey to and from Lohajung.
Backpack offloading charges – Rs. 1,000 + 5% GST for the full trek. The backpack cannot weigh more than 9 kgs. Suitcases/strollers/duffel bags will not be allowed. Please note that charges will vary for last minute offloading in case you decide to offload your bag after reaching Lohajung (Rs.335 per day + 5% GST).
Stay at Kathgodam on the last day 
Anything apart from inclusions
Fitness
A high altitude trek in the Himalayas requires considerable fitness. Your body needs to train itself to process more work with lower levels of oxygen. Therefore, on treks, cardiovascular training is critically important. The trek has gradual climbs and steep descents on the summit day. As a measure of your fitness, we require you to be able to run at least 5 km in 40 minutes by the time your trek starts. If you are 45 years or above, try to cover 5 km in 45 minutes. This is a minimum requirement.
If you prefer cycling over running, then try to cover 22 km in 60 minutes.
Unable to do so can make your trek difficult.
In addition, preparation of trek needs to include strength and flexibility training. Registering for the trek is an understanding that you will undertake the mandated fitness training and upload the fitness screenshots on your dashboard. Trekkers who have not adequately prepared may be asked to discontinue the trek at any point.
Indiahikes has the right to reject trekkers who do not meet our eligibility requirement at the base camp.
Backpack Offloading
Indiahikes expects all trekkers to carry their own backpacks. All common gear will be carried by the support team. If for some reason are trekker is unable to carry his or her backpack, he/she can offload the same by paying an additional charge.
Backpack offloading charges – Rs 1,000 plus GST of 5%. Charges for last minute offloading during the trek will be Rs. 350 per day inclusive of tax. You can opt for offloading directly your dashboard after your payment is done for the trek.
Partial offloading is not allowed. The backpack cannot weigh more than 9 kg. No suitcases/strolleys/duffel bags will be allowed.
Online offloading in advance is possible up to three days prior to the trek start date.
transport
 We will arrange shared taxis for trekkers to pick you up from Rishikesh and drop you back from Lohajung. This will cost approx. Rs. 6,500 per 5-6 seater vehicle, and Rs.9,500 for a Tempo Traveller. You will have to share this cost with the other trekkers
Discount Policy
If there is a group size of 10 trekkers and above, then we will waive off the trek fee charges for one person.
Note - There is no discount available if the group size is 9 or less than that.
You can register the entire group and send us an email. If the group is registering individually, then the primary participant needs to send an email to the Trek Coordinator with the list of trekkers from the same group.
If you want to make the payment individually, then individual registrations have to be done.
This will be the case for a group of 10 trekkers. So if you have a group of 20 trekkers, then we will waive off the charges for 2 trekkers.
Can we leave on Day 5?
No, although the trek ends on Day 5, it is not wise to leave that day. Night driving is very risky in the mountains. We have a debriefing session on Day 5, you won't want to miss that
Is there a bus from Rishikesh to Lohajung?
There are no direct buses to Lohajung, there are only shared cabs, you will have to change cabs once or twice. The experience is unique, be ready for a bumpy crowded ride!
Is there electricity and phone signal on the trek?
There is electricity and phone signal at Lohajung. But after that it is not available as you stay in tents you are out of network range.
Here is what trekkers have to say about their experience at Brahmatal Trek
The Brahmatal Trek is full of beautiful surprises. From the frozen Bekaltal Lake to the beautiful view of Mt. Nanda Ghunti. Check this blog out. There are beautiful pictures as well.
Read full blog
A blog with great detail and nuance. Do not miss reading this blog - this will definitely push you to go on your next trek.
Read full blog
Available dates
What the colours mean

Registration is on.

The group is full, but cancellations are likely to happen. We have 5 waitlist slots for every group. You may register for the group. Waitlist slots confirmation chances are high if booked more than 30 days in advance.

Indicates the number of slots available in a group.

FULL:

Indicates the group is full. No further slots are likely.

We are not accepting fresh registrations for these groups because of Omicron.
Dates not suiting you? Click here to see other similar treks.