Can You Help Us With Photographs Of This Trek?
We are looking to enrich this documentation with more photos. Pictures go a long way in explaining the trail, more than words ever can. If you have done this trek, can you share your photos with us? We will include them on this page, with due credit to you. Click here to contribute.
The Complete Guide to Kumara Parvatha Trek
Kumara Parvatha is situated in the Western Ghats of Karnataka. At the foothills lies an ancient and famous temple called Kukke Subrahmanya.
The temple is filled with history and holds a lot of importance among the locals.
People from all over the country, especially from South India visit the temple to get their wishes fulfilled by making offerings. Devotees fill the temple premises almost all the time.
Right behind the Kukke Subrahmanya temple, standing tall is Shesha Parvatha, with its thick blanket of lush green forest of the Pushpagiri Wildlife Sanctuary.
Kumara Parvatha or Pushpagiri is the name of the peak which is hidden most of the time and is visible only after crossing Shesha Parvatha, but the entire trail is popularly known as the Kumara Parvatha trek.
Kumara Parvatha is the second highest peak in Kodagu district, only after Tadiandamol and the fourth highest peak in Karnataka.
As the dawn breaks, the first glimpse of Shesha Parvatha will give you an idea of the adventure you are going to have and it sets your hearts racing!
Climbing up to slightly more than 1,700 metres (approx. 5,600 feet), Kumara Parvatha is the most challenging trek in Karnataka. And it lives up to its name.
The Kumara Parvatha trek covers a distance of 22 kilometres and is usually done over 2 days.
Kumara Parvatha trek is most loved by trekkers for the variety it offers -- right from the thick forests, to vast grasslands and even a waterfall -- this trek has lots to offer.
Having said that, we recommend the Kumara Parvatha trek to intermediate - experienced trekkers who can take on this demanding trek.
If you are a beginner and would like to consider this as your first trek, we highly recommend you follow a fitness routine, improve your cardiovascular endurance, strengthen your muscles and do a couple of easy treks such as Skandagiri and Savandurga, before attempting Kumara Parvatha.
Table of Contents:
What To Watch Out For
Trail Information
GPX File And Route Map Of Kumara Parvatha Trek
Best Time To Do Kumara Parvatha
How To Reach Kumara Parvatha
How Difficult is Kumara Parvatha
How To Get Fit For The Trek
Things To Take On Kumara Parvatha Trek
Permission, Water Sources And Other Finer Details About Kumara Parvatha
Nearby Places To Visit After The Trek
What To Watch Out For
1. The Dense Forest Trail at the Beginning of the Trek
The Kumara Parvatha trek starts off from the thick forest, with trees so tall that they block sunlight from entering the ground. There is very little sunlight that penetrates through the trees.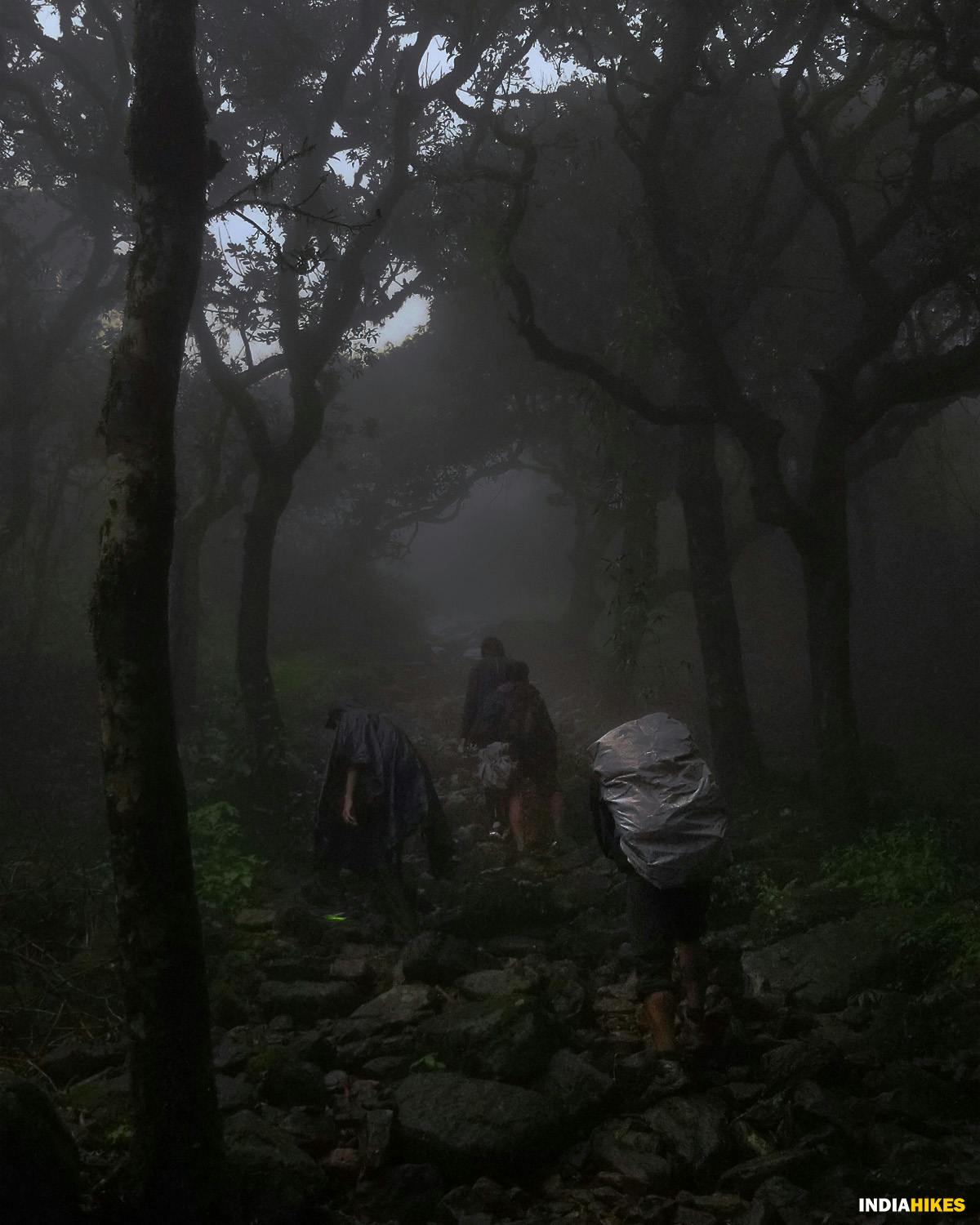 Sunlight rarely falls to the ground inside the forest with tall and thick tree cover. Picture by Ryan Venattu
2. Breathtaking Views of the Western Ghats
Western Ghats are nature's best preserved secret! The views you get of the Ghats from the Kumara Parvatha trail are absolutely breathtaking. Just for this, the trek is a must do.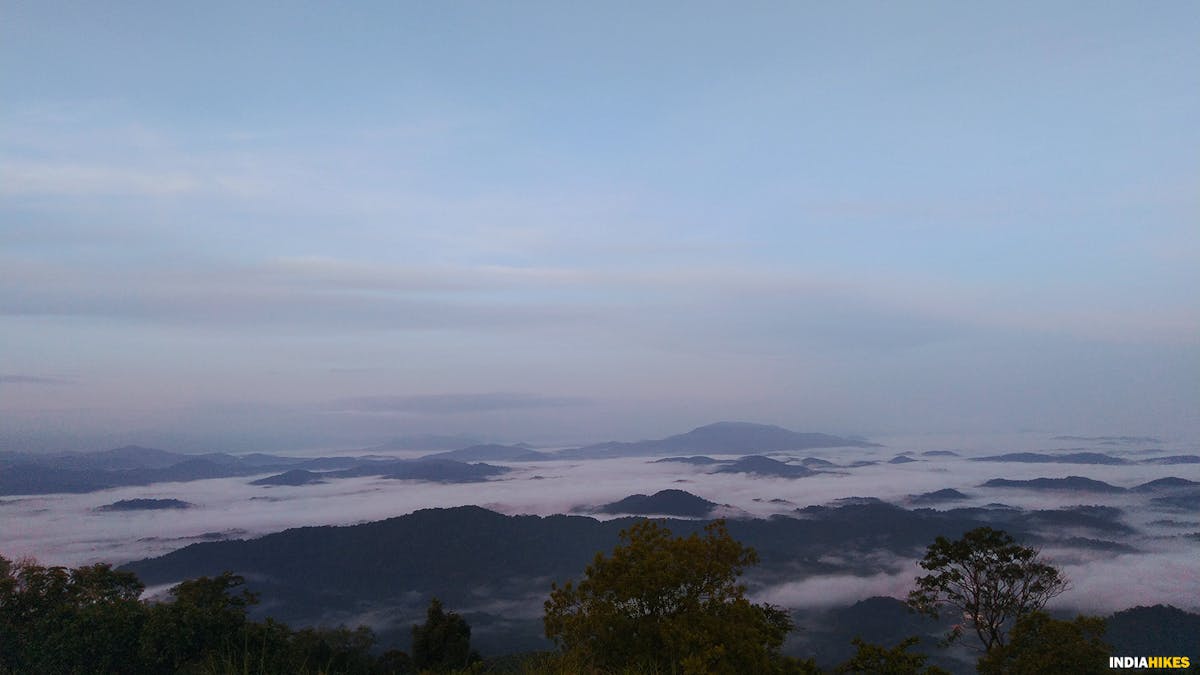 From the trail, you will get stunning views of the Western Ghats no matter which way you turn your head. Picture by Gautam Singh
3. The Vast Expanse of Grasslands
The grasslands after the forest section are a treat to the eyes. No matter if you trek in the post-monsoon months or winter months -- the grasslands are either lush green or golden brown -- offering a completely different scenery in each season.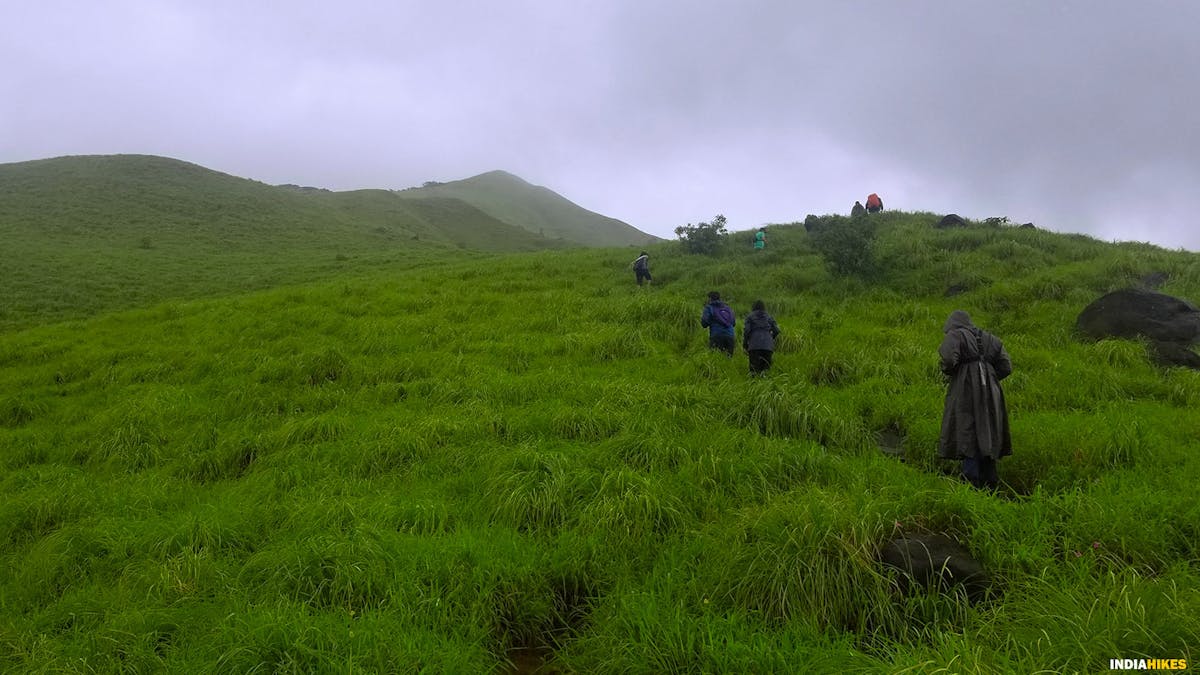 The grasslands on the Kumara Parvatha trek are so beautiful that you feel as if you are trekking in the Himalayan meadows. Picture by Jagadeesh
4. The Forest Section after Shesha Parvatha
The forest section after Shesha Parvatha is another highlight of the trek. So many birds greet you as soon as you enter the forest with their loud chirping. You may even spot a variety of butterflies here.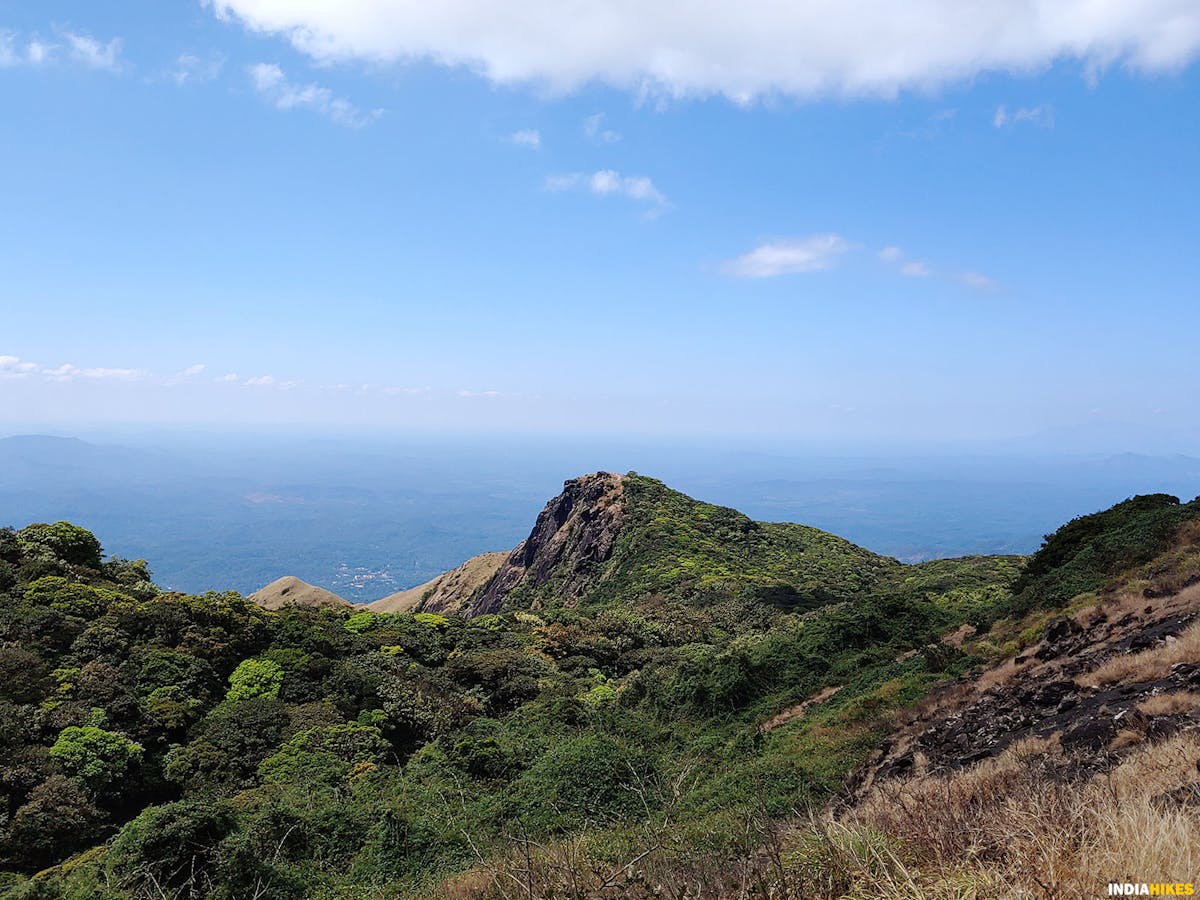 Looking back at the forest section from the vertical rock face. Shesha Parvatha is seen in the background. Picture by Gautam Singh
Trail Information
The Kumara Parvatha trail is a challenging one, right from the beginning.
You will start the trek from almost sea level and climb up to 5,600 feet over two days and cover 22 kilometres in distance.
Based on the distance and elevation gain, the entire trek can be divided into three sections.
| Day 1: Section I: Forest section till Bhattara Mane (Bhatta's House) / Forest Office
| Day 2: Section II: Bhattara Mane / Forest Office to Shesha Parvatha
Section III: Shesha Parvatha to Kumara Parvatha Peak
Trek Distance: 6 km
Trek Duration: 5 Hours and 30 Minutes
GPS Coordinates of Forest Section: 12°39'34.51"N 75°37'17.67"E
GPS Coordinates of Bhattara Mane / Forest Office: 12°40'7.82"N 75°39'15.81"E
Start the trek by entering into the forest through a small gate that is next to the parking ground.
If you have reached Kukke Subrahmanya by your vehicle, you can drive all the way till the base of the trek. There is a parking space big enough to hold about 10 - 12 four wheelers.
On the other hand, if you have reached Kukke through public transport, you have to walk till the base of the trek for 1.5 kilometres from the KSRTC Bus Station.
From the base of the trek, the trail is very well marked. Follow the trail which takes you deeper into the dense forest.
Kumara Parvatha trail starts as a moderate to steep ascent and gets steeper as you proceed, with occasional flat sections.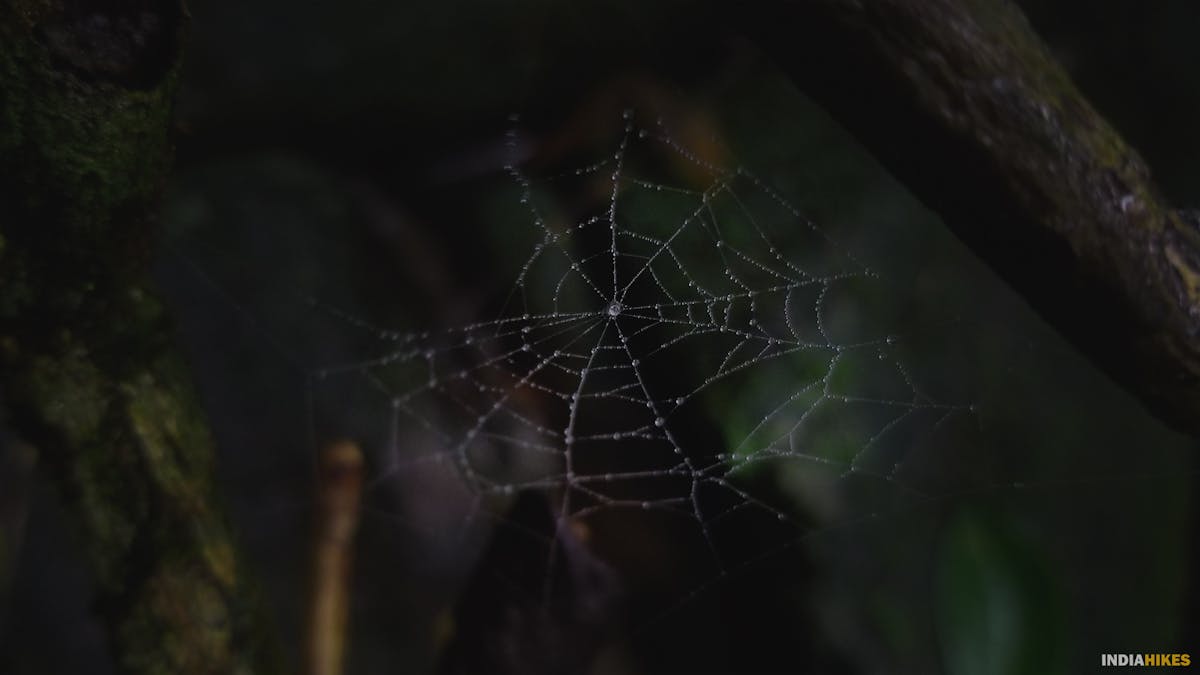 The forest is full of wildlife, variety of insects, reptiles and birds. You may spot them or hear their movements, if you observe the forest closely as you trek. Picture by Jagadeesh
The forest is filled with wildlife that usually keep away from the main trail. If you are quiet and attentive, you may hear the sounds of wild animals, spot a few species of birds and snakes as well.
Our Finance Manager, Gautam Singh narrates one of the incidents from the forest section -
"I was walking all alone in the forest section and to my surprise, a fiery red fox jumped across the trail just 10 metres away from me! I had the scare of my life at first and was stunned at what I had just seen. It was a magnificent sight!"
Observe nature while you are here. You will not get this setting once you head back to the city. The forest is nothing short of a tropical rainforest!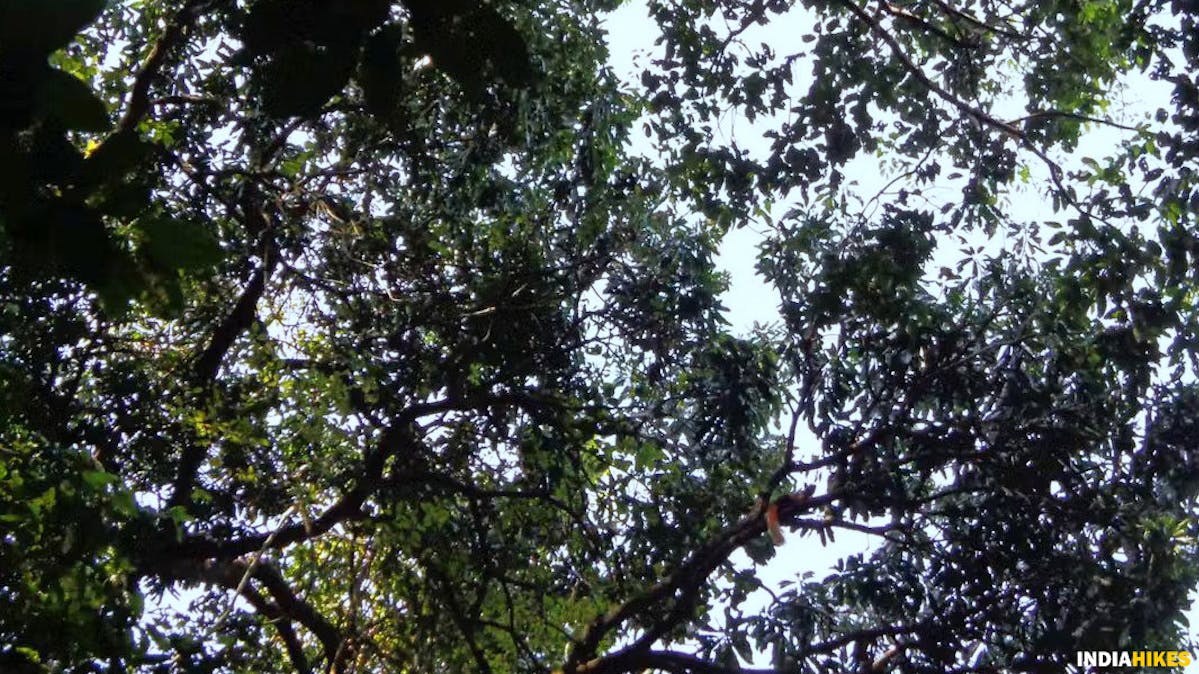 Spot the Giant Malabar Red Squirrel (Indian Giant Squirrel) peeking from high up in the trees! This species of Squirrel is endemic to Western Ghats. Picture by Suhas Saya
| Tip: Keep your water bottle handy and take small sips of water every 15 minutes. Do this even if you don't feel thirsty. Since the climate is very humid, you will dehydrate quicker. This trick will keep you hydrated throughout and helps regain the water lost through sweat.
Your first rest point here is after you trek for approximately 3.5 kilometres, when you reach a huge rock, popularly known as Bheemana Bande or Bheema Rock.
Rest for a few minutes, have some snacks and regain energy as you prepare yourself for a steeper trail ahead.
Post monsoons, there will be leeches on the trail. While they are there from the beginning of the forest section itself, you will start to notice them while you rest at Bheema rock.
Apply Dettol or Savlon at the base to avoid leeches if you are scared of them. If you are not too worried, the best option is to remove them once you reach Bhatta's place. A few leeches sucking a few drops of blood won't do any harm.
You will reach a clearing as you climb higher, which marks the end of the forest section.
If you start the trek when it is still dark (around 5:30 AM), you will be greeted to this view as soon as you come out of the forest.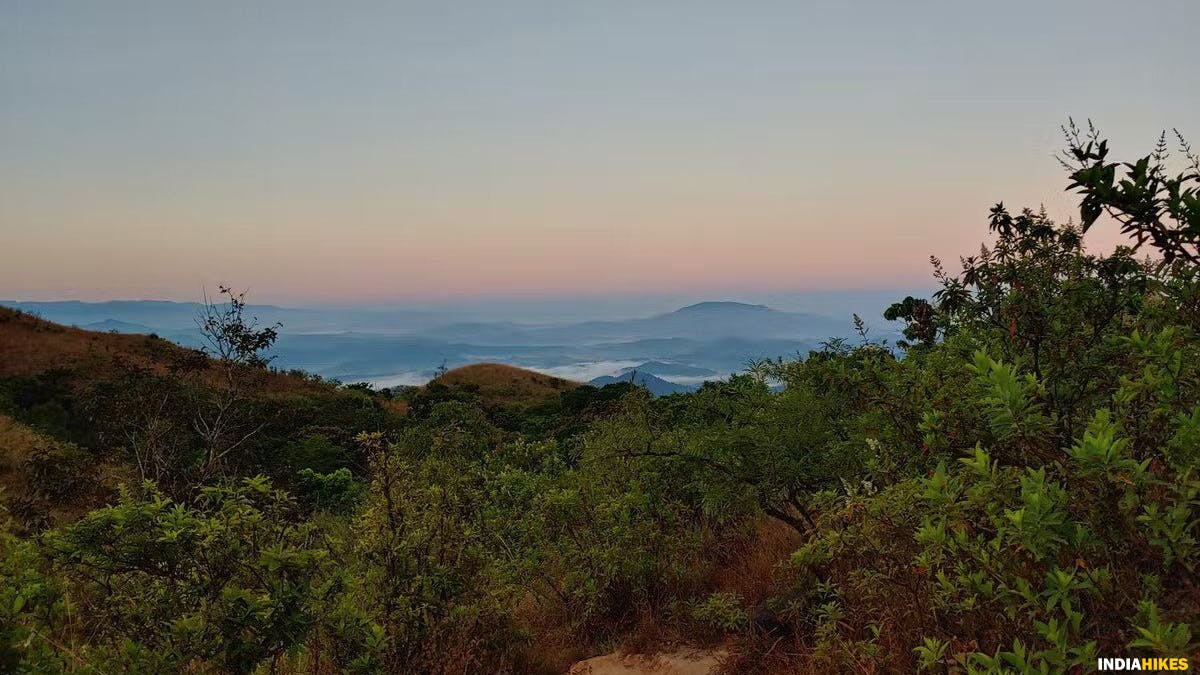 The view was beyond our imagination when we looked behind as soon as we came out of the forest. Picture by Gautam Singh
From here, you will reach Bhattara Mane in about a kilometre. Viewpoint 1 and the Forest Office are very close to Bhatta's House.
The trail deviates to the left and drops down to Bhattara Mane. If you don't take the left, you will reach the Forest Office by going straight and to View Point 1, if you take the right.
The Viewpoint 1 offers panoramic views of Shesha Parvatha right in front of you, and the beautiful Western Ghats around you.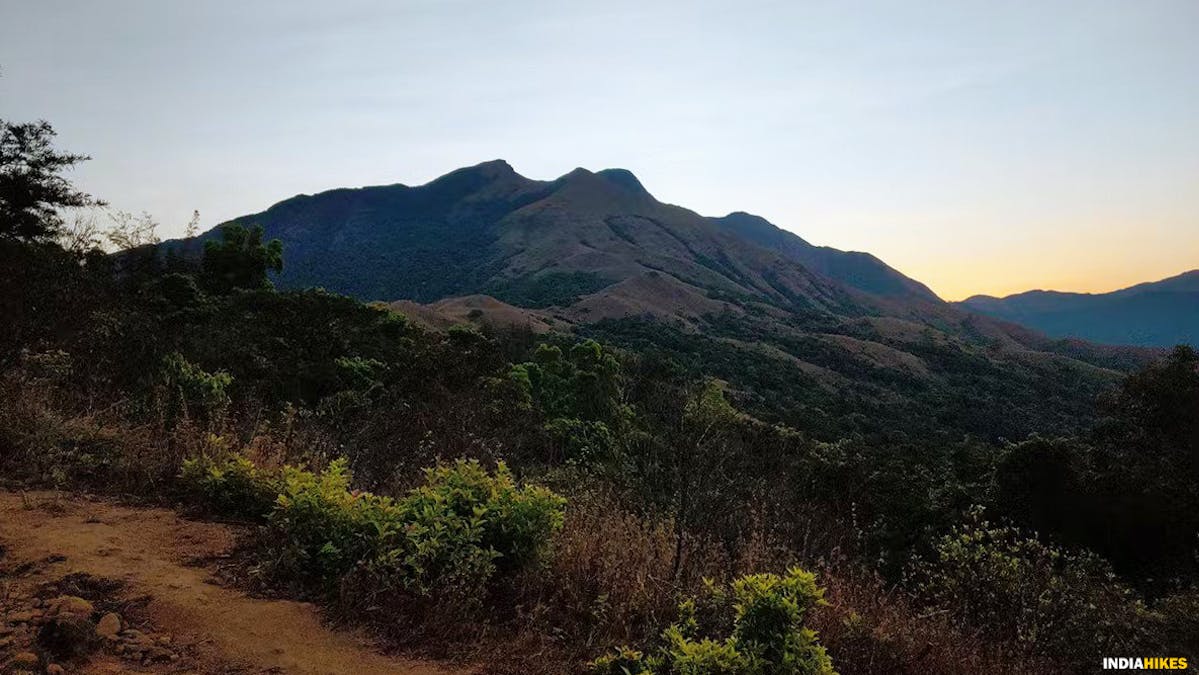 First glimpse of Shesha Parvatha on the way to the Forest Office. Picture by Gautam Singh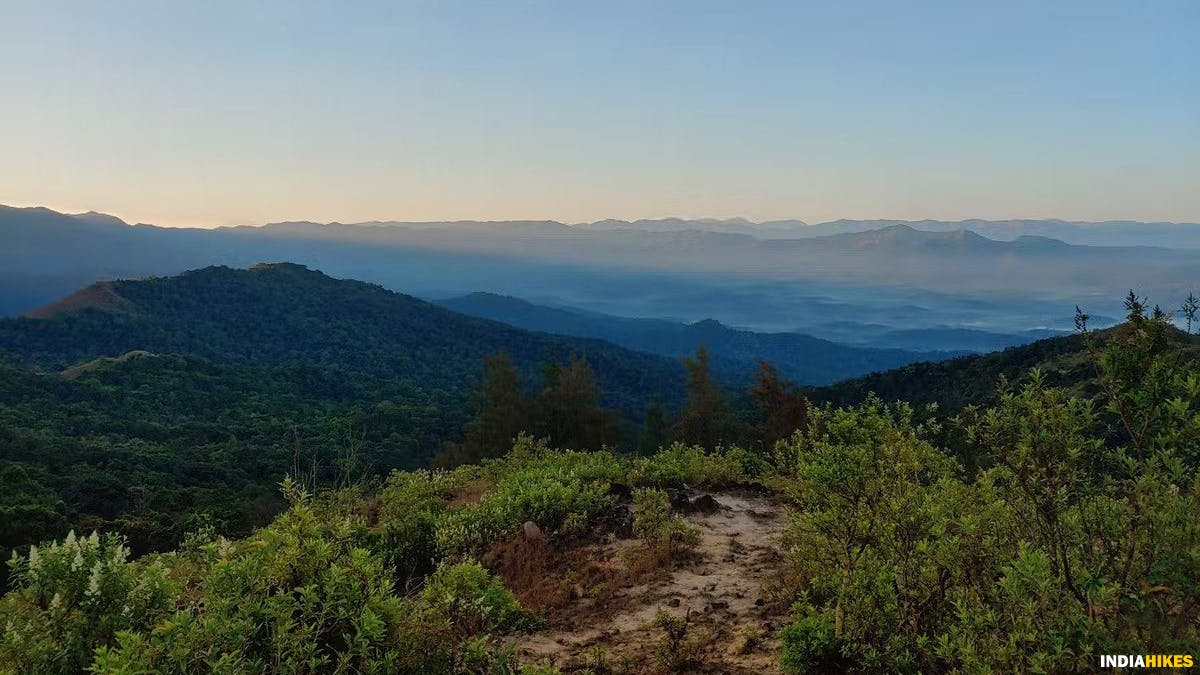 Panoramic views of the Western Ghats around us from Viewpoint I. Picture by Gautam Singh
Inform Bhatta about you and your group's arrival so that he can keep lunch and dinner ready. Inform him about the next day's lunch as well. A meal at Bhatta's place costs Rs 150 per head and you can have as many servings as you want!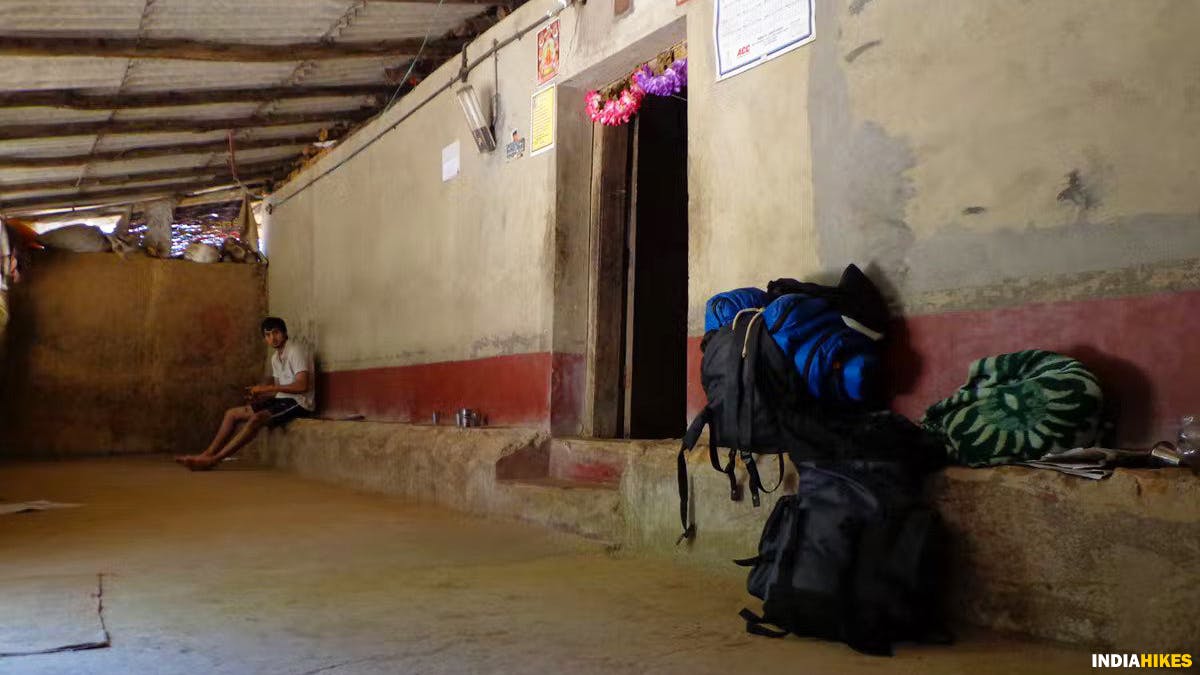 Bhatta's House is a place where he and his family resides. Bhatta is a humble and friendly person who makes sure his hospitality is top notch. Picture by Suhas Saya
Retire for the day here and spend the rest of your time exploring the other trails in the surroundings.
Once you report at Bhattara Mane, proceed to the Forest Office and pay the fees for your next day's hike to the summit. The trail entry fee is Rs 350 per head. This includes trekking fee, trail maintenance fee, and camping fee as well.
Latest Update: Since December 2020 you can hire tents and sleeping bags from Bhattara Mane itself. You need not carry them all the way up from the base.
Just remember to book your tents and sleeping bags in advance by calling Bhatta on +91 9480527765.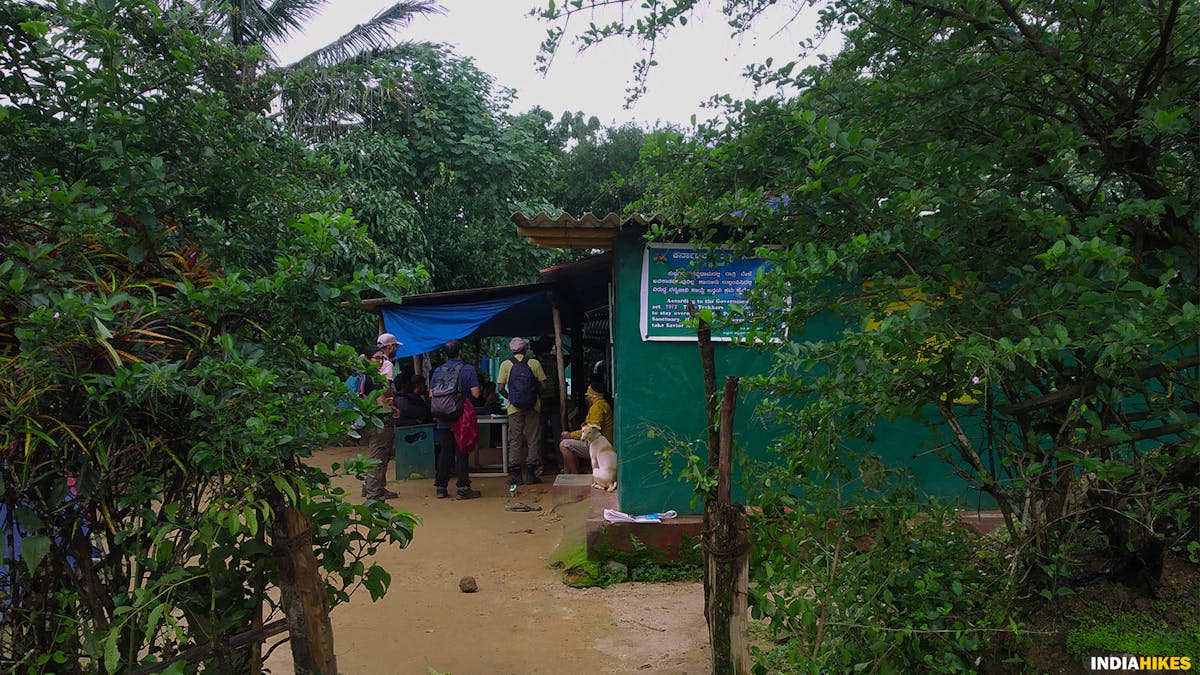 Check in at the Forest Office once you inform Bhatta of your arrival. Picture by Manisha Hegde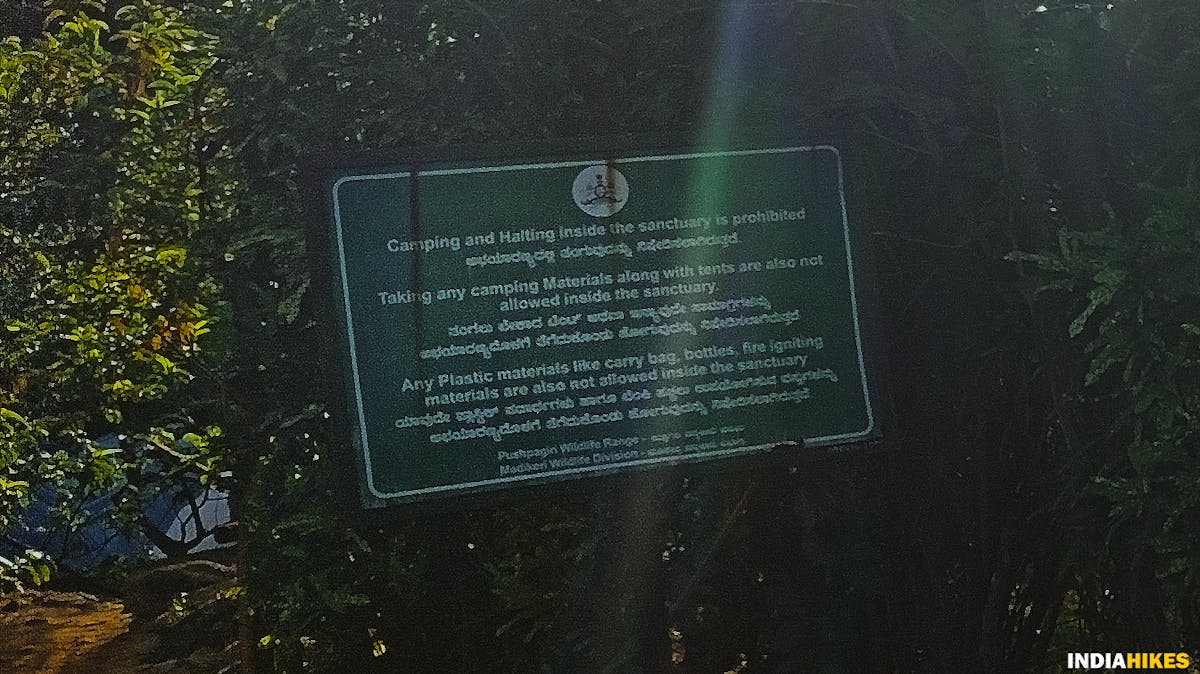 Taking camping materials inside the sanctuary is prohibited. Picture from Indiahikes Archive
Trek Distance: 3.5 km
Trek Duration: 3 Hours and 30 Minutes
GPS Coordinates of Bhattara Mane / Forest Office: 12°40'7.82"N 75°39'15.81"E
GPS Coordinates of Shesha Parvatha: 12°39'55.46"N 75°40'38.50"E
Start the next day early. You have a challenging climb ahead.
Do not wait for breakfast at Bhatta's place. Since it is the only place where you get food on the trail, a lot of trekkers will already be in queue. We recommend you carry dry fruits and nuts along with some food that doesn't spoil easily and have it on the trail. This saves a lot of time.
Leave all your extra luggage, your tents, and other stuff that are not required at the Forest Office. They will take care of your belongings. You cannot carry tents and other camping equipment beyond the Forest Office.
Do not forget to refill your water bottles at the Forest Office before you start.
The trail starts to get steeper in less than 10 minutes and you are in the grasslands now. Welcome yourself to the vast unending view of greenery, with thick patches of forest on your left.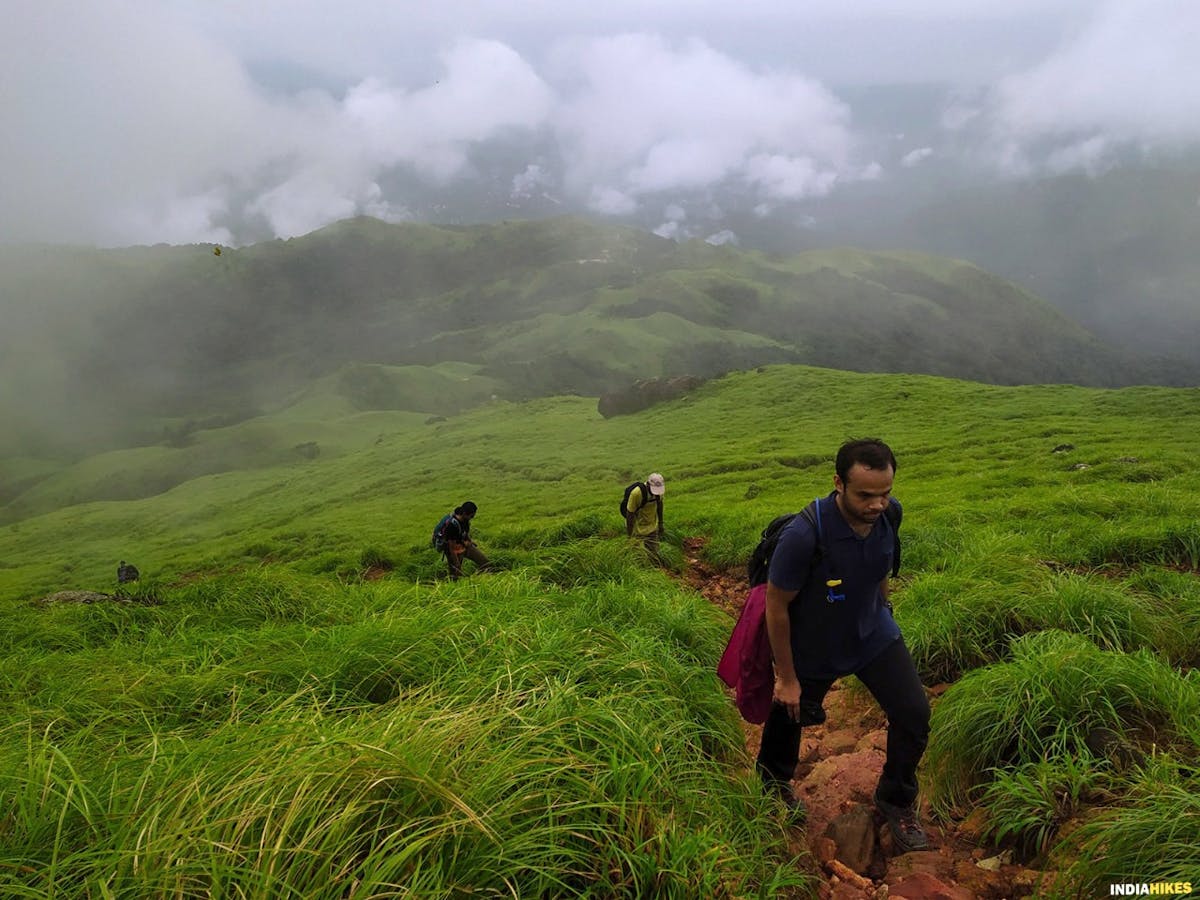 This view greets you as soon as you step out of the Forest Office and start your ascent. Picture by Jagadeesh
Make your way up to Shesha Parvatha. After a hard climb which compliments the out-of-the-world scenery, in about 2 kilometres, you reach Kallu Mantapa. This is your rest point. Hydrate well. Follow the first tip and sip water every 15 minutes.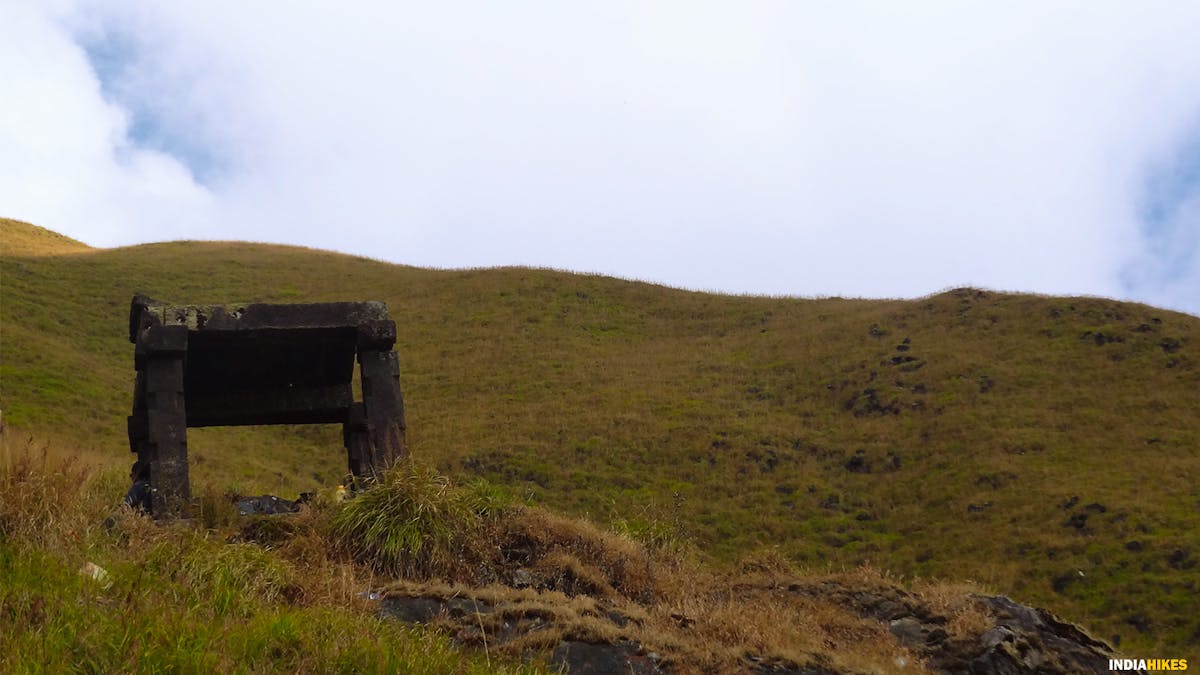 Make sure you rest at Kallu Mantapa before the challenging climb that lay ahead. Picture by Jagadeesh
Since there is no forest cover like the previous day, you are exposed to the sun and the heat for the entire duration of the trek until you head back to the Forest Office. Add to that the near-vertical climb that follows. This dehydrates you and drains you out of energy quickly.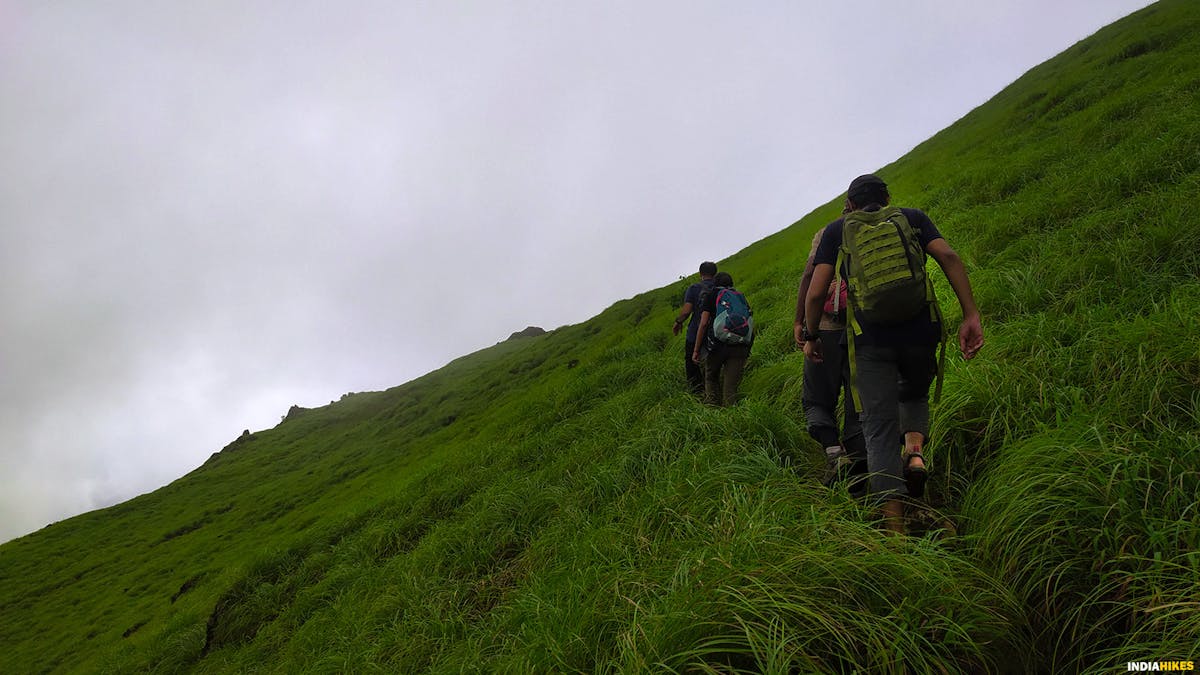 Trekkers ascend the hard climb to Shesha Parvatha. Picture by Jagadeesh
As you get closer to Shesha Parvatha, you see a vast green valley along with the steep rock face of Shesha Parvatha to your right.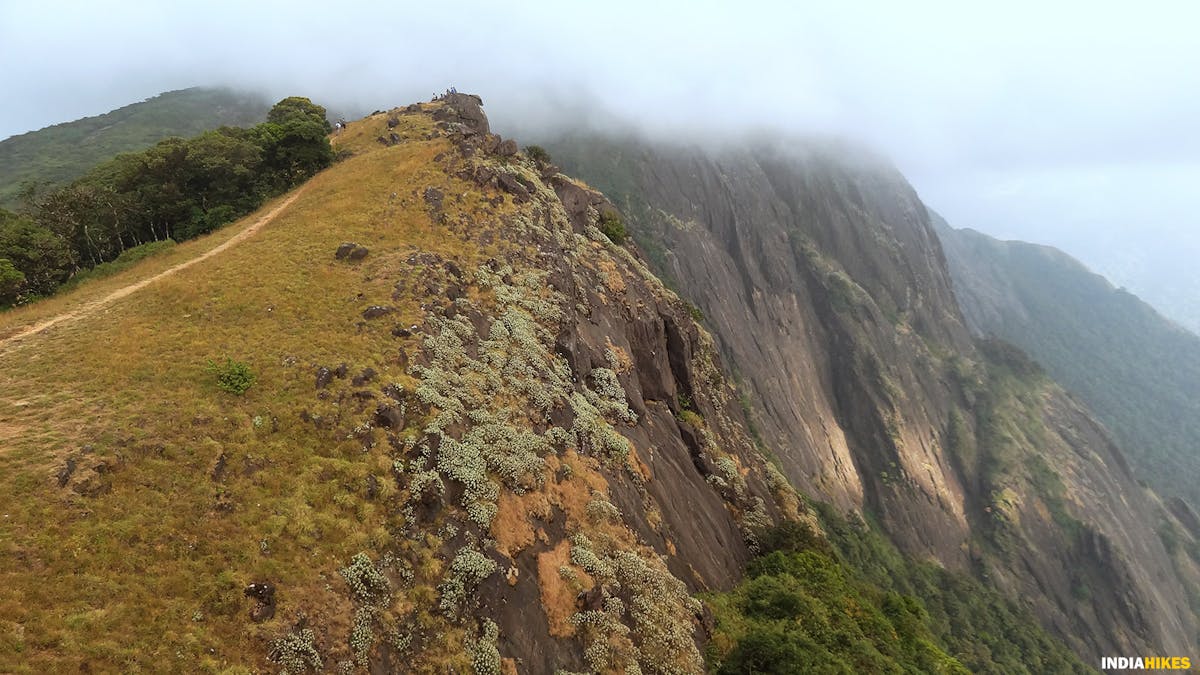 This leg of ascent after Kallu Mantapa to Shesha Parvata is the most challenging. Picture by Vismay
You get clear views of the surrounding Western Ghats only in autumn and winters.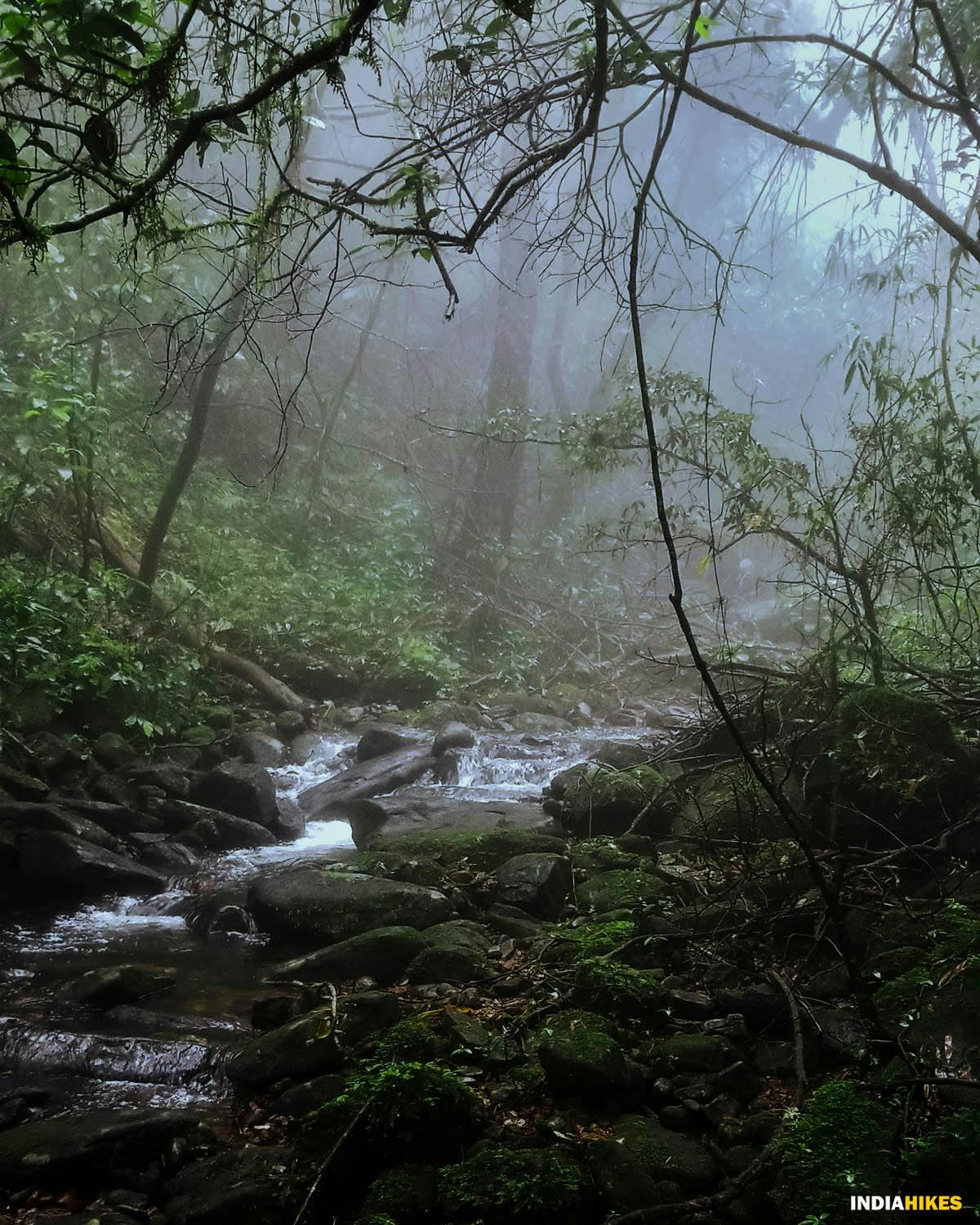 Trek through the Forest streams. Picture by Jagadeesh
Trek Distance: 1.5 km
Trek Duration: 1 Hour and 30 Minutes
GPS Coordinates of Shesha Parvatha: 12°39'55.46"N 75°40'38.50"E
GPS Coordinates of Kumara Parvatha Peak: 12°39'43.39"N 75°41'10.94"E
Once you reach Shesha Parvatha Peak, the toughest part of the trek is done.
Continue further to reach the second forest section of the trail. This section is absolutely stunning!
Before the forest, there is a near-vertical descent. This is very steep and is often slippery due to the loose mud and gravel. Carefully descend down into the forest.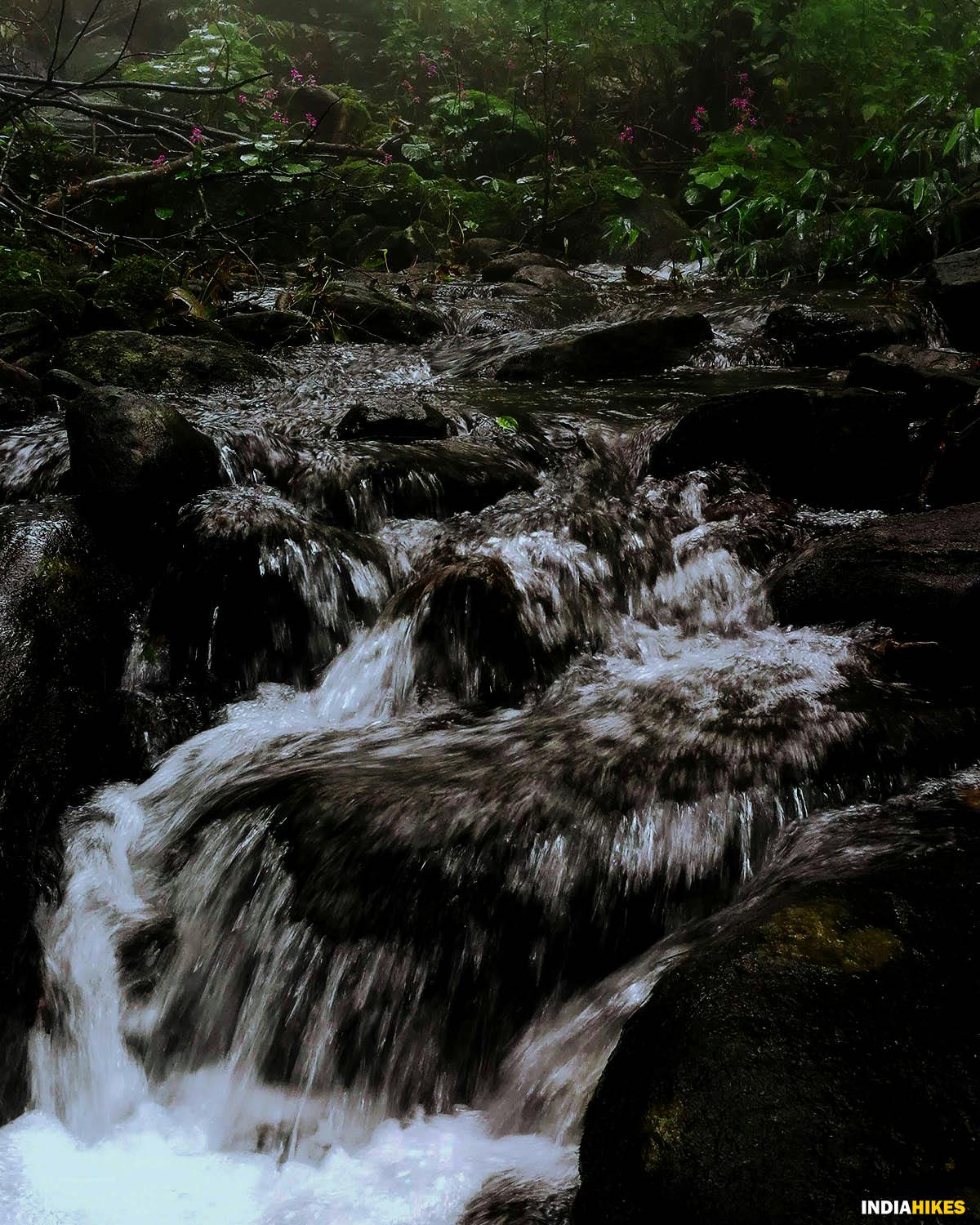 Fresh stream water can be used to quench your thirst. Picture by Jagadeesh
If you are here post monsoon, you are in for a treat. All the rainwater accumulated in monsoon now flows as a stream alongside you in the forest.
The vertical rock face turns into a waterfall. And, this increases the difficulty of traversing the section a notch higher.
| Note: Be extremely careful when placing your foot on slippery rock as you will have very little grip on wet surface that is topped with slim algae.
On the other hand, autumn and winters pose less risk at this section as the rocks are bone dry and there is no sign of water in the entire forest.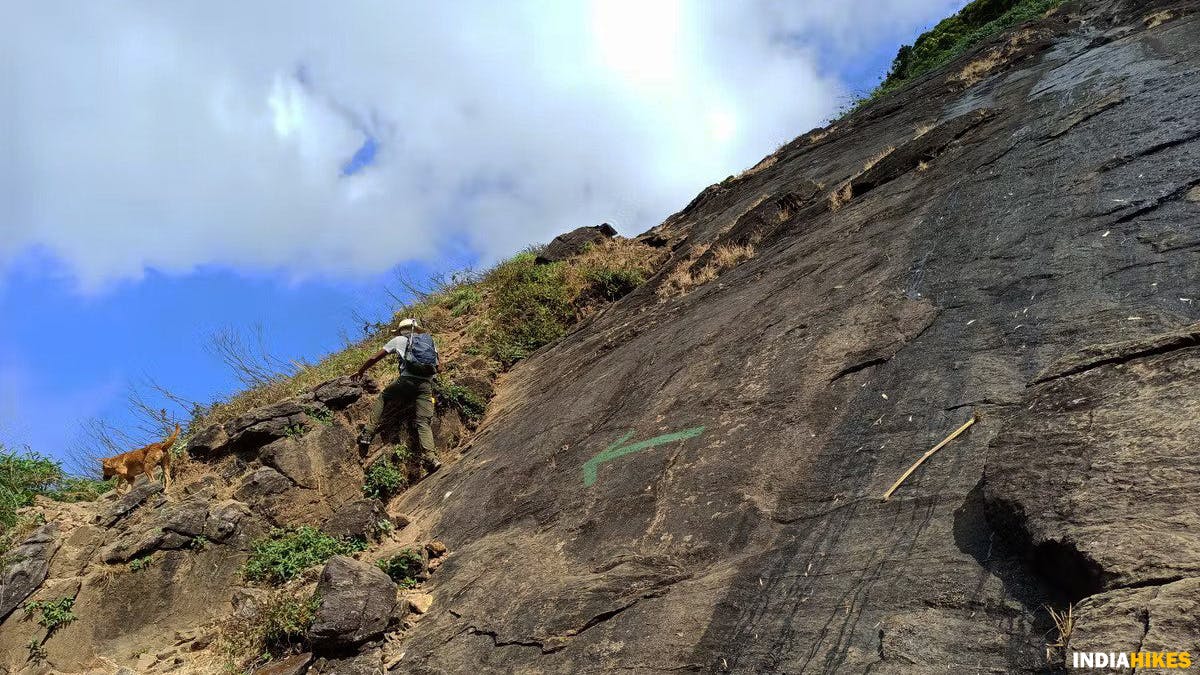 A trekker ascending the vertical rock face. Picture by Suhas Saya
Once you climb the rock face, in less than 20 minutes you reach the Kumara Parvatha Peak, also called the Pushpagiri Peak.
From here, the other side of the mountain opens up which was hidden all along.
On a clear day, you get to see the peaks of Coorg and the rest of the Western Ghats stretched far and wide.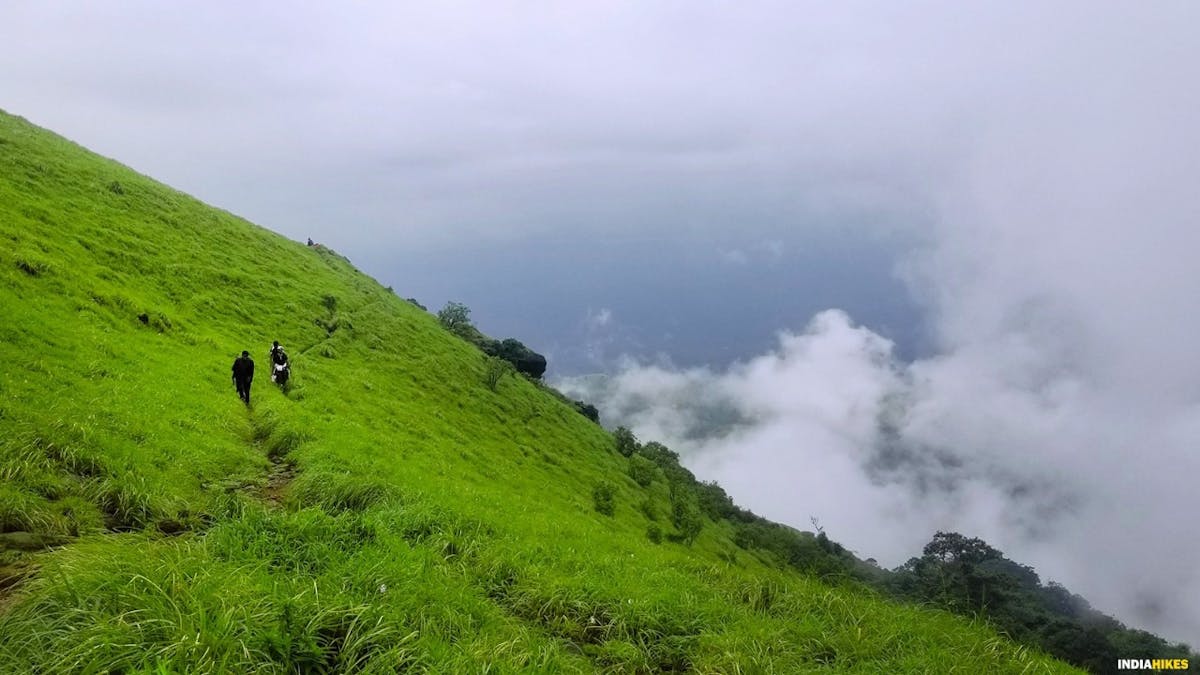 A group of clouds greeted us as we made it to Kumara Parvatha Peak. Picture by Jagadeesh
Spend your time generously at the peak. Don't forget to take in the scenery all the while you trek, as you will get a 360° view of the Western Ghats.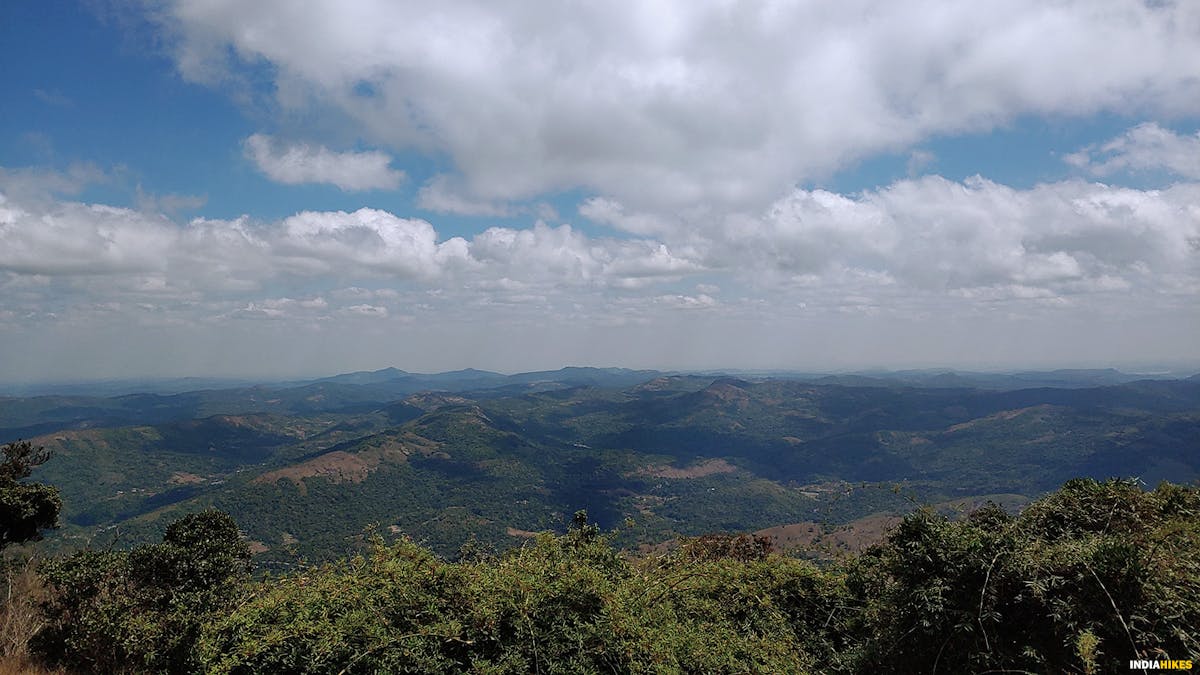 The other side of the ghats that were invisible all this while are opened up from the Kumara Parvatha Peak. Picture by Gautam Singh
Close your eyes for a while and reflect on your journey to the top. Notice the silence and the sounds of birds chirping around. Take your time to appreciate the trek and nature around you. 
Relax your over-worked muscles before you start your journey back to base. You will take the same route back, you must be cautious on the tricky sections and move slowly and steadily. A slip may cause you to fall and injure yourself.
Make your way back to Bhatta's House in time for lunch. Have your lunch and head over to the Forest Office to collect your equipment and belongings.
Keep the turn around time from Kumara Parvatha Peak at 10:30 AM, so that you are back at Bhatta's place before 2 PM. This gives you good amount of time to have your lunch and return back to the base before it gets dark.
| Note: The deposit paid for plastic packaging is refunded only if you bring back all the plastic that was counted before you carried them to the peak with you. So, make sure you do not litter on the trail and get all the plastic back to the Forest Office with you. Once you collect the deposit, dump the plastic wrappers in the waste bin available there.
Once you have re-energized, head back to the base taking the same route as yesterday.
Since it is all downhill from here, you must be extra cautious not to run or misplace your footing. Ideally, you should take the same amount of time to descend as you had taken for the ascent.
So, traverse the descent through the forest carefully and reach the base by evening before it gets dark.
Route Map Of The Trek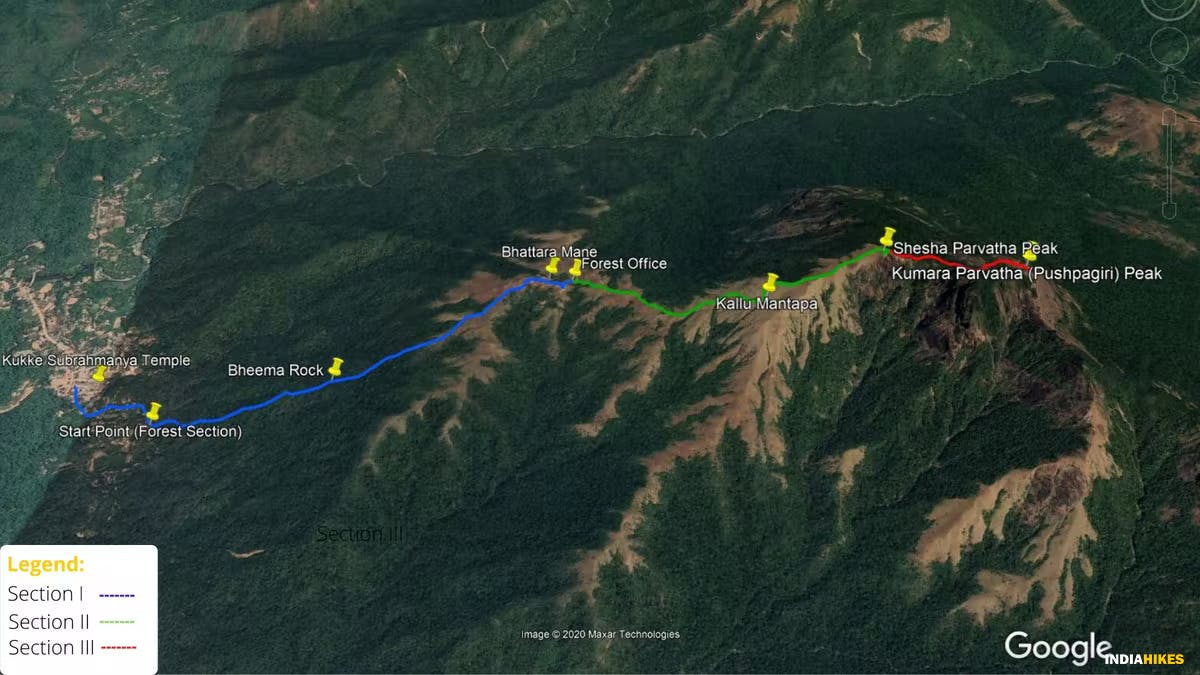 Route map of the Kumara Parvatha trek. Screenshot on Google Earth Pro
In case you want to read more on how to use this GPX file, go through our detailed guide here.
Best Time To Do Kumara Parvatha Trek
Kumara Parvatha trek is done in the post-monsoon season till winter (October - February). Because of the humid climate, trekking in summer gets extremely hot and dehydration becomes a major concern.
There are higher chances of forest fires during summers in the upper reaches of the trek. Because of this reason, as a precautionary measure the Forest Department closes Kumara Parvatha from 1st March to 30th September every year.
Kumara Parvatha in the months leading to Summer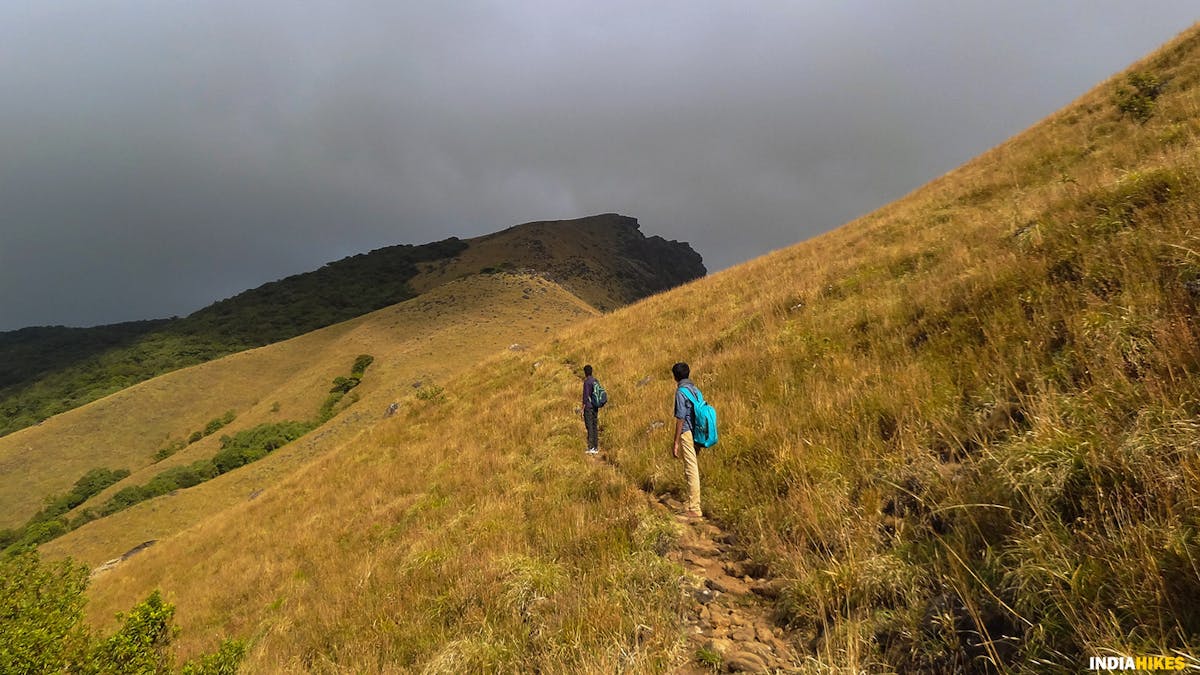 Golden brown grasslands await you in autumn and winter. Picture by Vismay
Kumara Parvatha post monsoon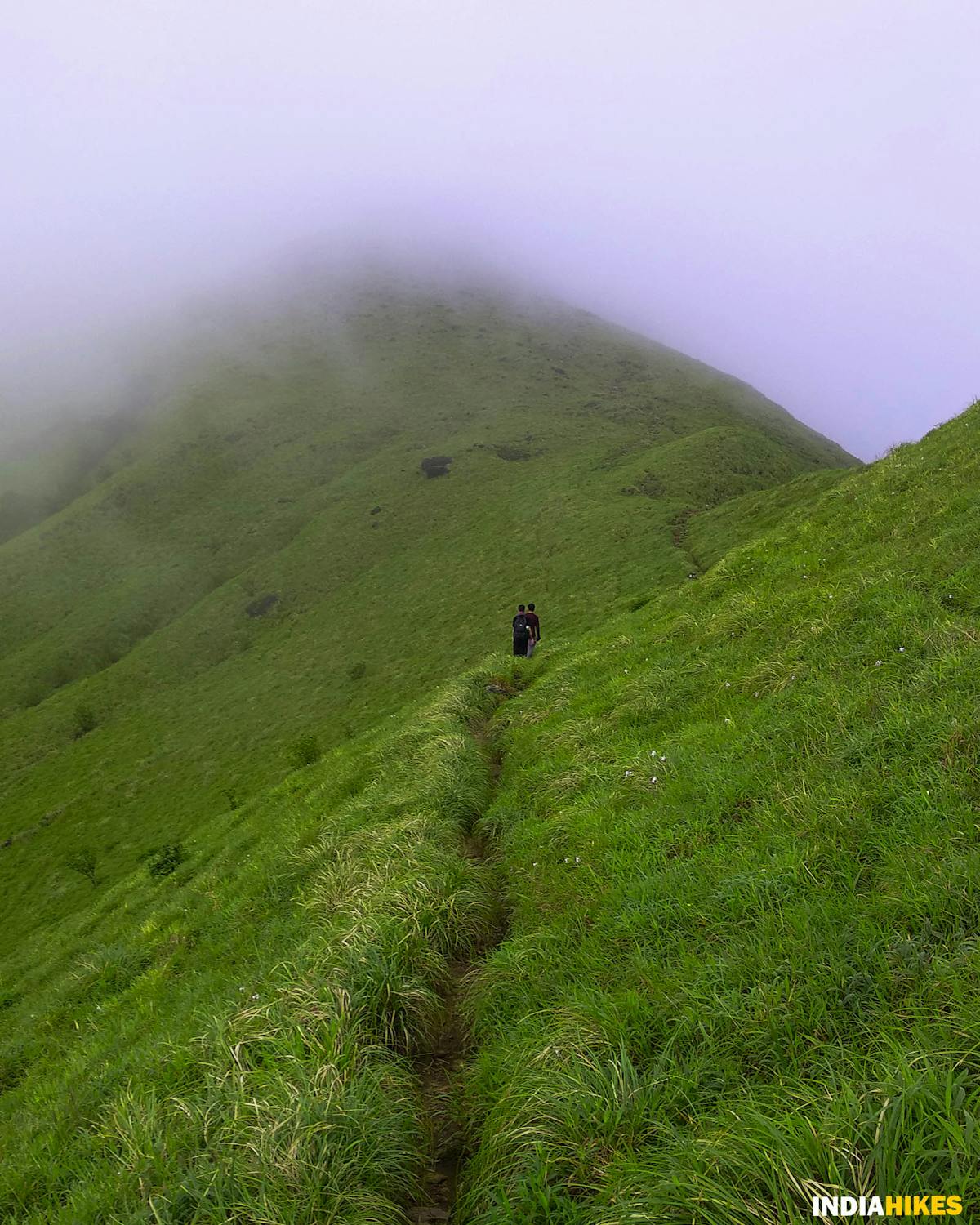 We see lush greenery in the post-monsoon months. Picture by Tarun Soni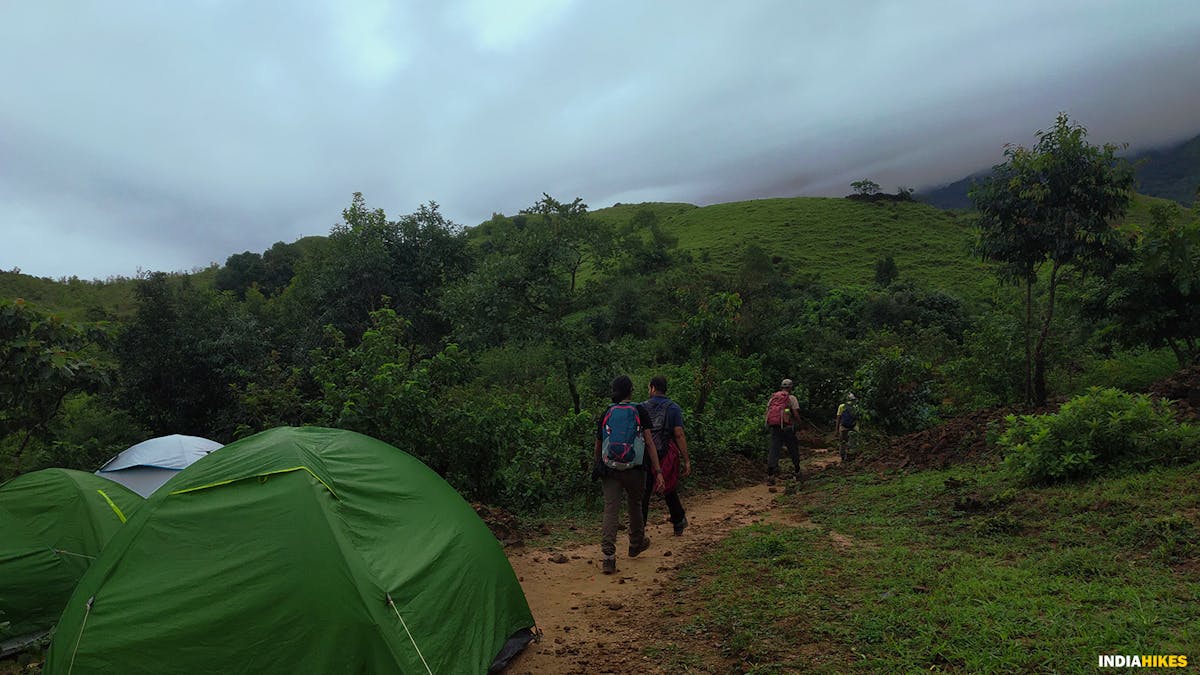 You can camp before entering the Sanctuary. Picture by Indiahikes archive
In monsoons, the trail becomes extremely slippery and this makes every step susceptible to fall and injury. Considering the trail is largely on loose mud, gravel, rocks and boulders, the difficulty increases manifold. Hence, we strongly recommend NOT to do the Kumara Parvatha trek in monsoons and summers.
How to Reach Kumara Parvatha Trek
Before we dive into the details of how to reach Kumara Parvatha, watch this video to know how to plan the trek beforehand:
Kumara Parvatha starts from the town of Subrahmanya where the historic Kukke Subrahmanya temple lies. You have to first reach Kukke Subrahmanya and reach the base before you start your trek.
Reaching Kumara Parvatha By Your Vehicle from Bangalore
The route to Kukke is an adventure! It is almost 200 kilometres of four lane expressway till Hassan. After Hassan, the Ghats start. The beauty of Sakleshpur, till Gundya via the famous Shiradi Ghat is an experience of its own.
Gundya is a small village around 40 kilometres from Sakleshpur main town. Kukke is another 22 kilometres of splendid drive on a forest filled curvy road. The sound of streams adds to the whole experience.
If you are travelling by your own vehicle, use this link to set up the GPS. If you cannot access Google Maps, here are the directions to follow:
Take National Highway 48 and drive till you reach Nelamangala. Take the left at the junction from Nelamangala and stay on National Highway 75.
Pass Hirisave, Settyhalli, Hassan and Sakleshpur while staying on National Highway 75.
At Gundya, take the left turn just before the Forest Checkpost in front of you on the right to join State Highway 114.
Continue on State Highway 114 (Bandadka-Bengaluru Road) and take the Kukke Subrahmanya Road on the right at the deviation. You will find HP and Bharat Petrol Stations here. Refuel if you are running low.
Follow the road to reach Kukke Subrahmanya. While the KSRTC Bus Stand is on your right, continue straight and take a right at the dead end and turn left immediately toward an inside street.
Continue on the street for about 1.6 kilometres to reach the base of the trek, visible on your left.
Reaching Kumara Parvatha By Public Transport System
• Reaching Kumara Parvatha By Bus
There are many KSRTC and Private Buses that ply to Kukke Subrahmanya from Bangalore.
Here is the link to KSRTC Online Booking: https://ksrtc.in/oprs-web/.
KSRTC buses to Kukke Subrahmanya leave from Majestic Bus Station, Bangalore from Platform 2A.
Here is the link to book Private Buses Online: https://www.redbus.in/.
It is a best practice to book your bus tickets online and not wait till the last moment.
Bus Timings to reach Kukke Subrahmanya and back
There are many buses that go to Kukke Subrahmanya and return to Bangalore every day of the week. Bus timings can be noted from the Online Booking sites mentioned above and book your tickets well in advance.
| Note: We recommend taking the bus post 10:00 PM from Bangalore, so that you reach Kukke Subrahmanya by 5:30 the next morning and start your trek by 6:00 AM
• Reaching Kumara Parvatha By Train
Kukke Subrahmanya can be reached via train very easily. This is probably the most scenic train journey you can embark in Karnataka. Any train to Kukke passes through a series of tunnels in Sakleshpur.
You can find the Kannur Karwar Express which leaves Bangalore at 08:00 PM and reaches Subrahmanya Road Junction around 5:30 AM the next day.
There are jeeps and autos from the railway station to the Kukke Subrahmanya temple. It is around 11 kilometres by road. Shared jeeps are usually crowded and charge around Rs 60 per person, while an auto costs Rs 300. Expect to pay a bit more if you are taking an auto when the train reaches early in the morning.
How Difficult is Kumara Parvatha Trek
Kumara Parvatha is a Moderate-Difficult trek.
There are many sections that are difficult to traverse on the Kumara Parvatha trek. Since the entire trail till the peak is a continuous ascent, a trekker must always anticipate and prepare for every eventuality.
Here are the things you must keep an eye out for while ascending and descending:
• Slippery trail: The trail becomes more tricky during post-monsoon months as the mud and loose gravel become very slippery and great caution must be taken while traversing. Trekkers must be very careful with their choice of footwear and should check weather charts so as to avoid days with anticipated heavy rains.
• Steep Forest sections: There are many sections in the forests, both on the first and second days that require trekkers' attention. These sections are very steep and it requires trekkers to hold on to the tree branches for support while ascending and descending. Tread these sections cautiously and mindfully so that you do not injure yourselves.
• Steep Grassland sections: Watch out for the steepest section on the entire trek, from Kallu Mantapa to Shesha Parvatha. Although the entire trek one way is an ascent, this particular section is the hardest to climb. Use your trekking poles to support yourself and make sure you grip your feet firmly so as to not slip in this section.
• Vertical rock face after the second forest section: Traverse this section carefully as it is a near vertical rock face. It gets much trickier in post-monsoons when the entire rock is wet and water is flowing continuously. Use your hands to hold on to the rocks while ascending and descending just to ensure you avoid a fall in case of a slip.
• Rocks and Boulders: There are frequent sections, especially after Kallu Mantapa till the Kumara Parvatha peak wherein you must hop over boulders and rocks to proceed further. Exercise caution while doing so, because these boulders are slippery post monsoon and they pose danger due to the growth of algae on them.
How To Get Fit For Kumara Parvatha Trek
The Kumara Parvatha trek is classified as a Moderate-Difficult grade trek. From the base, you will gain approximately 5,600 feet in altitude. The altitude gain is very high for a 2-day trek and the continuous ascent is extremely demanding for people who lead a sedentary lifestyle.
Training yourself for a medium-altitude moderate-difficult grade trek
Here's a guide to help you get fit for the trek in 4 weeks:
➤ Cardiovascular Endurance
In case you're just starting with a fitness routine, start slow and increase your pace everyday in the following manner –
Target completing a run of 5 km in 35 minutes when you begin.
Gradually increase your pace by running 5 km, 4 times a week.
As you become more comfortable, introduce another day of running in your routine. 
Progressively increase the distance you run in a workout until you can complete 5 km in 30 mins.
If you prefer cycling over running, target covering 20 km in 60 minutes when you begin.
Progressively increase your pace to cover 25 km in one hour.
➤ Strength Training
This is an important area you need to work on.
Strength training is equally important to trek comfortably. Work on your glutes, calves and knees. Additionally, work on strengthening your core.
You must strengthen your core muscles. For strengthening your core muscles, holding a plank and it's variations (elbow, side planks) are the best exercises to go about doing it.
Also, try these exercises for strength:
Target 4 sets of squats with 20 in each set.
– Squats (Mix it up with sumo squats)
– Lunges (Forward, backward and lateral lunges)
– Planks
➤ Flexibility
Flexibility determines the amount of movement your bones can make in any direction around joints such as shoulders, elbows, hips and knees.
It is an aspect that will help you trek comfortably. Carrying a backpack, however light, can become a strain. Stretching your hamstrings, quadriceps, hip flexors and lower back muscles regularly, promotes relaxation in the tissues reducing the strain on your back.
If you can't go out and jog because of time and space constraints, here's a video you can use to work out indoors.
Things To Take On Kumara Parvatha Trek
Basic First Aid kit*
Identity Card
Cap/ Scarf/ Bandana & Sunglasses
Water (Minimum two litres)
Lemon and salt OR Electrolyte Powder/Drink (Electral/Gatorade/Glucon D, etc.)
High-calorie snacks (Nuts & dry fruits, home-baked cake, etc.)
Safety Pins, Rubber bands & Whistle (Useful in emergencies.)
Quick Dry T-shirts are preferable over cotton tees.
A warm layer (Pull over, sweater or a jacket)
Poncho, only during post-monsoons
Plastic sheet to wrap electronic devices, only during monsoons
Sunscreen (SPF 50+)
Trekking poles
Tent (3-Person or 2-Person - Depending on the number of people sharing)
Sleeping Bag
First aid kit:
Scissors
Band aids (Regular & Waterproof)
Analgesic spray (Relispray, Volini, etc.)
Antiseptic Liquid (Savlon, Dettol etc.)
Antiseptic powder (Povidone-Iodine based powders like Cipladine, Savlon, etc.)
Cotton roll & Bandage
Crepe Bandage
1 inch wide medical tape (paper or cloth.)
Micropore tape
Tablet for motion sickness (Avomine), Acidity (Gelusil, Digene, etc.).
Mild pain relief tablet (Crocin)
| Note: Always consult a doctor before taking any medicine.
Frequently Asked Questions

1. Can I do the Kumara Parvatha trek if I have never been on a trek before?
No. This trek is extremely difficult for a person who has never trekked before. It is important to follow the fitness guide mentioned above to prepare well before attempting the Kumara Parvatha trek.
We recommend doing other easy treks like Skandagiri and Savandurga first, along with following the Fitness Guide, to get ready for this trek.
The trail is also tricky at some sections, having to climb rock faces which is slippery post-monsoon.
2. Do I need to obtain permission for trekking to Kumara Parvatha?
Yes. You need to obtain permission before attempting to trek. You must report yourself at the Forest Office and you have to pay Rs 425 per head as entry fee.
3. Where can I get food and water during the trek?
There are plenty of restaurants at the Kukke Subrahmanya temple. The popular ones are Neo Mysore Cafe and Hotel Kumarakripa.
Both of these restaurants open doors as early as 5 AM. Have your breakfast before you start the trek.
On the trek, Bhatta's house is the only place you get food during the trek. So, have a word with Bhatta as soon as you reach his place so that he can keep the meals ready.
Apart from these, we also recommend carrying lots of dry fruits and nuts. These can be bought in the nearby shops at the temple street. Also, carry non-perishable food items from home like Bread and Peanut Butter, Rotis etc., which you can have on the trail and not be dependent on Bhatta's place only for the entire 2 days of your trek.
Fill your water bottles at any of the restaurants before starting the trek. Once you are on the trail, your next water point is either Bhatta's house or the Forest Office. So, ensure you carry a minimum of 2 water bottles of 1-litre each and fill them fully.
Except these, there are no other water sources on the trail.
We do not recommend filling the water on the trail from small streams or stagnant water sources as they might not be potable and people with sensitive stomachs may fall sick after consuming water from such sources.
4. Whom do I contact in case of an emergency on Kumara Parvatha Trek?
• Hospital: The closest hospital is Sadananda Medical & Dental Health Centre which is 3 km away from the base. You can reach them on +918257281214 for assistance.
• Police Station: The police station closest to Kumara Parvatha is the Subrahmanya Police Station (Contact: +918257281250).
• ERSS: For any kind of emergency help, you can contact the Pan-India Emergency Response Support System (ERSS) number- 112.
5. What about mobile network and connectivity on Kumara Parvatha trek?
| | |
| --- | --- |
| Mobile Network | You will get mobile network for almost all major operators like Airtel, Vodafone, Jio etc., only until the Forest Office. You will be out of the network coverage area from the Forest Office till Kumara Parvatha peak. |
| Nearest ATM | Near Kukke Subrahmanya temple is where you will get an ATM, which is roughly 1.5 kilometres away from the base of the trek. So, don't worry! Even if you have run out of cash, you will find ATMs close by. |
6. Do I need a guide to trek Kumara Parvatha?
The trail is very clear and as straight as it can get. The trail is one of the well trodden trails in Karnataka. There is no chance of losing your way on the trail. We recommend not to use a guide on the Kumara Parvatha trek.
For a detailed guide on how to plan the Kumara Parvatha trek on your own, refer this article - https://indiahikes.com/how-to-plan-the-kumara-parvatha-trek
7. Can I camp anywhere on the trail on Kumara Parvatha Trek?
No. You are allowed to pitch your tents only in the designated area around the Forest Office. You have to leave the tents and other camping equipment back at the Forest Office before making your way up to Kumara Parvatha peak.
Update: Since December 2020 you can hire tents and sleeping bags from Bhattara Mane itself. You need not carry them all the way up from the base.
Just remember to book your tents and sleeping bags in advance by calling Bhatta on +91 9480527765.
8. Are there leeches on the trail?
You will definitely have the company of leeches throughout the trail if you are trekking in the post-monsoon season.
| Tip: Apply Dettol or Savlon at the base to avoid leeches if you are scared of them. If you are not too worried, the best option is to remove once you reach Bhatta's place. A few leeches sucking a few drops of blood won't do any harm.
During winters, there will not be any leeches on the trail.
9. Where can I park my vehicle?
Vehicles can reach till the base of the trek with ease. The base is well connected by road.
There is parking space right at the base. The space can hold between 10-12 four-wheelers at once. So, you can park your vehicle and start the trek right from the parking lot!
10. Where can I stay on Kumara Parvatha trek?
Before and after the trek, there are many stay options according to your budget at Kukke Subramanya town. During the trek you can stay at bhattas house in a tent or at the designated camping ground near the forest office. To camp near the forest office, you need to carry your own tents or you can rent from Bhatta for an amount.
Nearby Places To Visit After Kumara Parvatha Trek
➤ Kukke Shri Subrahmanya Temple - A Hindu temple that worships the deity Karthikeya as Subramanya, the lord of all serpents. The temple holds a great importance among the people of South India. The trek literally starts from the temple. So, it is as closest as it gets to the Kumara Parvatha trek.
 ➤ Biladwara Caves - You will soon realize upon entering the city of Kukke Subramanya, that it is steeped in mythology, and religious beliefs and practices. Taking off from here, the Biladwara cave too, is one such mythological attraction. It is believed that the serpent King Vasuki went on a penance in this cave to save himself from Garuda.
➤ Mandalpatti Peak - Mandalpatti peak is a high viewpoint in the Madikeri region of Coorg. You can either take a jeep to the peak, or can trek to the peak. Some peaks, you can spot from the viewpoint are Doddabeta, Uppangala Betta, Katthipaare, and the Hammiyala Betta.
➤ Kote Abbe Falls or the Abbey Falls - Abbey falls is a waterfall that is near the upper reaches of the Kaveri river. it is a popular tourist destination. The waterfall is nestled between plantations, coffee estates, and the forests of the western ghats.
➤Trek Contribution
Trek Documented By: Indiahikes Team comprising of Gautam Singh, Hariharasudan T, Ishani Kundu, Manisha Hedge, Roshan Padhi, Ryan Venattu, Saurabh Sawant, Sneha Yadav, Soumya Krishnamurthy, Suhas Saya, Vishnu Benne, and Venkat Ganesh 
Picture Contribution: Dhanush Gowda, Gautam Singh, Ryan Venattu, Saurabh Sawant, Soumya Krishnamurthy, and Suhas Saya, Jagadeesh, Vismay
Photos Edited by: Sneha G Iyer
Trek Penned Down by: Gautam Singh
GPX File Opt in
We go to great lengths to ensure you have a safe trek. So here's a GPX file of the trail to help you navigate without getting lost.