Can You Help Us With Photographs Of This Trek?
We are looking to enrich this documentation with more photos. Pictures go a long way in explaining the trail, more than words ever can. If you have done this trek, can you share your photos with us? We will include them on this page, with due credit to you. Click here to contribute.
The Complete Guide to Kunagalu Betta Trek
The first image that comes to mind when we think of Kunagalu Betta trek is the rock that resembles the face of a cute puppy. This is why we, at Indiahikes, have nicknamed it the Puppy Betta trek. 'Betta' in the Kannada language means 'a hill'.
The trek in itself is very short and easy. Whether you're doing it solo, or with your family and friends, we are certain that everyone falls in love with Kunagalu Betta.
The reason is the reward it offers for the amount of effort you put in. Just an hour's climb through a sometimes steep, sometimes gradual trail takes you to a vantage point with 360-degree views of the rural side of Ramanagara town.
If you trek during the post-monsoon season, you'll be in for a treat because the whole region looks like a tropical paradise, with hundreds of coconut trees and fields, while boulders and hills dot the background.
Kunagalu Betta carries the name of the village at its base, which is named after a local deity of the place called Koonamma. As a result, there are many pilgrimage events that take place throughout the year by the locals.
Since the trek lies in the rural part of Bengaluru, the drive to this place gets better as you get past the hustle and bustle of Ramanagara town. You'll pass through green fields while a cool breeze brushes your hair. 
The short trek, combined with rewarding views make the Kunagalu Betta trek an ideal getaway around Bengaluru.
➤ Table of Contents
Just like you, we love trekking! And this is a trek we've documented in great detail to help you do it on your own. Drop in comments at the end of the page if you need any help!  You will get all the information required to do the Kunagalu Betta trek on your own.
To navigate through the documentation easily, use this section of Table of Contents.
Highlights
Trail Information
GPX File of Kunagalu Betta Trek
Best Time to do the Kunagalu Betta Trek
Difficult Sections on the Trek
Is Kunagalu Betta Trek Safe?
How to Reach the Base of the Trek
Things to Take for the Kunagalu Betta Trek
Frequently Asked Questions
Nearby Places to Visit
➤ Highlights of Kunagalu Betta
1. Boulder that Resembles the Face of a Puppy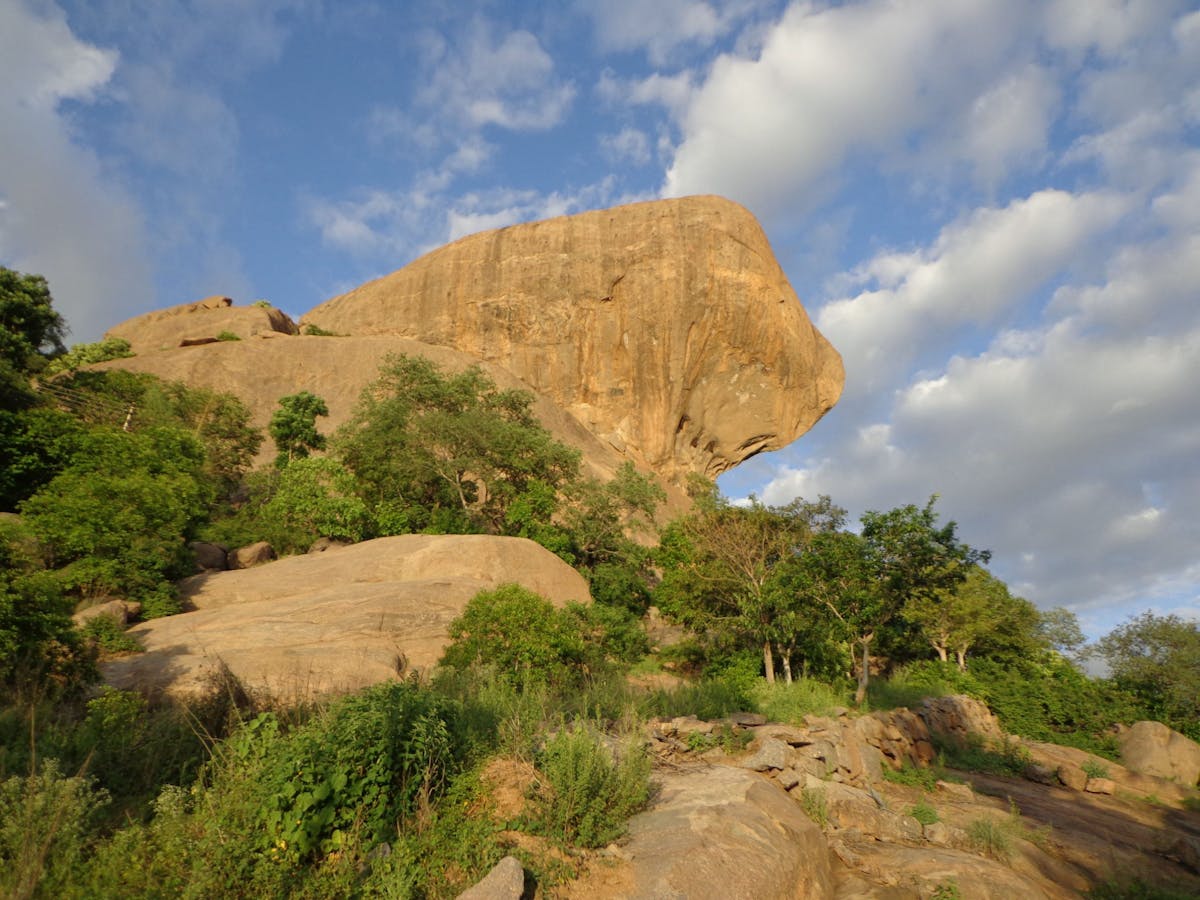 A natural formation, this boulder has a striking resemblance to the face of a puppy. Picture by Abhinav
Puppy Betta got its nickname from us when we saw this rock face from almost a kilometer away! It is very easy to identify. You just have to follow the face to reach the base village of the trek.
As you get closer, you'll notice that this cute rock face is actually a huge boulder with an overhang that looks daunting.
2. 360-Degree Views from the Top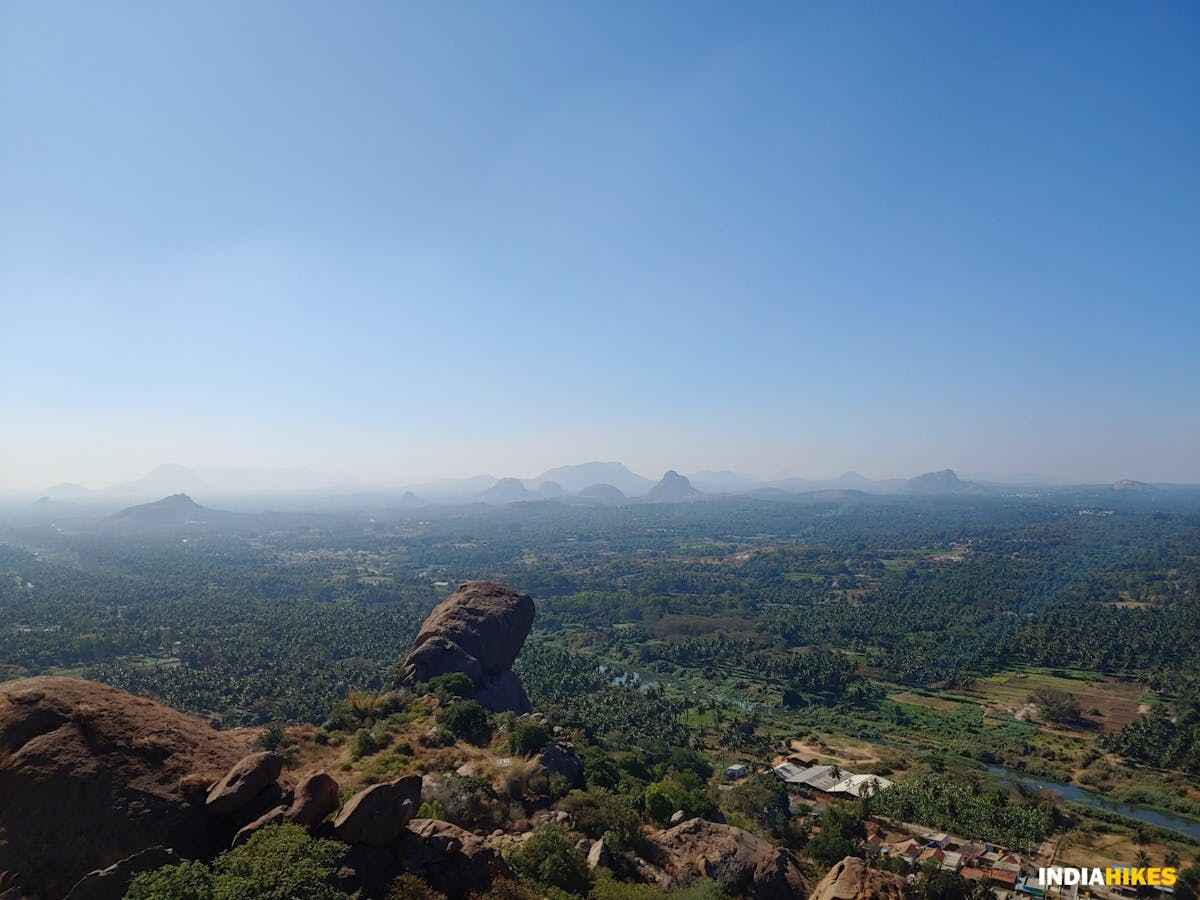 From the top, you see the landscape filled with coconut farms and hills around Ramanagara. Picture by Gautam Singh
Once you are on the Kunagalu hilltop, this panoramic view opens up, showing the entire landscape of the town's rural side.
In one wide sweep, you see numerous hills, coconut farms, cultivated lands, the Arkavathi river that cuts through different villages. You'll feel like you are in a tropical paradise with this contrast.
3. The Adventure of Crossing a Short Cave and Boulders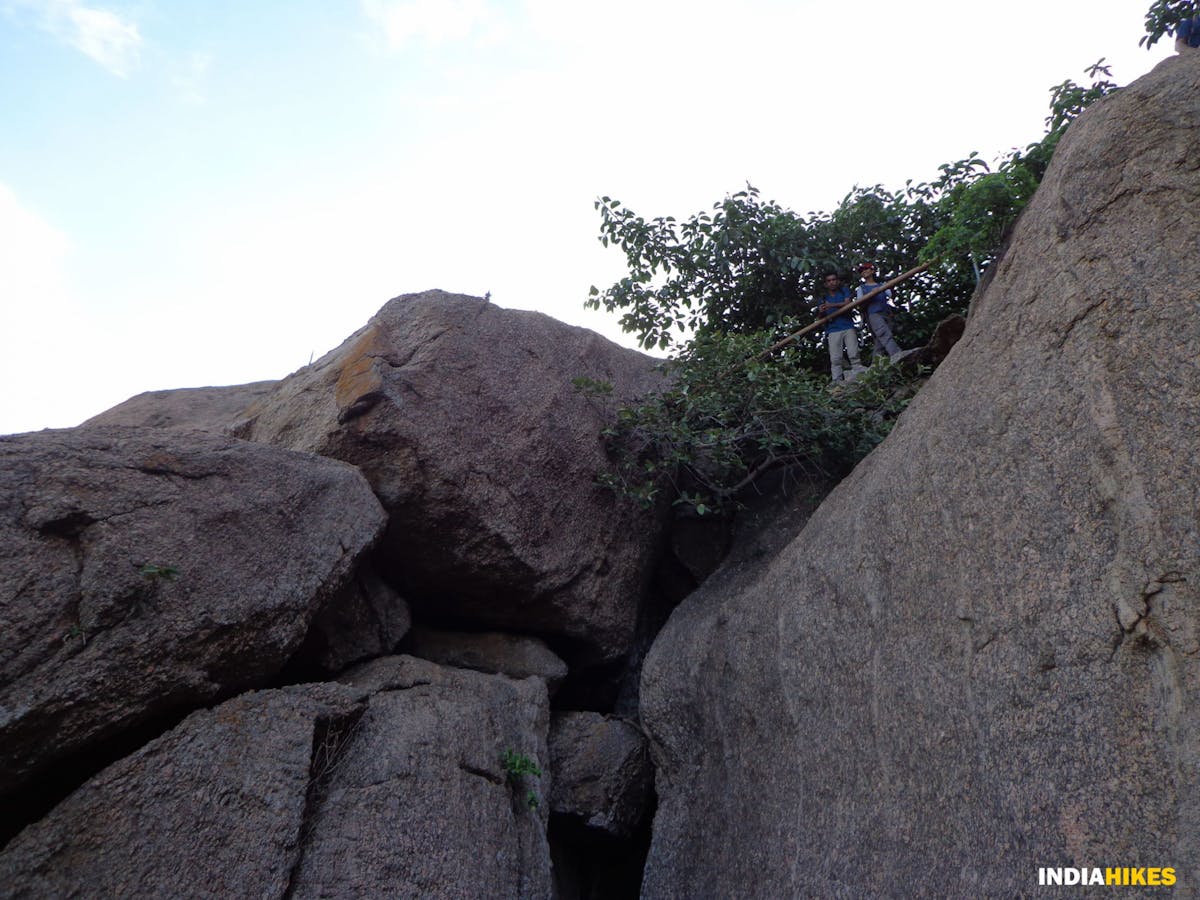 There are a few sections that take you through the boulders and through exposed trails. Picture by Suhas Saya
Although the trek is short, there are a couple of sections where you'll have to wade through caves, hop on rocks and boulders, and traverse through exposed sections carefully.
These sections are thrilling but not dangerous. Exercise a bit of caution when you come across them, especially if you have elders and children with you. We'll talk more about these sections in the Trail Information section.
➤ Trail Information
We have always wanted trekkers to be well-informed before they go on a trek. Knowledge is the difference between a safe trek and a dangerous one. It's also the difference between a wholesome experience and a surficial experience.
Use this section to learn about the Kunagalu Betta trek. It has in-depth information about each day of the trek, what to expect, and how you need to prepare for it. Many years of expertise have gone into this content. Don't miss the 'Frequently Asked Questions' section. Trekkers find that extremely useful.
The Kunagalu Betta trek can be divided into two sections:
Kunagalu Village to Nandi Statue
Nandi Statue to Kunagalu Betta Top and back to Kunagalu Village
Trek distance: 1 km | Duration: 45 minutes
Kunagalu village is a small hamlet that falls under Hunasanahalli Gram Panchayat, in Ramanagara district. This is about 60 kilometres from Bengaluru.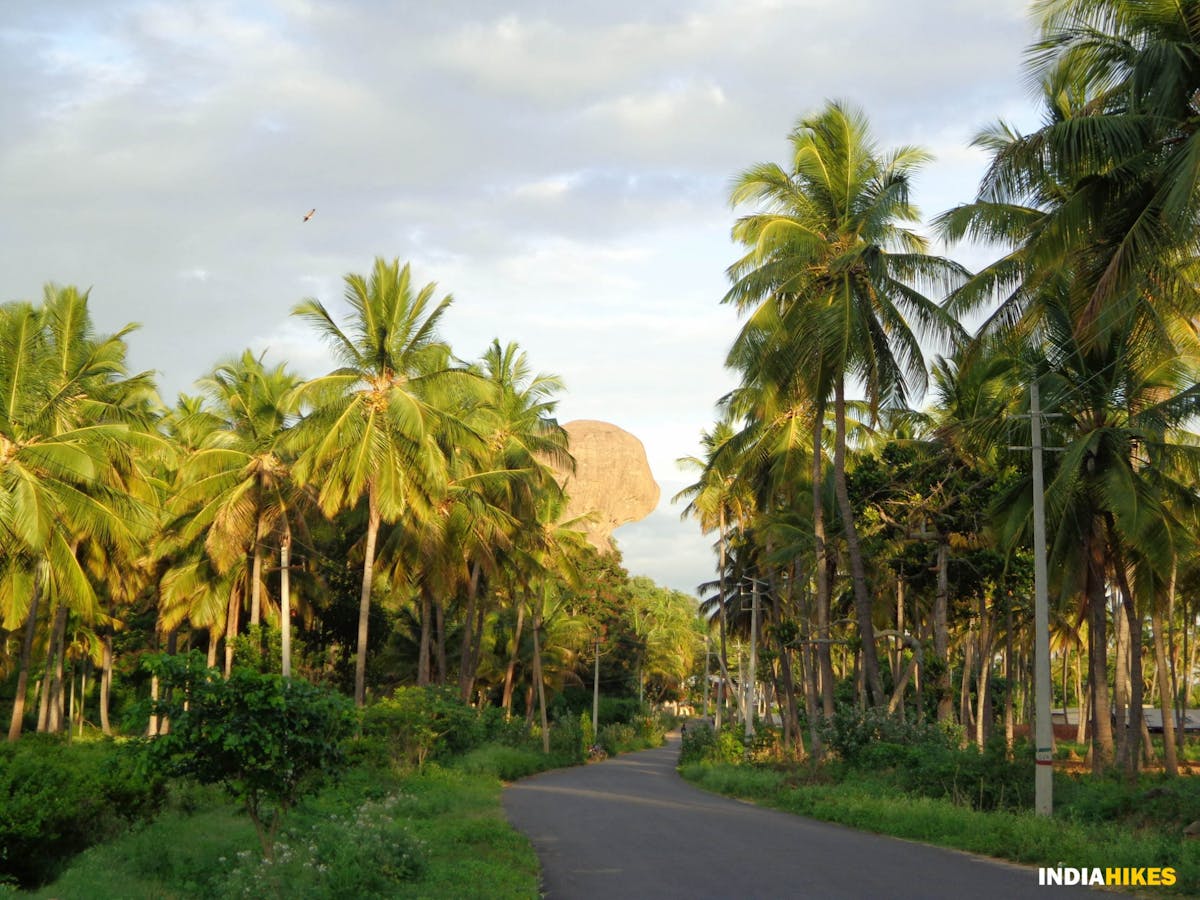 Puppy Betta is seen on the way to the base. Picture by Suhas Saya
Start driving early, preferably before sunrise so that you can be at the base just when the sun is coming out. Day hikes are best done either early morning or late afternoon, when the sun is about to set. Because the colours are brilliant only in these times of the day.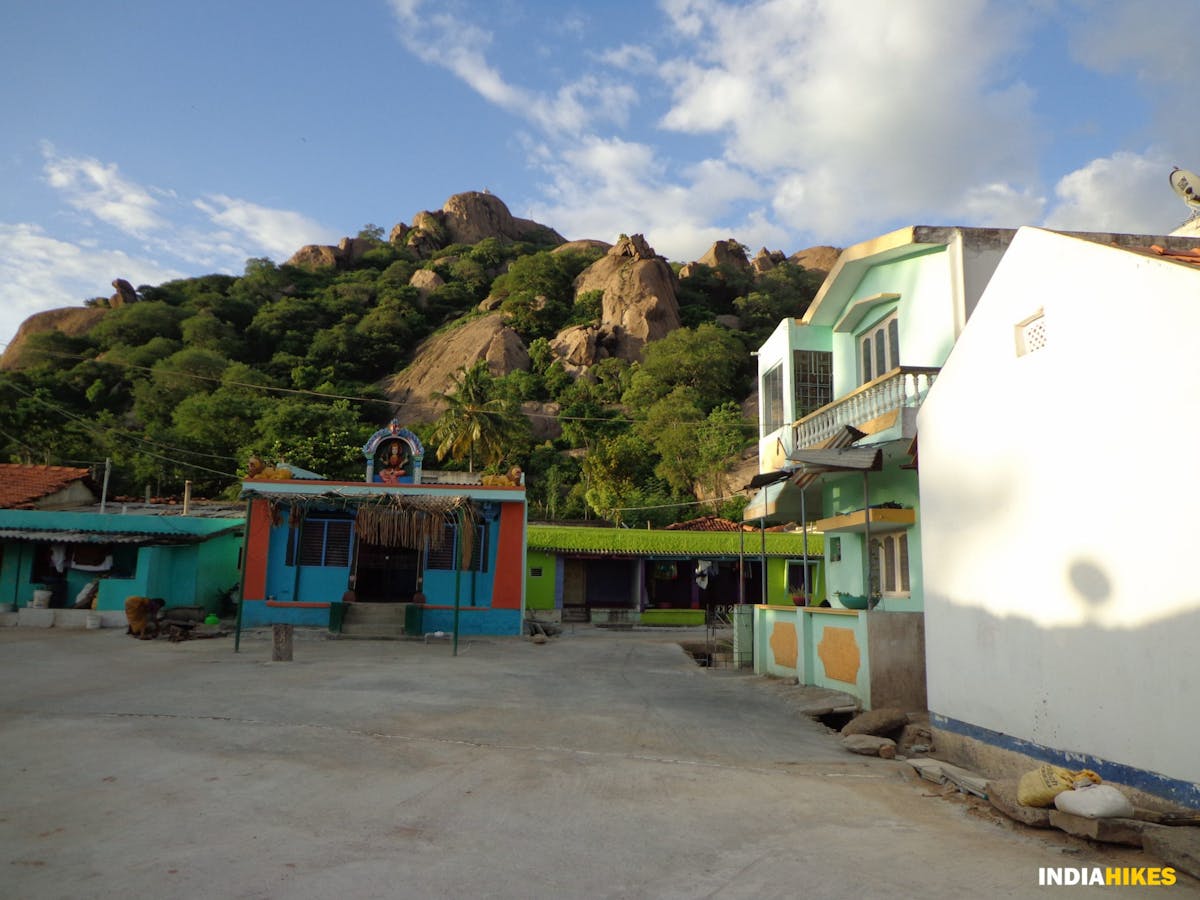 Park your vehicles in this big open space inside the village. Picture by Suhas Saya
Once you are at the base, park your vehicles in an opening at the center of the village after checking with the locals. Some of them would mind if you park your cars in front of their homes.
If you're taking public transport, you can either take a bus or a train to Ramanagara, and then take an auto rickshaw to Kunagalu village. You'll know about this in detail in the "How to Reach" section below.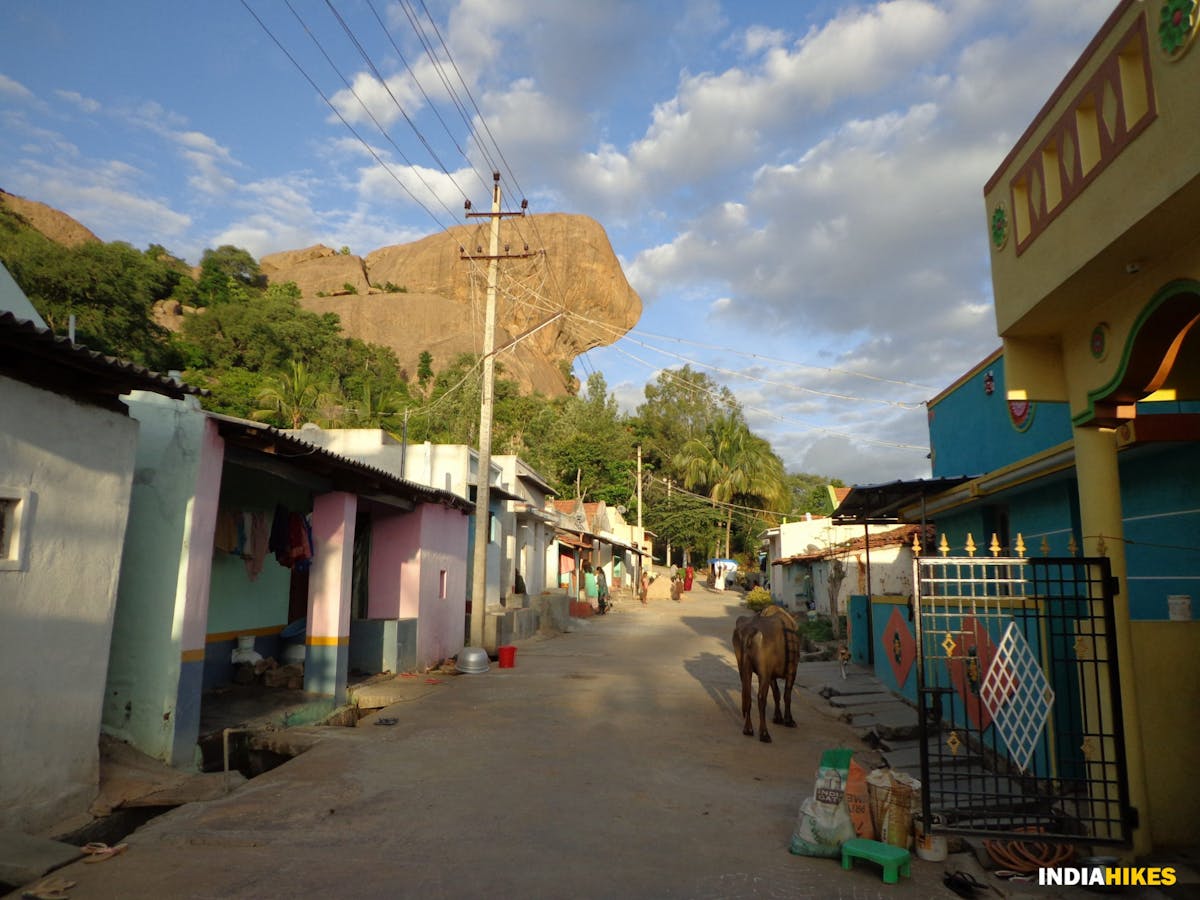 Take the concrete road that leads you out of the village. Picture by Suhas Saya
From here, take the concrete road to the east (with the puppy-faced boulder in front of you) which gently climbs upwards.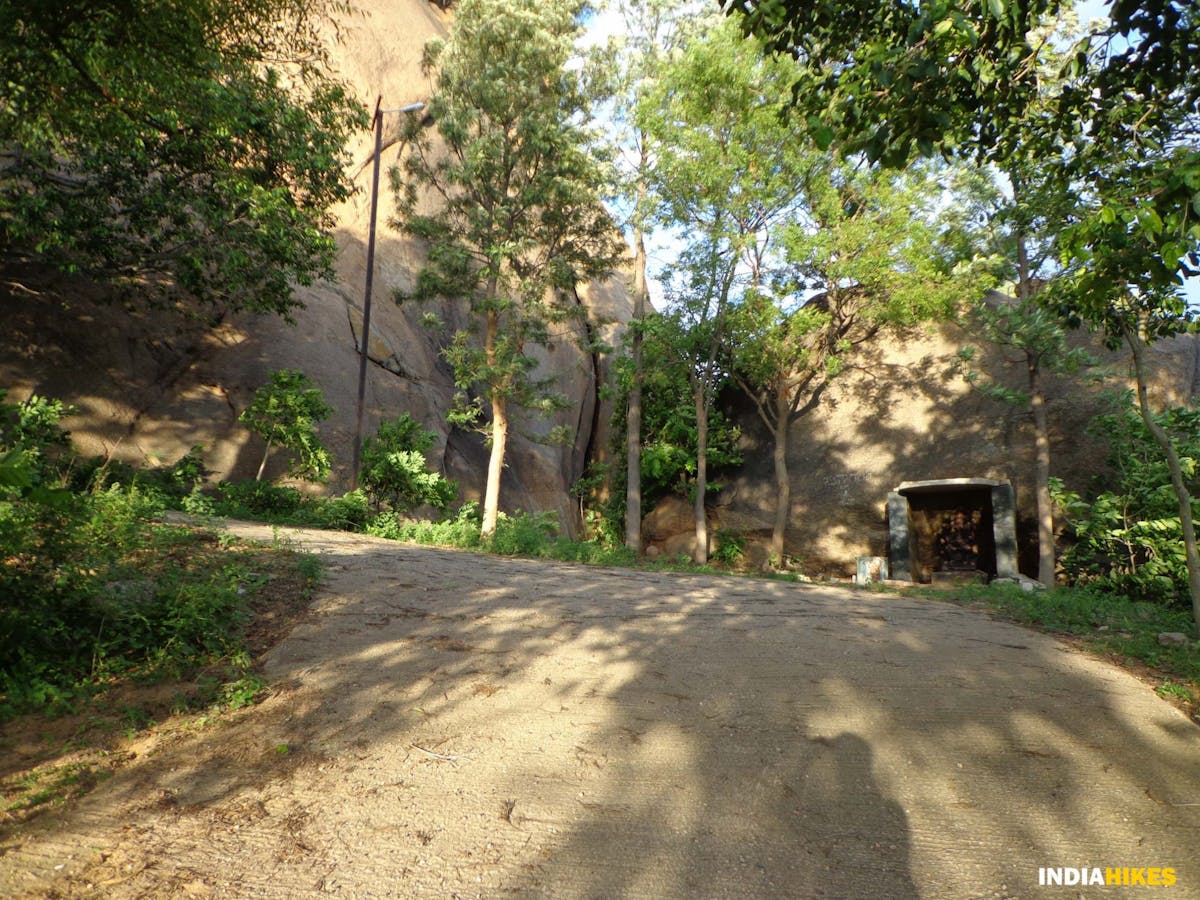 The Ganesha idol is placed at the start of the trek. Picture by Suhas Saya
You'll notice a Ganesha idol at the turn as you climb up. This signifies the belief of the locals where they worship the Ganesha idol before starting anything auspicious.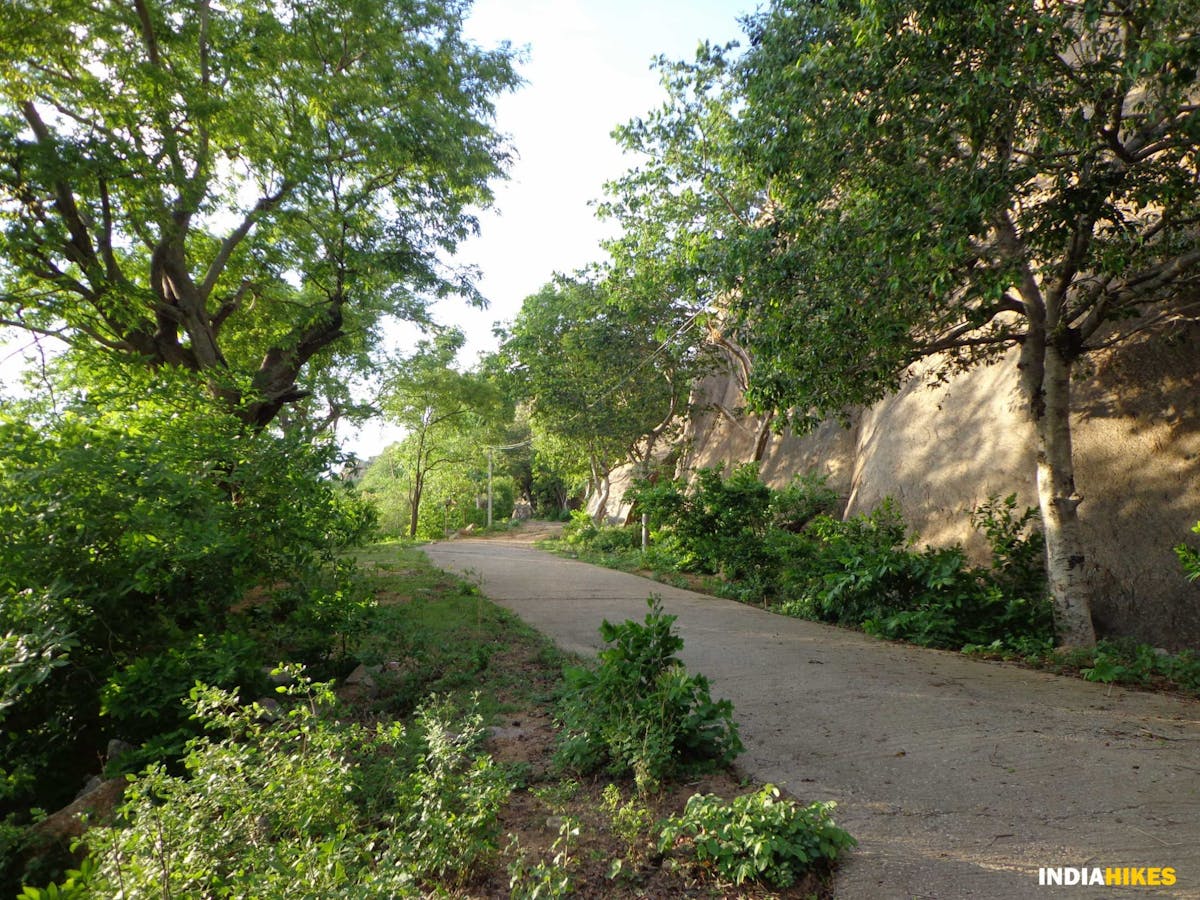 The trail has concrete roads only up to a point. Picture by Suhas Saya
In about 200 meters the concrete road ends. You are on a muddy trail now for the next half a kilometer.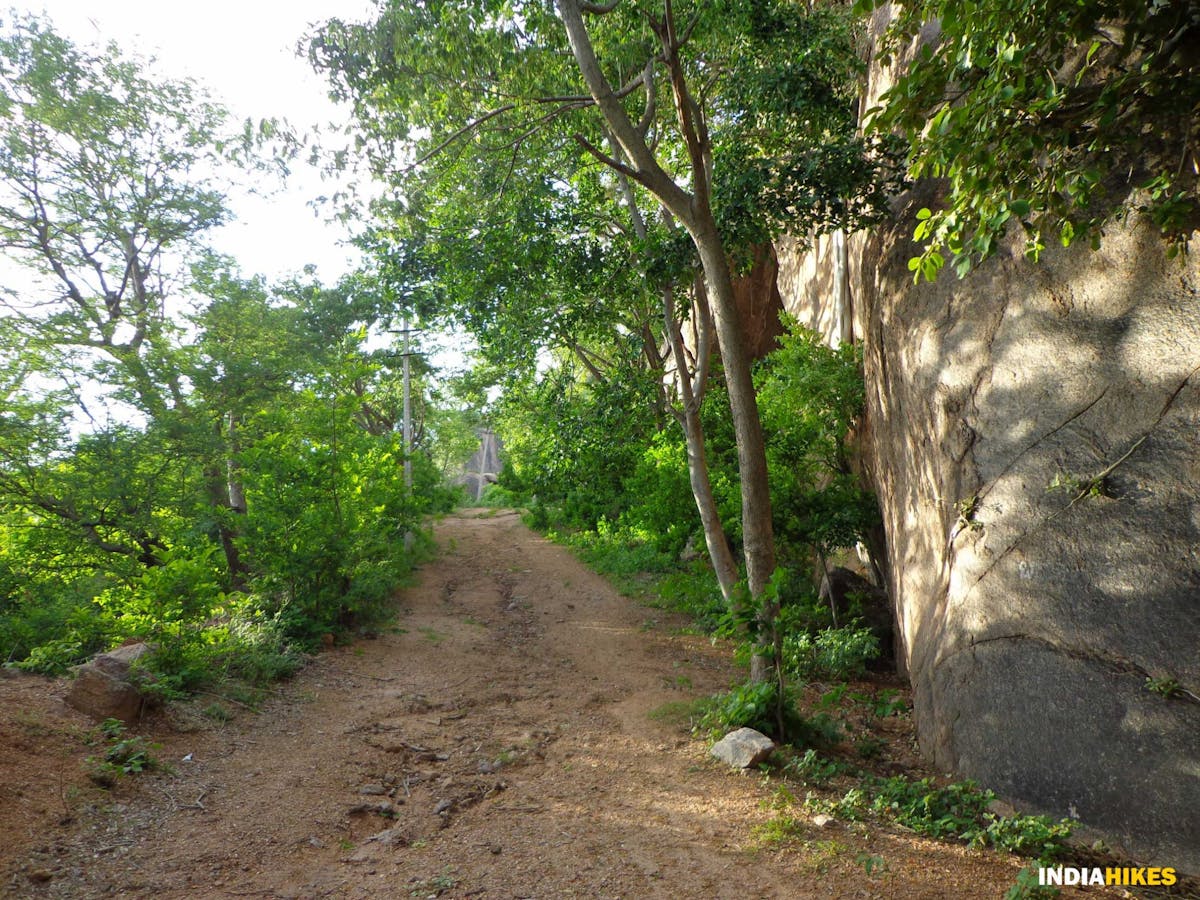 You'll follow this trail covered by trees on both sides for about 15 minutes. Picture by Suhas Saya
Follow this trail as you gradually trek up amidst tall trees on either side, with boulders on your right.
Soon, you'll find a water tank on your right. Take left and be on the trail till you see  a big boulder on your left. You'll notice there is no route from here, except a faint trail that passes through the undergrowth on your left.  The actual trek starts from here.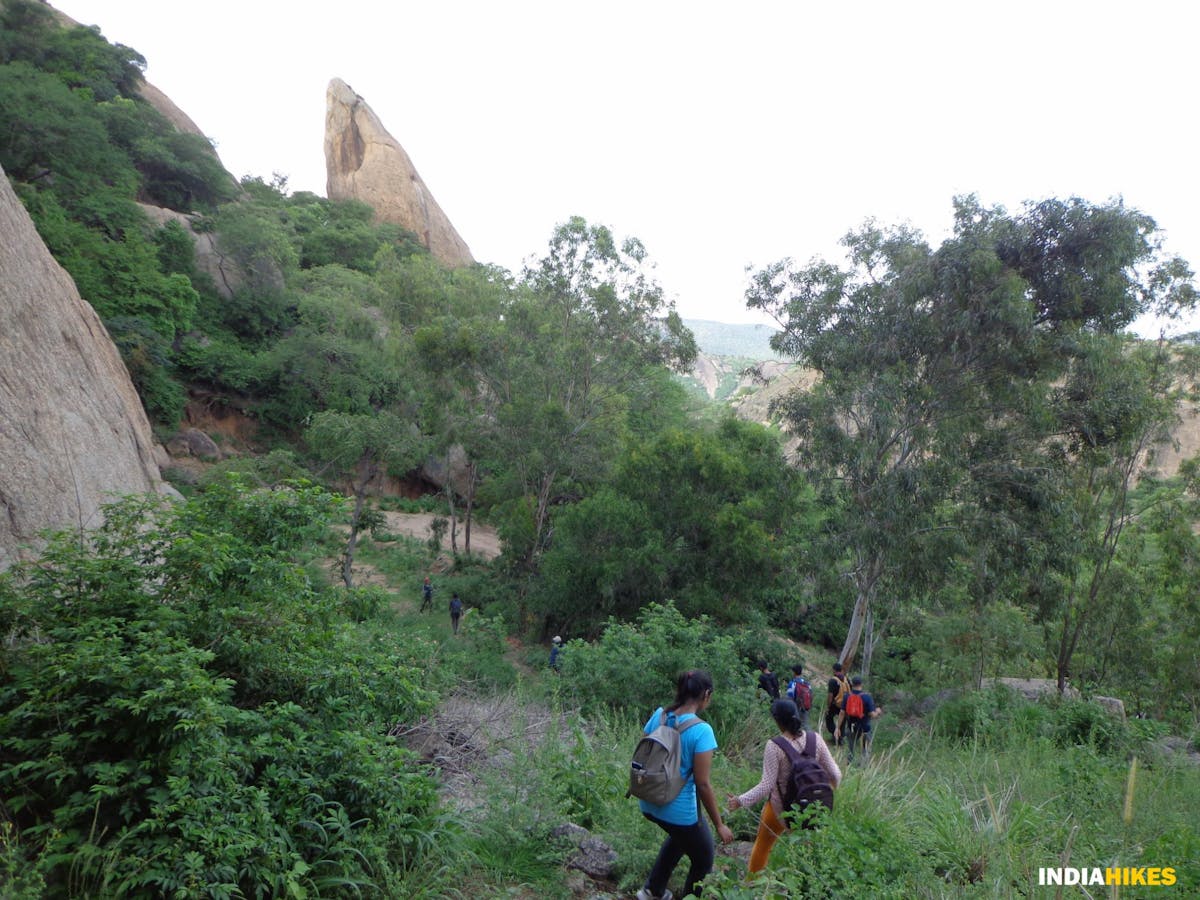 Looking back from the trail to Kunagalu Betta. Picture by Suhas Saya
Once you take the left, make your way through a combination of boulders and undergrowth.
In about 10 minutes you'll see a Nandi statue on top of a boulder to your left, and a lot of overgrowth that leads into the boulders.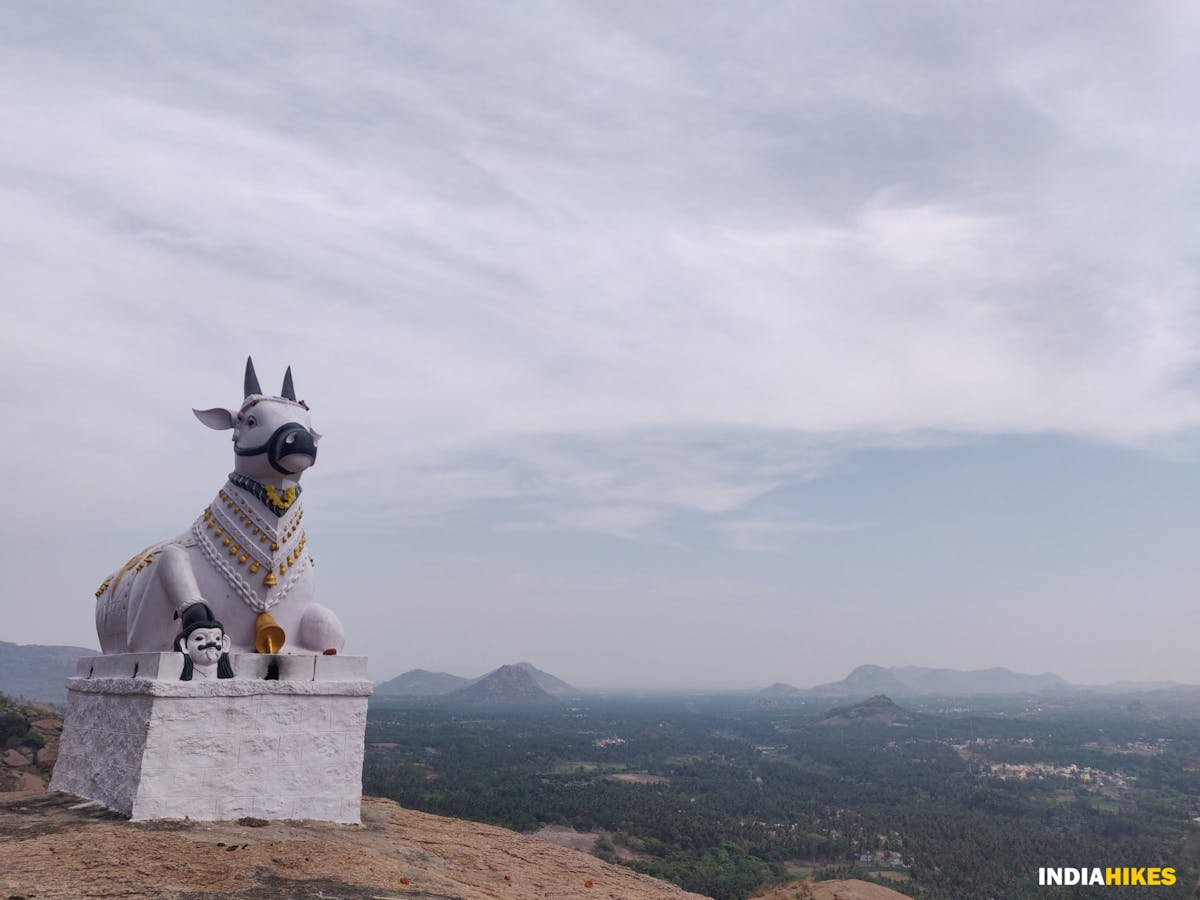 Nandi statue en route to the top of Kunagalu hill. Picture by Abhinav
Take left and spend some time near the statue. This is your first rest point.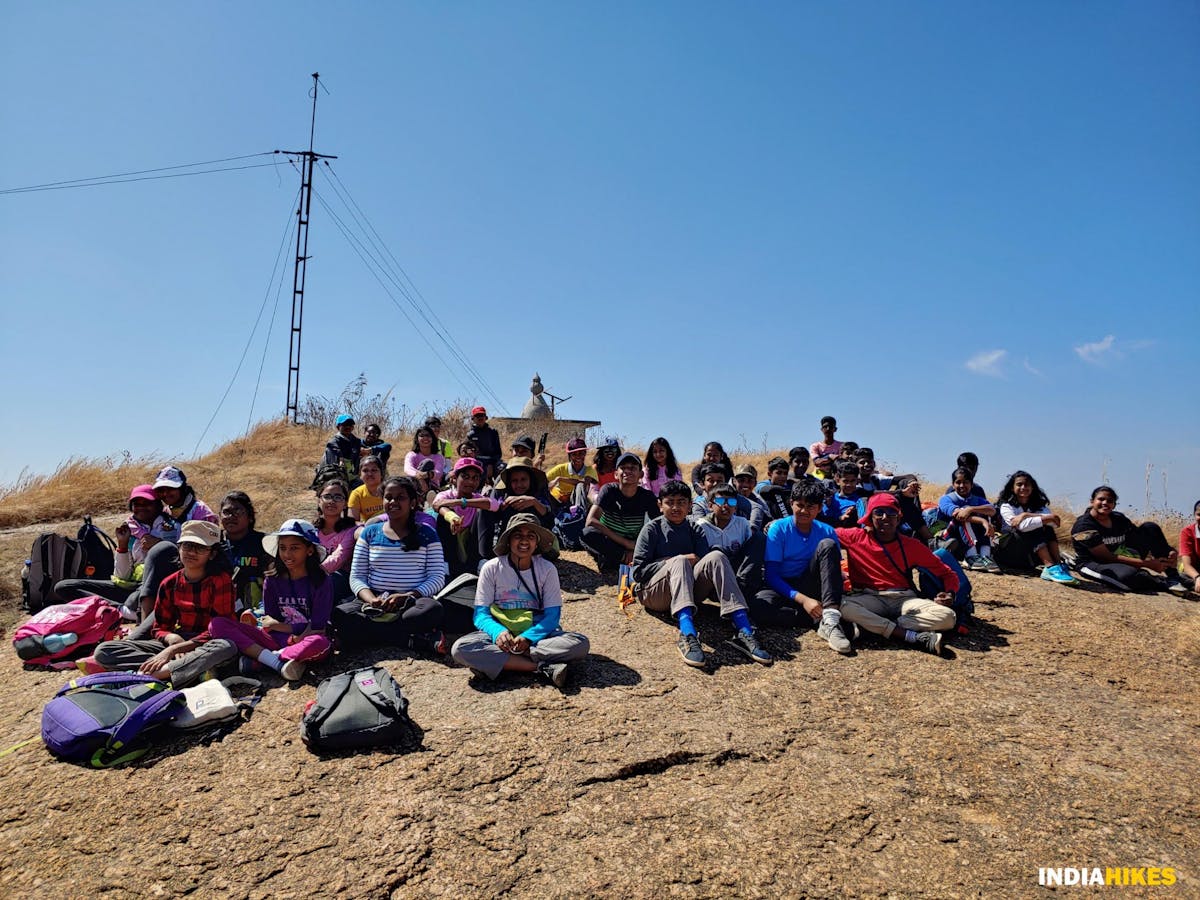 Trekkers resting near the Nandi statue. Picture by Gautam Singh
While you rest, do not forget to take in the scenery that is in front of you. The entire rural landscape with hundreds of coconut trees, the Arkavathi river, farm lands filled with fertile crops, and hills sprinkled all around makes you feel like you are on a tropical island.
Click here to go back to table of contents.
Trek distance: 1.60 km | Duration: 2 hours
Head back from Nandi Statue to the trailhead. Find a faint trail leading through an overgrowth and in between the boulders. You may not spot the trail at first. Keep going ahead until you find an opening through the cave.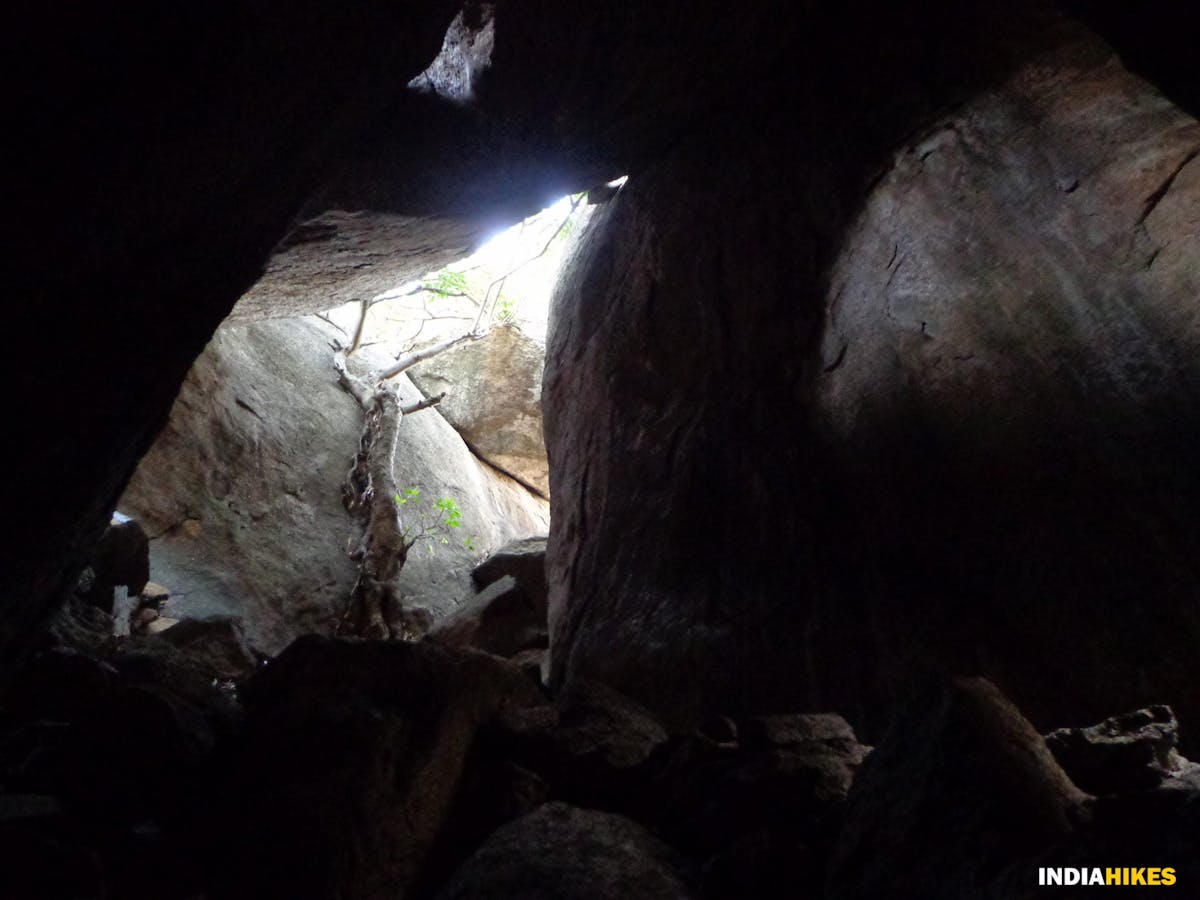 The caves offer a sudden change in scenery as they come unexpectedly. Picture by Suhas Saya
There is a sudden darkness as you head into the cave and you'll find yourself carefully making your way through the boulders below.
You might have a few bats flying close or above your head.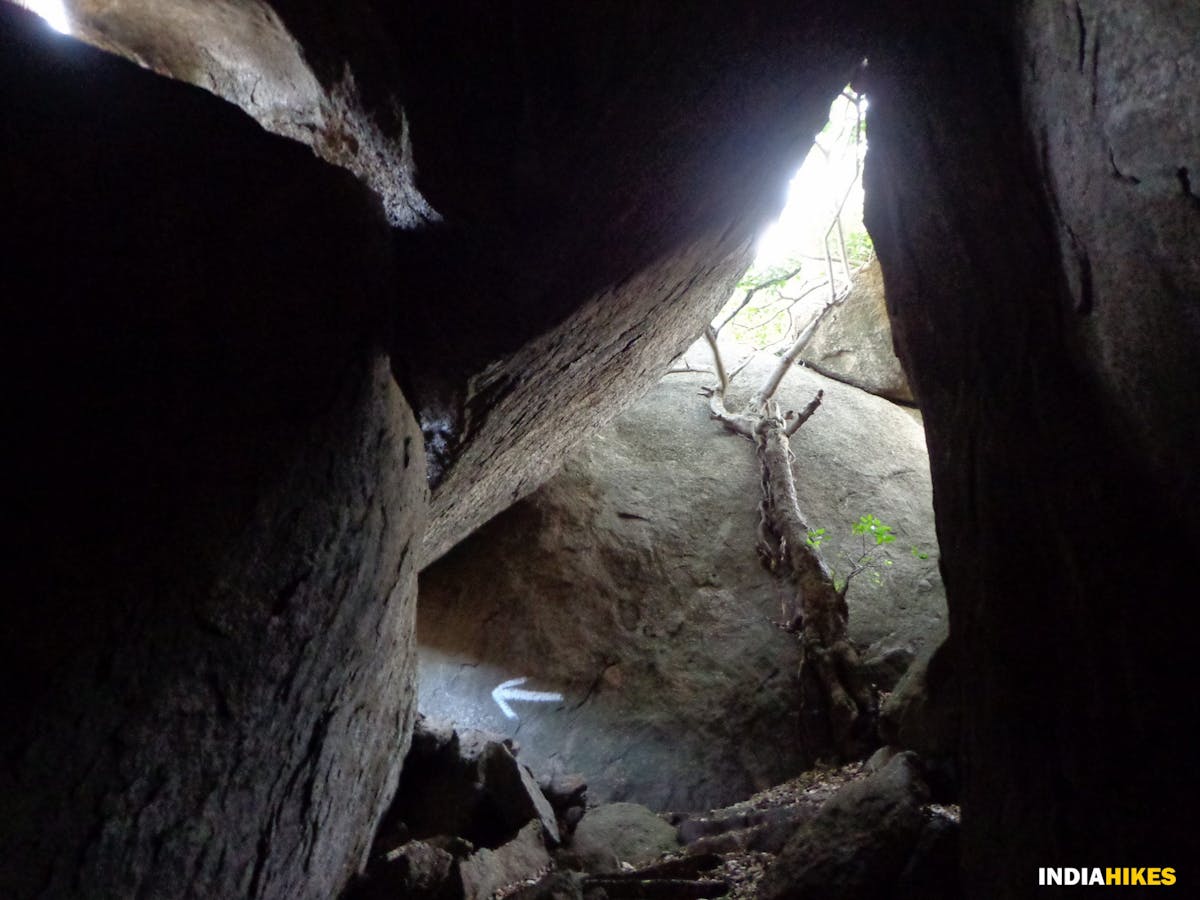 Follow the marker to come out of the cave on the other side. Picture by Suhas Saya
Take the left by following a marker inside the cave. In about a minute you will be out of the cave.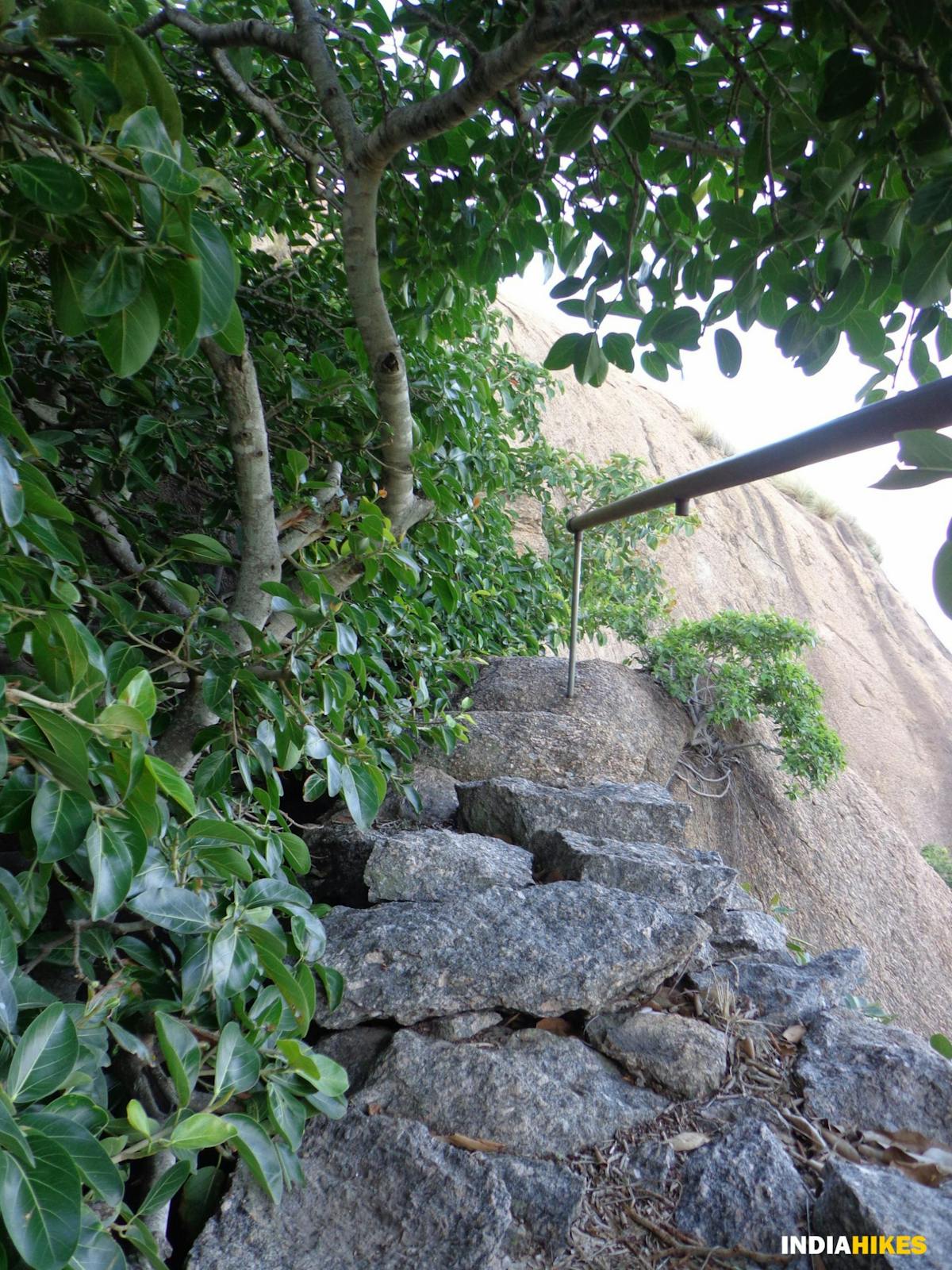 Loosely placed stone steps pass through an overgrowth. Picture by Suhas Saya
As you come out of the cave, you will find a few stone steps that are loosely placed, along with a railing for support. This section can be a bit tricky, especially in the monsoon season, so be careful at this stretch.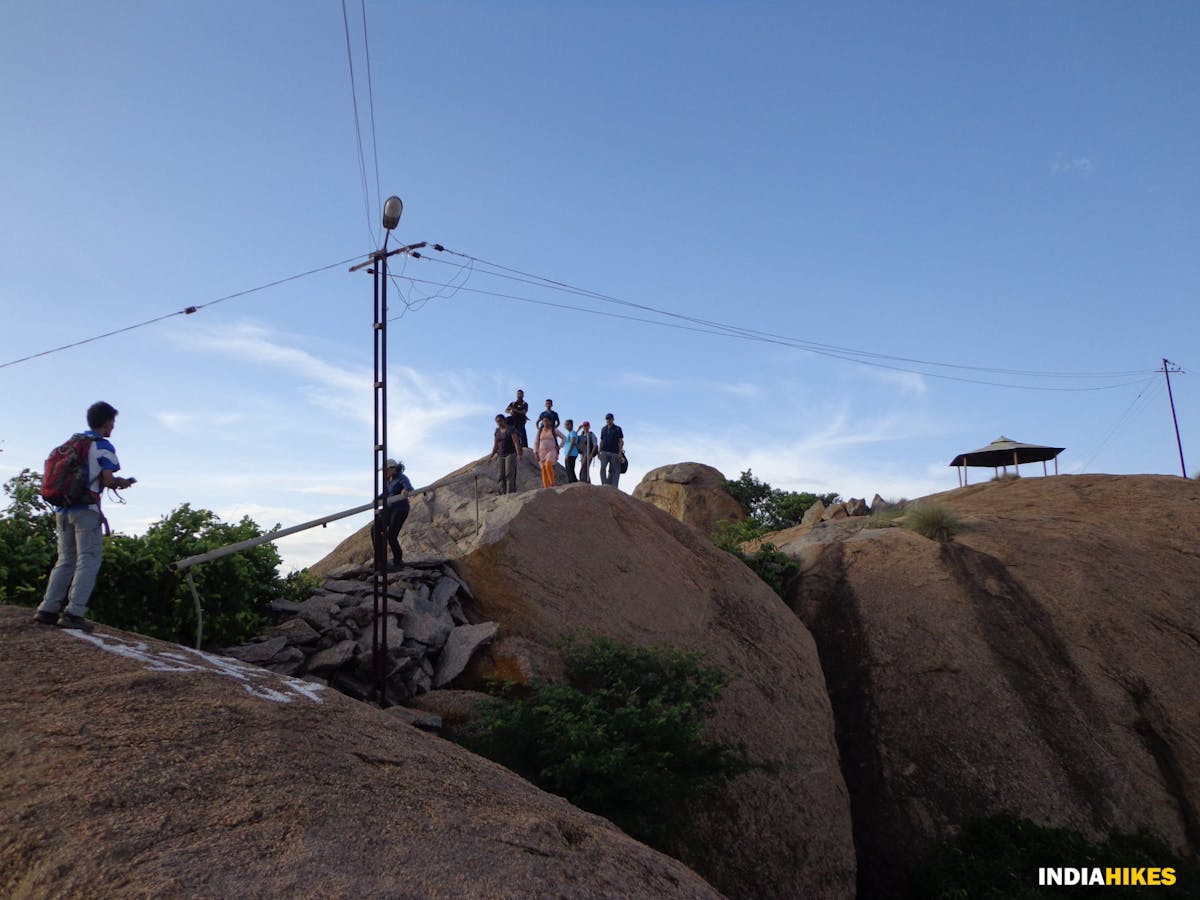 Climb right to reach the viewpoint, or left to visit the temple. Picture by Suhas Saya
You are now on top of the boulder you just climbed. Take left to go over a flight of stairs carved on the boulder to visit the village deity's temple. It is a small structure which is built just to house the deity.
Or take right to reach the top of Kunagalu hill where there is a man-made shelter that serves as a place of rest.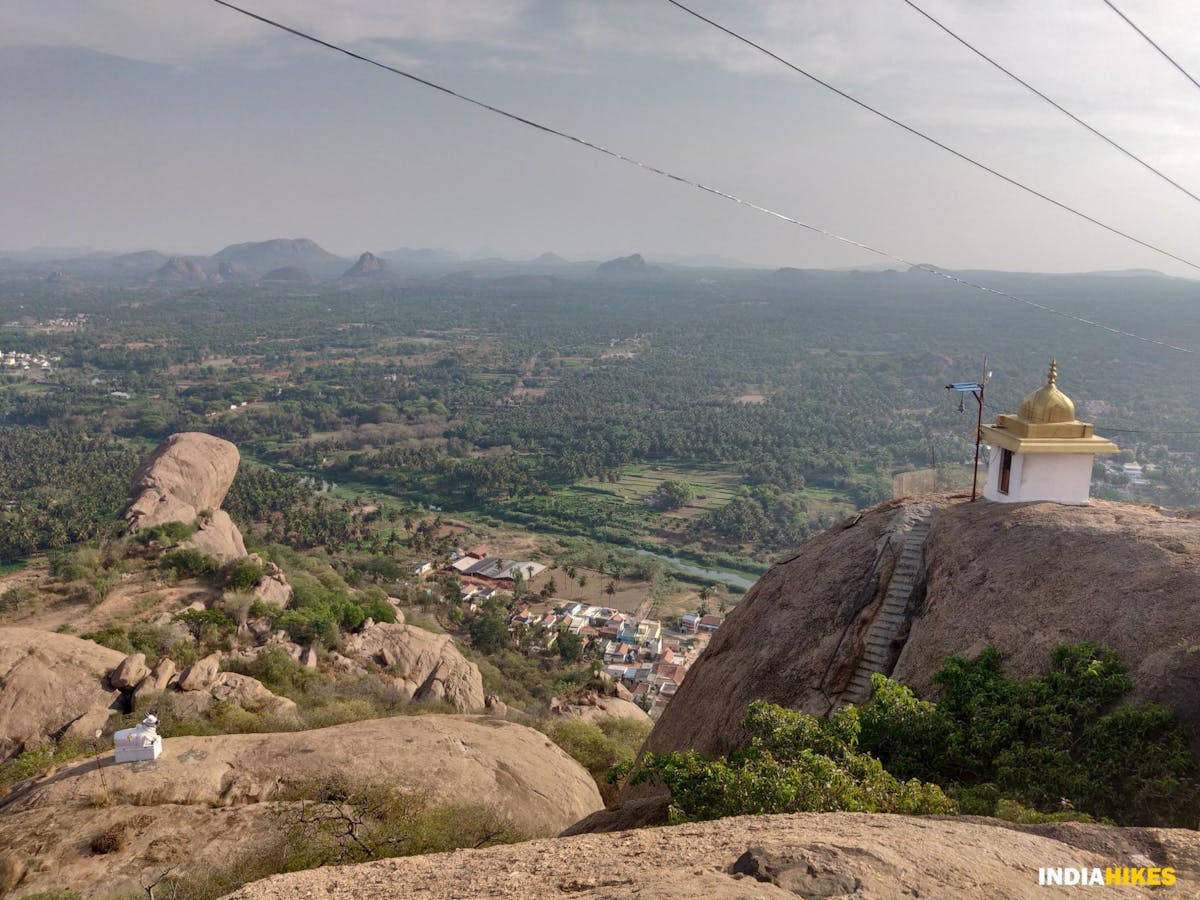 Koonamma temple, as seen from the top of Puppy Betta. Picture by Suhas Saya
You have reached the top of Kunagalu Betta at this point. Spend some time by resting at the shelter, taking in the panoramic view of the entire village and its surrounding.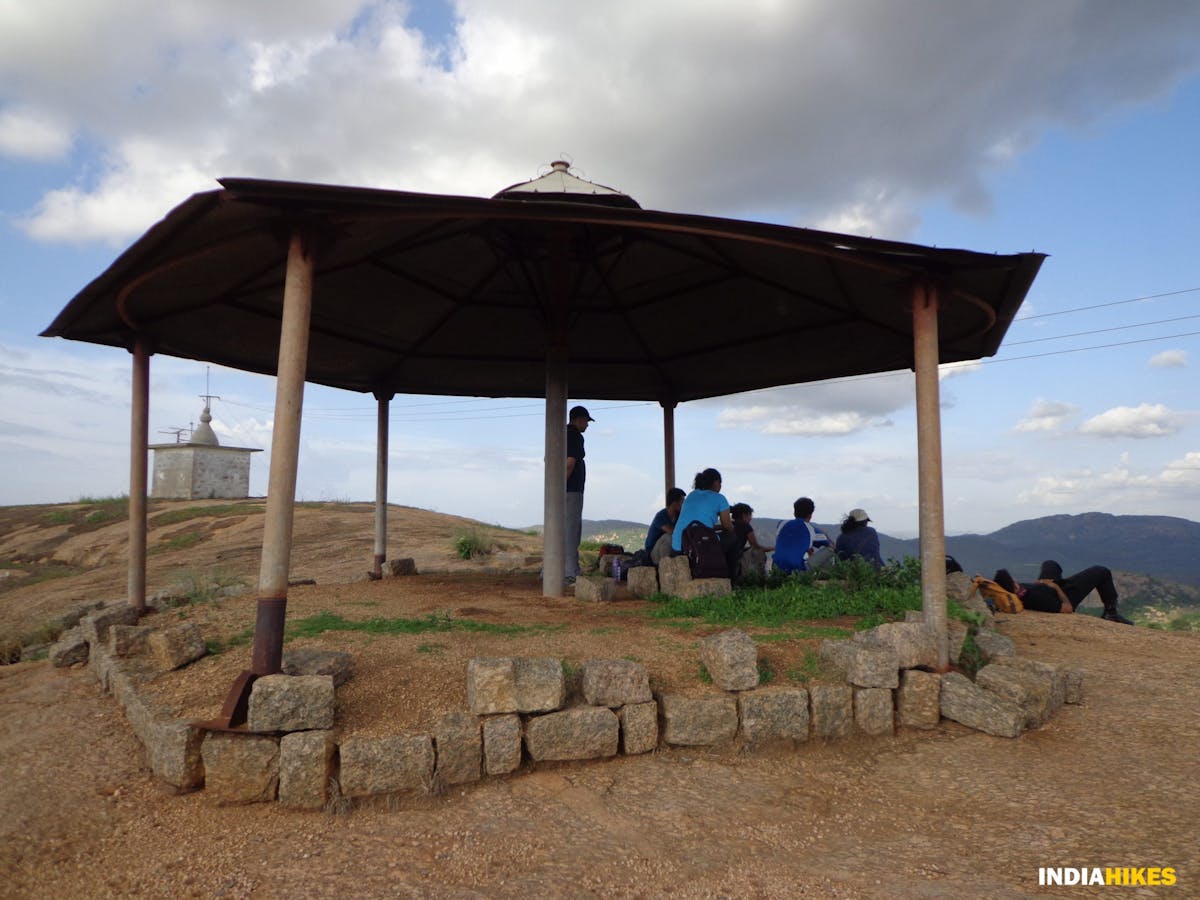 Man-made shelter on the top of Kunagalu Betta. Picture by Suhas Saya
There is another structure getting built at the top, probably another temple a few meters away from this shelter.
The top of the hill is a plateau. Walk around to get a glimpse from all four directions.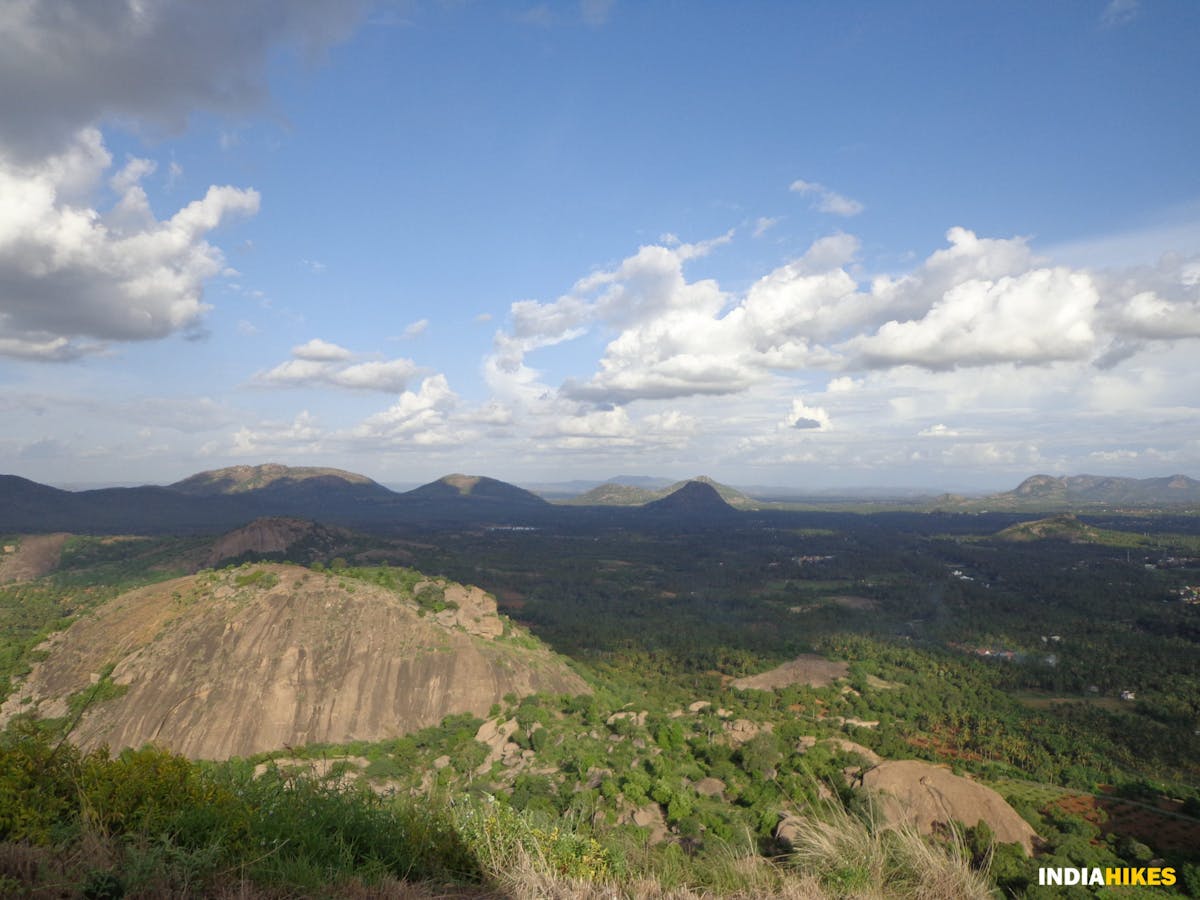 View from the top of Kunagalu Betta. Picture by Suhas Saya
The verdant settings as far as the eye can see is soothing to the mind. Take a moment to appreciate nature.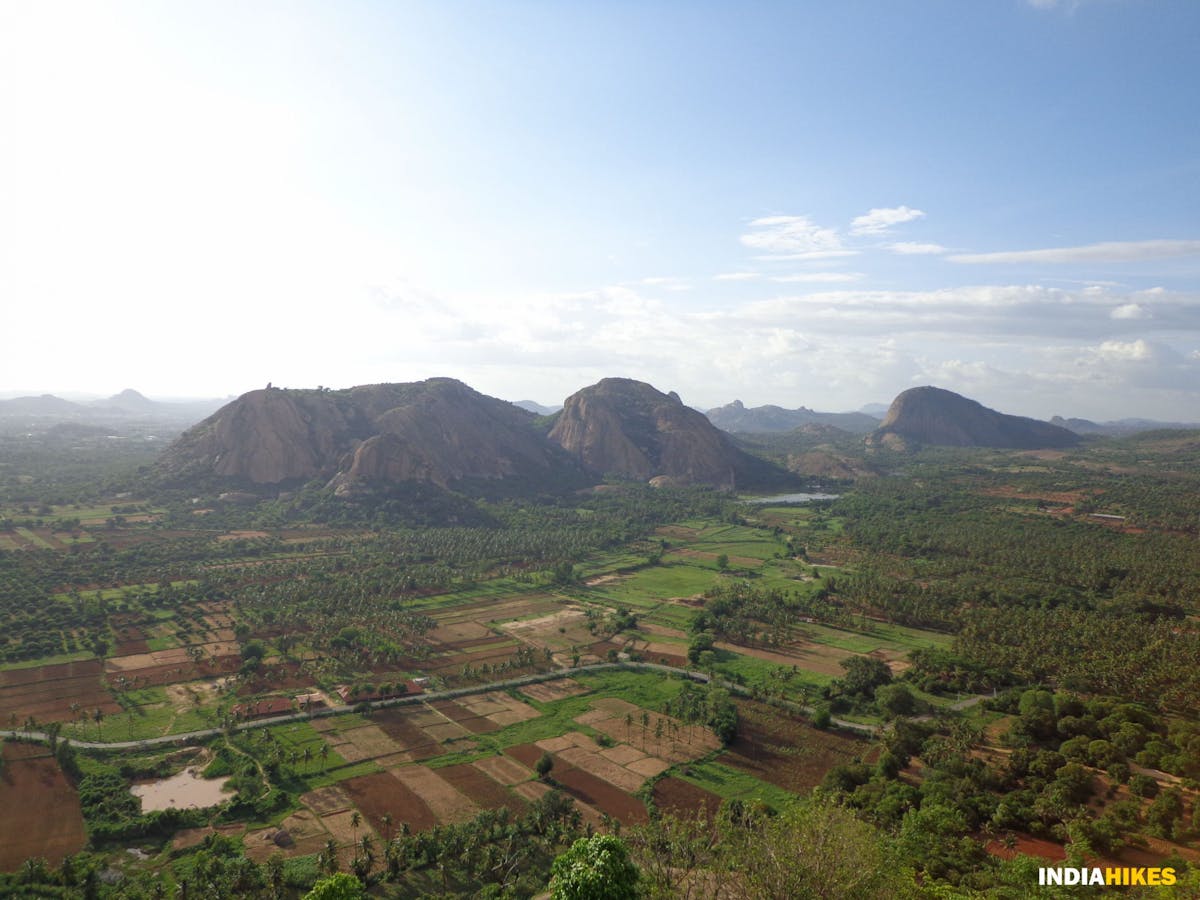 Hillocks surround the view with farmlands all around. Picture by Suhas Saya
When you are done exploring the top and taking in the scenery, make your way down the same way you had climbed up.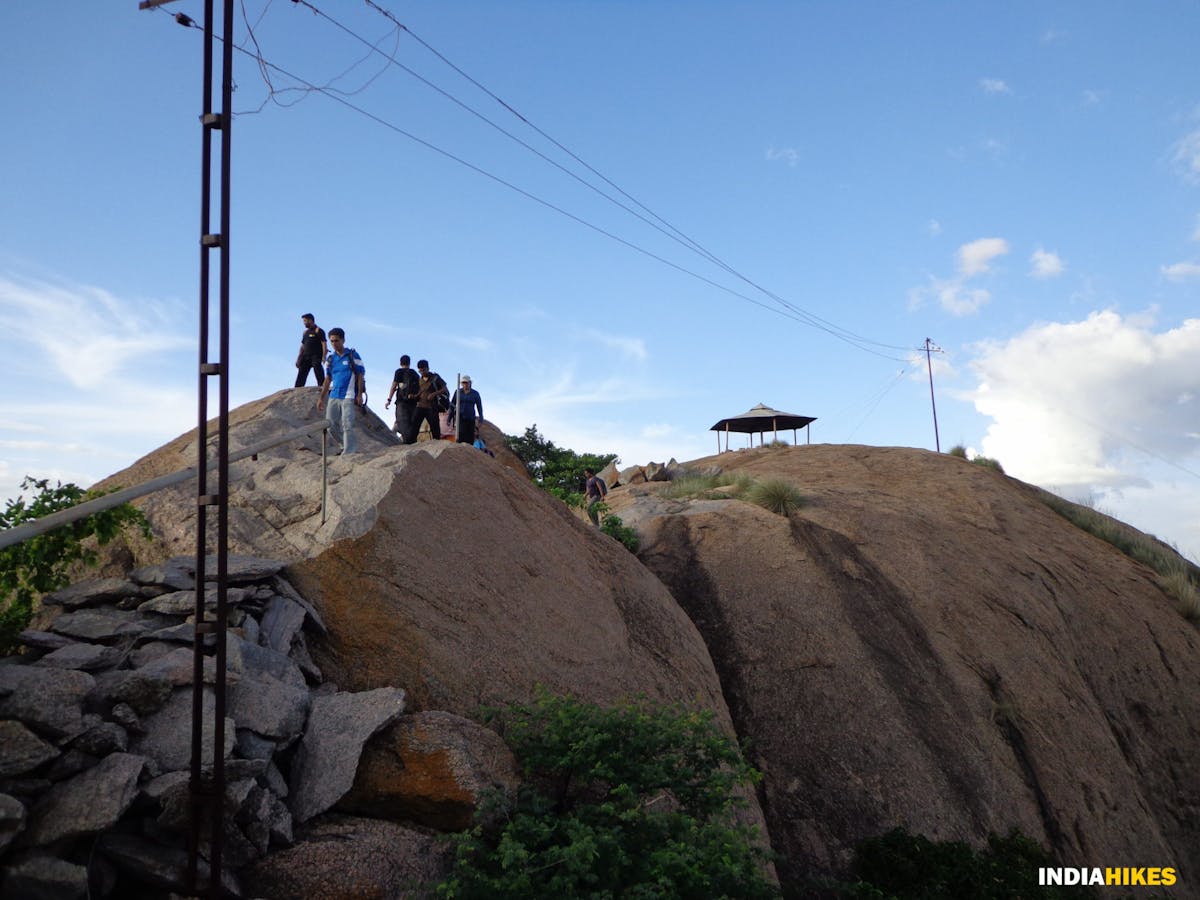 Descend down the same way you had come up. Picture by Suhas Saya
Although you'll take the same route back down, it gets slightly tricky when descending through loose rocks and gravel sections or at the first section from the top.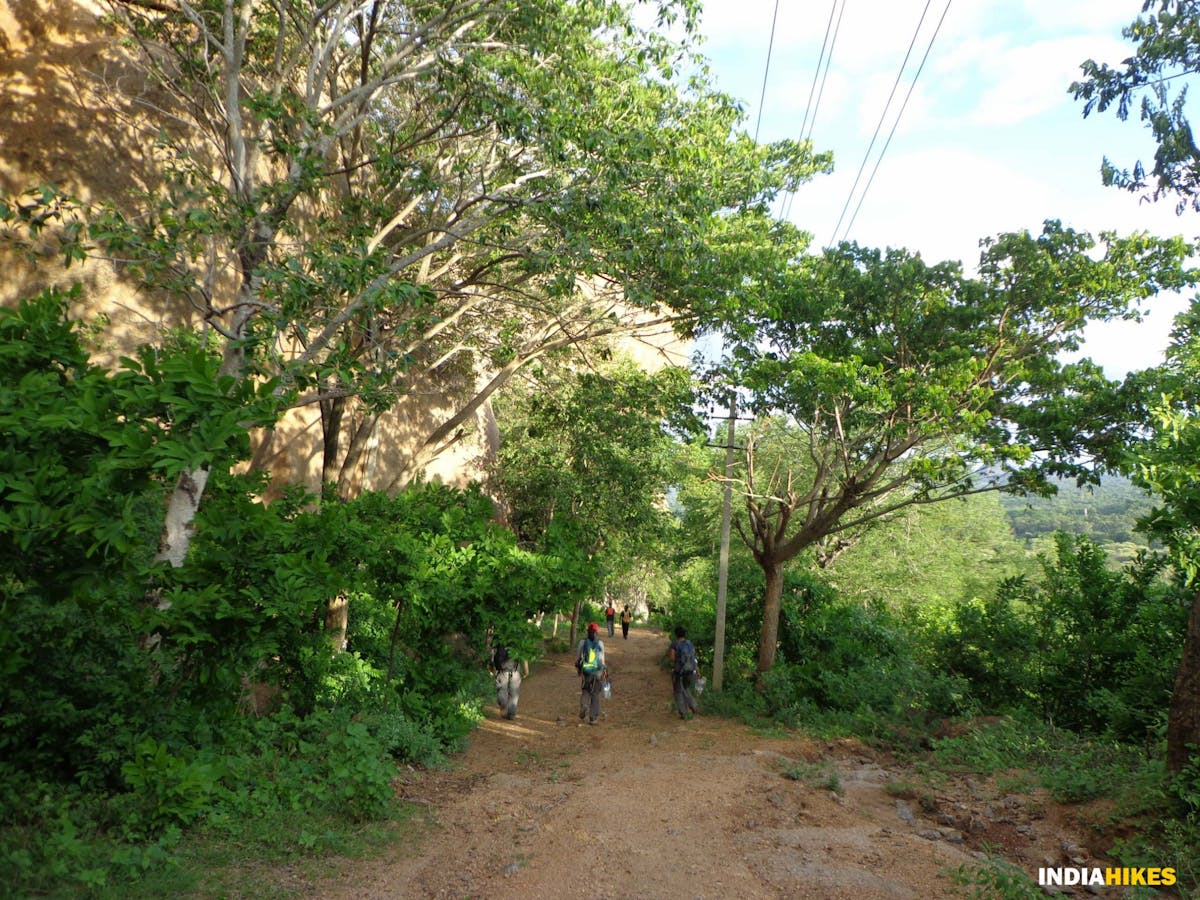 Carefully make your way through the gravely trail. Picture by Suhas Saya
➤ Best Time to do the Kunagalu Betta Trek
The best time to do Kunagalu Betta Trek is between June and February.
While the post-monsoon season brings out the best in the trek, with lush green sightings all around, winter is also a pleasant time. However, the greenery would start turning golden brown.
If you're doing the trek in monsoon, the trail and the rocks become slippery. It is not dangerous, but exercising caution at difficult sections and wearing proper shoes is key to staying safe.
You can do the trek during the summer season as well. But the sun shines brighter and you'll tire quickly. Wearing a sun cap or a hat and covering your body with light coloured clothes will protect you from the heat and sunburns.
➤ Difficult Sections on the Trek
Honestly, Kunagalu Betta trek is not really difficult. It is rated as 'Easy' as it is just a short hike and it doesn't have many steep or tricky sections.
The trek also has easy exits and there are no technical sections.
The only tricky sections are after the Nandi Statue, which are for not more than 100 feet. The trek is one of the easiest we have done around Bengaluru. It is a lot easier than Channarayana Durga or Skandagiri in comparison.
➤ Is Kunagalu Betta Trek Safe?
Yes. Trekking to Kunagalu Betta is very safe. That's because the trail is not very remote, and is close to Ramanagara town. Most of the time it's just your group trekking on your own in nature.
To do this effectively, let's break down into two aspects of safety:
Exit points on Kunagalu Betta trek
Closest hospital to Kunagalu Betta trek
Exit Points on the Kunagalu Betta Trek
Medical Emergencies can strike on any trek. The key to dealing with them lies in knowing your exit points. Know how to get out and reach the nearest hospital quickly.
On the Kunagalu Betta trek, your best bet is to descend to Kunagalu village. That is the easiest way out.
Closest Hospital to Kunagalu Betta Trek
In case of a medical emergency, and if you need serious medical attention, head to Ramanagara town for better facilities.
➤ How to Reach the Base of the Trek
Reaching Kunagalu Betta by your Vehicle from Bengaluru
Kunagalu Betta is in Ramanagara town, on the way to Mysore. Ramanagara is famous for its silk cultivation and export. There's another thing Ramanagara is known for, the sweet dish -- Mysore Pak.
| Tip: When you are in Ramanagara, do not miss visiting Hotel Shri Janardhana in the heart of Ramanagara. You'll get the best Mysore Pak here.
Turn your Google Maps on and follow this link.
Reaching Kunagalu Betta by Public Transport
Option 1: From Majestic Bus Station —> Take a bus to Satellite Bus Station —> Get Down at Ramanagara Bus Station —> Take an auto rickshaw to Kunagalu village —> Get down at the start of the village.
Option 2: From Majestic Railway Station —> Take a train which goes towards Mysore and get down at Ramanagara —> Take an auto rickshaw to Kunagalu village —> Get down at the start of the village.
Note: An auto rickshaw costs around Rs 100 to Kunagalu village.
Bus and Train Timings to reach Ramanagara and back
There are KSRTC buses every 15 minutes to Ramanagara from Satellite Bus Station, Bangalore. Hop on to any bus which goes towards Mysore. All the buses stop at Ramanagara, except the ones with "Non-Stop" sign on them.
Similarly, there are frequent trains to Ramanagara from Krantiveera Sangolli Rayanna Railway Station, Bangalore. Catch a train that goes towards Mysore. Except the non-stop Express trains, majority of the trains stop at Ramanagara.
Keep an eye out for the signboard while boarding.
The same applies to buses from Ramanagara to Bangalore as well.
Click here to go back to table of contents.
➤ Things to Take for the Kunagalu Betta Trek
Basic First Aid kit*
Identity Card
Cap/ Scarf/ Bandana & Sunglasses
Water (Minimum two liters)
Lemon and salt OR Electrolyte Powder/Drink (Electoral/Gatorade/Glucon D, etc.)
High-calorie snacks (Nuts & dry fruits, a home-baked cake, etc.)
Safety Pins, Rubber bands & Whistle (Useful in emergencies.)
Quick Dry T-shirts are preferable over cotton tees.
Poncho, only during monsoons
Plastic sheet to wrap electronic devices, only during monsoons
Sunscreen (SPF 50+)
Optional: Trekking poles
* First Aid Kit:
Scissors
Band-aids (Regular & Waterproof)
Analgesic spray (Relispray, Volini, etc.)
Antiseptic Liquid (Savlon, Dettol etc.)
Antiseptic powder (Povidone-Iodine based powders like Cipladine, Savlon, etc.)
Cotton roll & Bandage
Crepe Bandage
1-inch wide medical tape (paper or cloth.)
Micropore tape
Tablet for motion sickness (Avomine), Acidity (Gelusil, Digene, etc.).
Mild pain relief tablet (Crocin)
| Note: Always consult a doctor before taking any medicine.
➤ Frequently Asked Questions
1. Can I do this trek if I have never been on a trek before?
Yes. Anyone can attempt the Kunagalu Betta trek without prior preparation. The trek is easy and is a quick getaway from the cities. It is one of the rare treks that is suitable for children and elders alike.
2. Where can I get food and water during the trek?
There are no restaurants at the base of the trek or in the nearby village. There are decent restaurants in the town, about 7 kilometers away.
We recommend you pack your food from home if you plan to have a proper meal during the trek.
There are no water sources near the base. However, there is a water pump before the start of the trek. If you are allergic to groundwater, we recommend carrying a minimum of 2 litres of water from home.
3. Do I need to obtain permission for trekking to Kunagalu Betta?
No. You do not need to obtain permission to do this trek. Since it is a place of worship for the locals, there is no restriction on climbing to the top without permission.
4. Do I need a guide to trek to Kunagalu Betta?
Although the trail is not very clear due to overgrowth of bushes after the Nandi Statue, the path till the top is easy to follow along the faint trail. We do not recommend a guide for this trek.
5. Where can I park my vehicle?
The start point of the trek is the village itself where there is an open space. Use the space to park your vehicle after asking the locals for their permission, if they are around.
➤ Nearby Places to Visit
1. Ramadevara Betta Vulture Sanctuary - India's only Vulture sanctuary and a popular hiking and bird-watching spot.
2. Manchanabele Dam - A dam which forms the reservoir that supplies water to the nearby towns of Magadi, Ramanagara and many nearby villages.
3. Janapada Loka (Folk World) - A folk museum with an exclusive display of village folk arts of Karnataka.
➤ Trek Contribution
Trek explored and documented by the Indiahikes Team
Photos Clicked by Suhas Saya, Abhinav Verma and Gautam Singh
GPX File Opt in
We go to great lengths to ensure you have a safe trek. So here's a GPX file of the trail to help you navigate without getting lost.