Can You Help Us With Photographs Of This Trek?
We are looking to enrich this documentation with more photos. Pictures go a long way in explaining the trail, more than words ever can. If you have done this trek, can you share your photos with us? We will include them on this page, with due credit to you. Click here to contribute.
The Complete Guide to Madmaheshwar Trek
Madmaheshwar trek — also called Madhyamaheshwar trek or Buda Madmaheshwar trek — is not like any other trek to a mountain top or to the top of a meadow. Yes, you will reach the meadows at the end of the trek. But, the specialty of this trek is that the trail to the top is taken by pilgrims to offer their prayers at Madhyamaheshwar temple, which is one of the five "Panch Kedars".
The place is filled with mythology and the legend is linked to the period of Mahabharata — one of the two epics in Hinduism — where Bhima, the second born of the Pandavas built the Madhyamaheshwar temple to atone for their sin of killing Kauravas and Brahmans in the Kurukshetra war. The temple is dedicated to Lord Shiva and is worshipped in the form of a navel shaped Lingam.
Madmaheshwar trek is situated in the Kedarnath Wildlife Sanctuary in the northern Himalayas. The sanctuary is famous for the Himalayan Musk Deer and is protecting this endangered species. It is also the largest biodiversity in India with most varieties of flora and fauna are found here.
It is a treat to hike this trail which has a plethora of things to watch out for!
This 3-day, 32 km trek takes you through quaint villages, coniferous forest and grasslands with the Madhyamaheshwar Ganga river flowing beneath you on the first day.
The view of the first light of the sun on the Chaukhamba massif from Buda Madmaheshwar is the icing on the cake that is worth all your effort. If there is one reason to do the Madmaheshwar trek, it is this!
That said, this trek requires a decent level of fitness and can be attempted as a first trek only by beginners who are fit. 5,000 ft of ascent on the second day combined with a total distance of approximately 32 kilometres over 3 days is very demanding for the first time trekkers. Learn how to get fit for this trek by visiting the Fitness section below.
Table of Contents
Highlights of Madmaheshwar Trek
Trail Information
GPX File of the Madmaheshwar Trek
Best Time to Visit Madmaheshwar
How to Reach Madmaheshwar Trek
Is Madmaheshwar Trek Difficult
How to Get Fit for the Madmaheshwar Trek
Things to Take on Madmaheshwar Trek
Frequently Asked Questions About the Madmaheshwar Trek
Nearby Places To Visit After The Trek
➤ Highlights of Madmaheshwar Trek
1. The first light of the Chaukhamba massif
Usually you get to see the sunlight at dawn fall on mountain peaks when you reach an altitude of 14,000 ft and above. On the Madmaheshwar trek which barely touches 11,000 ft, watching the first rays of the sun kissing the Chaukhamba range will leave you breathless. It's so beautiful that you want to freeze the moment forever!
2. Close encounter with the Chaukhamba massif
There are treks like Annapurna Base Camp and Goechala that provide up-close views of a mountain range after many days of strenuous hiking. And here's Madmaheshwar trek that takes you so close to the Chaukhamba massif that you almost feel like you are within an arm's reach of the mountains.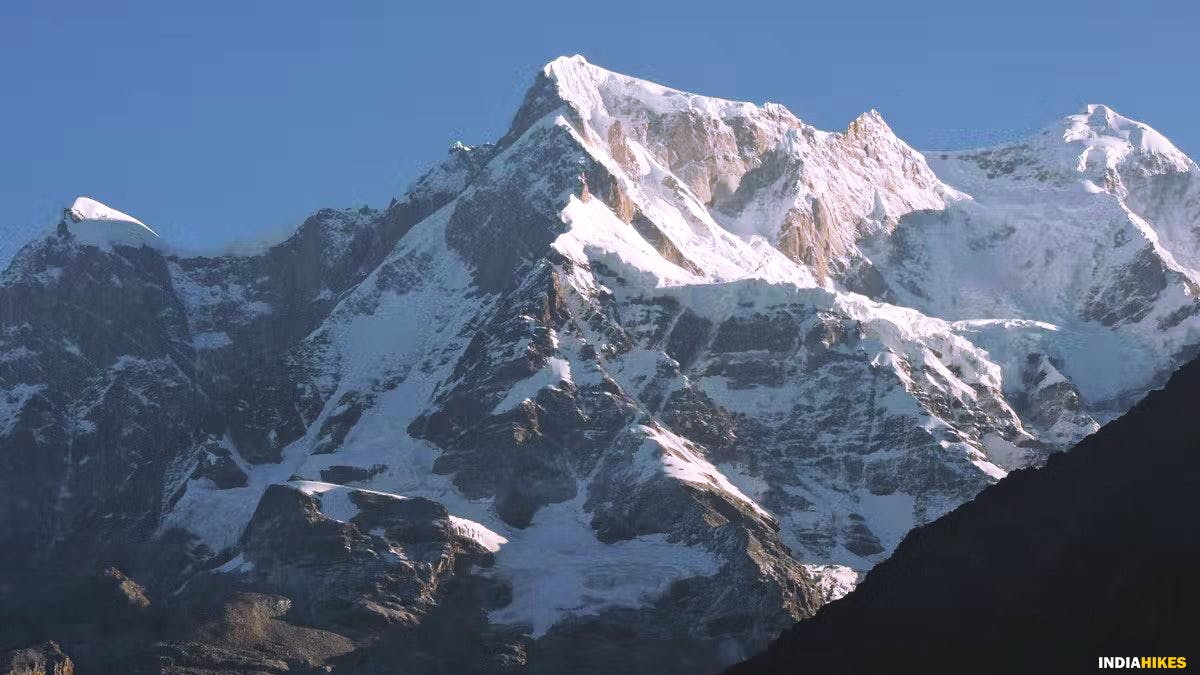 The Chaukhamba massif appears to be within an arm's reach from Buda Madmaheshwar. Picture by Soumya Ghosh
3. Madhyamaheshwar temple
People trek over 32 kilometres to visit this temple because of the sanctity it offers. This temple being one of the Panch Kedars, this temple is visited fourth in the series after Kedarnath, Tungnath and Rudranath, the last temple visited after Madhyamaheshwar is Kalpeshwar.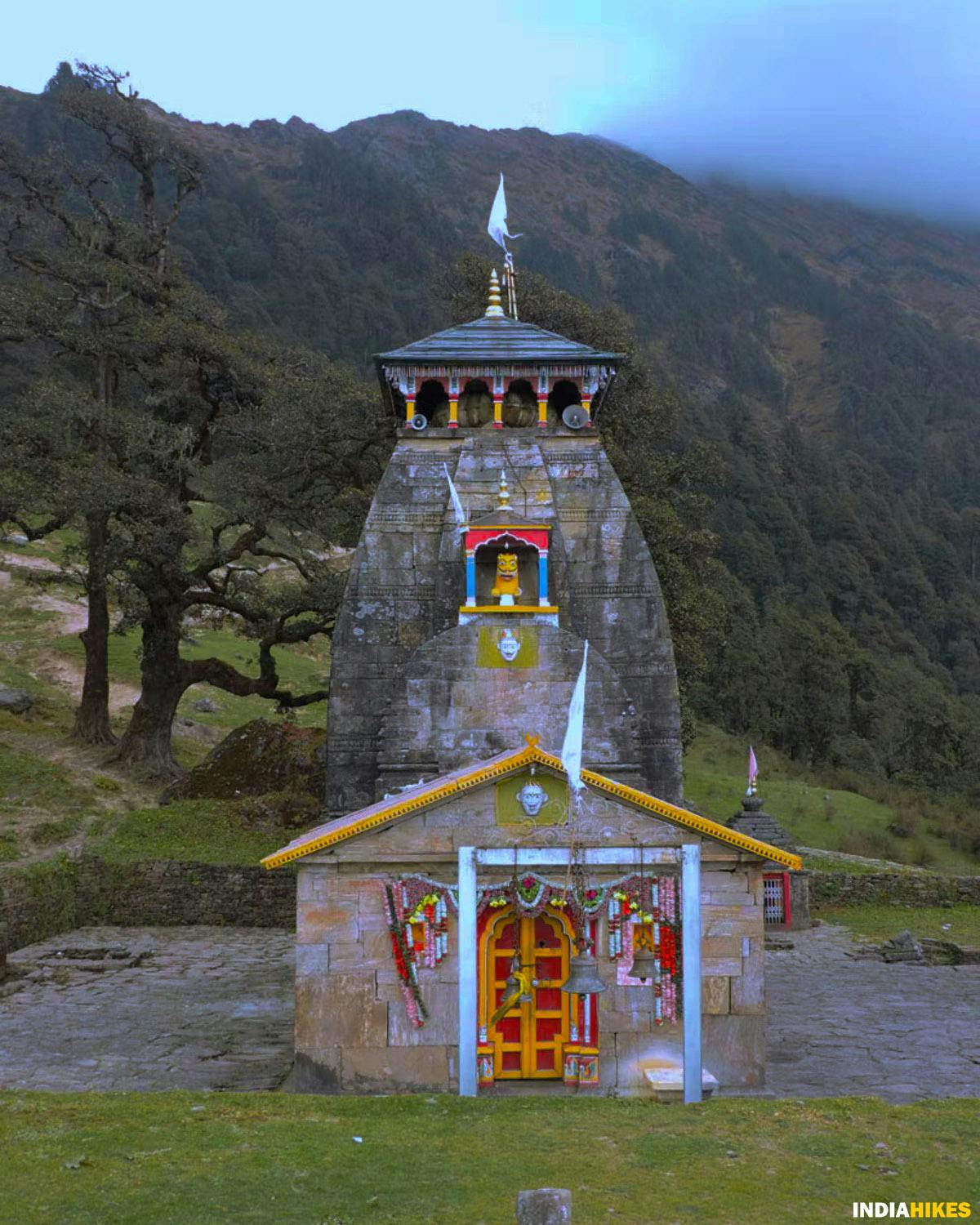 The Madhyamaheshwar temple which is believed to have been built by the second born of the Pandavas, Bhima . Picture by Soumya Ghosh
4. A rare opportunity to spot many species of birds
Kedarnath Wildlife Sanctuary being a diverse ecological system, provides an excellent opportunity to spot a variety of flora and fauna. If you are extremely lucky you will spot the Himalayan Musk Deer, an endangered and protected species in the sanctuary.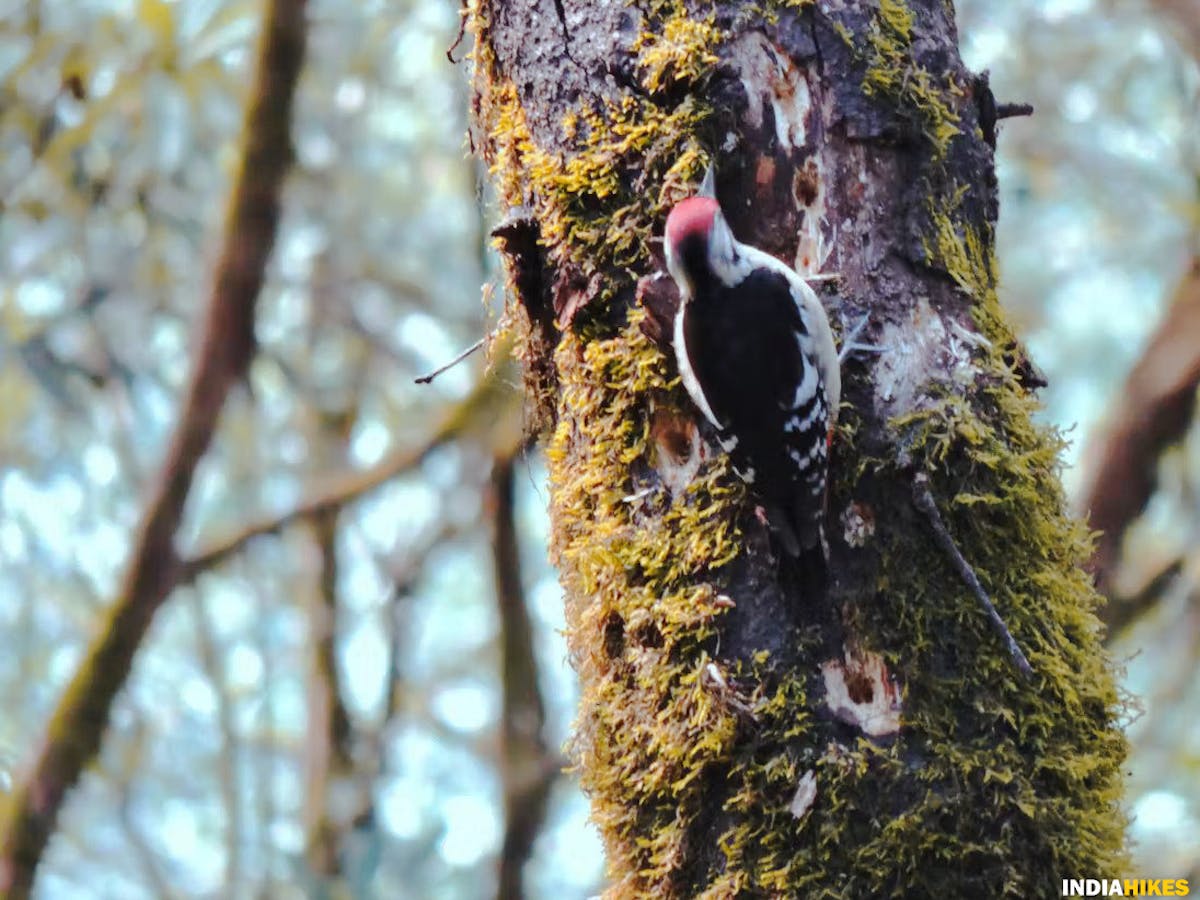 A Woodpecker spotted on the trail. Picture by Soumya Ghosh
➤ Trail Information
The trail to Madhyamaheshwar Temple is on a well paved path for most of the trail. Even though the trail to the top is 16 km long, there are no tricky sections that demand technical knowledge.
The trail till Chhoti Bantoli (Lower Bantoli) is mostly downhill and it starts to get difficult from there till Madmaheshwar temple due to a continuous ascent.
Keeping in mind the elevation and distance, we have divided the entire trek of 32 km into 3 sections, spanning over 3 days:
| Day 1: Ransi to Lower Bantoli
| Day 2: Lower Bantoli to Madhyamaheshwar Temple
| Day 3: Madhyamaheshwar Temple to Buda Madmaheshwar and back to Ransi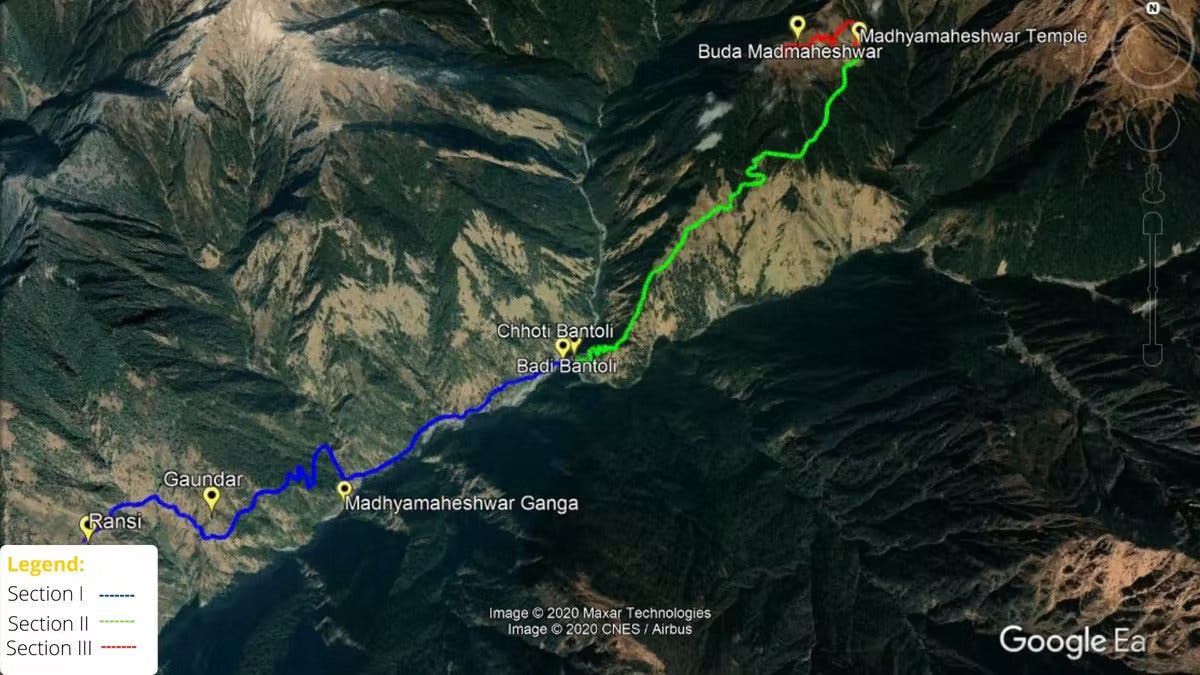 Route Map of Madmaheshwar Trek. Screenshot on Google Earth Pro
Trek Distance: 7.5 Kilometres
Trek Duration: 2 Hours and 30 Minutes
Total Altitude Gain: ⇗ 745 feet
GPS Coordinates of Ransi: 30°35'15.87″N 79° 8'27.94″E
GPS Coordinates of Chhoti Bantoli: 30°36'25.22″N 79°11'17.96″E
Ransi has the last motorable road. There are a few options for food and accommodation at Ransi. If you reach late in the evening or at night, we recommend you stay over at Ransi and start your trek the next day.
Start the trek from Ransi. It is a well paved trail that starts above Madhyamaheshwar Ganga river that flows on your right. It descends all the way to Lower Bantoli.
The route is easy as it is all downhill. Do not forget to take in the scenery all the way till Chhoti Bantoli.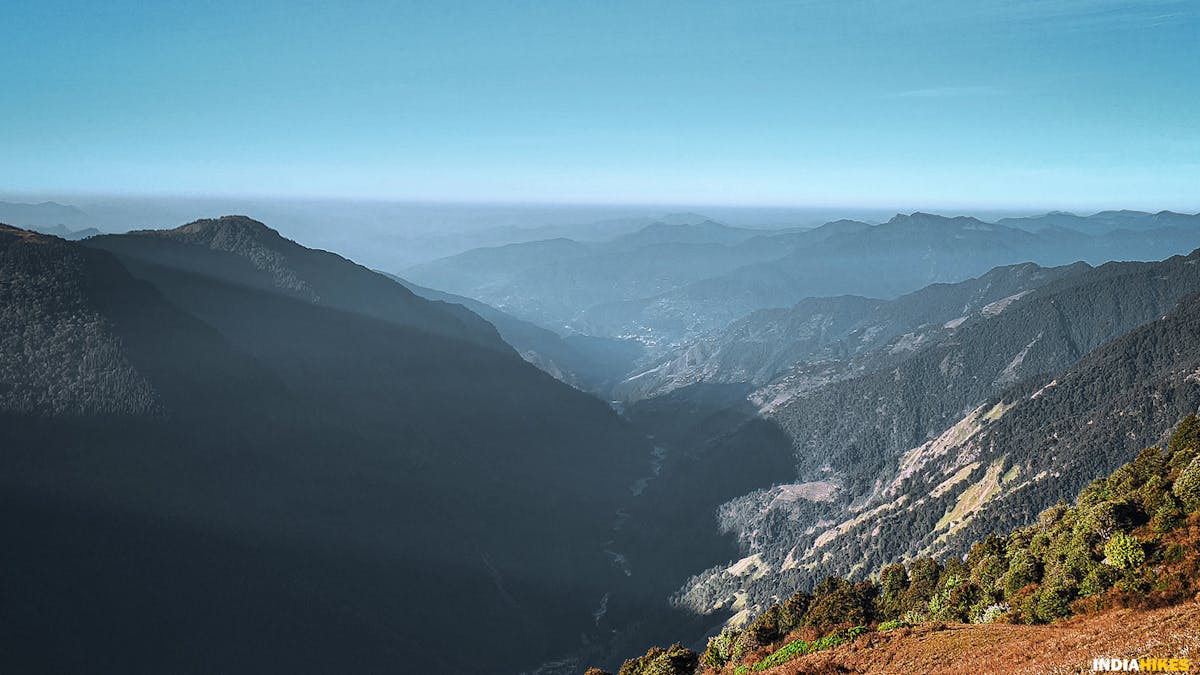 The deep valley down below on your right. Madhyamaheshwar Ganga flows at the foot of these hills. Picture by Aditya Dhaundiyal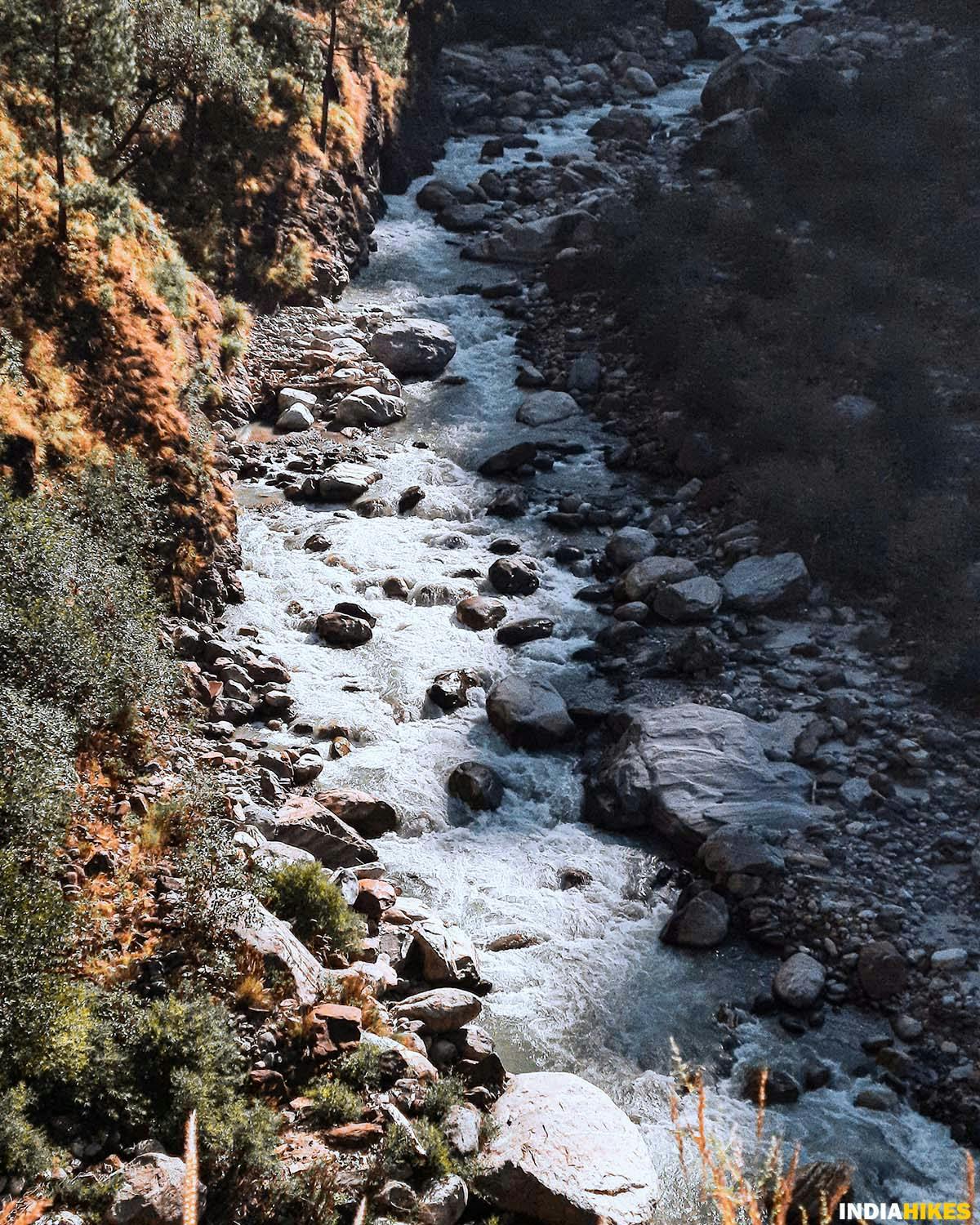 Madmaheshwar Ganga flowing through the valley. Picture by Aditya Dhaundiyal
Also, watch out for a variety of flowers en route. Since Kedarnath Wildlife Sanctuary is rich in flora and fauna, you get a chance to come across many wildflowers and animals. Learn to observe nature closely. The mountains and the forests give a rare opportunity to be one among nature.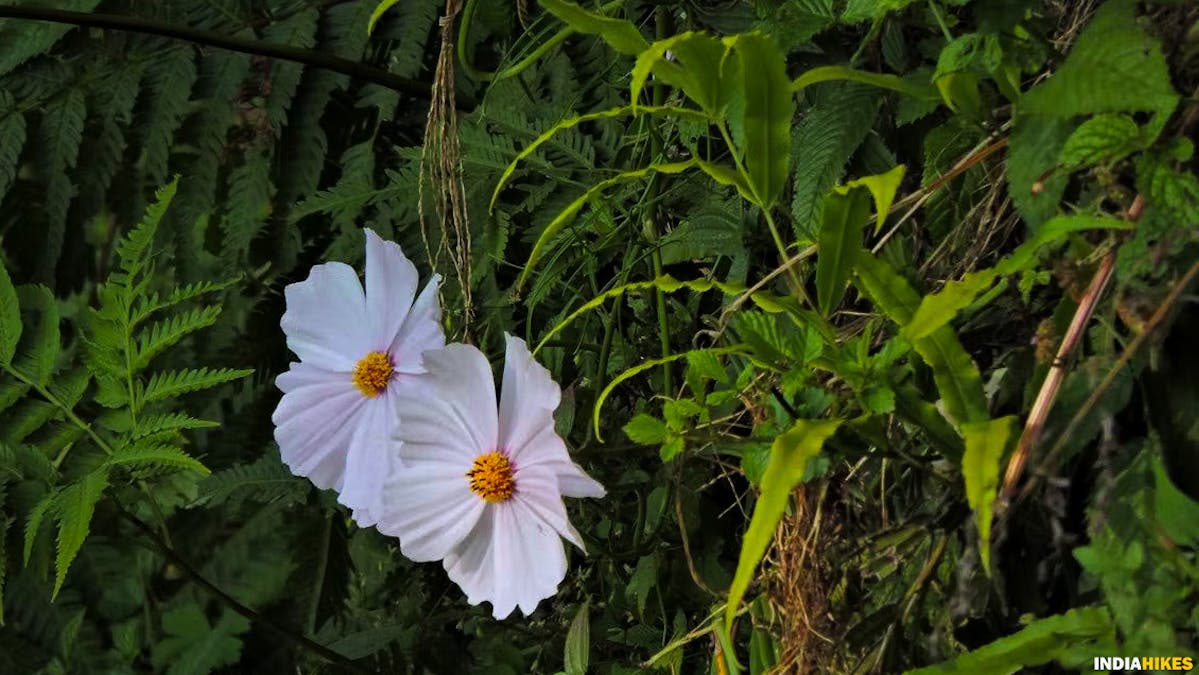 Cosmos Bipinnatus of the Mexican Aster seen on the trail. Picture by Soumya Ghosh
The trail winds through forests every now and then and it is a treat to hike through them with the river gushing beneath you. You can hear the water rushing through the valley as you get closer to the river.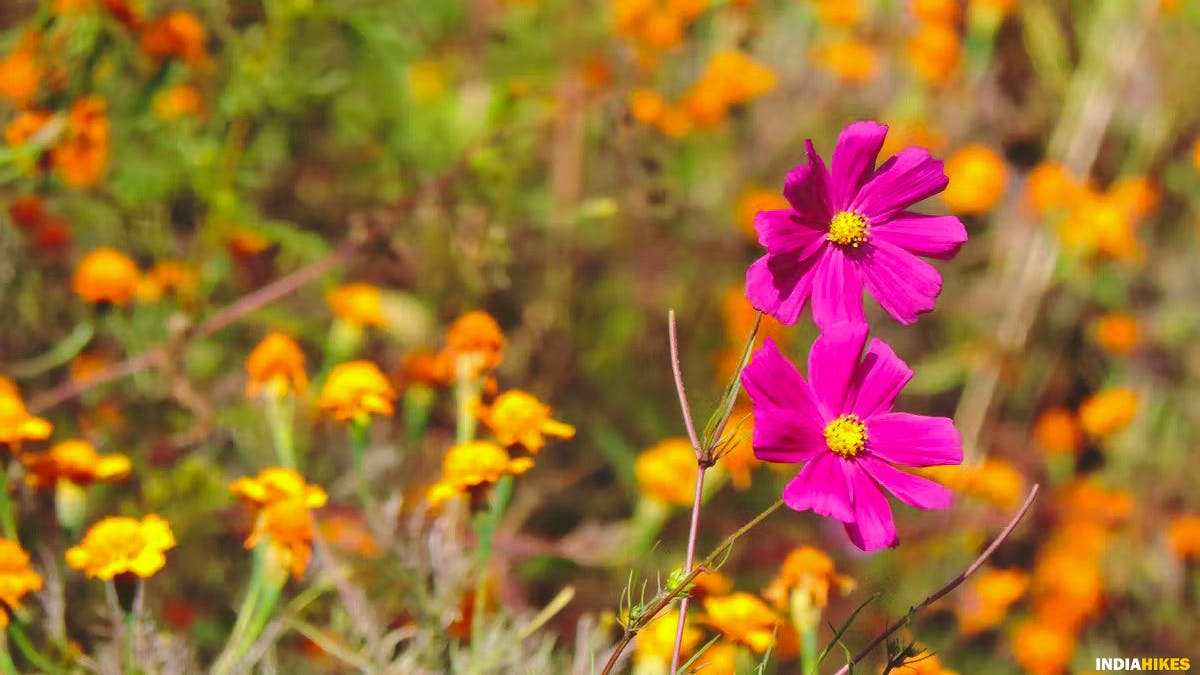 Another variety of Mexican Aster or the Garden Cosmos seen amidst fiery orange wildflowers. Picture by Soumya Ghosh
In about two and a half hours you should reach Lower Bantoli. End your day here by checking in to any of the few available lodges.
These local-run lodges offer basic accommodation along with healthy food for as low as Rs 500 per night per person.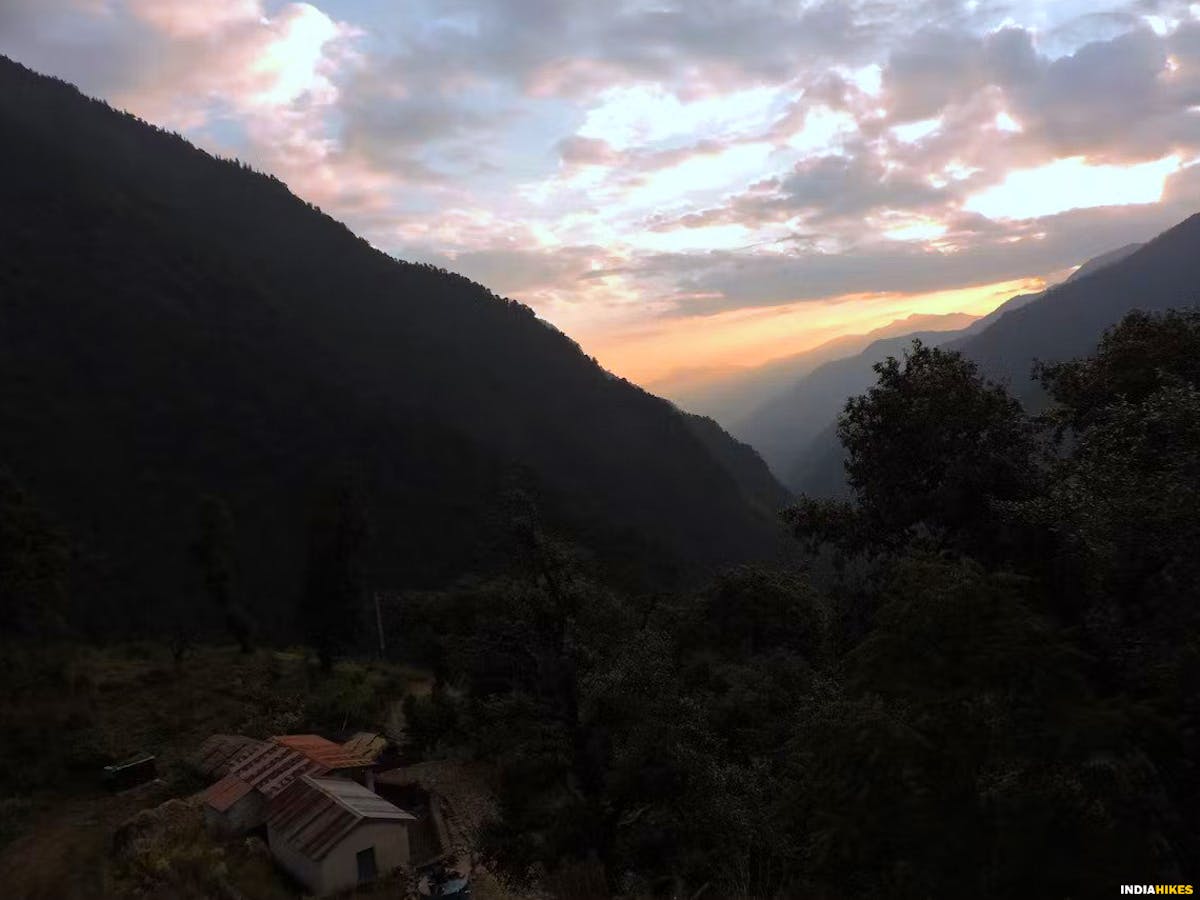 One of the locals' houses en route to Lower Bantoli during sunset. Picture by Soumya Ghosh
Trek Distance: 6.5 kilometres
Trek Duration: 4 hours
Total Altitude Gain: ⇗ 4,948 feet
GPS Coordinates of Chhoti Bantoli: 30°36'25.22″N 79°11'17.96″E
GPS Coordinates of Madhyamaheshwar Temple: 30°38'6.68″N 79°13'18.07″E
Today is the hardest day of your trek. You will gain an altitude of close to 5,000 feet till you reach Madmaheshwar temple.
Finish your breakfast at the lodge and start the trek by 8 AM so that you can reach the temple in time for lunch at the temple complex.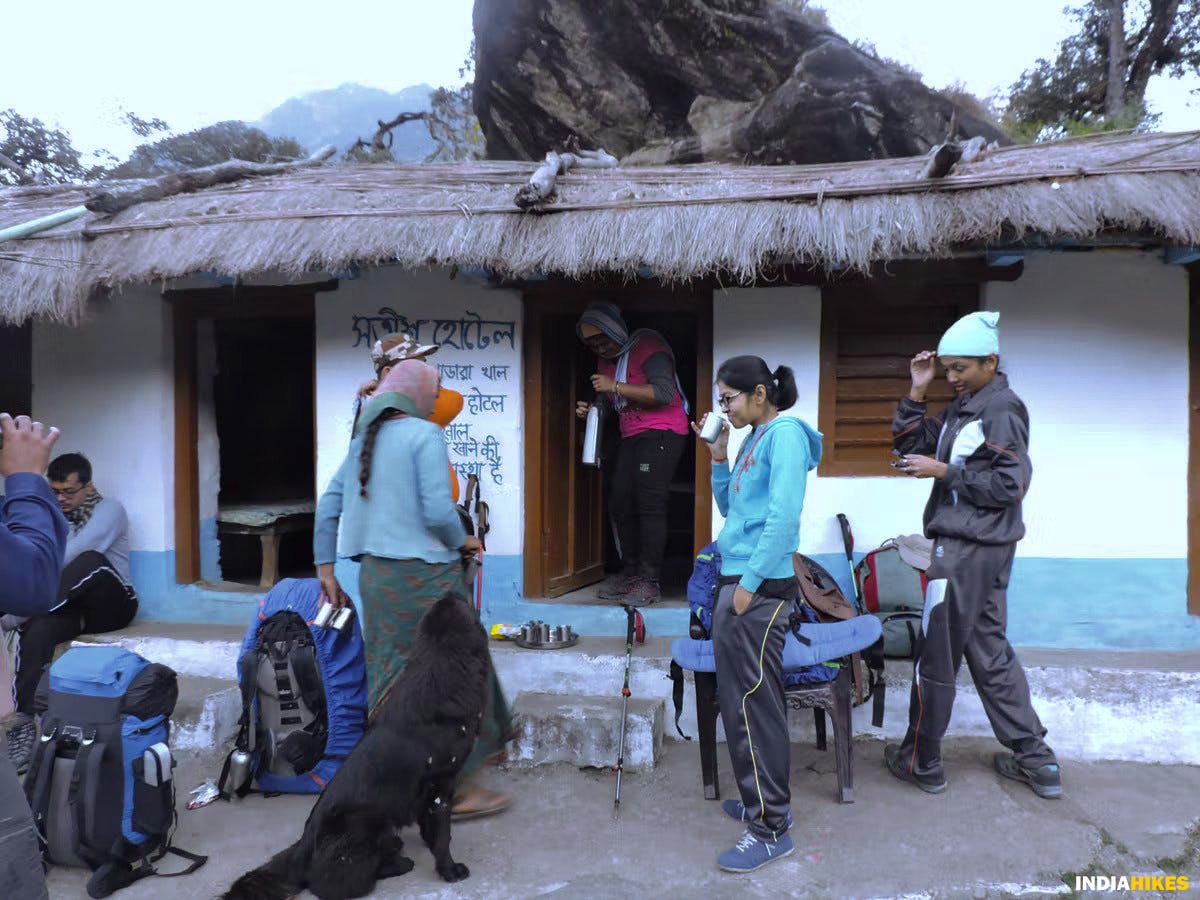 Trekkers are set to take on the challenging climb to the temple. Picture by Soumya Ghosh
The trail continues to be similar to the previous day, but starts to get steeper in less than half an hour climbing.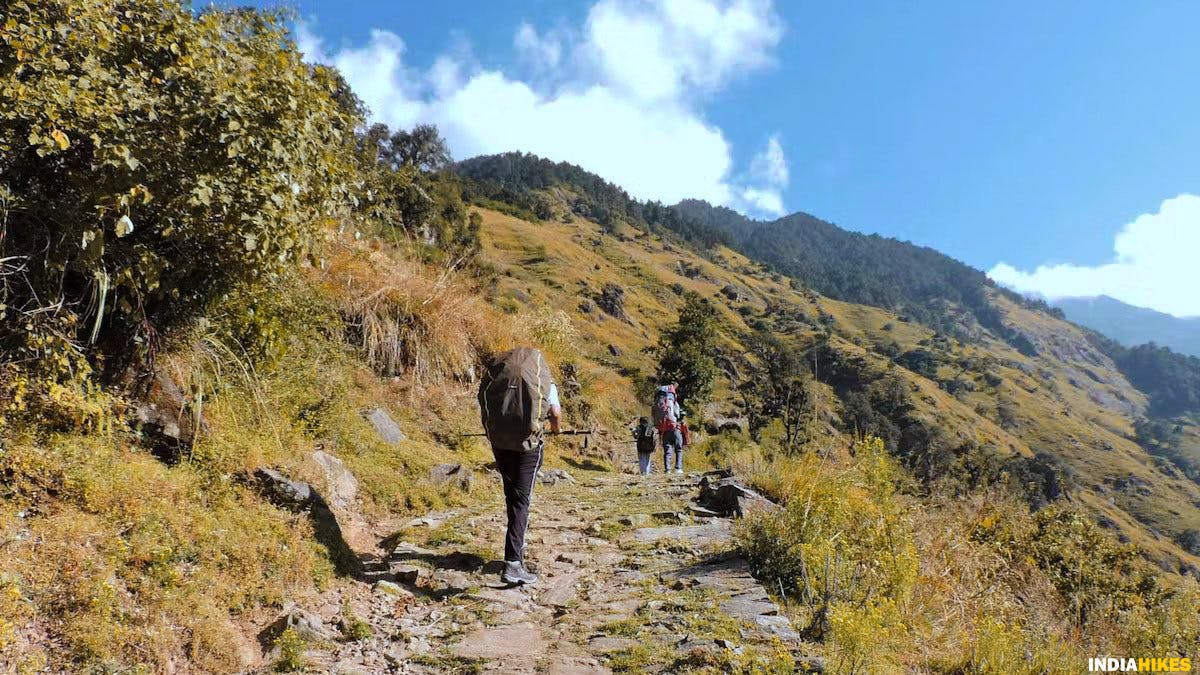 One of the few flat sections en route. Picture by Soumya Ghosh
As you climb higher, notice the grasslands covered by pine trees. This is a common sight on the trail.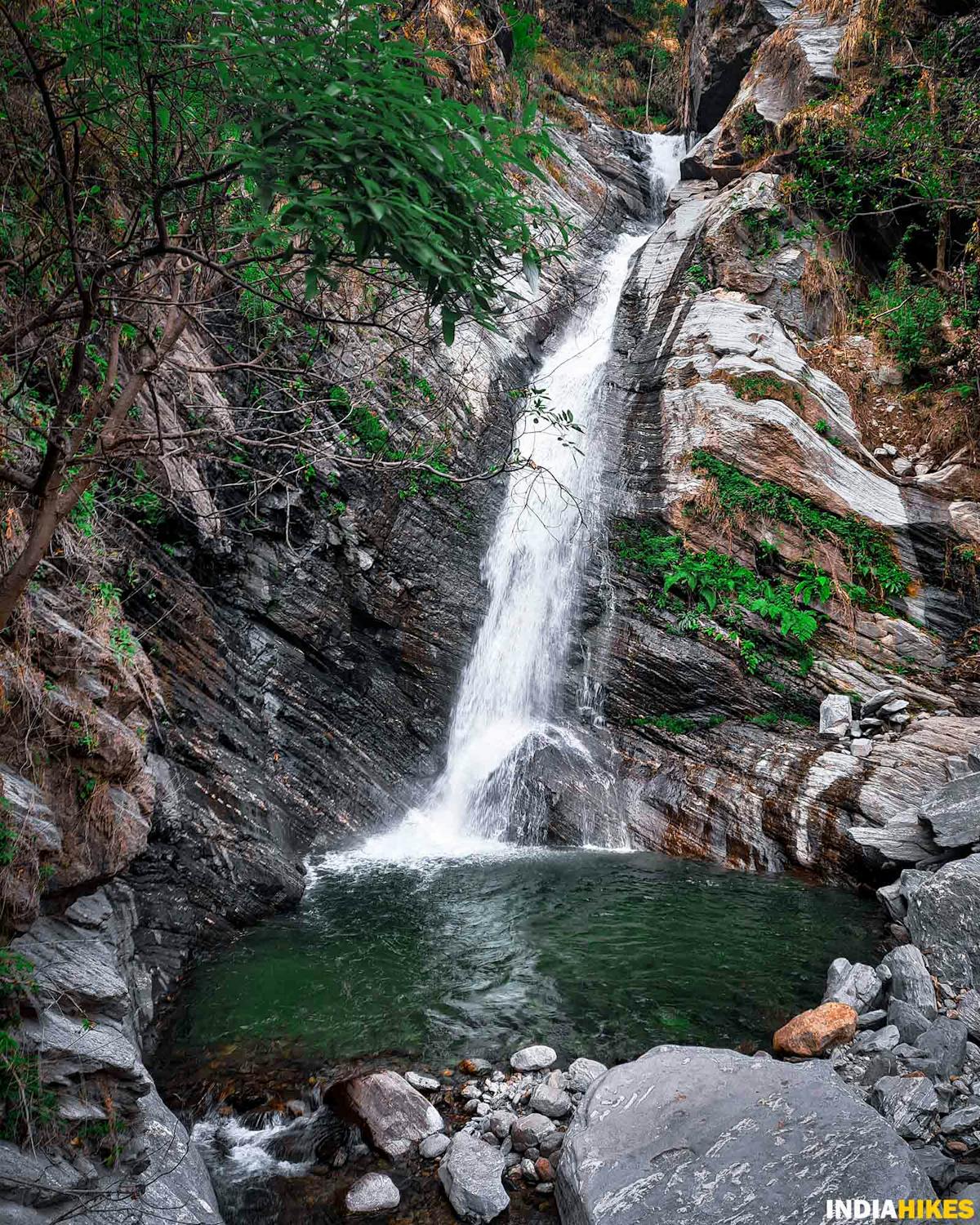 You come across beautiful waterfall enroute on the trail. Picture by Aditya Dhaundiyal
While one side is a rocky terrain, on your right are the lush green forests with a valley that separates them.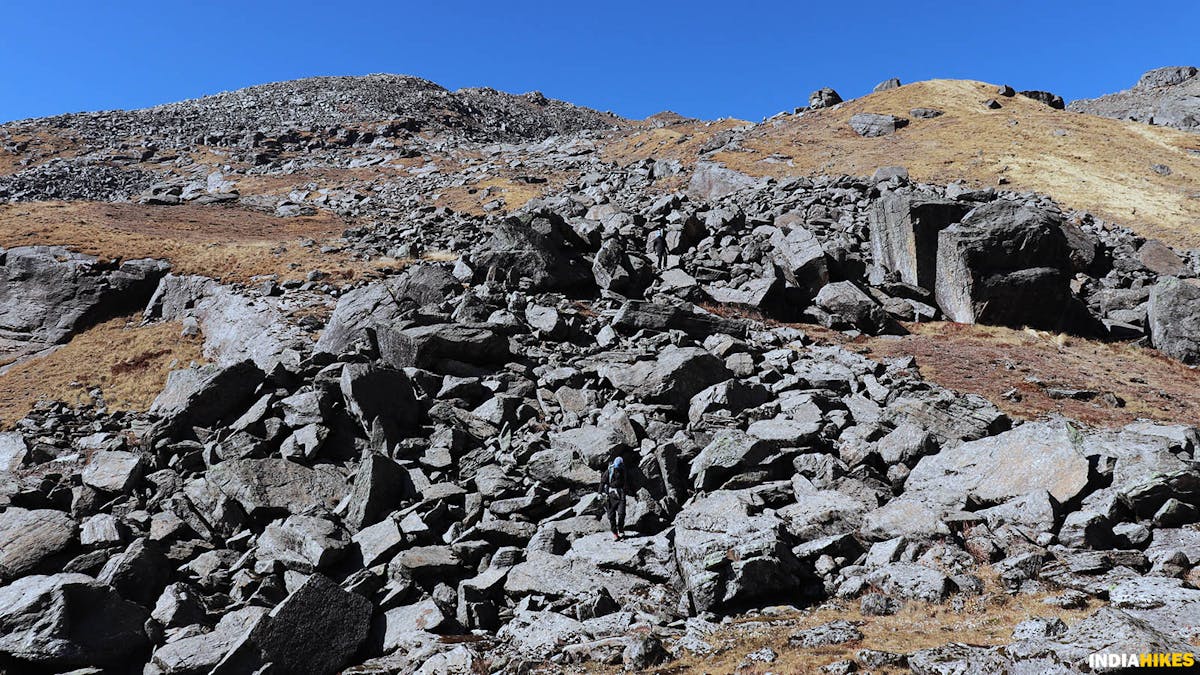 Rocky terrain on the Madmaheshwar trek. Picture by Mahendra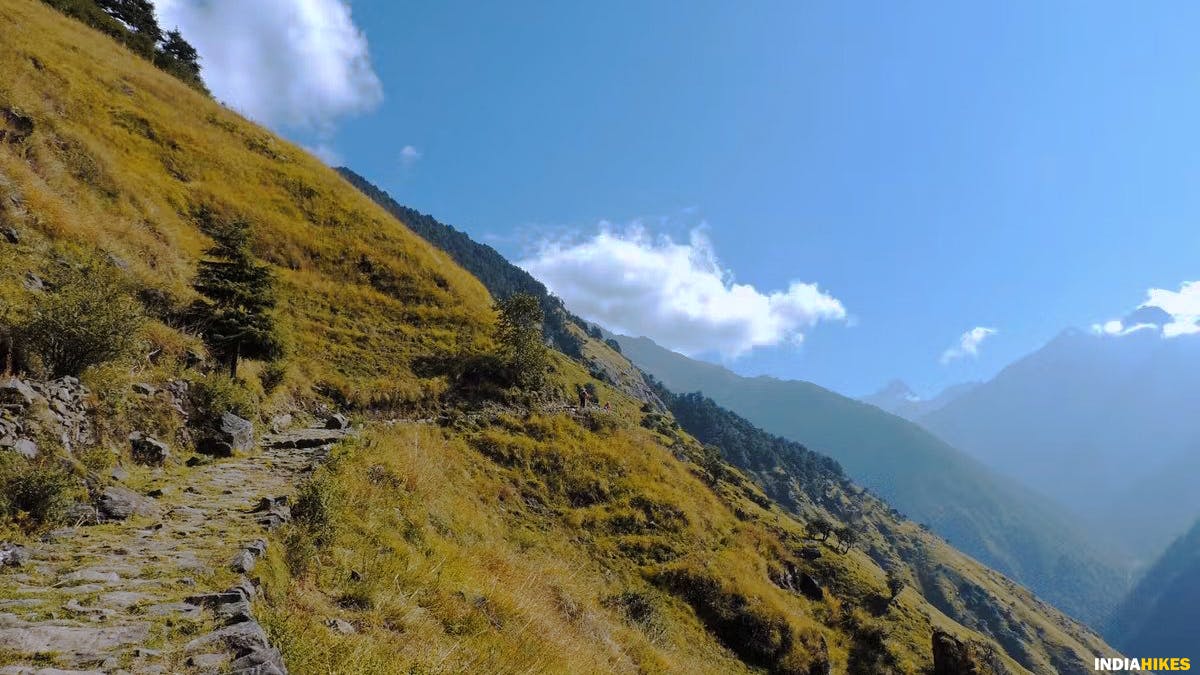 Although the path is well marked, it is filled with rocks that make it quite uneven. Picture by Soumya Ghosh
Continue along the trail while you cherish in the breathtaking scenery all around.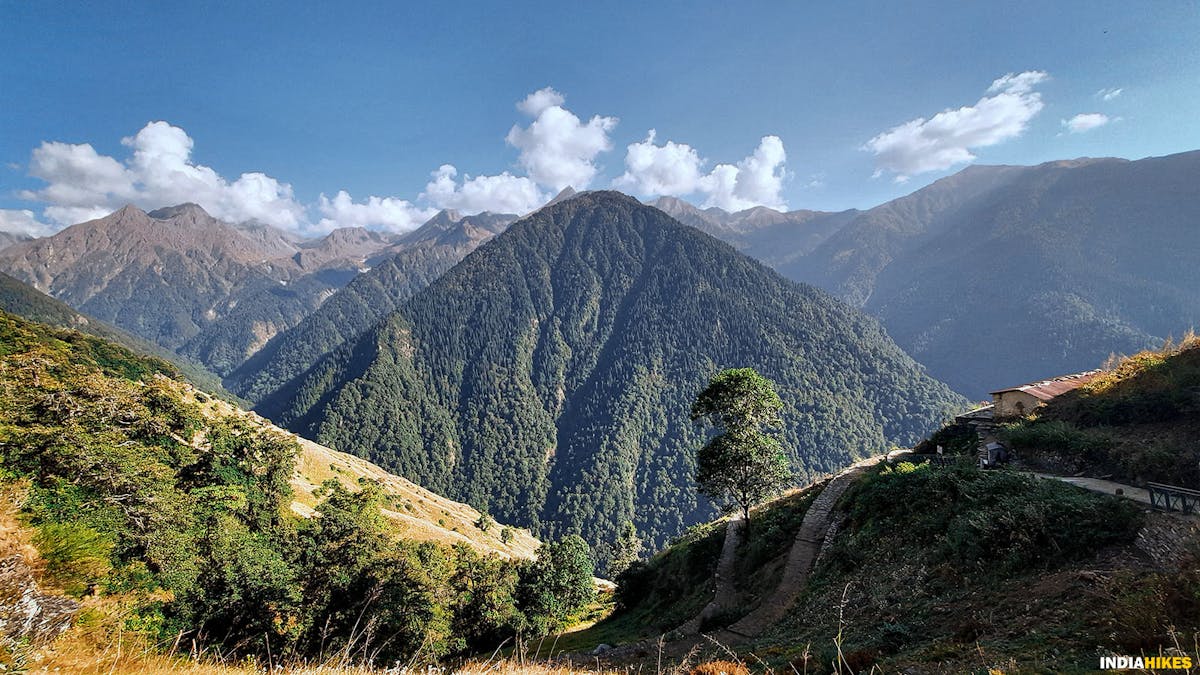 The views make up for the touch climb on this day. Picture by Aditya Dhaundiyal
There are fixed benches on the trail in case you are tired with the relentless climb. Rest here for a few minutes and get back on track.
Sassurea obvallata: Brahmakamal, the state flower of Uttarakhand only found in higher altitudes. The thick curved root of the plant is applied to bruises and cuts. Picture by Mahendra
Pro Tip: Trekking poles are a lifesaver on the Madmaheshwar trek. The rigorous ascent and descent put a lot of load on your knee joints. Trekking poles help in absorbing 60% of your bodyweight you would otherwise load on your knees. The energy and efforts saved will ensure your knees stay healthy. Carry a pair of trekking poles as they help you trek faster while reducing the impact.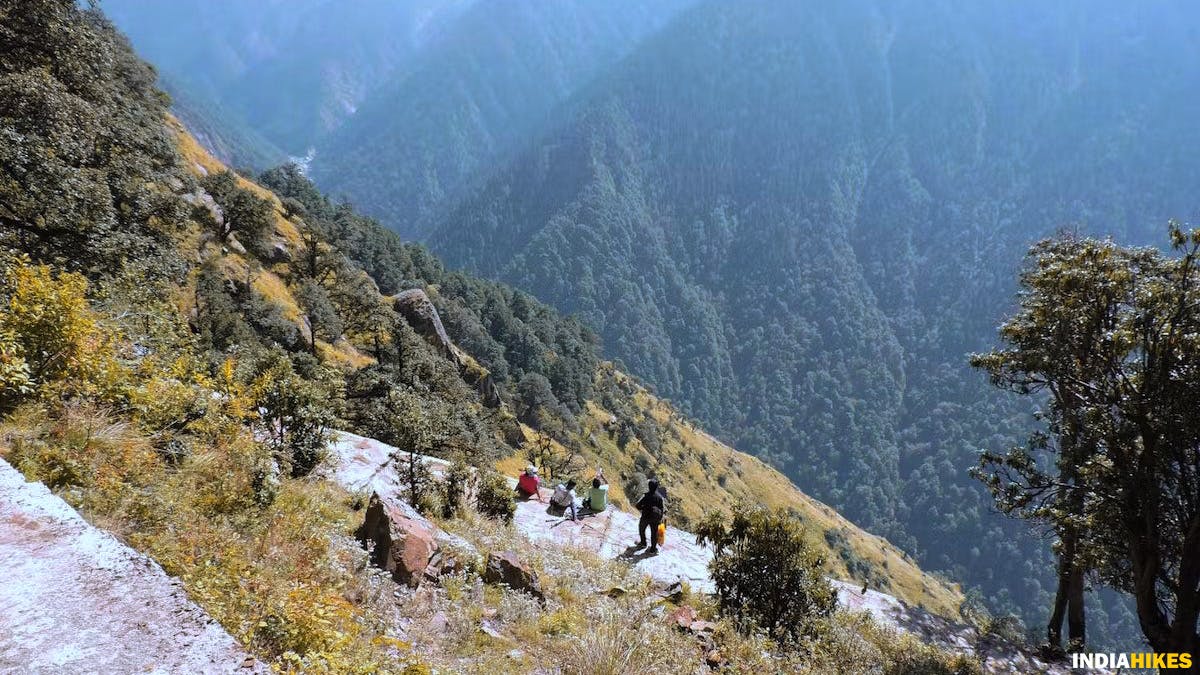 The zig-zag ascent en route is taxing on your legs. Picture by Soumya Ghosh
As a reward for the tough climb, there are occasional flat, well-paved paths that wind through tall trees in the middle of the forest.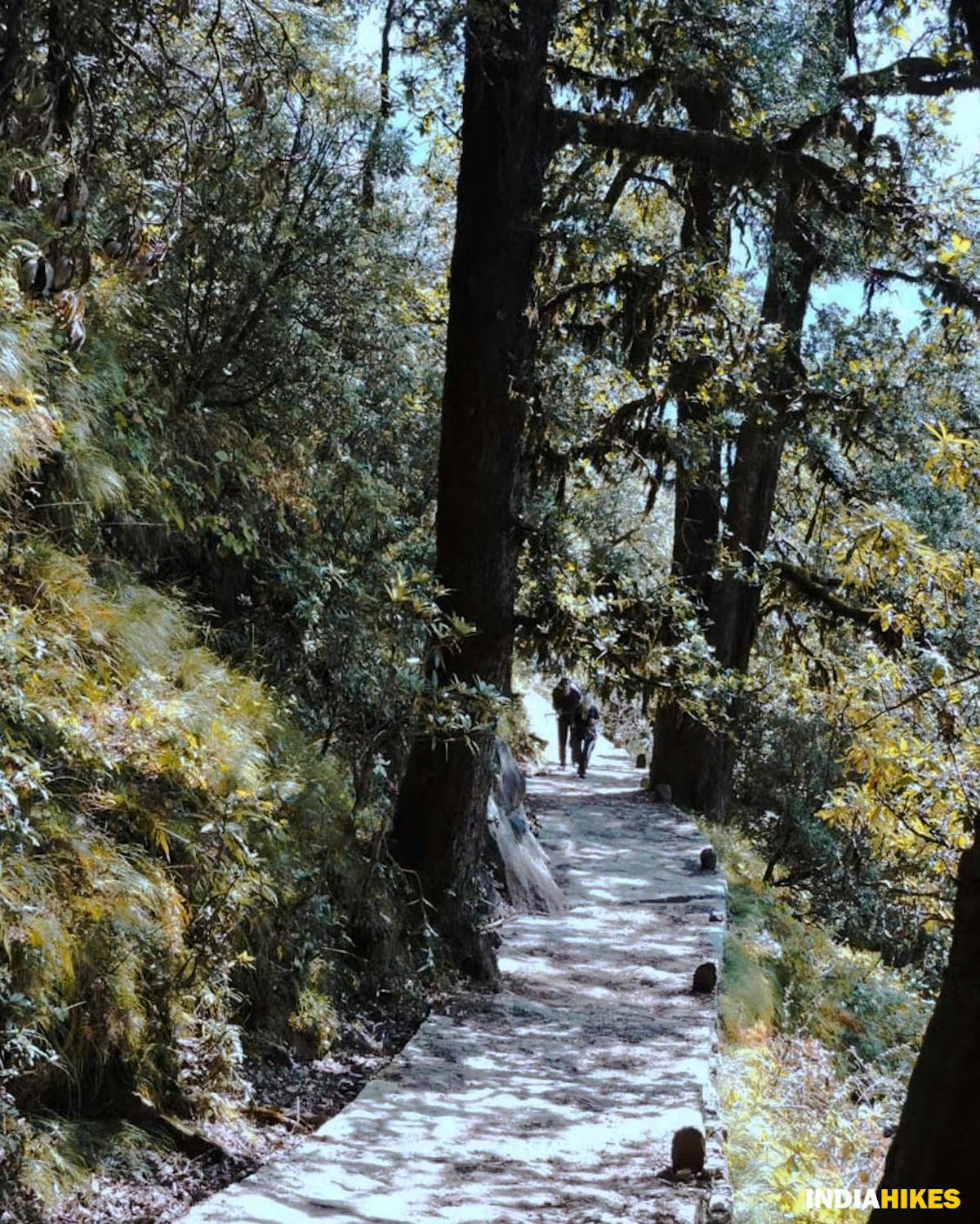 A well paved path winding through the trees. Picture by Soumya Ghosh
The higher you climb, the more beautiful the surroundings become. Take a moment to appreciate the beautiful nature.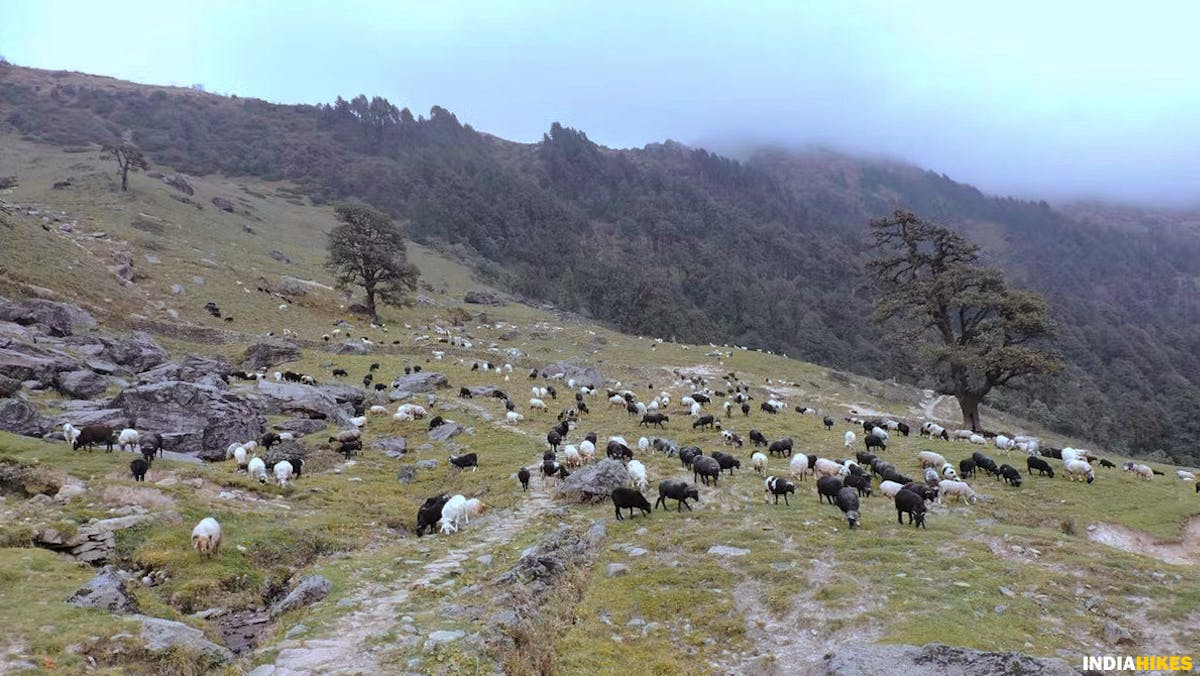 Such a delight to see a heard grazing on the alpine meadow. Picture by Soumya Ghosh
En route you will find a few houses of the locals that sell snacks and drinks. Replenish at these points and ward off the tiredness.
| Green Tip: Carry your own water bottle and lunch box to pack some snacks, and food for the trek.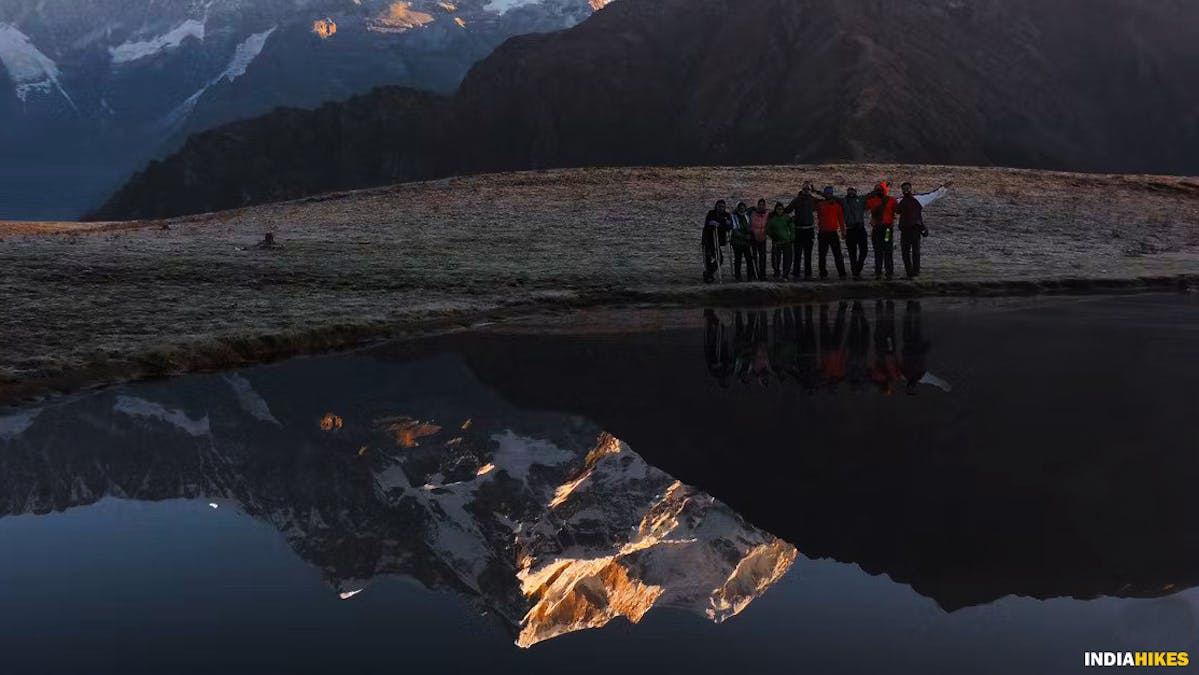 Reflection of Mt Chaukhamba seen during sunrise on the Madmaheshwar trek. Picture by Soumya Ghosh
As you approach the final few hundred metres, it is a flat walk till the temple. The view that opens up in front of you is absolutely stunning! You will notice a few huts nestled at the foothills of the gigantic mountains, with a stream flowing down on the right that goes on to become the Madhyamaheshwar Ganga river.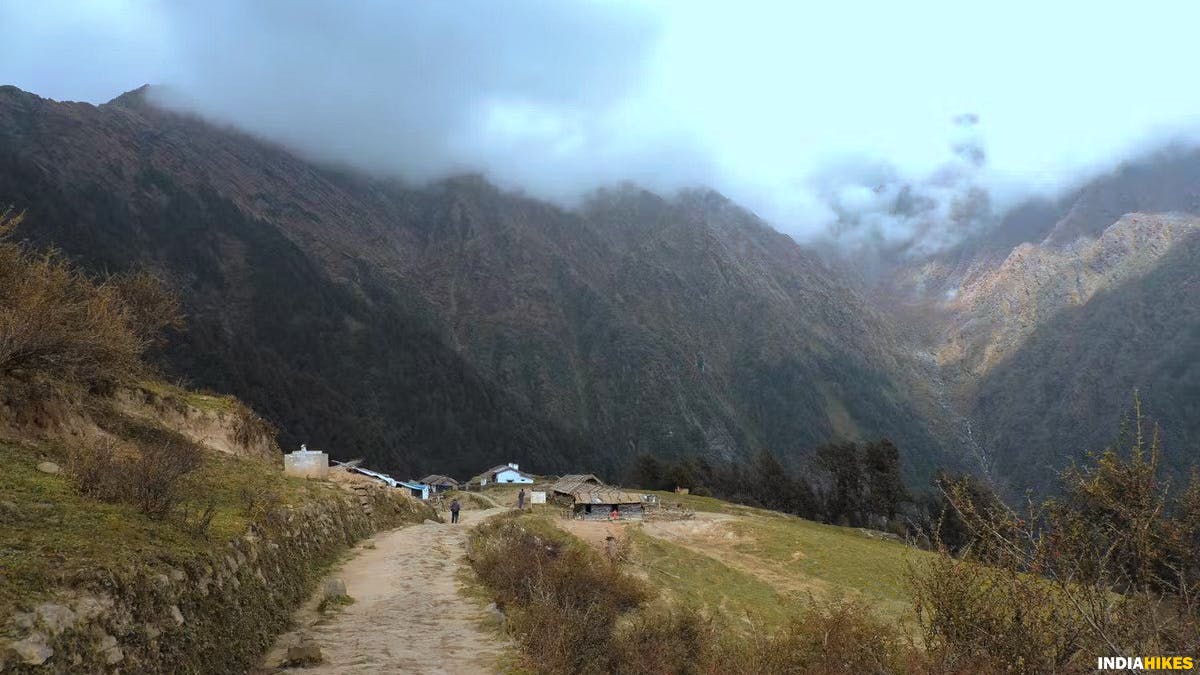 The breathtaking scenery that unfolds before the final stretch to the temple. Picture by Soumya Ghosh
Notice the Madmaheshwar temple right in the center, while the trail to the left climbs to Buda Madmaheshwar and to the right, there are a number of small huts and the temple complex.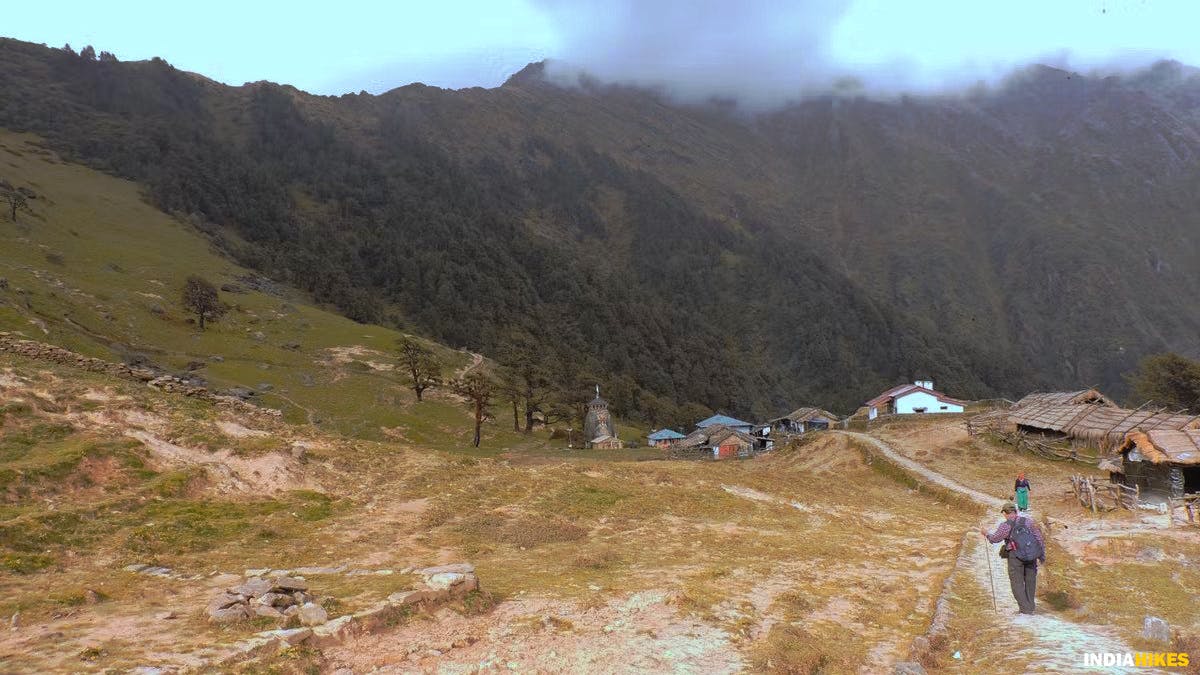 The final stretch to Madmaheshwar temple. Notice the temple right in the center. Picture by Soumya Ghosh
In less than 10 minutes you reach the temple. Notice the ancient architecture of the temple that is thousands of years old.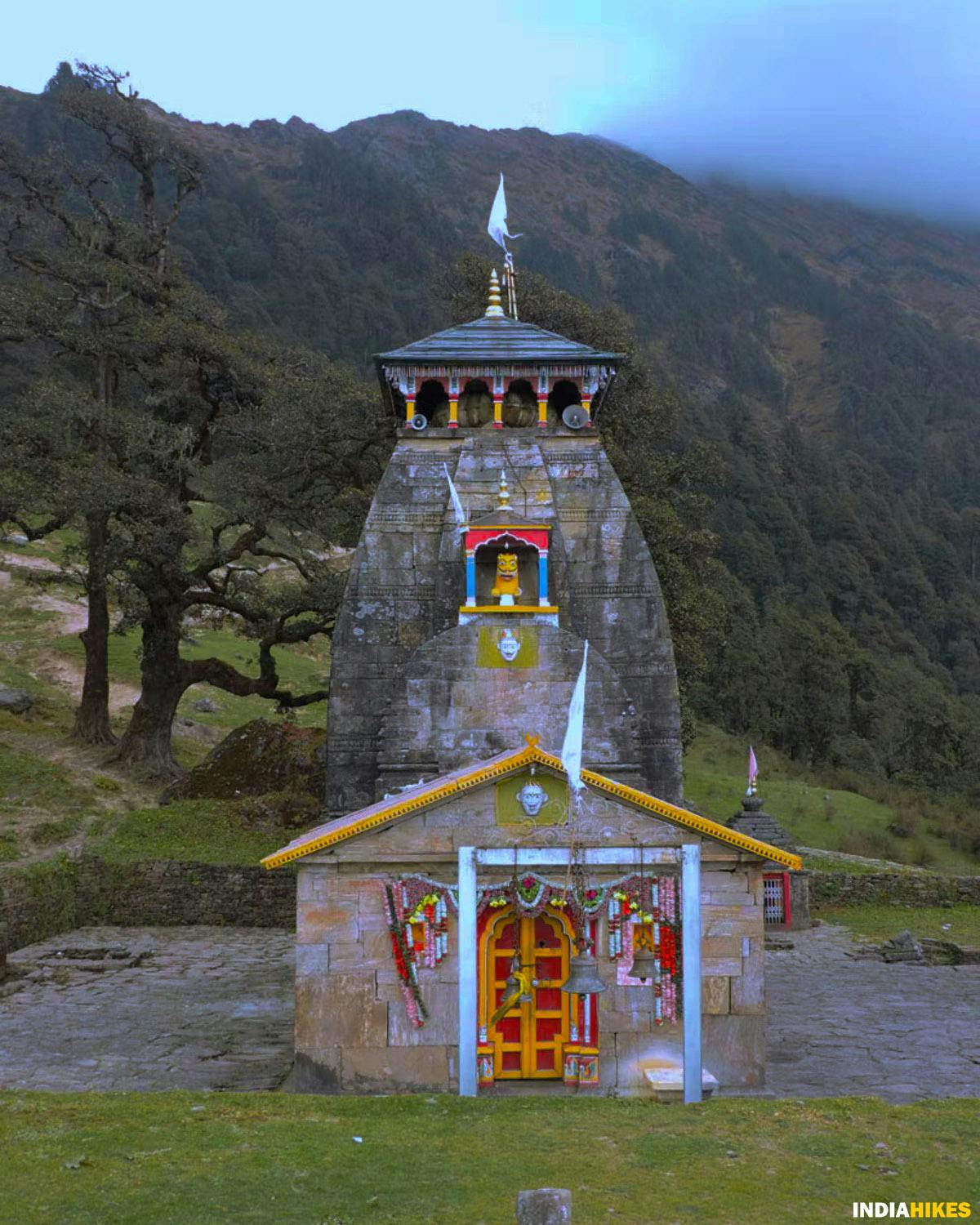 The Madhyamaheshwar temple. Picture by Soumya Ghosh
There are two other small shrines — one dedicated to Lord Shiva's consort Parvati and the other one dedicated to Ardhanarishvara, a half-Shiva, half-Parvati image.
Spend the rest of the day around the temple leisurely and inform at the temple complex about your stay and food arrangements for the day.
| Tip: If you're planning to pitch tents, set them up before it gets dark. Even if you're staying in tents, you can have food from the temple complex.
If you visit the temple from summer through autumn (May – October), you get to witness the grand Aarti that takes place every evening. Many locals from the surrounding villages attend the Aarti and they believe it is auspicious. You will feel the positive vibrations around the temple, combined with the sound of bells,  the chants of the priest and the devotees in sync.
Trek Distance: 2 Kilometres
Trek Duration: 1 Hour
Total Altitude Gain and Loss: ⇗ ⇘ 875 Feet
GPS Coordinates of Madhyamaheshwar Temple: 30°38'6.68″N 79°13'18.07″E
GPS Coordinates of Buda Madmaheshwar: 30°38'1.25″N 79°12'50.83″E
While the second day was the toughest part of the trek, Day 3 is the most important.
When we say it is the most important, we mean it. Because it is on this day you get to experience the cream of this trek — The view of the Chaukhamba massif!
Leave your room at least by 4:30 AM so that you reach Buda Madmaheshwar by 5:30 AM, right in time for sunrise. Leave your belongings at the complex and carry a small daypack with you.
Note: If you stayed in a tent, keep an extra half hour to unpitch the tent and leave it with the rest of your belongings at the complex.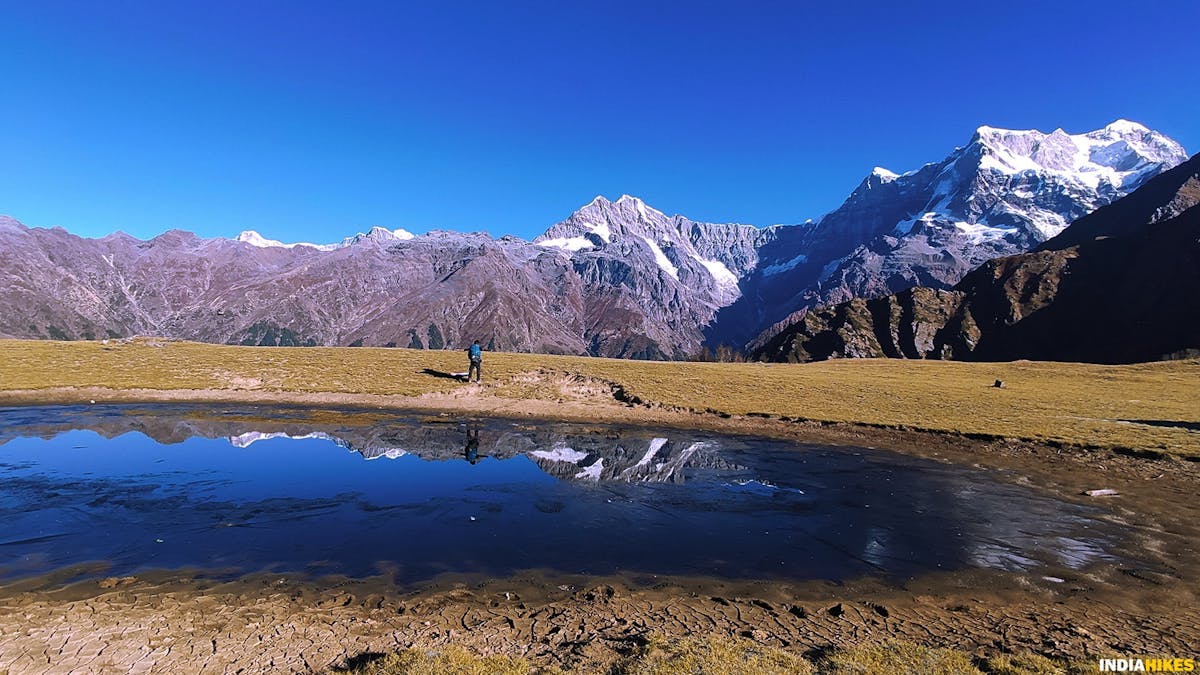 The scenery from Buda Madmaheshwar. Picture by Mahendra
Take the trail to the west of the temple. It is a gradual to steep ascent till the top and takes a good one hour to cover the distance of 2 km.
The top is called Buda Madmaheshwar because there is a small shrine next to the pond that is older than Madmaheswar. 'Buda' or 'Budha' in Hindi means an old man which translates to Old Lord Shiva.
Once at the top, you are in for an absolute treat! Keep your eyes fixed to the easy and watch the magic unfold right in front of you. Your eyes tear up as the first light of the sun hits the mighty Chaukhamba massif.
The feeling you get and the emotions you go through while watching this nature's magic is priceless!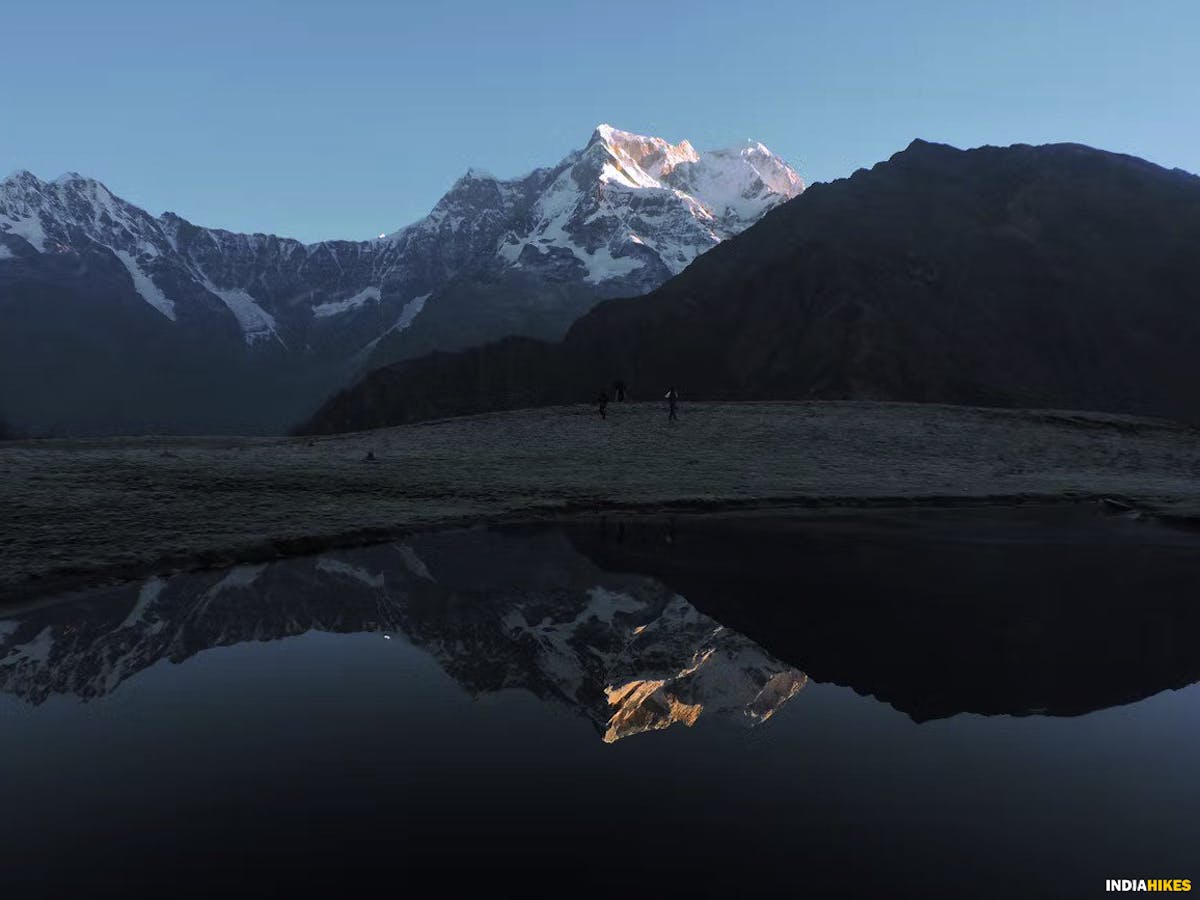 The first ray of the sun falls on the Chaukhamba massif. Picture by Soumya Ghosh
The entire phenomenon reflects on the Buda Madmaheshwar pond in a crystal clear fashion. It is a sight to die for!
Watch the Buda Madmaheshwar shrine light up as the dawn breaks.
Enjoy the serenity and feel the cold air kiss your cheeks as you watch nature's grand show.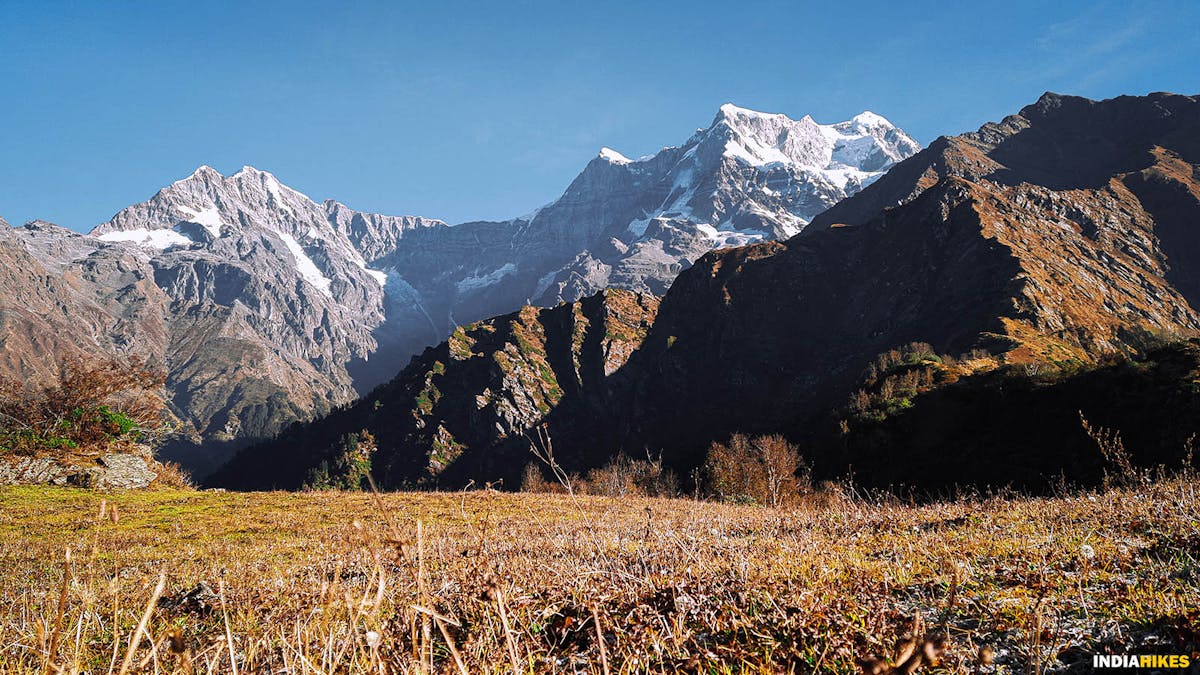 You can see a Mt. Chaukhamba massif from Buda Madmaheshwar. Picture by Aditya Dhaundaliya
Spend as much time as you wish keeping in mind the long journey ahead taking the same route back to Ransi, the base village. You need at least 6 hours to reach the base.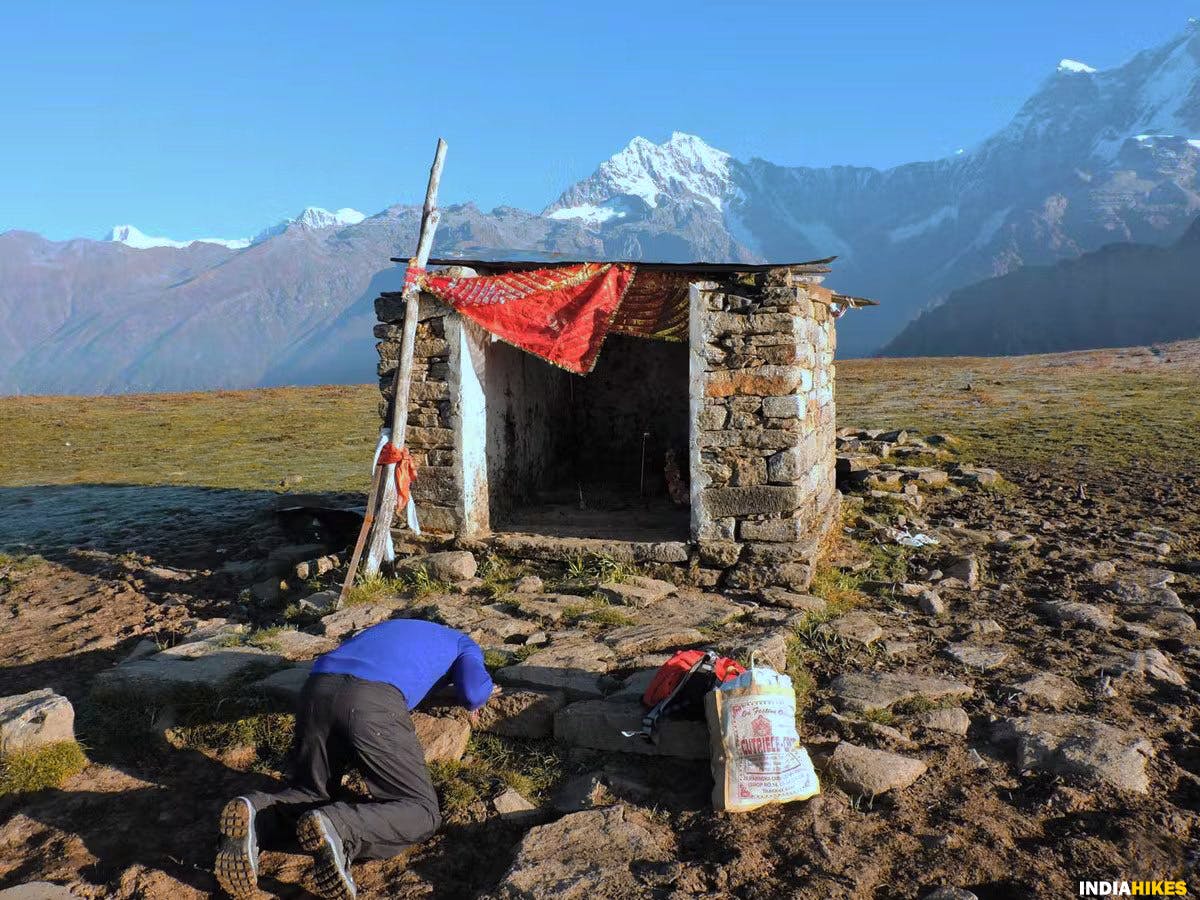 A trekker offers prayers at Buda Madmaheshwar shrine. Picture by Soumya Ghosh
➤ Best Time to Visit Madmaheshwar
The best time to do the Madmaheshwar trek is in the post-monsoon season (September – October) and in spring and summer seasons (March – June).
Although this trek can be done in the monsoon season, we wouldn't recommend it — mainly due to the clouds that cover the main highlight of the trek — The view of Mt Chaukhamba from Buda Madmaheshwar.
Trekking to Madmaheshwar in winters is highly not recommended because the trail from Lower Bantoli to Madhyamaheshwar temple, and further to Buda Madmaheshwar might receive a lot of snowfall as it climbs higher.
If the trail gets blocked due to snow, a new trail has to be cut using an ice-axe. You will not be able to trek further if you don't have a technical guide or a person with mountaineering knowledge in your team who can make the trail for you.
Moreover, you'll have no source of food as the lodges will be shut during winters. Even the temple is closed and there will not be any accommodation facility around the temple, except your own tents.
Again, you will miss out on the view of Chaukhamba massif in winters.
Protip: If you want to make the best out of your trek to Madmaheshwar, choose between mid-September to mid-October when the weather is very pleasant. This is when you get the most brilliant, crystal clear views of Chaukhamba massif from Buda Madmaheshwar.
On the other hand, if you want to experience the Himalayan cold and snow at the top and wish to see a few rhododendrons on the trail, along with the view of Chaukhamba massif with a bit of clouds sprinkled around it, choose to trek between March and June. Also, note that the cold winds subside as the season moves closer to summer (April, May, June).
| Tip: If you plan on doing the trek in March and witness snow, check the weather/snowfall the region has received during winter by visiting the Indian Meteorological Department.
➤ How to Reach Madmaheshwar
Madhyamaheshwar temple lies in the Kedarnath Wildlife Sanctuary in Uttarakhand. To reach the temple, you will have to first reach Ukhimath and then the starting point of the trek, Ransi. The 226 km journey from Rishikesh to Ukhimath is as scenic as it can get!
Watch out for the dam in Srinagar, the Sangams, and the scenery after Rudraprayag to make this one of the most memorable journeys in Uttarakhand.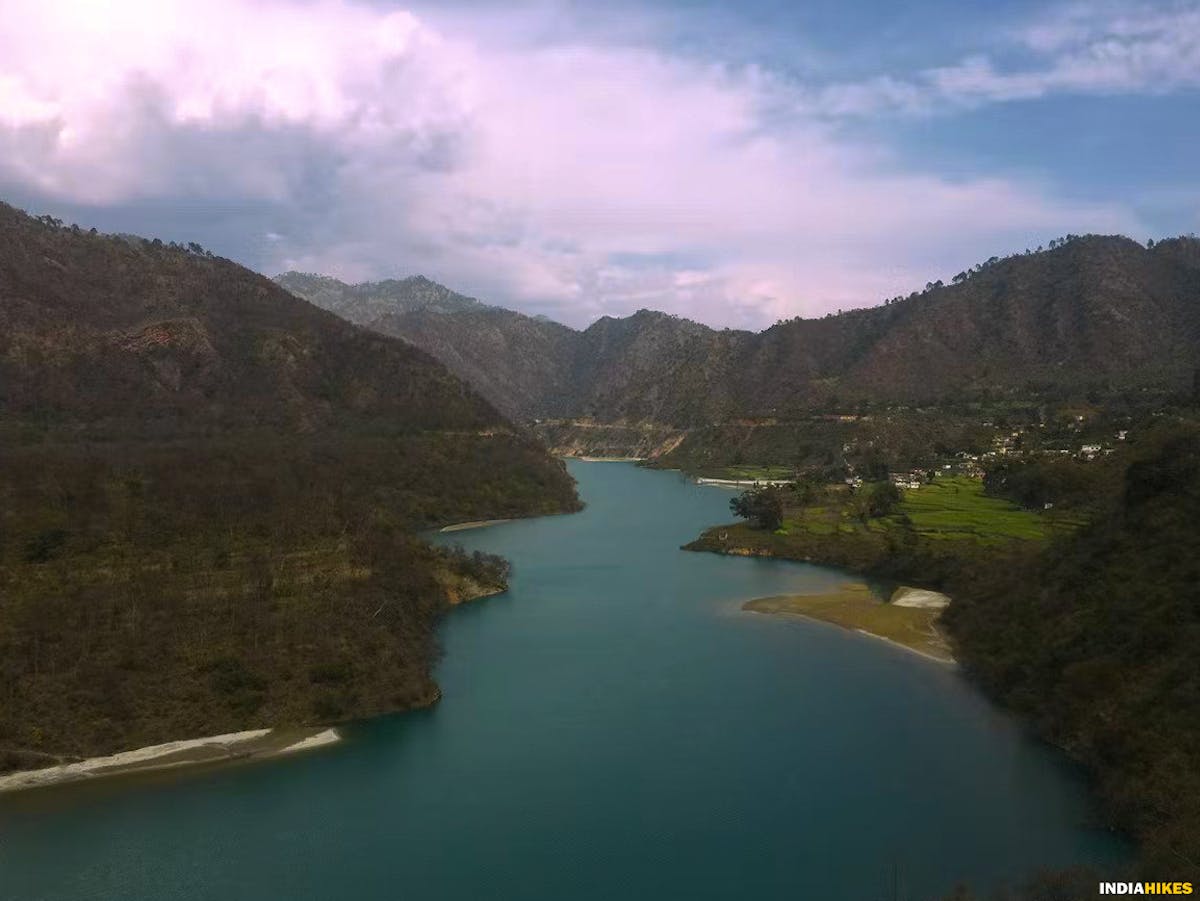 The beautiful Alakananda river seen from the bridge in Srinagar. Picture by Dushyant Sharma
Reaching the base village of Ransi using Public Transport
Reaching the base village of Ransi via public transport is the most fun and cost effective way to do the Madmaheshwar trek. There are plenty of options available to reach the base. Let's look into it one by one.
1. Reaching Rishikesh using flight as the main mode of transport
Reaching Ransi by taking a flight to Dehradun is the quickest option of all. Reach Dehradun and take an airport bus from Jolly Grant Airport to Rishikesh.
| Note: There is an approximate wait time of 1-2 hours to catch the bus from the airport.
If you don't like waiting, another option is to take a prepaid taxi from the Prepaid Taxi Counter at the airport to Rishikesh. They cost you anywhere between Rs.800 to Rs.1,000.
Protip: If you really want to save money, try to catch an auto just outside the airport terminal complex. They usually come there to drop passengers off. Autos are not allowed to enter the airport complex. They charge approximately Rs.300 to Rishikesh.
2. Reaching Rishikesh using train as the main mode of transport
Rishikesh doesn't have a mainstream railway station. All the trains moving towards Dehradun stop at Haridwar briefly before reaching Dehradun.
The trains go to Dehradun only from New Delhi, except Nanda Devi Express which leaves from Kota, Rajasthan. Unless you are travelling from Rajasthan, you will have to fly down to Delhi and then take a train to reach Rishikesh.
If you're travelling by train, do not take any other train except:
– Nanda Devi Express
– Jan Shatabdi Express
Protip: Choose to travel by train only if the flight ticket difference between Delhi and Dehradun from your place of departure is more than Rs 1,000. The rest and shorter travel time of flying to Dehradun is worth the difference.
3. Reaching Rishikesh using bus as the main mode of transport
Again, buses to Rishikesh by bus, you will have to fly down to Delhi.
There are plenty of buses that ply to Rishikesh from Kashmere Gate, ISBT. There are regular Volvo AC buses. You also get Non-AC buses. AC bus tickets cost about Rs 700.
Protip: Take the government UPSRTC or Uttarakhand Parivahan Nigam buses. These are more reliable buses. Local private buses usually try to pick passengers on the way, stop at unnecessary places and invariably take far longer journey time. Stick to government buses. Take private buses only if you don't get tickets in government buses.
From Rishikesh you will get only 2 buses in a day that directly go to Ukhimath:
– Uttarakhand Parivahan Nigam's bus reaches Rishikesh from Dehradun between 8:30 AM and 9:00 AM and charges Rs 300.
– Himgiri Adventure Tour's (private operator) bus reaches Rishikesh from Haridwar at around 10:00 AM and charges around Rs 250.
Even if you miss the direct bus, alternatively you can take a bus to either Srinagar or Rudraprayag and catch another bus to Ukhimath from there. There are plenty of buses that ply to Ukhimath from Rudraprayag every 30 minutes. They charge you approximately Rs 100 from Rudraprayag.
From Ukhimath, you will find shared cabs that drop you till Ransi and charge you anywhere between Rs 60 to Rs 80.
Considering all the travel options, we recommend flying to Dehradun directly and taking a bus/cab/auto to Rishikesh and then taking a bus to Ukhimath and a shared taxi to reach Ransi, the base camp of Madmaheshwar trek.
4. Reaching the base village of Ransi in your own vehicle from New Delhi
Ransi is easily accessible by road and it takes almost 12 and a half hours to reach from New Delhi. Expect the travel time to extend by a few more hours if there's traffic congestion en route, especially in Ghaziabad and at the busy towns of Rudraprayag and Srinagar.
Use this link to set up navigation on Google Maps.
If you do not have access to Google Maps, then follow the directions below:
From New Delhi, take National Highway 34 via Ghaziabad. Stay on NH 34 till you reach Najibabad, and take National Highway 534 and proceed towards Satpuli.
Once at Satpuli, take the Pauri Road that connects you to National Highway 7 at Devprayag. The Devprayag-Pauri Road merges with Karnaprayag-Haridwar Road at this junction.
Stay on Karnaprayag-Haridwar Road (National Highway 7) till you reach Srinagar and drive down further towards Rudraprayag.
| Tip: Don't forget to look at the scenic Alakananda river and the dam while crossing Srinagar.
Just before reaching Rudraprayag, at the Javari Bypass Police Check post, take the Rudraprayag Bypass Road to join Kedarnath Road (National Highway 107).
Now, you are driving along the Mandakini river on your left. Stay on NH 107 till you reach Kund. From Kund, take the deviation on the right to join National Highway 107A.
After a series of twists and turns on NH 107A, take the left onto Mansuna-Ukhimath Road. Pass Mansuna and Buruwa before finally reaching Ransi.
Nearest Airport
Nearest Railway Station
➤ Is Madmaheshwar Trek Difficult
The Madmaheshwar trek is classified as an Easy-Moderate grade trek. From the base, you will gain approximately 5,930 feet in altitude till the summit over 3 days.
There are no sections that are difficult to traverse on the Madmaheshwar trek, except the steep ascent from Lower Bantoli to Buda Madmaheshwar temple. Since the entire trail is quite steep most of the time, a trekker must always anticipate and prepare for every eventuality.
Here are a few sections you must keep an eye out for while ascending and descending:
1. Slippery trail: The trail becomes more tricky during monsoon and post-monsoon months as the mud and loose gravel become very slippery and great caution must be taken while traversing. Trekkers must be very careful with their choice of footwear and should check weather charts so as to avoid days with anticipated heavy rains.
2. Steep ascent: If there's a section that is difficult, then it has to be the stretch from Lower Bantoli to Buda Madmaheshwar. There is almost a 5,000 ft of ascent on the second day of the trek spread over 6.5 km. That is a lot of ascent on a single day.
Your body needs to be well prepared to gain this kind of an elevation and that's where fitness plays an important role on the Madmaheshwar trek. The next section will give you an understanding of the fitness level required for this trek.
➤ How to Get Fit for Madmaheshwar Trek
The altitude gain is very high for a 3-day trek, especially gaining close to 5,000 ft of altitude on the second day itself, over 6.5 kilometres. The entire trek distance over 3 days is 32 kilometres long.
The distance and altitude gain becomes very demanding for people who lead a sedentary lifestyle.
Training yourself for a high altitude Easy-moderate grade trek
Here's a guide to help you get fit for the trek in 4 weeks
➤ Cardiovascular Endurance
In case you're just starting with a fitness routine, start slow and increase your pace everyday in the following manner –
Target completing a jog of 5 km in 40 minutes when you begin.
Gradually increase your pace by running 5 km, 4 times a week.
As you become more comfortable, introduce another day of running in your routine. 
Progressively increase the distance you run in a workout until you can complete 5 km in 40 mins.
If you prefer cycling over running, target covering 18 km in 60 minutes when you begin.
Progressively increase your pace to cover 20 km in one hour.
➤ Strength Training
This is an important area you need to work on.
Strength training is equally important to trek comfortably. Work on your glutes, calves and knees. Additionally, work on strengthening your core.
You must strengthen your core muscles. For strengthening your core muscles, holding a plank and it's variations (elbow, side planks) are the best exercises to go about doing it.
Also, try these exercises for strength:
Target 4 sets of squats with 20 in each set.
– Squats (Mix it up with sumo squats)
– Lunges (Forward, backward and lateral lunges)
– Planks
➤ Flexibility
Flexibility determines the amount of movement your bones can make in any direction around joints such as shoulders, elbows, hips and knees.
It is an aspect that will help you trek comfortably. Carrying a backpack, however light, can become a strain. Stretching your hamstrings, quadriceps, hip flexors and lower back muscles regularly, promotes relaxation in the tissues reducing the strain on your back.
If you can't go out and jog because of time and space constraints, here's a video you can use to work out indoors.
➤ Things to Take on Madmaheshwar Trek
Basic First Aid kit*
Identity Card
Cap/ Scarf/ Bandana & Sunglasses
Water (Minimum three litres)
Lemon and salt OR Electrolyte Powder/Drink (Electral/Gatorade/Glucon D, etc.)
High-calorie snacks (Nuts & dry fruits, home-baked cake, etc.)
Safety Pins, Rubber bands & Whistle (Useful in emergencies.)
Quick Dry T-shirts are preferable over cotton tees.
A warm layer (Pull over, sweater or a jacket)
Poncho, only during post-monsoons
Plastic sheet to wrap electronic devices, only during monsoons
Sunscreen (SPF 50+)
Sleeping Mat
Sleeping Bag
Tent (3-Person or 2-Person – Depending on the number of people sharing)
*First aid kit:
Scissor
Band aids (Regular & Waterproof)
Analgesic spray (Relispray, Volini, etc.)
Antiseptic Liquid (Savlon, Dettol etc.)
Antiseptic powder (Povidone-Iodine based powders like Cipladine, Savlon, etc.)
Cotton roll & Bandage
Crepe Bandage
1 inch wide medical tape (paper or cloth.)
Micropore tape
Tablet for motion sickness (Avomine), Acidity (Gelusil, Digene, etc.).
Mild pain relief tablet (Crocin)
| Note: Always consult a doctor before taking any medicine.
➤ Frequently Asked Questions about the Madmaheshwar Trek
1. Can I do this trek if I have never been on a trek before?
Yes. Despite the altitude gain of close to 5,000 ft on a single day and a total distance of 32 km, this trek can be done by very fit beginners.
However, it is recommended to do the day treks in your area to get used to the rolling terrain and steep sections on this trek.
We have documented over 230 Do-It-Yourself treks across different states. Here's the link to choose the treks to do on your own in your area before attempting the Madmaheshwar trek — https://indiahikes.com/documented-trek/
2. Do I need to obtain permission for trekking to Madmaheshwar?
No. You do not need to obtain permission to trek to Madmaheshwar.
Since the route is famous for the Panch Kedar Yatra, the trail is free for all pilgrims and trekkers.
3. Where can I get food and water during the trek?
There are lodges and huts of villagers who are more than welcome to offer you food and water on the trail. The lodges are present at Ransi, Gaundar, Lower Bantoli and Upper Bantoli.
After Upper Bantoli, there are a few huts en route to Madmaheshwar where you can find food and water.
Having food at these villager huts is time consuming as they will not anticipate your arrival and you'll have to request them to prepare food for you. Expect to spend an hour to an hour and a half if you stop for food in these huts.
Protip: On the other hand, the lodges at Gaundar, Lower Bantoli and Upper Bantoli will have the food ready and it will save a lot of time if you plan your meals at the lodges en route.
Water bottles can be refilled from these lodges itself, or if you run out of water before crossing Lower Bantoli, you can refill your bottles from the Madhyamaheshwar Ganga river that flows beside you.
If you run out of water after crossing Lower Bantoli, the villager huts are your only option to refill water until you reach Madhyamaheshwar temple. There is stream water availability in the temple premises.
4. Whom do I contact in case of an emergency?
• Hospital: The closest hospital is Primary Health Centre in Ukhimath, which is 25 km away from the base of the trek, Ransi.
• Police Station: The police station closest to Madmaheshwar trek is the Ukhimath Police Station. (Contact: +911364264250).
• ERSS: For any kind of emergency help, you can contact the Pan-India Emergency Response Support System (ERSS) number- 112.
5. What about mobile network and connectivity on Madmaheshwar Trek?

Mobile Network: You will get a mobile network for almost all major operators like BSNL, Airtel, Vodafone, Jio etc., only till Ransi. You will not get mobile network connectivity beyond Ransi anywhere on the trail, except at a few pockets where the network is intermittent.

Nearest ATM: The last point where you will get ATMs is Ukhimath. So, ensure you withdraw enough cash at one of these stations before proceeding with your journey.
6. Do I need a guide to trek to Madmaheshwar?
No. We do not recommend taking a guide to trek to Madmaheshwar. The trail is frequented by pilgrims and the trail is well laid out.
There is no chance of getting lost on the trail and it is not a technical trail as well.
7. Can I hire mules and porters to trek to Madmaheshwar?
Yes. There are mules and porters available at Uniyana and Ransi villages. If you feel the need to hire a mule or a porter to carry your backpacks, you may hire them. They will charge you anywhere between Rs 600 to Rs 800 per mule per day.
8. Can I camp on the Madmaheshwar trek?
Yes. You can camp at either Lower Bantoli (Choti Bantoli) or Upper Bantoli (Badi Bantoli) on the first day of the trek.
On the second day, there is a building complex where the priests and devotees stay near Madmaheshwar temple. You will also get food there. Stay per night including a simple vegetarian dinner will cost you no more than Rs 500 per person.
If you don't wish to stay inside the building, you can also camp near the temple. Since the temple is frequented by pilgrims, you will see them setting up tents around the temple too.
You cannot camp at Buda Madmaheshwar on the third day as the place is held sacred. Moreover, it is a vast open meadow with cold winds blowing from the northern Himalayan mountains. It gets extremely cold at night and there's no water source as well.
So, stick to camping around Madhyamaheshwar temple premises.
9. Where can I park my vehicle?
If you are driving down to Ukhimath, then drive till Ransi and park your vehicle there. You'll notice a lot of vehicles and taxis parked if you visit in the peak season between May and October.
Even during off season, you get parking space at Ransi which is free of cost.
10. What about Altitude Sickness or AMS? Are there any chances of AMS hitting me on the trek?
No. Since the trek starts at an altitude of 6,490 ft, you are not susceptible to AMS even though the trek reaches it's highest altitude of 11,410 ft in 3 days.
The risk of AMS starts at an altitude of 14,000 ft or more. So, the Madmaheshwar trek is a safe trek to do in terms of altitude sickness.
If you wish to gain more knowledge about altitude sickness, it's symptoms and how to treat it, read this guide.
➤ Nearby Places to Visit After Madmaheshwar Trek
• Deoriatal – Chandrashila Trek – The base camp of Deoriatal – Chandrashila trek — Sari — is just 12 km from Ukhimath. If you have planned for a trek to Deoriatal with Indiahikes, Madmaheshwar trek can be either before or after your trek to Deoriatal, considering you take ample amount of rest.
Madmaheshwar trek can be done before your trek to Deoriatal if you're reaching Ukhimath at least 4 days before your trek start date. This will help you acclimatize for your trek to Deoriatal and will act as a preparatory trek.
If you do the Deoriatal trek with us first, you can rest for a day or two at Ukhimath and start your trek to Madmaheshwar. We recommend this option as you will be well rested and fresh before you do the Madmaheshwar trek.
• Omkareshwar Temple – A temple of significance for Hindus in Ukhimath. This temple houses the idols of Kedarnath temple and Madhyamaheshwar temple during winters that are brought down, and are worshipped for 6 months.
➤ Trek Contribution
Trek Documented By: Gourab Nandy
Pictures Contributed By: Soumya Ghosh, Aditya Dhaundiyal, Mahendra
Photos Edited By : Sneha.G.Iyer
Author: Gautam Singh
GPX File Opt in
We go to great lengths to ensure you have a safe trek. So here's a GPX file of the trail to help you navigate without getting lost.