Moderate-Difficult | Level 3



Moderate-Difficult | Level 3
Dates Full? Check out the Khopra Ridge Trek!
Goechala Trek
The Best Trek in India for Big Mountains Views
The biggest reason to do the Goechala trek is the grand views of the big mountains you see. You don't just see one summit — the Kanchenjunga — but 14 other big summits. That's a lot for any trek — especially as close to the eyes as on the Goechala trek. It is no wonder that trekkers consider Goechala to be the closest to the big mountain treks of Nepal.
Before we dive into the details about the Goechala trek, here is a little backdrop of why Goechala is well-known among trekkers all over the world:
While the trail to Goechala is old, it wasn't always so famous. The change that occurred during the Nepalese Civil War lasted from 1996 to 2006.
Disturbances in Nepal during this time shut the country to trekkers. Suddenly trekking to the highest mountains of the world was out of bounds. It was a massive blow to the trekkers, who frantically started looking for alternatives.
At that time, Goechala emerged as the closest solace. The trail promised a brilliant close-up of the third highest mountain in the world and offered breathtaking views of the Singalila range from Dzongri Top.
Sunrise on the Kanchenjunga Range
One of the biggest highlights of the Goechala trek is the sunrise scene on the Kanchenjunga range. Even though trekkers are not allowed to the actual Goecha Pass, the view from ViewPoint 1 and Dzongri is worth an arm and a leg!
Rhododendrons in April and May
The trail to Goechala is blessed with rhododendron forests. And come spring-summer months of April and May, they burst to life with pink and red flowers! It's an enormously pleasant walk through the wooden-log trails of these jungles!
The Samiti Lake
Samiti Lake is another big attraction on the Goechala trek. The view of the still waters, and the reflection of Mt Pandim in the lake, especially in the early hours, is a visual treat.
Goechala Videos
Watch these videos to plan and prepare for your trek.
Quick Itinerary
A trek map of the Goechala trek
Drive from NJP / Bagdogra to Yuksom
Transport will be arranged at 10.30 AM. This cost has to be borne by trekkers and paid directly to the driver. Cost of the cab – Rs 7,000 per vehicle, shared among 5-6 trekkers.
Trek from Yuksom to Sachen
Trek Distance: 7.50 km | Trek Duration: 5.5 hours | Altitude Gain: 5,840 ft to 7,400 ft
Trek gradient is moderate-difficult. Gradual climb for 2.5 hours after which the trail becomes steeper up to Sachen. Carry 2 litres of water from Yuksom. You will cross streams intermittently where you can refill your water bottles.
Sachen to Tshoka via Bakhim
Trek Distance: 6.50 km | Trek Duration: 5.5 hours | Altitude Gain: 7,400 ft to 9,790 ft via 8,640 ft
Moderate gradient with initial rolling terrain through the forests and 40 minutes of ascent from Bakhim in a series of long switchbacks after which the trail eases off into a gradual climb. Carry sufficient water from Sachen.
Tshoka to Dzongri via Phedang
Trek Distance: 8.40 km | Trek Duration: 8-9 hours | Altitude Gain: 9,790 ft to 13,190 ft via 12,105 ft
Today is going to be a difficult day. It starts with 30 minutes of steep climb followed by a gradual ascent, after which the trail again climbs steeply for 20 minutes to reach Phedang. 1-hour ascent from here followed by a gentle descent brings you to Dzongri.
Dzongri to Dzongri Top and back. Acclimatization day at Dzongri
Trek Distance: 2 km | Trek Duration: 2.5-3 hour | Altitude Gain and Loss: 13,190 ft to 13,670 ft and back to 13,190 ft
The day starts with a climb to Dzongri Top. Dzongri Top at 13,670 ft, is the highest point from where you get 180-degree panoramic view of the mighty peaks such as Kakthong, Rothang, Kabru South, Kabru North, Kabru Dome, Kanchenjunga, Pandim, and the Lama Lamini peaks.
Dzongri to Thansing via Kokchurang
Trek Distance: 6.55 km | Trek Duration: 6 hours | Altitude Loss and Gain: 13,190 ft to 12,910 ft via 12,090 ft
Gentle descent for about 2 hours followed by a steep descent to Kokchurang. Continuous ascent from here to Thansing. Carry 2 litres of water from Dzongri. The only water source on the way where you can refill your water bottles will be at Kokchurang.
Thansing to View Point 1 via Samiti Lake; and back to Thansing
Trek Distance: 16 km | Trek Duration: 12-14 hours | Altitude Gain and Loss: 12,910 ft to 15,100 ft via 14,120 ft; and back to 12,910 ft
The longest day of your trek. The distance is long, followed by continuous ascent to reach View Point 1. Stay well hydrated and carry 2 litres of water before beginning the summit climb as well as before the descent to Thansing. There will be no water source on either stretch.
Thansing to Tshoka via Kokchurang and Phedang
Trek Distance: 13 km | Trek Duration: 9 hours | Altitude Loss: 12,910 ft to 9,790 ft via 12,090 ft and 12,105 ft
Continuous ascent till Kokchurang, followed by relatively flat trail to Phedang for about 4 hours, and a steep descent to Tshoka. Stay well hydrated and carry 2 litres of water from Thansing since there is no water source on the trail today.
Tshoka to Yuksom via Bakhim and Sachen
Trek Distance: 13 km | Trek Duration: 6 hours | Altitude Loss: 9,790 ft to 5,840 ft via 8,640 ft and 7,400 ft
Continuous descent to Sachen, followed by an undulating trail to Yuksom. Carry sufficient water from Tshoka. You will cross a few streams where you can refill your water bottles.
Drive back from Yuksom to NJP / Bagdogra
This transport cost has to be borne by trekkers and paid directly to the driver. Cost of cab – Rs 7,500 per vehicle, shared among 5-6 trekkers. You will reach NJP / Bagdogra around 4.00 – 5.00 PM.
Please note: The distance between campsites may vary by 100 meters depending the weather conditions and the route you take. The altitude may also vary by 100 feet for similar reasons.
IMPORTANT POINTS
- It is mandatory for trekkers to carry a copy of their photo ID for entry at forest check posts on the trek.
- At the base camp, your stay will be arranged in lodges
- On the trek, you will be staying 3 in a tent
- We have a cloakroom facility at the base camp for excess luggage. Anything beyond one bag is chargeable at Rs 500 per luggage. Do not leave behind any valuables in the cloakroom.
A Note for foreigners: Foreigners have to register for the trek in a group of 2 and above. Along with that, there are different permits to be obtained for your trek.
The ILP (Inner line Permit or Sikkim permit) for foreigners - Check this link for more details – http://sikkim.nic.in/homedept/ilpfaqs.htm. You can obtain these outside the Bagdogra airport or at the check post before entering Sikkim from Siliguri.
Trek permit for all trekkers – Obtained at the forest check post at Yuksom. The fee varies for students (ID card required), regular Indian citizens (ID proof required) and foreigners.
Special trek permit for foreigners -  Foreigners need to obtain a special permit at Gangtok to trek in Sikkim. Indiahikes can help you obtain this permit. Kindly reach Yuksom a day before the trek batch starts. The charges for obtaining the permit will be Rs 2,000 per person and has to be paid to our representative who will meet you at Yuksom. 
Citizens of China and Myanmar are not permitted to trek in this area.
A trek map of the Goechala trek
PRO-TIPS
Onward Travel
There are two ways to reach your pick-up point -- reach NJP railway station by taking a train, or reach Bagdogra airport by taking a plane. If you cannot reach the pick-up point before 10.30 AM on Day 1 of the trek, plan your travel in such a way that you reach NJP / Bagdogra the previous day (Day 0) and stay for the night.
Return Travel
While returning, you will reach NJP / Bagdogra by 5.00 PM. Plan your travel any time after 8.00 PM from NJP railway station / Bagdogra airport.
Goechala is Best Discovered Through Pictures
The golden rays on Kanchanjunga as seen from view point 1
Picture by: Indiahikes Trekker
Campsites at a Glance
At Indiahikes, we are very particular about choosing terrific campsites. For the Goechala trek too, after a lot of back and forth, we have settled on these terrific campsites, which trekkers have come to love.
The Dzongri campsite is the first open campsite on your entire trek. Keep an eye out for big mountain views to the Northeast. You will see Mt Pandim to the far left, followed by Lama Lamini peaks and Mt Simvo far behind. Picture by Krupa Vyas
Lama Lamini peaks play peek-a-boo from Tshoka campsite. Picture by Krupa Vyas
A white-washed Dzongri campsite after a snowstorm. Picture by Abhijit Pan
What I Like and Don't Like About the Goechala Trek
What I Like About the Goechala Trek
Know Your Trek
We have always wanted trekkers to be well-informed before they go on a Himalayan trek. Knowledge is the difference between a safe trek and a dangerous one. It's also the difference between a wholesome experience and a superficial experience.
Use this section to learn about the Goechala trek. It has in-depth information about each day of the trek, what to expect, and how you need to prepare for it. Many years of expertise have gone into this content. Trekkers find that extremely useful.
We recommend jogging as the best routine to get fit for a trek. It works on the same muscles that you use while trekking — your calves, glutes and hamstrings. It helps increase your stamina day by day. It is also an easy routine that does not require any equipment or tools. 
Fitness target:
To do this trek comfortably, you must be able to cover 5 km in under 32 minutes. This is the minimum fitness required for this trek.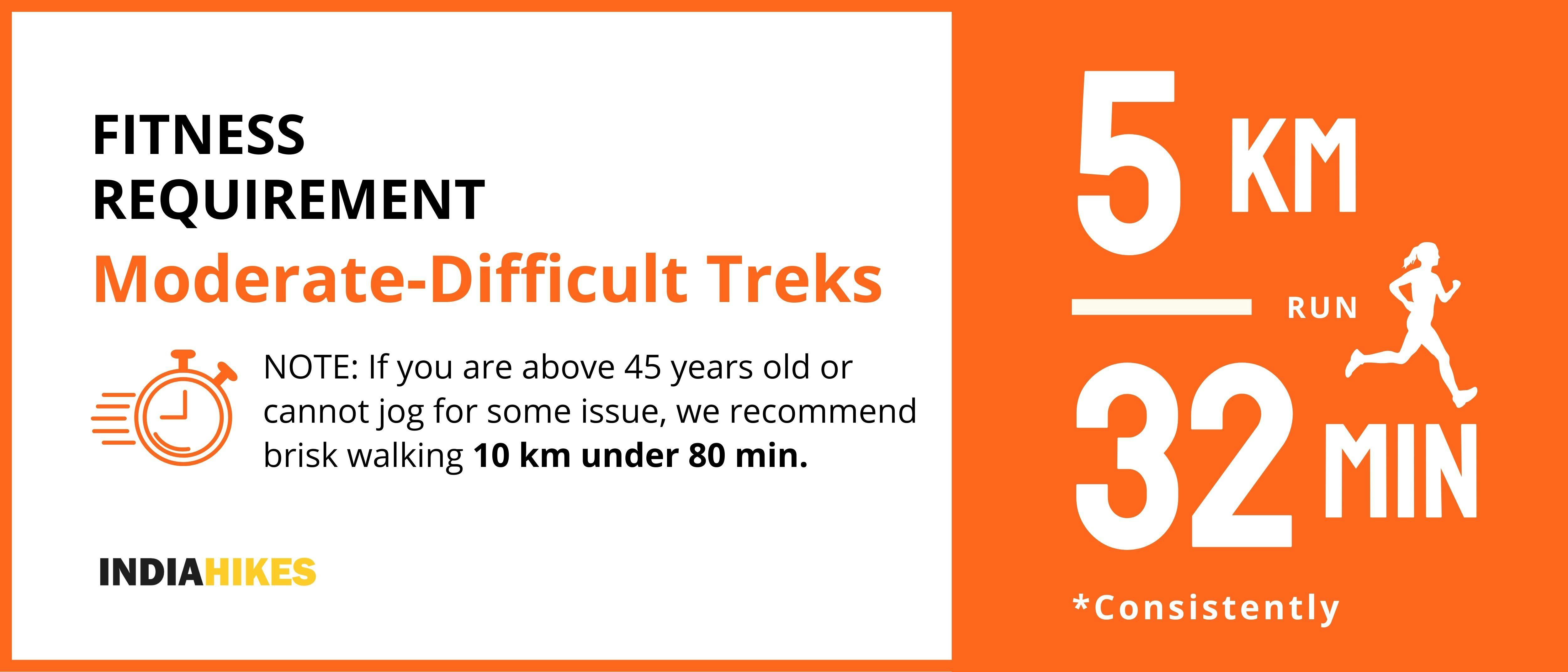 How to achieve this fitness? 
Start jogging at least 4 days a week 
If you cannot run 5 km immediately, start with 2 km and increase to 5 km over 2-3 weeks.
Once you're able to run 5 km, increase your pace day by day. 
Gradually increase your pace and bring it down to 5 km in less than 32 mins.
You must be able to run 5 km in 32 mins consistently for at least 2 weeks before the trek. 
This trek requires at least 6-8 weeks of preparation. The longer, the better. So plan your trek soon and start preparing.
Here's a complete guide to get you trek fit.
Strength training tips:
How to get Fitness Approval from the Indiahikes team:
Every trekker needs fitness approval from the Indiahikes team 20 days before the trek date. Without this, you will not be allowed on the trek. 
What to upload? 
A minimum of 3 screenshots of your runs/jogs/walks/cycling 
Monthly summary of your routine
Why fitness matters: 
Every high-altitude trek comes with a set of challenges. Steep ascents and descents, uneven terrain, snow walks, stream crossings, pass crossings, and summit climb. Even the easiest of treks have some of these challenges if not all of them. Without fitness, trekkers struggle, get injured easily, lag behind, or simply fail to complete the trek. 
At Indiahikes, we take pride in the fact that our trekkers are among the fittest in the country. Those who do not meet the fitness requirements are often sent back. Our philosophy is that trekking and fitness go hand in hand. Without fitness, there's no trekking. 
Things Nobody Tells You About Goechala
Did You Know about the Chogyal Community of Sikkim?
Yuksom is known as the meeting place of three monks. A long time ago, three monks travelled down here from Tibet. They crowned the first king of that region and named the community 'Chogyal'. Since then, all those who were crowned kings belonged to the Chogyal community. In 1642, the first Chogyal king, Phuntsog Namgyal established Yuksom as the first capital of Sikkim. The Chogyal dynasty ruled there for over 300 years.
The Chogyal community, today too, plays an important role in their society. They banned any expedition in the mountains in the region from the Sikkim side. They considered it a dishonour to their Gods. After putting pressure on the government for some time, the central and state government both finally banned climbing from Sikkim in the early 2000s. That's why Kanchenjunga cannot be climbed from Sikkim and has to be climbed from Nepal.
Kanchenjunga, a Treasure Trove
Kanchenjunga in Nepali translates to 'five treasures of snow, as it has five peaks in total. Three of them can be seen from India and two from Nepal.
The Goechala trek takes us through the Kanchenjunga National Park. The significance of this is that it is the first and one of the rarest UNESCO World Heritage Sites which is selected under the Mixed Category (Cultural and Environmental Significance). It has high cultural as well as environmental importance.
Some communities here, like the Lepchas, have traditional practices which are still maintained. The indigenous community of the Lepchas have deep knowledge of medicinal plants. They, along with many other local communities, consider mountains to be their gods. These mountains are seen as sacred and are worshipped. Dense vegetation and myriad flora and fauna can be found here. It is also the home of snow leopards.
The Myths of Kanchenjunga
A myth of this region is that there is supposed to be a valley to paradise somewhere in the lower reaches of Kanchenjunga. Once, a monk in Sikkim took many followers down this valley, and the whole lot of them were never found again.
Another story from local mythology tells us how Kanchenjunga is said to be the home of Yeti. It is a mythical creature that has never been seen. But folklore has identified massive footprints seen in the Himalayas as those of Yeti. This Yeti is said to be found in the lower reaches of the mountain.
There are stories of the war between the Lepcha community and Yetis too. If you catch hold of people from the Lepcha community, don't forget to ask them about this mythical war.
Available Dates
Dates Full? Check out the Khopra Ridge Trek!
Other Treks Like Goechala
Pin Bhaba Pass
The Grandest Crossover Trek in Our Country
Bali Pass Trek
A Grand Pass Crossing High on Adventure
Warwan Valley Trek
The Most Adventurous Trek in Kashmir
Sign up for our much loved Weekly Mailer
We have terrific trekking tips, trek updates and trek talks to look forward to