Can You Help Us With Photographs Of This Trek?
We are looking to enrich this documentation with more photos. Pictures go a long way in explaining the trail, more than words ever can. If you have done this trek, can you share your photos with us? We will include them on this page, with due credit to you.Click here to contribute.
Mt Jogin-3 is only 6133 meters (20,120 feet). But it is an intimidating peak with little sections involving a serious vertical climb over the ice wall. Getting to the Base Camp for Mt Jogin is the easiest part which involves 2 days, 17 km trek from Gangotri to Kedartal. Our team managed to do this with relative ease without using any ropes on the 60-degree inclined mountain slopes which were prone to rockfall.
On the day the team reached Kedartal, we were greeted with a light spell of snow and bone-chilling wind which battered our tents all night.
Short Itinerary
Mt JOGIN 3 - 6133 Meters (20,120 feet)
Day 00: Arrival at Uttarkashi (equipment check)
Day 01: Uttarkashi to Gangotri (loading of equipment)
Day 02: Gangotri to Kedarkhrak
Day 03: Kedarkhrak to Kedartal (Base Camp)
Day 04: Acclimatization at Base Camp (BC)
Day 05: Establish Advanced Base Camp (ABC)
Day 06: Establish Camp 1 and return to ABC
Day 07: Occupy Camp 1
Day 08: Summit Attempt and return to Camp 1
Day 09: Reserve for Summit attempt
Day 10: Return to ABC
Day 11: Return to BC
Day 12: Kedartal To Gangotri
Day 13: Drive back to Hardiwar. Catch an overnight train to Delhi
Trail Information
Mt Jogin-3 Expedition Guide
"Taken from the Expedition notes of Vaibhav Chauhan"
Vaibhav Chauhan is an explorer, writer and co-ordinator with Indiahikes . An avid traveller with a passion for trekking in Indian Himalayas. With his roots in Shimla district of Himachal Pradesh, the love for the mountains is in his blood.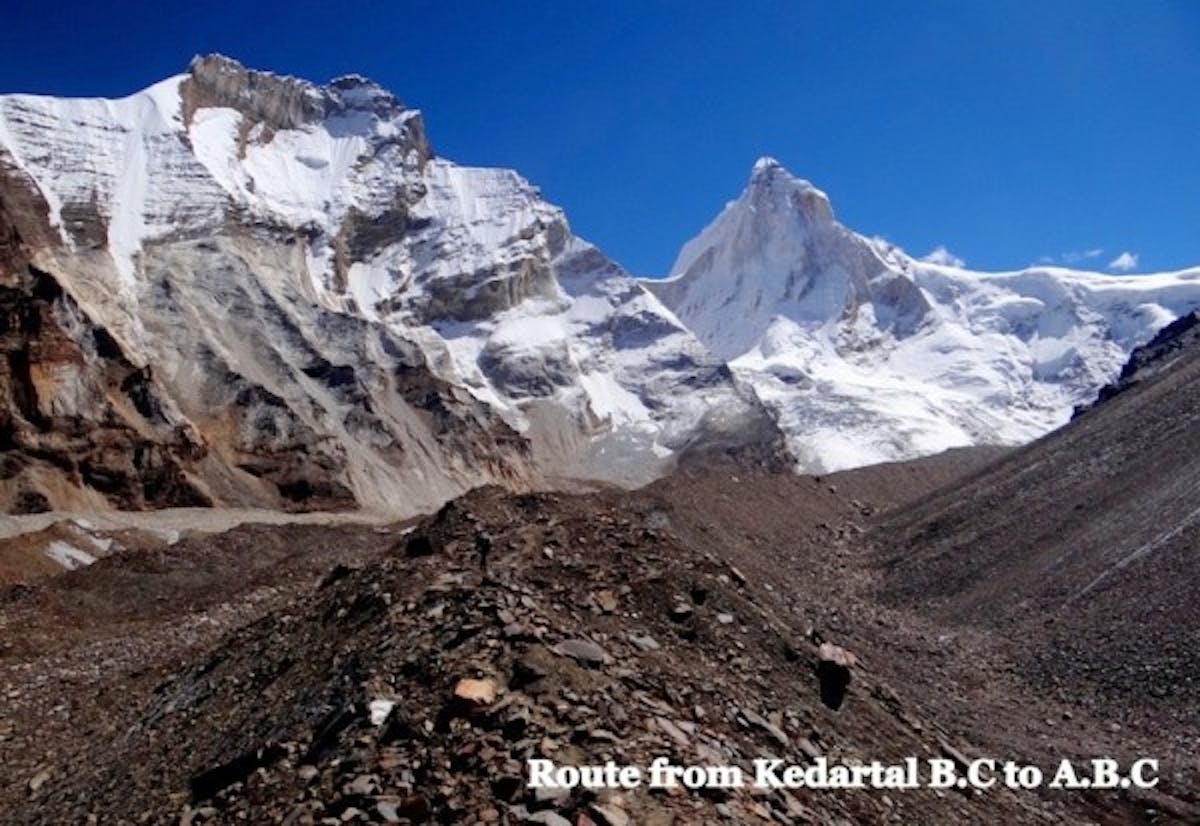 Route from Kedartal Base Camp to Advance Base Camp
Early morning on day 3 we got the information from a nearby Indian Navy Expedition team camping at B.C (for Jogin 1 & 2 peaks) that it is snowing in the Jogin region ahead. It was to be our acclimatization and load ferry day to Advance Base Camp. We decided to use the day for training on the nearby ice wall in the Kedar Bamak Glacier area.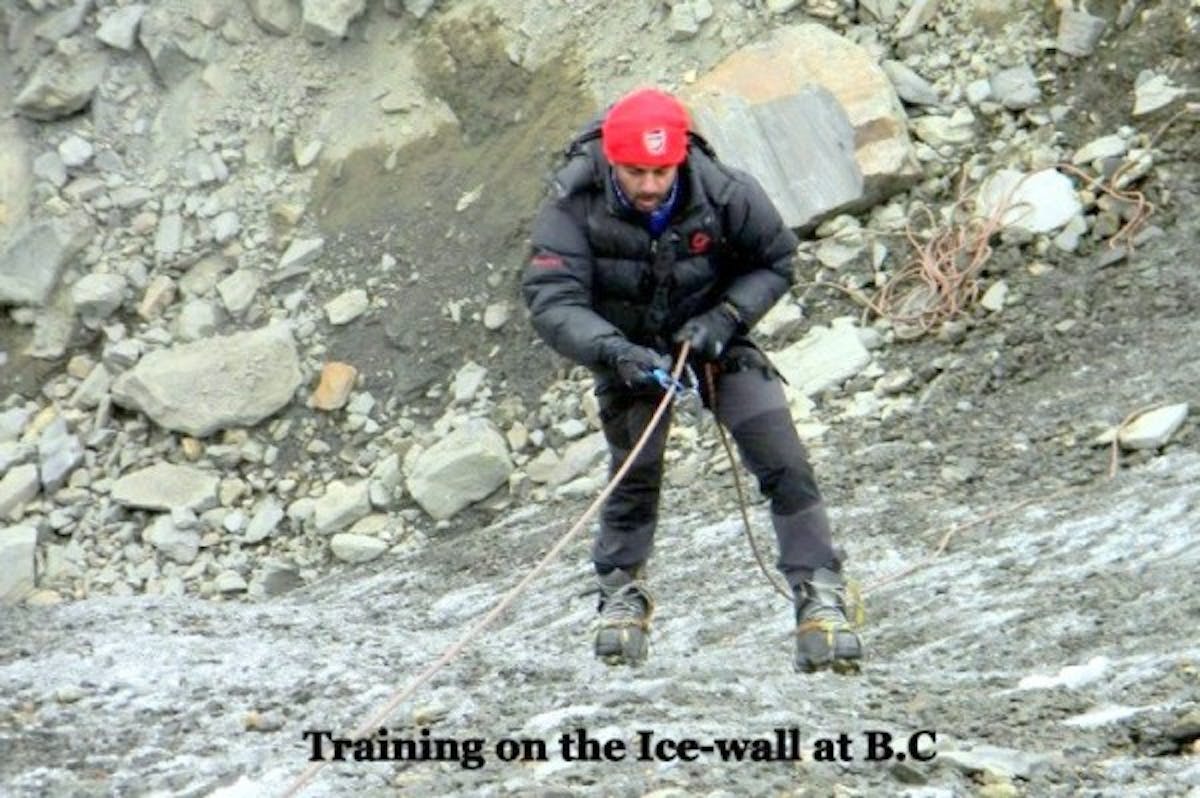 Training on the Ice-wall at B.C
Dhanender Singh Negi (Also known as Annie), our Lead Climber briefed the team and asked everyone to ready their climbing gear. Meanwhile, the support team proceeded in identifying a suitable wall to practice some vertical climbs. The purpose of the training was to give an orientation to the team on the basics of rope climbing and to familiarize them in using their climbing gear. The team had a grueling yet enjoyable afternoon practicing on a nearby ice-wall.
On day 4, the weather cleared up and it was a sunny day. The team members proceeded to A.B.C to load the ferry and establish a campsite. Everyone returned back to B.C in the afternoon.  It again snowed in B.C the entire afternoon. Meanwhile, one member of the team was reporting sick due to AMS and had to be taken down to Gangotri. Three other participants were also struggling with their health and opted to proceed back to Gangotri. We found ourselves with only 3 participants for the summit attempt.
On Day 5, we bid goodbye to our 4 team members. Once they left along with porters for Gangotri, the remaining team proceeded towards A.B.C. The walk to the A.B.C campsite is a level walk on the moraine ridge towards the base of Mt. Thalaysagar. The altitude gained was not more than 200 meters. We reached the campsite in less than an hour and a half time. While we were waiting for the Climbing staff members to reach the campsite, we made good use of the time by going ahead on the route to Camp-1 for an exploration of the Jogin region.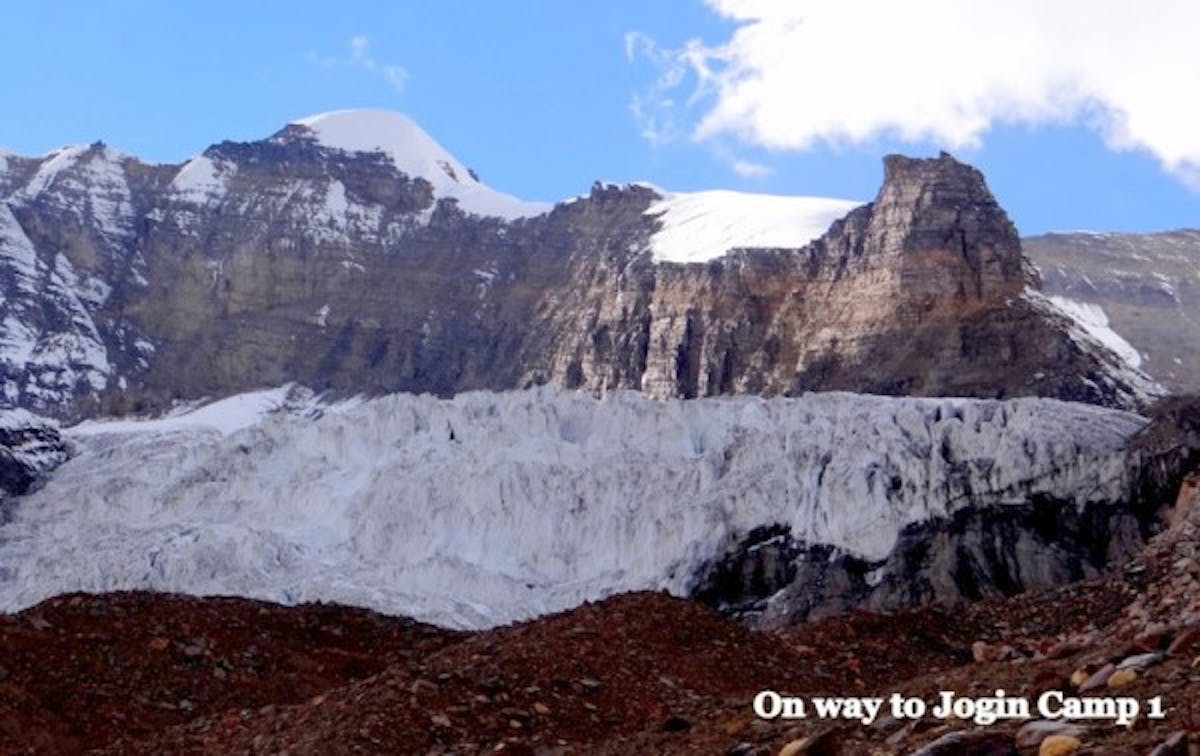 En route to Jogin Camp 1
We climbed the rocky moraine till the point there was nothing but the backside of Jogin ranges and a terrifying icefall section in front. We were now at an altitude of over 5000 meters. The clouds on the Jogin Glacier suggested that the weather was about to deteriorate and so we proceeded down to our A.B.C Campsite.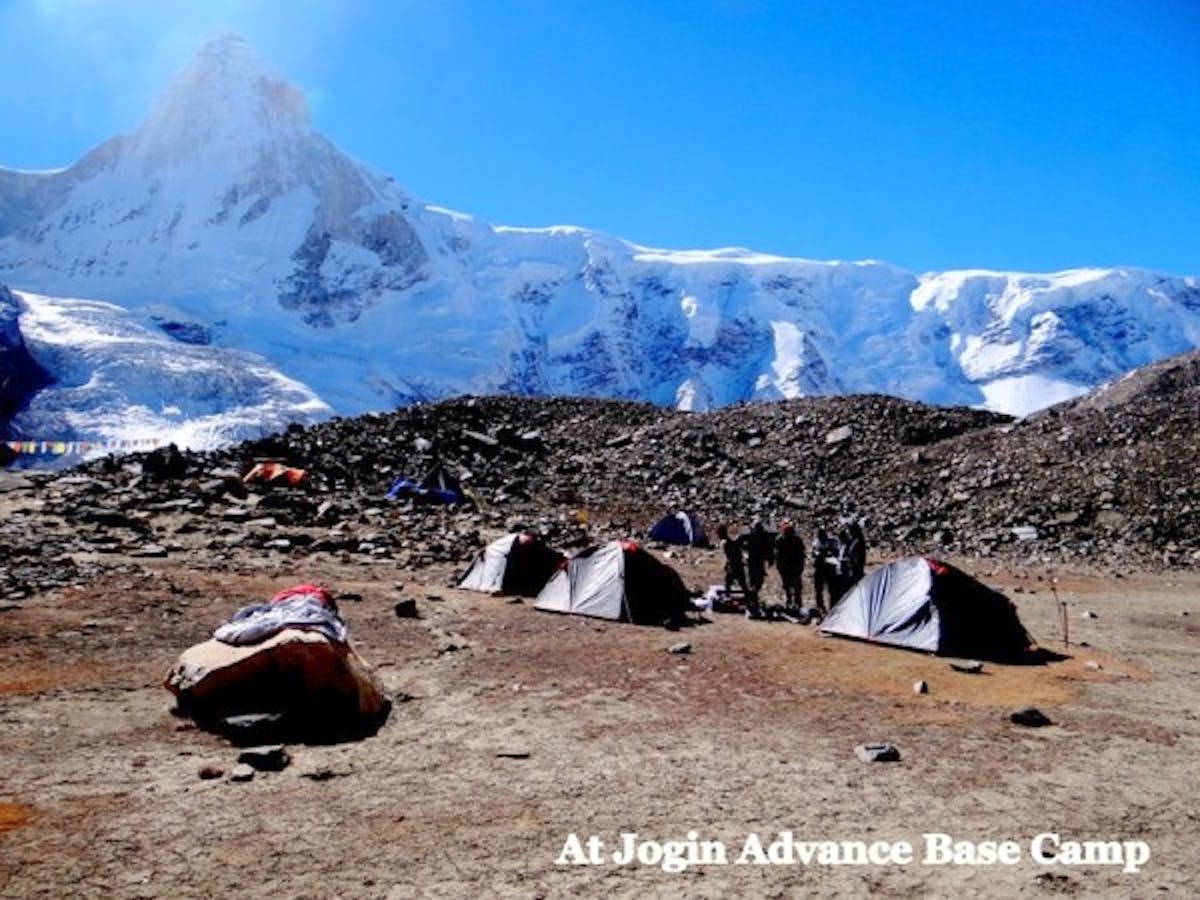 Jogin Advance Base Camp
In the evening we interacted with the Navy men at A.B.C, who informed us that the Jogin Expedition has been officially called off due to weather problem at the Summit Camp site at Jogin Basin. When we asked for more technical details, we were informed that the crevasses on the Jogin ranges have split open in size and the Navy Climbing team found it impossible to traverse these sections. Further it was advised that the weather prediction for the coming days was not good for climbing either.  The team went early to their tents that evening with an understanding that next day we head to Camp 1.
On Day 6, morning, the team had a briefing in which all the participants shared their thoughts of aborting the expedition and going back to Gangotri. Reason sighted was due to the prevailing weather situation and the crevasses problem up in the Jogin Basin. The fact that the Navy had aborted their expedition, the futility of the situation left very little options for us. It was finally decided that the whole team will move down to Gangotri from A.B.C. We all reached Gangotri at 7 PM that very day.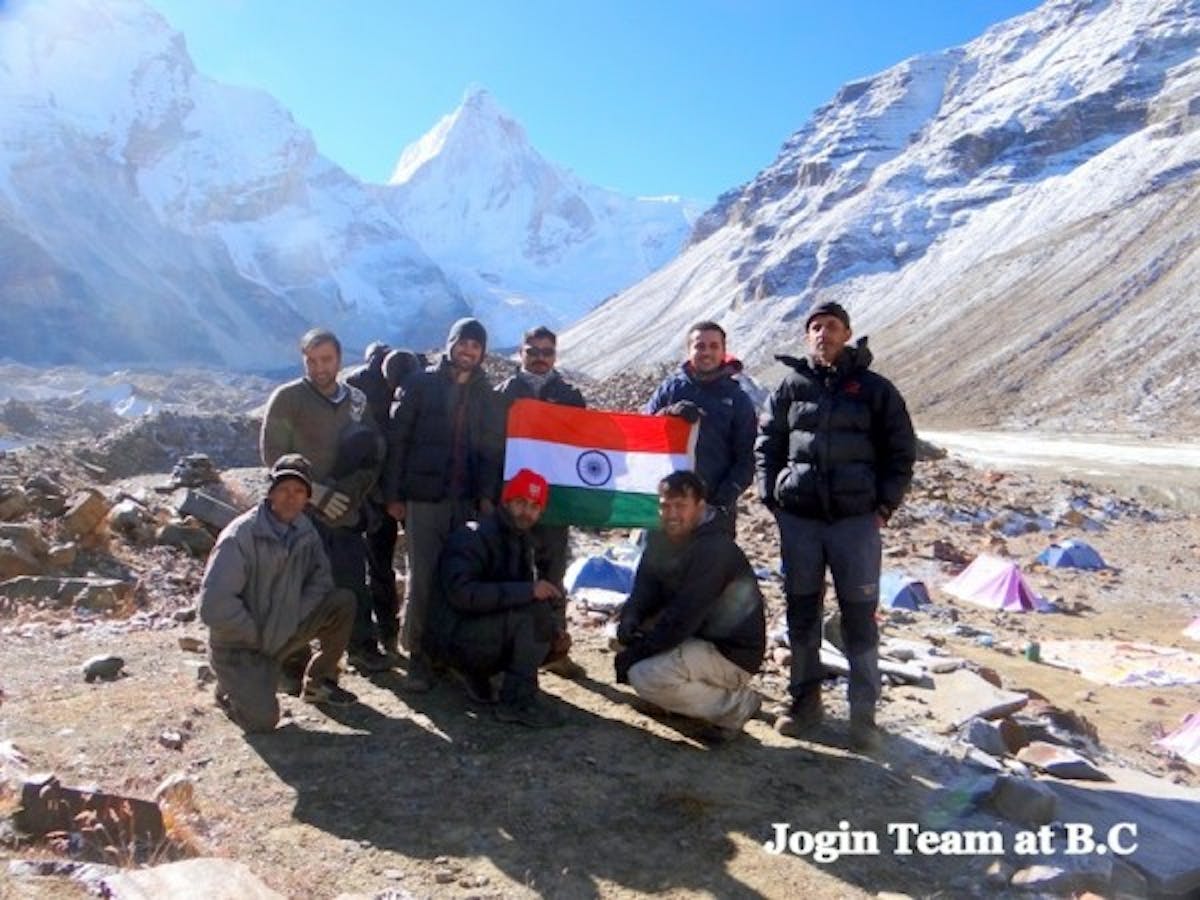 Jogin Team at Base Camp
Although the aspiration of summiting Mt Jogin peak remained unfulfilled, the experience continues to inspire us to keep climbing.
How to get fit for the Mt Jogin Expedition
Cardiovascular endurance
The secret to ascending any trail lies in building your cardiovascular endurance. You can begin by jogging every day. Ideally, you should be able to jog 4 km in 20 minutes before the start of the trek. It takes time to be able to cover this distance in the given time. Start slow and increase your pace every day. Swimming, cycling and stair climbing without too many breaks in between can help too. Strength This is another area you should work on. You will need to build strength in your muscles and in your core body. You can do some squats to strengthen your leg muscles. Do around 3 sets of squats, with 8 squats in each set. Apart from this, you can add planks and crunches to your workout.
Flexibility
Another aspect that will help you trek comfortably is flexibility. For this, you can do some stretching exercises - stretch your hamstrings, quadriceps, hip flexors, lower back muscles and shoulders regularly. Carrying a backpack, however light, can become a strain after a while. These exercises will help you to be in good shape before the trek.
Working out indoors
If you can't go out and jog because of time and space constraints, here's a video you can use to work out indoors.
What to Pack for the trek
No, stuffing it all in isn't the right way to do it Packing a backpack correctly saves precious time that you might waste trying to find your things later. It is wise to spend some time on learning what really goes into packing a backpack.
What should I pack?
On a trek, you only get what you take. Something as simple as a forgotten matchbox can cripple your cooking plans throughout the trek. So, it's essential to prepare early and prepare well. To begin with, make a checklist. While shopping, remember this thumb rule - keep it light. "Every item needs to be light. This ensures that your backpack, on the whole, stays light," says Sandhya UC, co-founder of Indiahikes. Balancing out heavy items with light ones isn't going to have the same effect as having all light items. "Always opt for good quality, light items," says Sandhya.
How much should my bag weigh?
"Your backpack for a weekend trek should weigh between 8 and 10 kg," explains Arjun Majumdar, co-founder of Indiahikes, "To break it down, your tent should weigh around 2.5 kg, your sleeping bag, around 1.5 kg, and the ration, stove and clothes should constitute the other 5 kg." The best way to plan is by concentrating on the basic necessities – food, shelter and clothes. Gather only those things that you'll need to survive. Do not pack for 'if' situations. "That's one of the common mistakes that people make – packing for 'if situations'. It only adds to the baggage that you can do without on a trek," says Sandhya.
One good way to go about it is to prepare a list of absolute essentials. Start with the most essential and end with the least essential. That way, when you feel you are overshooting the limit, you can start eliminating from the bottom. Another tip is to be smart while packing clothes. Invest in light. wash and wear fabrics. "Replace a sweater with two t-shirts," adds Sandhya. Layering is the mantra when it comes to trekking. Refer to Sandhya's clothes list to pack smart.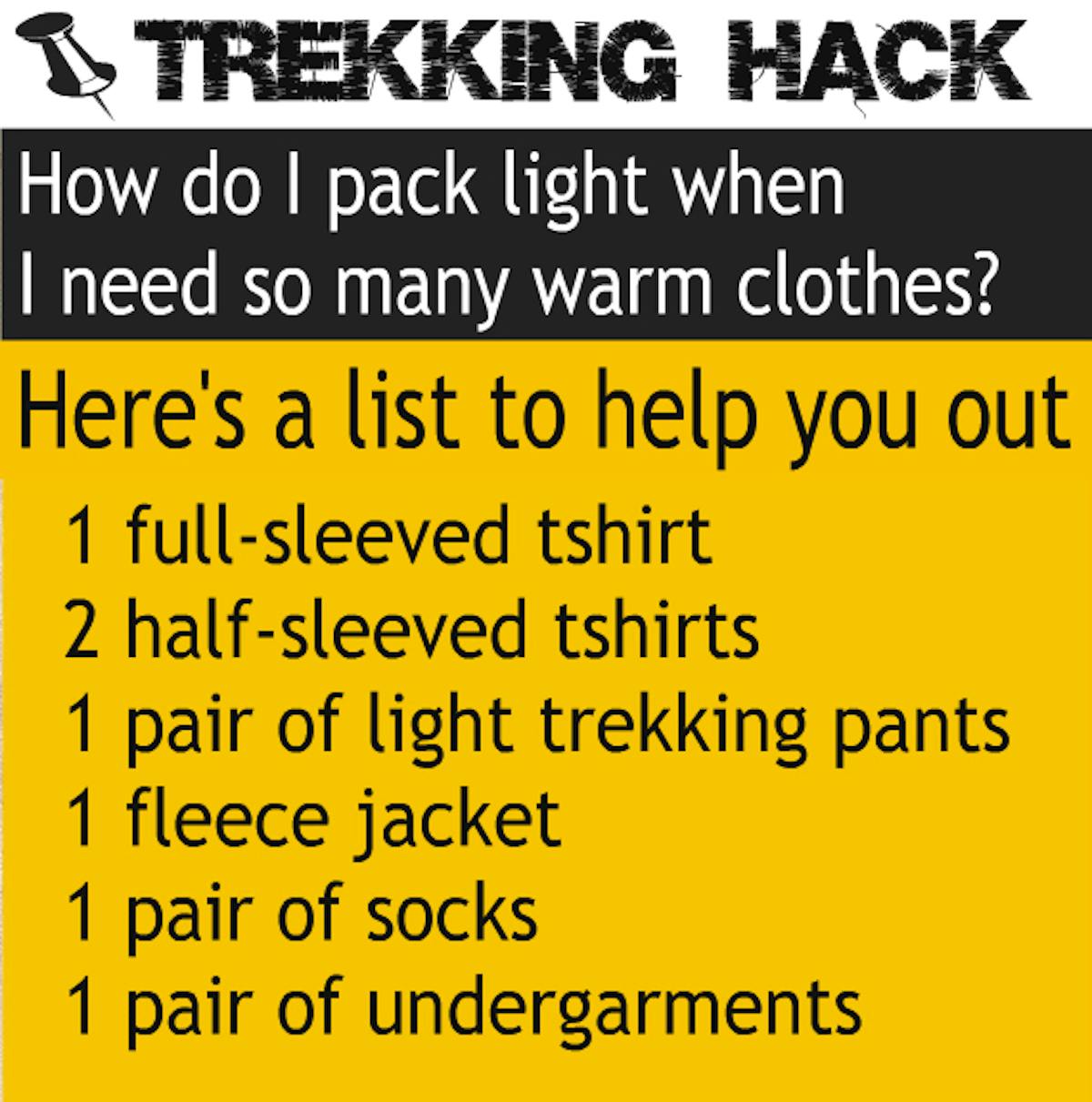 Trek backpack hacks
How to pack
The thumb rule for this one is to eliminate air spaces. Make sure that everything is packed tightly, especially clothes and jackets, as they tend to take up maximum air space. Put in all the large items first. Then squeeze in the smaller ones in the gaps. This ensures minimum air space. A good way to pack clothes is by using the Ranger Roll method.
Where to pack
BottomSleeping bag: Make this your base layer. Sleeping bags tend to be voluminous, but do not weigh much. They're perfect for the bottom of the bag. Tent: Just like the sleeping bag, even tents are voluminous and light. Keep the tent poles separately and place the fabric at the bottom of the backpack.
MiddleHeavy jacket: Roll up the jacket in a tight ball and place it in the middle of the backpack, close to your back. The middle region of the backpack should always have the heaviest items. You can store other things like rations or mini stoves in the middle. Other clothes: Roll other clothes and place them in the remaining space, to fill air gaps.
TopWater: Water, although heavy, needs to be easily accessible. So put it in the topmost region of your backpack. Medicine box: This is another component that you wouldn't want to be scavenging for when in need. Poncho: It could rain at any time in the mountains. So, ponchos should be accessible easily. Also, having a waterproof poncho at the top of the backpack provides additional waterproofing to items in the bag.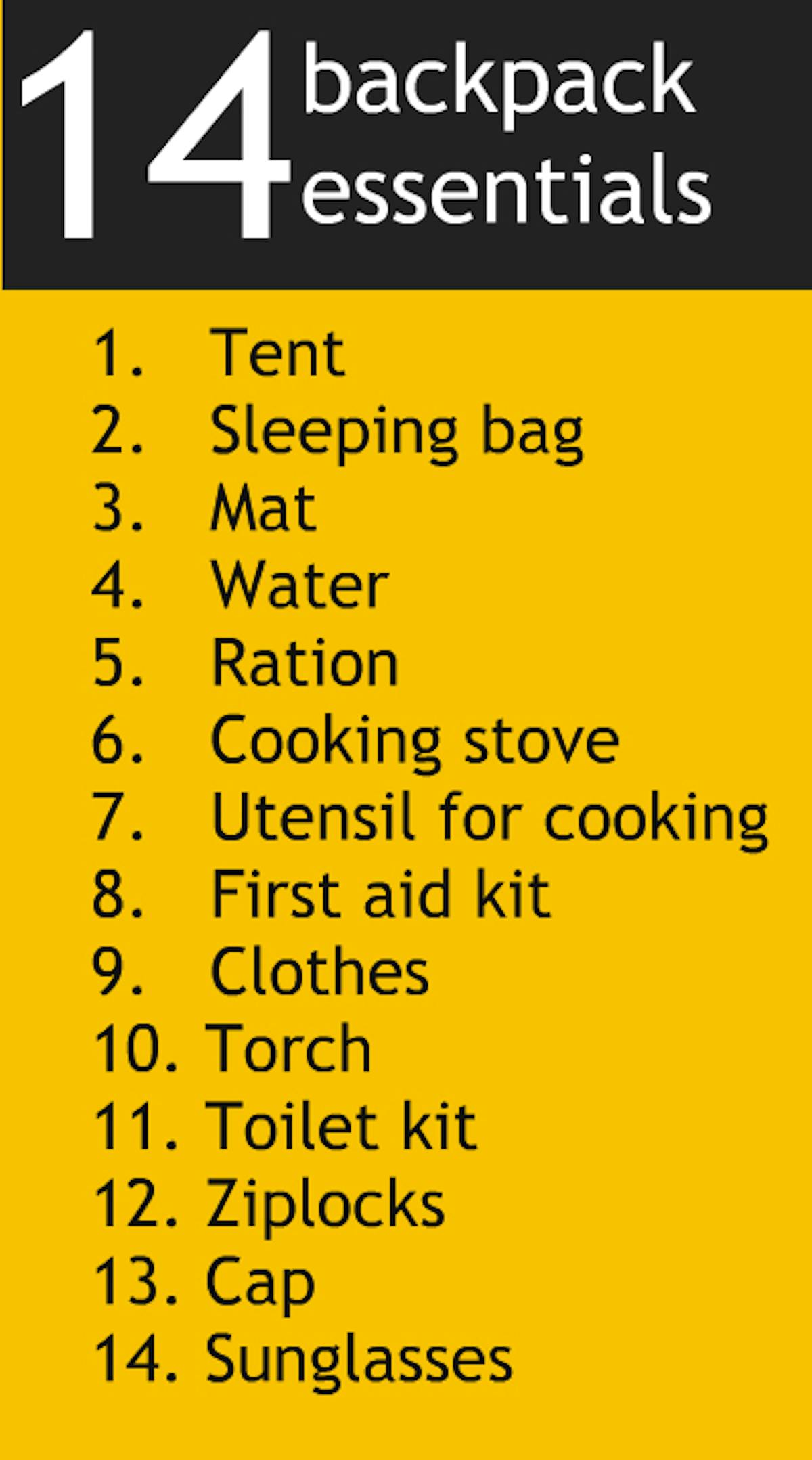 Trek backpack essentials